Visiting Lake Tahoe in the summer is paradise. Everything is so colorful. The air smells amazing (like pine, sunscreen and campfire smoke) and the sunsets over the lake look more like cotton candy than clouds.
When I first wrote this post, it was my first time to Lake Tahoe during the summer (and many times in the fall and also the winter) but since I don't ski or snowboard, summer offers more recreation for a gal like me. (Since first writing this, I have been back a ton in the summer!)
In this post I'll be sharing all my favorite Lake Tahoe summer activities (along with photos and more travel tips) to help you plan the best lake vacation possible!
My 18 Favorite Lake Tahoe Summer Activities (South + North) After Years Of Visiting
>> Got a question about Lake Tahoe travel that you need answered quickly? DM me on Instagram @thewhimsysoul and I'll be happy to help!
As mentioned above, I seem to always find myself in Lake Tahoe at least once a year. Cozy cabins and hot chocolate in the winter with friends. Or, at a ski resort going all out for Christmas.
Lake Tahoe and Hope Valley has stunning fall foliage as well, making it the perfect October road trip from San Francisco.
But, this was my first visit in the summer and it offered a whole new outlook on the lake (and since I've been on many Lake Tahoe summer trips after writing this post back in 2018). Lake Tahoe offers so many fantastic hiking trails, action water sports, secret swimming holes, beer gardens, and so much more.
But, before we get started with my favorite things to do during the summertime, here's some good things to know about the lake:
Lake Tahoe Fast Facts
Lake Tahoe is 1,645 feet deep at the deepest point in the lake. (That's taller than the Empire State building!)
The lake is over 2 million years old, making it one of the oldest lakes in the world.
During June – August, the average temps are in the 70's but can get up to high 90's or as low as the 20's. Summer in Lake Tahoe is hot!
Weekends are the most crowded on the lake, so if you can, I advise visiting on a weekday.
Keep Tahoe Blue by picking up your trash and being respectful to the lake and trails. Be nice to nature and keep this beautiful lake preserved.
The lake usually is impacted by wildfire season so check reports on air quality and fires before heading up.
Keep Tahoe Blue
Before we start with all my favorite things do to at Lake Tahoe during the summer, let's chat Keeping Tahoe Blue. I can't believe I have to say this, but DO NOT litter. ALWAYS keep a trash bag in your backpack or car so you can pack out any of your food wrappers or trash.
Also, stay on the trail to avoid erosion and to preserve plants and wildlife.
Basically: don't be a d*ck to Mother Nature. You love coming to Tahoe, so keep it safe and clean so it's just as beautiful every year so Lake Tahoe water can stay blue!
18 Top Things To Do In Lake Tahoe In Summer
There are so many fun Lake Tahoe activities in summertime! Everything ranging from hikes to beer crawls to lazy days at the beach.
These are my top picks for fun things to do during your Lake Tahoe summer vacations.
PS this blog post contains images of my Tahoe trips throughout the years, some are from trips during the fall or winter. Don't let images of coats & hats deter you, all the suggestions in this guide are for summertime (though some can also be done in the fall or winter!)
Did you know there's a CASTLE on Lake Tahoe?! It's true! Back in 1928, the owner of the land thought that Emerald Bay looked like the fjords of Scandinavia. So, she had Vikingsholm built in a Scandinavian style complete with a tower that models 11th-century castles, carvings, stain glass windows and grass on the roof.
The castle was used as a summer home for many many years before finally being donated to the state. It's now part of the Harvey West Unit of the Emerald Bay State Park and makes a fantastic morning hike for the whole family.
Hiking here is one of my favorite things to do in Lake Tahoe in the summer. Bring a swimsuit and take a dip in the lake, the beach down there is very pretty!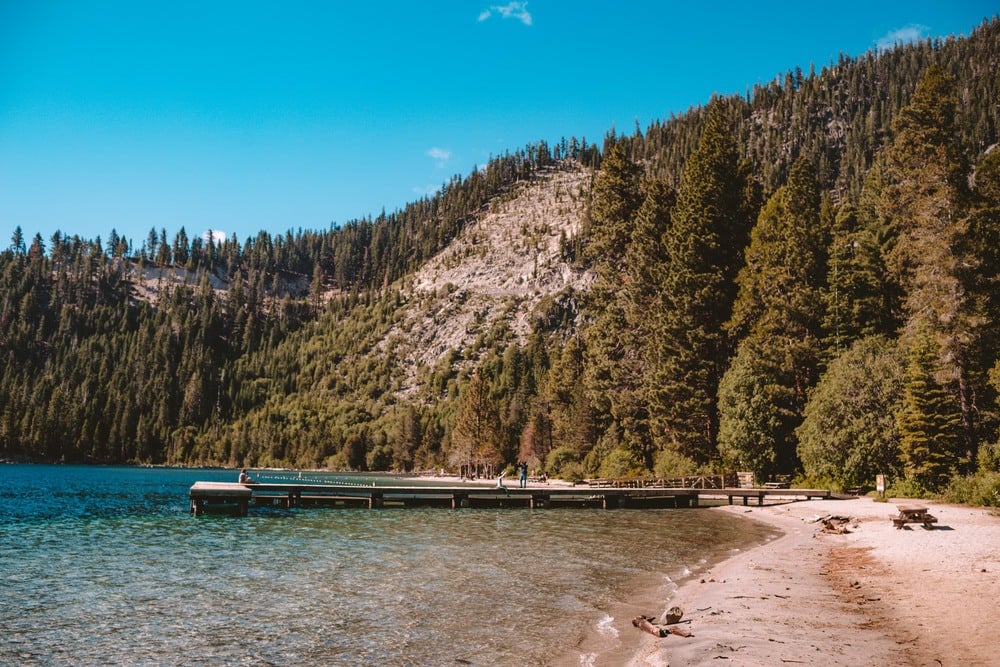 I loved this hike because it's pretty easy. You park at the Vikingholm lot which overlooks Emerald Bay and simply walk down the gravel path to the beach.
This takes about 15-20 minutes down (the hike up does HURT, though!) At the bottom is a beach with swimming, a dock and the castle. The castle is open for tours in the summer and you can even rent it out for weddings.
I recommend coming here on a weekday and also in the morning before 9am as the lot up top is small and fills up VERY quickly.
You can also kayak or boat up to the beach and access the castle via water if that's your thing. Parking is $10 for the day, you can pay with a card. Hiking here is one of my favorite things to do in Lake Tahoe in the summer.
Pro tip: Bring a swimsuit and take a dip in the lake, the beach down there is very pretty!
2. Stand Up Paddle Boarding South Lake
On our last morning at the lake, we woke up early and walked over to Ski Run Marina for a morning paddle. It was Robin's first time and he fell in while trying to stand up!
Minus that cold wakeup for him, we had the whole area to ourselves as nobody minutes a few boaters were out on the lake yet.
The view from the center of lake on a paddleboard is magic. With the clear blue water below, the blue sky above, snow-capped mountains in the distance and cute cabins lining the shores… couldn't have asked for a better way to start the day!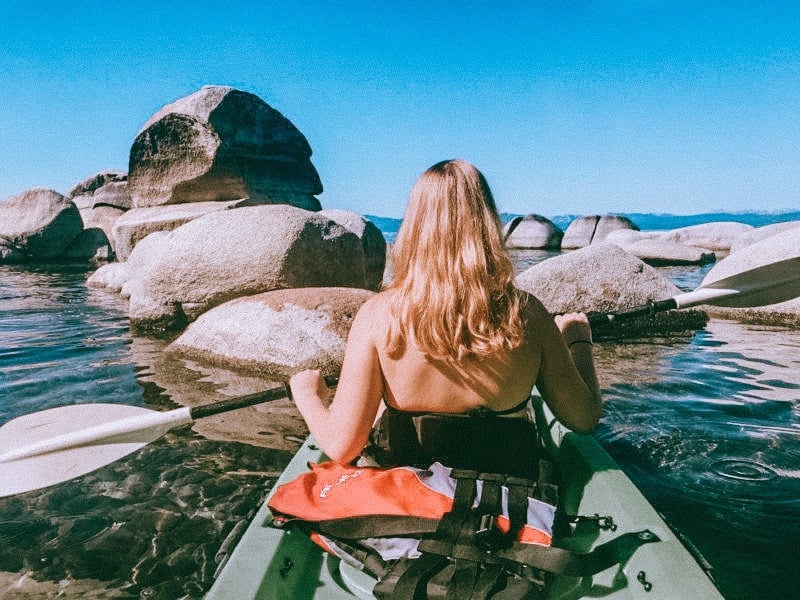 We rented from Tahoe Sports since they were about 3 blocks from our Airbnb! It was a bit pricey, coming in at $45 for a half-hour rental but the convenience was great. I'm sure other rentals in the area aren't as expensive.
Pro-tip:
Head to Secret Cove early in the morning to paddle on clear blue water and have it all to yourself!
You can rent a clear kayak
for this and it's so dang magical to look down into the water from the boat. Probably my favorite Lake Tahoe summer activity is renting one of these and paddling around the insanely clear water.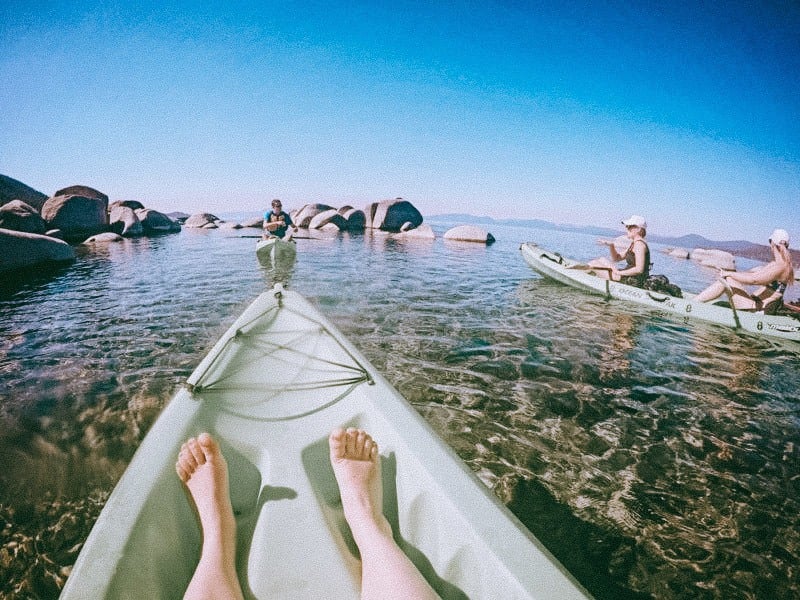 3. Kayak Sand Harbor to Secret Cove On North Lake
My other favorite way to explore Lake Tahoe is via kayaking! I think the North Shore on the Nevada has some of the best areas to go kayaking in. I suggest starting at Sand Harbor and paddle down to Secret Cove. The water is so dang clear and blue here, and there's tons of rocks to climb out and sunbath on if you want.
Make sure to head out early, as the parking lot for Sand Harbor fills up FAST! It's a $10 fee but well worth it so you don't have to carry your gear a long way to the water.
There are other fun water sports to do on the lake, too! We saw some people parasailing Lake Tahoe while we were out, along with jet skiing and family boating.
So many options to get on the water and honestly being able to enjoy the lake is what makes Lake Tahoe worth visiting in the summer in the first place.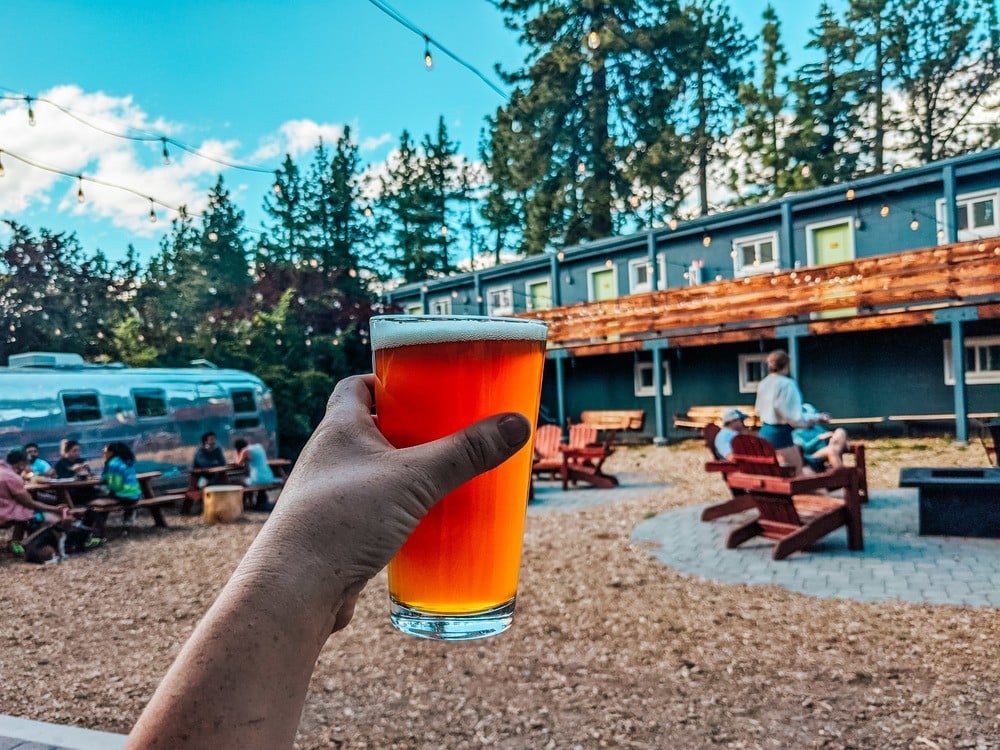 4. Go Brewery Hoping
South Lake Tahoe area has tons of breweries and one of our favorite summer activites on Lake Tahoe is to beer hop! On our last two visits, my husband and I have done self-guided beer trail crawls visiting as many of the local craft breweries our bodies could handle in a weekend.
Our favorite spot during the summer is South of North (the Basecamp Hotel Brewery) because we love their outdoor garden vibes. But honestly, any place will be fun to kick back on a patio with a cold local IPA and hang with locals after your morning hikes or boating.
I have a WHOLE detailed blog post overviewing all the breweries in South Lake and ranking them from best to worst that you should check out if beer is your thing.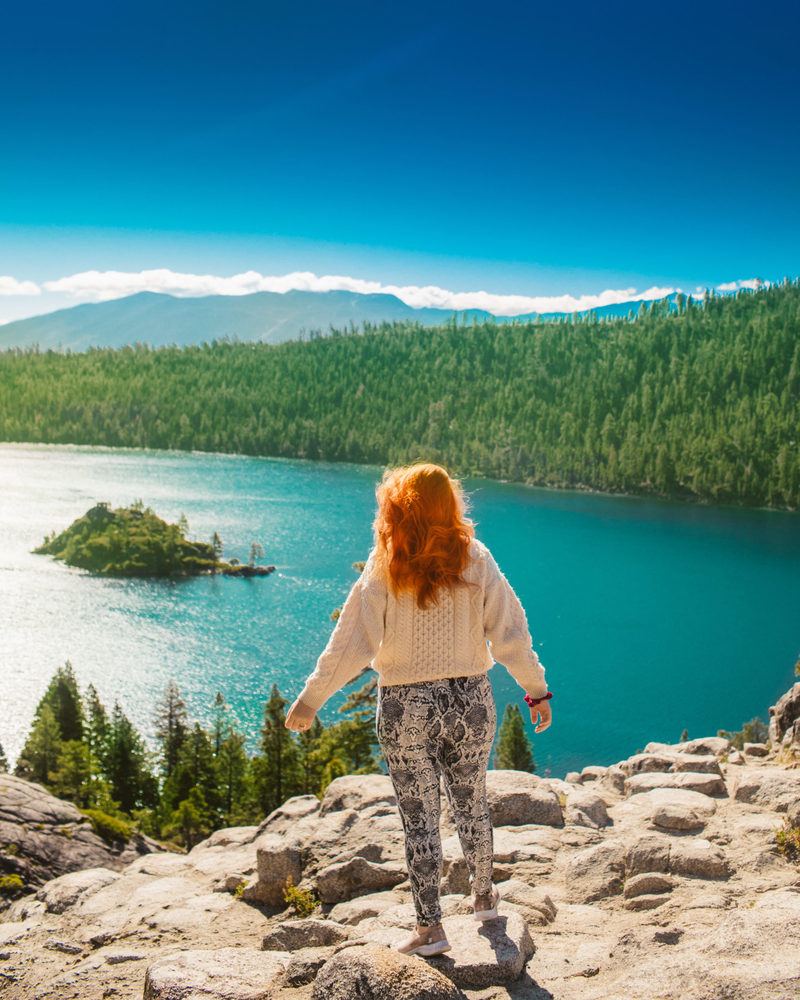 5. Catch An Emerald Bay Sunrise
Sunrise is always a magical time of day at Lake Tahoe. It's cool and peaceful before tourists get out on the lake or trails. While you can catch a sunrise from anywhere around the lake, my favorite spot is at Emerald Bay.
It's on the South West side of the lake, and thus the lookout faces East for a brilliant sunrise.
It's one of my favorite free things to do in Lake Tahoe in the summertime. Roll up with blankets, coffee and watch the sunrise!
6. Relax Lakeside at Kings Beach
One of our favorite beaches to spread out on is Kings Beach up on the North Shore! It's a funky little town with a great beach and options to rent kayaks and paddleboards right on the water. We love all the mom and pop style stores and restaurants up there for a low-key beach day. A day here is of the top North Lake Tahoe summer activities.
Other beaches to check out:
7. Roast Marshmallows at Hyatt Incline Village
We love the Hyatt on North Lake year-round, but one of our favorite summer and fall activities to do there is roast marshmallows and watch the sunset.
They have a few fire pits around their property near the beach and you can purchase smores kits from the hotel. Bring a bottle of wine for the perfect end to a day on the lake! It's one of the most romantic things to do in Lake Tahoe in the summer.
8. Hike Eagle Falls Trail
I'm widely out of shape and am so not one of those people who can go on a casual 8-mile roundtrip hike for fun. I love hiking, but I prefer the trails that are under 3-4 miles roundtrip.
That's why I love Eagle Falls Trail so much. It's an easy-moderate trail with steps, great views and ends near the water.
There's tons of parking at the trailhead and it's a great trail for all skill levels of hikers. I recommend coming here early in the morning or in the evening as mid-day will find crowds.
Other good trails to try that are longer:
Echo Lakes to Ralston Lake (6 miles round trip)
Rubicon Trail (follows shoreline of the lake!)
Tamarack Lake (7.4 miles round trip)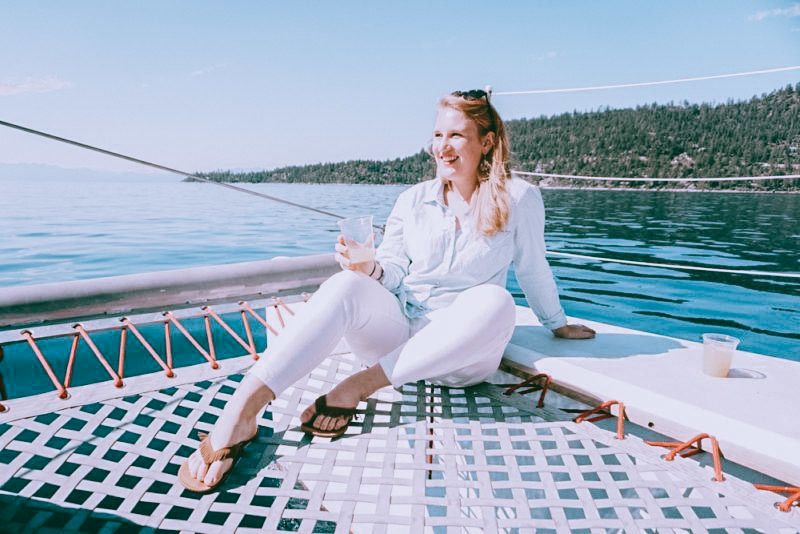 9. Sail Around Bay With A Tour
Tons of Lake Tahoe boat rentals. On South Lake, head to the Ski Run Marina and find a boat rental company. On North Lake, find rentals at Kings Beach.
OR book a brunch cruise! I had the joy of taking a brunch mimosa cruise on the Sierra Cloud Catamaran a few years ago.
It launched from the Hyatt so it was easy to wake up and roll out to a stunning morning sailing the North Lake. They provided coffee, mimosas, muffins, fruit and other breakfast items.
Couldn't ask for a better way to start a day! To this day, this sailing trip is one of my favorite memories and made me fall in love with California even more than I already do and easily made my list of favorite summer activities at Lake Tahoe.
More Places To Go Sailing Or Cruising
Tahoe City in general is a great hub for charters if you aren't on the North Shore

10. Rent Your Own Boat
You can also just rent a boat out with your friends! A couple of weekends ago I was in Tahoe City with some friends. We rented a pontoon boat, which is insanely easy to drive, especially on a huge lake like Tahoe.
Bring on a bunch of drinks and snacks along with your swimsuit and visit secret coves along the shoreline. It's one of the best summer Lake Tahoe things to do!
The key here is making sure to rent out boats well ahead of time. They have marinas all over the lake so you can find a company near your hotel or rental easily.
But this is one of the best things to do in Tahoe in summer so the boats are booked our really fast. We ended up getting a last-minute cancellation which is always something you should look out for if you didn't book far enough in advance!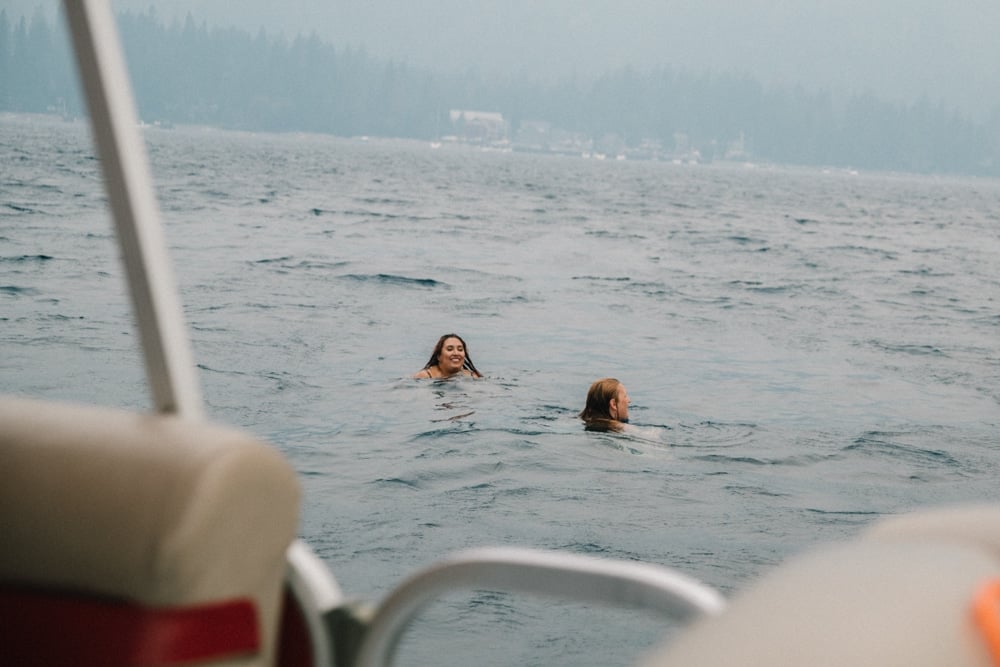 11. Mini Golf With The Kids
There's a cute mini-golf course in South Lake right called Magic Carpet Golf We didn't stop by, but we did enjoy beers at the beer garden next to it and I really loved all the whimsical mini-golf holes (like dinosaurs!) This is a great place to take kids.
12. Heavenly Mountain Coaster
There's also Heavenly Mountain Coaster for the kids at heart like myself (and, actual children, too.) I saw a video on TikTok of this and it looked like SO MUCH and has a great view of the lake.
I haven't yet been able to do this for one reason or another, but it's high on my lists of things to do at Lake Tahoe in summer.
Like – how fun would it be to sit on a little mountain coaster and go down the hill with sweeping views of the lake right out in front of you?!! It sounds like heaven.
13. Stroll The Taylor Creek Visitor's Center
If you want to explore trails but aren't up for a hike (or are traveling with children or family members who physically can't hike) head to the Taylor Creek Visitor's Center on South Lake!
Robin and I stumbled upon this spot a few falls ago. It's a great place to see salmon spawn and learn about regional fish and wildlife. There's a nice, flat path leading from the center through woods and to the beach. Tons of parking and clean restrooms, too!
PS: You can also walk the loop around Fallen Leaf Lake (near Camp Richardson) which is nearby!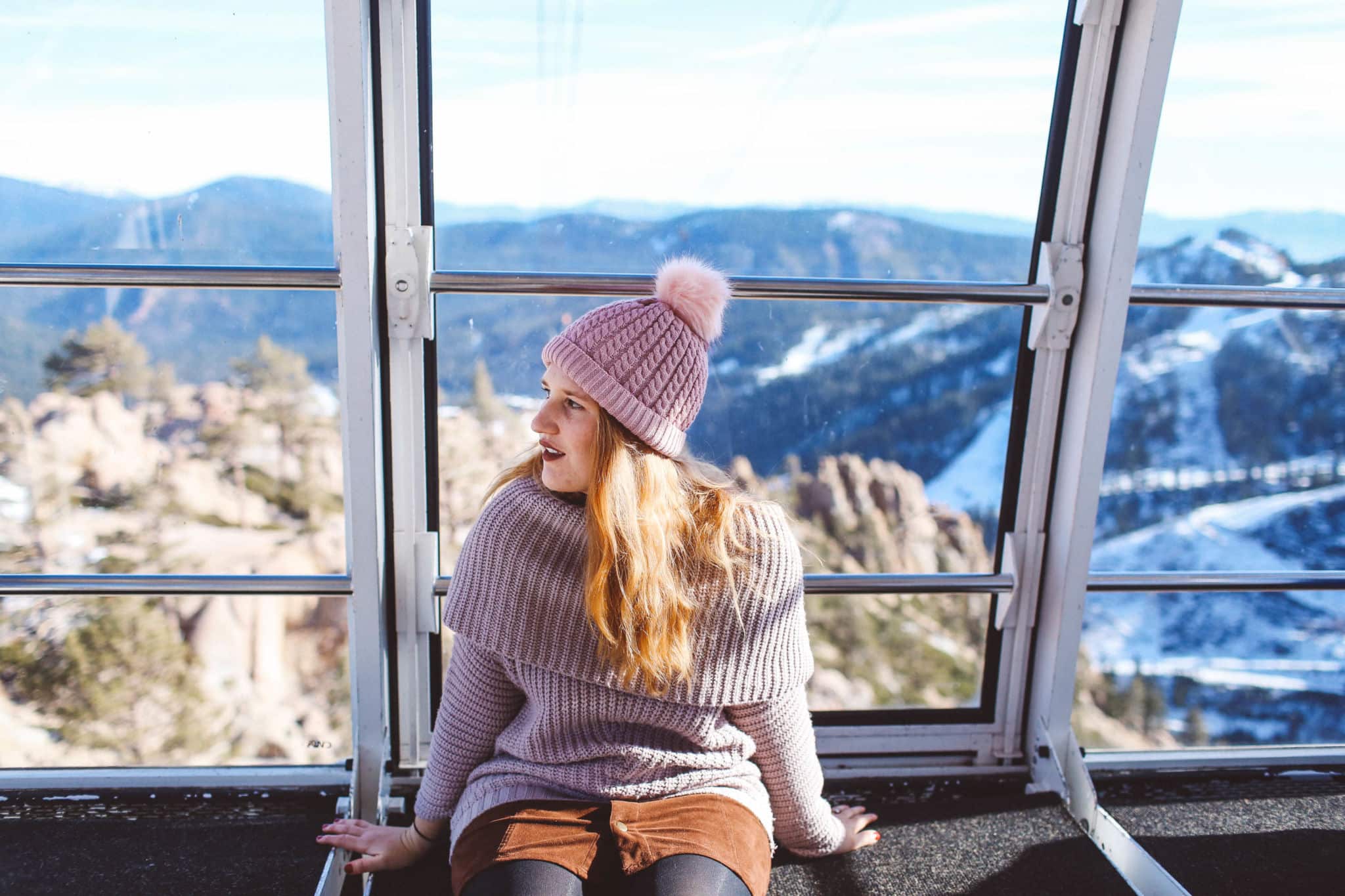 14. Take A Romantic Gondola Rides
Heavenly Village and Squaw Valley both have Gondolas that you can ride up mountains in winter and summertime. I've road the Gondola at Squaw during Christmas once and it was SUCH a peaceful, romantic way to spend the day (since we don't ski.)
It took about 10-15 minutes slowly crawling up, complete with great aerial views of the forest below. At the top of the mountain of course you are rewarded with stunning views.
Squaw had a little cafe and picnic tables so we grabbed lunch as it was a warm winter day (though it would be even more enjoyable in the summer!)
You can also ride the Heavenly Mountain Gondola which features an 8-passenger glass cabin and sweeping views of South Lake Tahoe. It's a bit pricey, but you are able to get off halfway to take photos and then keep riding it all the way to the top of the mountain.
15. Hike To Rubicon Point Lighthouse
I'm a sucker for lighthouses and love hiking the 2.4 miles to Rubicon Point Lighthouse. It's just North of D.L. Bliss State Park and is an easy loop that takes you to the lighthouse. It's a near structure all made of wood and doesn't look like your average lighthouse.
16. Day Trip To Truckee
Truckee is a charming mountain town near Donner Lake, a bit North of the lake. You probably have driven past it if you're coming from the Bay Area heading to Kings Beach or Incline Village. I LOVE all the cute little shops here and restaurants.
There's a great scene happening up there and I love when I get to do a day trip or even a weekend trip here.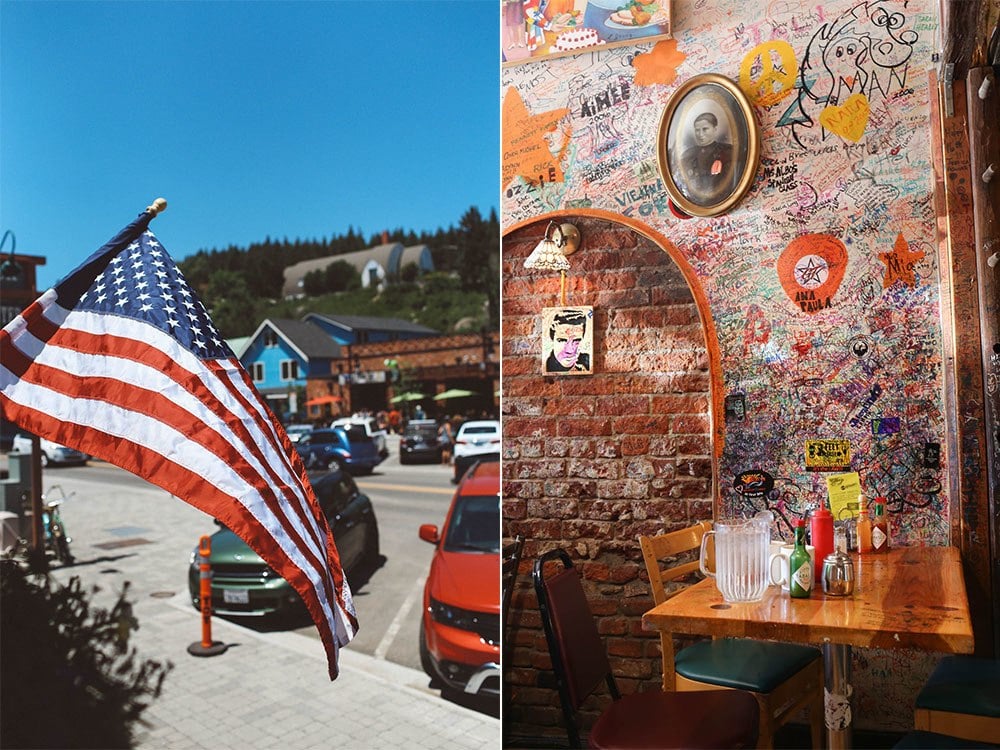 Most recently a friend of mine rented a cabin here for a month and invited me up to stay for a few days. I loved running around this town to all the popular hiking trails but since it's not on Lake Tahoe proper, there's way less people out and about.
I recommend grabbing brunch at Squeeze In and then strolling the town to see what's there. Treat yourself to an ice cream treat at Bud's if you still have room after lunch!
Then, pop over to Donner Memorial State Park (yes, the infamous site of the Donner Party.) Don't worry, it doesn't have any creepy vibes.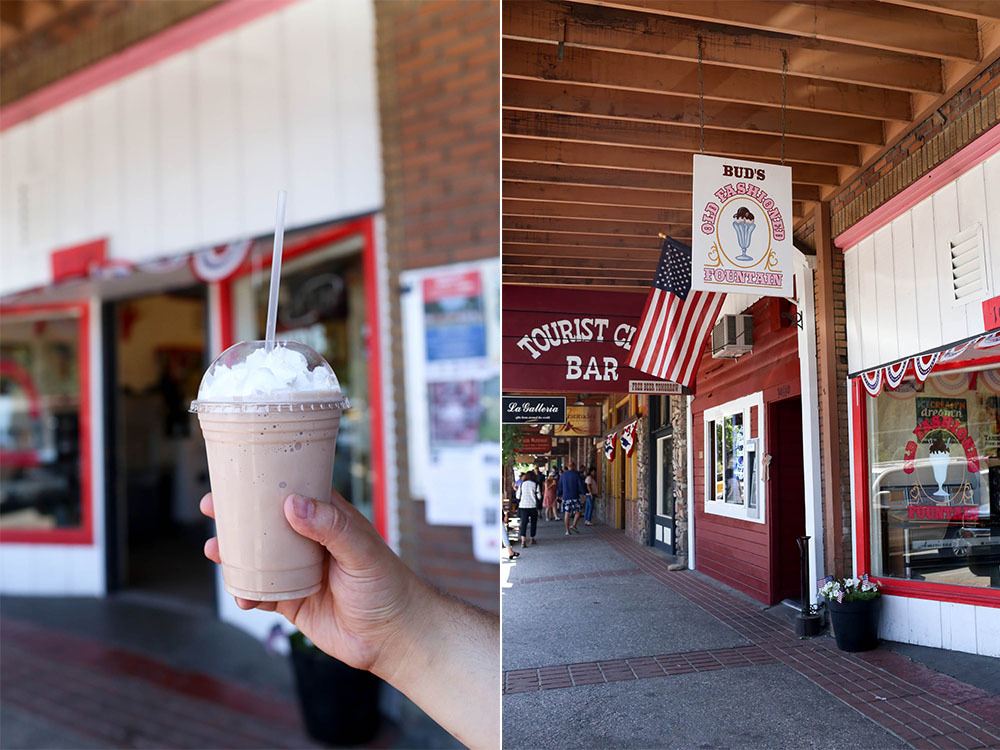 One of my friends has been renting a cabin in Truckee every summer and/or fall for the past few years and I love to go visit her, so I've been spending a lot of time up in the Sierra Nevada Mountains.
Well – even more time now that I bought a cabin in Arnold (in between Tahoe and Yosemite National Park) and have been renovating it. Anyways, my point is: these little mountain towns (like Truckee) are so dang cute and such a fun way to spend your summer.
17. Glen Alpine Falls (Waterfall Hike)
The hike to Glen Alpine Falls is long, about 6.8 mile round trip but hot dang, this waterfall is worth the effort. It's best to visit in the earlier part of the summer when the snow runoff from the mountains is still fueling the waterfall at high levels.
It takes the average hiker about 3.5 hours to complete, but I always like to leave some time to stick my feet in the water after hiking, and, if the water looks safe, swim in it! So don't forget to pack your swimsuit for this Lake Tahoe waterfall hike.
18. Zephry Cove Helicopter Flight
Ok I haven't done this personally but every time I do summer at Lake Tahoe I always *almost* book this for us. I've seen Lake Tahoe from out plane windows before but that's 10,000+ feet in the air. I wanna see the views from a helicopter!!
Like, imagine how beautiful that would be! If you're looking for unique things to do in Lake Tahoe, or perhaps something special like a proposal, consider booking this helicopter tour.
Where To Stay In Lake Tahoe For Summer (Our Favorite Lake Tahoe Hotels)
Skip the ski resorts for summer and instead stay at an Airbnb cabin or one of the cute lakeside hotels. Here's our favorite place to book!
Coachman Hotel
Coachman Hotel oozes modern mountain vibes and is my new favorite hotel on South Lake. It's just a few blocks from Stateline so it's super central. Their patios are *chef kiss* for summer nights and they have a hot tub and pool! Oh, and dog friendly!
I stayed at the Coachman Hotel with a girlfriend last October and fell in love with this hip spot and know I'll be back next time I do a Tahoe Lake summer trip. See my full feature here.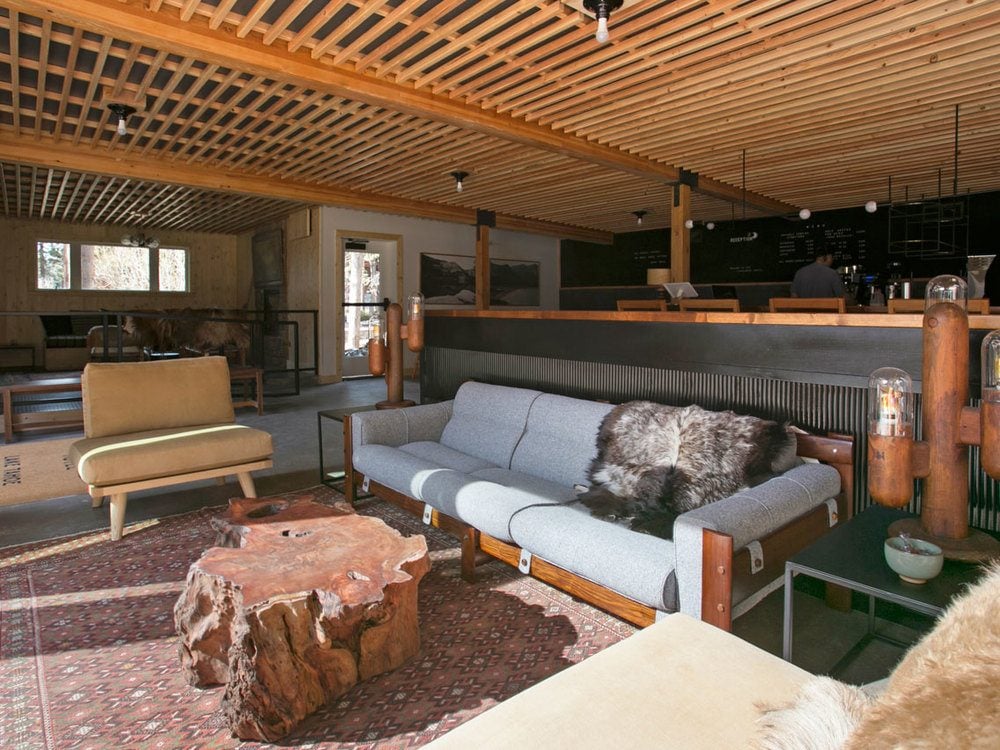 Basecamp Hotel
Located in South Lake Tahoe literally across the street from the Nevada State line, Basecamp Hotel is the epitome of mountain hipster chic.
Think tons of color and murals with a beer garden brewery on-site and even a rooftop patio space for guests. They're also famous for their Tent Rooms for the ultimate indoor/outdoor experience.

Hyatt Regency Lake Tahoe
Located on North Lake Tahoe, Hyatt Incline Village is our favorite Lake Tahoe resort hotel. They have a private beach full of lawn chairs and cabanas in the summer, along with a fun dock bar right on the water. Their property is full of trees and I also adore their hot tubs. It's really serene here.
And, if spas are your thing, make sure to book a treatment, they have AMAZING massages! This hotel is really fun in the fall and winter, too but really does make for one of the best Lake Tahoe summer resorts since it's right on the water.
Check out some of my fall photos above! And check out my full Hyatt Lake Tahoe feature here.
Airbnb Cabins
There are lakeside cabins everywhere on the lake. These are best for groups and families or for couples looking to stay for an extended period time.
Check out my list of favorite South Lake Cabins to rent. Don't feel constricted to cabins right on the water, though. They can be pricey!
I just spent a weekend up in Tahoe City with a bunch of friends (13 and a baby!) It was about a 10 minute drive to the lake so that meant our cabin was much more affordable.
And I loved it for that! There's a lot of summer activities in Lake Tahoe like hiking that's easier to access if you aren't right on the water, plus we loved saving all the money. So, don't be afraid to look inland a bit.
Camp Richardson Campground
If you're looking to go camping right near the water, the best place is Camp Richardson Campground! It's a pretty campground with a ton of sites and also a few sites for RVs. There's a general store and cafe on the grounds as well. Book here.
There's tons of campgrounds around the lake to look into. Next time I'm up here I think I'll be booking a site at Eagle Lake Campground / Eagle Point Campground, or at Bliss State Park, both of which are also right on the water and look really fun.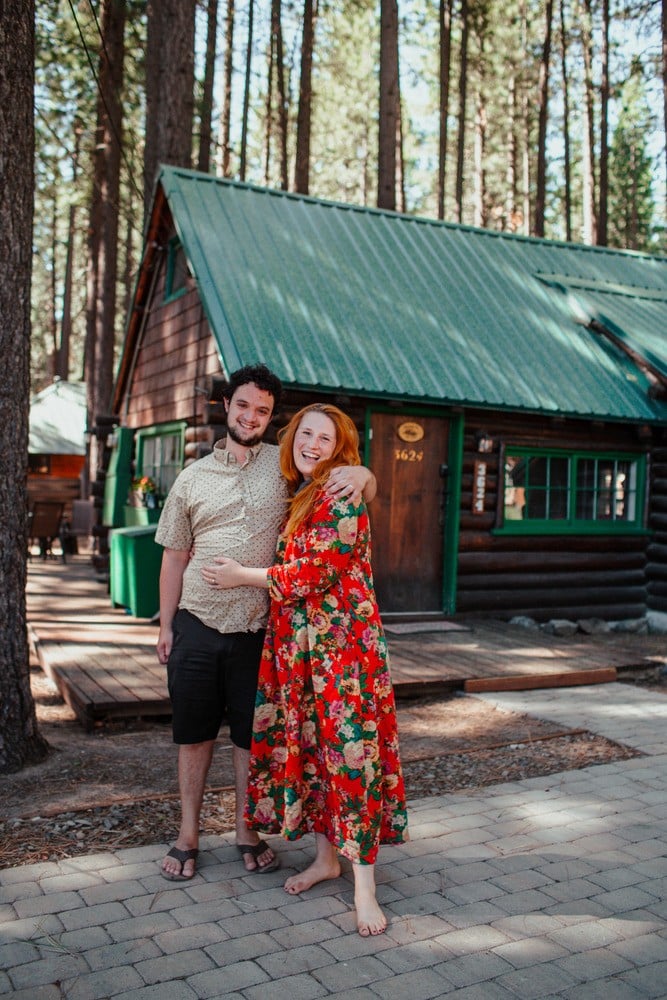 Where To Eat (Best Restaurants in Lake Tahoe)
Ok, so Lake Tahoe isn't exactly a culinary capital of California. I've eaten at a lot of joints up here that are just meh so I won't be recommending those spots.
And, some of my favorites have closed for good after the pandemic. BUT, these restaurants below are the good ones that we've had great meals at. (PS – if you're reading this and have more good suggestions to add please leave a comment below to add to our Lake Tahoe summer tips!)

What To Pack For Lake Tahoe In Summer
Packing for your Lake Tahoe summer vacation? In short: Layer up! We visited Lake Tahoe in June and struck a cold streak where it was mid 60's each day.
But apparently just a few days before the temperatures were high 80's. Expect the unexpected in the mountains and pack layers! Here's some other things you'll need.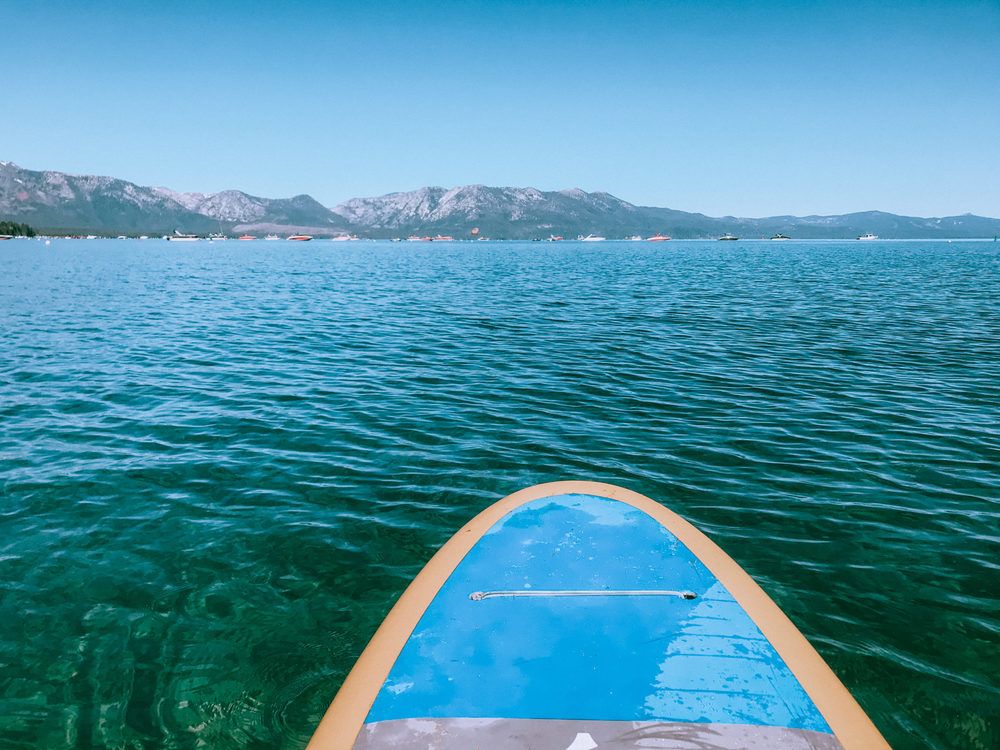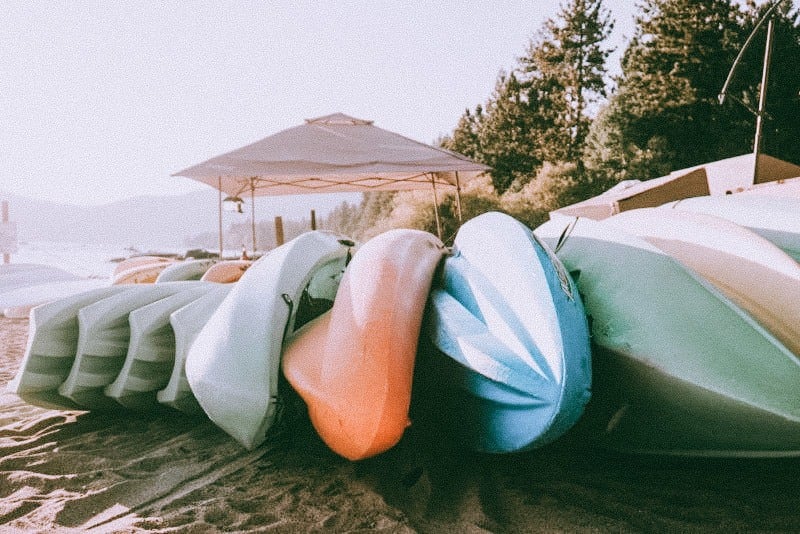 Lake Tahoe in summer is my new favorite place to spend lazy July days in California. The lake is so large, there's never a shortage of fun things to do in Lake Tahoe and I can't wait to keep making more memories up there each year.
If you have any tips to add, leave a comment below so everyone can see! If you have questions, comment or Dm me on Instagram @thewhimsysoul and I'll try to help!