Living in California has perks – like chances to have year-round al fresco dining with a bottle of Chardonnay, a cute picnic basket and a great natural setting (like this Big Sur camping trip!) Since we spend so much time in our tiny apartment, we jump at the chance for al fresco dining as much as we can, even if it's just a taking a bottle of Cupcake Vineyards wine to the park and soaking in the sunshine.
The pure whimsy of making a simple lunch extra special is something I enjoy so much.
My mother gave me this adorable picnic basket last year and it's something we find ourselves using all the time. It comes with plates, silverware, a wine bottle opener, napkins and a little picnic basket. It's big enough to fit a few bottles plus food, so we take it everywhere, including our camping trip to Big Sur! I knew our campsite would have a table, so on our first day there, we planned to have an easy late lunch of PB&J, clementines and a bottle of Cupcake Vineyards Monterey Chardonnay (seemed fitting for Big Sur!) and stick around the campsite. Watching the light filter through the Redwoods and just enjoy the crisp wine was so darn relaxing.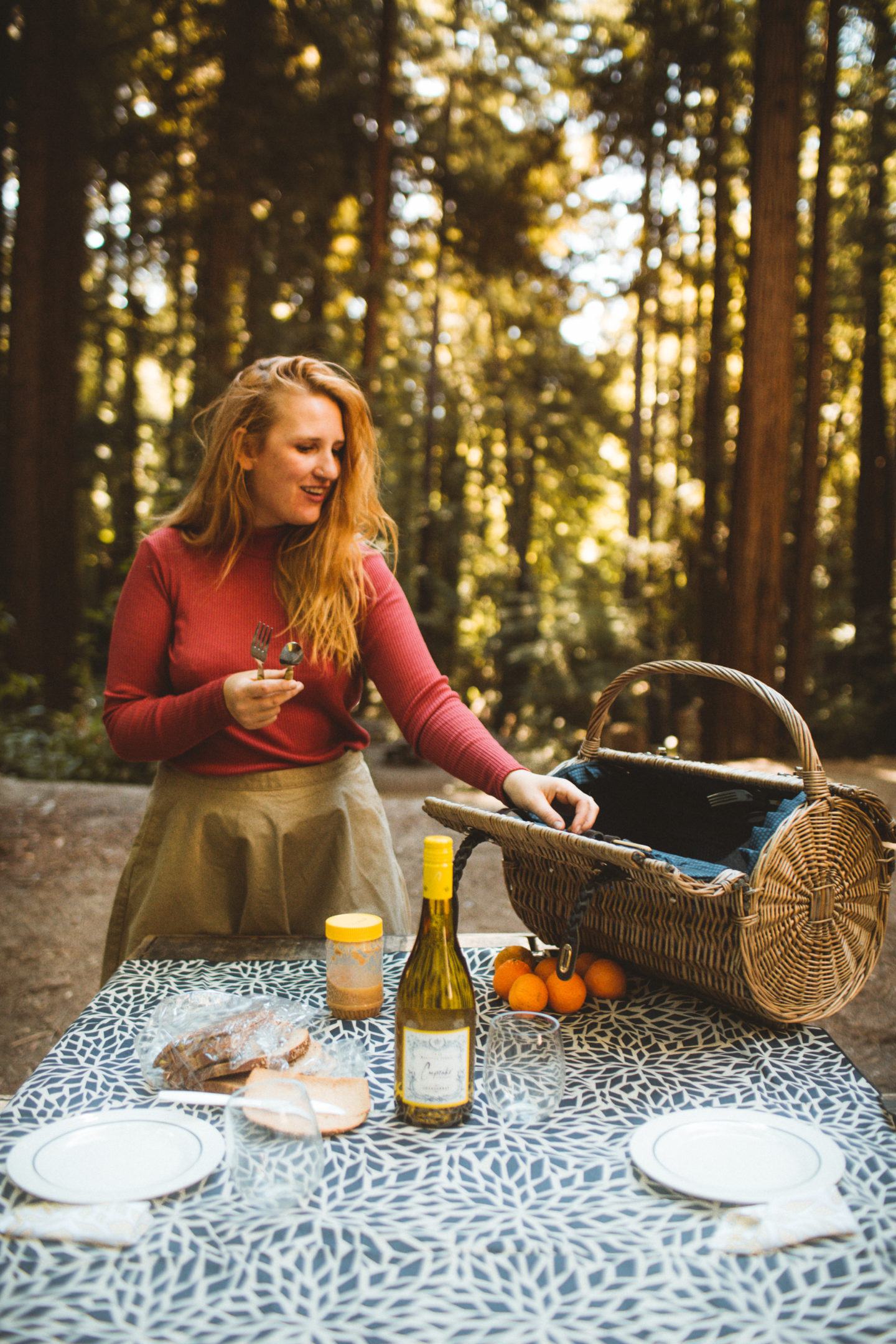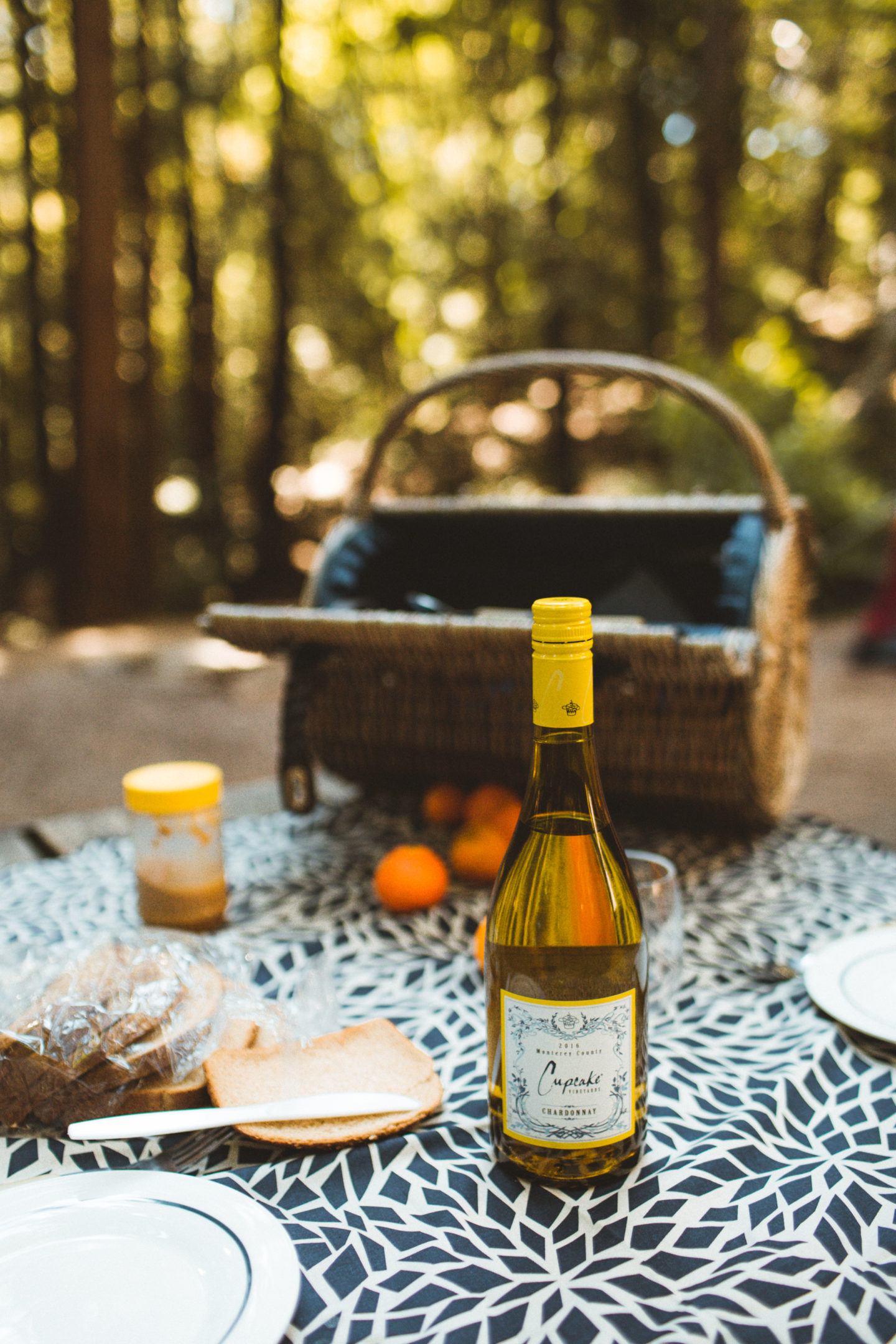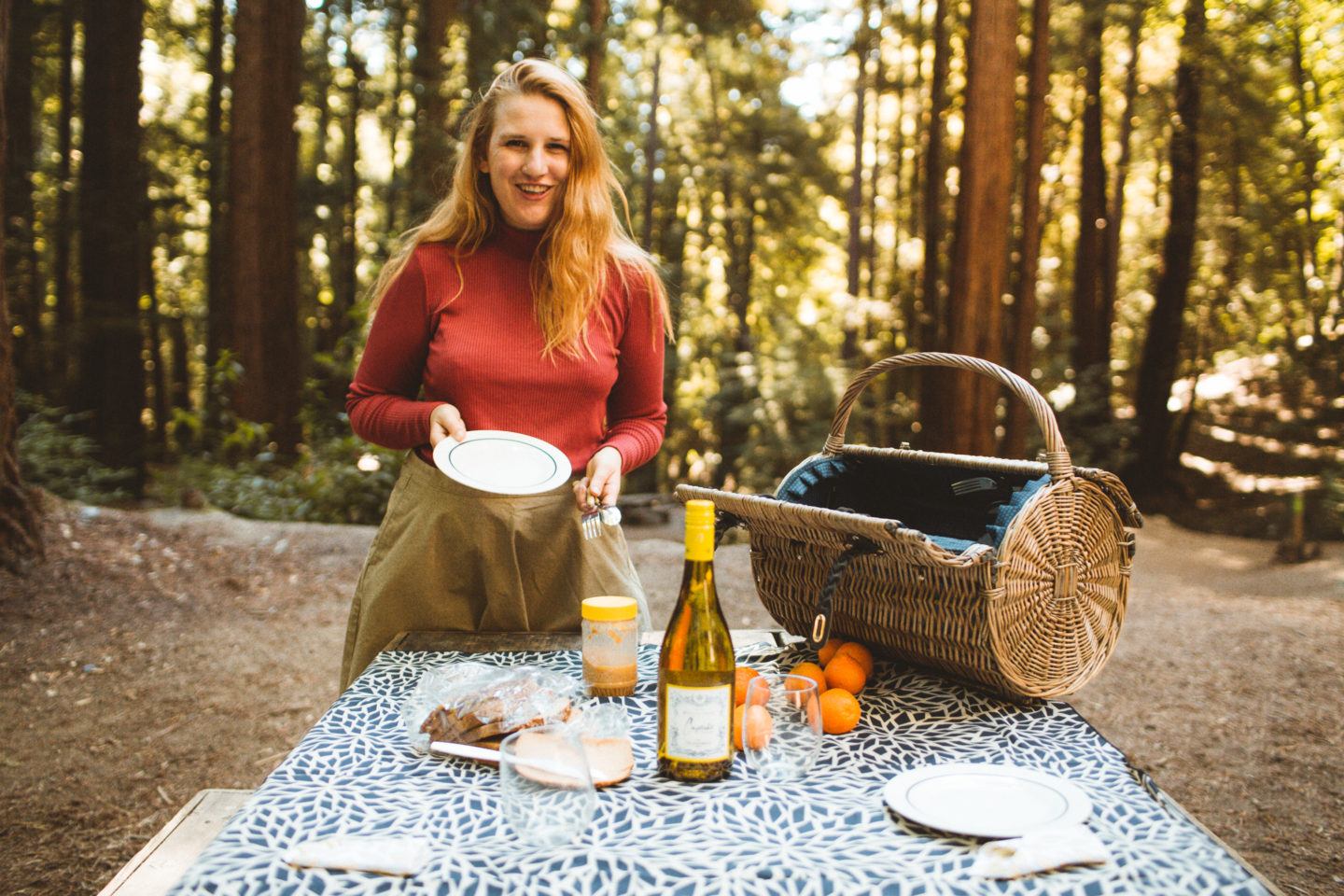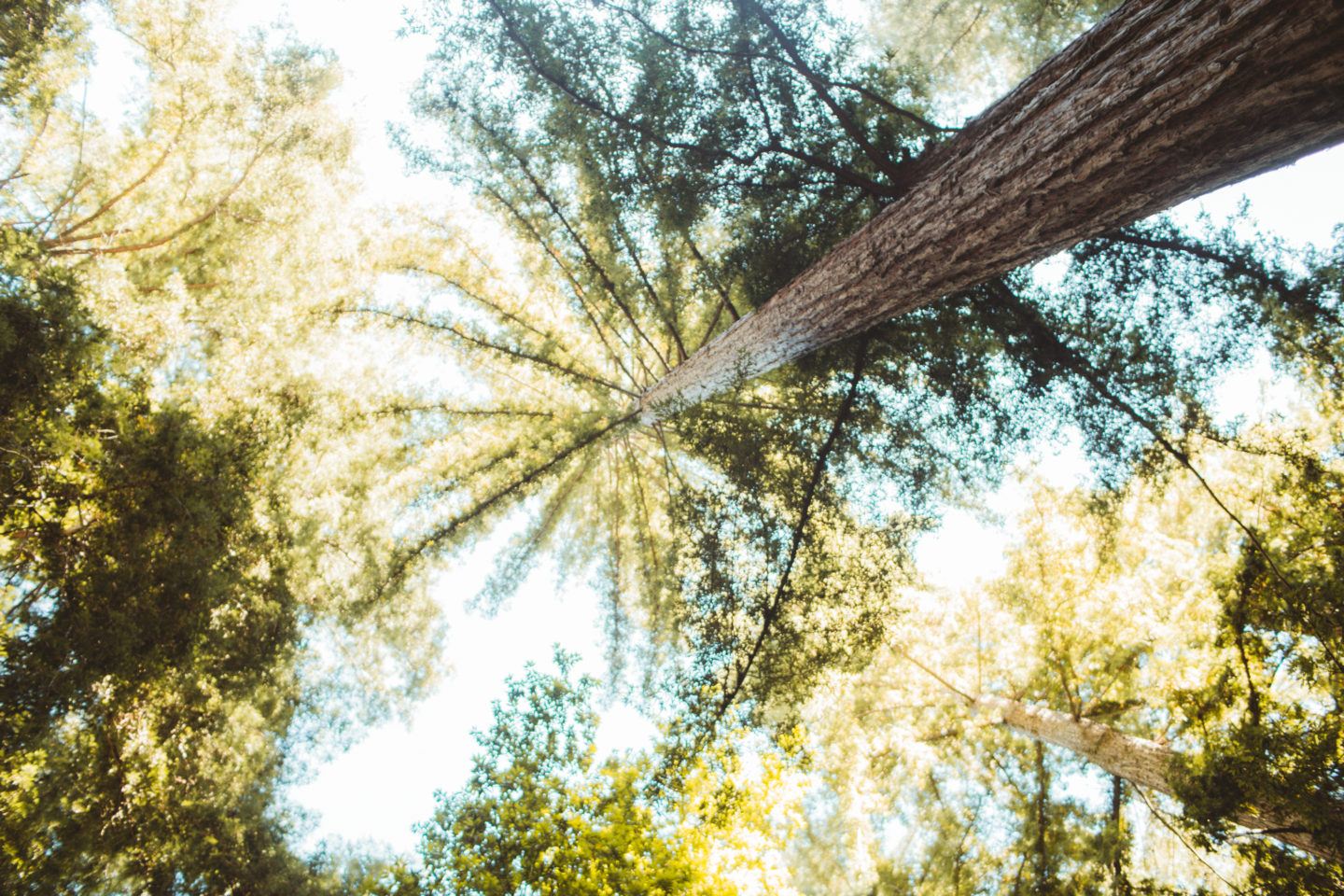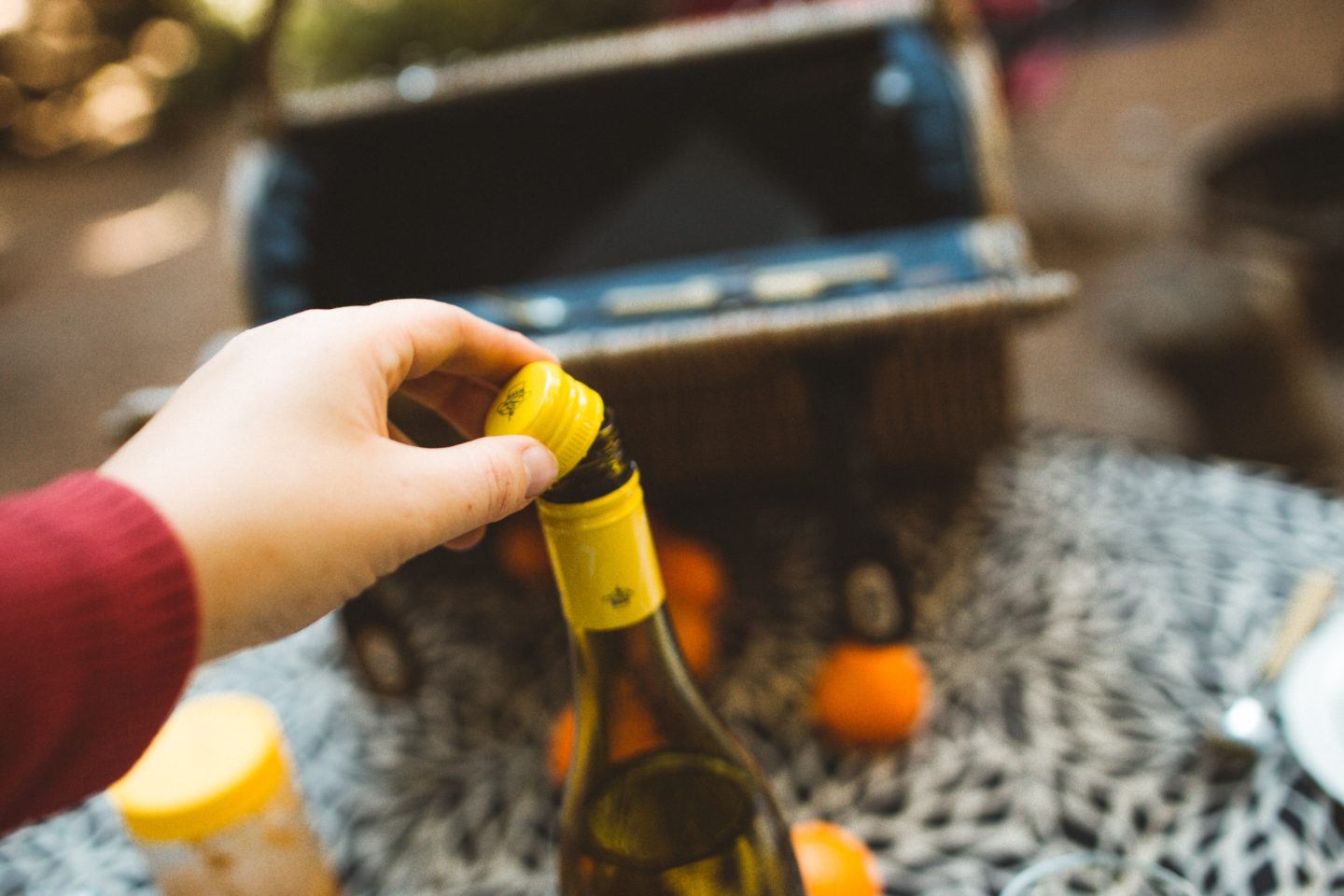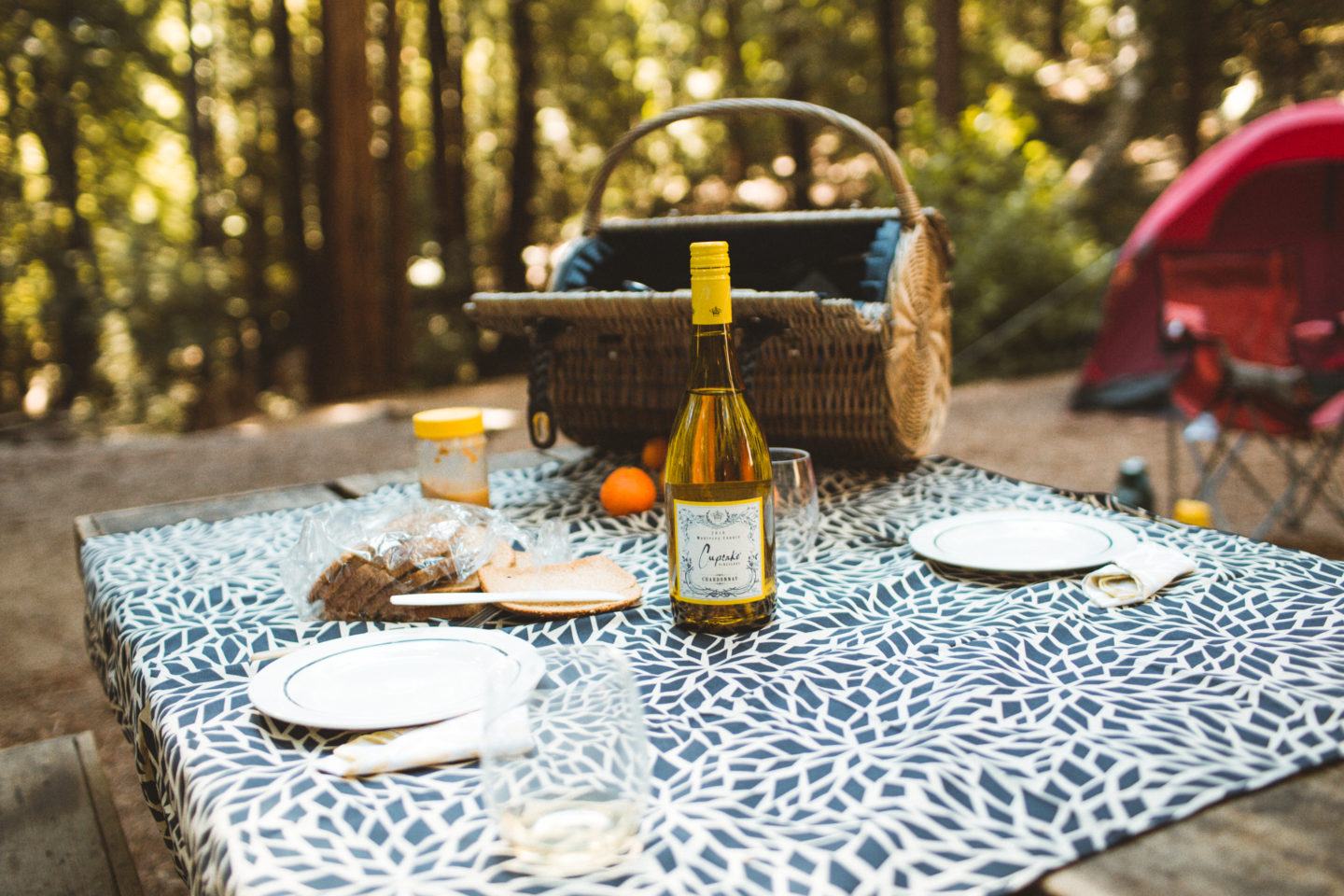 You don't need to be celebrating anything big to pop open a bottle of wine and enjoy each other's company with a picnic. Having an Instagram-perfect al fresco dining setup is a lot easier than you may think! Having the right picnic basket totally helps, but you can create this for yourself if you don't have a basket kit. Here's what you'll need…
A blanket and/or tablecloth, depending if you'll be sitting on the ground or at a table.
A wine bottle opener and a bottle (or two!) of

Cupcake Vineyards

. We choose the

Monterey Chardonnay

since Big Sur is just south of Monterey, so it seemed fitting! We kept it cool in a cooler with our hot dogs. If you don't have a cooler, bring a few bottles of red.
A cutting board for cheese, if you plan on pairing that with your wine.
Plates, knives for the cheese, forks for the rest of the food, and glasses!
A cute napkin is a nice touch, but you can use paper towels if needed.
Your snacks or meal, ready to eat. (Since we were camping, we had a simple lunch, but sometimes we go all out and bring take-out to the park!)
Sometimes I'll pack along fresh flowers to help make the experience feel more special.
Turn on some music to set the mood!
There's still plenty of time to head outdoors this fall and enjoy a picnic! Don't let the crisp weather deter you. These are some of my favorite times to dine outside because the air smells like fall leaves (you know that smell!) and I love getting cozy in a sweater, sipping on a good glass of Cupcake Vineyards and soaking in the last of the tolerable weather before rain or snow hits.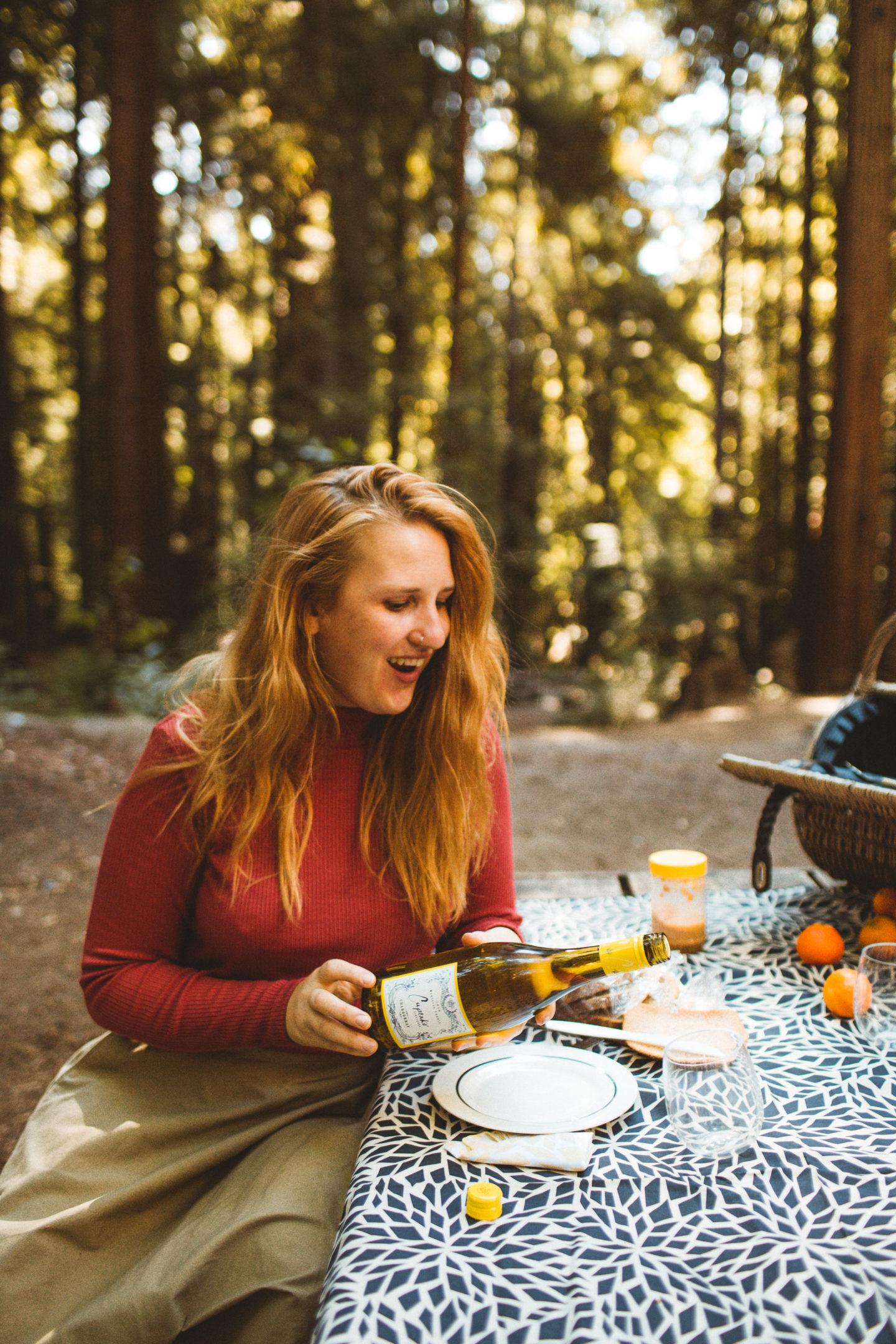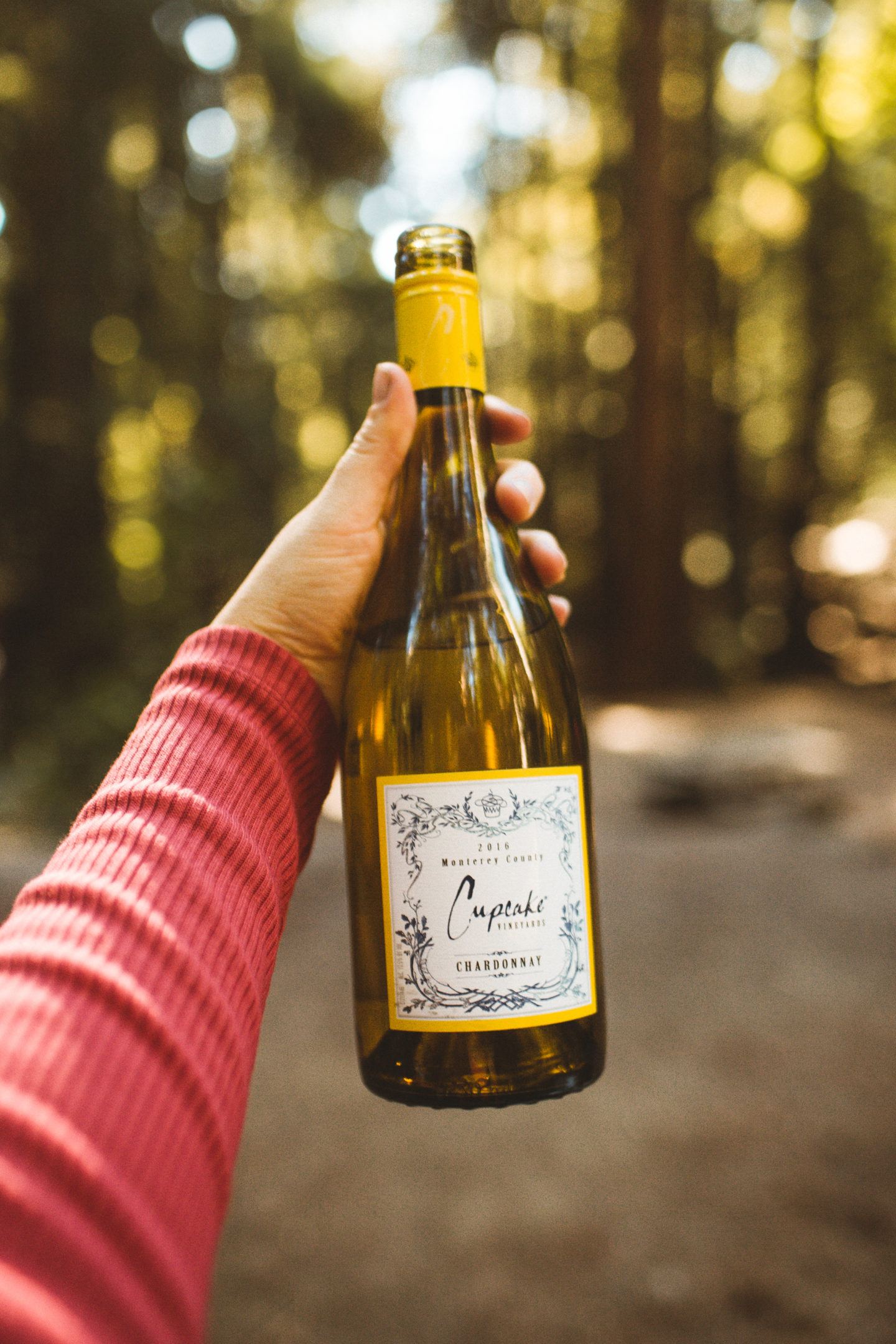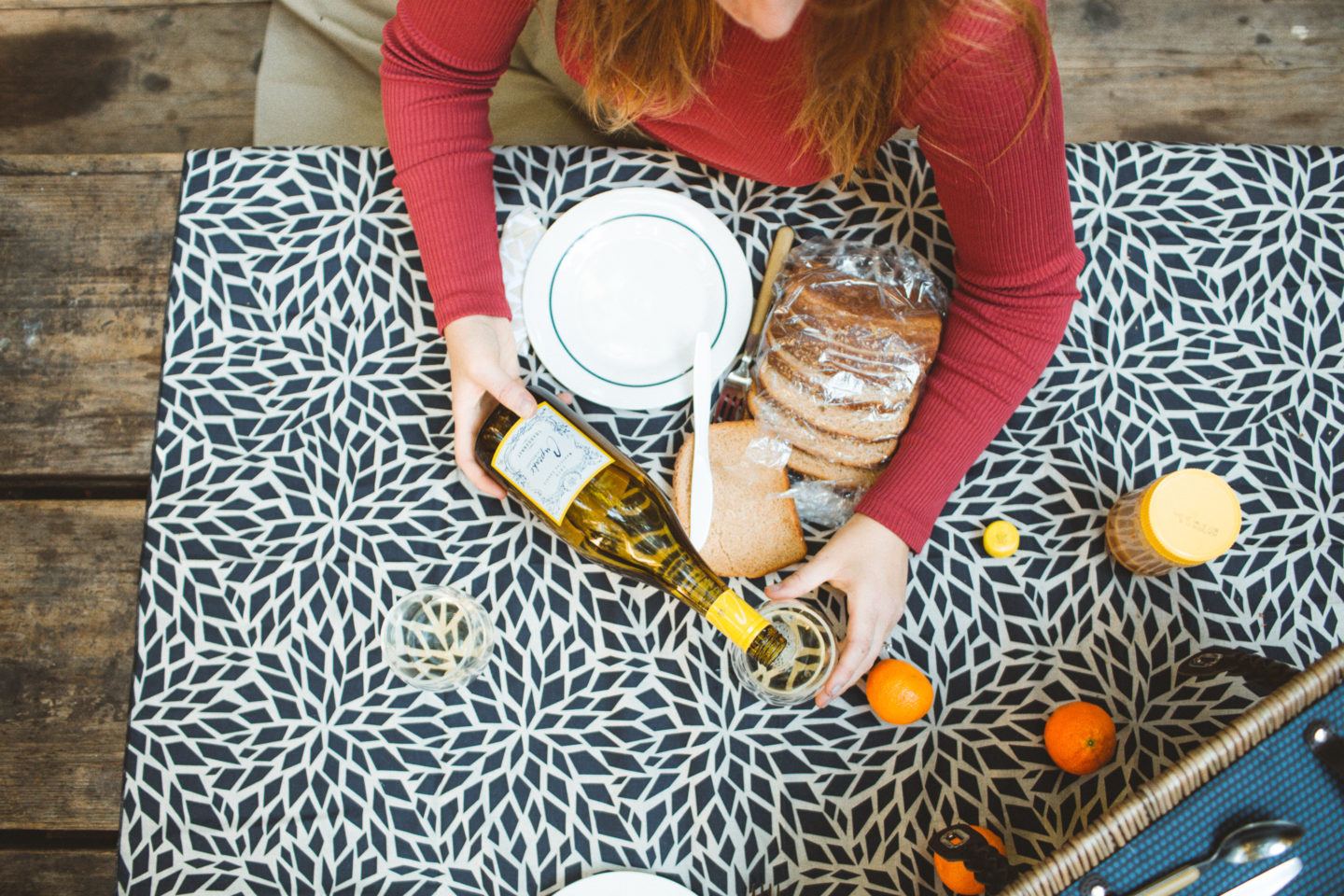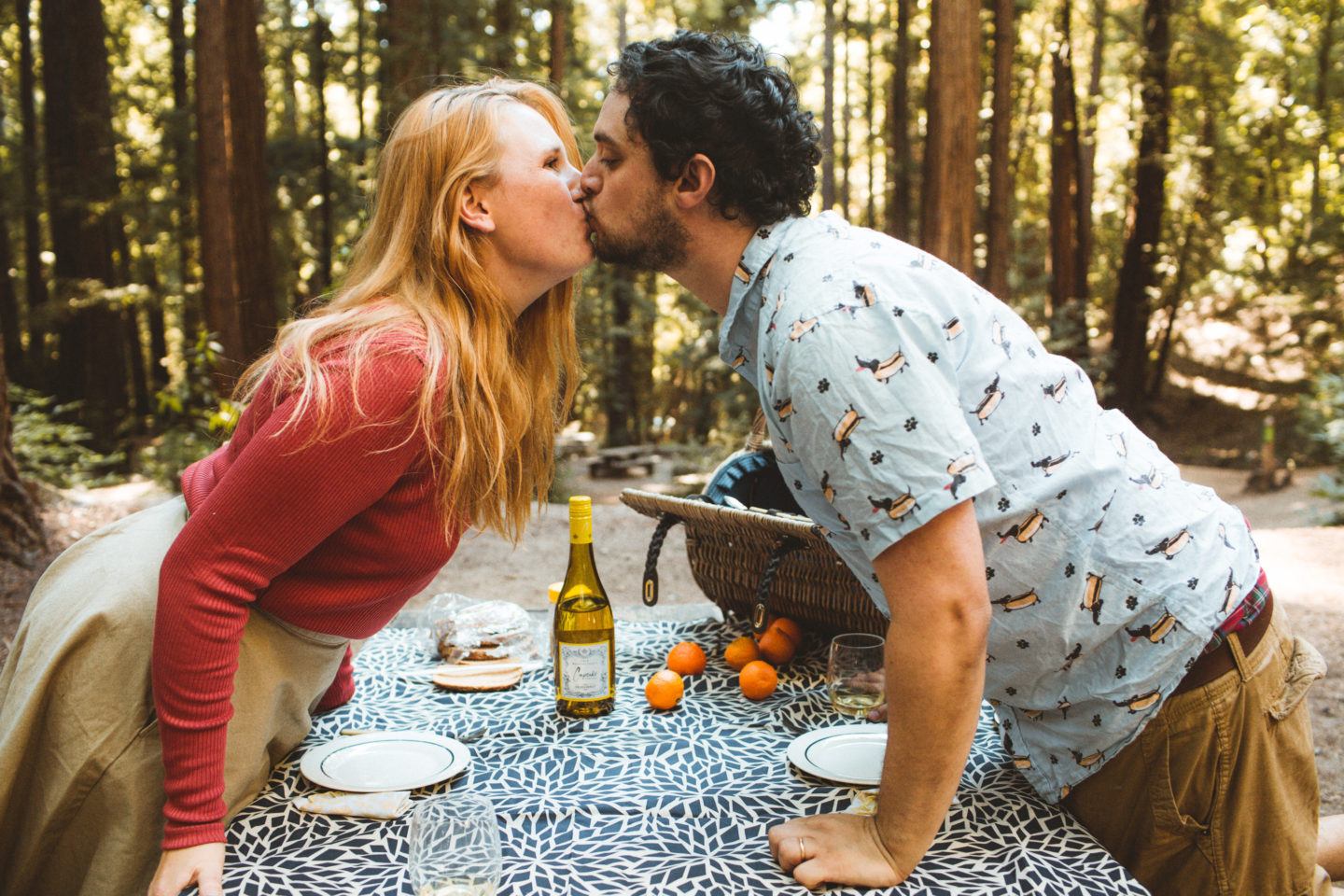 Experiences are way more important than things, and the experience of finding ways to do our favorite activities outdoors has had a very positive impact on our lives. We've always loved turning off screens, enjoying good food, good wine and good company. The pure whimsy of making a simple lunch like this into something extra special makes me really happy.
Next time you are camping, or just looking for a Sunday Funday in the park, build yourself an al fresco dining setup, grab a few bottles of Cupcake VIneyards Wine to share, and just enjoy the beauty of life.