If you're anything like me, you adore a good charcuterie board paired with wine and an evening with the girls. Is that so very stereotypical millennial of me? 100%, but you can't deny a snack board makes any gathering instantly better.
These days I usually find myself nibbling on a bougie cheese board in the park with the girls (a perk of living in San Francisco is sunny leisurely park days happen year-round) but with autumn around the corner, there's a lot of nostalgic Halloween movie nights ahead of me. In honor of Hocus Pocus 2 coming out this year, I put together a wonderful fall charcuterie board inspired by autumn (with a witchy twist because hey, it's spooky season after all).
The Witchy Side Of Fall Charcuterie Boards
If you've been reading my blog for a while, you know we have a resident witch, Tenae, who shares all things magick, self-care and wellness, and how it all comes together with the seasons. Food and our traditions around food (ie pumpkin spice and apples in the fall) are inherently witchy.
This is why, when building your perfect fall charcuterie board, you should be reaching for traditional autumn ingredients, meats and fruits: apples, rosemary, pumpkins, turnips, cinnamon, pomegranate, hazelnut, potatoes or corn.
Translate that to fall cheese board ideas, that could look like sliced apples, apple butter, mini pumpkins as decor but also pumpkin seeds to nibble on. Maybe it's rosemary sprigs as garnishes on the board, but also potato crackers seasoned with rosemary salt.
The difference between a random Monday night cheese board and the perfect fall charcuterie board for a party or watch night is the intention and attention to details.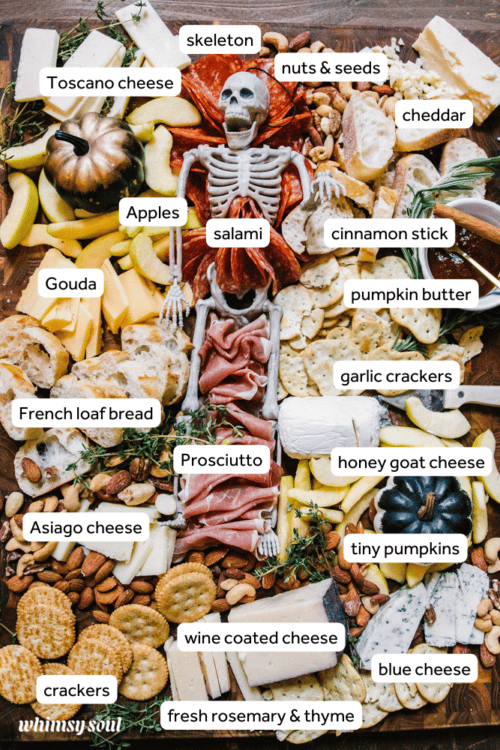 How To Make A Fall Charcuterie Board (Easy Yet Cute )
This sounds a little intense, but don't worry, it's easy to pull all these things together for a dang tasty board that looks cute. I honestly get most of my things from Trader Joe's and Safeway. For my Hocus Pocus watch night, I also added in a skeleton and some plastic pumpkins for that extra spooky flair.
You can use decorations like these, or swap them for cornucopias or more "Novembery" centerpieces if you want. And of course, cater the ingredients towards your own budget, taste and dietary restrictions.
The Key Is Leaving No Empty Space On The Board
When I put my board together, everyone was like "omg this amazing! How long did it take you?!" It took me like, 30 minutes to put together. It's really not hard. I PROMISE. I have never made an intense-looking charcuterie board like this before and it was actually really easy.
The key is sort of letting things fall into place naturally and pushing them together to leave no empty spaces on the board. Alternate between meats and cheeses and fruits and breads. Use decorations and small bowls strategically fill out large spaces. You got this!
Best Seasonal Ingredients For An Autumn Charcuterie Board
Apples
Rosemary
Cranberry
Pomegranate
Potatoes
Garlic
Pumpkin cranberry crisps
Onions
Cinnamon
Cider
Pumpkin
Nuts
Best Cheeses For An Autumn Board
I like to do a mix of hard and soft cheese. I've even seen this cool butter board idea going around on TikTok which I thought about making but ultimately decided wasn't the vibe (but making a rosemary butter would be perfect for the theme!)
I find Trader Joe's always has the best prices for cheese so I usually shop there but you can find cheese at any of your go-to stores.
Goat Cheese (bonus for rosemary goat cheese!)
Purple cheese (the Creamy Toscano Cheese Soaked in Syrah from Trader Joes is a great option to add color to the board!)
Flavored Cheddar (try Cheddar Cheese With Caramelized Onions)
Brie rounds (if you're extra you can use these as bodies to build the Sanderson Sisters)
Best Meats For Fall Boards
I firmly believe fall charcuterie board ingredients should lean heavily on the seasonal harvest foods, but every good fall snack board needs the meats! Prosciutto is always a hit, but you have some options to go big with meat recipes, too.
Prosciutto
Salami
Turkey meatballs (fun for a Thanksgiving charcuterie board)
Tiny meat pies (if you're looking for recipes that can double as a proper fall appetizer)
Fun Decorations To Add To Your Fall Themed Charcuterie Board
When thinking about fall charcuterie board ideas, I love reaching for home decorations to make charcuterie boards pop for the season. For your autumn charcuterie board, consider some of these ideas:
Real or fake mini pumpkins in different colors
A plastic skeleton (stuff the inside with meats!)
A witch hat shaped serving platter
Fresh herb sprigs for decor (use Rosemary and Thyme!)
Faux fall leaves
Tiny skulls
Sugar skulls
Tombstone shaped cheese board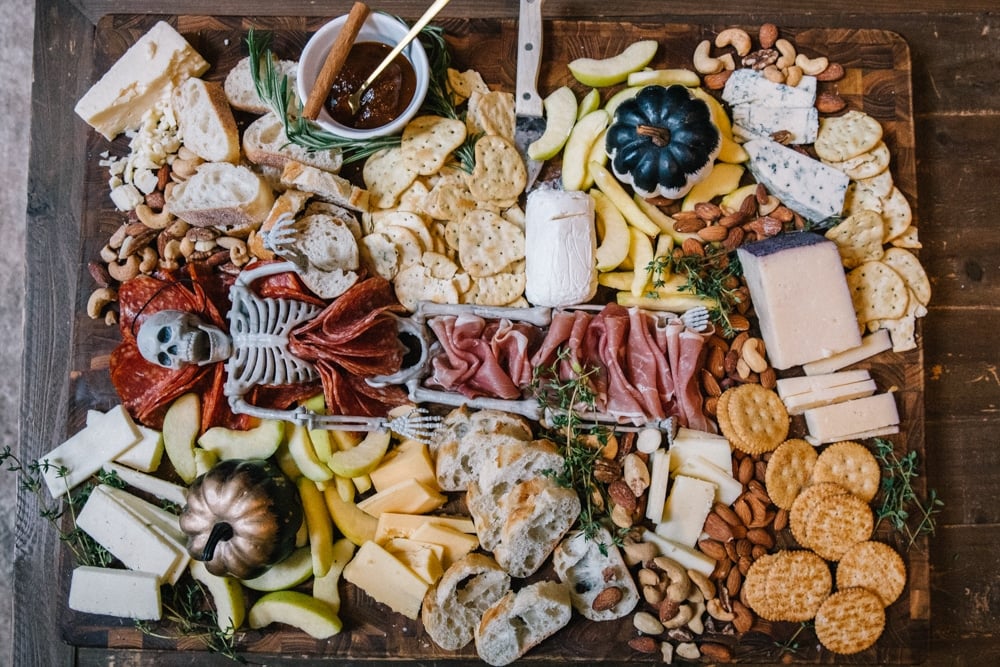 Looking for more easy Halloween charcuterie board ideas? I love heading to TikTok or Pinterest and finding ideas that way. Be warned – some of those " simple fall charcuterie boards " are actually really hard and turn into Pinterest fails, but it's still a great place to get ideas if you're looking for more.
But when in doubt for any seasonal snack board, stick to the season's foods and you can't go wrong.
I think I'll share another one of these come Christmas for a fun holiday-inspired board… stay tuned!