When Farallon invited me to try out their new menu, I was thrilled! This gem of a seafood restaurant right off Union Square has a menu stocked full of the most delicious seafood dishes you can imagine and their decor is something out of this world. Think jellyfish chandeliers, 100-year old interior design, and paintings that look like an artist was on acid (in a very good way). Stepping into this place transports you to an under-the-sea dream, making Farallon the top San Francisco restaurant you need to eat at before you die.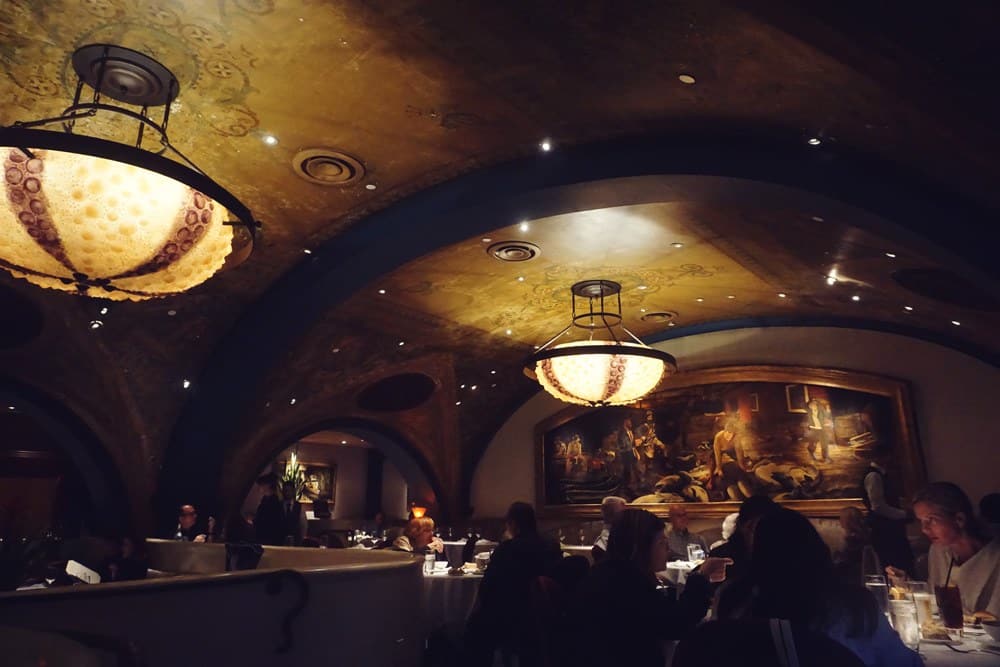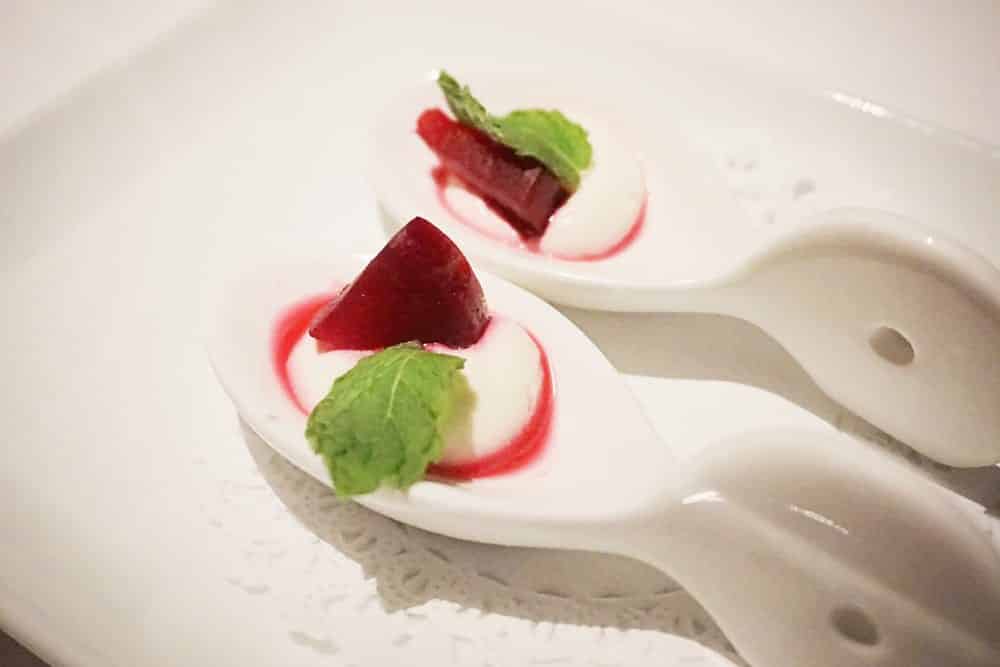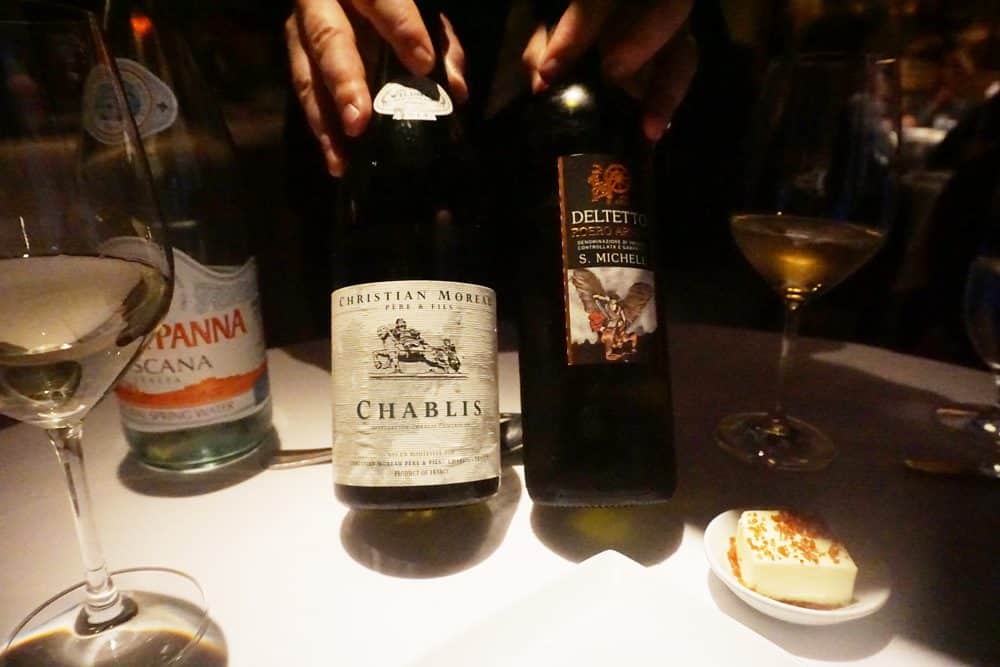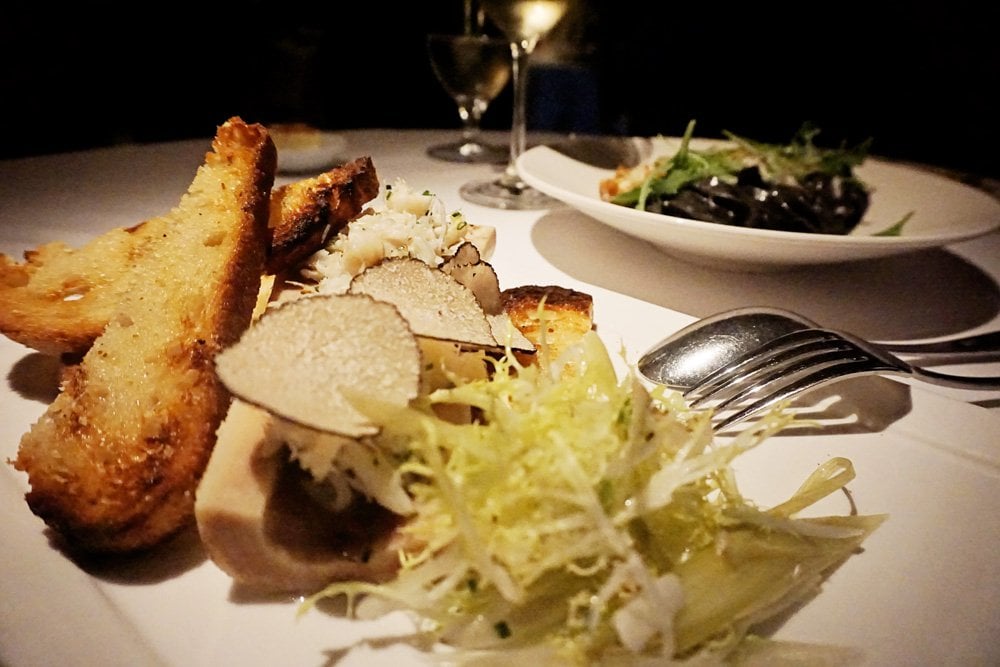 Here at Whimsy Soul, I write a lot about making the most with limited budget, but sometimes, to live life to the fullest, you just have to splurge a little. The key is knowing when to go big and when to go home. Farallon is a spot that you must put on your bucket list. Life is better when it is filled with experiences, and Farallon is definitely a wonderful experience.
We started with two appetizers, the Squid Ink Fettucini and the Dungeness Crab and Bone Marrow. The Farallon sommelier knows wine like none other and he selected fabulous whites to pair with our seafood appetizers. As I've mentioned in past posts, we have a deep love for a good cabernet, so it was nice to have someone who really knows whites that enhance seafood flavors. Robin has never had bone marrow before, so we had to try that out. Scoop out a spoonful of marrow and crab, spread it on bread and top it with pickled arugula for a multi-layered bit. The arugula is sharper, awakening the taste buds for the more subtle, rich crab and marrow. The Squid Ink fettucini was also interactive: break the egg and stir it around the complete the pesto sauce. What I love about fine dining is that I always learn something knew about cooking. Putting egg atop a pesto pasta dish isn't something I wouldn't have thought of , but it creates a delightfully creamy and light sauce. The squid ink is deeper in flavor, but the rich dish never felt too rich.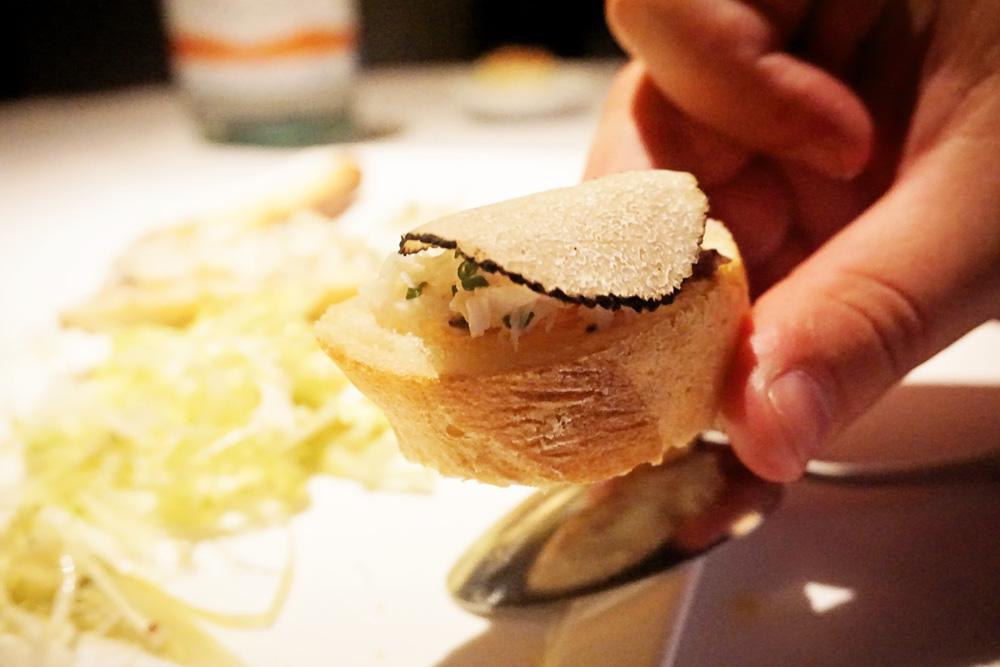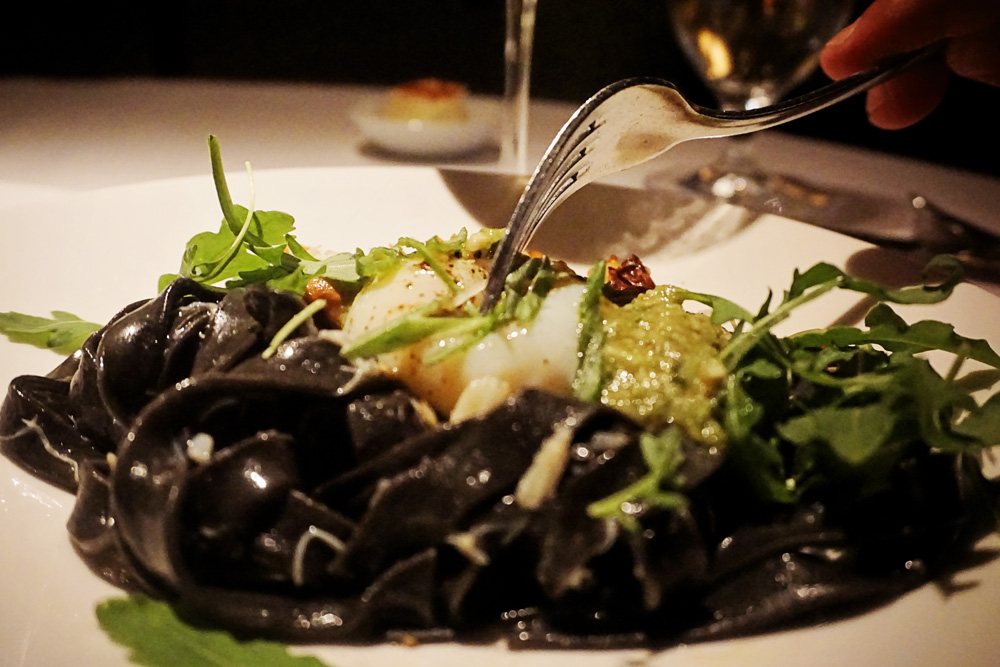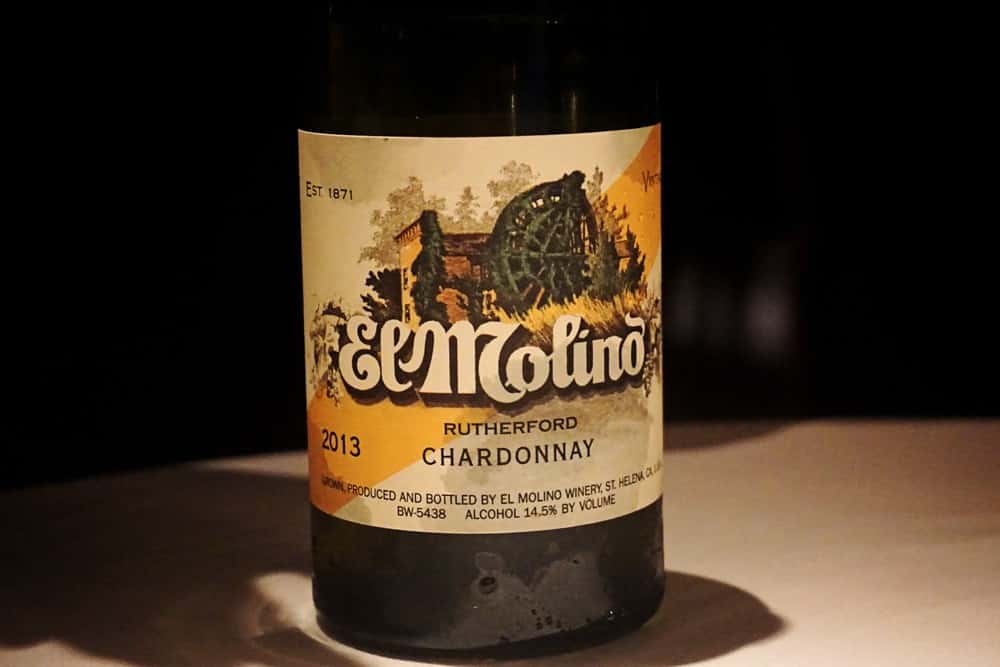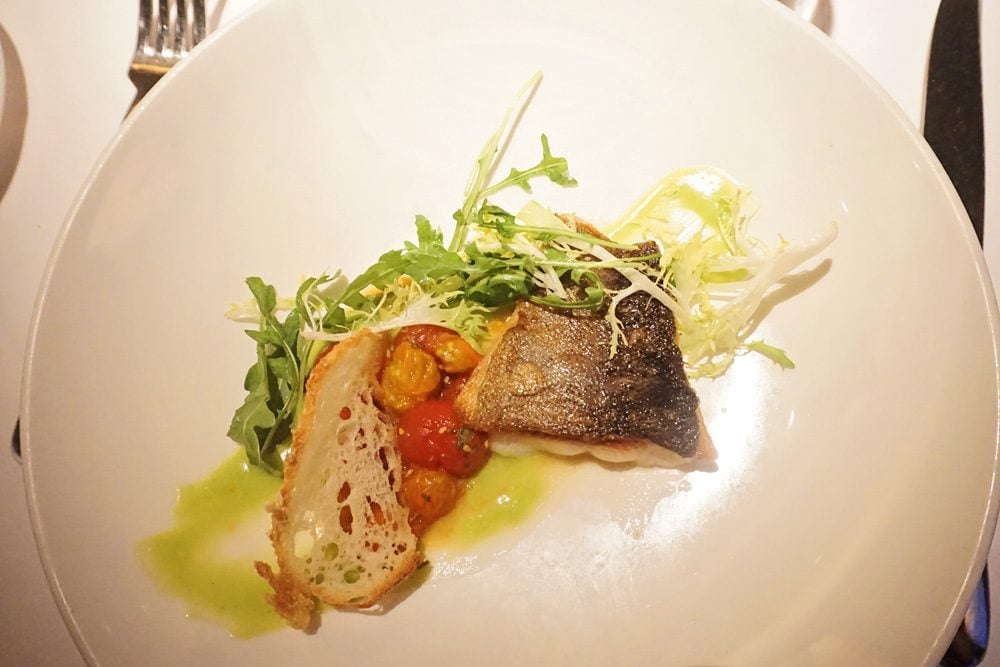 Next up was the Sablefish of the Farallones, an uber local fish. For those of you who aren't familiar with the Farallones (and the Farallon namesake), they are small islands off the coast of San Francisco. They're home to a plethora of wildlife from sharks to whales to orcas and smaller marine life like Sablefish. This was our first time tasting it, and boy, it is the most buttery, soft flank of fish I have every tasted. If you've ever cooked fish before, you know how hard it is to cook it so it stays true to its flavor, but doesn't taste too fishy. My problem with cooking fish is I always overload it with spices so it doesn't keep that fishy taste, but then I lose the actual taste of the fish. This dish, though, was perfect. I love the little tomatoes and aioli sauce it was paired with. They helped add a bright, citrus pop of flavor to the plate.
For dessert, we tried the Butterscotch Banana Pudding. With a combination of brittle and creamy textures, this dish didn't last too long. The banana wasn't too overpowering, along the butterscotch and chocolate sauce to steal the show.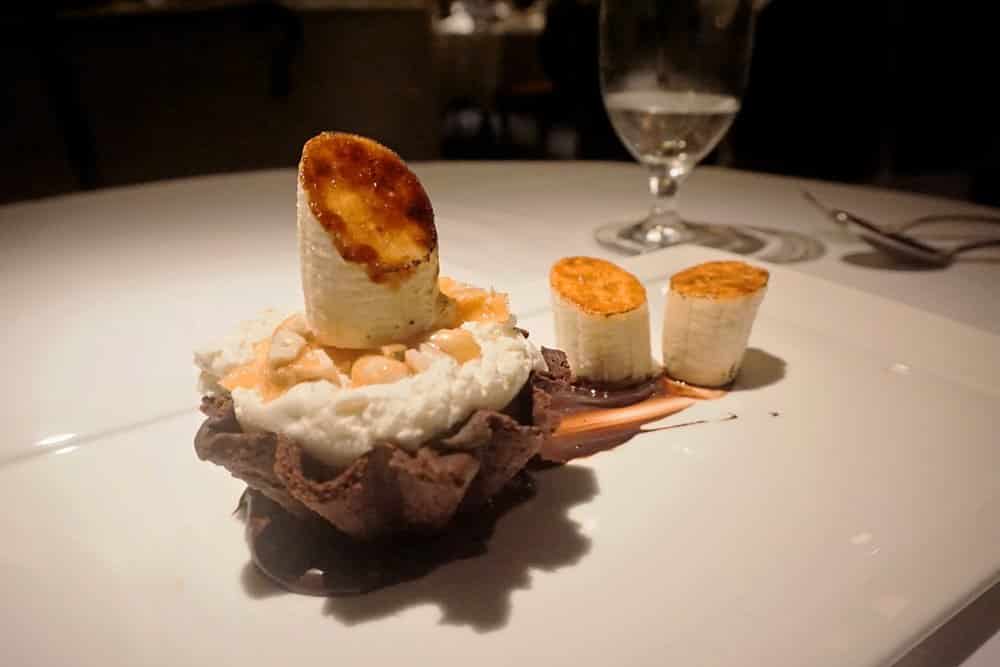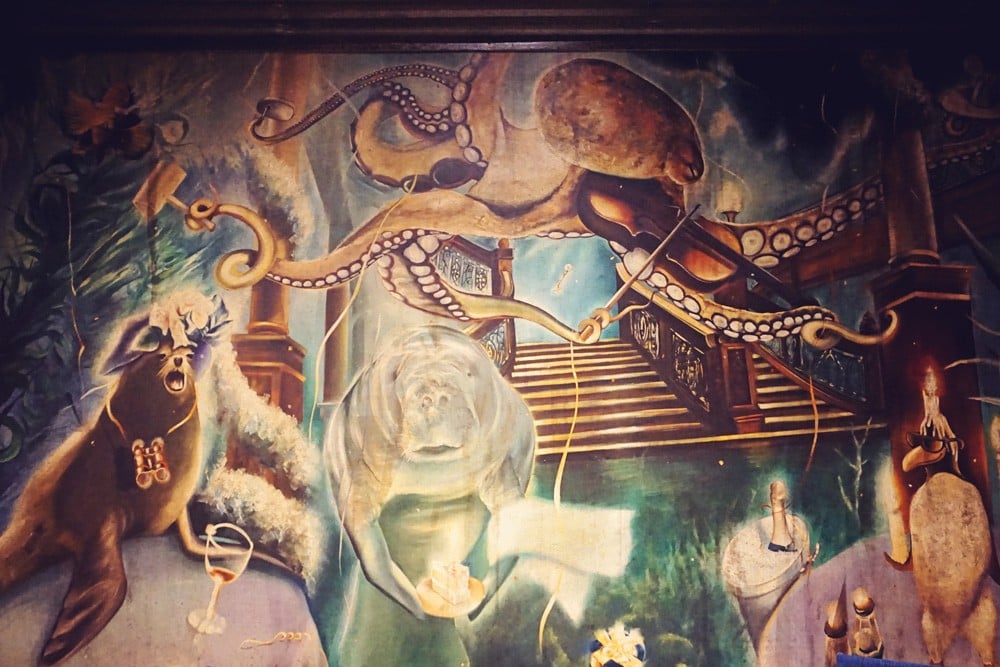 A little fun fact about the dining level of Farallon – it used be the home of one of the first Elks Club in America. The bottom level had an Olympic-sized pool, which is still under the dining room floor. The original interior design has been mostly kept intact, so stepping into Farallon is like stepping into the 1920's. Magical.
If you want to stop by Farallon just for drinks (though I recommend tasting at least one seafood dish) they have a fabulous happy hour available from 4:30-6pm. You'll probably find us visiting again at happy hour one of these days…
Whether you're a local looking for some fresh seafood, searching for a unique happy hour or visiting San Francisco, Farallon is THE San Francisco restaurant to visit. If you stop by, leave a comment below with your favorite dish!