I love San Francisco. Better yet, I love doing things for FREE in San Francisco! Unlike many other major cities in the United States, San Francisco has a considerable amount of activities you can do without spending any money. Keep reading to find a big list of all my favorite top free things to do in San Francisco!
Psst – find me on Instagram @thewhimsysoul for more San Francisco travel inspiration!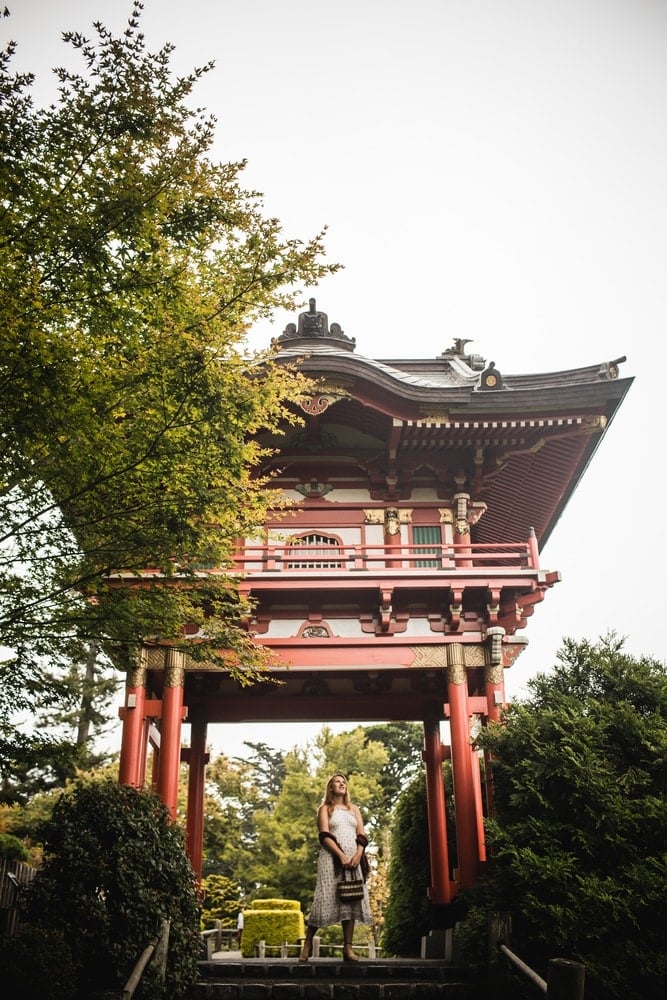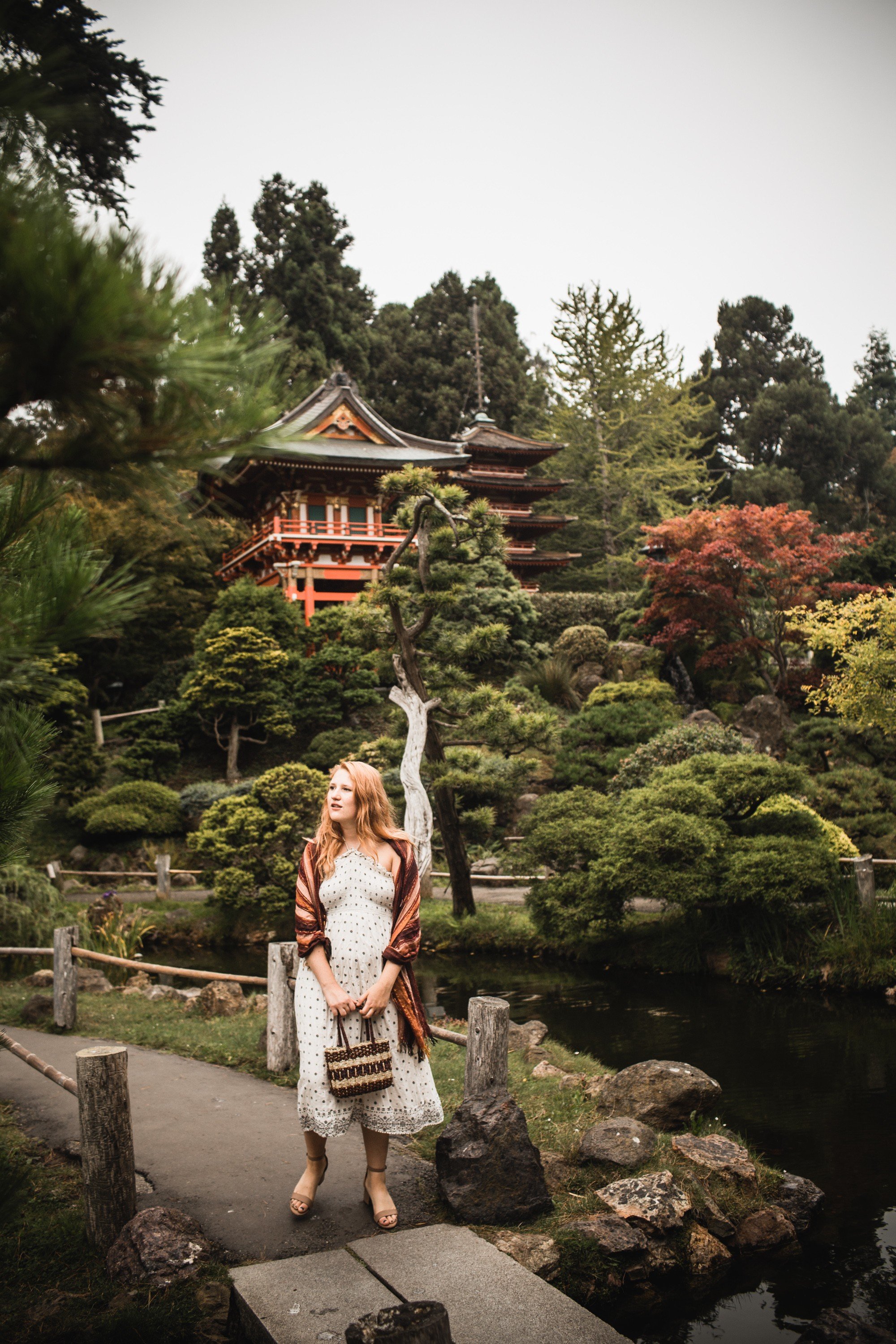 Japanese Tea Garden
This beautiful tea garden is the oldest in the United States! It has a tea house, pagodas and lots of koi ponds. On Monday, Wednesday and Friday mornings you can enter for FREE before 10am. Usually, tickets are $9! You can learn more about the tea garden + my tips for visiting in this blog post.
Wave Organ
The Wave Organ is a unique art installation in the Marina that's built of old tombstone markers (for real!) When the tide rolls in or out, you can put your ear up to the pipes and hear notes made by the waves! On a sunny day, you can see the whole Bay and it's really beautiful.
83 Marina Green Dr, San Francisco
Ferry Building
I LOVE the Ferry Building! It's the white building that sits on the end of Market Street and it houses loads of artisan shops and restaurants, on top of being an operational ferry terminal. On Tuesdays, Thursdays and Saturdays you can find a farmers market outside. You don't have to buy anything to enjoy walking around this historic building. Plus, it has a killer view of the Bay Bridge.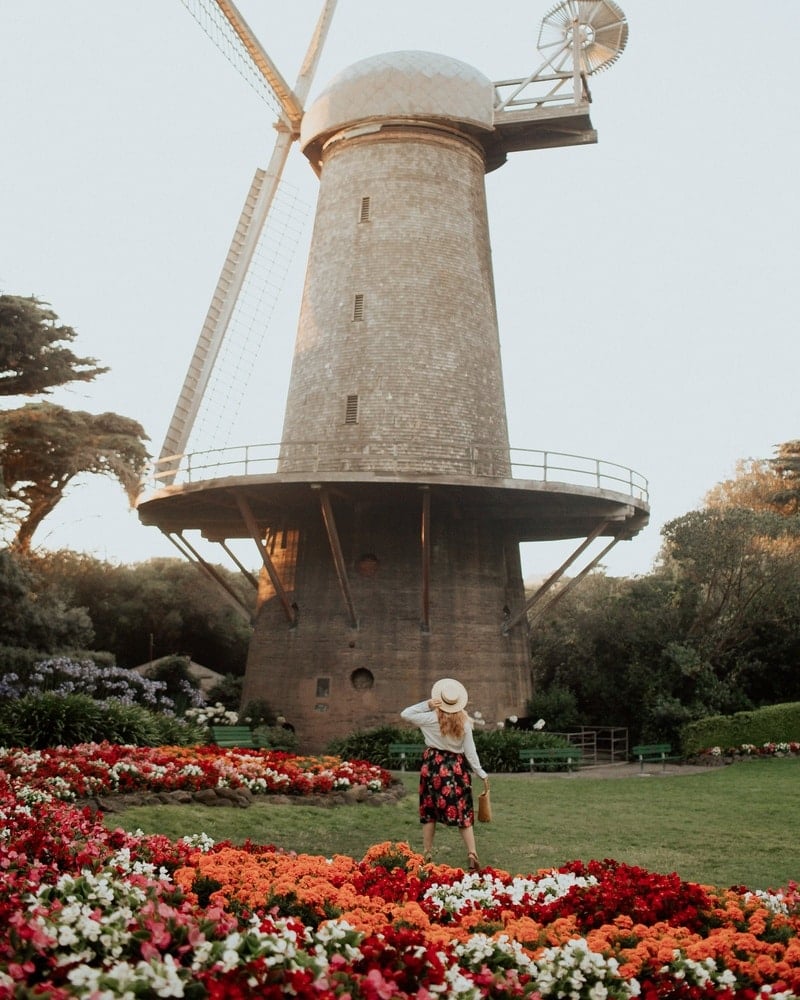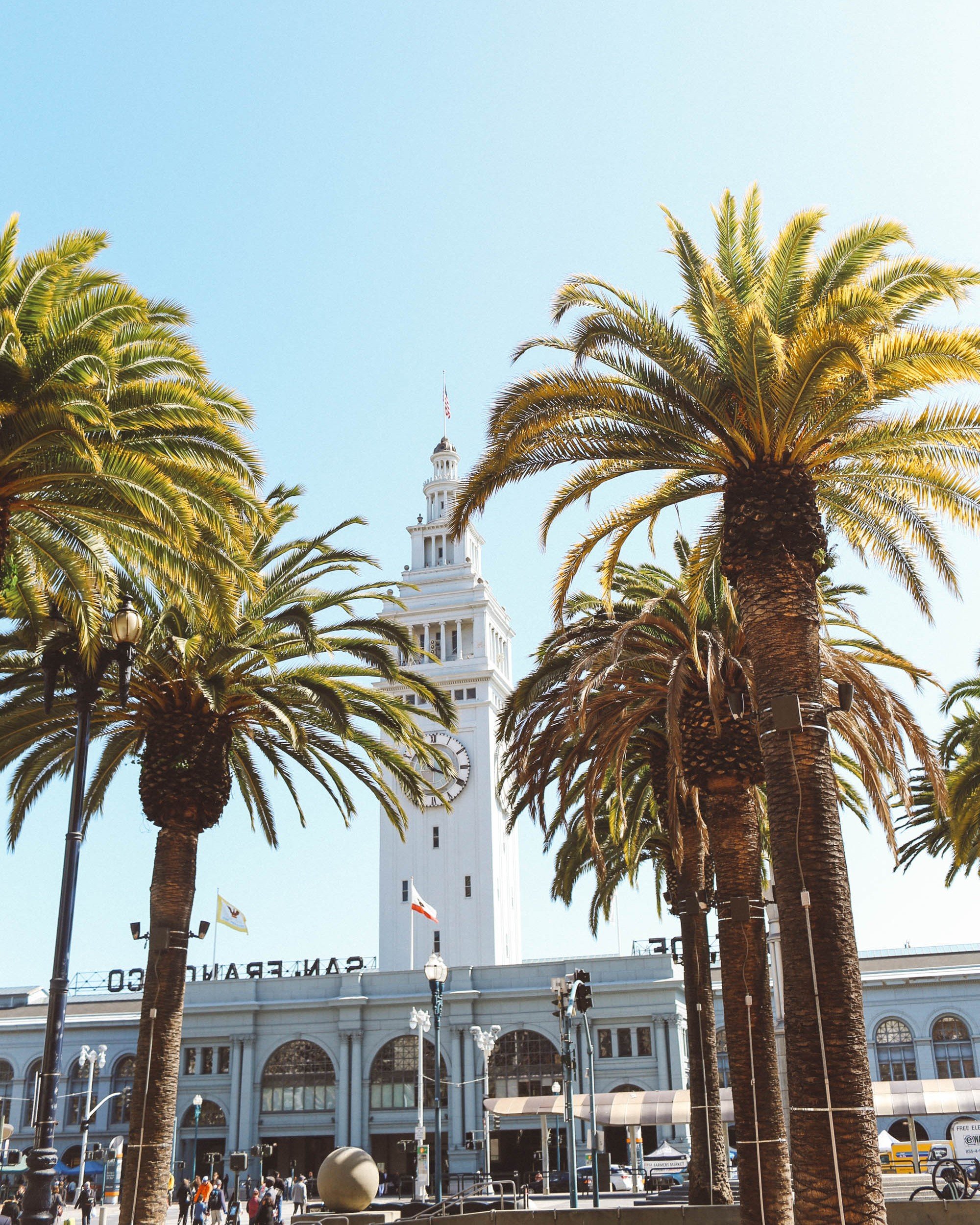 Dutch windmills
If you venture out to the West side of the city, you'll find two windmills on their side of the Golden Gate Park! They were originally installed to help pump water to help build the park and other structures in the city. They aren't operational anymore, but are still incredibly beautiful, especially when all the tulips are in bloom. I recommend visiting at golden hour on a clear/sunny evening. Afterward, walk across the street to Ocean Beach to catch the sunset!!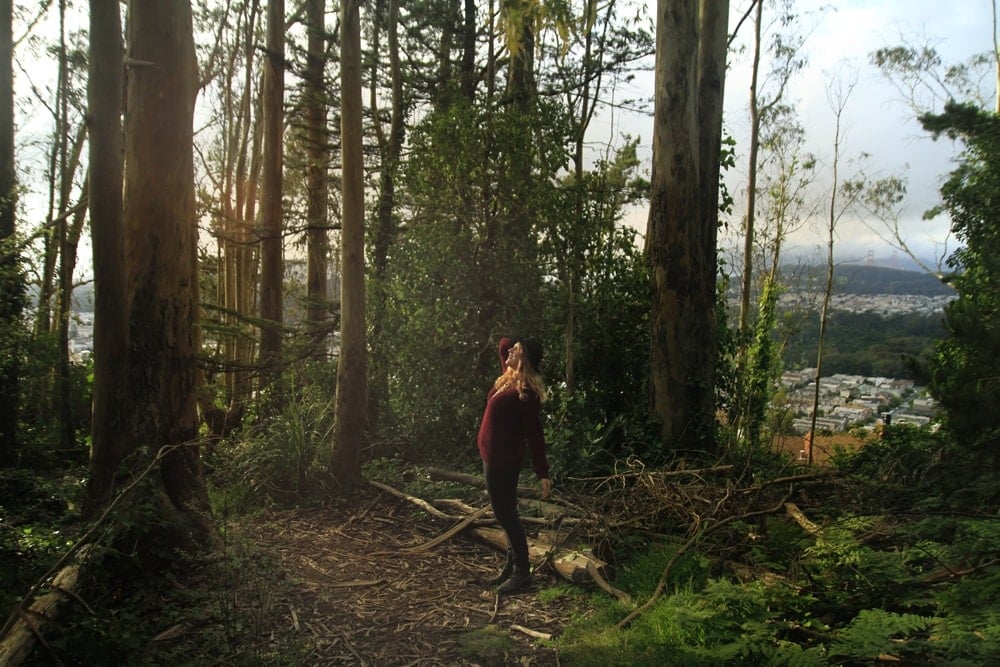 Hike the Sutro trails
Mount Sutro (really just a big hill) has some great hiking trails that are mostly only used by locals. It's high enough up that it's hard to hear cars even though it's smack in the middle of the city. On clear days you can see sweeping views of San Francisco peaking between the trees. If you are lucky, you may find a view of the Golden Gate Bridge!
de Young Museum 
Normally admission is $15, but on the first Tuesday of every month, it's free! The de Young Museum is in the Golden Gate Park and houses tons of beautiful fine art pieces. They usually have special exhibits happening for limited times and even have some outdoor garden areas.
Day drink in the park
San Francisco has really chill open container laws. On any given weekend day, most parks will be filled with people drinking on picnic blankets. It's one of my personal favorite ways to hang out with friends. Skip the pricey brunch and instead enjoy a bottle of wine, fresh air and a good view. On sunny days, it's wonderful. If you are visiting on a sunny weekend day, check out Dolores Park hang with the locals. While day drinking in the park requires purchasing alchol so it's not 100% free, it's still a free place to drink!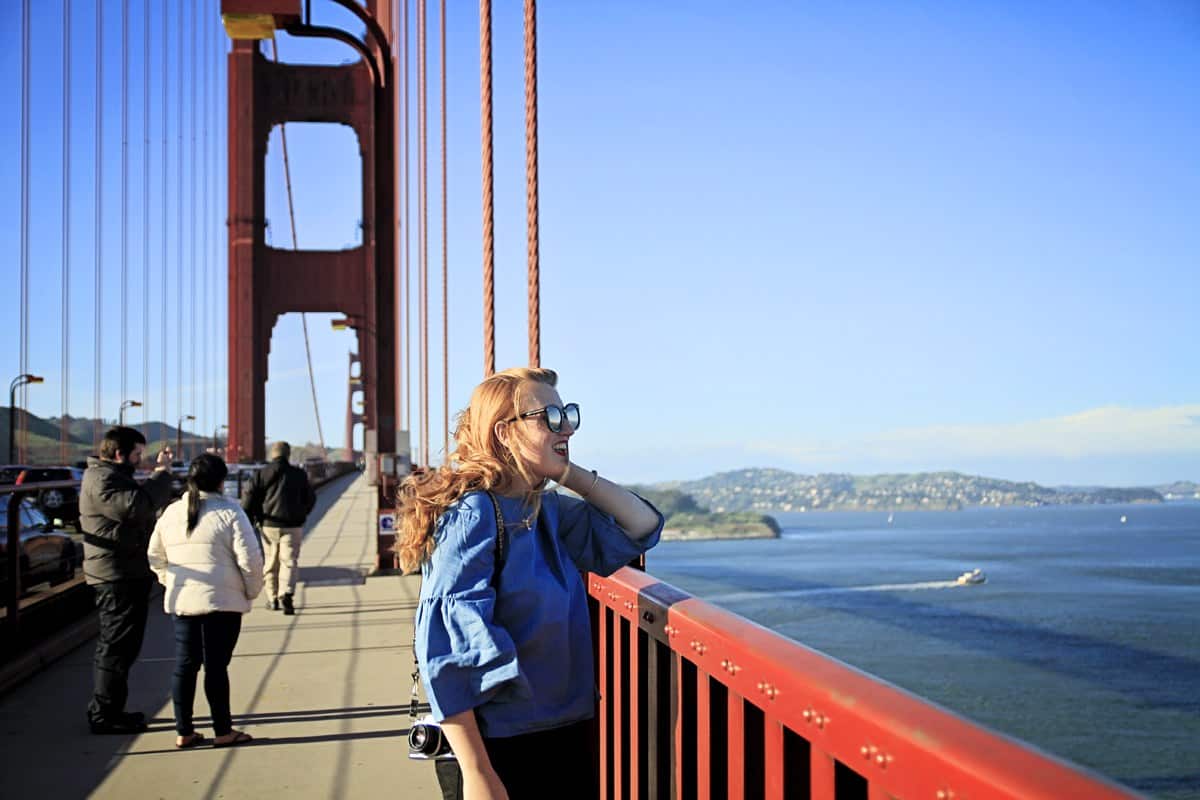 Walk the Golden Gate Bridge
Good ole' Golden Gate Bridge is always fun to see! The best time of day to visit is right away in the morning before 8am. It gets CRAZY crowded as the day goes on and the sidewalk isn't very wide, so you'll end up bumping shoulders with other tourists. The parking lot is free before 8am. It's small, though, so I recommend taking the 28 bus to the bridge or an Uber. Also, bring a jacket and a hair tie and it's usually always windy and chilly up there!
Read my tips for taking the most Instagramable photo of the Golden Gate Bridge here!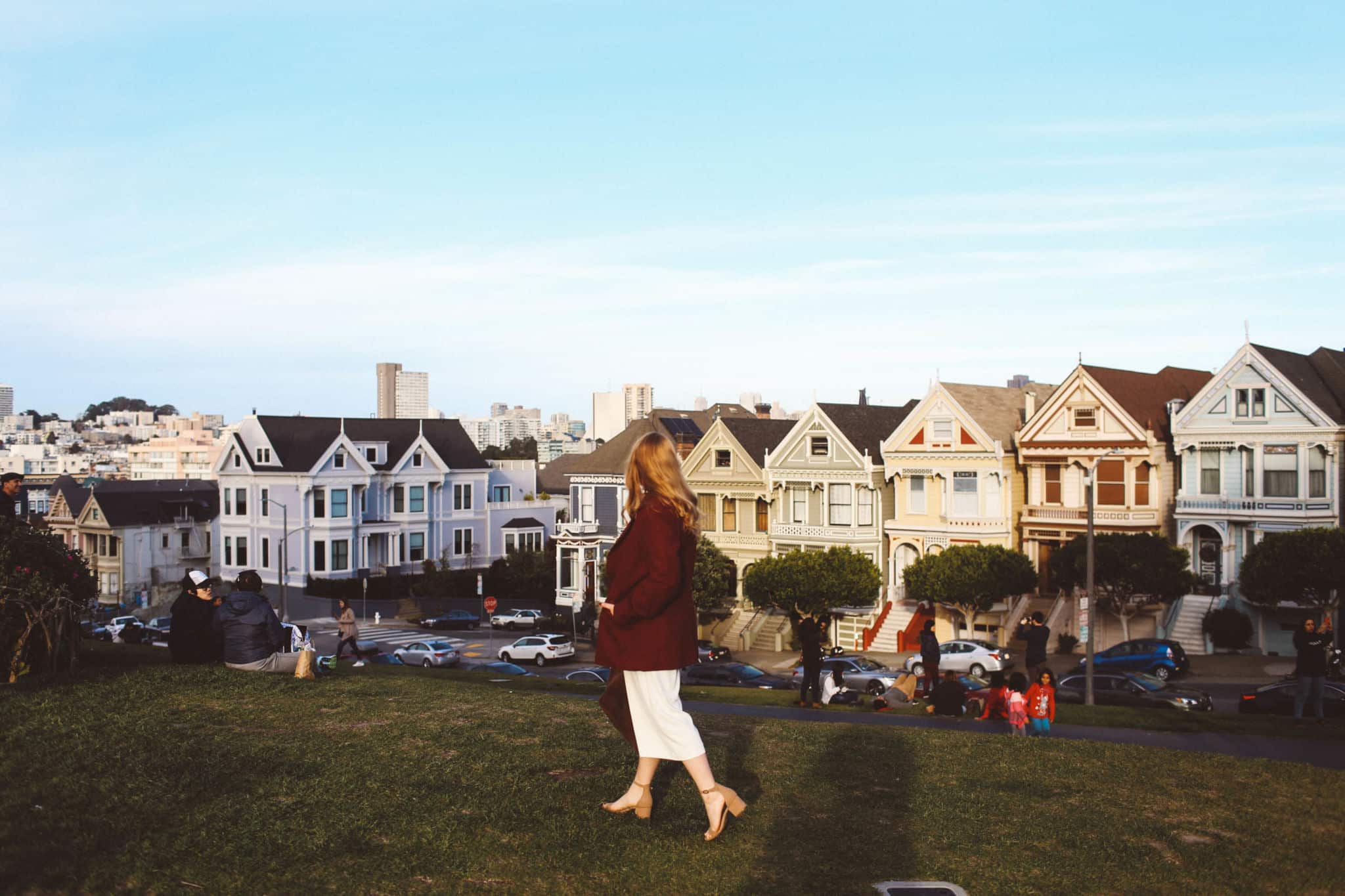 The Painted Ladies
You probably know these famous houses from the opening credits of Full House. The Painted Ladies at Alamo Sqaure are one of my favorite spots in the city! I love the colorufl houes and the scenic backdrop of the downtown skyline behind them. The park can be crowded on a nice day, but it's still so much fun to visit these beauties in person!
Bonfire on Ocean Beach
Nothing screams "California" more than a bonfire on the beach with friends! You can build fires between certain gates on Ocean Beach and watch the sunset over the ocean. Bring wine or beer and snacks — and a jacket because it will be chilly! Learn more about how to have a bonfire on the beach here.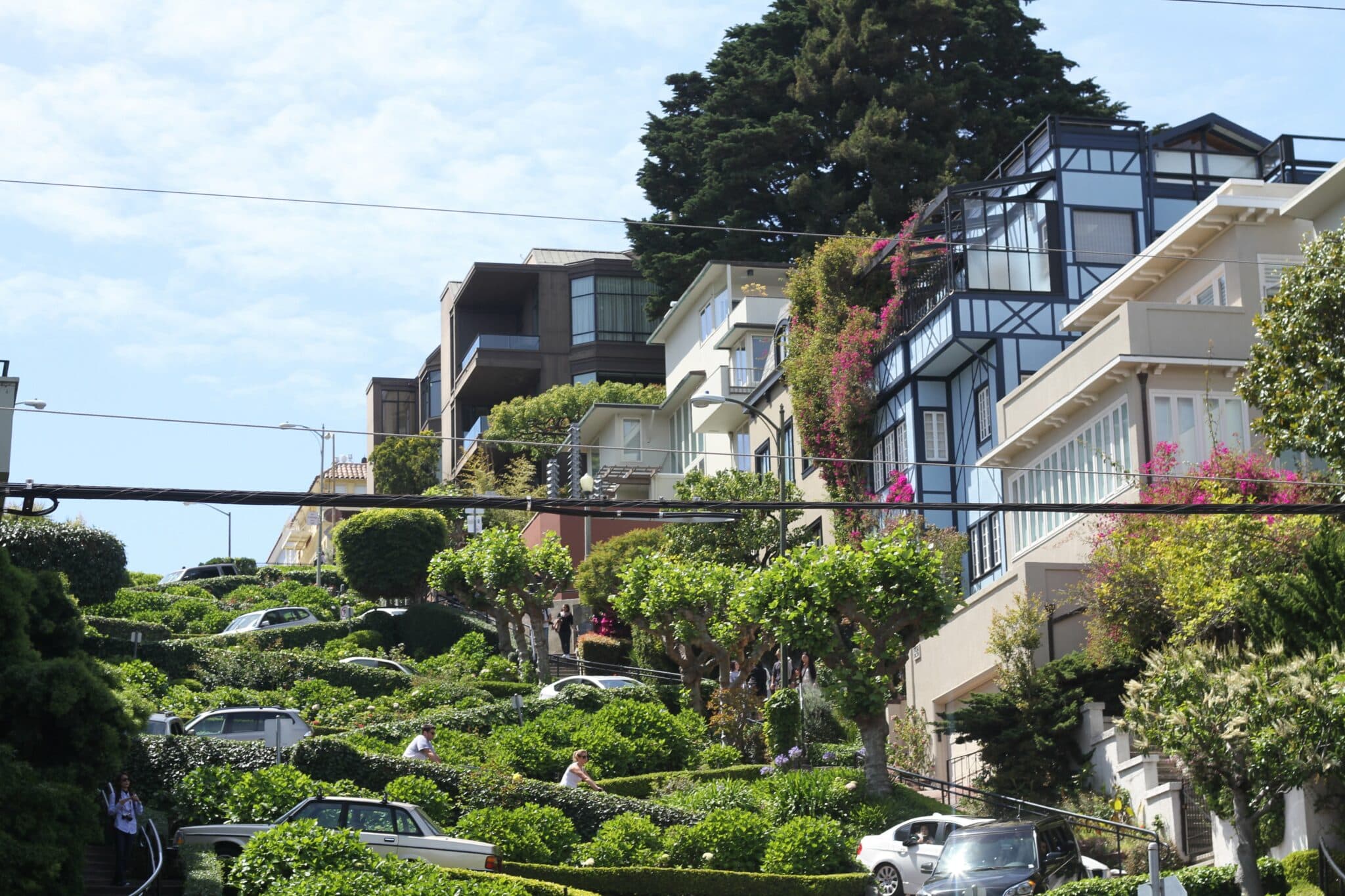 Lombard Street
This street is known as the most crooked street in the world! It's very tight and winding and makes for a fun photo opp. It also offers incredible views of the city from the top and the houses that dot it are grand and beautiful (and probably worth like 10 million dollars!) The best time of day to visit is right away in the morning, before 8-9am. As you can imagine, this road gets crazy packed!
California Academy of Sciences
The California Academy of Sciences is a science museum in the Golden Gate Park. They have everything from an aquarium to an exhibit about space. It's a really fun place to visit, especially with kids! Tickets are normally $35, but about 4 Sundays a year, they open it up for free! That's a HUGE saving. Find out when the next free day is here.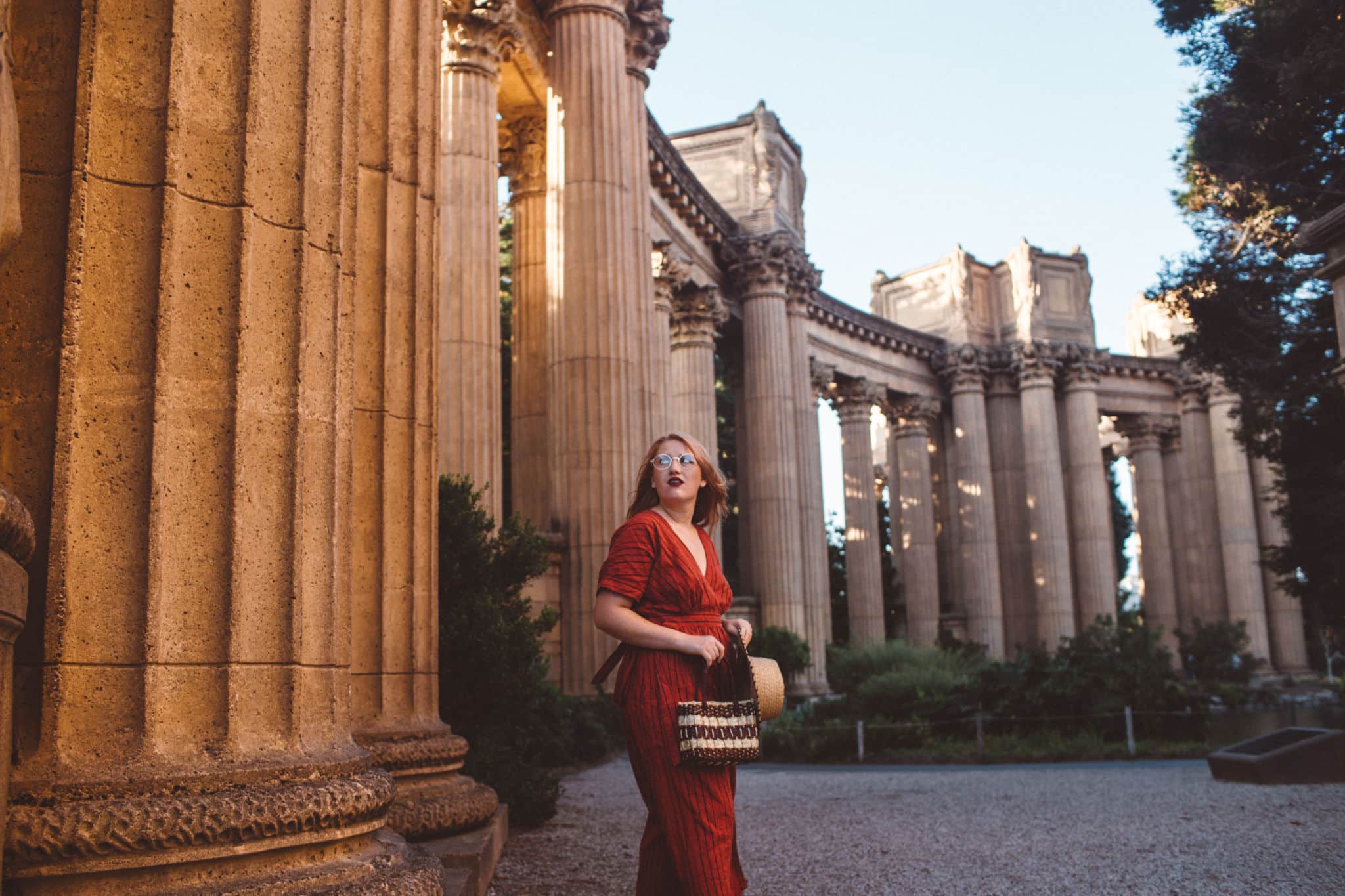 Palace of Fine Arts
While walking around the Palace of Fine Arts, it feels like you were whisked away to Italy. The tall columns and dome rotunda have a Roman Forum vibe. It's really very breathtaking and hence a popular place for wedding party photos and engagement photo sessions. The best time to visit is the golden hour as the crowds from the day will be lighter and the warm glow of the sunset makes the buildings look even more beautiful. Best part? Totally free to walk around!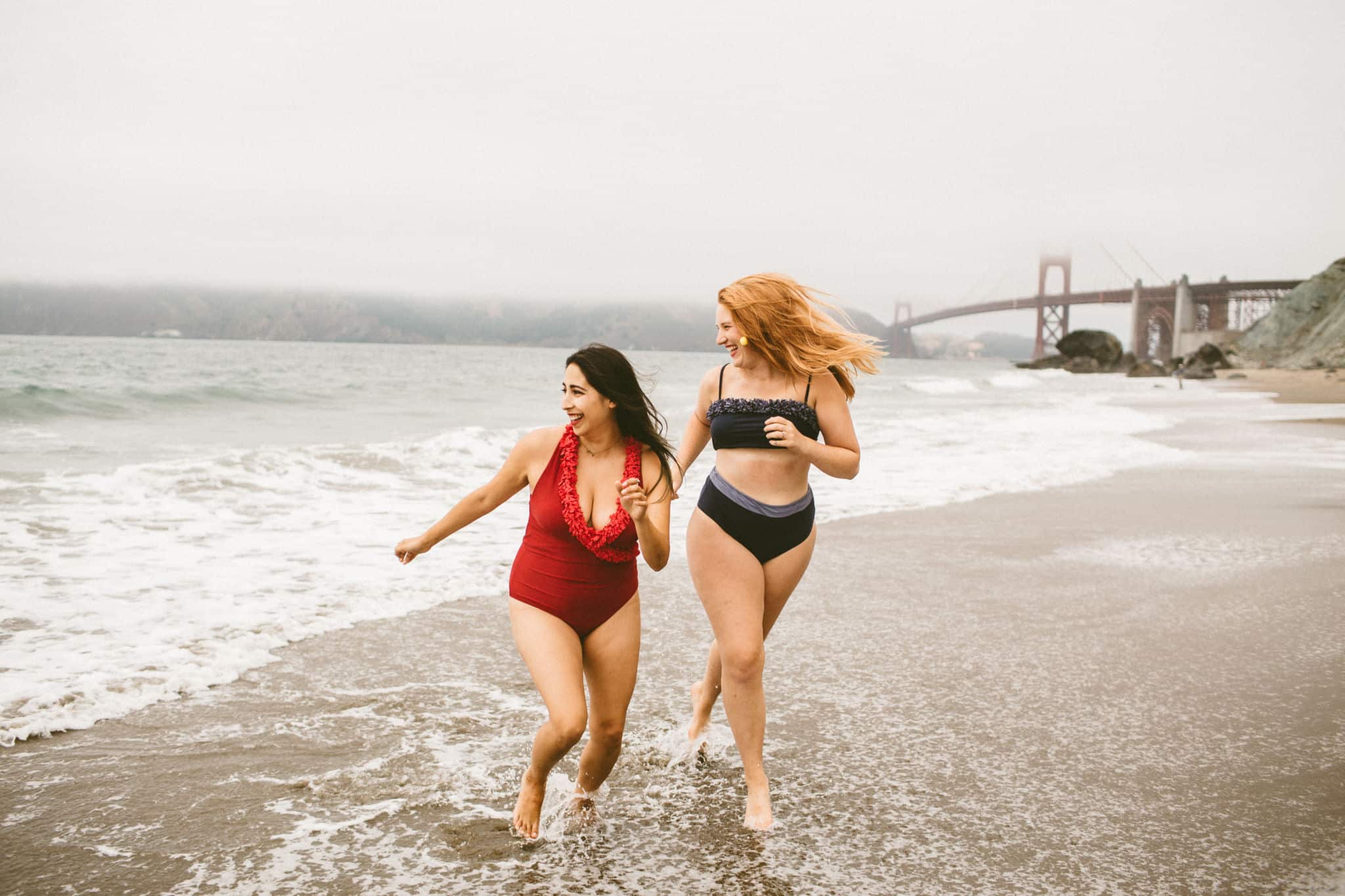 Marshall's Beach Hike
One of my favorite hikes to do with Robin, but also with visitors is the trail to Marshall's Beach! You park on the side of the road and take a winding trail down the hillside. This trail has some old Battery ruins along the way, tons of wildflowers and plenty of views of the Bay and the Golden Gate Bridge. The beach is pretty long and fun to walk on. On low tide, you can get pretty close to the base of Golden Gate Bridge! Learn more in this post.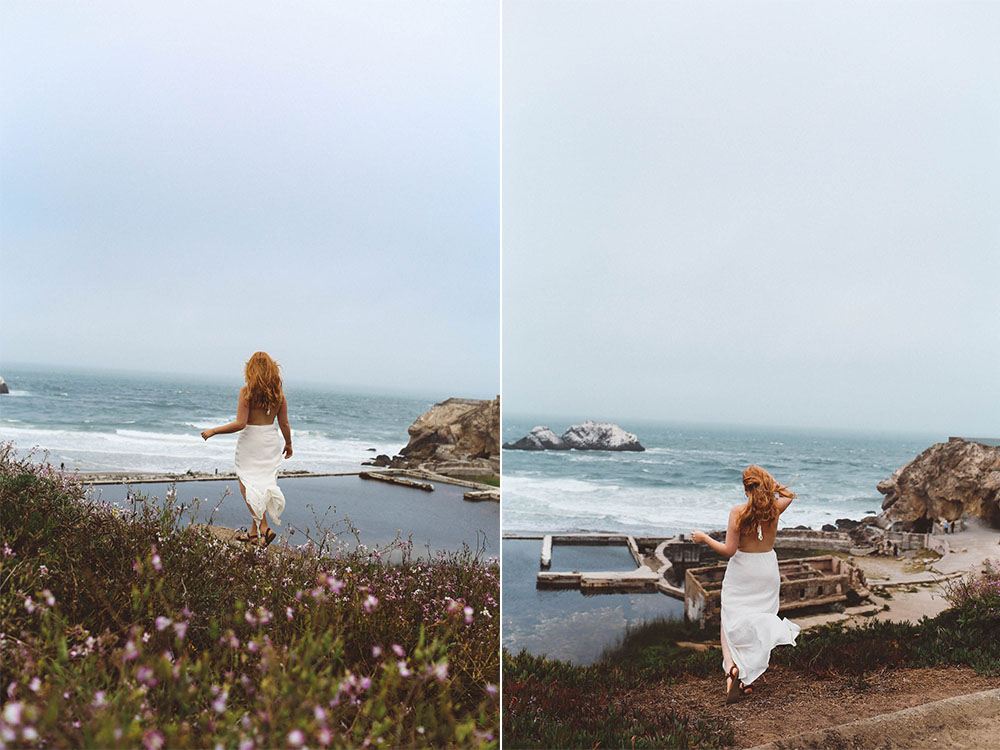 Land's End / Sutro Baths
Most tourists never make it to this part of the city and it's a shame! The Sutro Baths have a very interesting history. They used to be big oceanside glass bathhouses that eventually burnt down. Now, their ruins still remain and are open to the public to explore! They're really very beautiful and unique. The Sutro Baths are located right on the edge of Land's End, a park that offers coastal views. Make sure to walk down to the Labrytn, a stone maze on the edge of a cliff that offers views of the Golden Gate Bridge.
Chinatown
I've been to Chinatowns all over the United States and the one in San Francisco is by far my favorite. It's one of the oldest in the country and also the most quaint. I love the main street with all the paper lanterns. Make sure to enter at the Dragon's Gate on Bush Street and walk up Grant Ave.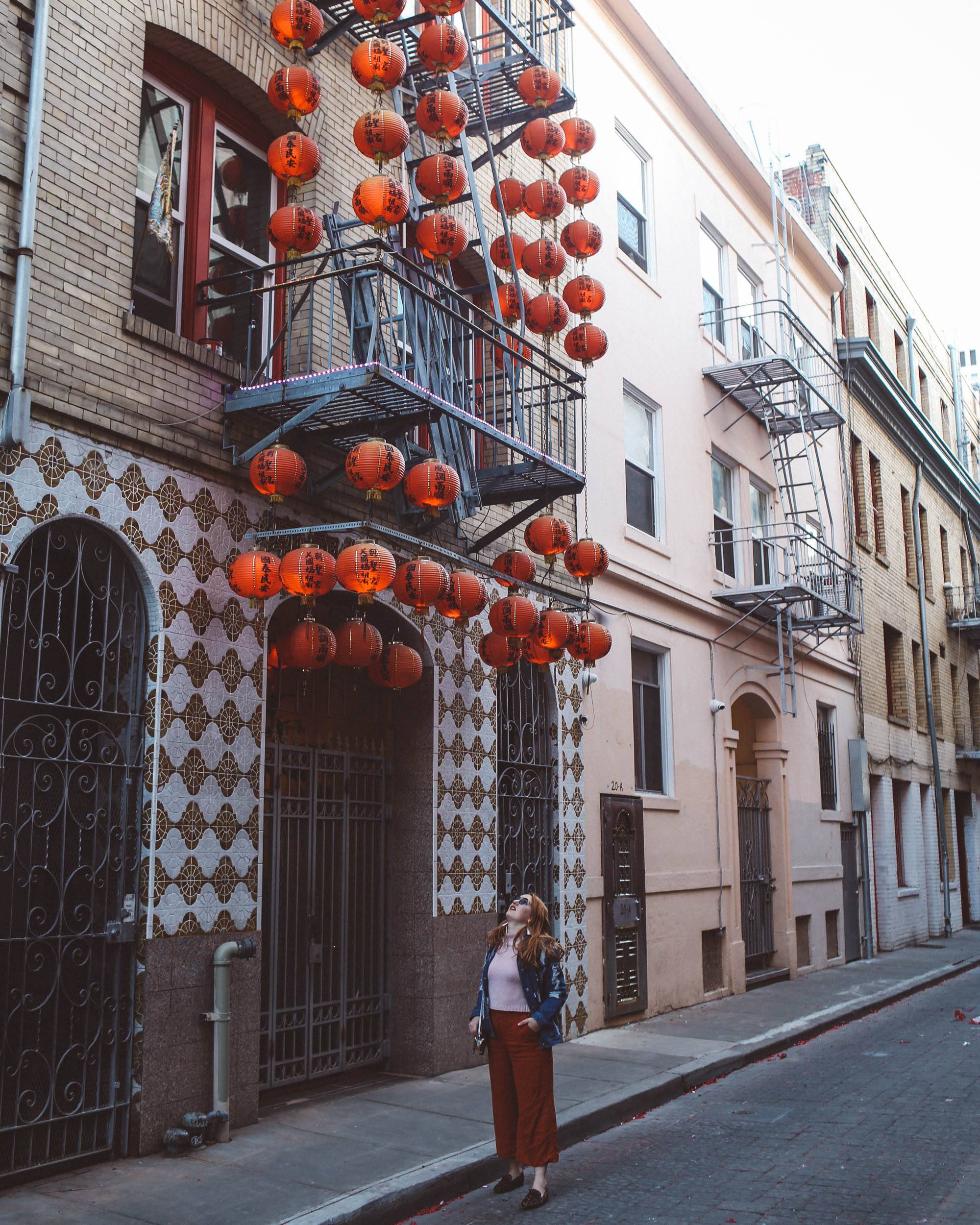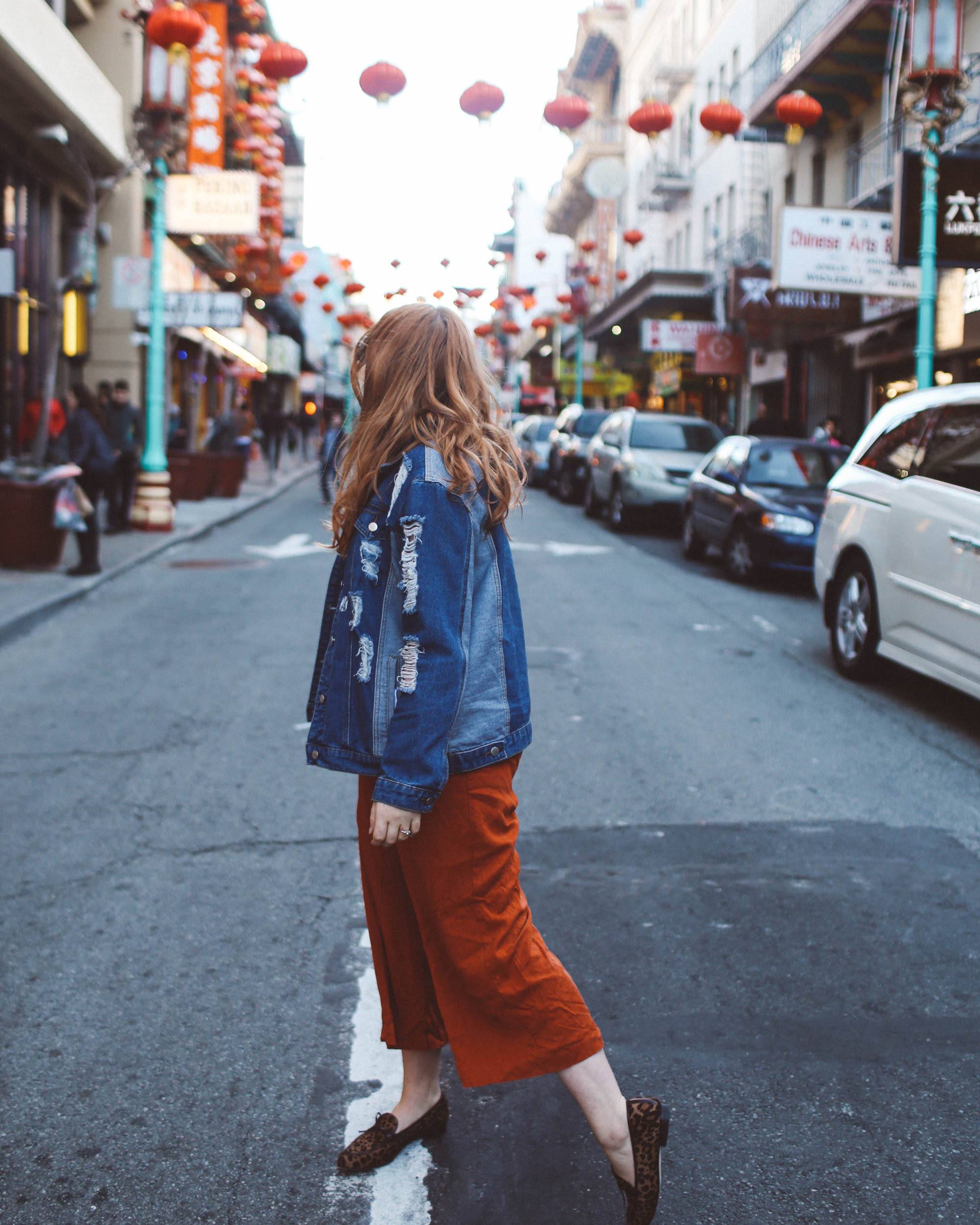 Hardly Strictly Bluegrass
This free bluegrass festival happens in the Golden Gate Park each October! Locals love to come with blankets and beer and a bunch of friends to listen to music. Learn more here.
I hope this helps you plan your visit to San Francisco! It's such a fun city to visit and while it can be pricey, you don't need to spend an arm and a leg to do fun things. If you have any questions, leave a comment below or DM me on Instagram @thewhimsysoul!