As Whimsy Soul's resident mixologist, I love a good cocktail. Shocking, I know. But I'll be the first to acknowledge that alcohol is bad for you. Again, shocking!
Whether it's for health reasons, to save a little money, or just to try something different, more and more people are saying "no thanks" to hard drinks for the month of January.
But going dry doesn't mean you can't indulge. Keep reading for more on Dry January and a tasty hot toddy mocktail recipe to keep you warm and well this winter.
What Is Dry January?
A few people have laid claim to coining "Drynuary" or "Dry January," but the term really came to the forefront thanks to a British charity group. In 2013, Alcohol Change UK created the Dry January campaign to encourage people to reassess their relationship with alcohol.
While many people around the world have since embraced Dry January, some critics say it's more about social virtue-signaling than making any real behavioral changes. Others say that Dry January contributes to the chorus of unhealthy weight-loss trends with a reward/punishment model.
So what exactly this movement means, who can benefit from it, and how to practice it is largely up to the individual.
Reasons To Do Dry January
I'll be real: I'm not strictly practicing Dry January this year. (I'm supposed to celebrate my own birthday without a glass of wine?! I don't think so.) But I can tell you the many reasons why I've cut back on alcohol in the past, and in general.
Sometimes I like to unwind and de-stress with a drink or two, but if I'm feeling too relaxed, I'll lose all motivation to get anything done. Not to mention I'll probably sleep like crap too. And worst of all, alcohol can be a major migraine trigger for me.
While the jury's still out on whether the occasional glass of red wine is good for heart health, most medical professionals agree that alcohol is simply bad for the body. Excess drinking can negatively affect one's mood, energy, mental wellness, liver health, immune response… The list goes on and on.
As the old saying goes: Moderation in all things. And I think that's what Dry January does best—it serves as a reminder to seek balance and to make intentional choices.
I know that I could sometimes use a reminder to not fall back on unhealthy tendencies. Especially as we enter a new year that's shaping up to be a whole lot like the last two years…
Cold Symptoms vs. Hot Drinks
Okay, yes, I was referencing the pandemic just then—I'm sorry! But the reality is that we're facing more COVID cases than ever before, and thousands of people are struggling with both their mental and physical well-being, which alcohol certainly won't help.
I'm not claiming that teetotaling will keep you safe from COVID. I'm just saying, "yay, hot drinks!"
Sure, if you're feeling under the weather, you could make yourself a cold alcohol-free drink, but… why? Or, of course, there's always the old standby of a nice hot cup of tea, but where's the fun in that?
May I present to you instead: the hot toddy (minus the alcohol).
Hot toddies are traditionally made with whiskey or bourbon, lemon, hot water, honey, and warming spices. Besides being absolutely delicious, hot toddies are a popular home remedy for soothing sore throats.
So if your throat's feeling scratchy, whether because of Omicron or the common cold, a "not" toddy may be just the thing for a little healing.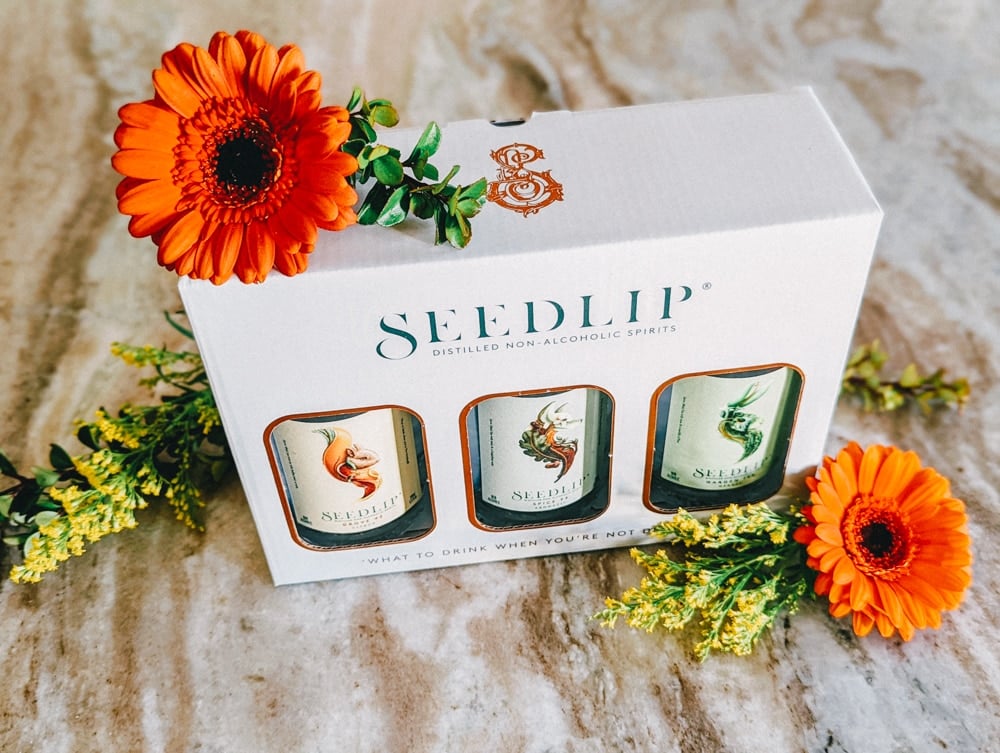 Cozy Up With a Non-Alcoholic Hot Toddy Mocktail
Non-alcoholic spirits are extremely popular right now. You've probably seen at least a million Instagram ads for them (I know I have). To name just a few: Curious Elixirs, Monday, Ritual Zero-Proof, Kin Euphorics, Lyre's, Töst, and Seedlip.
Seedlip cocktail recipes have been on my radar for ages, so I was excited to finally give this brand a try. I sampled Seedlip's three varieties—keep an eye out for my upcoming review—but for this non-alcoholic hot toddy recipe, I went with Spice 94.
Seedlip Spice 94 is a good substitute for whiskey or bourbon because of its warm, peppery flavors with hints of allspice and cardamom. Plus, a splash of fresh lemon juice (another classic hot toddy ingredient) pairs perfectly with this spirit's grapefruit and lemon top notes.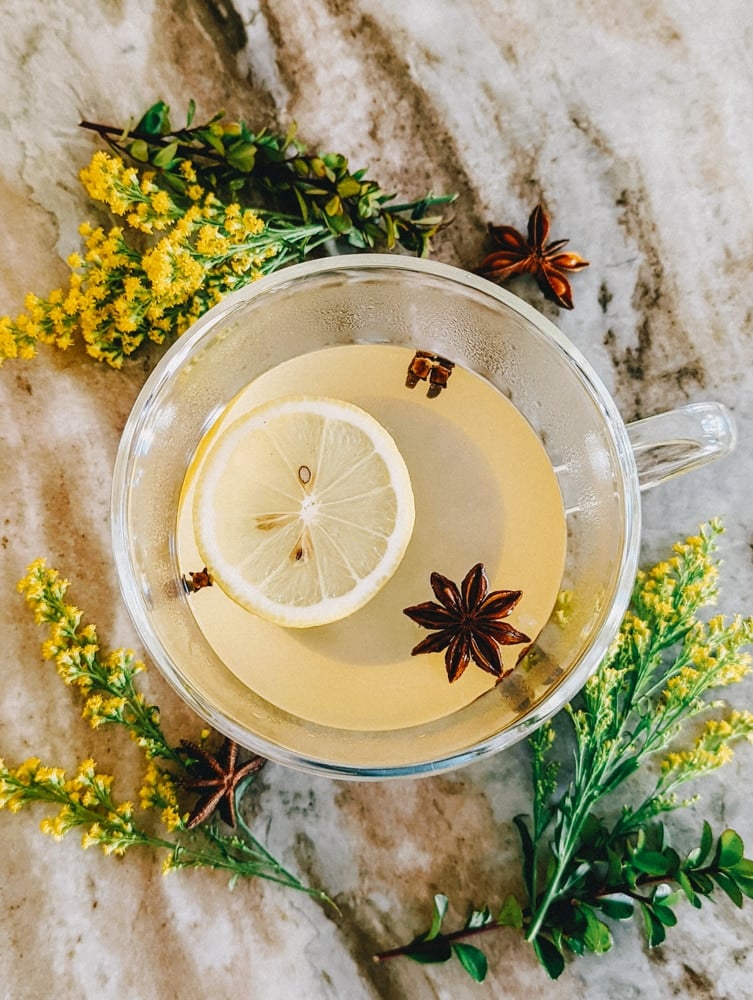 Maple & Spice Hot Toddy Mocktail (A Seedlip Cocktail Recipe)
Aromatic and citrusy balanced with bitter and sweet, this hot toddy mocktail will give you all the cold-weather cozy feels, without the booze. If you're looking for a non alochol hot toddy this winter, you found the fit page.
Ingredients
2 teaspoons dark maple syrup
1/4 oz fresh lemon juice
3 oz boiling water, or more as desired
1 dash aromatic bitters
3 whole cloves
1 whole star anise
1 lemon wheel to garnish
Instructions
Add Seedlip Spice 94, maple syrup, and lemon juice to a mug
Top with boiling water and stir until the maple syrup has dissolved
Add a dash of aromatic bitters
Garnish with cloves, star anise, and lemon wheel
Serve hot
Notes
Here's a trick I do with my morning coffee that keeps my mug hotter for longer: Before making your drink, fill your mug with boiling water and set it aside for at least 1 minute. Then, pour out the water and prepare your drink in the pre-warmed glass. Your hot toddy will stay hot to the last drop.
Angostura bitters will do nicely, but I used the Golden herbal bitters by Strongwater for an extra kick of cardamom, allspice, and turmeric.
Recommended Products
As an Amazon Associate and member of other affiliate programs, I earn from qualifying purchases.


If you do choose to drink less this month, you're not alone. For the last few years, about 15% of Americans have participated in Dry January, and the numbers seem to be holding steady.

So add this hot toddy mocktail to your drink repertoire and you'll always have a delicious way to keep warm—but not toasted!

Or if you're ready for something stiffer, check out my other cocktail recipes. Bourbon'd With Glorious Purpose has similar notes of spicy-sweetness and can also be easily sobered up with Seedlip.