Ekkk – we're engaged!
I share a lot of personal stories here – but I haven't shared much about my relationship with Robin. Ya'll know he's my Instagram Hubby, but in light of getting engaged, I thought it was time to finally put the guy in front of the camera and share with you a little more about us, our life in San Francisco and how he proposed! Read on.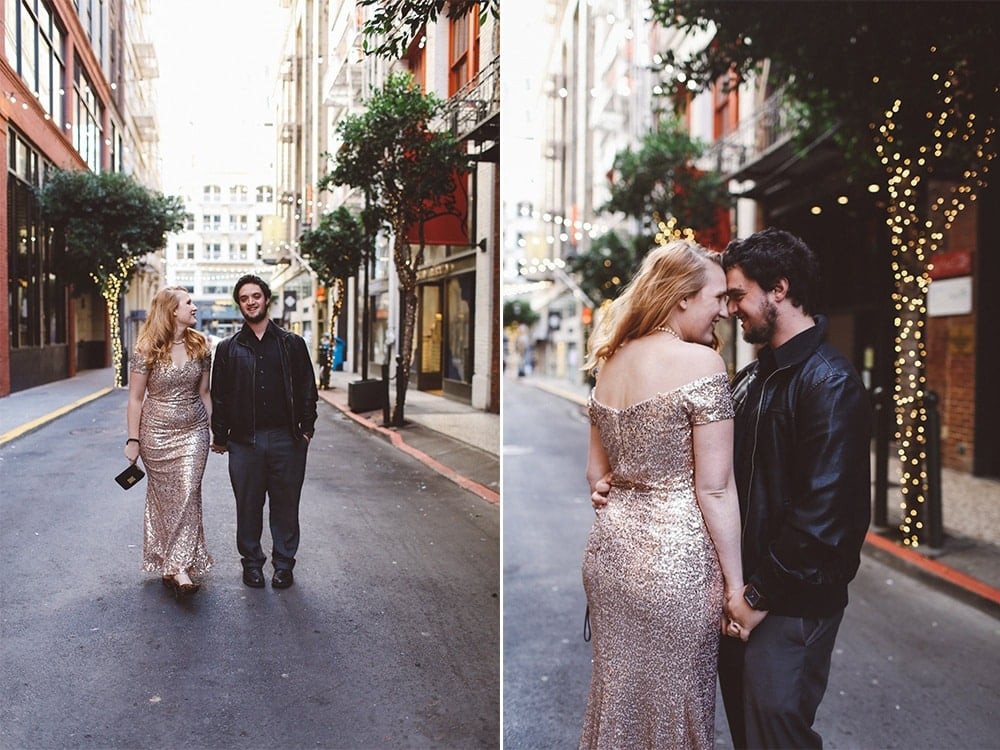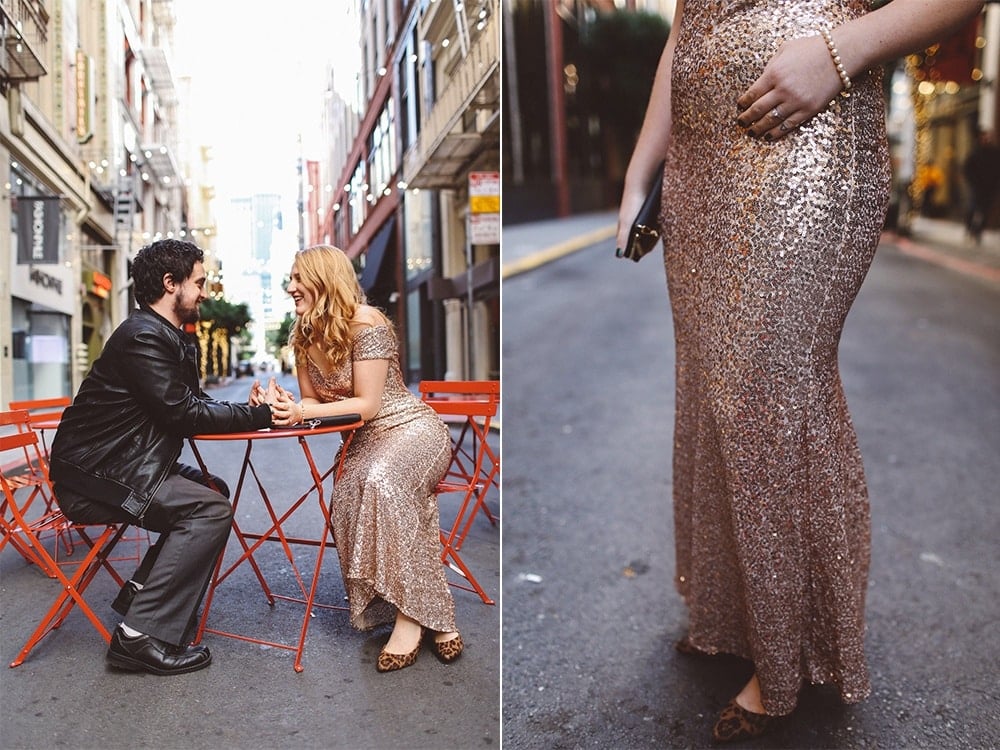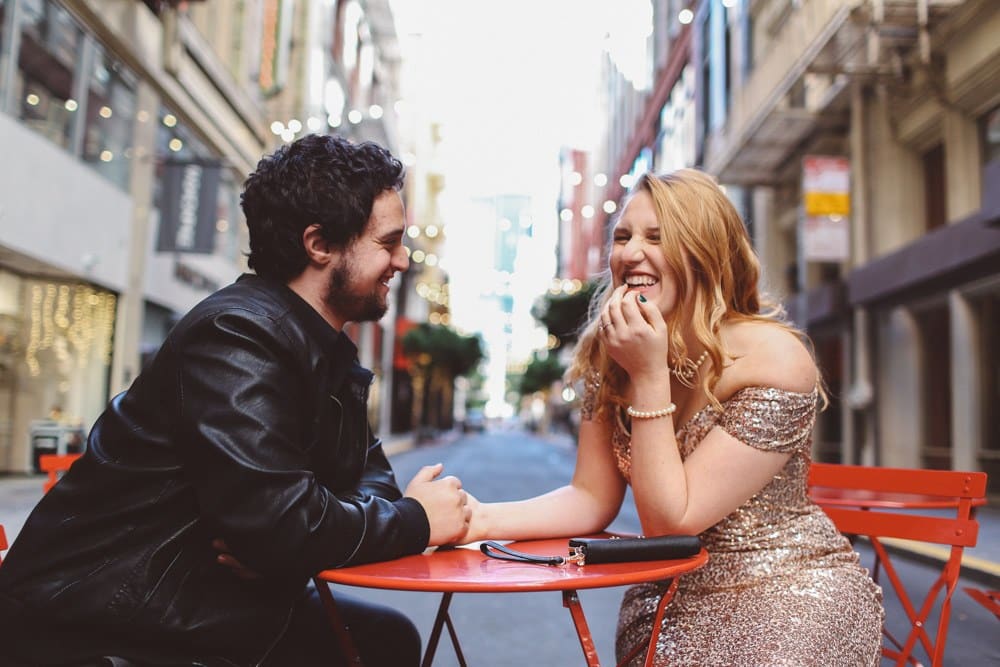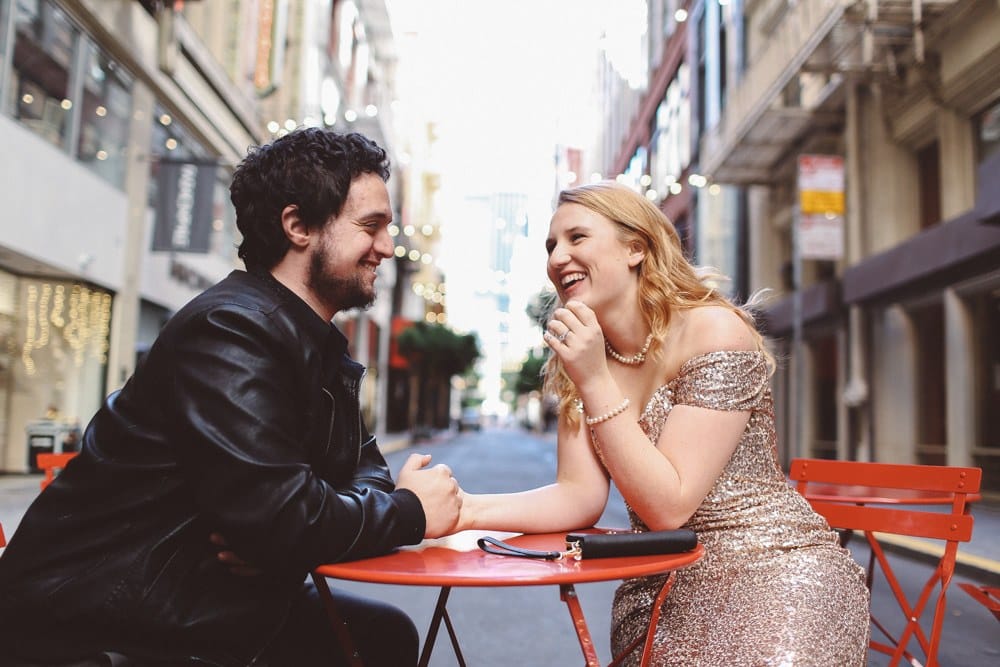 I'll wind it back to the beginning. When I was 7, I wanted to go to overnight summer camp. There was only one within a few hours drive from my house that allowed 7 year olds, so my parents picked Camp Woodbrooke, a tiny outdoor summer camp in the middle of nowhere Wisconsin. I instantly fell in love with camp, as so many of us do, and went as a camper every single year. When I was a teen, I volunteered there, and the first summer after freshman year of college (13ish summers later) I was finally old enough to be a camp counselor. Full circle. On our first day of camp that summer, Robin and I met. He, like most of the counselors, have never been to Camp Woodbrooke before, so during training, I remember helping everyone learn the trails and how things work.
Robin and I got on great from the start. He's shy, but sweet. There was only about 12 counselors (aka 12 adults) to talk to for the length of the summer, so we all spent a lot of time together when we weren't with the kiddos. By the end of the summer, Robin and I were dating. I was attending college in Minneapolis and he was still living in Madison, Wisconsin, so we did long distance for about 3 years. It wasn't too hard — my parent's house was a 30 minute drive from his parent's house, so holidays and breaks were always spent together. We also booked a LOT of miles on the Megabus to visit in between breaks. The hardest part was when I studied abroad in Rome during Junior of college – we were apart for about 5 months, but he came to Italy after my semester and we spent a week traveling around the country eating way too much pizza and creating magical memories. If you ever need Italy travel tips — hit me up! I love talking about Italy.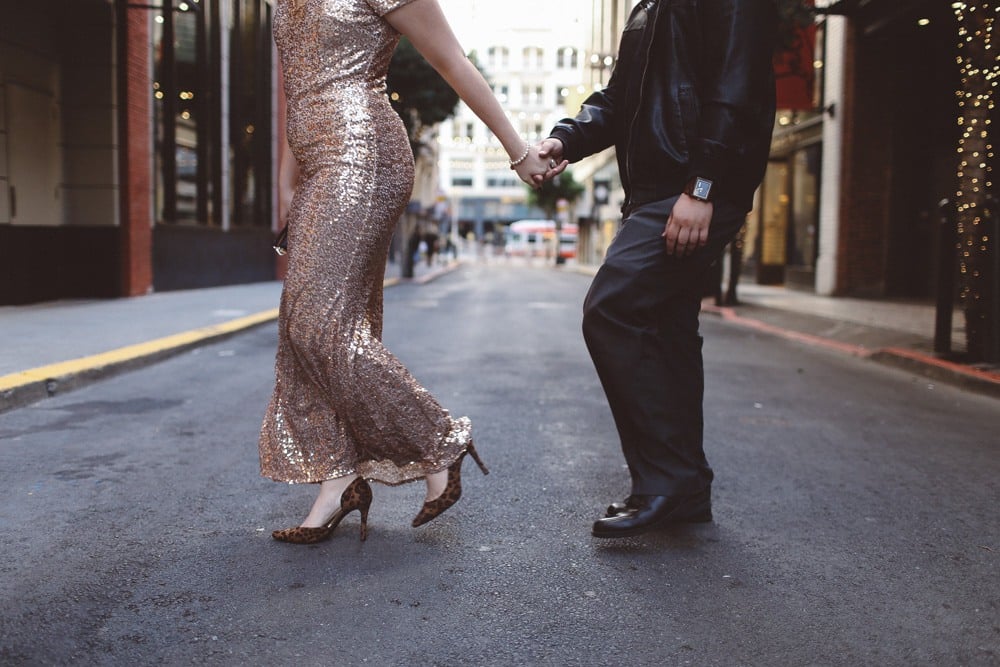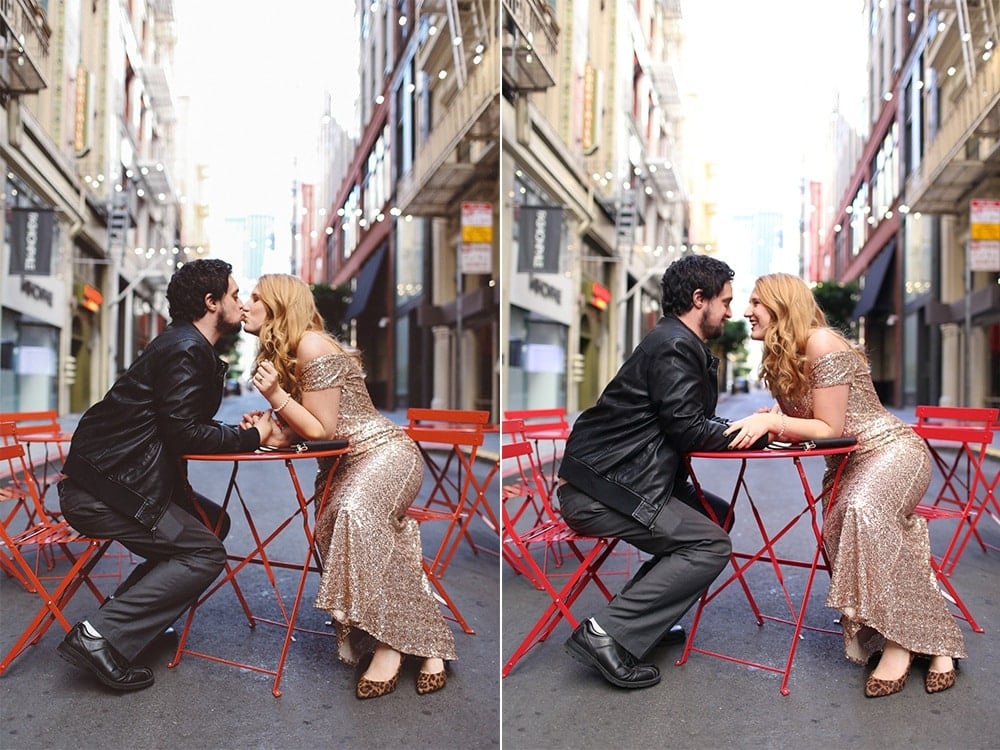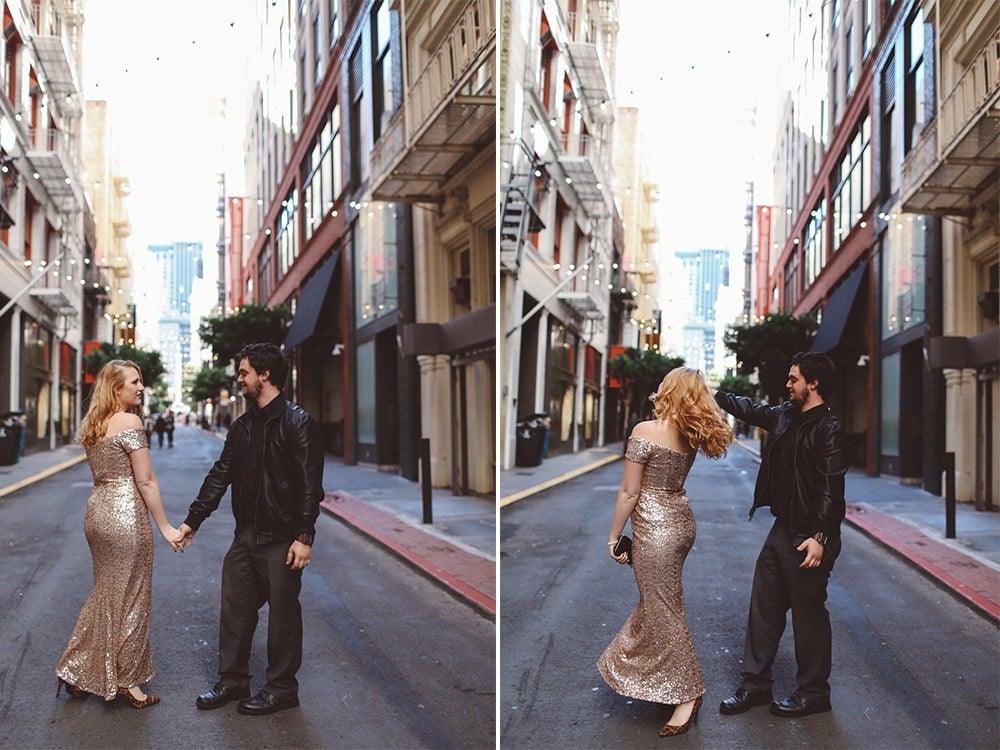 The last year of college in Minneapolis was during one of the infamous Polar Vortexes of the north — it was -20 for most of the month of February. I knew anyways that I didn't want to stay in Minneapolis or go back to Wisconsin then, so we plotted where to move and finally decided on San Francisco. Stable weather! And a fun, vibrant city to boot. I have a confession – I have never been to San Francisco before we moved here, but it just felt right. Robin was a champ and never questioned our move – he was right on board! After settling into our new apartment in San Francisco, I started Whimsy Soul, and Robin has been my Instagram husband from the start.
Whew! That brings you up to speed to last month when he asked if he could be my real husband, too.
It was utterly unexpected. We've talked about marriage for years and have been on the same page. Last year (last year!!) my Mother gave him my great-grandmother's diamond ring and Robin has been sitting on it for that entire time (ug!) so at that point I wasn't on edge waiting for a proposal. The girls and I have been planning together for a girl's night, so that evening I headed over to the East Bay to promptly blast 90's music, eat nachos and drink wayyyy too much wine. My friends had no idea Robin was going to propose that day – if they did, I'm sure they would have stopped me from drinking at least a bottle of wine by myself aha. One of my sober friends drove me home, and I rolled up to my apartment door around midnight to find a note taped to it. Being tired and still tipsy, I skimmed the 3 page note from Robin — if I actually read it throughly I would have probably understood it was a "I'm about to propose" kinda note versus a love note. I walk in, the lights are dimmed and I find a big bouquet of roses on the kitchen counter — but I still didn't put it together (blaming the wine). It wasn't until I rounded the corner to the living room when I found Robin all dressed up holding a rose that it started to click about what was happening. I think I blurted out "YES" before he even finished asking. And then my cat, who is an attention whore, promptly started clawing my leg and meowing because I had dared to come home and not say hello to him right away. It was funny, cute, low key and perfect.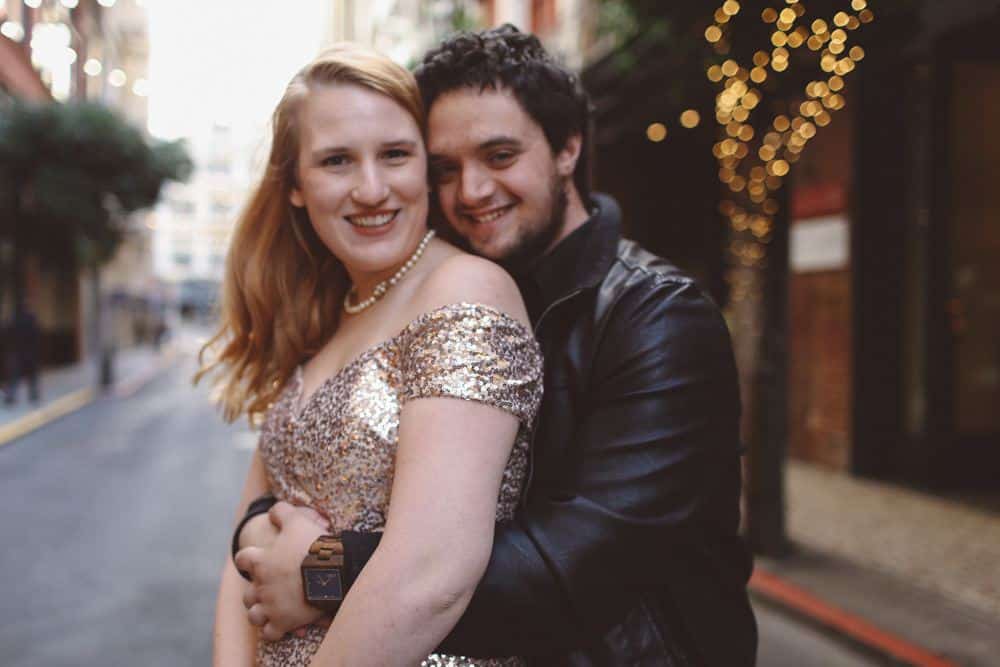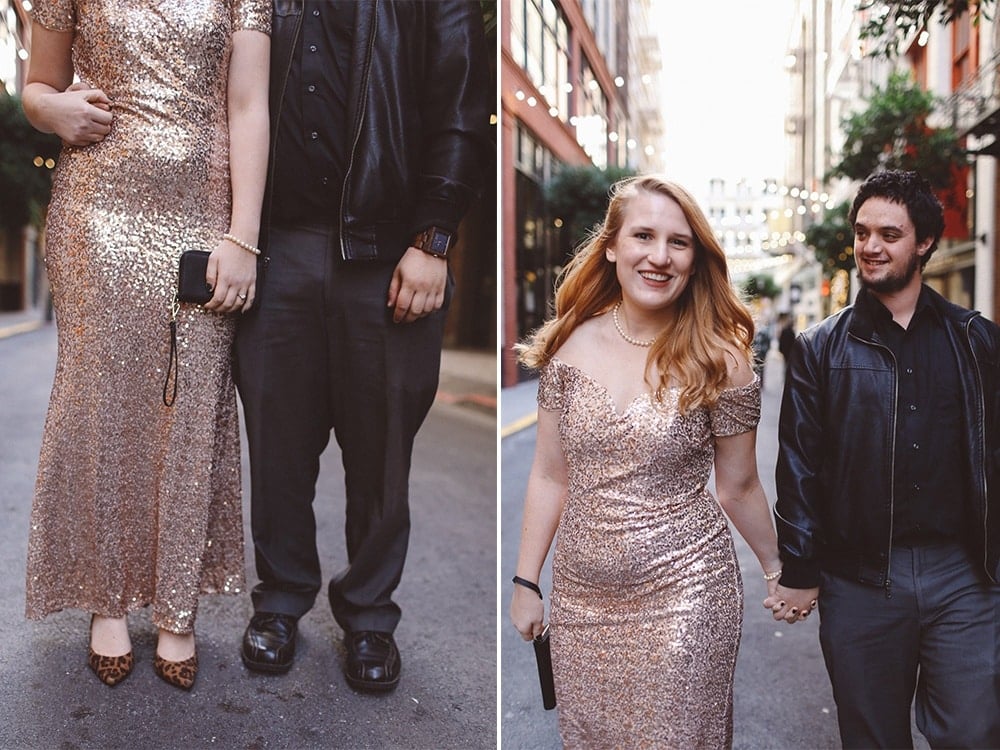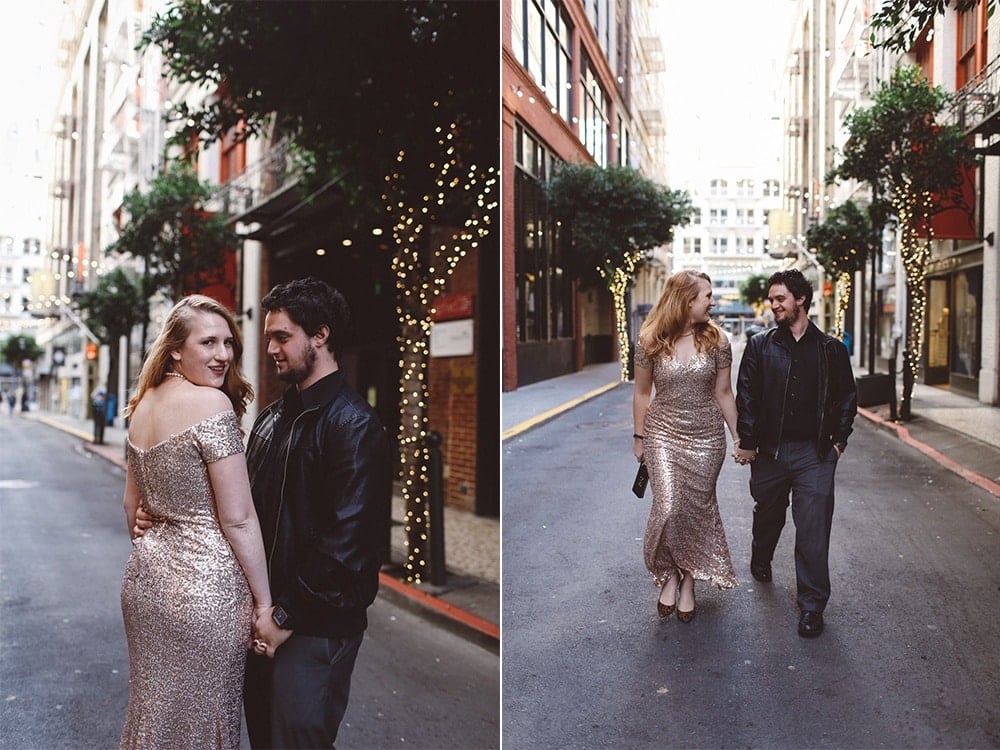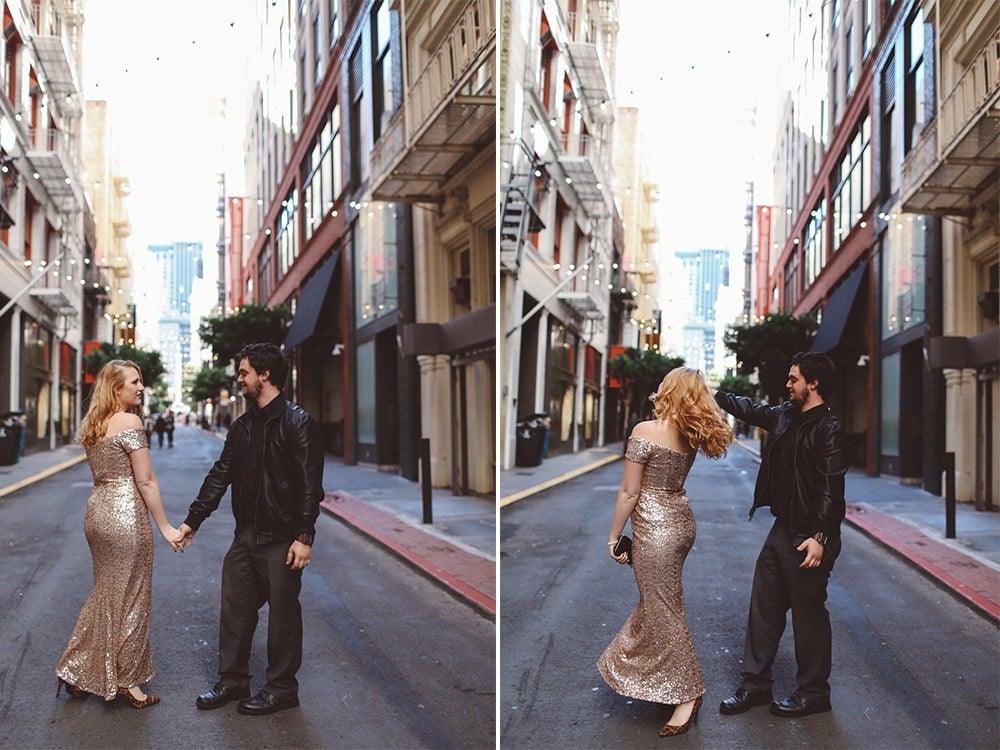 It's been really fun this past month breaking the news to everyone, flashing my ring and starting to think about wedding stuff. Another thing you probably don't know — I've been photographing weddings professionally for the past 7 years, so I have a weird amount of wedding knowledge in my head, which makes it more fun than overwhelming to plan my own day. At this point, we know it'll be held in our home state of Wisconsin and probably September 2017 with a trip through Europe for our honeymoon. Everything else is up in the air — leave a comment below if you have fun ideas or vendors you know about!
For this little holiday shoot, I rented this beautiful rose gold sequin dress from Rent the Runway. I love the way it hugged my curves and it made me feel so glamorous walking around downtown San Francisco. I paired it with leopard heels, a simple black clutch and my mother's pearls. We'll be getting official engagement photos done later, but it was really fun to play dress up, giggle, kiss and run around the city together.
So that's it! Leave a comment below if you have any questions.

A big shout out goes to my friend Justina who photographed this for us!