Oh, Yule love these Harry Potter Christmas decorations...
Tis the season when I rewatch the entire Harry Potter series at LEAST once... sometimes it happens twice. They just make the perfect Christmas movies to throw on in the background while decorating your tree, or baking cookies.
But why stop at just watching the movies when you can go big on the Harry Potter Christmas decorations?!
From tiny details like a Deathly Hallows ornament to a whole Harry Potter themed holiday room, this is your sign to lean into your inner witch or wizard and Accio all these magical decorations to your living room.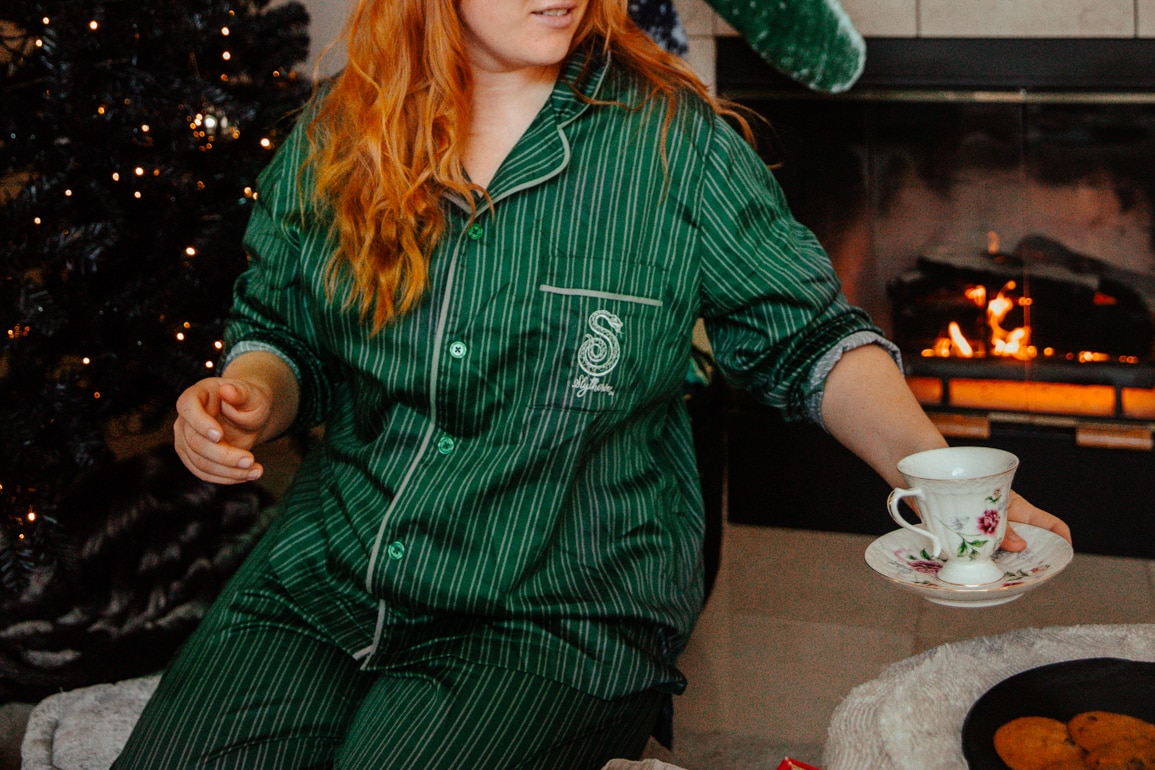 How To Decorate Your Home With Harry Potter Decor For Christmas
I thought I was a die hard fan of the Wizarding World, but I think my friend Kelsey of Blondes and Bagels may be an even bigger fan. We were chatting about my new Slytherin pajamas and realized we both had been collecting Harry Potter Christmas ideas so we decided to do a collab shoot! (See her photos and post over on her blog here!)
I knew she had a ton of decor & Harry Potter bags but I wasn't prepared to walk into the most magical modern Harry Potter Christmas scene. In the corner was a huge black tree perfect for the wizarding holidays! A Ravenclaw and Sltyerhin stocking hung on the mantle. The Sorcerer's Stone was playing on her TV above a roaring fire. She even has a few beautiful decorated books and fun details like a Room of Requiemrent's bag!!!
I brought the wrapping paper to wrap a bunch of Amazon boxes to make fake Harry Potter Christmas presents to put under the tree (we went with classic red, striped and a one that has a pattern of a stag that felt just like Harry's Patronus). We scatted a few of Kelsey's Harry Potter books around for an added touch. The key to the best themed room is in the details.
When drawing inspiration for a Harry Potter-themed Christmas room, I liked to lean more towards the earlier books. I mean, Arthur Weasley did almost died in The Half-Blood Prince around Christmas and in the Deathly Hollows books it's just a depressing holiday situation.
But in the early books, it's magical. In the Chamber of Secrets, all three of the gang free up their holiday schedules and stay at Hogwarts so Hermione can brew Polyjuice, playing tons of wizard's chess in between. In the first book, Harry gets the Invisibility Cloak and has adventures on break. And in the Globet of Fire, there's the Yule Ball!! All of this is great inspiration to draw from when decorating your Harry Potter Christmas home.
How To Have The Best Harry Potter Christmas Party
Before I share all my favorite themed decor, let's chat how to decorate for the perfect Harry Potter party during the festive season, just in case you're here at this post since you're trying to host.
Decide if you want to go fancy like the Yule Ball style outfits, or comfy (ask guests to wear their house colors!)
Or, you can ask everyone to dress as their favorite character and make it a holiday costume party!
Serve up one or two of our original Harry Poter Cocktail recipes (my favorite is the Floo Powder, made with muggle fire!)
Play the music from the Christmas scenes in the films in the background to set the tone.
Set up the movies on a TV with captions and muted so people can watch along.
Make use of small themed details, like a rubber duck ornament Arthur Weasly would love, or hanging candles lights that look like they belong in the Great Hall.
And of course, have big themed details, like Hogwarts stockings or a large Sorting Hat on a shelf.
Lastly, have the time of your life with your fellow Harry Potter loving pals!
Ok, onto all the Harry Potter Christmas decorations we used in our shoot with links to shop (if you feel called to!) plus tons of other decor I totally want to buy for next year!!
The Best Harry Potter Christmas Decorations For A Festive Hogwarts Themed Home
This is your sign to lean hard into the Wizarding World and craft yourself a magical Harry Potter Christmas room this holiday season!
Pro tip:
Make Hogwarts Christmas Gluewien
! Hogwarts at Christmas is magical… and usually, Hagrid or Professor McGonagall would get really drunk during Christmas in Harry Potter and I like to think they drank too much gluhwein.
We both left the shoot asking ourselves: how do we go bigger next year? We both agreed that a Christmas trip to Scotland to find some castle that looks like Hogwarts in the snow would be EPIC. Of course, a visit to Harry Potter World Christmas events would be super fun, or even to London for the Harry Potter Studio Tour.
But something about sipping wine in a castle hotel while it's snowing outside really feels like it would hit the spot… those would make for some pretty cool photos for Harry Potter Christmas Cards. GOALS.