I brought my wand all the way from San Francisco to Portugal literally just for my visit to the Livraria Lello bookstore, an enchanting bookstore that's famous for inspiring JW Rowling.
Over the top? Probably not. Nerdy? Absolutely (I am a 90's kid after all.)
So many articles I read prior to my post didn't share this one major hack we found for visiting the store that I need to tell you about, which I will in this post. Along with tons of photos and fun facts about the store and how it inspired Harry Potter.
I Visited Livraria Lello, A Bookstore That Inspired Harry Potter + Secret Hack For Skipping The Line!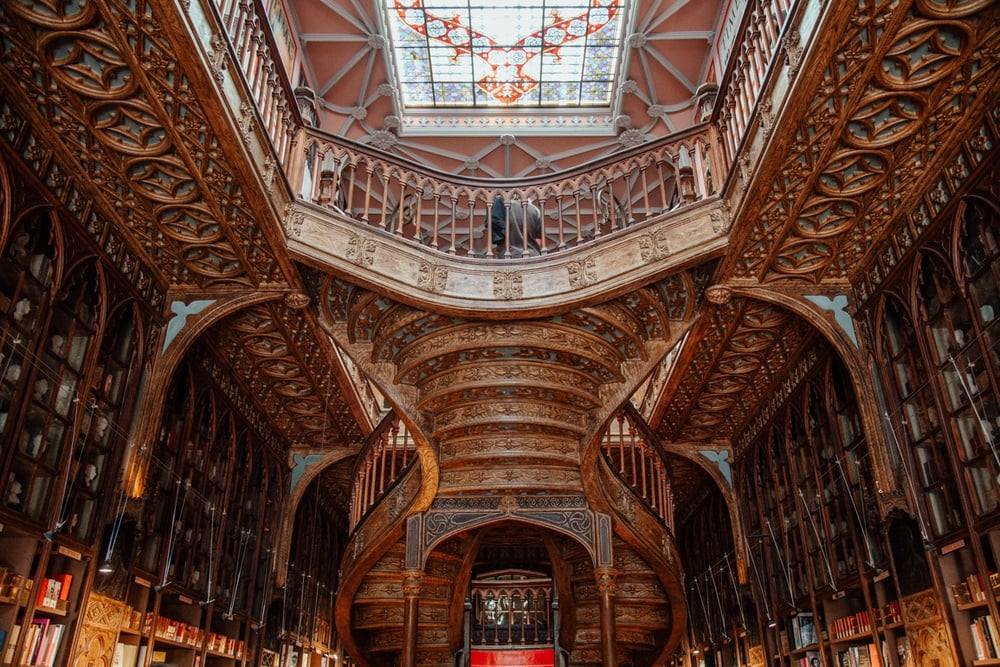 >> Got a question about Livraria or Porto that you need answered quickly? DM me on Instagram @thewhimsysoul and I'll be happy to help! I only accept DMs from followers, so hit the follow button before sending.
I'm a proud Slytherin and part of me wanted to also pack my robes to Porto but figured that was probably a little too over the top, plus I didn't have that much suitcase room. I settled on a pretty white dress from OPT that reminded me of something Luna would wear, or maybe even Fluer.
I also decided the white would pop really nicely against the dark red Livraria Lello Staircase in photos. While there is no red staircase in Harry Potter, this thing winds and twists in the most whimsical way, I can totally see it inspiring the shifting staircases in Hogwarts.
Why Is Livraria Lello Famous For Harry Potter?
JK Rowling moved to Porto, Portugal in 1991 and it was here in the city that she wrote the first few chapters of Sorcerer's Stone. I can't find a great source to confirm this, but it is a strongly considered fact that JK Rowling would visit the Livraria Lello Porto bookstore a lot during this time (I guess there used to be a coffee shop on the top floor.)
And, you can totally see it. As I chatted about, the red staircase looks like it belongs in Hogwarts, but that's not it. Neo-Gothic, Art Noveau and Art Déco styles fill the store. The arches in the shelves also look like they were pulled from the Great Hall. The cart tracks on the floor reminded me of the carts used in Gringotts. But mostly, the entire bookstore just oozes Flourish and Blotts vibes. It really feels like you walked into Diagon Alley to buy your school books.
HACK: How To Skip The Long Line Livraria Lello
There is a Livraria Lello entrance fee since it's such a popular tourist attraction. Currently, in 2021 (mid-pandemic), you must buy Livraria Lello tickets online. Harry Potter has taken over the world and thus, the bookstore always has a crazy long line to go in.
When we tried to go the first time, there was a line that was over 3 hours to get inside, so we decided to come back later. And then we did more research and figured out how to skip the line entierly. I mean, nobody else I've found online talks about this hack (and. Iread a LOT of Port travel guides before our trip.)
Here's the MAJOR secret that literally nobody talks about when visiting the Livraria Lello Harry Potter bookstore!!! There's a special ticket you can buy to skip the line!!
This ticket is special as it lets you skip the line entirely. And you get to take home a book. The book is the ticket voucher you buy (ie Romeo and Juliet) but if you decided to swap it for another book, you just pay the difference inside. My friend and I decided to swap ours for The Great Gatsby instead.
We stood in line for 25 minutes before discovering this and let me tell you, it felt amazing to skip the 1.5 hour line in front of us and just walk in. Totally worth the extra €10.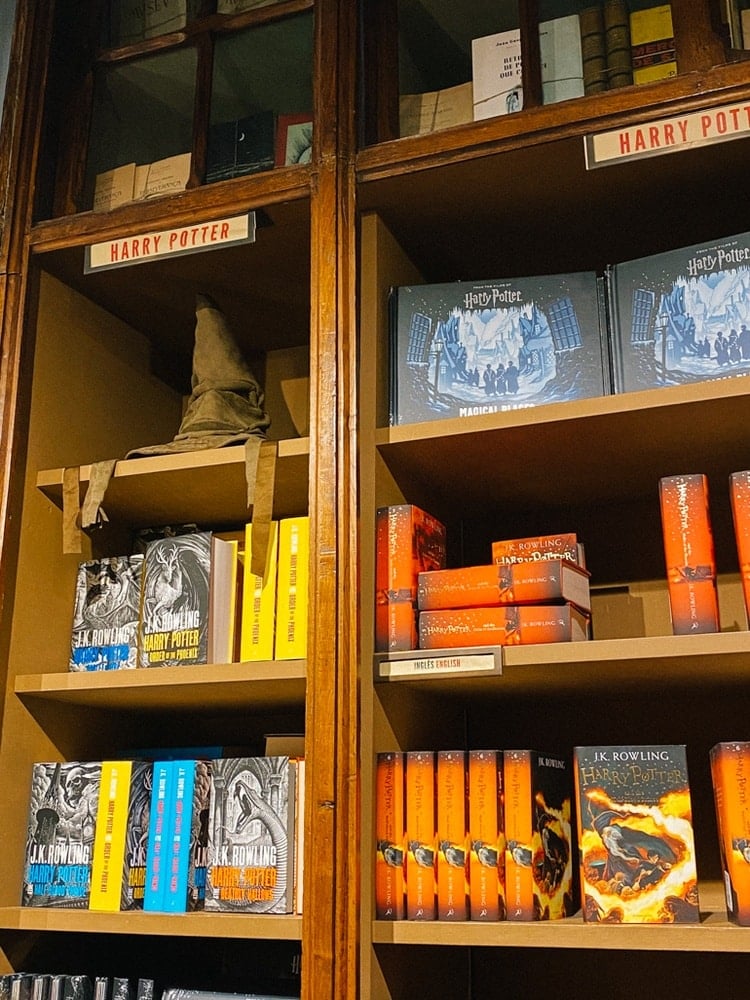 You Can Buy International Harry Potter Books Here
Maybe the coolest little surprise was seeing tons of different international copies of the books available for sale. They all have cool covers I've never seen before. I didn't have a suitcase room otherwise I would have brought a few back. If that's of interest to you, plan on bringing an extra bag to check at the airport!
Oh – and look for the Sorting Hat on a shelf.
Frequently Asked Questions About Livraria Lello
What Are Livraria Lello Hours? 9:30am-7:30pm daily
What Is The Livraria Lello Pronunciation? I had to watch a few YouTube videos on this. I'm fairly certain it's Liv-ra-ria Lel-Lo (like yell but with an L)
When Is The Best Time To Visit? I would go in the late afternoon when there are fewer people. Most show up early before opening hours to avoid the line. You won't have a line if you get the right ticket but it's still nicer to arrive when it's less crazy.
What Is The Livraria Lello Harry Potter Scene? The movies were never filmed in the bookstore, though after visiting, re-watch that scene in Chamber of Secrets. The one where Professor Lockhart gives Harry a bunch of his books. The set does look a bit like Livraria Lello…
Are there any bookstore events? Yes. There was Livraria Lello Live Boundless, to celebrate the 115th anniversary of the store. And they frequently have other events throughout the year for authors, etc.
Really, you just need to go to the bookstore and see this stunning shop for yourself. Next time I'm in Porto I'll be bringing a large suitcase so I can take home a few copies of books!
And, don't forget your wand!