This summer I visited a lavender farm in Northern California and I took home some culinary lavender buds. I spent the drive back home brainstorming the perfect cocktail recipe for this fresh lavender.
This Lavender Gin Fizz has that perfect floral punch of lavender without being too overwhelming. It's creamy and fizzy and our go-to summertime happy hour cocktail of late. Keep reading for the recipe and more info on culinary lavender!
Araceli's Lemon Lavender Gin Fizz: A Tasty AF Lavender Cocktail Recipe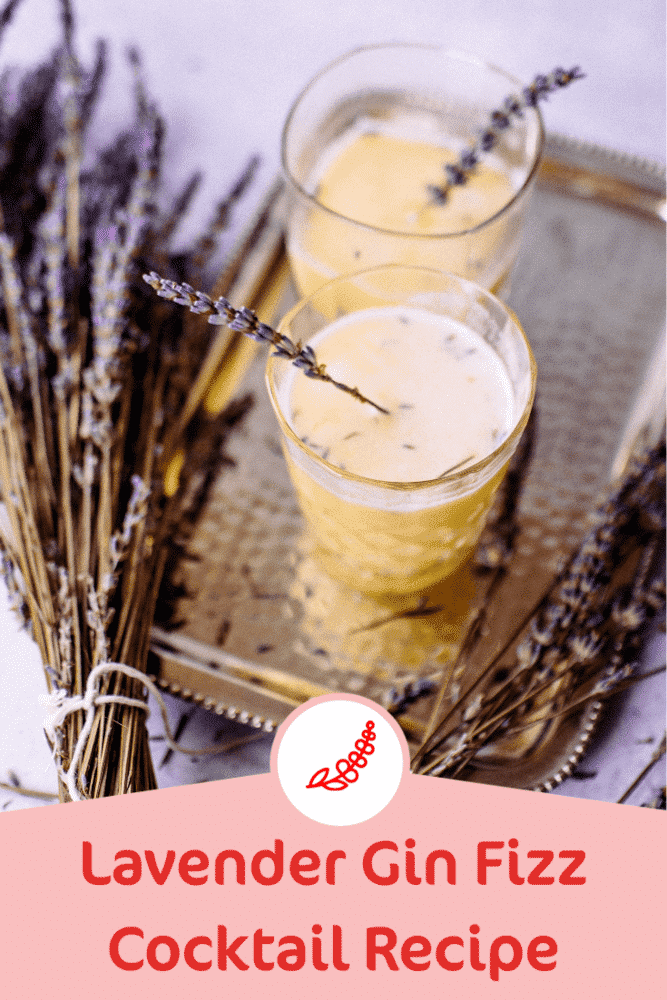 What Does Lavender Taste Like?
Lavender tastes floral and sweet. But too much can make a dish taste soapy so it's always smart to add smalls bits into any recipe and work your way up until you know how much lavender you like. You can always add more buds if you need a stronger lavender kick. When you have these buds on hand, there's no need to buy specialty lavender gin to get that great floral taste!
What's The Difference Between Lavender & Culinary Lavender
Lavender generally referrs to the fresh or dried lavender flowers of a plant that had no treatment. Culinary lavender is usually roasted buds that were harvested right when the plant flowers, washed with water, dried and then roasted. This offers a more dulled lavender taste so it's easier to use in a dish without resulting in a soapy taste.
I bought my culinary lavender buds from Araceli Lavender Farms outside of Dixon in California. I brought home two varietals of lavender – one is sweeter which is perfect for cocktails and sweet foods. The other is savory, which is great for dinner recipes like lamb and potatoes.
Araceli is a fantastic WOC-run farm that we love and she ships so you can order ethically grown lavender culinary buds online if you want to try this recipe out yourself! Shop Araceli Lavender Farms online here!
Ok, let's get onto the recipe!!
Start by making basic simple syrup which is equal parts water and sugar that you boil and let cool. We always try to keep a batch ready-made in the fridge so it's cold and ready to go for happy hour.
Add one shot of simple syrup to your cocktail shaker. Then 2 shots of gin because this is a gin cocktail! (though you can use tequila or vodka for this recipe too and I think it would still come out alright.)
I've made this with both botanical gin and regular gin and I actually think I prefer the regular gin better. Usually, I'm all about those botanical flavors but I found those botanicals masking the lavender notes a bit.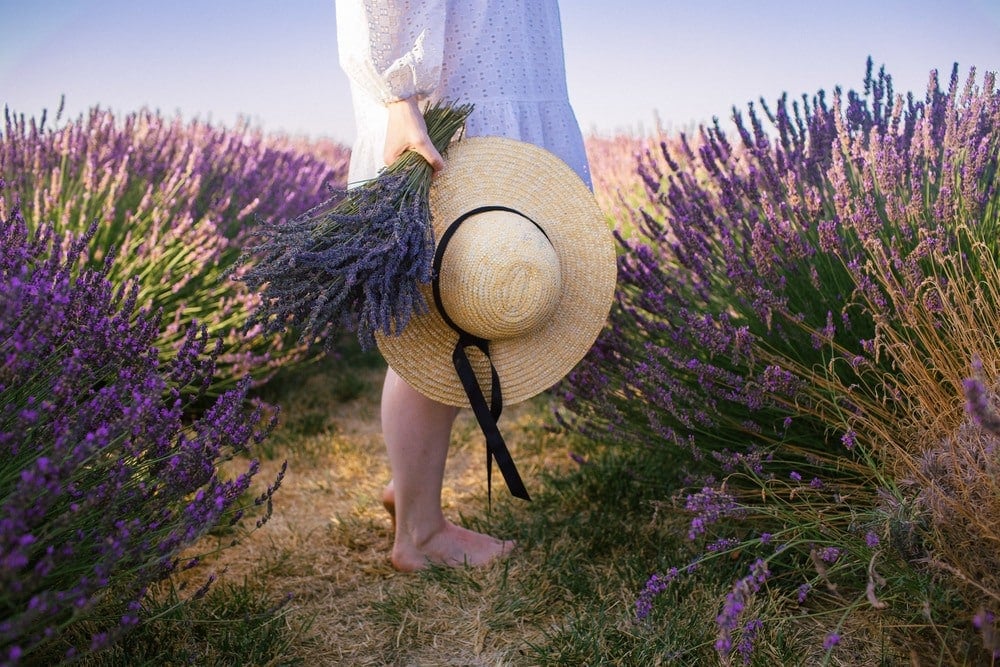 Next, add a whole fresh squeezed lemon. Pro tip: roll the lemon before you squeeze it out. The rolling helps release more juices from the fruit!
Now time to add lavender! I usually do a pinch of lavender buds per serving. Since this is a double recipe, two pinches of Royal Velvet culinary lavender. Then about 5-6 shakes of lavender bitters. Then, add a few ice cubes and shake!
Lastly, it's time to add an egg. Yes, a whole ass egg! Egg whites make a cocktail foamy, which is what a lot of fancy hipster bars and restaurants rely on to elevate the cocktail experience. You can also use a whole egg in a cocktail (yolk and whites) and it makes the drink creamy and foamy. Almost like light eggnog.
We made our first batches of this with just the egg whites (and that's really great if you don't want to add in a yolk). I accidentally discovered it tastes even better with a whole egg after dropping the yolk in while separating. I was so sad, thinking I ruined the cocktail, but Robin assured me it would taste amazing and he was right.
Anyways, you want to wait to add in an egg (white or whole) as the very last step to any cocktail, after the rest has been mixed and shaken with ice. That's because the egg can easily separate in your glass if it gets too cold to quickly, which is kinda gross, trust me.
After you shake well, simply pour out into your glasses and top with a fresh or dried sprig of lavender for garnish. You can also add in another ice cube or two in your glass if your cocktail isn't cold enough for you. Enjoy for happy hour on a hot summer day!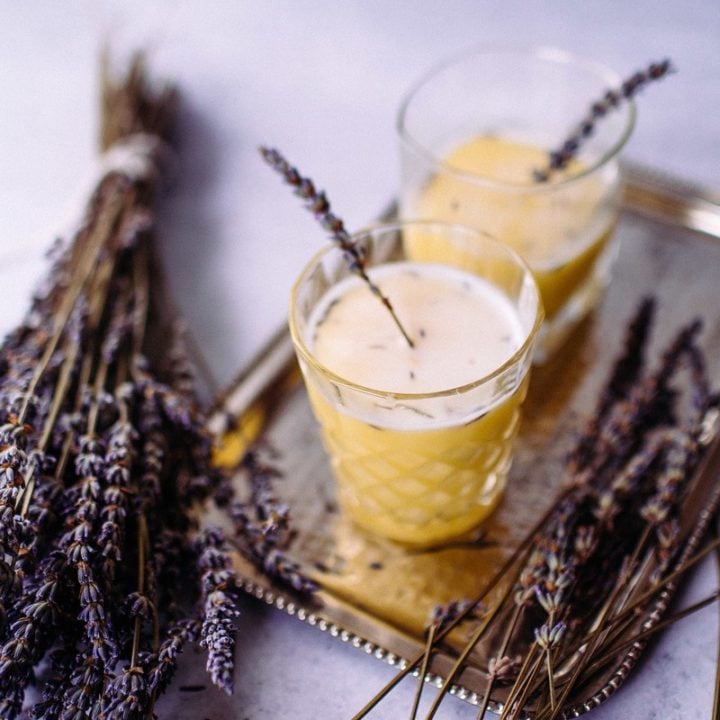 Araceli's Lavender Gin Fizz: A Tasty AF Lavender Cocktail Recipe
This lavender gin fizz is sweet, floral and creamy. It's perfect on a hot summer day!
Ingredients
2 pinches lavender buds
A dried lavender sprig for decoration
2 shots Gin
1 Egg
1 shot simple syrup
Fresh Lemon juice from 1 whole lemon
Ice cubes
5-6 shakes Lavender bitters
+
1 cup water + 1 cup sugar for bulk simple syrup batch
Instructions
How To Make Simple Syrup

First, make the simple syrup. We always make a big batch and keep some in our fridge for cocktails.
Mix sugar with water in a stovetop pan
Heat until the sugar dissolved then turn the heat down low and simmer for 5 minutes.
Remove & let cool before using in the cocktail

Lavender Gin Fizz Cocktail Recipe
Make your simple syrup and let cool (or add more ice cubes to the shaker later if it's still warm.)
Squeeze the juice of one whole lemon into your cocktail shaker. Don't forget to roll first it to help get more juice!
Pour the gin and simple syrup in.
Time to add the lavender! Add in 2 good-sized pinches of lavender buds to the shaker. Then, 5-6 shakes of the lavender bitters.
Add in a few ice cubes and shake well!
Lastly, crack a whole fresh egg into your cocktail shaker and then shake it all again to mix the egg well. Your drink should be foamy and creamy looking.
Split into two glasses and top with a fresh or dried sprig of lavender for garnish.
Add in another ice cube to the glass if you'd like.
Enjoy!
Notes
Don't have lavender bitters? Try making your own lavender simple syrup instead to replace that added lavender taste. Just boil some edible lavender in with your simple syrup and this should do the trick! Lavender syrup is tasty AF, trust me.
Recommended Products
As an Amazon Associate and member of other affiliate programs, I earn from qualifying purchases.
Nutrition Information:

Yield:

2

Serving Size:

1 Amount Per Serving:

Calories:

559

Total Fat:

3g

Saturated Fat:

1g

Trans Fat:

0g

Unsaturated Fat:

1g

Cholesterol:

93mg

Sodium:

44mg

Carbohydrates:

113g

Fiber:

2g

Sugar:

104g

Protein:

4g

I hope this helps you experiment with something new in the kitchen and have a fun, tasty happy hour! If you make this recipe and share it to Instagram, tag me @thewhimsysoul so I can see!

Other Recipes You May Like