I'm challenging YOU to take a photo of yourself in a swimsuit and post it to Instagram with #whimsysoul! 
Let me tell you a story first: I have eczema, and it was really bad when I was a kid. Huge rashes on my arms, my fingers, behind my knees, sometimes even my face. Kids could look at me funny on the playground or even tease me about my eczema, so I hated wearing shorts and short sleeve tops.
And I turned into a teenager and on top literally hating my skin, I started going through what pretty much every teen girl feels: not liking my body.
Constantly seeing skinny women in magazines or on TV and feeling fat in comparison. Constantly looking at all popular girls in high school dressed in tiny Holister tank tops and feeling fat in comparison. Gosh, why do we always feel so fat?
I eventually grew out of severe eczema flares and started wearing shorts, skirts and tanks. During the summer I'd go to the pool with friends, but I still cover up each time I left my chair. I'd hold my legs in just a way that, according to Seventeen Magazine, would make me look skinnier. (A rant about the crazy shit magazines told us back then will have to come later.) I played soccer for a few years in High School and spent those two years avoiding carbs and working out like crazy. I could easily run 3 miles (can't do that anymore) and I fit into size 6's and 8's. When I look back on photos now, I can see how fit and healthy I was. Back then? Still considered myself fat.
College was easier – I went to school in Minneapolis, where bundling up like a marshmallow against is required for most of the school year. But still, I never thought of myself as someone while a healthy relationship to my body.
And then, last year, I found myself prancing around an Austin hotel pool in a swimsuit with a bunch of men gawing at me and literally not giving a second thought to it. And it dawned on me that this was a huge milestone for myself. (Photo from that shoot below!)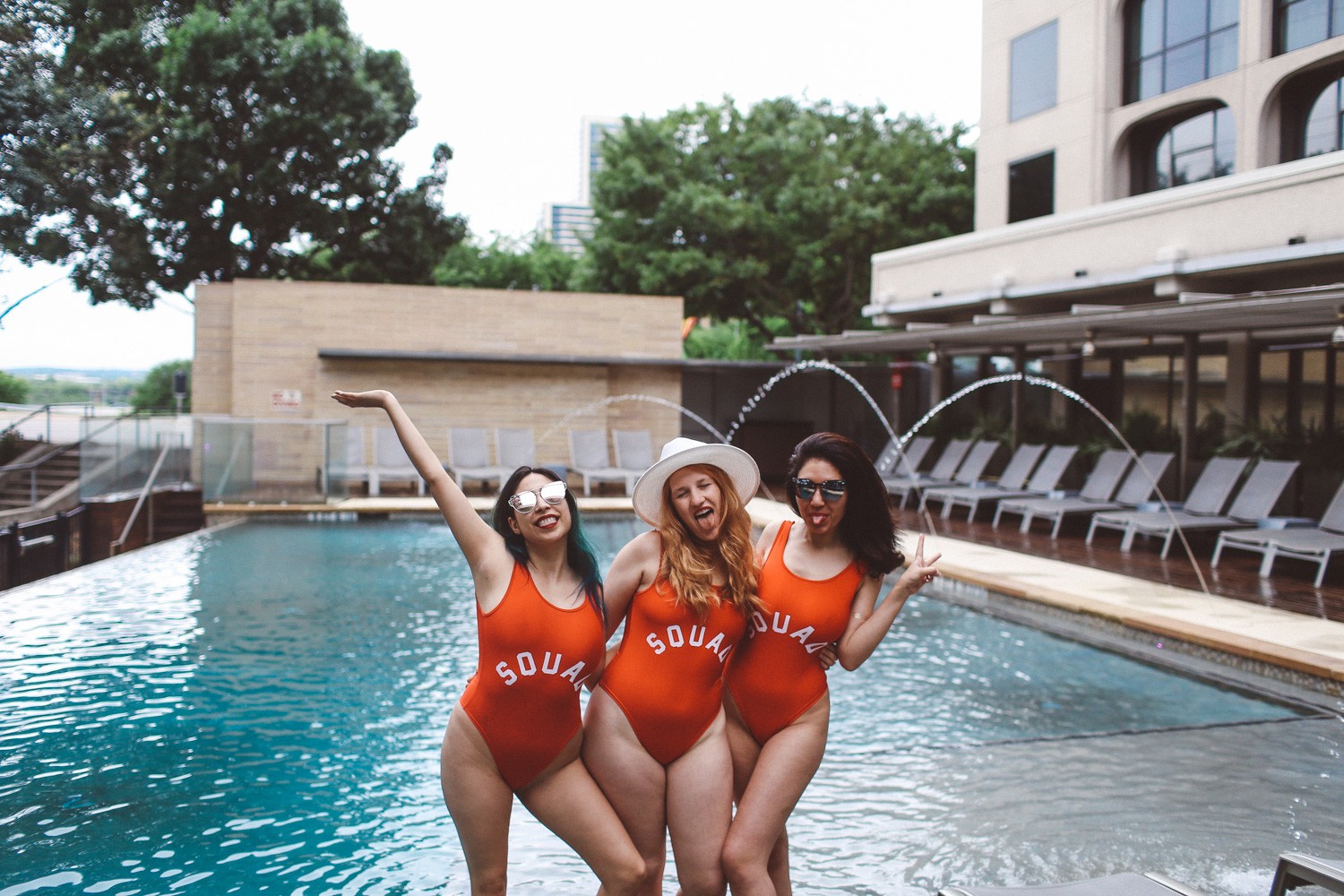 I spent a lot of time reflecting on how I went from covering up all the time to literally prancing around in bikinis in front of strangers and being 100% ok with that. It's a little because of just growing up. My brain isn't chocked full of teenage hormones right now and I'm not surrounded by other hormone-riddle teens who say mean things to each other. But the real way I grew into confident?
By blogging.
I started Whimsy Soul about 3 years ago and to keep it running, I have to take photos of myself almost every day. Whether it's just a simple Story or a long-form shoot, I'm constantly taking photos, editing photos and looking at photos of myself. And then sharing them, on the internet, for everyone to see. That process has slowly chipped away at that poor body relationship I grew up with. Do I sometimes still have thoughts like "oh gawd, I look fat in these jeans"? Of course, I'm still human. But for the most part, the act of taking photos of myself and sharing them with the world has been an incredibly positive process.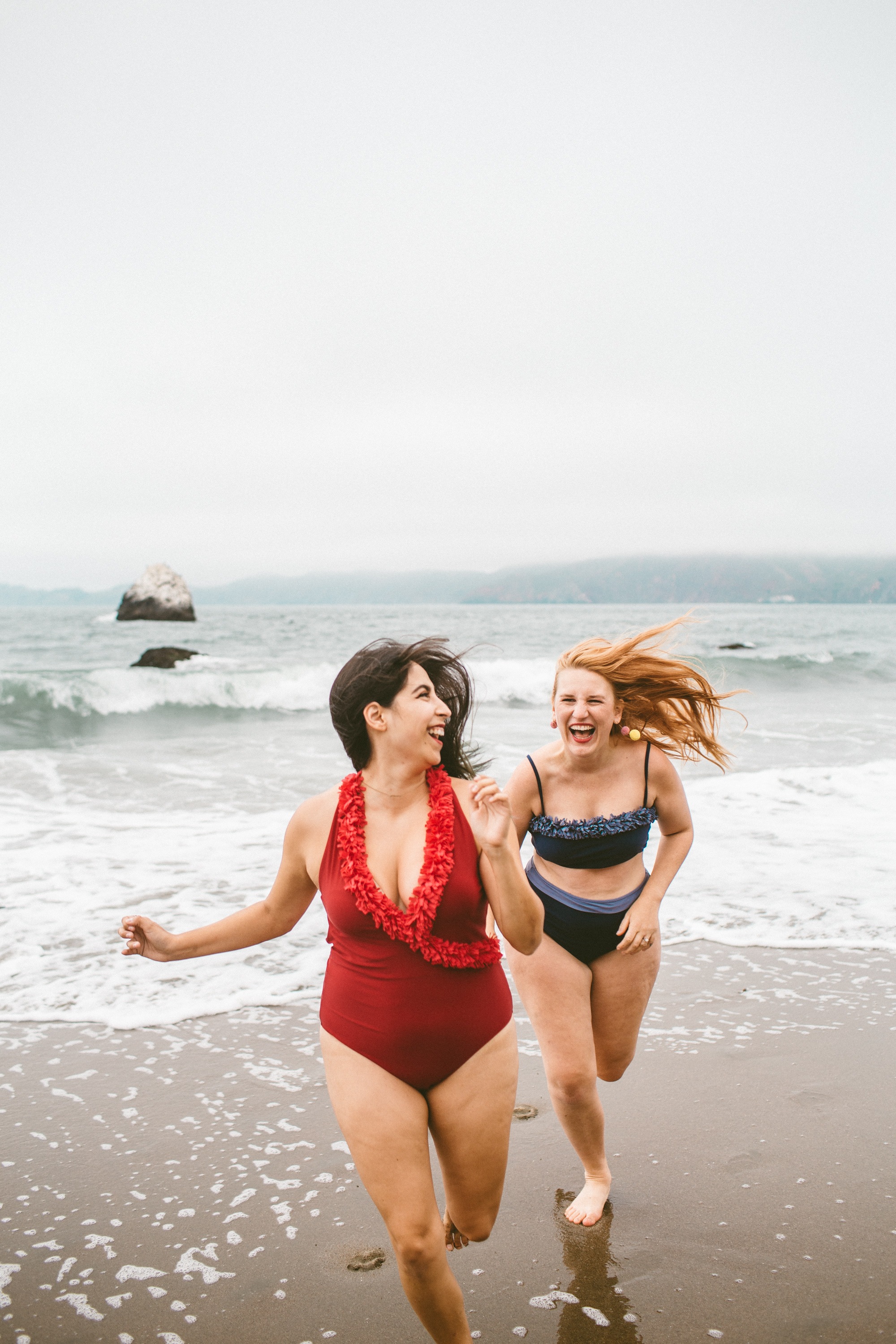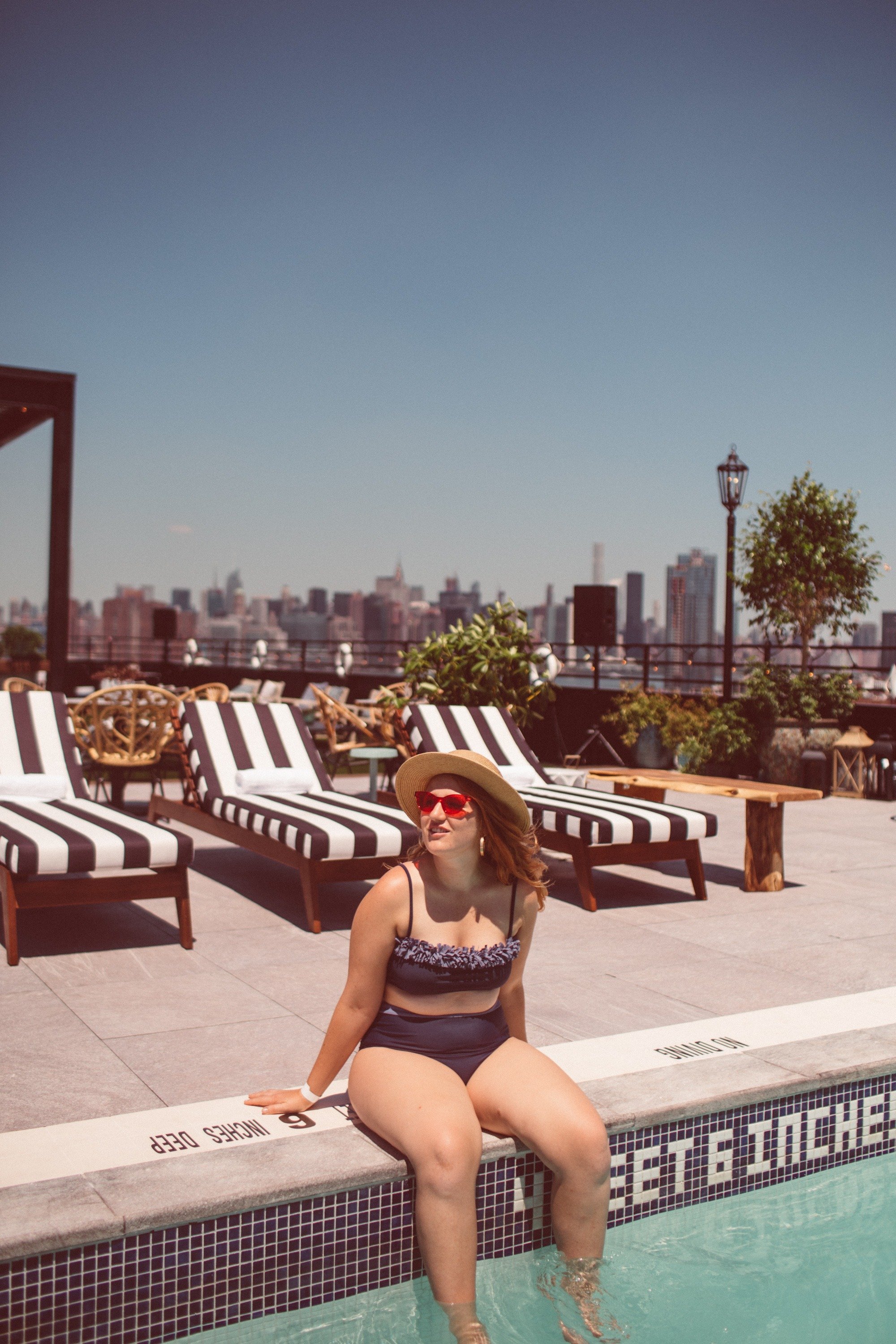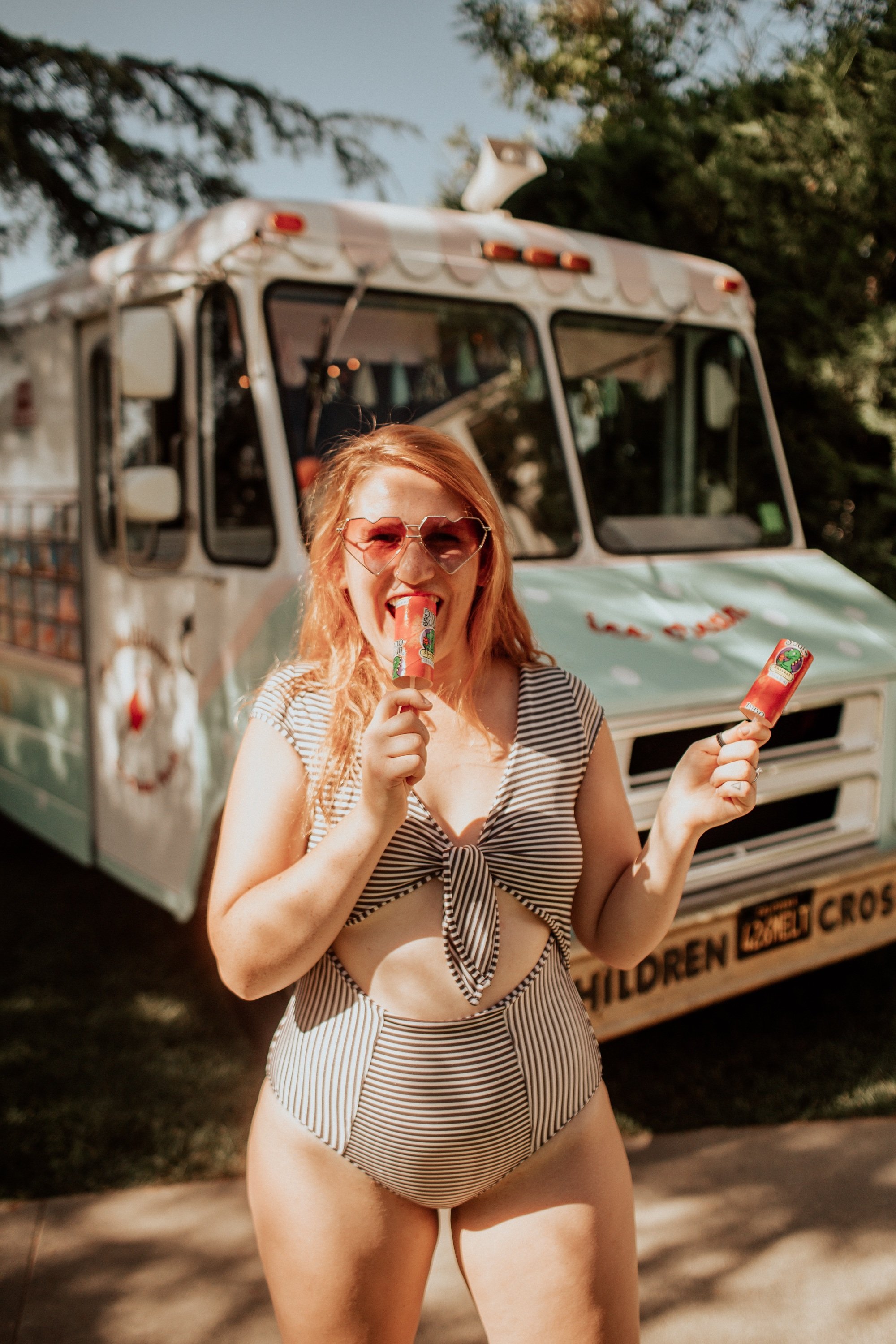 The world doesn't crash around me when I post a photo of myself on a bloated day or you can see side rolls in a swimsuit photo. In fact, the response from my online community is almost always incredibly positive and supportive.
With that in mind, I'm challenging my readers to share a photo of themselves on Instagram in a swimsuit. Will posting one bikini selfie totally transform the way a community member feels about herself in a bikini? Probably not. But I do know the act of simply putting on a bikini and going to the pool or the beach is really hard for a lot of women. As women, we're constantly being judged by our appearances. Our society is still too insistent that a worthy, attractive woman is one who is under a size 4. I've been told by a man before that I was too fat to wear a swimsuit. People actually say things like that, to our faces. No wonder so many women fear wearing a swimsuit in public, let alone share a photo to the entire world on Instagram.
While I can't physically be there at the beach with fellow women, I can be there digitally. I'm hoping that YOU, my readers, can rally together and support each other during this challenge. If you have been working on your relationship to your body in anyway, share this week with #whimsysoul so we can all support each other. I hope that hitting "publish" will be a first step to helping women on their body journey, but also help take a small step in breaking down all the crazy expectations our society still has.
Can't wait to see your photos!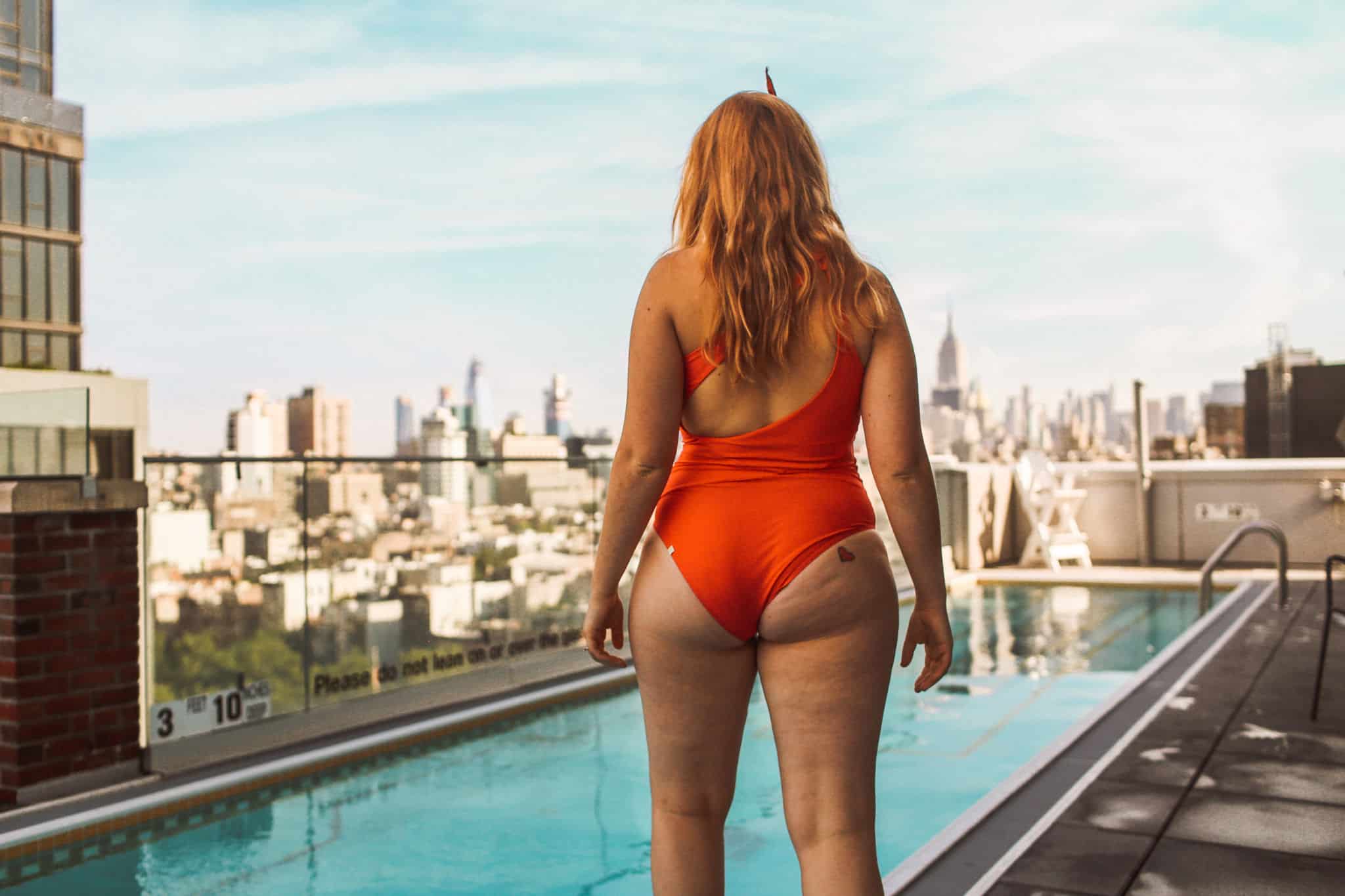 Most of the swimsuits I am wearing in this post are from Summersalt.