Turning into an espresso snob happened very suddenly in my life, and now I can't imagine starting my morning each day without the ritual of making a perfectly balanced shot of espresso.
While designing our Whimsy Homes cabin in Arnold, California I knew I wanted our guests to be able to have a wonderful morning coffee ritual if they wanted.
So, my hunt for the best automatic espresso machine started. I wanted to make sure there was an automatic grinder built in to make it easy for guests, along with a steamer for fancy lattes. And that's how we landed on the CASABREWS 5700Gense All-in-One Espresso Machine.
In this post I'm sharing my honest Casabrews espresso machine review after a month of use!
Casabrews Espresso Machine Review
Let's be honest: espresso machines can be confusing to use, and be super finicky. Since here will be guests staying with us who only used drip coffee makers in their life, I had to find a machine that was pretty easy and straightforward to use.
That's why I love the Casabbrews 5700. The water tank is easy to remove, it's clear where the whole beans who for grinding and the milk frothing is clearly labeled.
There's also easy buttons for double shots or single shots, and unless the machine we have in our apartment, actually stops on its own.
There is a learning curve to this machine – it took us a few days to get the system down but since then it's been smooth sailing.
Casabrews Discount Code: use code KARA45 for 45% off this machine!!
The 5700 Pro machines come with a touch screen but I don't think you need a touch screen, especially if you are already comfortable and familiar with espresso machines.
In Our Cabin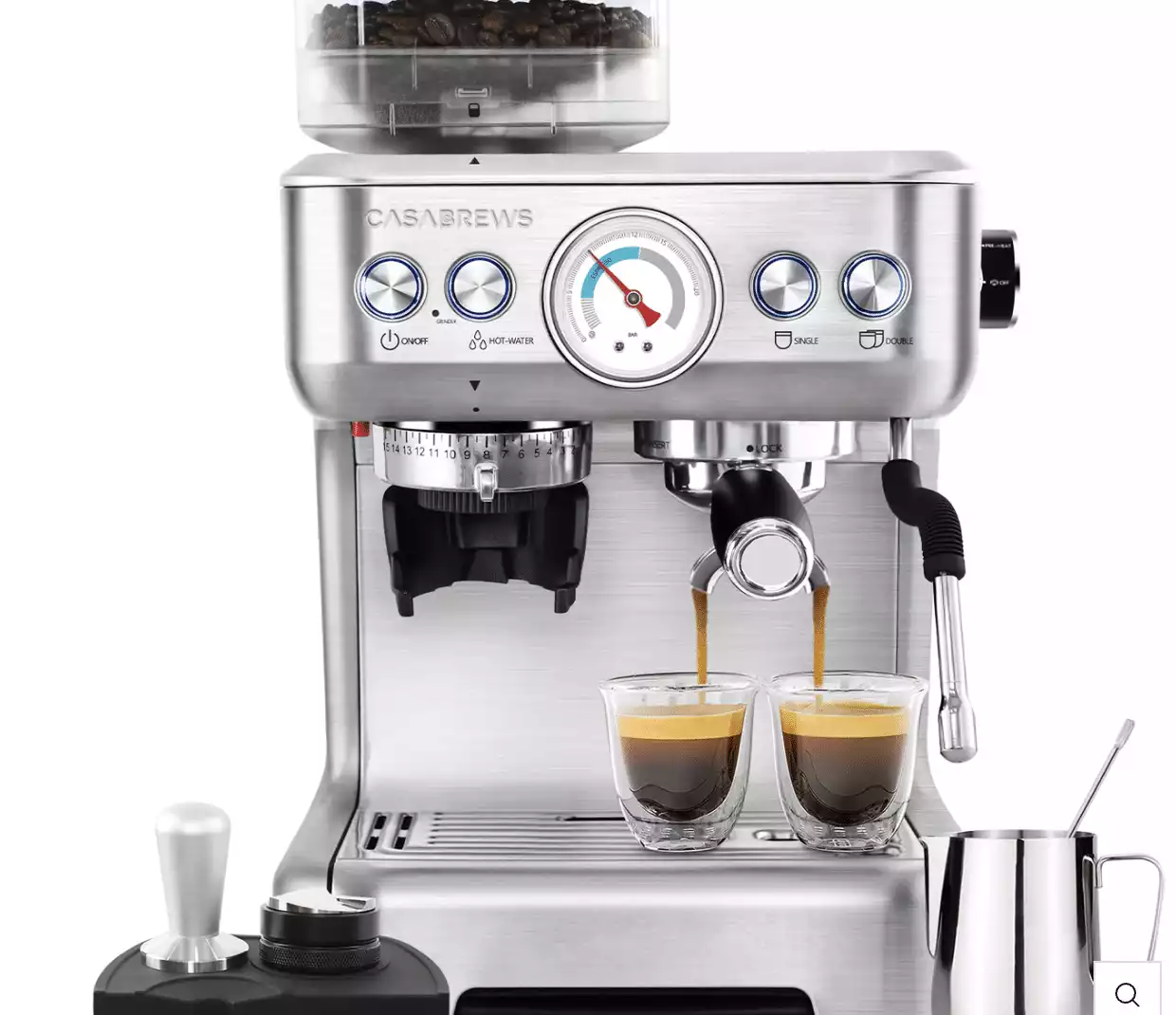 CASABREWS 5700Gense All-in-One Espresso Machine
This stainless steel espresso maker automatically grinds whole coffee beans in the right amount, offers single and double shots, and has a built-in milk frother. It heats up in very little time and comes with accessories like a tamper and weight. We're obsessed. Use code code KARA45 for 45% off
Pros:
- code KARA45 for 45% off

- Brushed stainless steel

- Conical burr grinder

- Many grind settings

- Steam wand for frothing

- Heats quickly

- Single and double shots

- Automatically turns off

- Built in drip tray

-Comes with tamper, weight and other accessories
Buy Now
Setting Up The Espresso Machine Was Easy
Set up was fairly easy. I accidentally misplaced the instructions book and I was able to put it together without directions. But, once I found the booklet I realized it would have been even faster with it.
The machine comes mostly in installed already, you just have to add in the water tank, coffee bean holder and assemble the portafilter system.
Casabrews sends along an extra grinder (woohoo!) and accessories like a tamper and milk pitcher.
Whimsy Homes Signature Lattee Recipe
Since we got the Casabrews for our cabin vacation rental, I just had to make a signature latte! Our cabin is inspired by our time living in Copenhagen so there are many subtle Nordic touches around.
Elderflower is a HUGE flavor profile in Denmark, I swear every menu had an elderflower cocktail or spritz or coffee. So, I was inspired to make a signature Elderflower latte recipe using our Casabrews!!
Note: it's always best to use high-quality beans. Here at the cabin we love using Gold Country Roasters, a local roaster to Calaveras County.
Double shot of espresso from the Cassabrews 5700 espresso machine
In the milk pitcher add 1 oz Elderflower syrups, 1 oz French Vanilla syrup
Top with desired amount of milk (I like oat milk)
Froth with the built-in milk frother
Pour over your espresso in a mug.
You can also make this an elderflower espresso tonic! Add ice to a glass and pour in the syrups and tonic water. Then, top with espresso and give it a stir. Serve with a straw.

Things I Don't Like About The Casabrews 5700
Hey, this wouldn't be a proper review if I didn't touch on the not-so-great things! Thankfully there are mostly just great things about the Casabrews.
My only complaint is that the portafilter is hard to lock in at first. It takes some practice and honestly, some loosening up. Now that we've had it for a few weeks, it locks in much easier but the first few days I couldn't turn it by myself and had to get my husband to do it.
The only other thing I can think of is that the machine doesn't come with decalcify solutions but I only bring that up since the machine we bought for our apartment came with a pack. But they're cheap and you don't them very often, anyways.
Final Verdict Casabrews 5700 Espresso Machine
I love it! If you're on the fence, I think you will love this machine. it's small and compact, but isn't light or flimsy. It's sturdy and feels professional.
It brews amazing, high-quality espresso shots and comes with all the accessories you need. And, the milk steamer works fast and well, and is easy to clean.
When my espresso machine at home kicks the bucket, I'll be buying one of the Casabrews 5700 for myself.
But, if you are looking for an introductory espresso machine to see if you even like owning one, I suggest you check out the Casabrews 3700, which is around $150 and is a great starter machine. And then upgrade to the 5700 later.
Frequently Asked Questions
Does Casabrews Offer Returns?
The return window is 30 days only if you buy it from Amazon or the Casabrews website. You can find their full return policy here.
Is Casabrews A Good Brand?
100% yes!! Our 5700 machine is so high quality, brews smooth espresso and is easy to use. Casabrews is a great brand.
Are Home Espresso Machines Worth it?
I sure think so! I have so much fun crafting up seasonal lattes. Plus it's nice to pull just a single shot if you need an afternoon kick vs brewing a whole pot of coffee. Or running to a local shop to pay $6 for an iced coffee.
Does Casabrews Use Pods?
Nope! None of the models at the time of writing this article use pods, just espresso beans.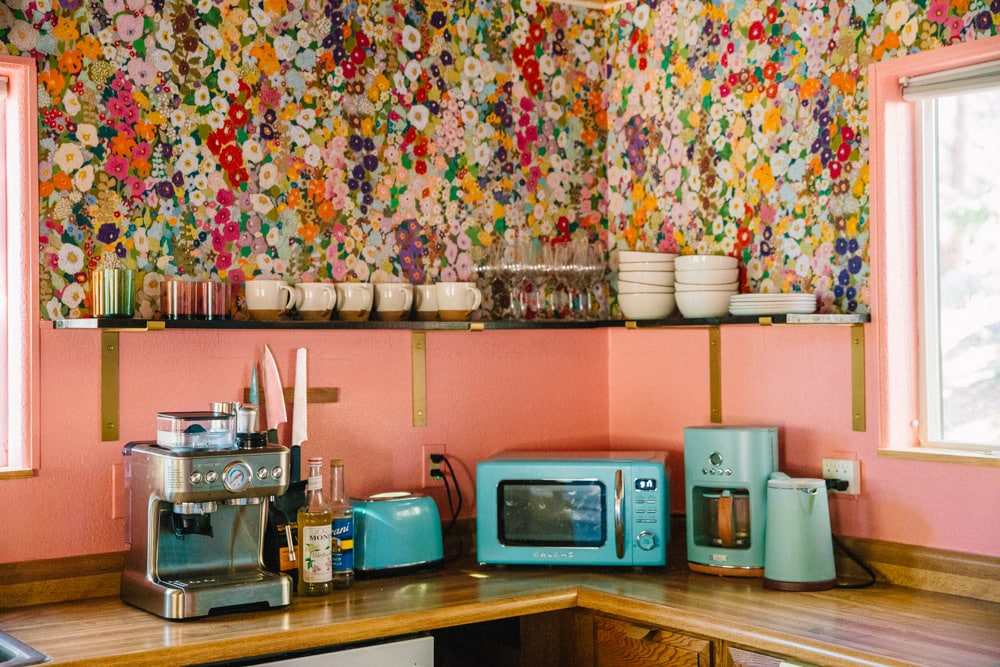 We still have a classic ground coffee brew coffee maker for people who want something familiar, but I know fellow coffee lovers are going to have so much fun with the Casabrews espresso machine.
I absolutely had to refrain from taking it back to our apartment, I like it a lot better than our ~ $300 at-home espresso machine.
So, whether you are brewing one espresso shot or 6, the Casabrews is a great machine that will last for years.