New York City is the land of plenty– hot dog stands, taxis, chic city slickers, subway rats, and enough hotel options and New York neighborhoods to make your head spin.
Each neighborhood is incredibly special and unique, so you'll want to think about that when booking your trip. To me, the biggest issue is the excess of options. New York is MASSIVE, and you don't want to get stuck in Times Square.
We've got you covered from the Upper East Side to SoHo with the best New York City hotels.
Best Neighborhoods to Stay in NYC
When you're thinking about where to stay in New York, you want to consider the neighborhood, too. It's such a walkable city that choosing your hotel is part of the trip itself.
There are so, so many things to do in NYC, so you'll want to plan your travel paying close attention to which neighborhoods and sights are most important to you. While the public transit is great and very reliable, it's still a long journey from Harlem to Bushwick.
Here are some of my favorite New York neighborhoods (and the borough they're located in) that should definitely make your list.
First, what's the difference between a borough and a neighborhood?
The five boroughs of New York City are Queens, the Bronx, Manhattan, Brooklyn, and Staten Island. All of them are fantastic places to visit (and to live!), but you will have a tough time squeezing in all five.
If you're first time visitors, I suggest staying in Manhattan. This is where people think of when they think "Big Apple" and "Empire State."
1. SoHo
SoHo is maybe the best area to stay in New York for first time visits. There's just so much going on, and you won't even have close to enough time to do it all.
The shopping in SoHo is top tier. From outlet stores to boutique shops, everything feels high-end and chic.
Anywhere in lower Manhattan has amazing dining options and cafés on every corner, so you'll be well fed while you're staying downtown. Plus, SoHo is extremely close to Washington Square Park (less than a mile!). Great for photo ops and sitting out in the sun.
SoHo is also home to some of the best museums in Manhattan. Check out the MoMa for your modern art fix, or the LGBTQ Musuem to celebrate Pride month!
2. TriBeCa
TriBeCa stands for "triangle below Canal." Canal is in SoHo, so it's pretty similar vibes! The main difference between TriBeCa and SoHo is the foot traffic. TriBeCa is a little more lowkey, whereas SoHo can get pretty packed.
With access to sightseeing including the World Trade Center and the Woolworth Building, this is definitely one of the best areas to stay in New York. The only downside is just how downtown you'll be– it'll take a bit of trekking to get anywhere uptown.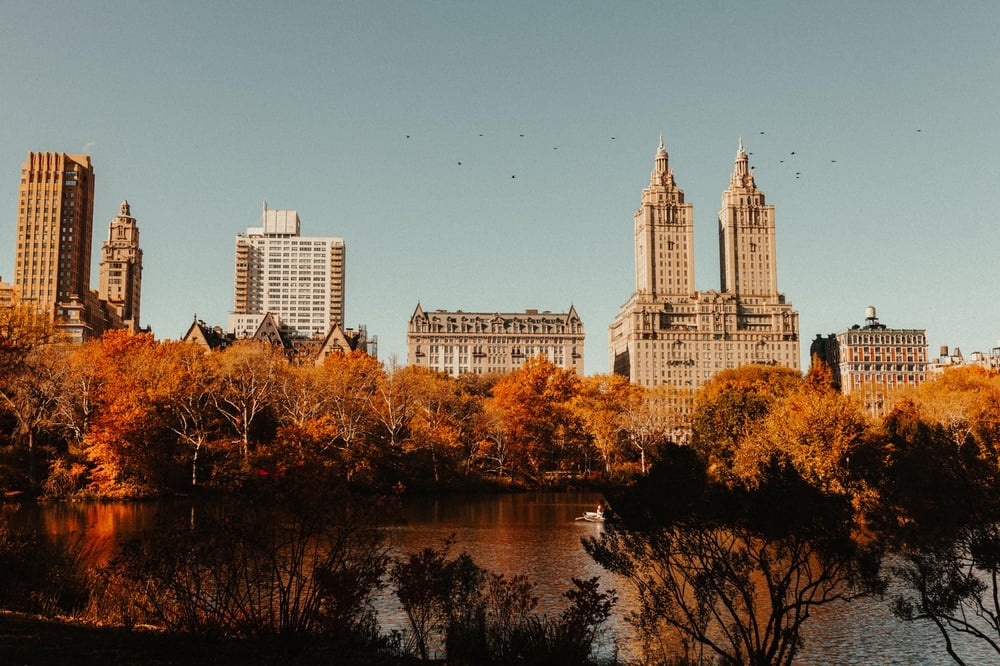 3. East Village
I absolutely love the East Village. It's so vibey and fun, and is definitely the best place to stay in New York for young adults. There are so many bars and clubs to go to!
The lower East side has been popping off lately with fun stuff to do. Death & Co are known for their trendy and inventive cocktails, and Sake Bar Decibel is the kind of sake bar that I don't always feel cool enough to even walk into (kidding– everyone is so nice inside).
The East Village can be crowded (hey, it is NYC), but is perfect if you're looking for a more scene-y area of the city.
4. Greenwich Village
Also just called "The Village," this area of NYC has an old-timey feel that I love. There are cobblestone streets and tons of teensy boutique shops to poke around in. Also, the whole neighborhood centers around Washington Square Park.
The Village is the top spot to visit during Pride Month. The historic Stonewall Inn is located here, and is a super fun spot to grab a drink at during the day or go out to at night.
This area has fantastic subway station access and is easy to get to. It gets (you guessed it) crowded on the weekends, so reserve in advance.
5. Williamsburg
Alright, we're moving out of Manhattan. Williamsburg is our first stop in Brooklyn. Located just across the Williamsburg Bridge, there is so, so much to see and do.
Brooklyn is its own thing independent of Manhattan, with its own culture and history that is worth a visit. Williamsburg is a quiet neighborhood that is perfect for families.
Williamsburg is the perfect spot to stay for something a little quieter that still has plenty of great eating, shopping, and sightseeing. This is definitely where to stay in New York City with a car.
In addition, the proximity to Manhattan makes it perfect if you'd like to visit both boroughs.
6. Bushwick
Bushwick is quickly becoming the fastest growing neighborhood in the city, and is easily one of the best places to stay in New York.
Bushwick has excellent bars, restaurants, fun shops, and is very walkable. It's a little more out of the way from Manhattan than other Brooklyn neighborhoods, so just be aware that if Manhattan is the main draw, Bushwick should not be your first choice.
7. Upper West Side
The Upper West Side is so underrated. It is one of the chillest, most laid back neighborhoods and is smack dab in the middle of all the fun things to do on the west side.
Take the 1 train up to Harlem for the day, and then take it down to TriBeCa. They're equidistance, making the UWS the best of both worlds.
Zabar's is my favorite spot on the UWS. There are other locations, but no one can convince me that this isn't the best spot.
There are a million gorgeous brownstones to covet, and in the summer, they close down some of the streets on Sundays for pedestrians. Can you tell I love the Upper West?
This is also where to stay in New York City with family. It's a very family-oriented Manhattan neighborhood, with close proximity to Central Park. It's super train accessible, and is a quick train ride down to Madison Square Garden.
8. Financial District
If you are looking for a place to stay in Manhattan that's close to Brooklyn, the FiDi is pretty ideal. It's right across from the Brooklyn Bridge.
Beyond the proximity to Brooklyn, staying in FiDi will help you live out your Wolf of Wall Street dreams. Check out the charging bull statue, and explore Wall Street to see some of the biggest corporations in the world.
FiDi has tons of great restaurants and shops too because of course it does– it's New York!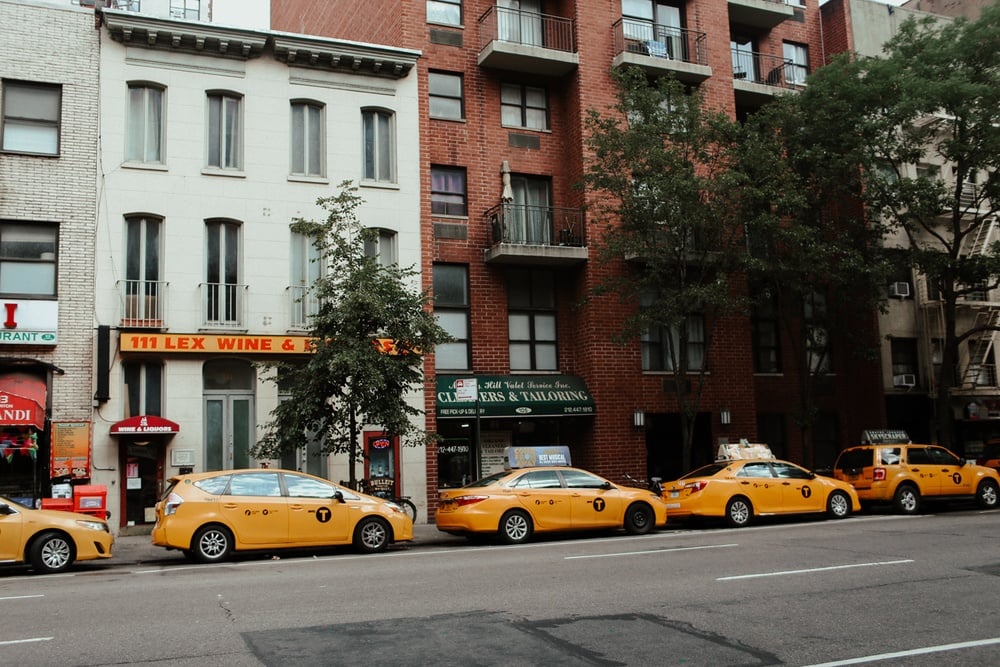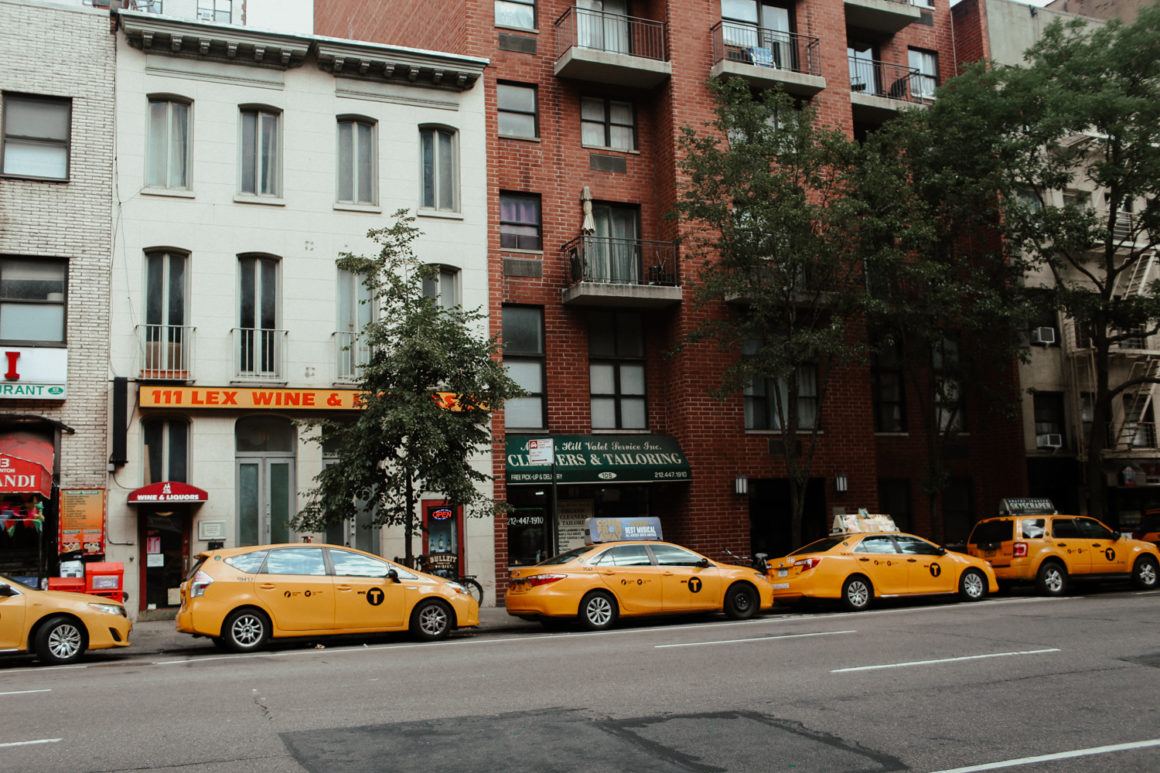 9. Midtown
Alright. I couldn't make an NYC list without including Midtown. It pains me to list Midtown (I'm a certified Midtown hater), but a lot of people love it here. I'd be biased not to include it!
Midtown Manhattan is central to just about everything. It's not called Midtown for nothin'. You have access to just about every train (including Grand Central Station!), and can travel quickly. Or you can stop by the "main branch" of the New York Public Library with its iconic front steps guarded by stone lions.
Times Square is also located in Midtown. That's where all the Broadway shows take place, and there are a lot of cool touristy things to do here. New York Times Square is as classic as it gets.
The biggest downside, and my biggest cause for being a top tier hater, is the crowds. There are no chill days in Midtown. You'll be hustling against the crowds the whole trip. However, prices can be lower on hotels for that exact reason! Just pick your priorities wisely.
19 Best Places to Stay in NYC (Top New York Hotels & Unique Gems!)
Now that you've chosen the neighborhoods that best fit your needs to visit New York City, let's get into the best hotels in NYC!
14 Best New York City Hotels At Every Budget
Now that you've chosen the neighborhoods that best fit your needs to visit New York City, let's get into the best hotels in NYC and exactly where to stay in NYC when you come visit!
Photo Credit: Soho Grand Hotel
Stars: 4.5/ 5 star
The Low-down:
The Soho Grand Hotel is luxury embodied. If you're looking for nice hotels in NYC, this is as good as it gets. 
The summer is one of the best times to stay at the SoHo Grand, as they have a gorgeous outdoor pool with a gorgeous view of Manhattan. All the rooms are beautifully decorated and have that NYC trendy hotels vibe. 
There are three bars within the hotel, and a valet parking service makes this one of the best places to stay in Manhattan with a car. 
SoHo, as mentioned earlier, is fantastic. This hotel is located near the busy Canal Street, so just be aware it could get a little loud. 
Photo Credit: Roxy Hotel New York
Stars: 4.5/ 5 star
The Low-down:
When it comes to cool hotels in NYC, the Roxy Hotel is among the coolest. It's got a very cool, vintage vibe that contrasts with some of the more modern details in a very deliberate design.  
Beyond the cool aesthetic, The Roxy has a bar on property and a super welcoming interior. It's pretty well known in the area for its striking entrance, too.  
The Roxy is close to a bunch of attractions in the area, and is in prime location for an easy commute from LaGuardia Airport, too. 
Stars: 5-star
The Low-down:
This is where to go if you're ready to splurge. The Mark is a New York institution and by no means a bang for your buck hotel, but it is by far one of the best places to stay in NYC. 
The interior screams "New York elite," and the fitness facility is as nice as any Equinox in NYC. The suites themselves are classic hotel decor that is elegant and simple. There are two highly rated restaurants in the hotel that serve breakfast and dinner (hello room service!). 
The Upper East Side location is perfect for shopping and is an ideal proximity to Central Park. 
If you're not worrying about the check, The Mark is where you should stay.
Photo Credit: Mandarin Oriental
Stars: 5-star
The Low-down:
It wouldn't be a New York hotel list without a couple of luxury hotels. Again, the Mandarin Oriental is a splurge. It's one of the most fun hotels in NYC for couples, and one of the most famous hotels New York has to offer.  
Located right near Columbus Circle, you have access to Central Park, the Columbus Circle mall, and several subway lines that are a short ride away from every other Manhattan neighborhood. 
Besides the location, the Mandarin Oriental is known as possibly the quintessential New York City Hotel. The views are ridiculous, and the interior design will make you feel like you've stepped into a fairy tale. 
The rooms themselves are gorgeous and unique, and each one has its own guaranteed view of the Manhattan skyline. 
Weddings are commonly held at the Mandarin, so you may get to sneak a peek at some bridal parties during your stay! 
Photo Credit: The Towers at Lotte New York Palace
Stars: 5-star
The Low-down:
The Towers at Lotte New York Palace, better known to New Yorkers as just "The Palace," is the definition of dream hotel NYC. This is one of the most gorgeous hotels in New York City with a view of Midtown. 
The gorgeous interior of this hotel is classic. It has one of the most iconic lobbies in the world, and has been featured in shows and movies including Gossip Girl, Will & Grace, 27 Dresses, Law & Order, and 30 Rock.
If sight-seeing is your top priority, The Palace should be too. You're a six minute walk from Rockefeller Plaza, and are just as close to the Empire State Building, too. Midtown can be loud and crowded, but it certainly has its payoff, too.
Photo Credit: Staypineapple
Stars: 3 / 5 stars
The Low-down:
Okay, enough with the luxury spots. Back to some bang for your buck! This is where to stay in New York City on a budget. 
The Staypineapple in Midtown is one of the most adorable boutique hotels you'll find. The decor is vibrant and fun, with tons of stuffed dogs and of course pineapples to be found just about everywhere. 
There's a super cute outdoor terrace area that is turfed with plenty of seating. It's dog friendly, which can be rare for NYC hotels. 
Broadway, Times Square, and Madison Square Garden are all within a 10 minute walk, so you will be set in terms of tourist attractions. 
The hotel provides bicycles, too, if you'd like to test your abilities against New York rush hour traffic! 
Photo Credit: Firmdale Hotels
Stars: 4.5 / 5 stars
The Low-down:
You kind of can't have a New York City hotels guid without including The Crosby Street Hotel. When it comes to cool NYC hotels, The Crosby is king. 
New York City travel can be intimidating, but The Crosby makes it easy. There's a fantastic bar and restaurant in the lobby that is known for being a popular spot among New York's elite. 
Located in SoHo, this is where to stay in NYC for an authentic New York experience without sacrificing an extremely comfortable stay.  
Despite being a pretty established, iconic spot, The Crosby is known for their very individualized room aesthetics. This makes staying more than once in your life super fun, as you never know what you're going to get! 
Photo Credit: 1 Hotel Brooklyn Bridge
Stars: 5 stars
The Low-down:
Just a few minutes away from the Brooklyn Bridge Park, 1 Hotel Brooklyn Bridge is the perfect compromise between Brooklyn and Manhattan. The rooftop bar and pool offers panoramic views of the Manhattan skyline, but you're in central DUMBO, Brooklyn! 
The mid-century modern aesthetic of the hotel and all the rooms are positively stunning, and the price is reasonable. The location is impeccable (DUMBO is a super cute neighborhood), and you're only a short drive away from the LGA airport. 
Plus, if sports are on your mind, this is the closest hotel on the list for the Barclays Center.
Photo Credit: Smyth Tribeca
Stars: 4/5 stars
The Low-down:
The Smyth TriBeCa is pretty great. It's got standard clean rooms at a good rate, an in-hotel bar, a fitness center, and a beautiful lobby. 
The real draw of this New York hotel is the location. As far as TriBeCa goes, this is pretty perfect. 
You're within walking distance to the 9/11 Memorial, Brookfield Place, the Brooklyn Bridge, and enough train lines to take you anywhere you'd like to go. 
New York City hotels aren't always about being the biggest and the fanciest– sometimes, they're about where to be to get going on your travels! 
Photo Credit: Gansevoort Meatpacking
Stars: 5 stars
The Low-down:
The Meatpacking District is so underrated. I won't stand for it anymore! The Gansevoort Meatpacking is the perfect place to explore this amazing and historic neighborhood. It doesn't hurt that it's one of the best hotels in New York City too. 
In terms of budget, the Gansevoort is much more reasonably priced than other luxury hotels on this list. Amenities include a gorgeous fitness facility, lobby, restaurant and bar, and amazing views of this West Side location. 
If you're traveling from New Jersey or Connecticut, this is a great stay due to its location near the bridge. Plus, there's plenty to do. Stop by the Whitney Museum first. It's my favorite place to pretend I know about art. 
Photo Credit: The Hoxton Williamsburg
Stars: 4/ 5 stars
The Low-down:
Back to Brooklyn we go! The Hoxton Williamsburg is such a great summer spot, with rooftop bars and gorgeous views galore. 
This hotel is in between Greenpoint and Williamsburg. Greenpoint is a super up and coming trendy neighborhood in Brooklyn. The Hoxton is no exception– you'll be about a two minute walk from the Brooklyn Brewery and Music Hall of Williamsburg. 
The decor is super homey and chic, which is kind of how I'd describe Brooklyn in general. They definitely haven't skimped on the green plants, so you'll be feeling very summery and engrossed in nature despite being in the concrete jungle. 
Photo Credit: The Beekman
Stars: 3/ 5 stars
The Low-down:
Located between Seaport and the FiDi, The Beekman is one of the best bang for your buck hotels on this list. It's super close to Battery Park and a short train ride from Brooklyn, so you get the best of both worlds. 
The hotel itself has a gorgeous outdoor patio that is ideal for photo ops against the skyline. The design is super unique and fun. It's giving the early 1900s, dark academia in the best possible vintage way.  
The in-house restaurant is a highly rated spot that looks straight off the streets of Paris. The rooms themselves are totally updated, bright, and covered in Egyptian cotton. 
Photo Credit: The Williamsburg Hotel
Stars: 5/ 5 stars
The Low-down:
The best word to describe the Williamsburg Hotel is "cool." It's just effortlessly cool. With one of the best rooftop bars in the city (featuring FREE tuk-tuks to lounge in), this is a top-notch summer stay. 
It's right on the edge of Brooklyn and Manhattan, so you have easy access to both boroughs. However, I wouldn't blame you if you just stayed in the hotel the whole time. 
With a gorgeous lobby featuring a super fun bar, they don't give you a ton of reasons to leave. 
Definitely stay here if you want a good place to cool off from the New York City summer heat. You can read my full Williamsburg hotel review here!
Photo Credit: The Langham
Stars: 5 stars
The Low-down:
The Langham is about as bougie and posh as you can get. They can't help it– it comes with the territory of being so close to the Empire State Building. 
Besides the gorgeous terrace, well-designed rooms, beloved restaurant and bar, and insanely New York-esque lobby, there is more to love about The Langham. You can walk to Broadway, Times Square, and Madison Square Garden. Not bad, right?
The views from The Langham are just unbeatable. You're in the heart of the city. All you need to do is step onto the patio of your room to watch it beat. 
I don't believe people when they say they don't like New York City. I just don't understand what's not to like! Whether you're in town for a weekend on business or a month-long exploration, I think it's almost impossible to have a bad time in the Big Apple.
This list is definitely not exhaustive when it comes to amazing hotels and neighborhoods. One of my favorite parts of New York City is how diverse this city is. There are one million options. After all, this list only covers two boroughs! There is so much left to explore.
Remember when booking to always, always, always take safety into account. New York City is one of the best cities in the country, but it also can be dangerous depending where you stay. Travel Advisor and a quick Google Search are your friends!
Have the absolute best New York City experience, and remember: if you can make it there you can make it anywhere!