The first thing I did when we walked into our room was gasp out loud at the floor to ceiling glass doors overlooking a vineyard.
I've been all over Napa Valley but I have yet to visit a hotel that actually makes you feel like you are living on a working vineyard. (I'm not exaggerating when I say that view was one of the best from any hotel room I've ever stayed in.)
Location: 1915 Main St, St Helena
Type: Luxury Hotel
Good For: Couples, girls trip
But, despite feeling like you are out in the countryside, it's just a short walk from downtown St. Helena and a quick drive to some of the best wineries in the valley. Las Alcobas is really the best of all the worlds. Keep reading for my hotel review post, photos and tips for making the most of your stay!
Make sure to book yourself a spa treatment! My visit was one of the best I've ever had.
Our Stay At Las Alcobas In St. Helena
I've been eyeing Las Alcobas for a few years now, being drawn to the stunning views matched with the great location to downtown. So, when it came time for us to visit the St. Helena area in part of our wine tasting guide series, it was a no brainer to make our home base Las Alcobas.
From the front driving by, you can only really see the 1907 white Georgian-style farmhouse but you can't see what's hidden in the back: a stunning pool area overlooking vineyards, an airy courtyard with tons of seating for sunny days and a luxurious spa (that has tea room inside!)
Las Alcobas makes it hard to want to leave, but if you choose to, it's a short 10-minute walk from downtown St. Helena or a quick 4-6 minute drive to a winery. (If you are visiting during the months of November – March, I highly recommend you buy yourself the St. Helena wine passport which gives you access to over 15 wineries all for the price of $75.)
Robin and I strolled to
Cook
for dinner one night. It's this fantastic little Italian place in town. If you love pasta (this is always what I'm craving after a day of wine tasting) you can't miss Cook. We loved being able to just walk over there from the hotel. All the other resorts I've visited in the valley are too far out of town to walk, you have to drive or Uber.
But, before you head into town for dinner, make sure to grab a margarita at the Acacia House at the hotel. I can't even begin to explain the number of people who, upon hearing we were staying at Las Alcobas, told us we simply MUST have a margarita there.
Oh, that advice was so so good. I'm not sure what witch magic the bartender does but that margarita is one of the best I've ever had.
Las Alcobas Room Amenities
Outdoor pool
Outdoor lounge area
On-site spa
Comfy robes
Smart toilet
Wifi
TVs
Desk
Hairdryer
Davines bath products
Coffee + french press in room
Free bottled water
On-site restaurant
Valet Parking
AC
Firepit on porch
Atrio Spa
I had a chance to visit the Atrio Spa during our stay and was blown away by my 2.5 hour treatment. I don't think I can ever go back to a 60-minute message again after this!
But, let's wind back. Atrio Spa is just steps away from the hotel rooms (no trek across property needed here) and oozes zen. There's a steam room that's available for guests even if you don't have a treatment, but I urge you to get one.
My favorite corner of the spa is the tea room, a sunny relaxing space full of tea, spa water, dried fruit to nibble on and even coloring books! I've never seen a spa offer coloring books before but my right brain thrived with some creative time. It put me in a great headspace for my treatment.
Learn about all the spa services here!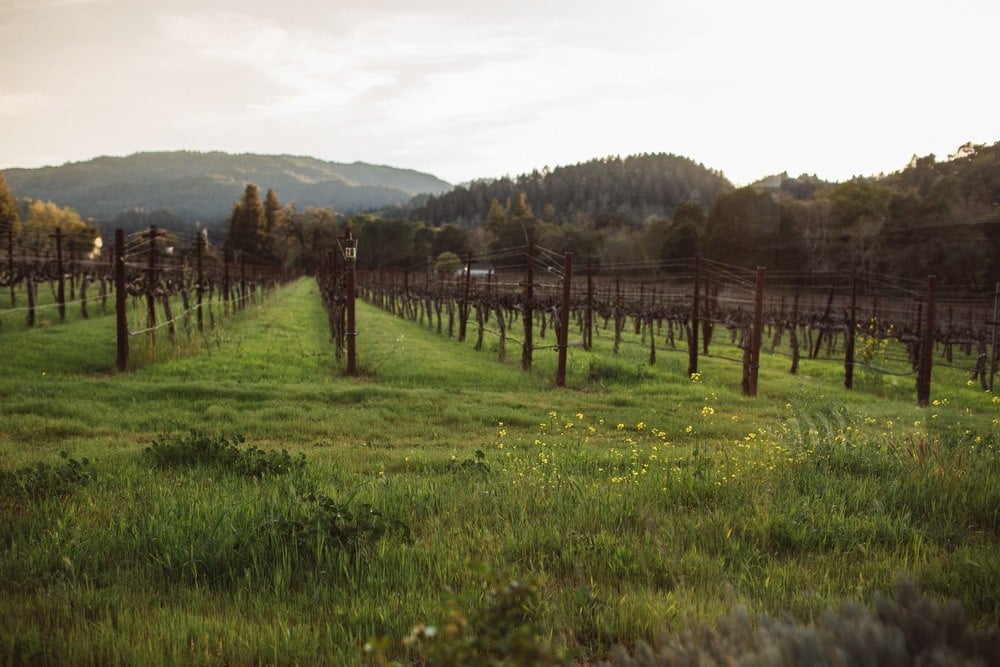 Each night, Robin and I would curl up on our patio, turn on the fire and stargaze at the sky stretching over the vineyard. Each morning, we woke up to birds chirping, blue skies and french pressed coffee. On the first morning, I even spotted a little fox out in the fields! If you're planning a trip to St. Helena in Napa Valley, you'll love a weekend stay at Las Alcobas.
If you have any questions about the hotel, leave a comment below or DM me on Instagram @thewhimsysoul and I'll be happy to help!
Looking for more United States hotel reviews? Check out our favorite hotels here.
Book the best hotel rate HERE.