"Wait – Wisconsin has wineries?!" – everyone's reaction when I told them I was going on 'lil Wisconsin wine tasting tour. Yes, beer and cheese curds absolutely will always reign as supreme Wisconsin cuisines, but the wine industry here is really starting to pop off lately.
These are the best Wisconsin wineries to visit for your wine tasting weekend. Some even have fun events like live music and wine-paired dinners! Let's go.
I grew up near Madison but moved to San Francisco after college. I'm spoiled out here – I get to visit Napa Valley and Sonoma wine country all the time and have become a low-key wine snob, something I really never thought would happen.
When visiting family recently, I was really surprised to learn that Wisconsin vineyards are not only a thing, but there's way more wineries in Wisconsin than I realized. So of course, I had to plan a visit to some to check them out!
Big thank you to my father who was not only a fantastic Instagram husband, but who helped me write this guide as he's been to way more Wisconsin wineries than I could fit into my visit home.
What Kind Of Wine Is Wisconsin Known For?
I was surprised to learn that grapevines could even grow in Wisconsin, to be honest. The harsh winters are just too much for producing wine, but there is more than one winery in Wisconsin that has figured out how to make it work.
Many wineries DO import grapes from California, Oregon, Washington, The Finger Lakes and other regions, but you can absolutely find wineries that produce estate grown wine. These grapes will vary based on the location and microclimate of that region (maybe that particular valley was part of the Driftless zone and thus has much minerals in the soil, or maybe it's close to a lake or the Mississippi River, etc).
I saw Rosé, Riesling, Chardonnay, Piquette, red blends and other varietals on menus that I straight up have never seen on a wine tasting menu before in California (like Seyval Blanc which is similar to Sauvignon Blanc).
But again, it's hard to grow a grape in Wisconsin, so many wineries lean on producing wine made from other fruits, like locally grown cherries, blueberries, cranberries, or raspberries.
Anyone else thinking of this scene from Schitt's Creek?
Overall, I found Wisconsin wines to lean sweet or tart, with many dessert wines and fruit wines on menus. Even wineries that import grapes from other states tend to produce that wine in a very different way than California. The wineries Wisconsin has are their own thing, their own art form.
23 Best Wisconsin Wineries To Wine Taste At
Home to delicious varieties of Baco Noir, Chardonnay St. Croix and much more, Wisconsin is a hidden gem of wine country. Surrounded by beautiful scenery, Wisconsin wineries are unique experience with over 100 wineries to choose from. Use this list of best wineries in Wisconsin to help you plan the best wine-tasting weekend!! I highlight the best tours, wineries with fun events like live music, spots with good vibes and of course, the tasting rooms with the best wine Wisconsin has to offer.
Wisconsin Wineries Map
Anyone else visual? Use this map of Wisconsin Wineries to help you plan a driving route or tasting rooms near you!
What Are The Wisconsin Wine Trails?
There are a few different formal wine trails you can focus on. These are wineries in the same or nearby AVAs and often they team up together to create their own Wisconsin Winery Passports (usually you get free tastings or a reward like a wine glass or something!)
How Did Wine Come To Wisconsin Anyway?
Hungarian Agoston Haraszthy planted Wisconsin's first vines in 1846 in what today is Sauk City. Shortly after he moved to California and founded the California Viticultural Society. He's an interesting guy. Haraszthy was a Hungarian noble who immigrated to the United States and takes credit for being the first documented Hungarian to do so.
Because he came from a wealthy family, he had a lot of business endeavors going on, not just wine. Wine making is hard in Wisconsin and just a few years after planting his vines, the Gold Rush happened, so Haraszthy headed out to California and never returned to the Midwest.
What Are The Best Wisconsin Wineries With Lodging?
If you've ever been wine tasting Paso Robles, California, you probably noticed that many wineries offered vineyard lodging, aka luxury hotel rooms right on the vineyard so guests can wake up in wine country.
I sadly didn't really find that same culture happening in Wisconsin, but I do know that Campo di Bella, right out my hometown of Mount Horeb, has a cute farm stay option on their winery. They do wine tastings and farm-to-table dinners. I would totally book a night stay after one of the dinners to hang out on the farm.
When Is The Best Time Of Year To Go Wisconsin Wine Tasting?
Late spring, summer and early fall is the best time to go wine tasting in Wisconsin. Mostly because the majority of tasting rooms just aren't open in the winter. Plus, lounging outside on a patio table in nice weather and sipping blueberry wine just hits better than a -20 January day huddled around a tasting bar.
What To Wear Wine Tasting?
So many things to consider! To help you out, I have a whole handy guide on what to wear wine tasting depending on the season you are going.
Wisconsin Wine Where To Buy?
It's always best to buy locally from the winery but if you forgot to buy a bottle, or simply want to try some Wisconsin wine without heading to a vineyard, you can find bottles in most local grocery stores in Wisconsin, Minnesota and Iowa. If you live outside the Midwest, you can sometimes find it at Total Wine or BevMo.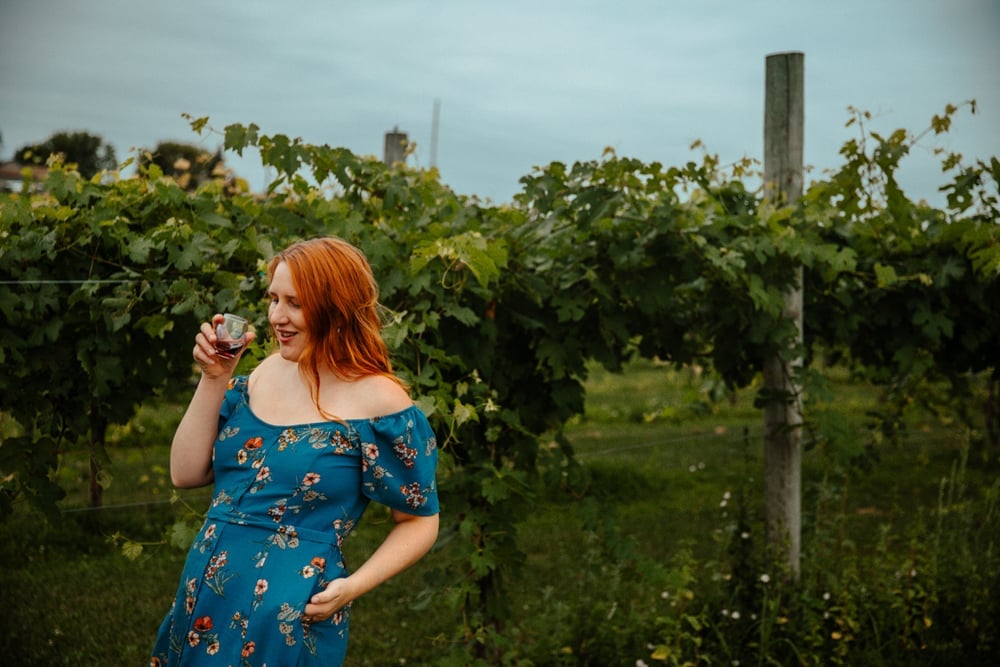 Use this list of Wisconsin wineries to help you plan your tasting adventure! If your favorite winery didn't make the list, please drop a comment below so everyone can see. There's over 110 wineries in Wisconsin (and that's always growing) so it's impossible for a gal and her father to visit them all in a timely matter.
Have fun!!!