♪ Look at this drink, isn't it neat? Wouldn't you think my bar cart's complete? Wouldn't you think I'm the girl, the girl who has every gin? ♪
If you couldn't tell, I'm thrilled to bring you a fin-tastic mermaid cocktail inspired by one of my all-time childhood favorites: Disney's The Little Mermaid. This beloved animated film is also the latest Disney classic to get a live-action remake, coming to theaters on May 26th.
So dive in and enjoy this Little Mermaid cocktail that is sure to make you feel part of Ariel's world.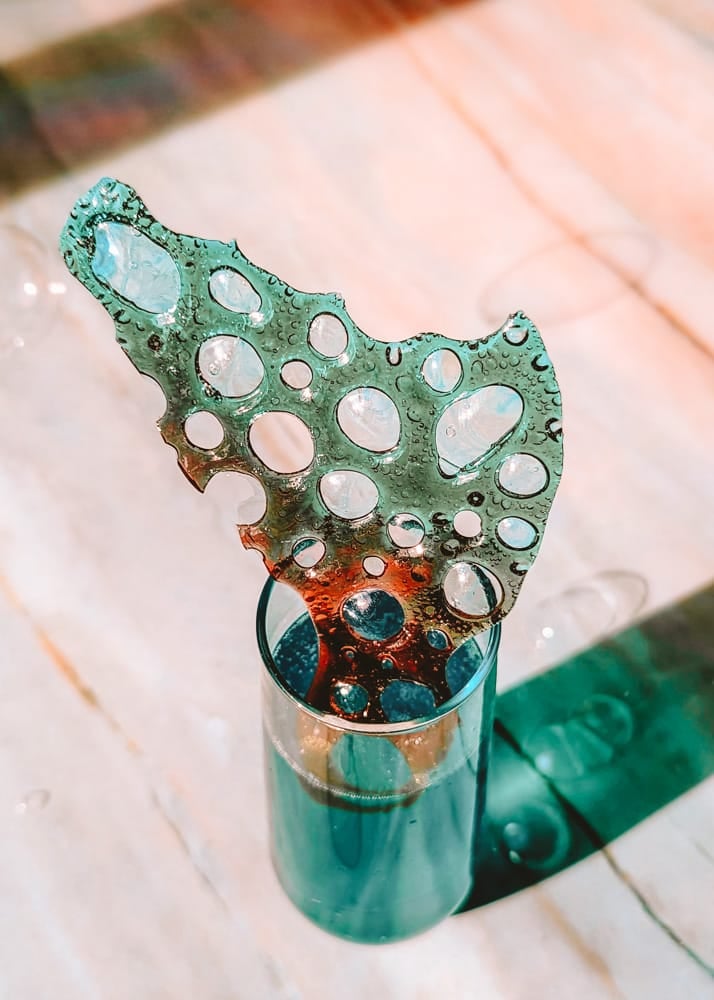 The OG Little Mermaid
Okay, so the real OG Little Mermaid is the fairy tale written by Hans Christian Andersen, but I'm here to talk about its animated adaptation from 1989.
If you're an Elder Millennial like me, you probably don't need an introduction to Disney's The Little Mermaid. For everyone else: The Little Mermaid is an animated musical about a rebellious young mermaid, Ariel, who yearns for a life on land.
When Ariel falls for a human prince, she gives up her voice to the sea witch Ursula, who transforms her into a human for three days to win the prince's love.
The Little Mermaid was critically praised for its colorful animation, charming characters, and catchy musical numbers composed by legend Alan Menken. The Little Mermaid also ushered in a new golden era for Disney animation that became known as "The Disney Renaissance."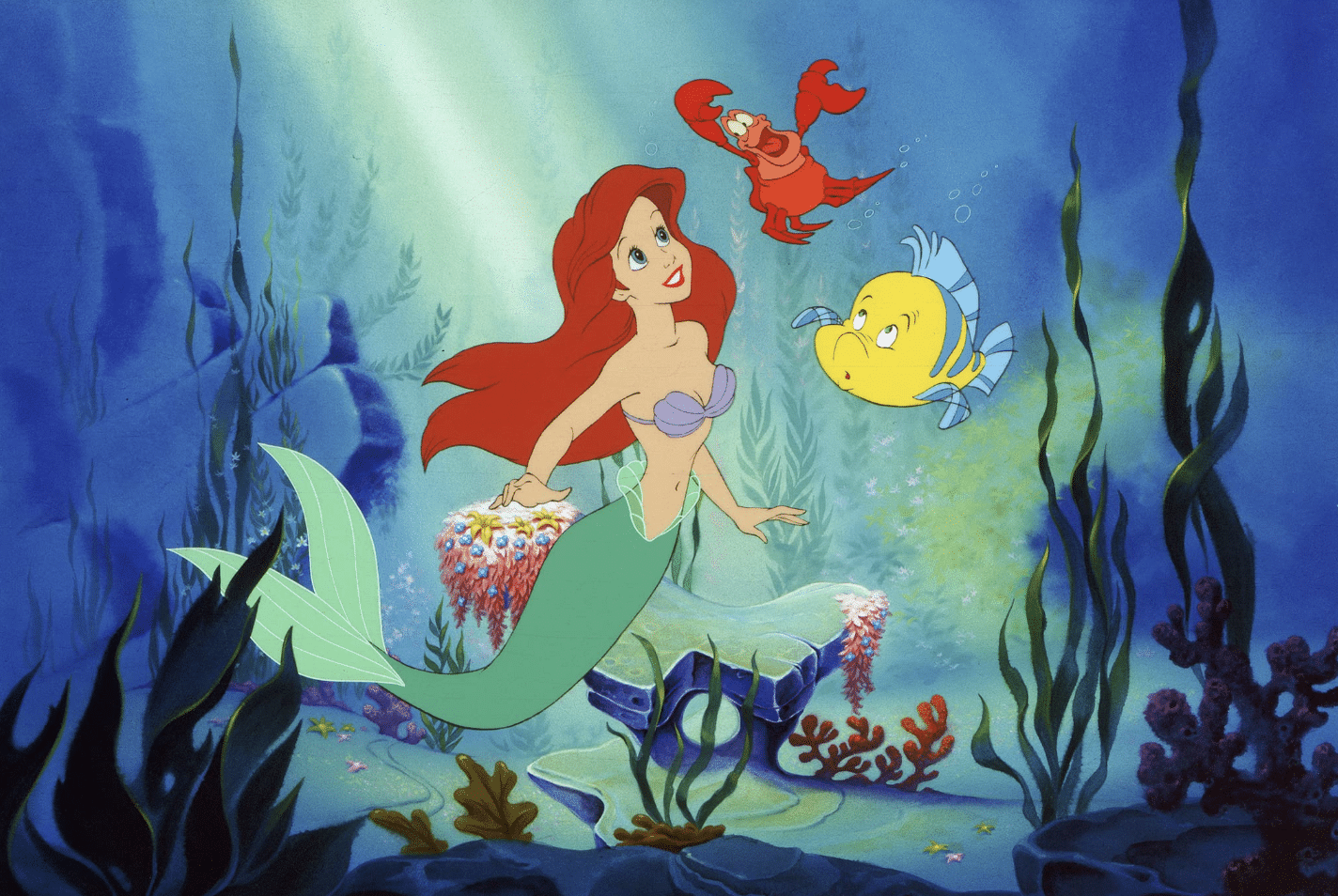 I was hooked from the moment I first saw The Little Mermaid in theaters at six years old. I knew all the songs by heart, I played make-believe as a mermaid every time I went to the pool, and I probably drove my parents crazy by watching the movie over and over and over…
So while I'm excited to watch the new live-action Little Mermaid, I wonder whether it will live up to the original. Especially considering Disney's track record with live-action remakes.
Live-Action Disney Remakes (And Why I Think They Could Be Better)
Disney has already created over a dozen live-action adaptations of their animated films, with more on the way, but I want to focus on the Disney Renaissance remakes: Beauty and the Beast, Aladdin, and The Lion King.
All of these live-action films were box office hits that were well-received by audiences, but I have to say, I wasn't a fan. (Hey, at least the critics agree with me.)
Much of the charm of the original movies comes from the animation itself. Just think of the colorful kaleidoscope of animals who sing and dance in "I Just Can't Wait to Be King," or the gorgeous ballroom scene that helped earn Beauty and the Beast its Best Picture nomination. Animation can be expressive, larger than life, and stylistic in a way that's entirely unique to the medium.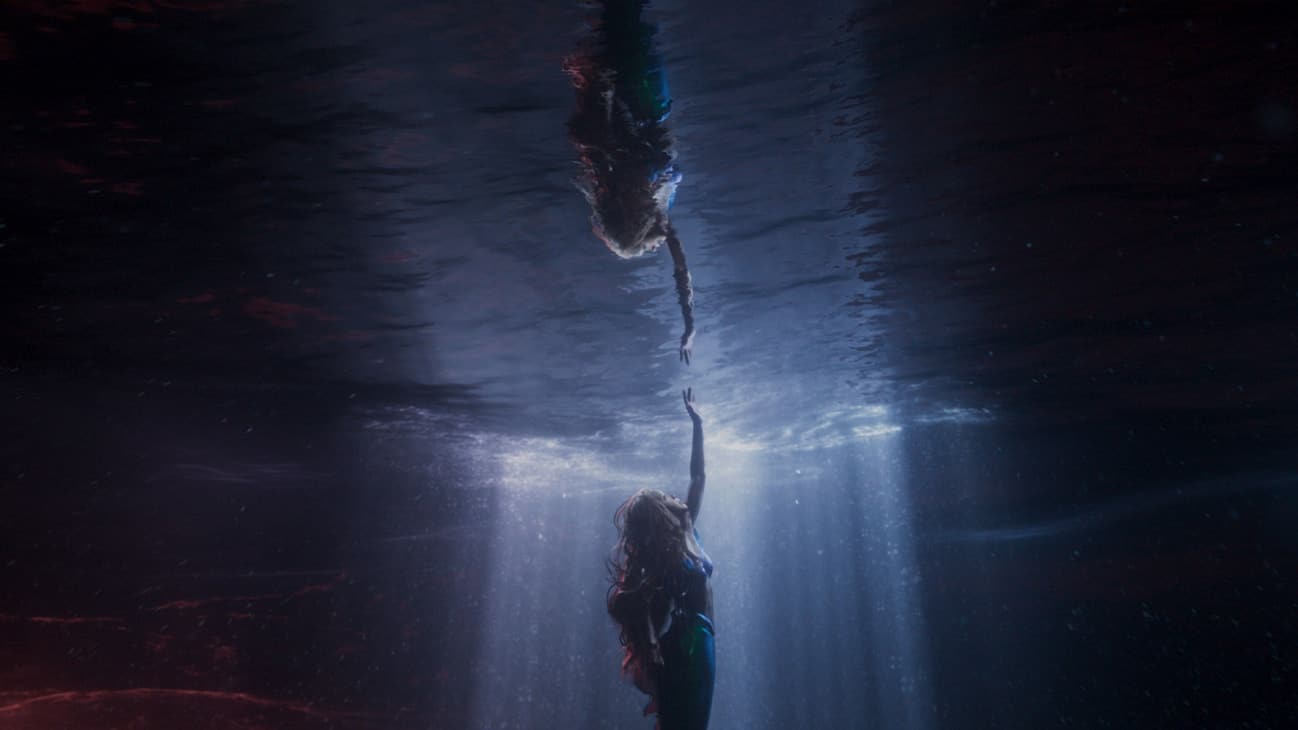 In comparison, these recent live-action films feel muted, dreary, and soulless—lacking in life and character. (Check out this tweet about The Lion King to see what I mean.) Without stunning animation to enchant the audience, I expected other parts of the production to step it up. But the special effects feel anything but, and the performances are "meh" at best (I'm looking at you, Emma Watson).
All that being said, I'm cautiously optimistic about the upcoming live-action Little Mermaid, which premieres on May 26th. The movie stars acclaimed singer-songwriter Halle Bailey as Ariel, so we know she's got the pipes to play everyone's favorite musical mermaid. And based on the latest trailers, it looks like an attempt was made at a whimsical underwater world.
But if the movie flops, at least I'll have a tasty mermaid drink to drown my disappointment in!
How to Make a Mermaid Cocktail
As Sebastian the crab says, life is the bubbles under the sea! So I've made a bubbly blue mermaid cocktail experience (because it's interactive and fun!) to celebrate The Little Mermaid event of the year. (AKA the live action premiere!)
This mermaid drink gets its blue hue from Empress gin—a purple gin that changes color depending on pH. We're adding cucumber to turn the gin blue, plus a splash of blue curacao for extra color and citrusy flavor. (If you don't have Empress gin, you can use regular gin and a little extra blue curaçao for the desired color.)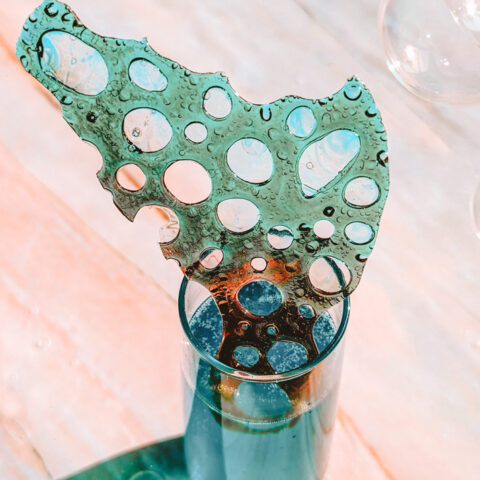 Life Is the Bubbles: The Little Mermaid Cocktai
Bright, bubbly, and blue, this gin and champagne Little Mermaid drink will transport you under the sea to be part of Ariel's world! 
Ingredients
1 1/2 oz Empress gin
1/4-1/2 oz blue curaçao
1/2 oz simple syrup
Champagne to top
1/4 cucumber, peeled
2-3 fresh shiso (or mint) leaves
Pinch of salt (optional)
Sugar coral to garnish (see notes)
Instructions
Muddle cucumber and shiso (or mint) leaves in a cocktail shaker.
Add gin, blue curacao, simple syrup, and salt (optional) to the cocktail shaker. Fill with ice and shake until well-chilled.
Strain into a champagne flute.
Top with champagne.
Garnish as desired.
Notes
For a little acidity, a little lime juice would be an easy add! 
To make the sugar coral as pictured in the photos, follow this recipe (adapted from Baking with Kim-Joy):
Ingredients
liquid glucose (available on Amazon)
gel food dye
Instructions
Preheat oven to 300°.
Squeeze a few blobs of liquid glucose onto a baking sheet lined with parchment paper or a silicone mat. (Be sure to space them far apart or they will spread into one big blob in the oven!)
Add a small dot of food dye to the center of each blob, and/or at either end for an ombre effect.
Place in oven for 30-45 mins, after bubbles form but before the syrup becomes too dark (avoid opening the oven, which may cause the bubbles to pop).
Remove from oven and let cool at room temperature until firm.
I think this mermaid cocktail recipe went swimmingly, don't you? You can mix up Little Mermaid drinks to pre-game the new live-action movie in theaters. Or have a Little Mermaid watch party at home, complete with themed mermaid cocktails.
Empress gin is the secret to a blue mermaid cocktail, but if you want to see this magical spirit turn pink, check out my Agatha All Along Cocktail. Or if you're headed to Disney California Adventure to ride Ariel's Undersea Adventure in celebration of the new movie, check out my guide to everywhere you can drink at Disneyland.