Girlfriend Collective: the trendy new athleisure brand I've been seeing all over Instagram ads and whispers from friends.
The rumors? That this brand has leggings that fit everyone, use sustainable practices and are cute AF. But that seems too good to be true, so I had to shop and test them for myself. Are Girlfriend Collective leggings & bras worth it? Are they truly curvy-friendly? Keep reading to find out!
This post is part of our Saw It On Social review series where we test out all the brands + products we see hyped on social media to bring you an honest review and answer the question: it worth the buy or does it just look pretty on Instagram? See all past features here.
Girlfriend Collective Review: Honest Look Into This Athleisure Brand
Here's the Girlfriend hype: that they are truly size-inclusive, are sustainable and make some of the best dang leggings and bras out there. I've been burned before while doing this review series, so I wasn't convinced at first.
I'm a size 12, and after a year in quarantine, I'm about a size 14 now. Let me tell you, finding an activewear company that sells clothes that fit a 14 and up is really freaking hard. (*cough Outdoor Voices cough*) Diet culture has seeped everywhere in our modern society and athletic wear is no different. So when I saw that Girlfriend has sizes that go from sizes xxs to 6XL I was floored.
Girlfriend Collective Is Super Size-Inclusive
Unlike most of their competitors, Girlfriend offers all their tops, shorts, bottoms, leggings – everything in every size. It's not like the thin people get to shop the stable collection and the fat women have to choose between 2 boring AF styles on a "plus-size line".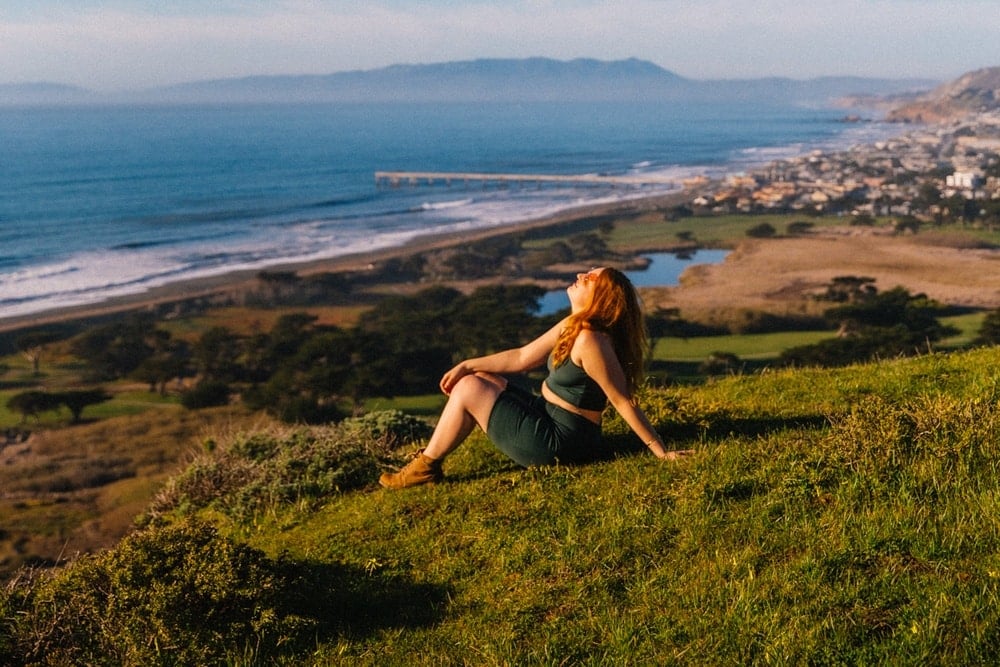 They're Diverse AF in Modeling
Raise your hand if you're tired of seeing size 4 blonde women model your compressive bike shorts? I personally think Girflrend is paving the way when it comes to diverse models (Target does a pretty good job, too.)
You can find fat women, black women, women with body hair or shaved heads. I would gander a guess that you can view a model who looks like you somewhere on the Girlfriend Collective website. When I was shopping around looking for pocket leggings and sports bras, it was so refreshing to see how these products ACTUALLY look like when on a body that is similar to mine in size and shape.
I got ass for days but a smaller waist – and I found a model who looks like me so I knew exactly what these leggings would look like on my body! No guesswork here. So, three cheers to you, GF, you're doing it right.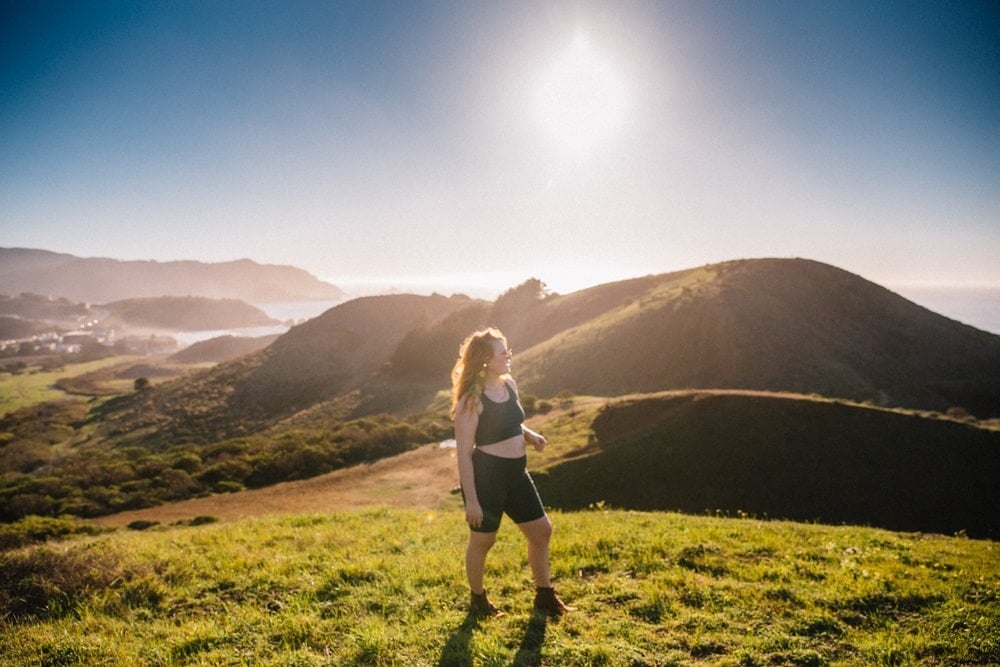 About Girlfriend Collective's Sustainability Efforts
On top of offering inclusive sizing and models, Girlfriend also has good sustainability efforts built into the core of their brand. Let's be clear – buying anything new at its core principle isn't sustainable (only shopping second-hand is) but Girlfriend uses recycled materials when making their clothes and is considered a slow fashion brand, so they get pretty dang close.
Fabrics are made with polyester, spandex and recycled post-consumer water bottles (yes, seriously!) Mailers are 100% from recycled paper and are also recyclable. I really enjoyed how they shipped my package with the bare bones – no overuse of tap or plastic in there.
They use zero-waste, zero-emission factories when possible and these factories also have fair wages, safe and healthy conditions, and zero forced or child labor. So you can feel good shopping from Girlfriend Collective and know your leggings weren't made on the backs of children or by drastically polluting our Mother Earth.
ReGirlfriend:
They even have a recycling program! Send in your old Girlfriend pieces for free. They'll reuse the fabrics and send you a $15 shopping credit as a thank you. Only 1% of clothes are ever recycled, so having
this program in-house
is revolutionary.
Returns Are Easy
On my first order, I actually got a large and an XL in the bottoms but only a large in the bra. The Large bra ended up being a bit too tight so I had to return it for an exchange.
And the process was so freaking easy! Girlfriend uses Happy Returns, so I was able to walk over to a local shop and just hand them my package. A couple of weeks later, an XL bra showed up in my mailbox.
What I'm Wearing From The Girlfriend Collective In These Photos
Girlfriend Collective High Rise Bike Shorts in Moss, Size XL
Omgeee I adore these leggings shorts! I was on the hunt for bottoms that I could easily wear while kayaking since I go about once a week. Standard leggings always get wet since they're long, so I went with these biker shorts and HOT DANG, I fell in love with Girlfriend after my first purchase that's for sure.
They're comfy AF but also still offer that compressive design. I feel snug but nothing ever pinches – aka, perfect for running around trials or paddling up a storm. These shorts are also pocket leggings YAS QUEEN THEY GOT POCKETS!
Girlfriend Collective Paloma Bra in Moss, Size XL
Holy moly this is the comfiest sports bra ever. I like how the length is long enough that I can actually wear this as a top if I want (vs a bra if that makes sense?) It looks dang cute with jeans or under overalls.
But I usually wear it with my matching biker shorts. There's no pads to worry about slipping around. The fabric is soft and flattering. This bra keeps the girls in without squeezing and that's really all that I can ask for.
Shop My Outfit + Favorites


I feel like Girlfriend is ALWAYS adding new styles and colors. Shop new drops here. They also sell scrunchies, outerwear, loungewear, etc too!
Is Girlfriend Collective Worth It?
HECK YES! As you can probably tell, I'm drinking the Girlfriend Collective Koolaid over here. I only one that one bra/leggings set for the moment but I'll 100% be shopping for more pieces from them this year. I'm eyeing those loungewear sets since I'll still be working from home even after this pandemic ends…
A set (bra and leggings) can be about $100, which isn't attainable for everyone but trust me when I say, this quality is insanely good. I know these will last me for YEARS and YEARS. I love my Target activewear sets and my red Old Navy set, I really do. And I love how they both cost me under $50 but the quality and fit just can't compare to Girlfriend. They are investment pieces that you will find yourself wearing all the time.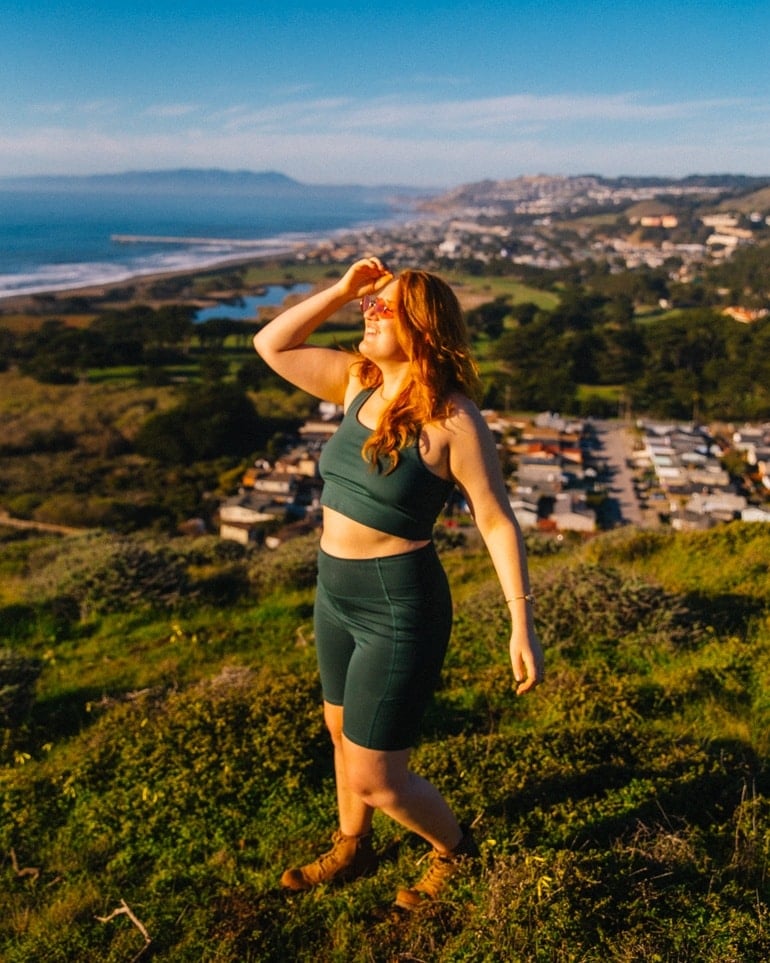 I hope this answers all your questions about Girlfriend. As a curvy gal, I give them my stamp of approval and I know you'll love shopping from here as well.
Got something to add? Drop a comment below so everyone can see! Got questions? Comment or DM me on Instagram @thewhimsysoul and I'll be happy to help!