Confession time: I'm a Childless Millennial here to steal your kid's Mickey pretzel. (Just don't call me a Disney Adult, ugh).
I've visited Disneyland Park almost every year since I was three years old. It is the happiest place on Earth, after all. But there is one Disney attraction that I've only recently discovered—drinking!
Yes, you can drink in Disneyland.
Keep reading for a complete guide to EVERYWHERE you can drink at the Disneyland Resort and Disney California Adventure Park. Plus, get my personal drink recommendations and find answers to frequently asked questions about getting soused with the Mouse.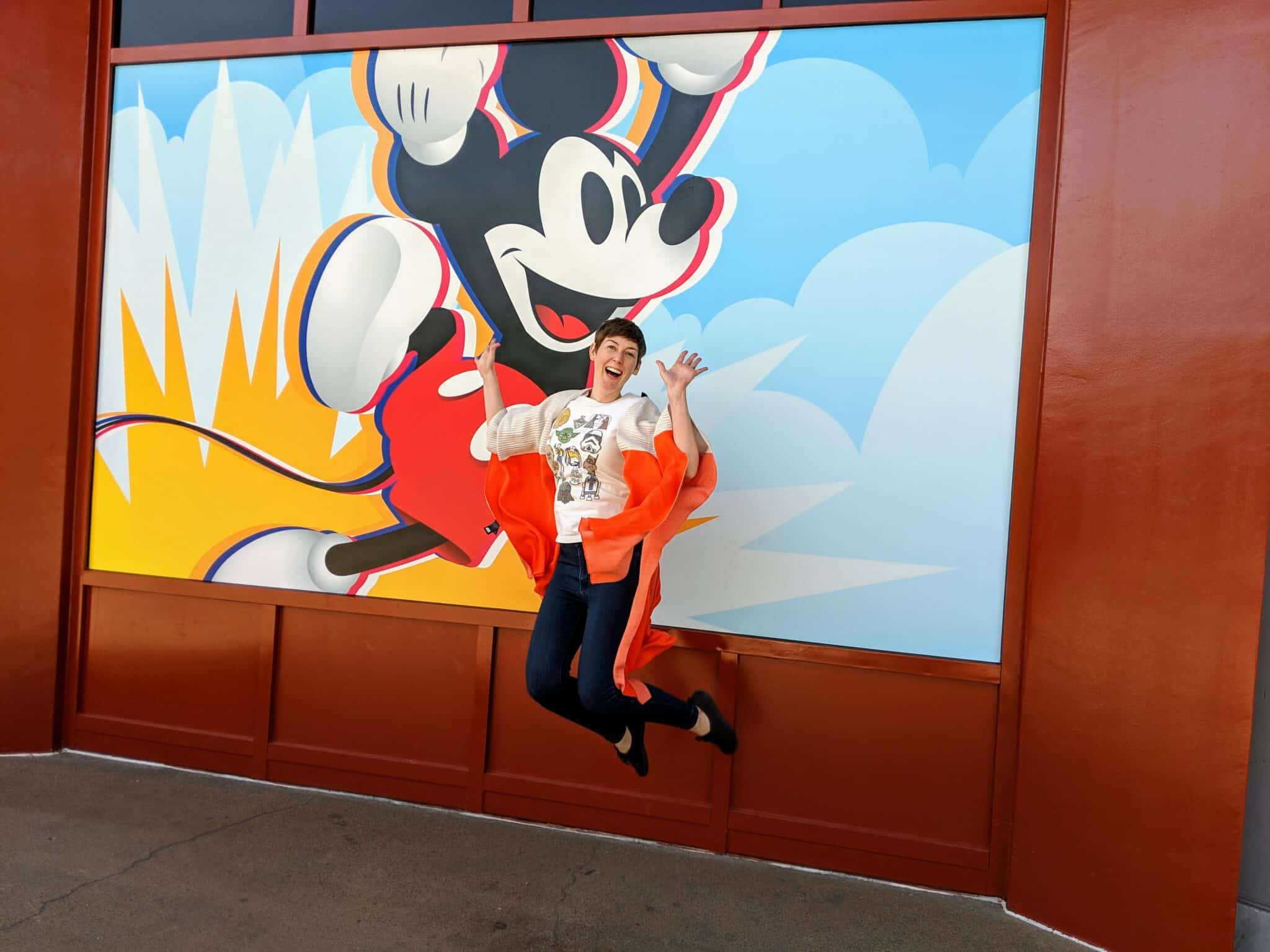 Exactly Where To Drink In Disneyland
Walt Disney himself was opposed to alcohol at Disneyland. And with the exception of the ultra-exclusive Club 33 (more on that below), Disneyland remained dry until Oga's Cantina opened in 2019.
Walt once said in an interview, "No liquor, no beer, nothing. Because that brings in a rowdy element. That brings people that we don't want and I feel they don't need it."
For the most part, I agree with him. Getting a little tipsy at Disney: all in good fun! Getting drunk and rambunctious: bad!
Disneyland discourages outright drunkenness by serving alcohol at only a couple of table-service restaurants and limiting guests to two beverages. Nope, you can't walk around with a beer at Disneyland.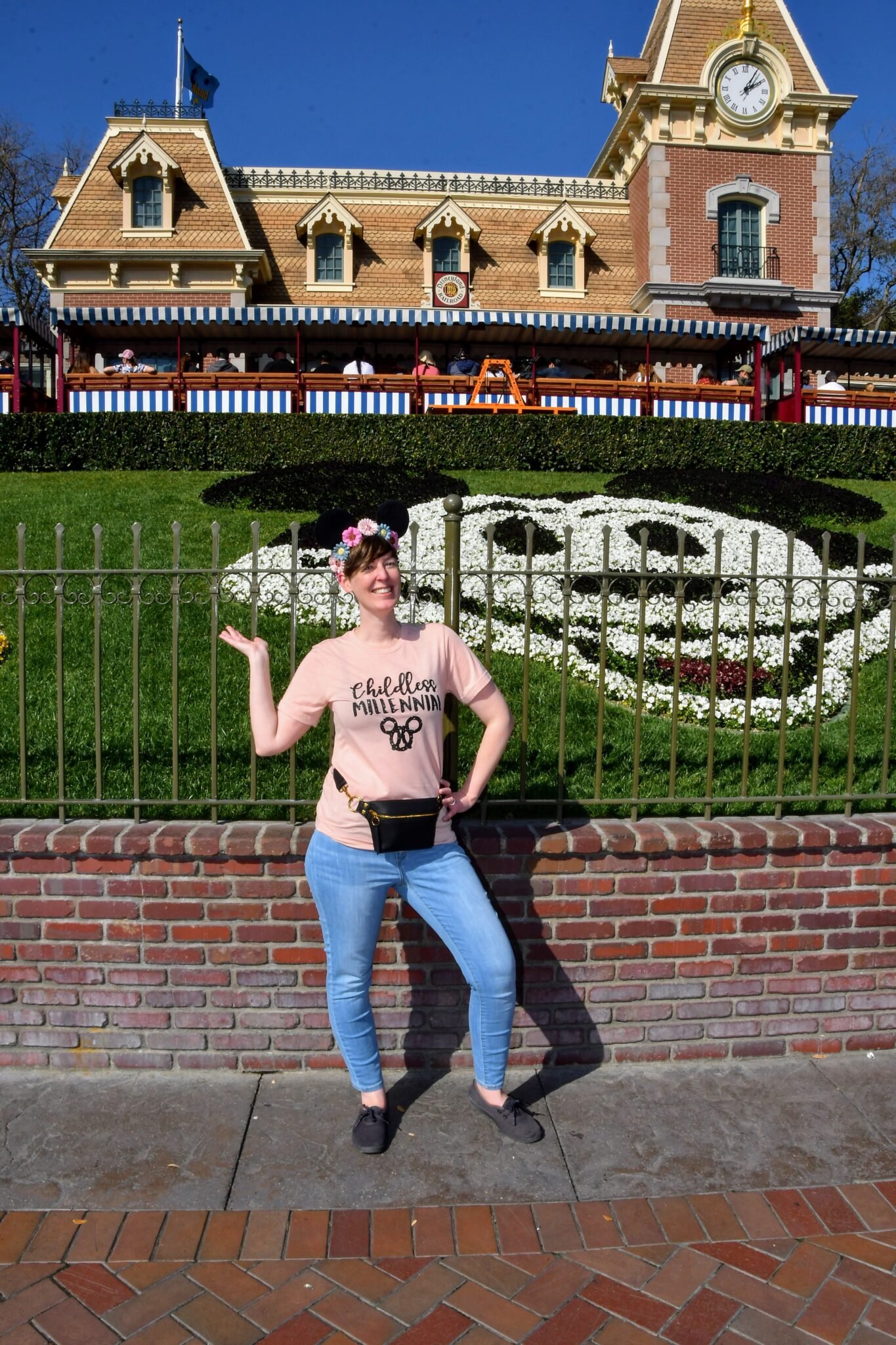 New Orleans Square
Blue Bayou Restaurant
If you've ever wanted to be a part of the Pirates of the Caribbean, this popular restaurant will put you in the ride—literally! You can watch Pirates of the Caribbean boats float by while you enjoy Louisiana-inspired cuisine in a bayou setting, surrounded by colorful lanterns and twinkling fireflies.
Blue Bayou first added alcohol to its menu in 2021 and now offers beer, wine, and a Hurricane cocktail (with lots of rum, natch).
My Pick: Hurricane
Club 33
Club 33 has served alcohol ever since it opened its doors in 1967, but only the elite have had the pleasure of enjoying a drink here. Club 33 is a mega-exclusive private lounge and dining area open only to members and their guests. It's basically a secret bar in Disneyland.
How do you become a member of Club 33? Well, first you spend several years on a waiting list, and then you fork over $25,000 in membership fees to join. Oh, and you pay $10,000 every year after that to remain a member. (If you're reading this and you're a member, hit me up!)
My Pick: Vieux Carre (if I were lucky enough to go!)
Star Wars: Galaxy's Edge
Oga's Cantina
Oga's Cantina is an immersive Star Wars-themed bar inspired by that jazzy watering hole in Star Wars: A New Hope. It's loud and crowded and fast-paced, but it's perfect for any Star Wars fan.
Kids are allowed in the cantina, but in all other ways, it's like a bar. So don't plan to come here for a full meal or a relaxing place to put up your feet.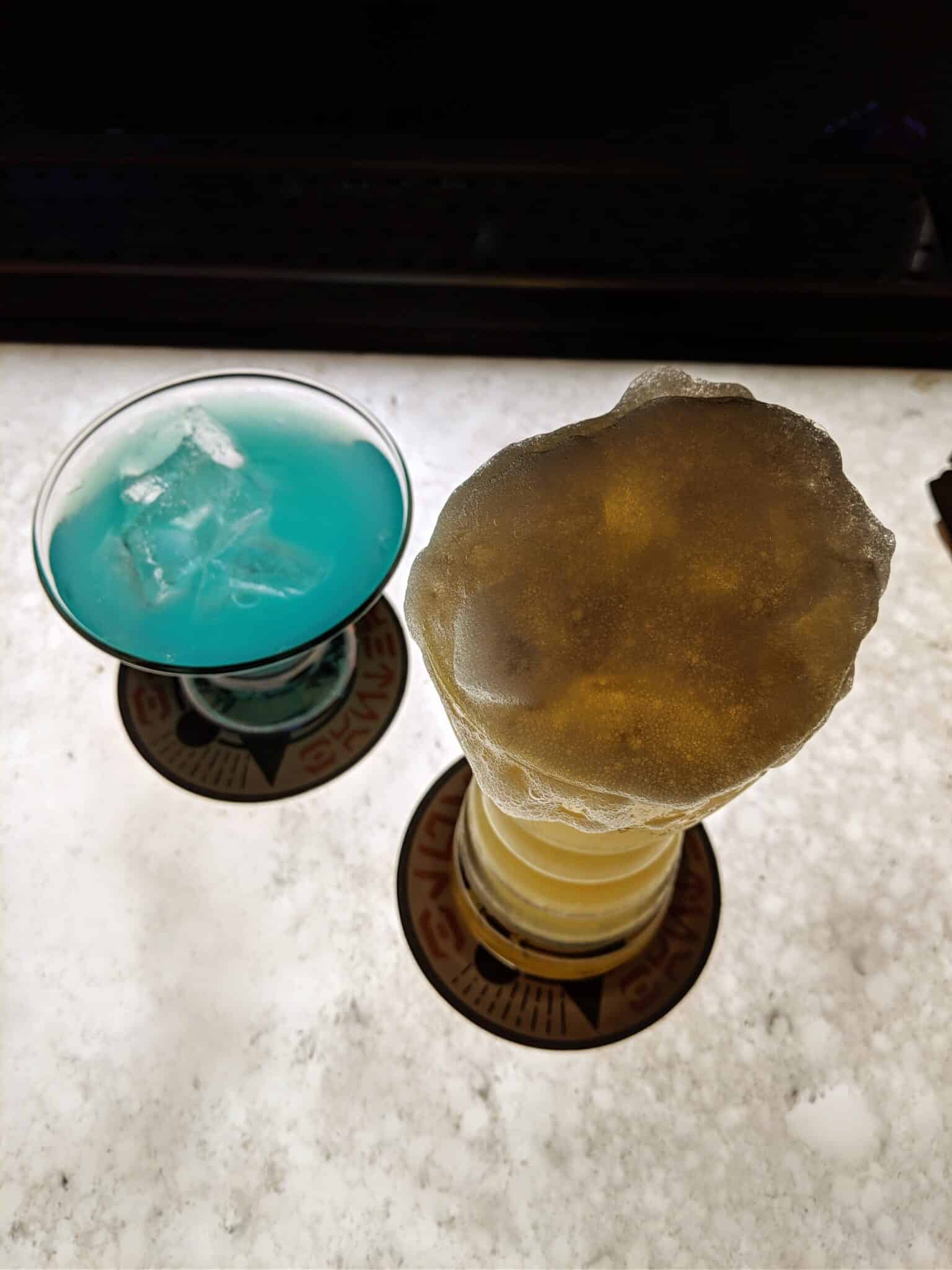 There is a selection of unusual snacks, but the food is more novel than it is tasty. Also like a bar, seating is very limited. Expect to stand and maybe share your space with other guests not in your party.
If you're here for the alcoholic drinks, they don't disappoint! Beer and wine are on offer, but the Star Wars cocktails are where it's at. I recommend the Fuzzy Tauntaun, which is topped with a tingling foam that has a surprising numbing effect.
My Pick: Fuzzy Tauntaun (depending on availability) or Jedi Mind Trick
Tip: If you plan to order the allotted two drinks per guest, order them all at the top. The cantina churns through guests as quickly as possible, and the servers here honestly aren't the most attentive (they may even recommend that you order everything at once themselves).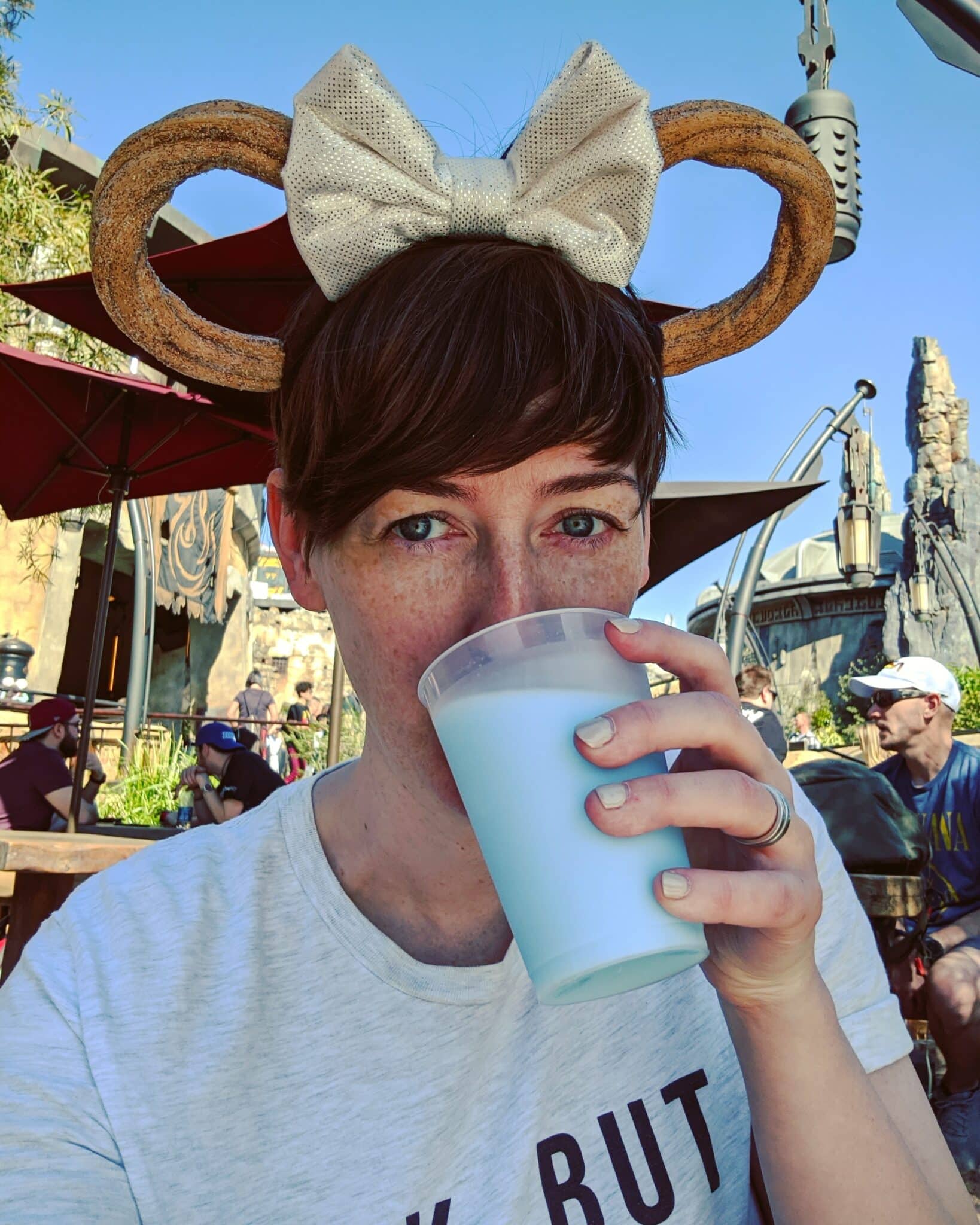 Where To Drink In Disney California Adventure Park
Unlike Disneyland, Disney California Adventure served alcohol straight out of the gate when it opened its doors in 2001. This theme park is meant to evoke the entire state of California, so it naturally had to include the Napa Valley wine region.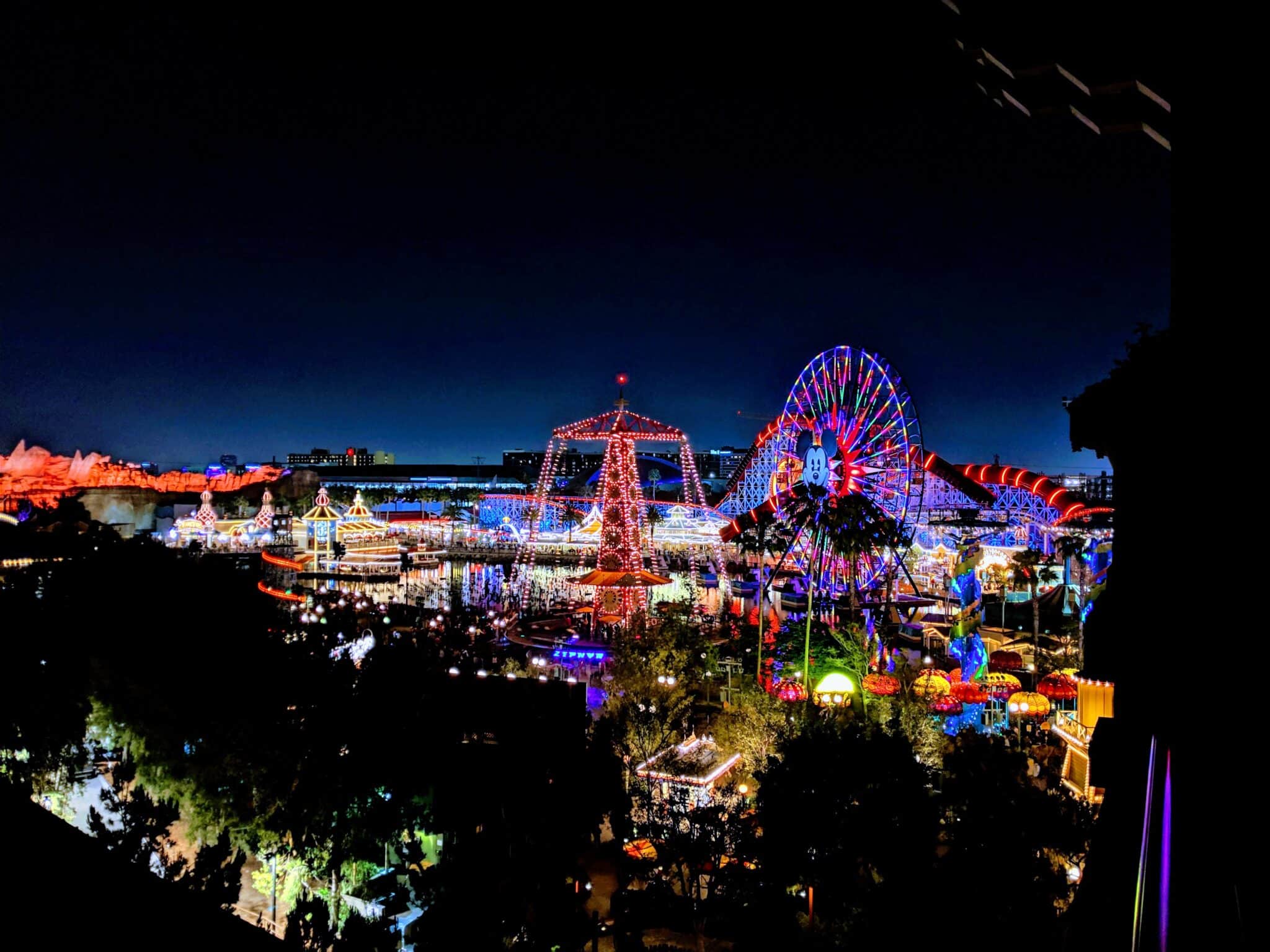 But there's a whole lot more than wine to be enjoyed at Disney California Adventure. There are dozens of food carts, kiosks, quick-service counters, and table-service restaurants that offer a seasonal selection of beer, wine, and mixed drinks. And yes, you can walk around with your alcoholic beverages in Disney California Adventure!
Buena Vista Street
Carthay Circle Restaurant & Carthay Circle Lounge
This reproduction of the Carthay Circle Theatre in Los Angeles is full of Golden Age Hollywood glamour and art deco design.
Go to the Lounge for alfresco dining or an alfresco tasting terrace for an impressive selection of classic cocktails mixed by knowledgeable bartenders.
My Pick: Dill Gin and Tonic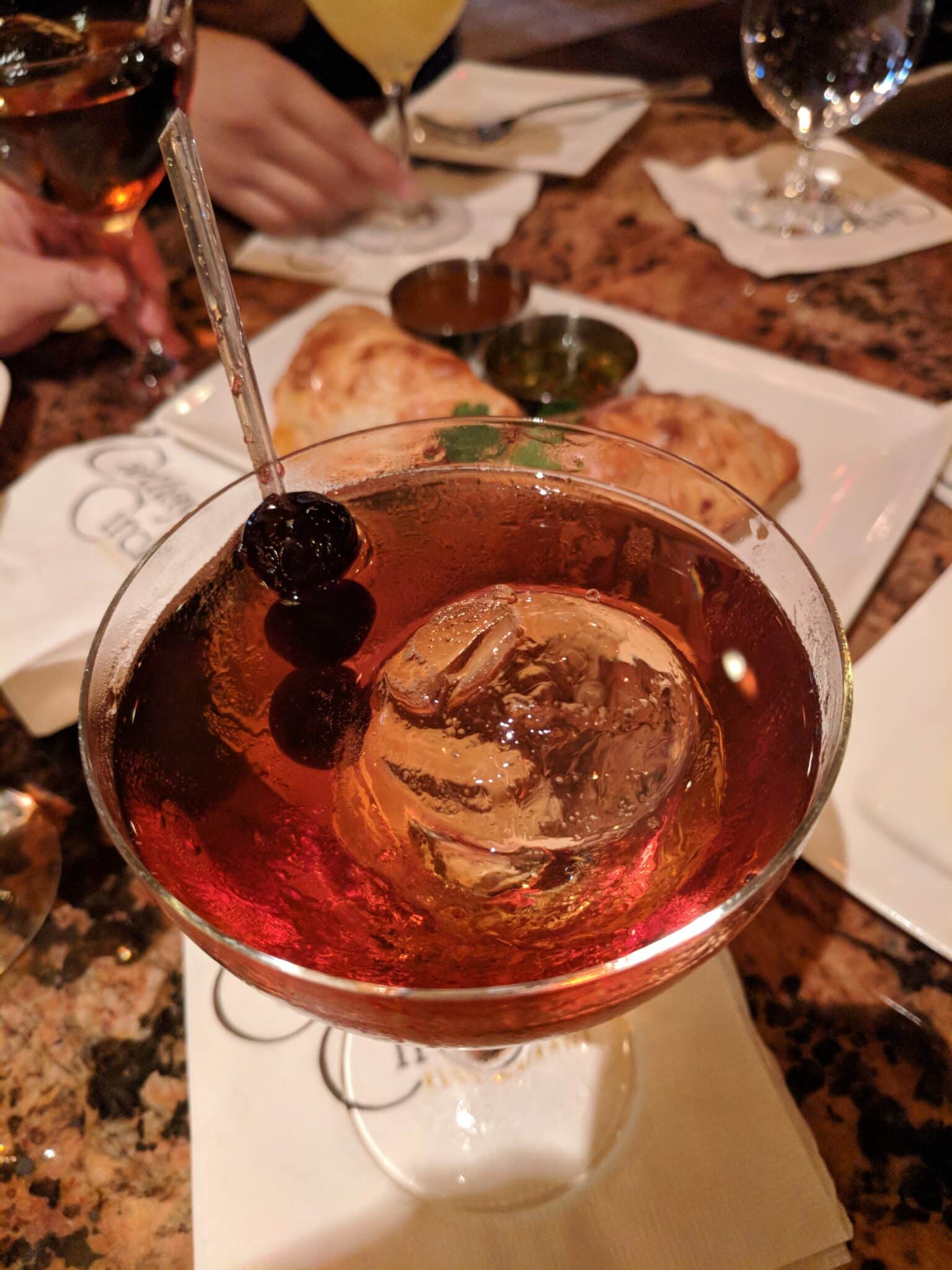 Clarabelle's Hand-Scooped Ice Cream
Sometimes you just need a hard ice cream float—what more is there to say?
My Pick: Tropical Hard Float
Hollywood Land
Award Wieners
Yep, it's a hot dog stand! This isn't a drink destination, but you can grab a beer if you're already here.
My Pick: Backstreet Brewery Animation IPA
Hollywood Lounge
If you're craving a cool brew or a refreshing michelada, head to this quick-service kiosk that only serves beverages.
My Pick: The Backlot Michelada
Avengers Campus
Pym Test Kitchen & Pym Tasting Lab
The Pym Test Kitchen and Tasting Lab are the newest dining additions to Disney California Adventure. Go to the Test Kitchen for fun refreshments that play with size and scale à la Avengers' Ant-Man. Or visit the Tasting Lab (an "innovative beverage laboratory") for specialty craft beers and beer cocktails.
You can create your own Avengers Campus experience at home by putting on Disney+ and making a Marvel-inspired mixed drink, like this Loki cocktail.
My Pick: Honey Buzz
Cars Land
Cozy Cone Motel
I consider the Cozy Cone Motel my secret hidden gem for a quick sip. Each of these five oversized orange traffic cones offers different snacks and drinks at their walkup windows. The last time I visited, Cone #4 had the boozy bevs, but their lineup changes.
My Pick: Vodka & Pomegranate Limeade
Flo's V8 Cafe
This Route 66-inspired diner features classic American foods like burgers and fried chicken, plus a few brews.
My Pick: Garage Brewing, Racer's Blonde Ale
Pacific Wharf
Pacific Wharf has the most alcoholic beverage options, so if you're not sure exactly what to order, you can stroll through this faux waterfront and see what strikes your fancy. Put on your cute Disney outfits and take in the views.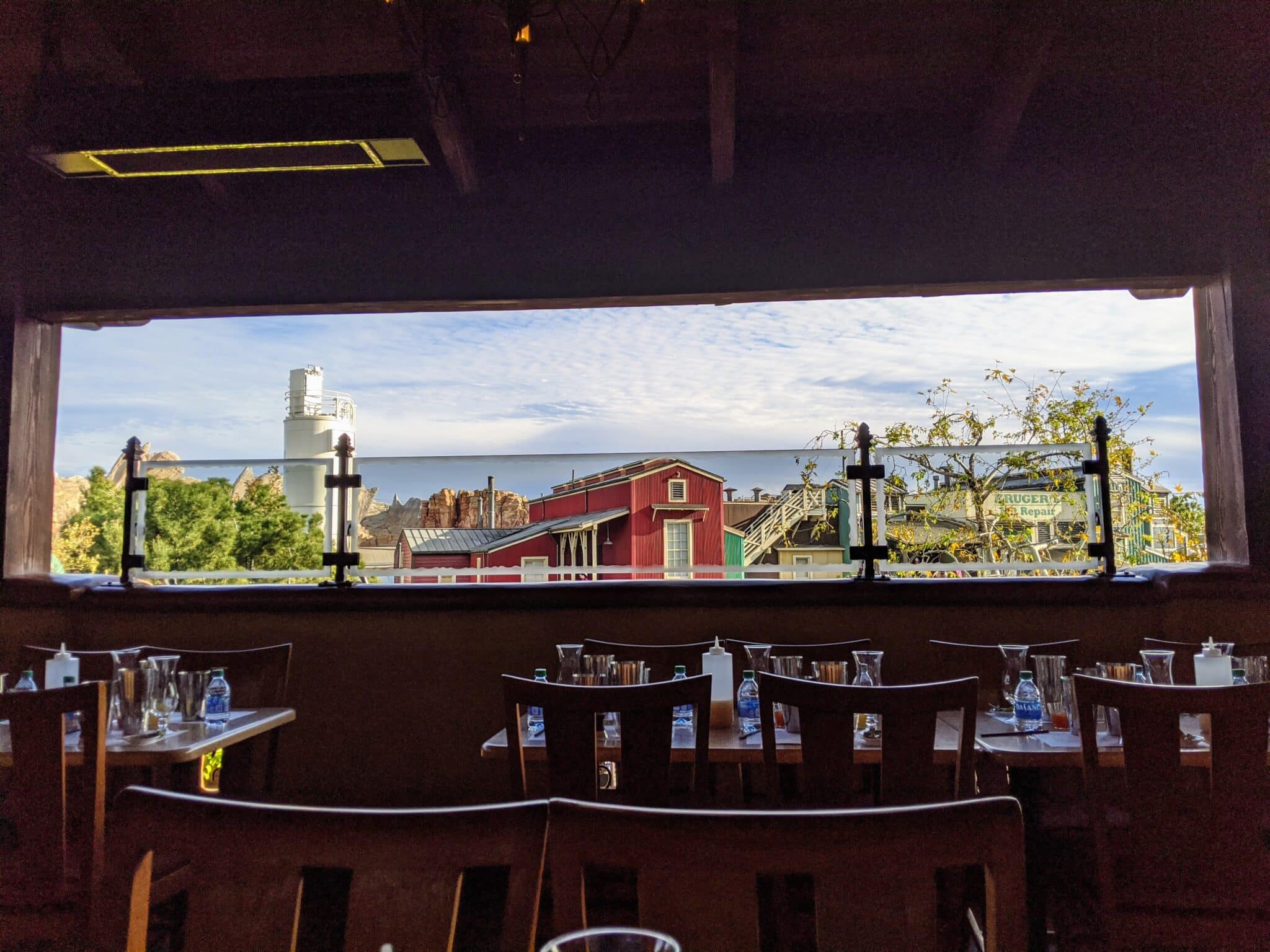 Magic Key Terrace
The Magic Key Terrace is a special lounge just for Magic Key holders and their guests (the Magic Key program replaced the former annual pass system). If you're able, stop by for scenic views and fun signature cocktails.
My Pick: The Nutmeg (this sweet secret-menu cocktail is named after a feral orange cat that frequents the lounge's patio!)
Mendocino Terrace
Feeling fancy? Head to this patio wine bar to sample varietals from around California (and the world). Wine experts are on hand to offer recommendations.
My Pick: Kuleto India Ink, Red Blend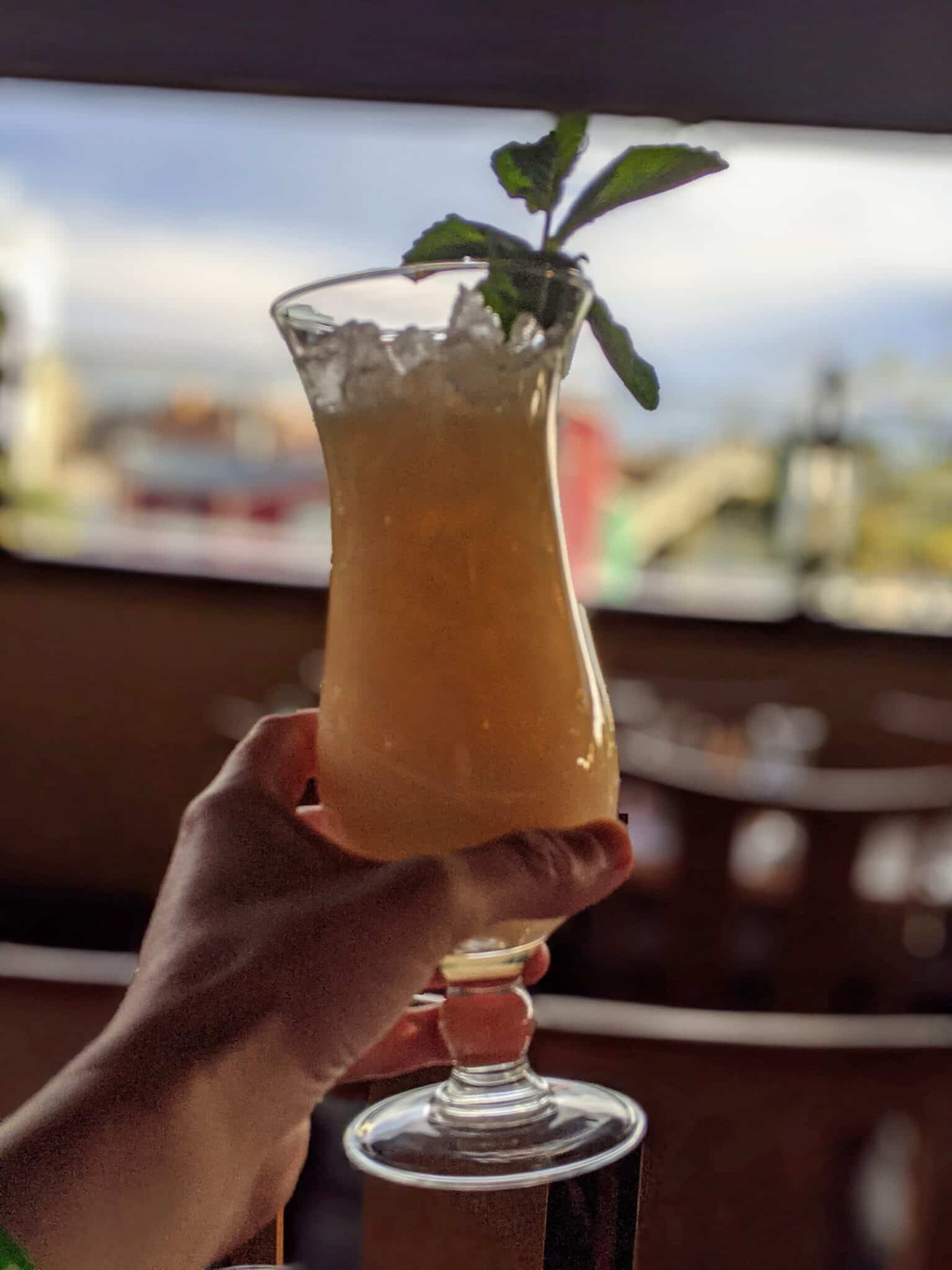 Sonoma Terrace
Disney California Adventure has its own mini-vineyard reminiscent of Napa Valley called the Golden Vine Winery. Here, you can dine and drink at the Sonoma Terrace.
My Pick: Banfi Rosa Regale, Sparkling Red
Wine Country Trattoria
Wine Country Trattoria is one of my top go-to's for table-service dining in Disney California Adventure. Its Mediterranean-inspired menu features seasonal pasta dishes, a bevy of cocktails and beers, and of course, wine.
My Pick: Wine Flight – California Wine Country (or the Sandy Beach cocktail)
Cappuccino Cart
Who doesn't love a spiked coffee? You can get all kinds of buzzed right here.
My Pick: Iced Coffee with Hazelnut Cream Liqueur
Cocina Cucamonga Mexican Grill
Tacos and 'ritas and beers, oh my!
My Pick: Seasonal Margarita
Lucky Fortune Cookery
This broadly Asian eatery has a variety of selections from bánh mì to bulgogi. Unless you're really craving ramen right away, I'd suggest you look outside the park for Asian cuisine, but their twist on the Moscow Mule is good.
My Pick: Japanese Mule
Pacific Wharf Cafe
Looking for a taste of San Francisco? The Pacific Wharf Cafe offers sourdough bread by Boudin Bakery, plus a few beers and wines. The soup and sourdough bread bowl combo is *chef's kiss*
My Pick: Bear Republic, Racer 5 IPA
Pacific Wharf Distribution Co.
This cart features assorted Karl Strauss beers on tap.
My Pick: Karl Strauss Brewing Co., Red Trolley Ale
Rita's Baja Blenders
I always see tons of guests walking around the park with Rita's frozen margs. These cool, refreshing margaritas are perfect to beat the heat on a summer day, and they can be amped up with an extra splash of liqueur.
My Pick: Rita's Grand Strawberry Margarita
Pixar Pier
Adorable Snowman Frosted Treats
Even abominable snowmen like to get their drink on! This cart is best known for its lemon and mango soft-serve, which you can order mixed with stiffer stuff.
My Pick: Pixar Pier Frosty Parfait with Blue Curaçao
Angry Dogs
Hot dogs, cold drinks.
My Pick: Firestone Walker 805 Blonde Ale (it's the only adult drink available here!)
Lamplight Lounge & Lamplight Lounge Boardwalk Dining
Lamplight Lounge is my TOP pick for Disney California Adventure dining—I make a reservation here whenever I can, and I always indulge in their mixed drinks.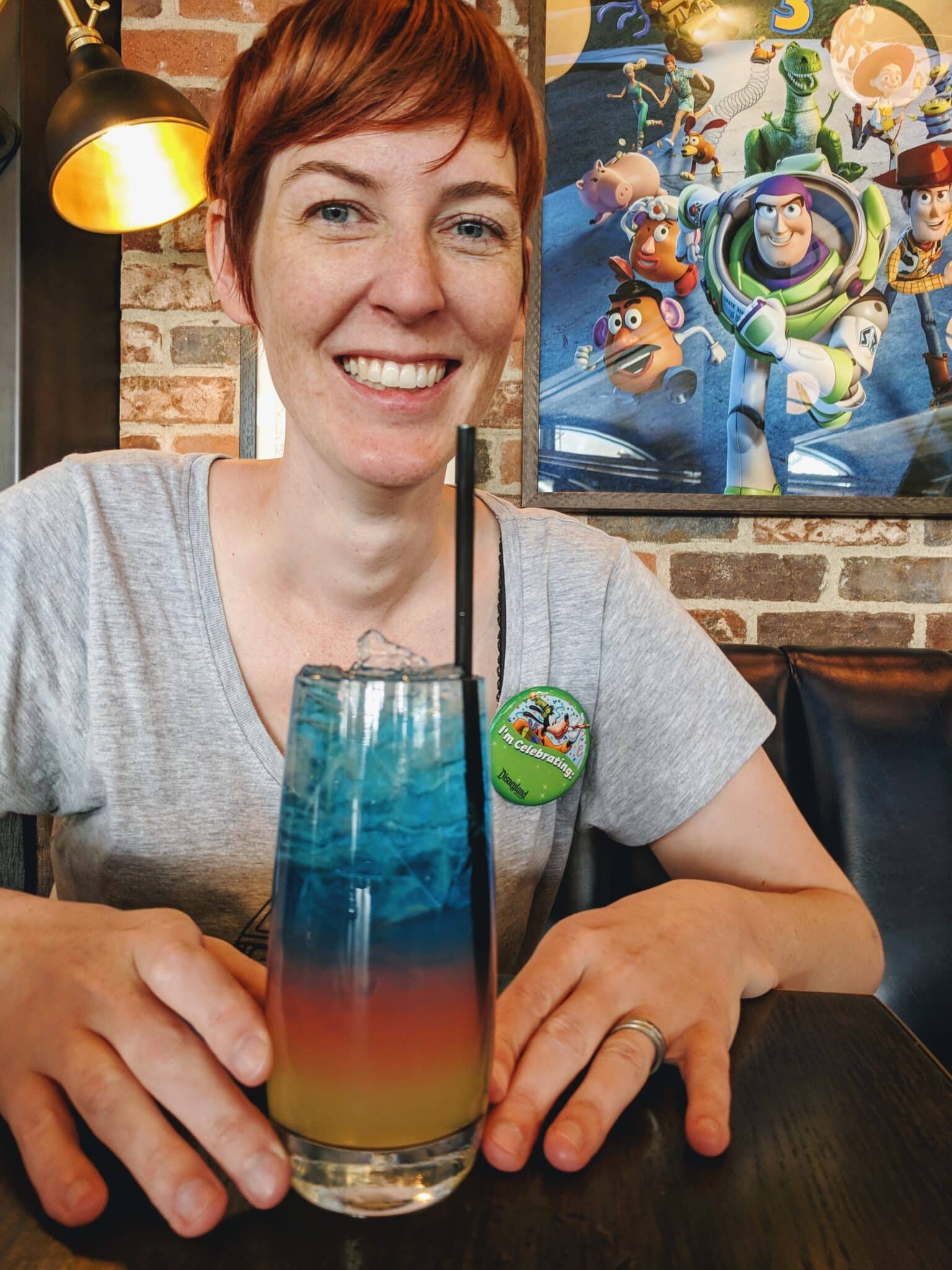 This restaurant is popular for its excellent views of the waterfront, Mickey's Ferris wheel, and if you're lucky, the World of Color show after sundown. Most people will tell you to order the lobster nachos or to explore the brunch offerings, and I couldn't agree more.
My Pick: The Fun Wheel (a colorful layered cocktail on the secret menu!)
Paradise Gardens Park
Bayside Brews
Get your Mickey-shaped pretzels here, fellow Childless Millennials. Oh, and beers of course!
My Pick: Michelada Sculpin
Boardwalk Pizza & Pasta
This no-fuss, no-frills quick service spot is good for a slice of pizza, pasta, or salad, but it's not a top stop for drinks—just a couple of beers and a single sangria.
My Pick: Red Sangria
Chiller at Paradise Gardens Park
Chill out with a frozen Fanta, lemonade, or Coca-Cola.
My Pick: Frozen Coca-Cola with Jack Daniel's whiskey (it's all they've got!)
Paradise Garden Grill
The cuisine at this outdoor counter-service restaurant is always changing, so you'll just have to stop by to see what's on the menu.
My Pick: Seasonal Cocktail
Grizzly Peak
Smokejumpers Grill
This burger and sandwich joint also offers beers, ciders, spiked frozen Coca-Cola, and seasonal cocktails (and tasty booze-free milkshakes). Besides beverages, Smokejumpers Grill is the place to go for several allergy-friendly options.
My Pick: Southern California Cider Co., Life's a Peach, Hard Cider
Festival of Holidays and Other Seasonal Events
The Festival of Holidays is much in the vein of EPCOT's Food and Wine Festival, and it's one of my favorite events at Disney California Adventure!
From Buena Vista Street through Paradise Gardens Park, about a dozen mobile-order marketplace booths serve up festive foods and drinks from November to January. Their menus change every holiday season, but I'm still thinking about that Maple Hazelnut Hot Buttered Rum.
The Disneyland Resort
The Disneyland Resort includes many places outside of the main theme parks where you can shop and dine without paying admission.
Disneyland Hotel
Goofy's Kitchen
Gawrsh! Goofy's Kitchen is a fun restaurant for kids to chow down on Mickey waffles and meet their costumed character friends. There's a surprisingly long drink list for the parents too.
My Pick: Blood Orange Mimosa
Tangaroa Terrace Tropical Bar & Grill
If you're looking for the best breakfast outside the park, look no further. Tangaroa Terrace also serves lunch and dinner, all inspired by Hawaiian, Polynesian, and Japanese cuisines.
My Pick: DOLE Whip Float with a Splash of Rum
Trader Sam's Enchanted Tiki Bar
This whimsical, tropical tiki bar takes inspiration from Disneyland's Jungle Cruise, serving up a variety of Hawaiian appetizers and colorful themed tiki drinks (with the option of adding collectible souvenir tiki mugs to your order).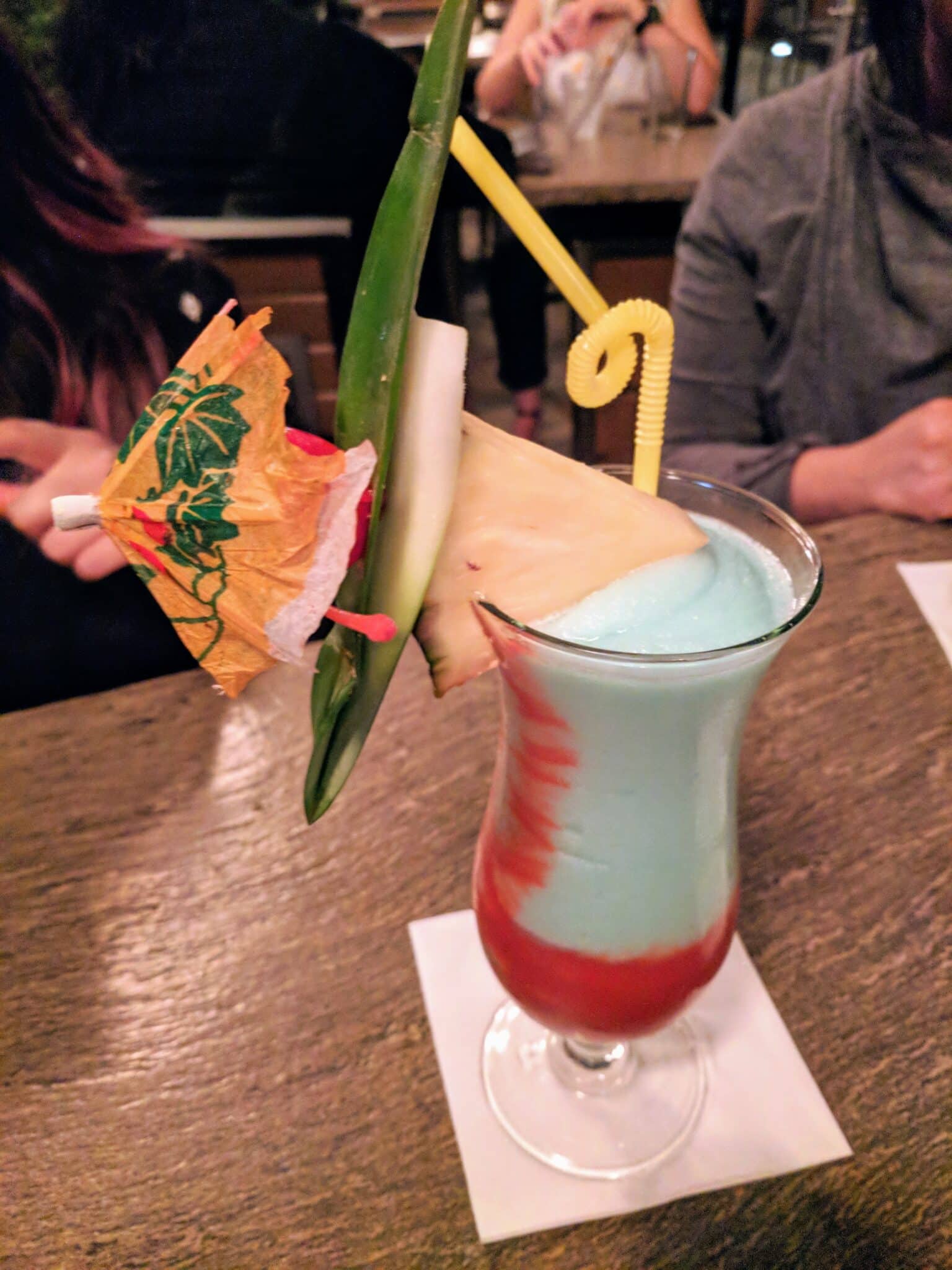 Sure, it's kitschy and cliche, but I love it. There's an inviting outdoor patio surrounded by palm fronds and tiki torches, but for the full tiki experience, try your best to get seated inside.
My Pick: Piranha Pool
Disney's Grand Californian Hotel
GCH Craftsman Bar & Grill
Enjoy casual dining and cocktails at the Bar's poolside lounge, or head to the Grill for both sit-down and grab-n-go meal options.
My Pick: Prickly Pear Rosé
Hearthstone Lounge
The Hearthstone Lounge has its own rustic charm, but I suggest you enjoy your drink in the neighboring lobby of the Grand Californian Hotel.
Put your feet up beside the roaring fireplace or sink into a cozy armchair while you listen to live piano music. This massive lobby evokes the old-timey look and splendor of a National Park lodge.
My Pick: Whiskey Cocktail
Napa Rose & Napa Rose Lounge
Napa Rose features upscale California cuisine and a robust wine list. If you're feeling extra fancy, you can opt for the chef's prix fixe tasting menu with wine pairings. Meanwhile, the Napa Rose Lounge offers terrace views, tasty apps, and signature nightcaps without a reservation.
My Pick: The Vintner's Table Wine Flight
Storytellers Cafe
I'm still mourning the loss of Storytellers' a la carte table-service meals, but this restaurant remains a good place to go for "bountiful" buffet dining, including character meet-and-greets for the kiddos.
My Pick: Walk the Plank
FAQs About Drinking in Disneyland & Disney California Adventure
Does Disneyland serve alcohol?
Yes!
Where are the best places to drink in Disneyland?
The Blue Bayou Restaurant and Oga's Cantina are the ONLY* places you can drink in Disneyland.
*Technically, there is also Club 33, but good luck getting in (read all about it at the top of the blog).
Can you walk around with alcohol at Disneyland?
No! Sorry, no booze on the Jungle Cruise. No Long Island Iced Tea in the tea cups. No spirits at the Haunted Mansion. No… wait, I can keep going!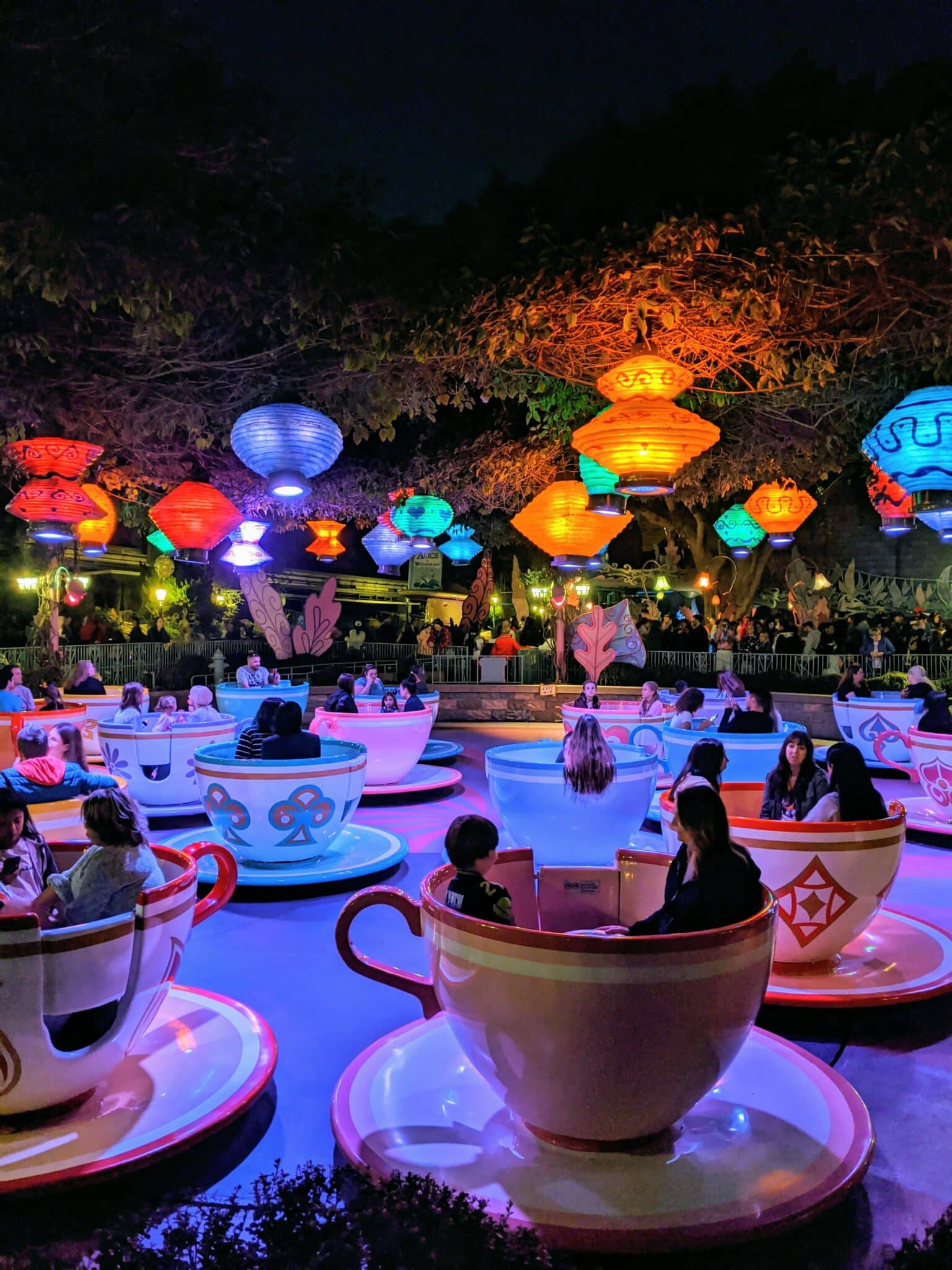 Does Disney California Adventure serve alcohol?
Yes!
Where are the best places to drink in Disney California Adventure?
You can find a seasonal selection of beer, wine, and mixed drinks at most places that serve alcohol within Disney Calfornia Adventure. The following happen to be my favorites, YMMV:
Best Beer: Bayside Brews
Best Wine: Wine Country Trattoria
Best Classic Cocktails: Carthay Circle Lounge
Best Signature Cocktails: Lamplight Lounge
Best Quick Sip: Hollywood Lounge or Rita's Baja Blenders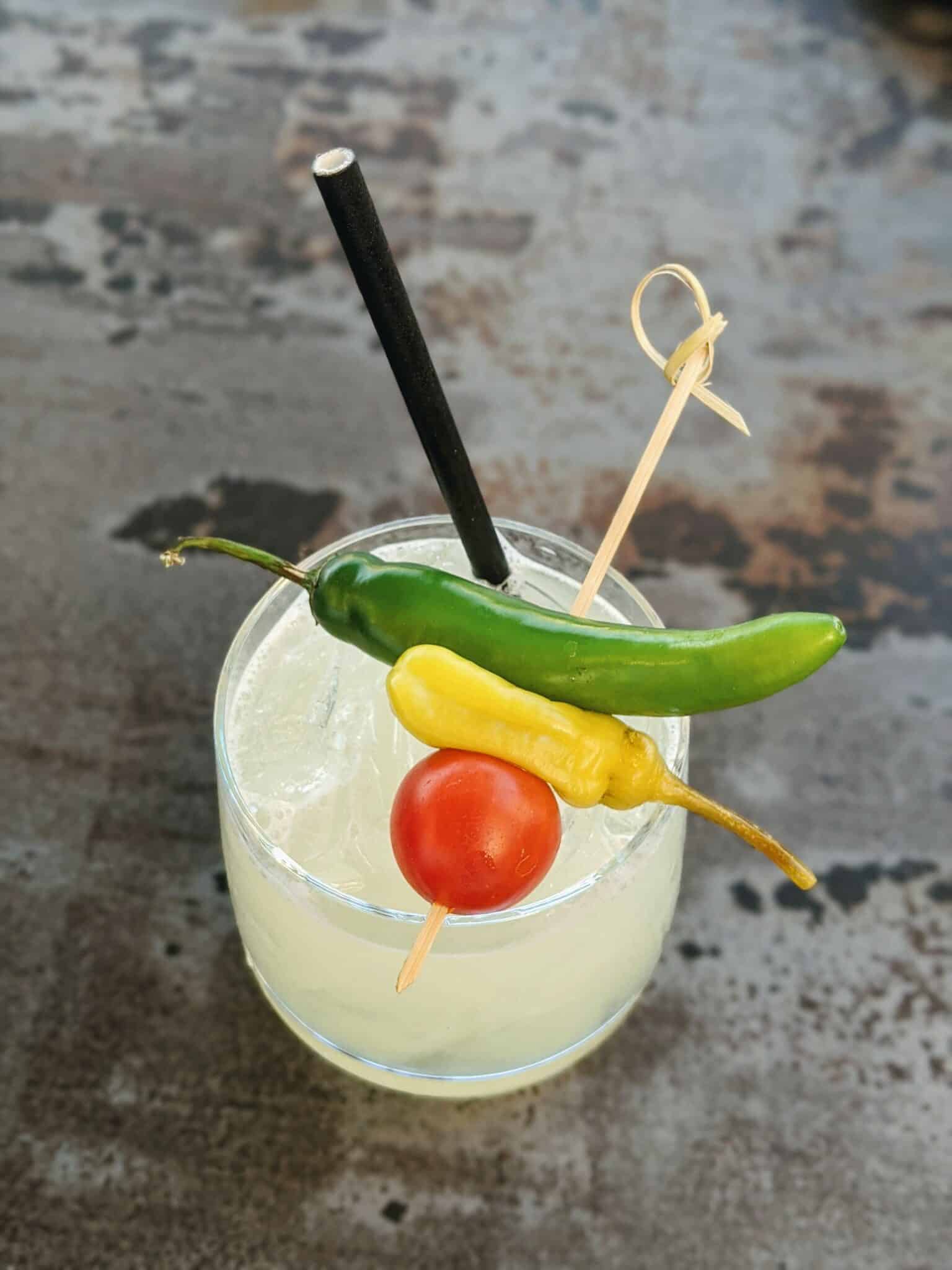 Can you walk around with alcohol at Disney California Adventure?
Yes! But you can't bring drinks on the rides.
Can you bring your own alcohol into Disneyland or Disney California Adventure?
No! Security personnel screen all bags and backpacks before letting guests into the Disney parks. But it may surprise you to learn that you ARE allowed to bring your own food and non-alcoholic beverages.
What's the best ride to do buzzed?
In Disneyland, I love a leisurely float through Pirates of the Caribbean, especially after a piratey rum cocktail.
As for Disney California Adventure, a drink can really take the edge off Guardians of the Galaxy – Mission: BREAKOUT!
Are you planning a Disney trip and using this guide? We want to hear from you! Comment below with questions or more tips to navigating the park!