There's something about (most) hotel beds that are just magic. They always feel insanely comfy, cooling, breathable and like a luxurious place to sleep.
While building out our cabin, I knew I had to capture that hotel mattress feeling for our guests. But, I also wanted to make sure whatever our guests are sleeping on is free of harmful chemicals, free of fiberglass and sustainable (hey, we only have one Earth after all!)
Enter: Nolah. In this post I'm sharing my honest Nolah mattress review after 30 days of sleeping on them in our cabin!
Nolah Mattresses At A Quick Glance
120 nights warranty / night sleep trial
Fiberglass free
Offered in Twin to Split King
NO Heat-Trapping Viscoelastic Chemicals
Up to 300% More Durable Than High-End Memory Foam
Highly Breathable And 100% Temperature Neutra
Lifetime warranty
Offered in various pressure/firmness
Free shipping
Top-notch customer support
Latex that is Hypoallergenic
Low-rated motion transfer
Nolah Mattress Review
I think it's only fair to address the elephant in the room: mattresses in a box are all over your social feeds. I know they are since they're on my mine!
It can be really hard to dig into the pros and cons of each brand and figure out what is the best one, so I hope in this post I can break down all the reasons we love Nolah and you probably will, too.
From a quick glance, Nolah memory foam mattresses are super comfy, they've won tons of awards for them, are offered at an affordable price for the luxury product you get, and they also do a ton of testing on materials.
And, my favorite part, is their mattresses are fiberglass free and the Natural ones are also free of over 100 pretty bad chemicals (nobody wants to sleep on that!)
Which Nolah Mattress Is Best For You?
What's cool is Nolah has a few different mattress types. We went with the Nolah Naturals for all the beds in the cabin since the latex used is hypoallergenic and free of all those bad chemicals unlike some other traditional memory foam brands.
Since our cabin will be a vacation rental, we don't know who is going to walk through the doors and we need to make sure the beds they are sleeping on won't give them any allergy problems. Plus, the Natural has a 6/10 firmness rating which is great for the average sleeper.
There's also the Nolah Signature Mattress, Nolah Original Mattress, Nolah Evolution Mattress and Nolah Nurture Mattress. All mattresses have a trial period you can take advantage of.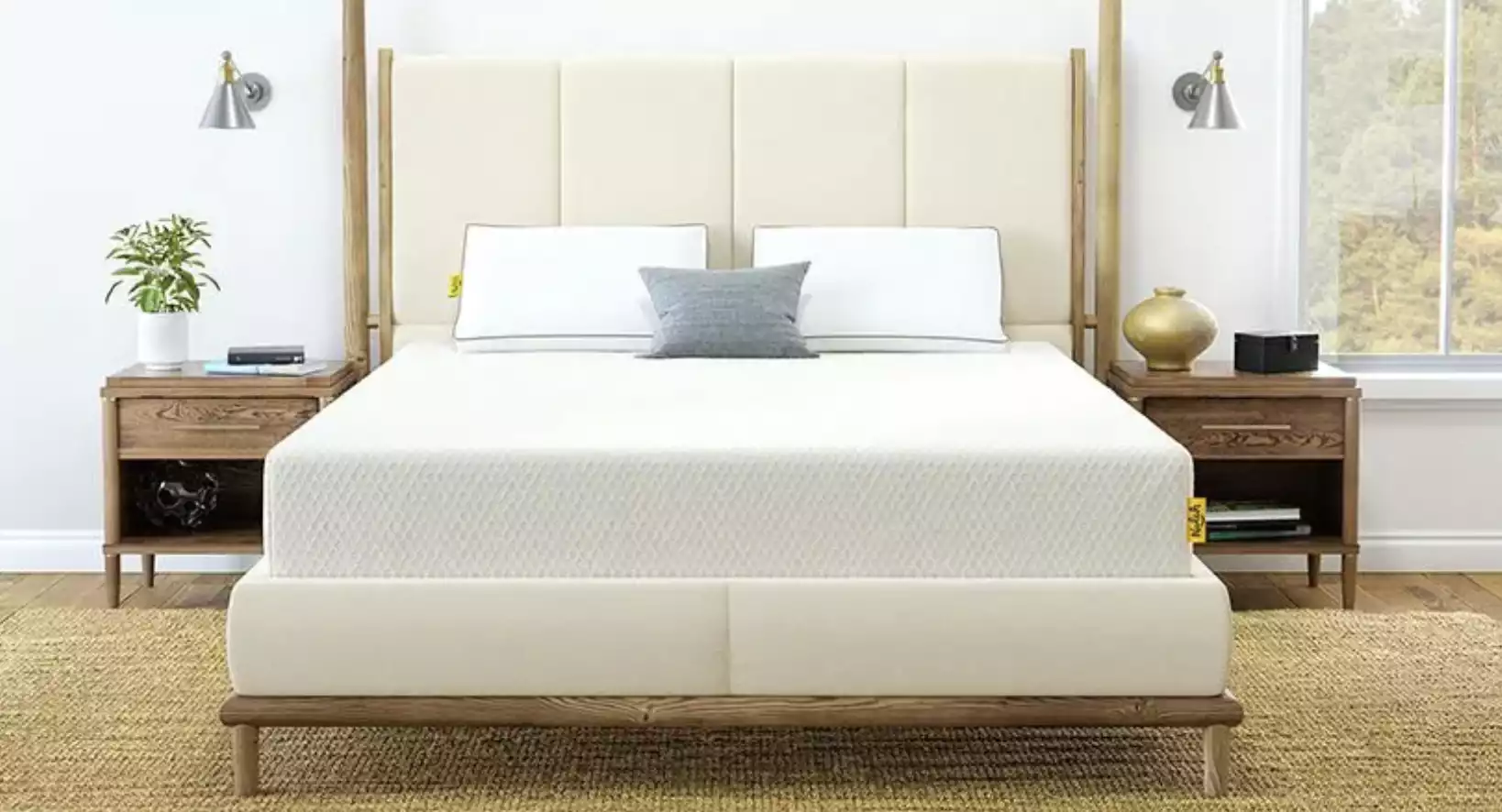 Nolah Original 10" Mattress Review
Made with Nolah AirFoam™, it boasts four times better pressure relief, 20 percent faster heat dissipation, and 300 percent more durability than memory foam alternatives.
Pros:
4-layer all-foam construction

5-6/10 firmness

Tencel™ cover

Stays cool all night

Affordable option for side sleepers

Resists sagging over time
Buy Now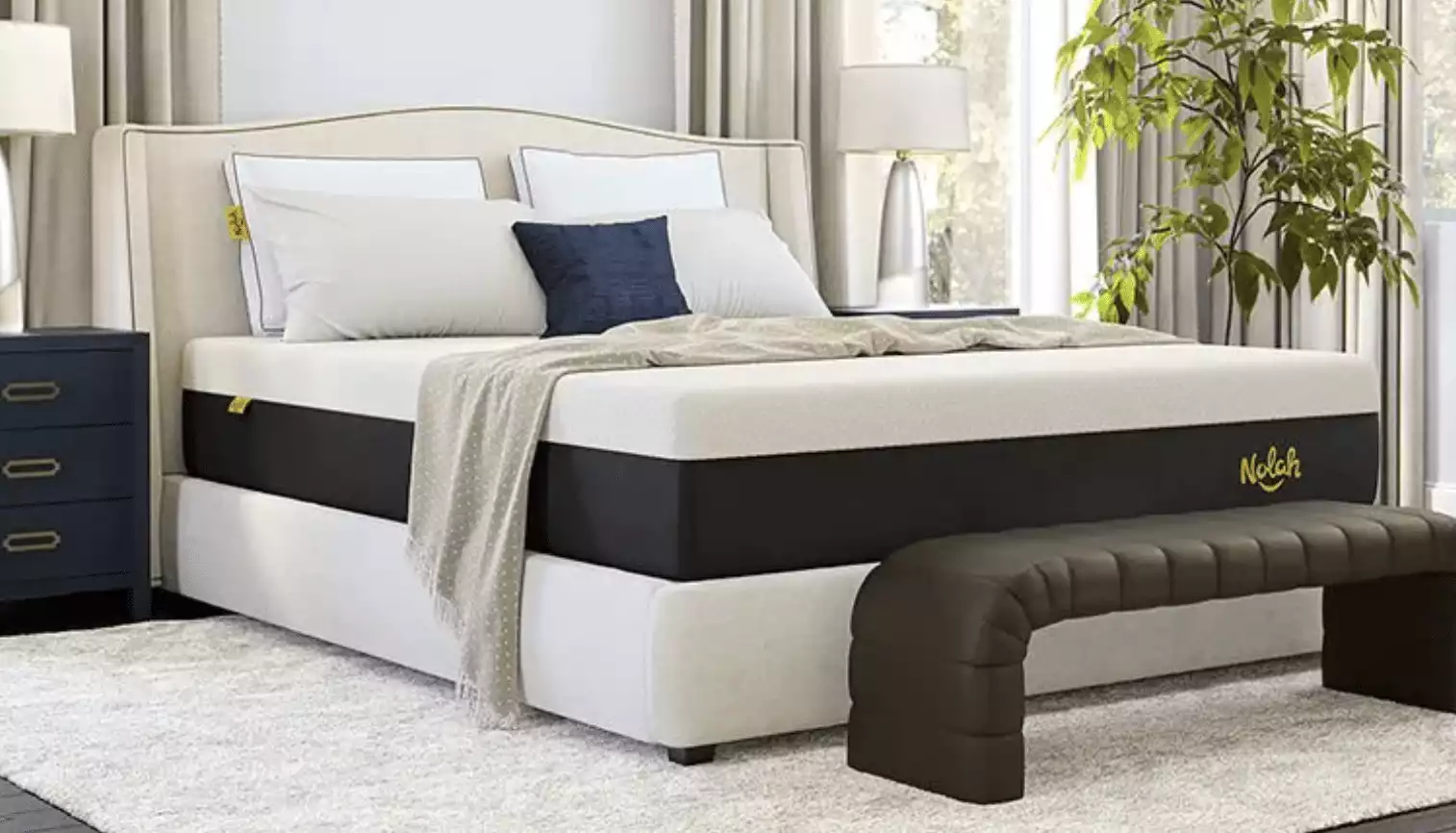 Nolah Signature 12" Mattress Review
The signature has 75% more AirFoam than the original and is 2 inches thicker meaning if you're a person who loves to feel like you're sinking into a cloud, this is the mattress for you!
Pros:
75% more AirFoam

5-layer all-foam construction

5/10 firmness

Organic cotton cover

12" thick

Best for side sleepers
Buy Now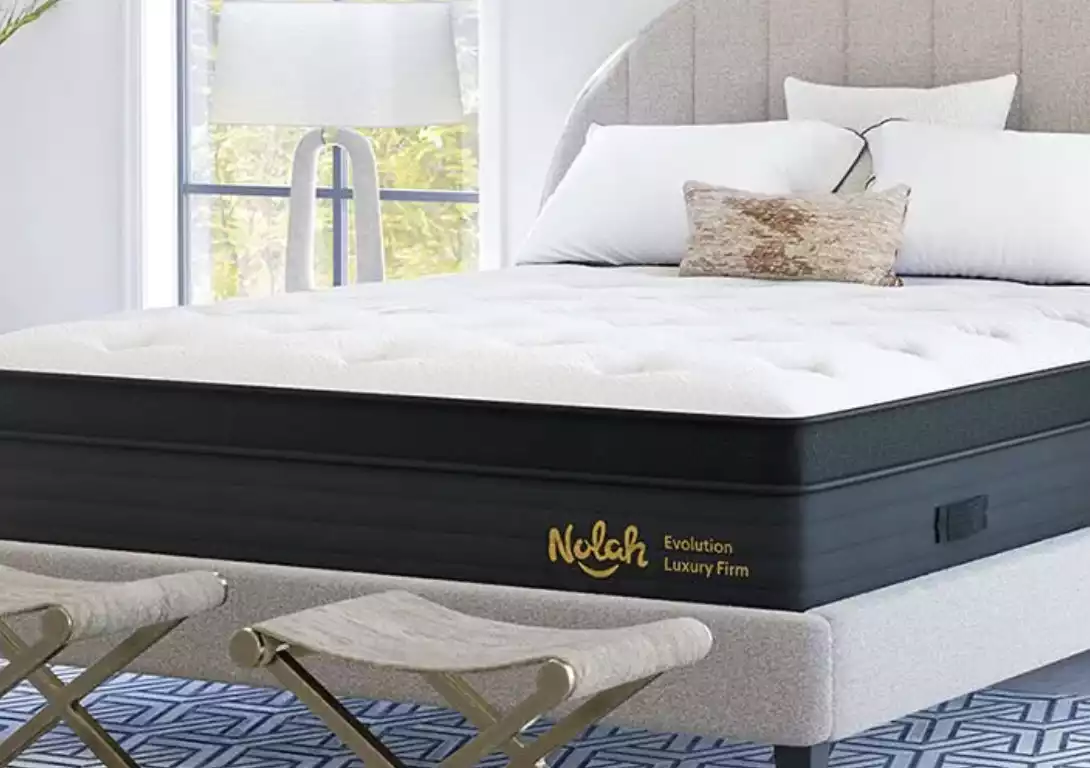 Nolah Evolution 15" Mattress Review
What stands out about Nolah's Evolution Mattress is the 3 firmness level options so you can get your comfort layer very soft or more firm (ie if you're a back sleeper and want a firm layer vs a stomach sleeper and need a softer one)
Pros:
3 firmness level options

7-layer foam hybrid construction

Organic cotton + ArcticTex™ cover

Reinforced edge support coils
Buy Now
In The Cabin!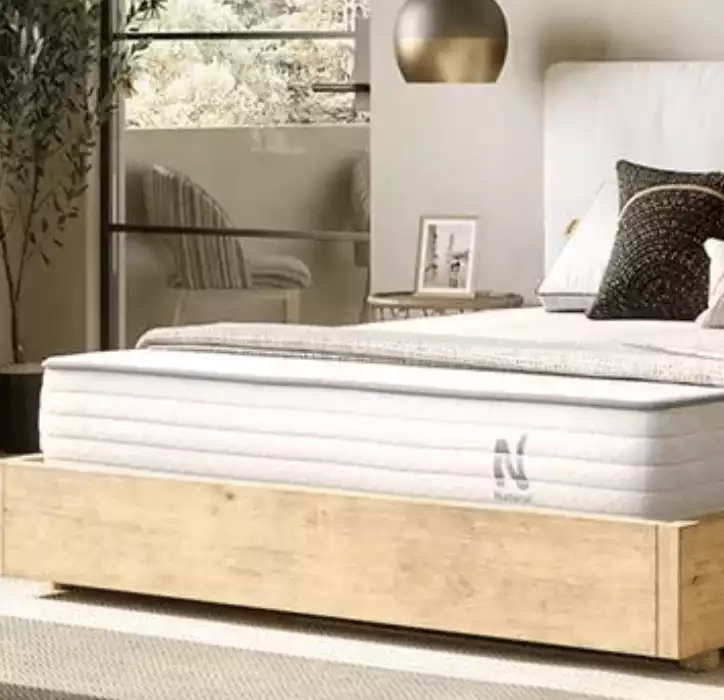 Nolah Natural 11" Mattress Review
This is the mattress we put on all the beds in our Whimsy Homes cabin! It uses natural Talalay latex hybrid mattress (so no fiberglass and eco-friendly!) and is rated one of the best mattresses on the market for allergies so everyone can sleep in the cabin soundly.
Pros:
6 layer latex hybrid construction

6/10 firmness

Organic cotton cover

Free of 100 bad chemicals

Hypoallergenic

Fiberglass Free
Buy Now
for kids!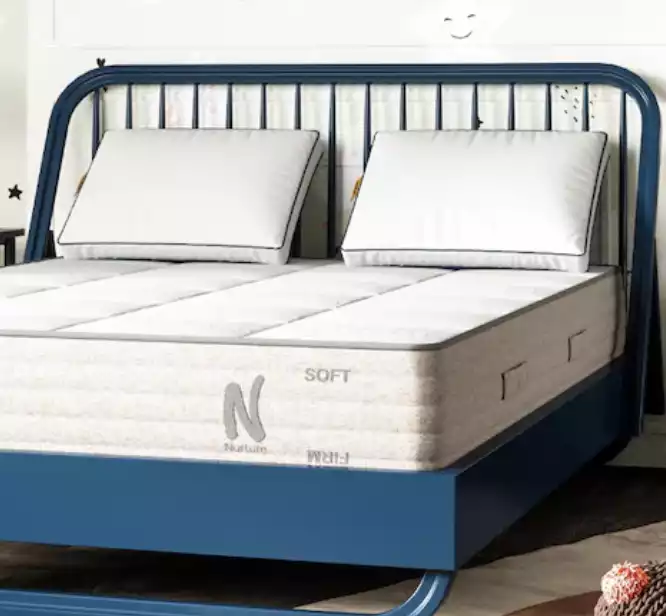 Nolah Nurture 10" Mattress Review
the Nurture offers two-sided flippable firmness, making it a perfect fit for every stage of your child's development (how cool is that?!) This allows your kid to choose if they want soft or firm without getting a whole new mattress.
Pros:
7-layer flippable latex hybrid construction

5-6 and 7-8/10 double-sided firmness

Organic cotton cover

Oeko-Tex® 100 Class 1 certified latex

Global Organic Textile Standard (GOTS) certified organic cotton and wool
Buy Now
If you are picky about your firmness, you may want to go with the Nolah Evolution (it's their bestseller!) as they offer it in plush, luxury firm or firm. It's also rated 2023's Best Mattress for Spinal Alignment by Sleep Foundation so it has all sorts of pressure relief action going on.
We have the Nolah Natural and I find it super comfy without any mattress toppers! First time in my life I've found a mattreess that I don't need a topper for.
We're side sleepers and back sleepers and I noticed a huge difference between the way my body felt after our first morning sleeping on a Nolah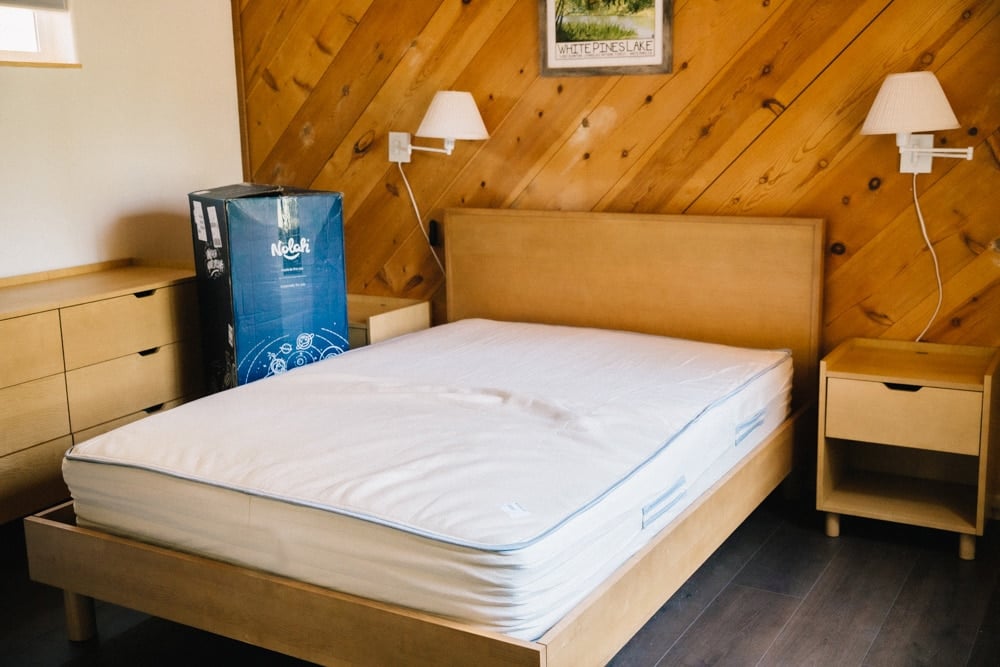 Nolah Is Easy To Set Up
Honestly, the only thing difficult about set up is how heavy the mattress Nolah sends in a box is, especially if you have a queen or larger. This is totally a team lift situation!
Otherwise, it's so easy to lift it on your bedframe, cut away the plastic and let the mattress inflates itself. It also comes with handles for easy moving!
I've encountered some mattresses that have a weird warehouse smell, but nothing like that here (I see that listed as one of those frequently asked questions about mattresses in general so happy to report no odd smells here!)
Since we have to treat our cabin like a hotel we ended up putting bed bug mattress covers on all of our Nolah Naturals for an extra layer of protection for our guests. If you see photos of the mattress online in the future and wondering where the handles went, that's where!
Key Takeaways From Nolah
At the end of the day, there are a LOT of mattress brands out there now. And all of them are probably comfy, so for our cabin it was important to look beyond that.
Being made of latex instead of fiberglass was a huge win for me. I keep seeing all these horror stories on TikTok of folks who bought a mattress with fiberglass and it accidentally leaked and they literally had to throw away almost all their belongings.
(And, a lot of those popular brands do actually have fiberglass, so read carefully!)
I also loved to see a mattress made with sustainability in mind since that's always a priority for us here at Whimsy Homes. And, the fact that the Natural is hypoallergenic is amazing since we never know who is going to rent the cabin and I want to make sure they can sleep peacefully at night.
I hope this helps you decide which Nolah Mattress is best for you! If you have any questions or tips to add, drop a comment below.