Visiting Paris for the first time? Whether it's a short layover or part of vast European getaway, even one day in Paris can be magical ✨ (But a long weekend is perfect to see (and eat!) as much as possible!)
My first piece of advice for a long weekend in Paris… take off the rose colored glasses. While Paris is magic, I went in with realistic expectations of an old city (like New York). A little dirty, yes, but antiquated and filled with history.
For this Paris weekend itinerary, we'll hit the bucket list classics like the Notre Dame Cathedral and Eiffel Tower, but also some of my favorite things that felt truly Parisian.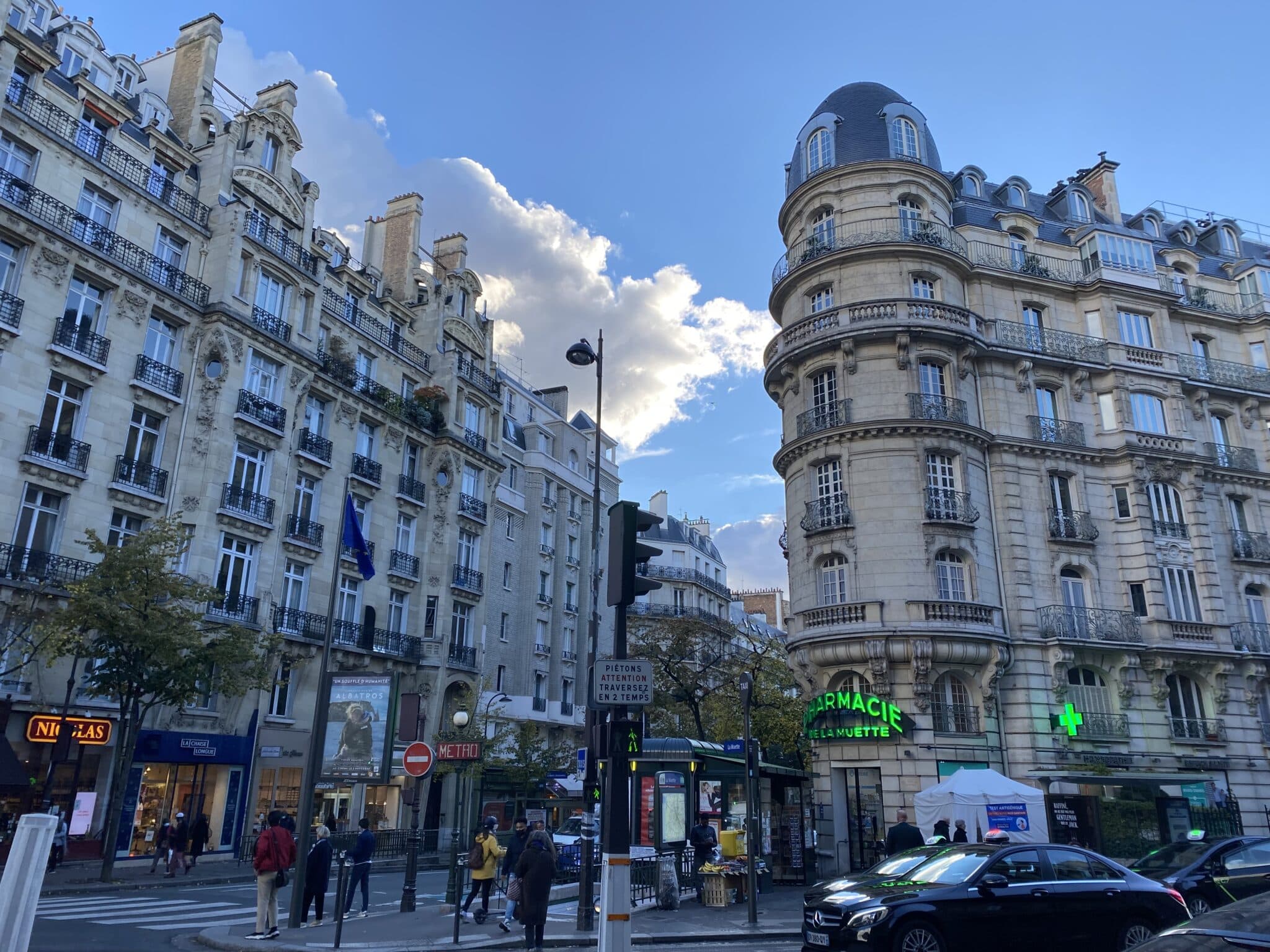 A Swoonworthy 3 Day Paris Itinerary for Falling in Love… with Paris
I took my first trip to Paris this past November, and spent 8-days in Paris (plus Versaille) with my French-speaking boyfriend (swoon!), but you can definitely get the full experience in three days. Just be sure to pack some very comfy shoes. Even just for a weekend Paris requires a lot of walking!
Funny Story: My boyfriend's French accent is pretty good, so most of the people we interacted with (i.e. servers, ticket sales people etc.) weren't sure where he was from, and thought I also spoke French. Let's just say, I did a lot of nodding and smiling.
When preparing for a trip, I like to frame my itinerary (and packing list) into thematic days. For example, in this 3-day Paris weekend trip, I framed it into:
Day 1 is a walking tour. An opportunity to get your bearings, explore and discover places you won't find in a travel guide.
Day 2 is a museum day. For Paris specifically, I think you have to dedicate a day to the Louvre. I'll explain more later!
Day 3 is a chill day to choose your own adventure. I always like to bookend my trips with a chill day to prepare for traveling.
Best Time to Visit Paris
I visited Paris in fall and loved it! We prepared for rain, but we lucked out with a mix of sunny and clear skies and cloudy days. The best part of visiting Paris during the fall season is less crowds. It was crowded, but I never felt overwhelmed by the crowds.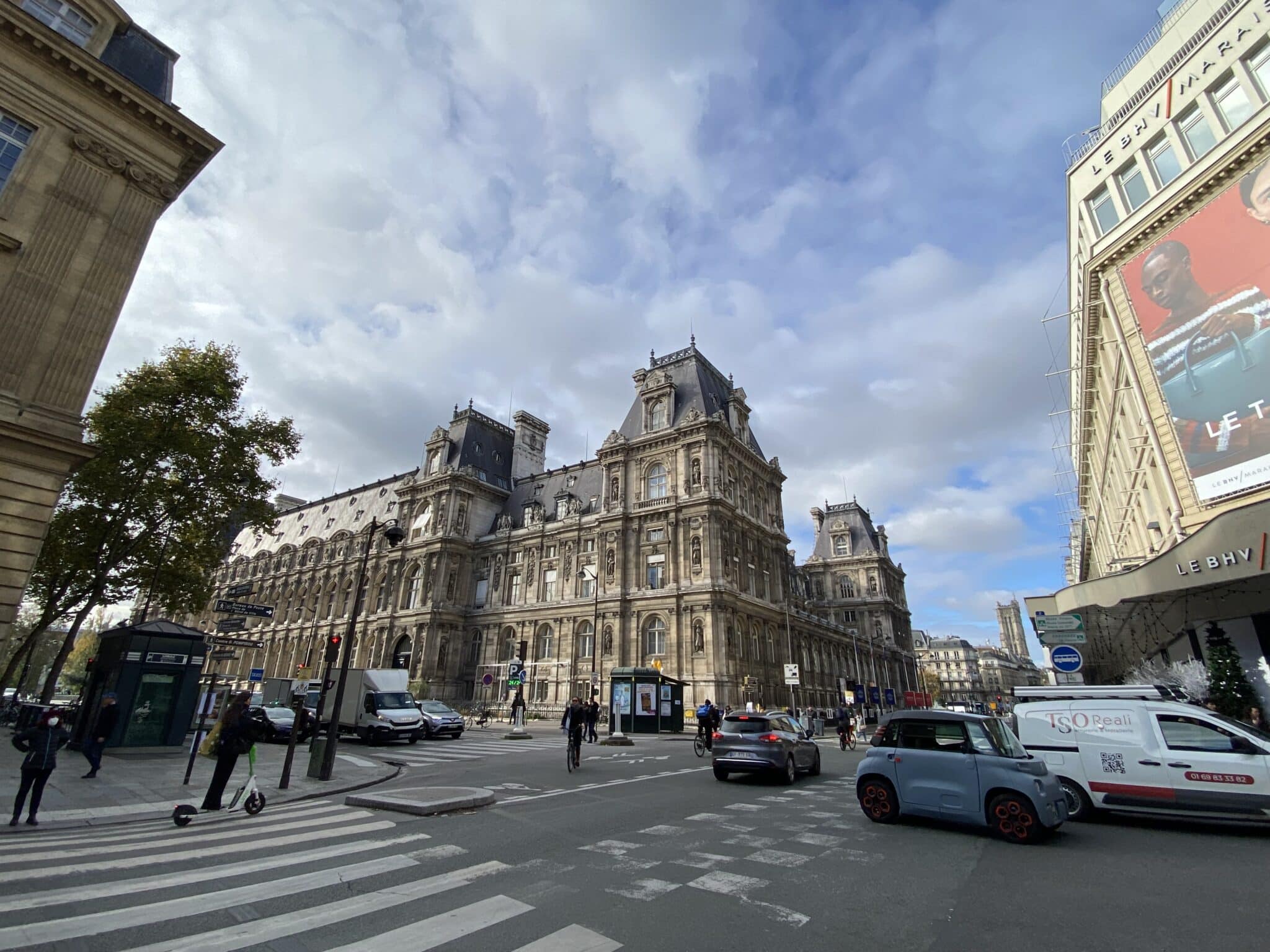 Disclaimer: I visited in the fall of 2021. COVID-19 might also account for fewer crowds!
One of the most iconic experiences in Paris is sitting on one of the many patios for meals and hanging out with friends. Patios are open year-round with heaters to keep you warm.
If I were to go again (and I will be going again, manifesting that for myself), I'd like to visit in the spring or summer. My boyfriend lived in Paris during the spring/summer, and talked about how everyone flooded the banks of the Seine for picnics and sunbathing.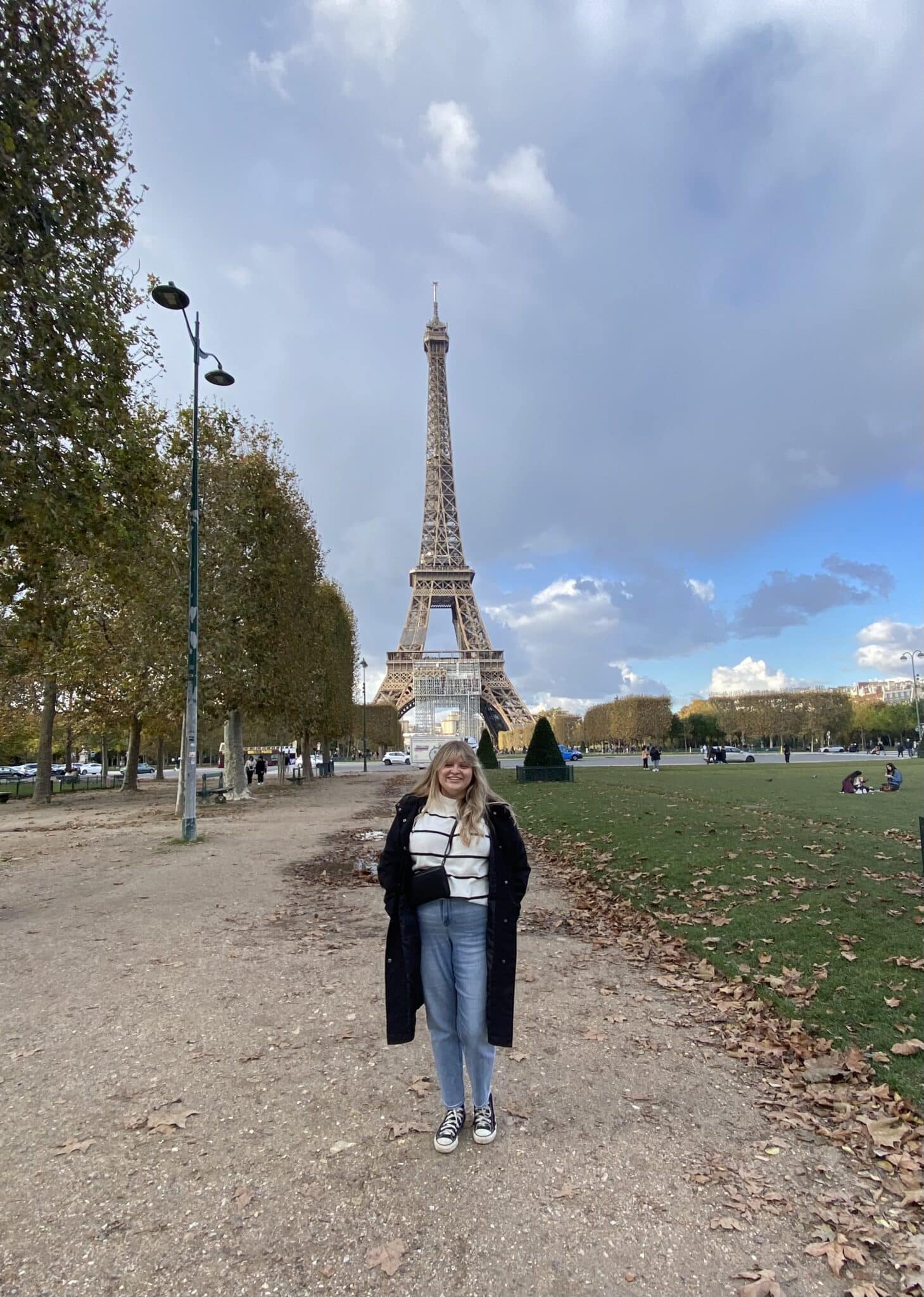 All that to say, I wouldn't mind visiting in the winter either. I love feeling cozy. I imagine layering up, watching snow fall, drinking red wine or hot chocolate.
The best time to visit depends on the kind of experience you're looking for. I recommend following an account like @seemyparis on Instagram to get a feel of Paris year-round, and determine when to book your trip!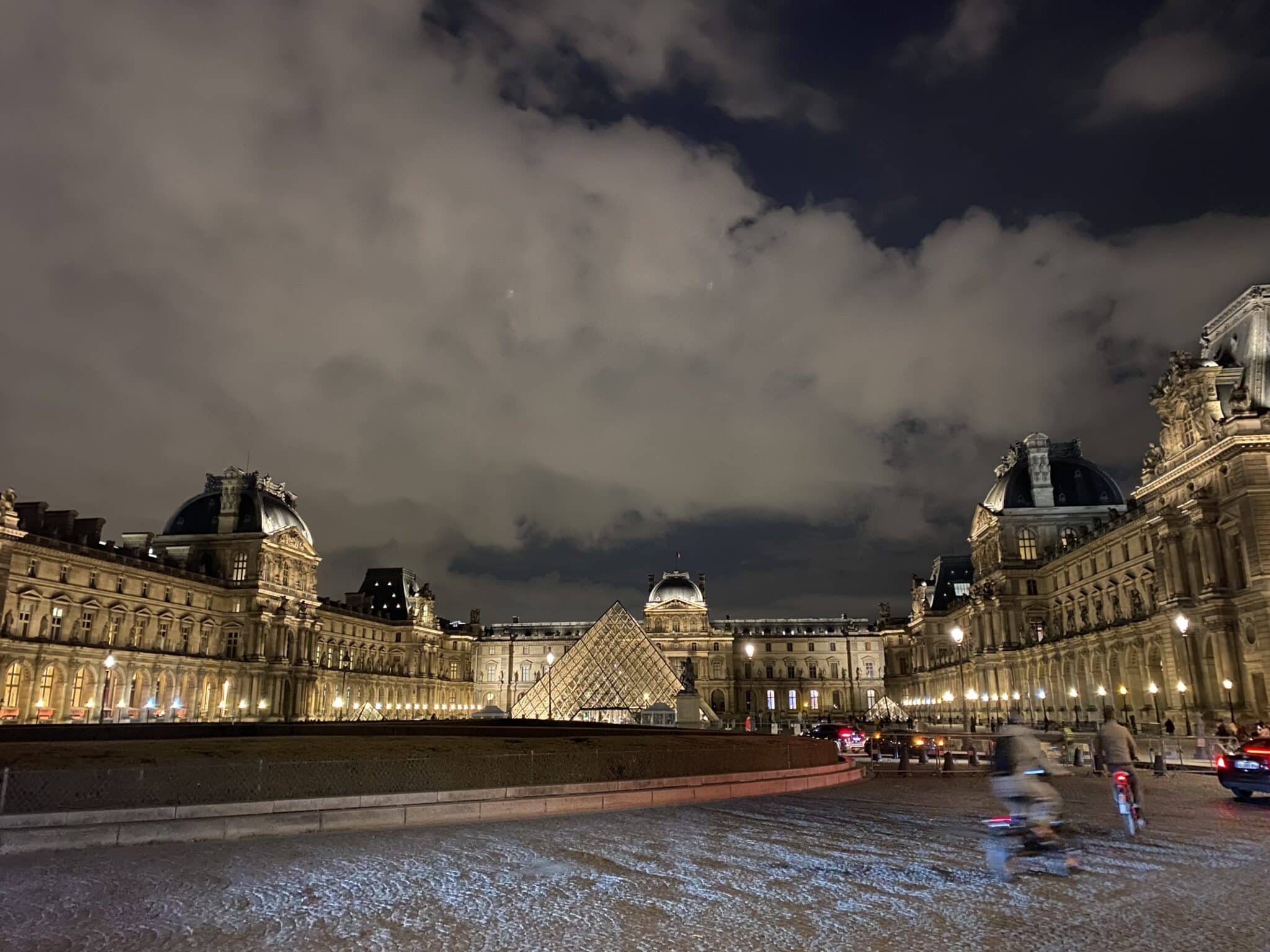 Getting Around Paris
Paris is a big city, but you can get around Paris fairly easily on foot, by train and bike. I preferred walking and taking the Paris Metro, but loved biking along the Seine.
Getting To/From The Airport
We flew into Paris-Orly Airport (ORY), took a free Orlyval shuttle at the airport to Tramway T7 and the tram to the Metro. There's a few ways to use public transport at Paris-Orly. Be sure to map out to where you're staying to find the best way.
If you fly into Paris Charles de Gaulle Airport (CDG), you can take multiple buses which are cheaper, but can be crowded and there's many stops. There's also a bus operated by Air France (Le Bus Direct) It's nicer and has fewer stops, but it's more expensive. Another option is the RER train and if you time it right, it's a pretty easy ride.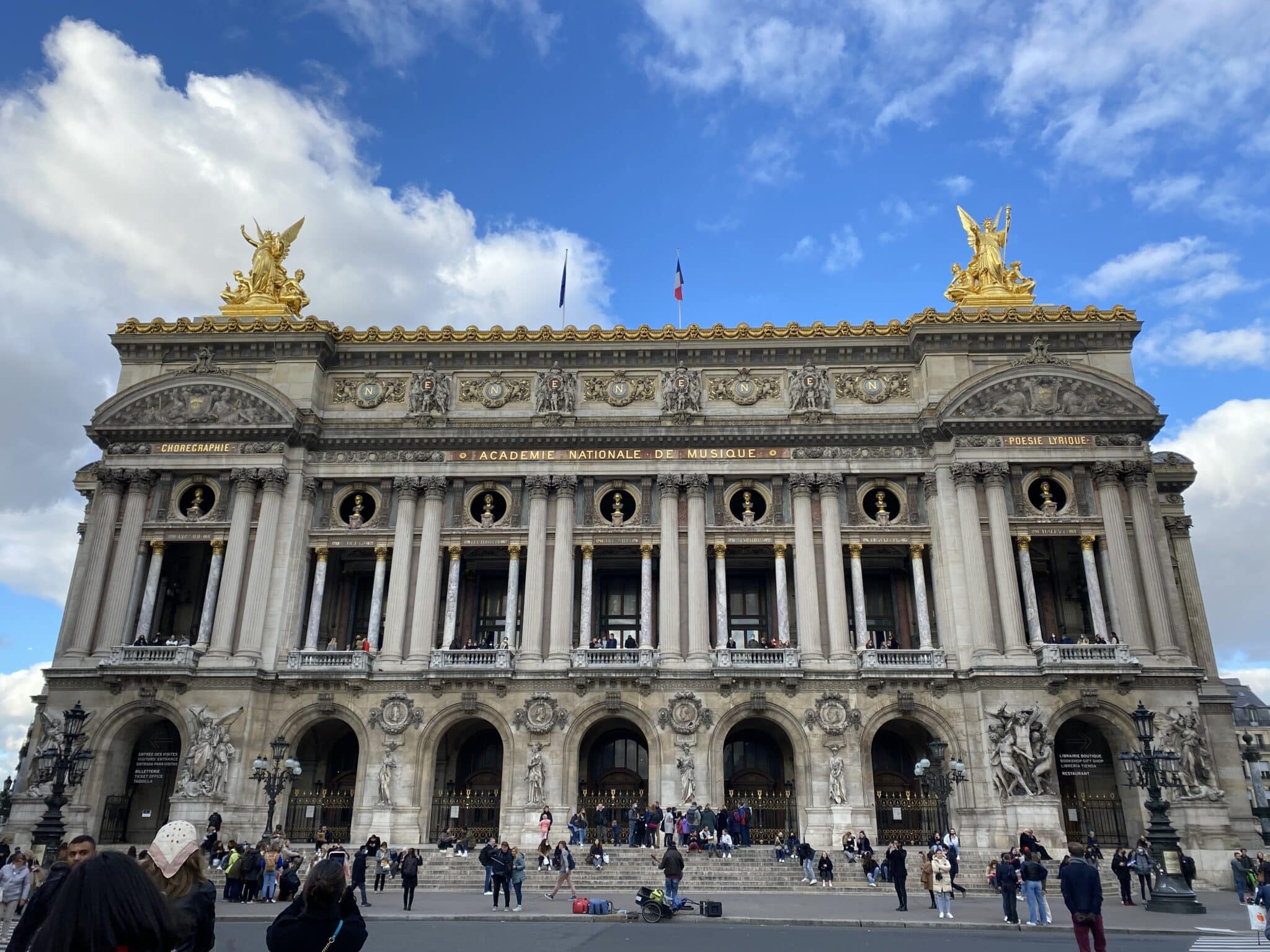 Walking Around Paris
Before leaving home, the airport or your Airbnb (where your phone has Wifi), I recommend downloading a map of Paris on Google Maps. This will help you navigate the city on foot and via Metro. And, if you're really Type A, make your own My Maps ahead of time and drop in all the spots you want to visit, along with your hotel for easier walking navigation.
Using The Paris Metro
Getting around Paris is easy on the Metro, there are even Metro passes specifically for tourism. To get the best bang for your buck, try to determine how often you'll actually use the Metro before purchasing.
For example, if you prefer to rent a bike or walk, skip the travel pass and buy one trip pass (or a pack of 10) to be more cost effective. The kiosks usually offer various languages (including English) to make the process easier. The benefits of a 72 hour pass is you can take the metro as much as you want.
Finding the right line on the Metro is fairly simple using the maps at the station, though if you aren't used to taking a metro where you live, prepare for a learning curve. It usually notes the larger attractions, points of interest and landmarks to help guide you to your destination.
Safety Tip: The Paris Metro and many of the crowded tourist sites are a classic spot for pickpockets, so keep your phones and wallets close.
Renting Bikes in Paris
Similar to Citi Bike in NYC, Paris has an abundance of bike charging stations around the city. We used bike rental company, Velib Metropole. It was super easy to rent a bike and drop it off once we reached our destination, plus it was super fun to ride along the Seine River.
Where to Stay in Paris
Personally, I recommend the Latin Quarter. We found a super affordable Airbnb, and it was honestly one of the best places I've ever stayed. It was a modest studio or "chambre de bonne" which means maids' room situated at the tip top of the building.
We lucked out and the building had an elevator! A teeny tiny elevator that only fit two people or one person and one suitcase. We only had to climb one small flight of stairs to reach our "penthouse" 😉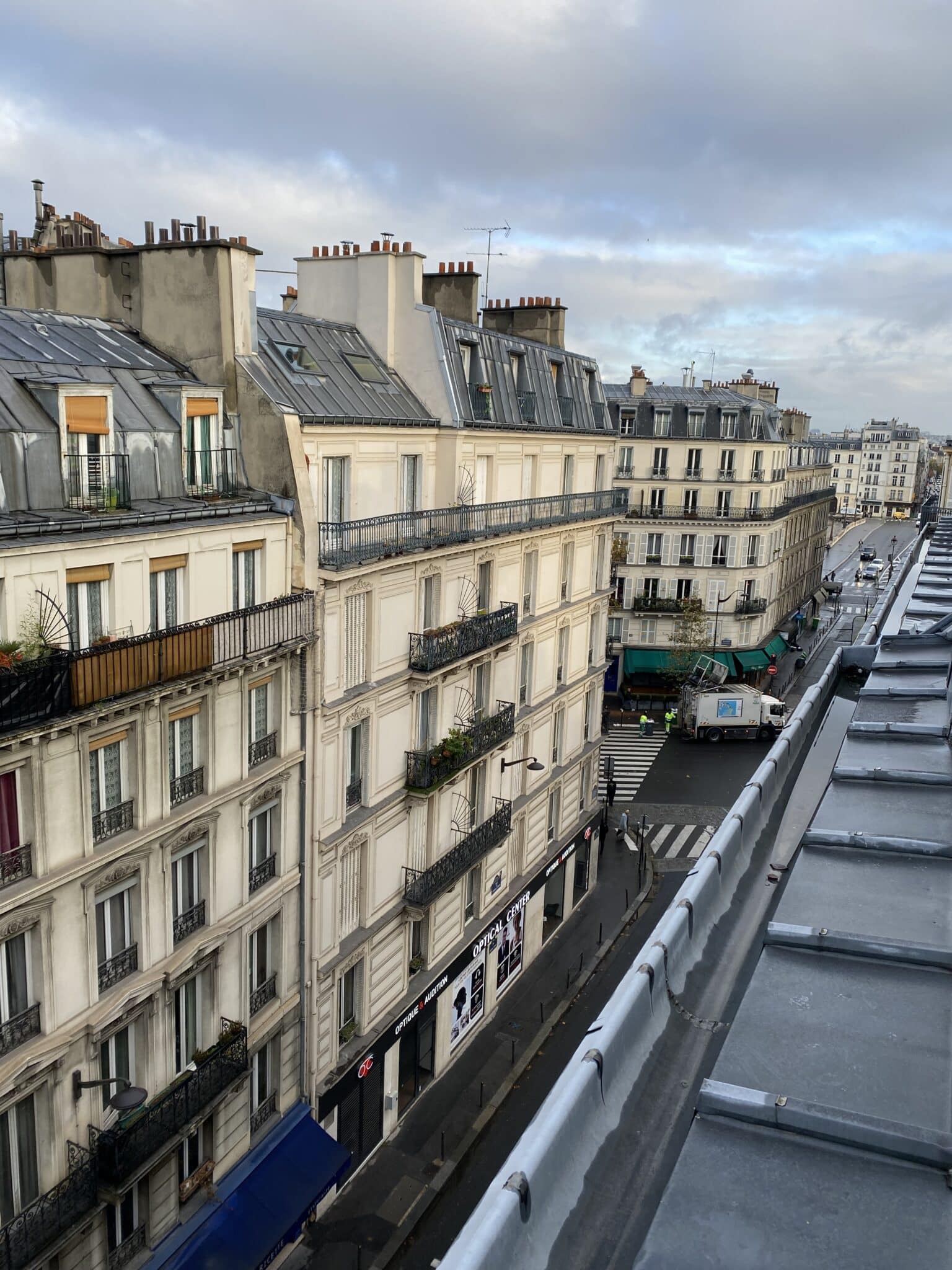 I couldn't live in it full-time, but it was perfect for a short stay in Paris. The window opened to the most quintessential view of the city. I definitely recommend it if you're traveling solo or with one other person!
Hotels in Paris
To honor how much I loved my stay in the Latin Quarter, I found a few *beautiful* hotels nearby. If budgets allowed, I would have jumped on any of these stays!
One of the top Instagrammable spots is also a hotel: Hôtel Plaza Athénée. Standing in front is all you need, but how dreamy would it be if you stayed in this 5-star beauty?
Airbnbs in Paris
As you can probably tell by now, I love budget-friendly accommodations and Airbnb is usually my go-to, but Vrbo is also a solid option. Here's a few of the other vacation rentals we were considering: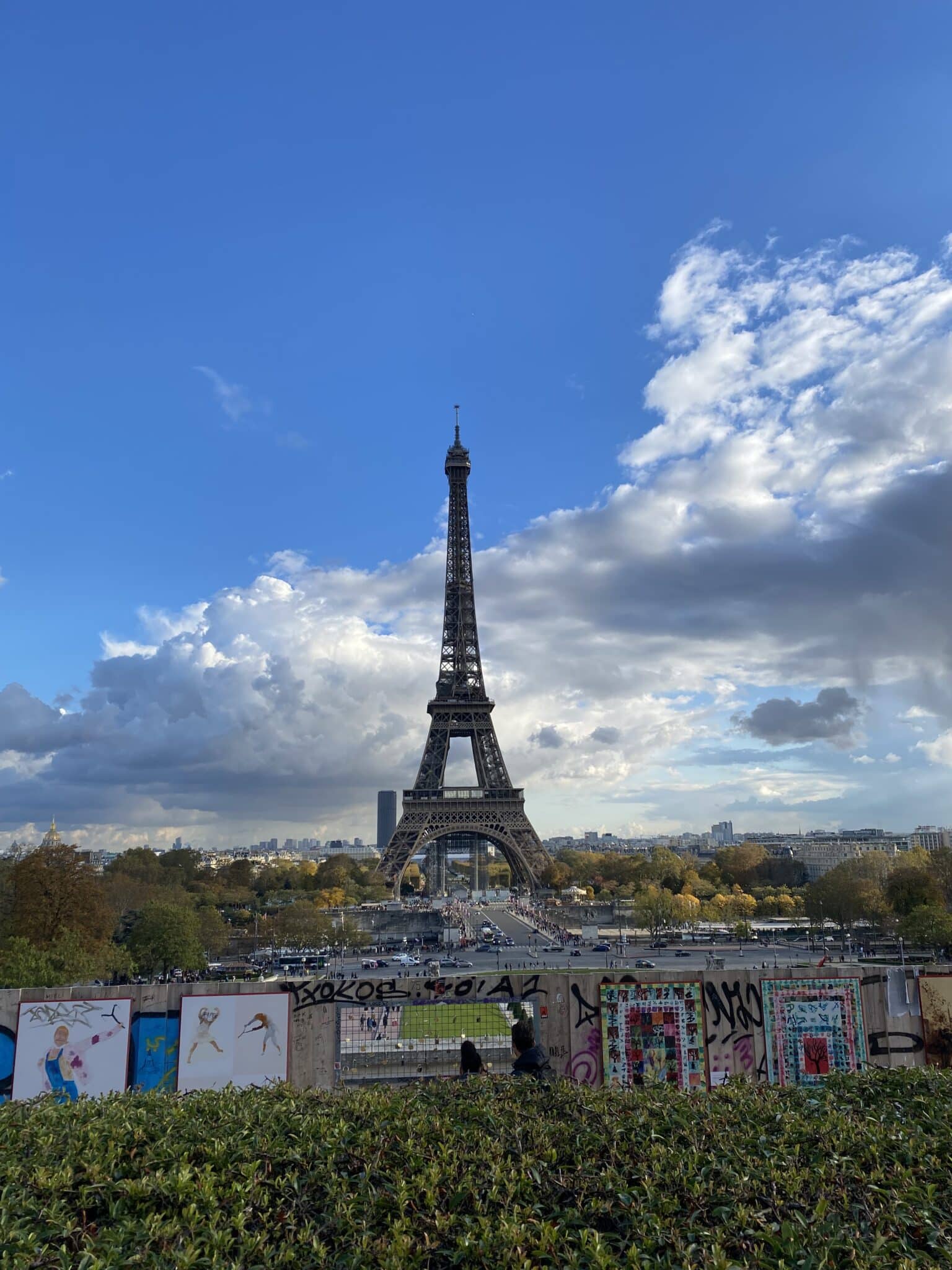 Where to Eat in Paris
It's no secret that Paris has some of the best food in the world. You can't go wrong with stumbling into a small hole-the-wall or jumping into a super long line (even if you don't know what it's for).
That said, you need to watch out for the tourist trap restaurants. The kind that do the bare minimum to appease the taste of tourists. We visited a couple of those. They weren't terrible, but not life changing. A lot of these restaurants have a ton of amazing reviews, so beware.
Do some research ahead of time to make some reservations at the best restaurants in Paris to ensure you get a spot, like Pink Mamma. We had the best luck with recommendations from our Airbnb host plus travel books (or travel guides) from publishers like Lonely Planet, Fodor's and Rick Steves.
How to Eat Like a Local In Paris
I'm not a local (obvs), but something I loved during my Paris travels was experiencing a new way of eating. First meal of the day is usually small. A coffee and croissant (or viennoiserie), tartine (bread and jam), an omelet with a side salad or nothing at all.
Because of this lunch is much larger than I'm used to. It's a full on three course meal starting with a small entrée (aka appetizer for each person), a plat (main course) with a glass of wine, followed by dessert with an espresso. Most restaurants offer a "set" menu where you get an option of entrée and main course with daily specials. As you can expect, this whole process takes at least an hour, usually more.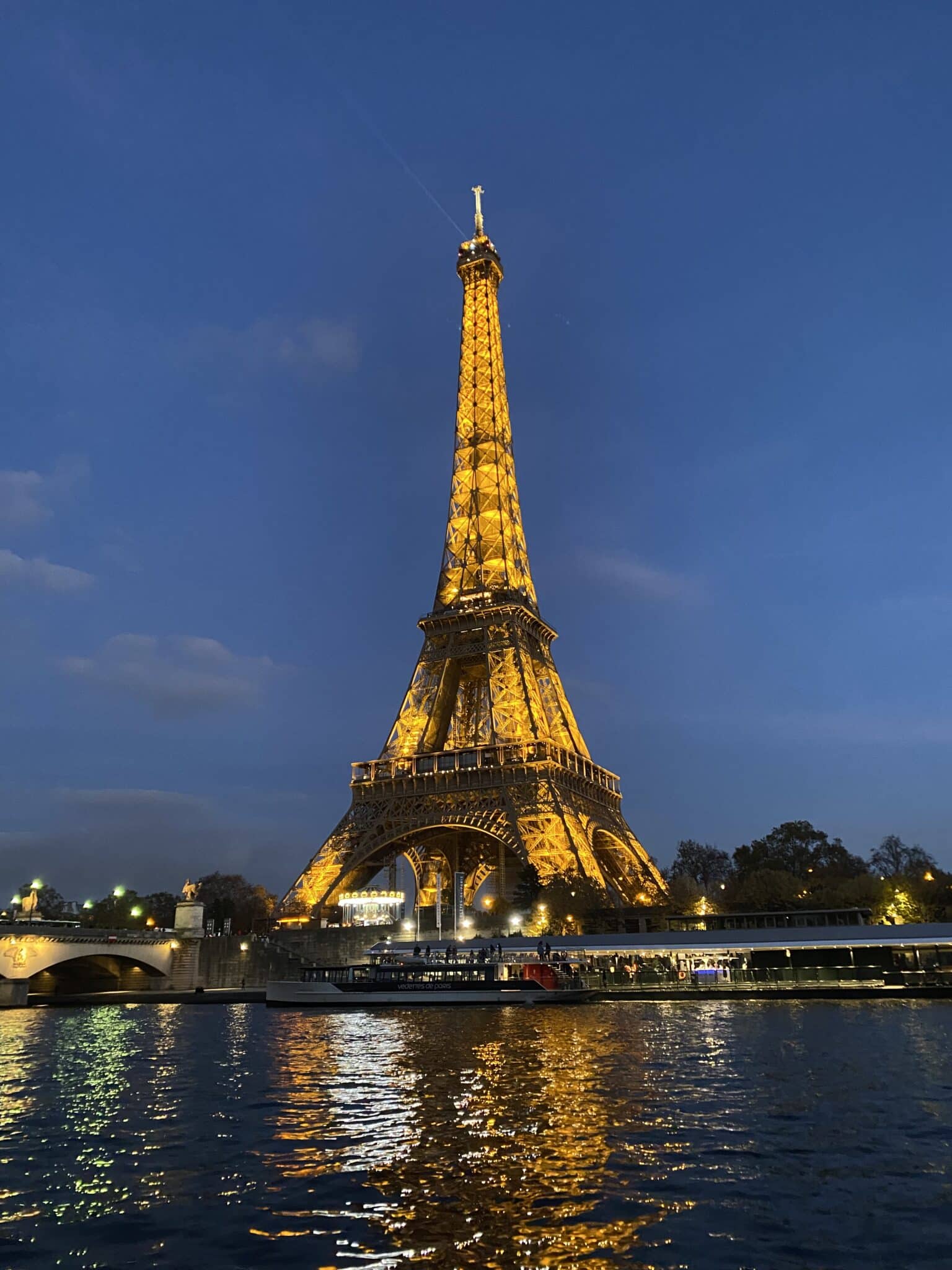 Now that you're completely full, you're ready for a late dinner where you repeat the whole process. Except swap the espresso for an apéritif to help digest your food. For us, we ate around 8 p.m. or later, but the restaurants really filled up around 9 or 10 p.m. as we were leaving.
What I loved about this experience was really savoring your meal. You're not rushed to order or finish, no one is staring at their phones and everyone is having lively conversations. I asked my boyfriend to translate some of the conversations, and it was so ordinary. A crazy story about work, how their day was going, or family was doing.
All that to say, eating in Paris is a worthy experience. Here's a compilation of places I visited where I had some of the best meals in Paris.
Coffee, Breakfast, Pastries and Dessert In Paris
One of my favorite activities in Paris was sitting on a patio with an espresso and croissant, or grabbing pastries to eat along the Seine or in Luxembourg Gardens. While you really can't go wrong with any place serving all of the above, here are the spots we loved.
Stohrer
In my research (read: TikTok), I found out Stohrer is the oldest patisserie in Paris. It was one of the first places we visited and I was awestruck by the kindness of the people working there. We tried their signature bake, baba au rhum. It was a bit too rummy for us, but the Chocolate St. Honoré was to die for.
Angelina
A classic stop for any Paris trip for macaroons and their famous "African" hot chocolate. If you want to sit in the beautiful tea room, prepare for a huge line and a long wait. I definitely think Angelina is a worthy experience if you have time! We took our Mont-Blanc and macaroons to go. There was no line, and we ate next to the Louvre pyramids. The signature pastry, the Mont-Blanc, is made up of meringue, chantilly and chestnut cream vermicelli. It wasn't my favorite, but I loved the pistachio macaroon.
Coffee Tip: Remember, when you order a coffee or "café," you're asking for a plain espresso. While all cafés might serve it differently, here's the general idea. Order "café allongé" for a larger espresso which is usually when longer shot is pulled, or it's slightly diluted with water. If you'd like it with a little milk it's a "café noisette" (coffee with a drop of milk). It comes either in or on the side of your espresso. For a bit more milk (or cream), try a "café créme" with a bit more milk or cream, or a "café au lait" which is half espresso, half milk (basically a latte). Whatever you do… don't order an iced coffee unless you see it on the menu.
Café de Flore
Tourist trap, yes? Worth it? Absolutely. We sat outside (in the not so cute area) and had croissants, coffee and hot chocolate. We loved it all! One of the oldest coffee shops in Paris, Café de Flore known for the famous writers and philosophers who visited back in the day. Same goes for its rival coffeehouse across the street…
Les Deux Magots
Yep, right next door, you'll get similar vibes, but Les Deux Magots was a staple for many other historical figures like Ernest Hemingway. We didn't get to stop and eat, but I definitely will visit next time!
Miss Manon
Yes, like Manon from the Great British Bake Off! I believe this might be a chain, but we popped in randomly to grab pastries to eat in Luxembourg Garden. We various patisserie from grabbed Miss Manon (including a raspberry, chocolate something that was to die for!) before heading to the Catacombs so they survived the Metro and time in my backpack, and were still fantastic.
Cafe Charlot
Another random stop! I loved the red accents on the patio awning and chairs at Cafe Charlot. I had a croissant (of course) and my boyfriend had tartine with coffee. The jam with the tartine was so yummy and servers were super nice!
Cafe St Regis
We visited Cafe Saint Regis on Île Saint-Louis because we were taking an early train to Versaille, and it was the only thing open within walking distance of our Airbnb. We loved the cheese omelet and enjoyed the most buttery croissants ever.
Breizh Café
The most life changing crepe ever. We stopped by late at night on a whim because it was supposedly the best crepe in Paris. We were hesitant because Breizh Cafe is a chain, but wow am I glad we did.
We ordered a crepe with banana, caramel and sugar topped with vanilla ice cream. That definitely doesn't sound as nice in English, but still. We tried to take it to go, but the chef/staff were insistent it needed to be eaten right away, and wow no regrets. I think about this crepe all the time.
Don Antonia
Located in the Canal de St. Martin is a small Portuguese bakery. Portugal is next on my list, so I definitely wanted to stop for some pastel de nata. Don Antonia also offers croissants and baked goods, but the regular pastel de nata was the best thing we had!
Lunch and Dinner In Paris
I'll be honest. I didn't research restaurants very well. I had the idea, it's Paris…there's a good place around every corner, and that's one thing I'd do a little bit differently if I was visiting Paris for the first time. To help, here's some places I visited and highly recommend.
Bistrot Richelieu
Near the Louvre, we were able to snag a table at Bistro Richelieu with a fairly short wait and tried some French classics: snails, onion soup and bourguignon. Everything was delicious, the staff was kind and the ambiance was nice.
Robert et Louise
Another top three meal in Paris! We discovered Robert et Louise in a travel guide left in our vacation rental. By far, it was the best experience of our whole trip. Greeted by this older gentleman (who we think was Robert or the owner), we didn't have a reservation, but he snagged us a spot at the bar.
He was so kind. Asking questions about ourselves and if we were enjoying our time in Paris. Mostly speaking to my boyfriend in French, but acknowledging me just as kindly. As we left, he ran outside after us to ask us if we enjoyed our meal and give us a "gift." Pins with the restaurant's name on it.
Robert y Louise is known for its fire grilled steaks, which I can confirm was one of the best steaks I've ever had in my entire life. It came with green beans, potatoes and dijon mustard for dipping.
La Fresque
A super random find in Les Halles where we had a fantastic meal. If I remember correctly, La Freque's menu changes daily. Unexpectedly, I loved the white carrot puree that came with my main course.
Le Petit Bouillon Vavin
This one makes my top three meals in Paris. We were starving after touring the Catacombs, and I had saved this spot from my research ahead of time. Everything at Le Petit Bouillon Vavin was unique and delicious.
Bouillon Chartier
One of the oldest restaurants in Paris, Bouillon Chartier, was a fun experience. I knew I wanted to visit a bouillon which is a traditional, cafeteria-like restaurant that serves French cuisine. To be honest, we chose Bouillon Chartier because the line was massive and we figured it must be good.
While we had the best experience (what I assume is a traditional bouillon experience), the food was so-so. I had the chicken and my boyfriend had the duck. Both were a little on the dry side. We shared a table with a French couple, one of whom had lived in Texas for a period of their life, and it was so fun to chat with them.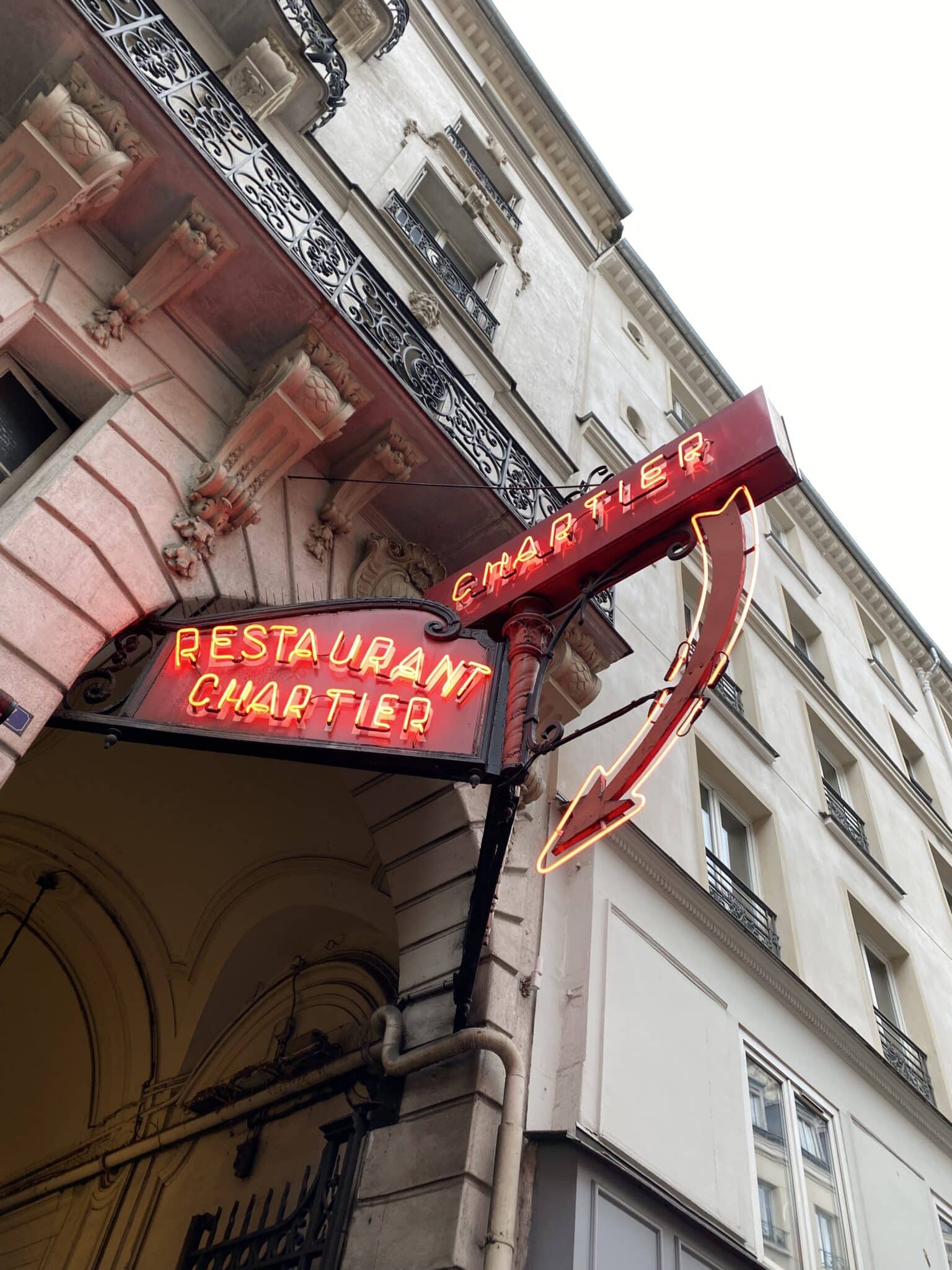 Chez Gladine
Another top three meal I had in Paris was at Chez Gladine Saint Germain. A recommendation from our Airbnb host, and within walking distance of our apartment, we visited after a long day of walking and weren't disappointed.
The restaurant features south-west, mainly Basque specialties. I had the steak and homemade chips (so good), and my boyfriend had the house specialty veal dish.
A lot of restaurants are called "Chez" followed by the name of what we can assume is the founder/owner. It simply means "at" so it's "at Gladine" like I'm at… or eating at. Gotta love the simplicity.
JanTchi
Something people often forget (myself included), Paris is a huge, diverse city with so much more than French food. We visited JanTchi, a favorite of my boyfriend's when he lived in the city, for some of the best Korean food.
Be prepared for a wait! We waited in line for 20-30 minutes outside. Once we got in, the staff was super nice and we loved the interactive Korean barbecue.
L'as Du Fallafel
There'll be a wait, but it's worth it. Your order is taken in line and prepped right in front you in a huge window, and handed down. We were blown away by how good L'as Du Fallafel was. While there was seating inside, it was packed so we walked around the corner to sit on a bench in a small park.
More Paris Restaurants, Cafes, Wine Bars & Ice Cream Shops
These are places I didn't visit so I can't promise they're any good, but are on my list next time in town to check out.
Itinerary Day 1 In Paris: Walking Day
For first time visitors, I recommend starting the weekend Paris itinerary with a day dedicated to getting your bearings. My travel philosophy: the best way to capture the vibes of a new city is to walk around, especially in the early morning to see people go about their days.
People rushing to work, taking their morning walks and grabbing coffee (or lining up outside their favorite boulangerie. It helps me to imagine what it'd be like to live there.
For this self guided walking tour of Paris, you must wear comfortable shoes, take breaks and just take what you need (you don't have to do it all!). This is an exhaustive (dreamy) walk around some of my favorite parts of Paris, jam-packed with some of the top sights, experiences and eats.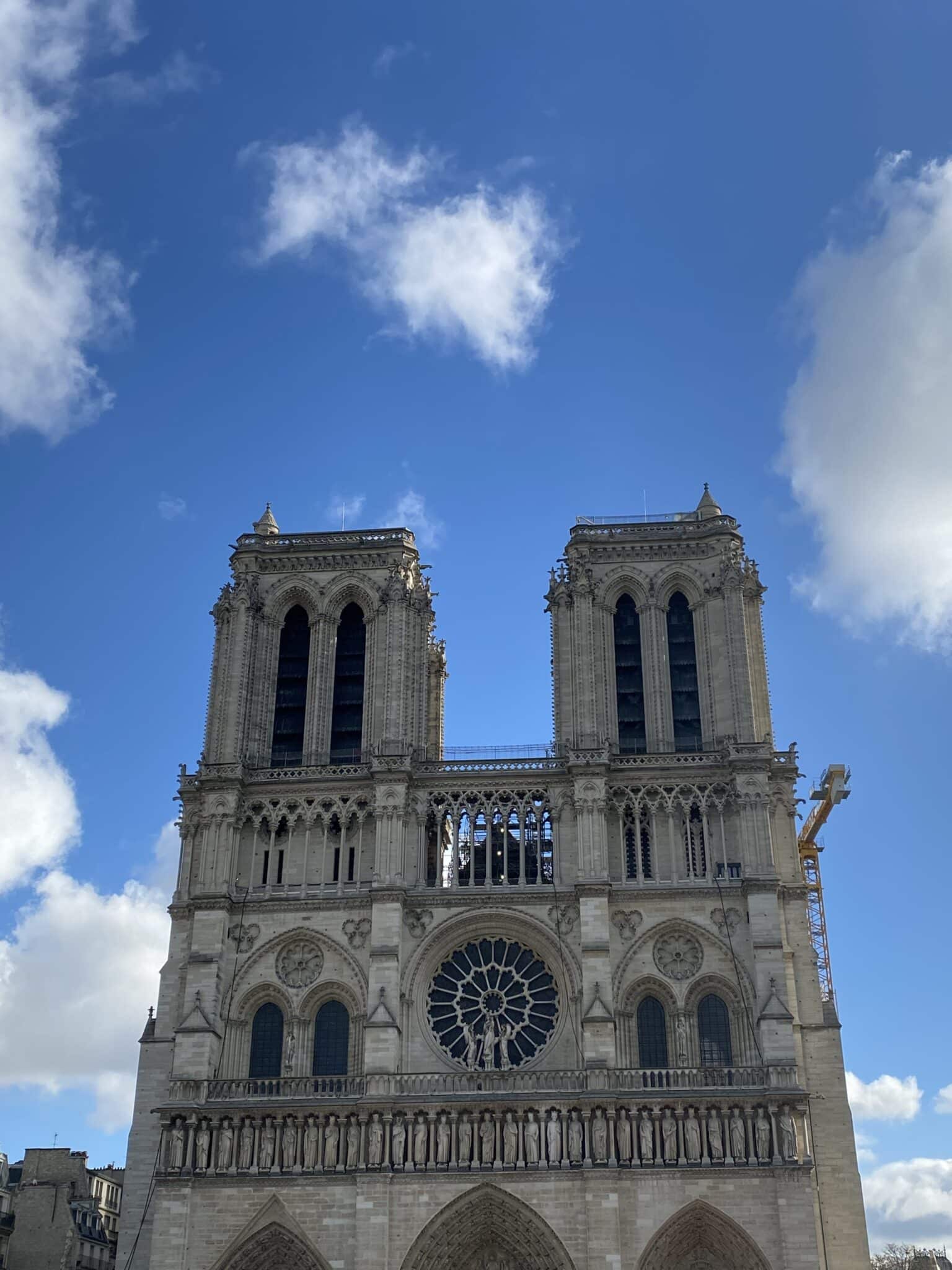 Café de Flore For Breakfast
Start with a classic, Café de Flore, for coffee, croissants and the famous special flore chocolate. We ordered three drinks for two people and our server was in disbelief because there was only two of us. He kept asking us, "trois?!"
Sainte Chapelle
Price: €11,50 (included in the Paris Pass!)
Head to the edge of the 1st arrondissement of Paris! Walk along the Seine to visit Sainte Chapelle (about a 16 minute walk from Café de Flore) with the ticket you got ahead of time, of course! 😉 Sainte Chapelle is a 13th century royal chapel in the Gothic style commissioned by King Louis IX of France.
Take in the beauty of the 1,113 stained glass windows (it's the most 13th-century stain glass windows in the world in one place!) before continuing down the Seine to Cathédrale Notre-Dame de Paris.
Cathédrale Notre-Dame de Paris
Notre-Dame is probably the most iconic building in Paris after the Eiffel Tower. The church sits in the 4th arrondissement of Paris, and is built in the French Gothic architecture style. It's beautiful, and towering in person.
Sadly, it was closed for renovations due to the 2019 fire, but it's still a sight from outside! And a classic photo spot. The inside is set to re-open in 2024, so fingers crossed they get done with renovations on time. Since being finished in 1290, the building has gone through a LOT of damage and renovation phases thanks to the French Revolution, World War II and other world events.
Shakespeare and Company
Cross Petit Pont and make your way to Shakespeare and Company! The famous, hole-in-the-wall bookstore and try to catch a peek of Aggie, the store cat. Attached to the bookstore is a coffee shop, so it's a great time to grab another! If you love bookstores (like me), venture around the corner to The Abbey Bookshop. It's also a great photo spot!
Ice Cream at Berthillon
Next cross Pont de la Tournelle, to Île Saint-Louis and grab ice cream at Berthillon which sits in the middle on the Seine on a little island. Eat in the iconic tea house, or take your ice cream to go and eat while walking on the island.
Explore Le Marais
Now take Pont Marie to enter Le Marais, which might be my favorite neighborhood in Paris. Make a quick stop for photos outside Hôtel de Ville. The most beautiful city hall I've ever seen. The Paris City Council has sat at Hôtel de Ville since 1357. The neo-renaissance building was rebuilt after it burned down during the Paris Commune in 1871, and features a replica of the Hall of Mirrors at Versailles. If you're up for it, you can also see the iconic The Centre Pompidou nearby. The iconic building (high-tech architecture) houses a museum of modern and contemporary art.
Bathroom Break: If you're drinking enough water (like you should be), you'll likely need a bathroom break here and there. Self-cleaning public bathroom vestibules are available throughout the city as well as in certain parks. I used a couple, and they were clean enough! If you're skeptical, be sure to use the bathroom while visiting restaurants or cafes.
Falafel In The Jewish Quarter For Lunch
Time for a lunch break! I highly recommend grabbing falafel in the Jewish Quarter, also known as Pletzl. We waited in line for L'as Du Fallafel and took it around the corner to Jardin des Rosiers Joseph Migneret. It was phenomenal.
Another idea is one of the many lunch options at Marche Des Enfants Rouges. We wandered around there for a bit and I don't think you can go wrong with any of the choices. It's been a long day, so definitely head back to your hotel or Airbnb (via Metro!) for rest if you're feeling tired.
Sacré-Cœur de Montmarte
But if you're trying to make the most of your time in Paris, the next stop is: Montmartre. From Marais, you'll need to hop on the Metro, and will likely have to switch trains, but it's a good time to find a seat to rest a bit.
Head to Sacre Coeur for the best views of Paris. Directly translated to Sacred Heart, the Basilica of Sacré Coeur de Montmartre or Sacré-Cœur Basilica is a Roman Catholic church with the most beautiful interior.
Prepare yourself to walk up many, many stairs to the top, or opt for the gondola ride up. We took the stairs up and the gondola down. Once at the top, expect crowds and a quick bag check, but entry is free. Walk around the basilica for the most stunning art and design. Remember to be respectful (including what your wearing!) Sacre Coeur is a place of worship, and services are held regularly.
While I didn't catch any signage on dressing modestly, it's good practice to cover up when visiting Paris churches.
Moulin Rouge
Show Price: €90 – €200 (buy tickets here)
Next, we're heading somewhere quite different: the famous Moulin Rouge. Yes, that's a movie, but it's based on the very real Moulin Rouge cabaret. The first building was built in 1889, and after a fire in 1915, a second was built. It's famous for a huge red windmill and epic shows inside.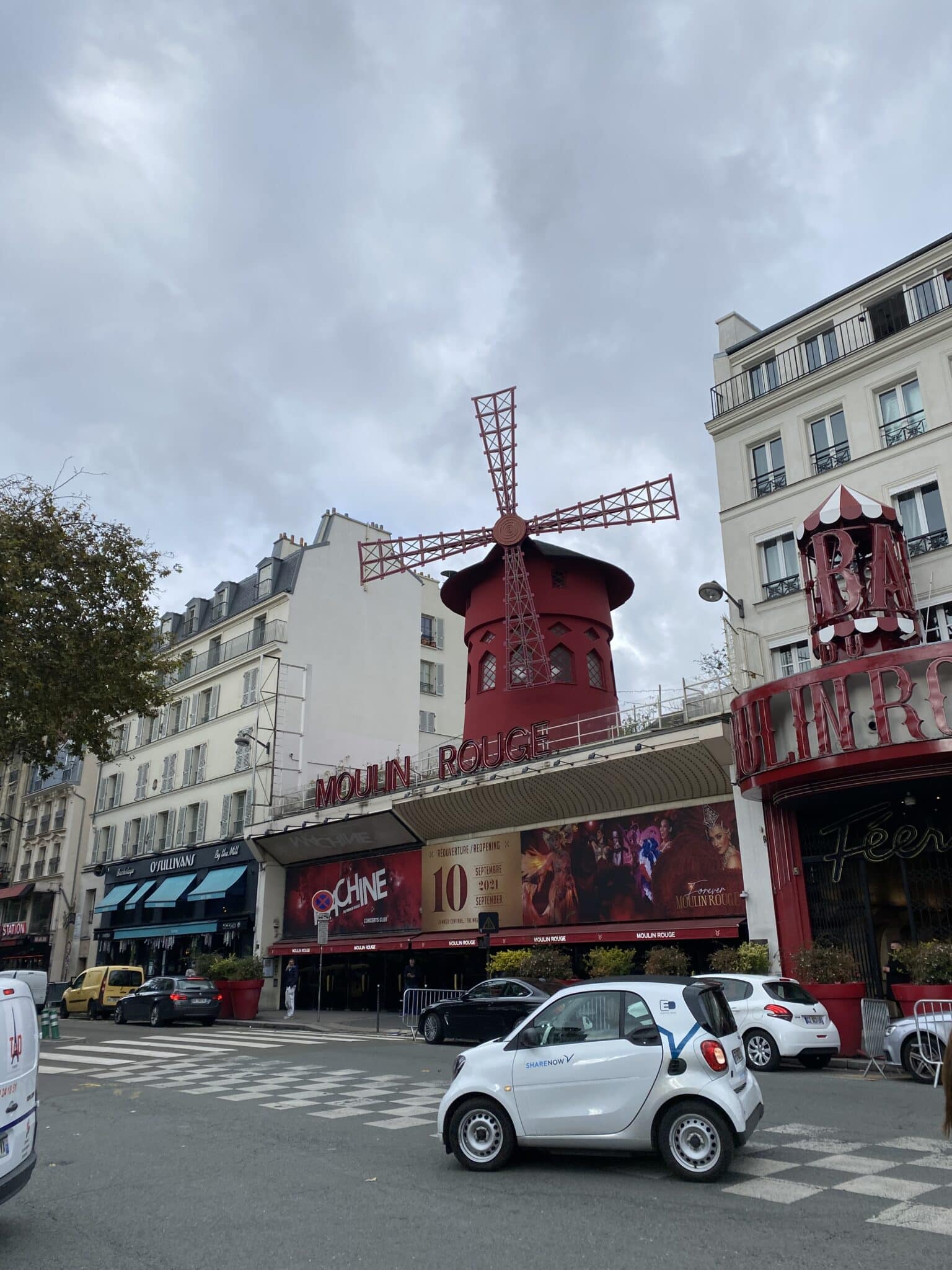 You have two options. You can go all in and attend a show (grab tickets here) or you can stop by for a quick photo during the day or night. We visited during the day and it wasn't too crowded in the main photo spots. Nighttime offers a whole different vibe. The windmill glows and you can see it from a few blocks away. Either option is a fun for photos if you wanted to swing back later in the night, or before a show.
Pro-Tip: If you can't swing a Moulin Rouge show, consider a show at a smaller theater or cabaret. Yolo!
If you want to grab a drink or early dinner, there's a couple notable restaurants in Montmartre: La Maison Rose and Pink Mamma. We tried to squeeze in at the bar at Pink Mamma, but the wait without reservation was 1-2 hours.
Arc de Triomphe + Ladurée
Monument Price: €13-20 (or included in Paris Pass!)
As it gets later, take the Metro back towards the city center to Arc de Triomphe, another iconic Paris monument. You can stand on the viewing deck at the top, and visit the Tomb of the Unknown Solider.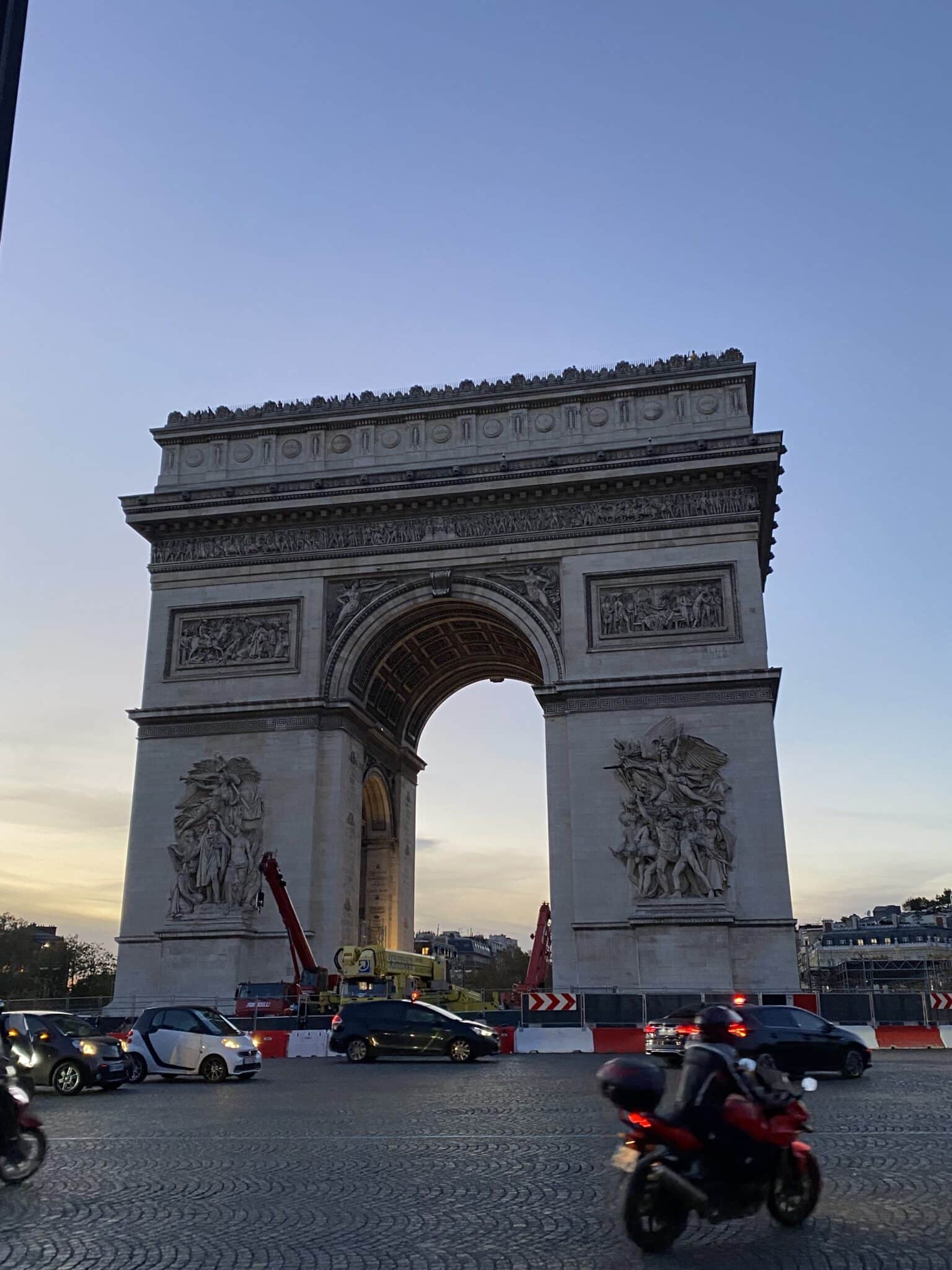 As you're walking down Champs-Élysées towards Place de la Concorde, swing by Ladurée for a little treat. Ladurée is a famous bakery that Kara swears has the best French macarons on the planet. She recommends the Marie Antoinette flavor, and I will be stopping by next time!
If you can find a bike rental, grab one to bike along the river and cross Pont Alexandre III towards the Eiffel Tower (aka Tour De Eiffel). There will be other tourists here but find a cozy spot to watch the tower as the sun sets and lights up while sitting either down at the river bank or across the street at the Trocadéro Gardens for the best views.
PS – want to see the Eiffel Tower sparkle? For 5 minutes on the hour, every hour, from nightfall to 1am, the tower sparkles. Nightfall time will vary based on what time of year you visit!

Itinerary Day 2 In Paris: Pont Des Arts Bridge, Louvre Museum, Rue Mouffetard
Pont Des Arts Bridge
Grab a solid breakfast before a big day at the museum, and beat the crowds to visit the Pont Des Arts. This bridge is famous for views and love locks. While there's no longer any love locks adorning the pedestrian bridge, it's beautifully framed by glass walls for great views of the Seine River.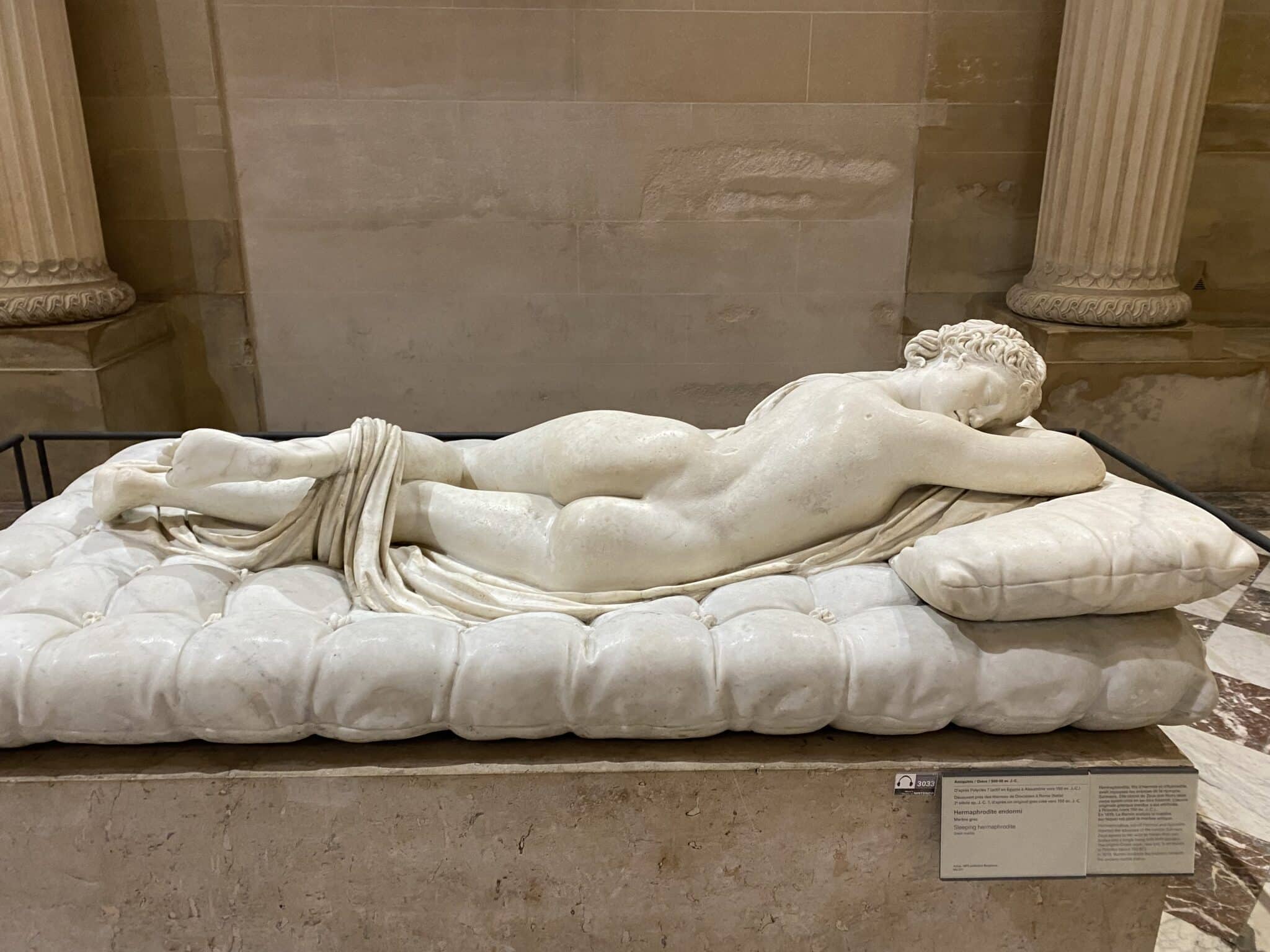 The Louvre
Museum Price: €17 -15 (included in the Paris Pass)
How big is the Louvre? Ginormous. It's the largest museum in the world, and it can be pretty tiring to visit. There's only two ways to do it, but first be sure to buy your ticket in advance (like before you fly in). The museum books tickets by time slot.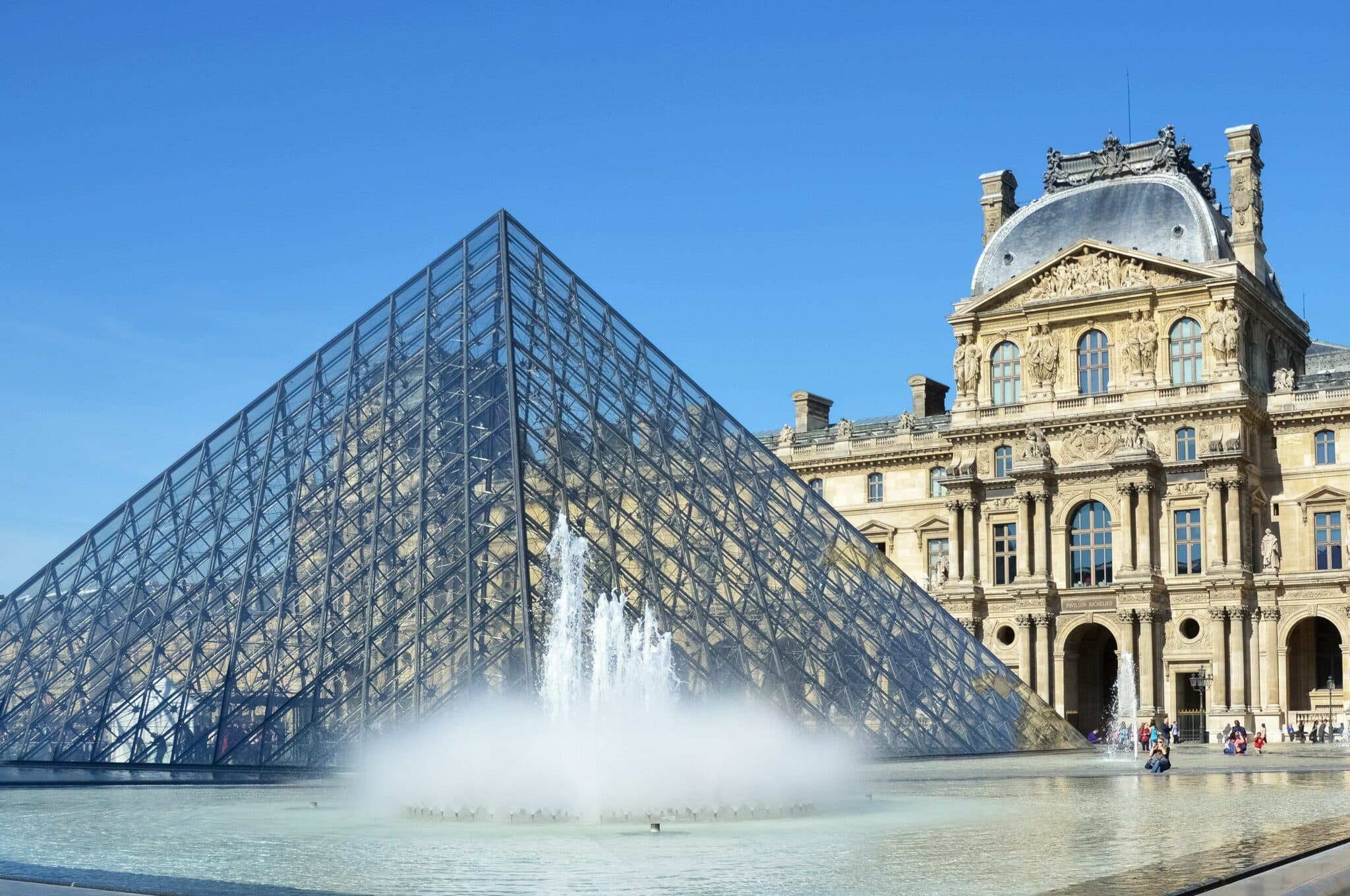 We bought our tickets only a day in advance and the only time slot available in the evening. We only had about an hour or so to explore, and were only able to visit one wing before it closed. That's why I say there's only two ways to do it…
The first is extensive research to determine exactly you want to see and map it out exactly. It's really easy to get caught up in an exhibit, or get lost on one of the lower levels and miss the second floor completely.
For example, if all you care about is seeing the Mona Lisa. Do that first and make your way through other exhibits with the time you have!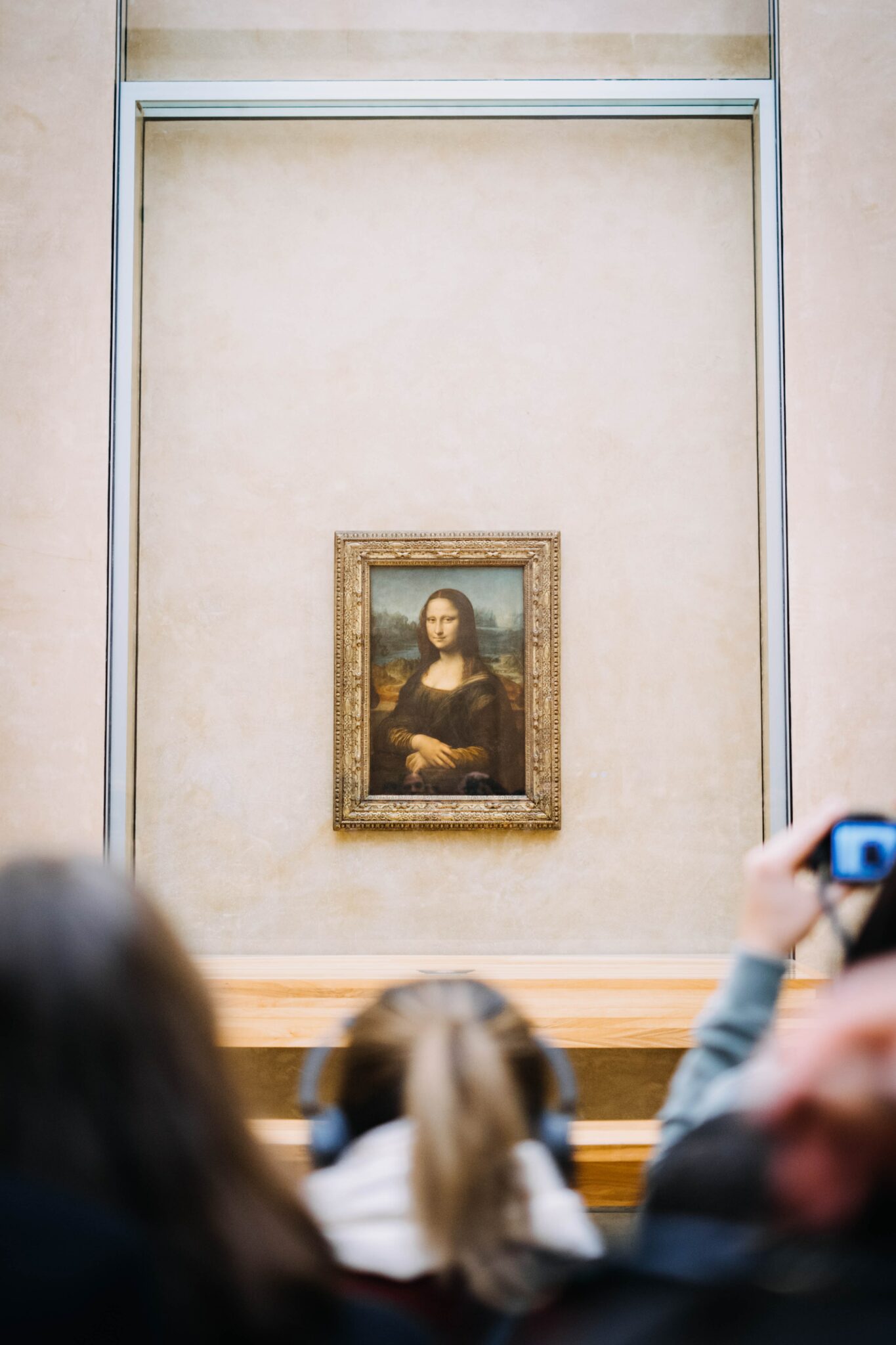 The second way to visit the Louvre is going first thing in the morning and giving yourself the entire morning to walk leisurely with a map in hand. That's what I recommend.
Still make sure you prioritize what you want to see, and then work your way around. Everything in the Louvre is worthwhile to see, so you can't lose. Say hi to Mona for me!
Rest At Palais-Royal Garden + Café Kitsuné
After a few hours inside, spend time just outside the museum in the Palais-Royal Garden. Kick up your feet and sit around the fountain (like Emily in Paris) and enjoy the sun. If you need a coffee, there's a few places surrounding the garden, but we had Café Kitsuné.
Gallerie Vivien
Next, take a short walk to Gallerie Vivien. It's like a hidden alleyway, but It's a mall. The most beautiful outdoor mall ever. I loved the little bookstore (of course) and there's lots of great stores for some souvenir shopping.
In this area, I recommend a relaxing classic french lunch at Bistrot Richelieu. Get your fill on wine and French cuisine before heading home for a nap break.
If you're up for it, head to Palais Garnier. An Italian-style opera house built in the 19th century and one of the most beautiful places I've ever been. Spend about an hour exploring the opera house and if you're lucky, catch a bit of dress rehearsal.
Jardin d'Acclimatation
Ticket Price: €7 (single ticket) – €40 (unlimited pass)
Before it gets dark, entertain your inner child at Jardin d'Acclimatation, a small amusement park in Paris. Ride the picturesque les Chaises Volantes (aka the flying chairs).
Visiting Paris in the summer? Join the locals at Square du Vert-Galant (near Pont Neuf, it sits the tip of the island where the Notre Dame cathedral is located) to watch the boats go by or dance with strangers at Tino Rossi Garden. It's marked simply as "Dance" on Google Maps.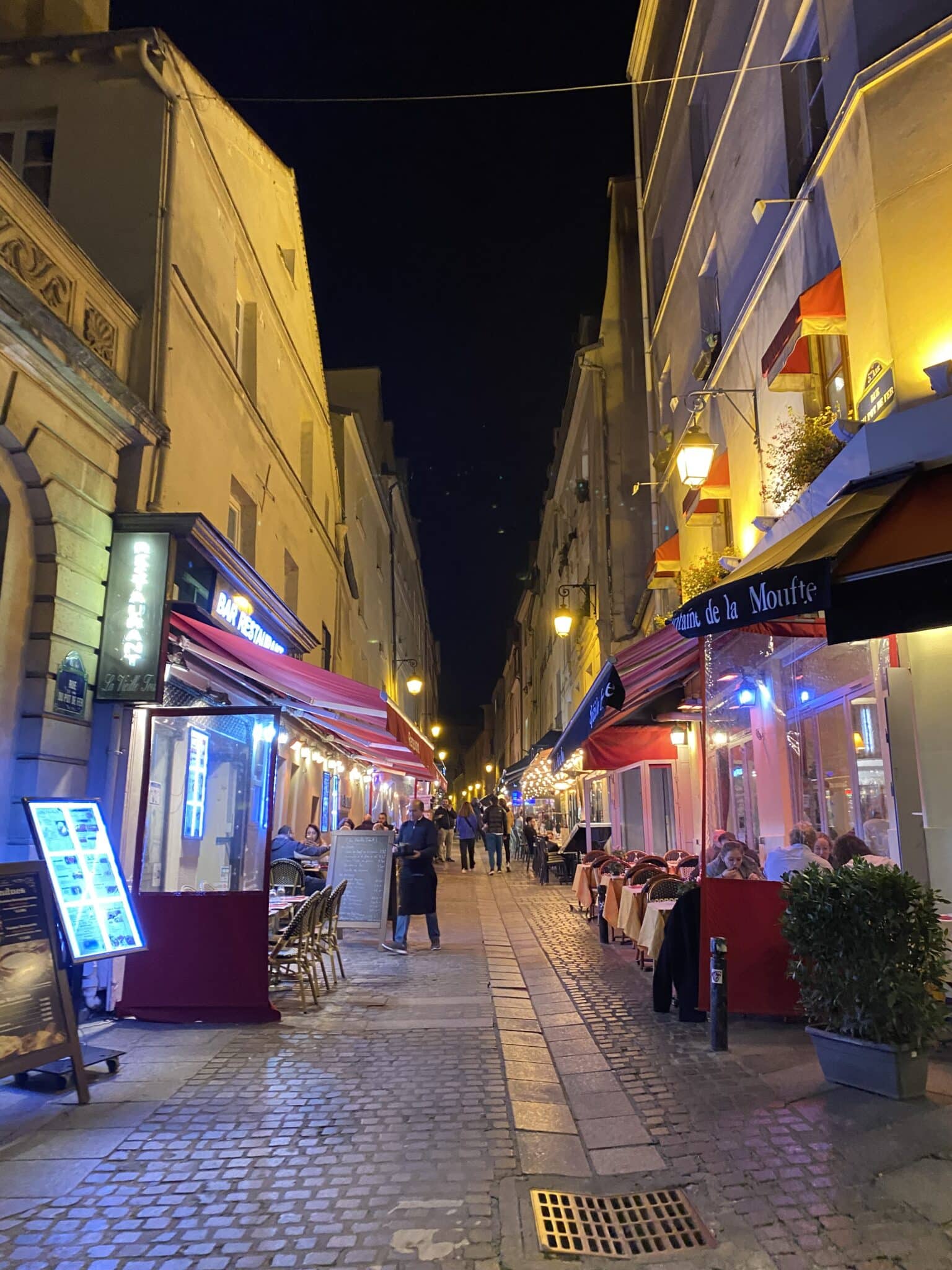 Rue Mouffetard
To end the day, visit Rue Mouffetard in the 5th arrondissement. It's a street with an abundance of restaurants and bars with a lively nightlife. I had the best crepe with Nutella, banana and almonds at a random walkup. I loved it so much, I recreate it on the regular at home. It's also near the Pantheon, so you can take a look at it in passing by!
Itinerary Day 3 In Paris: Choose Your Adventure
At this point, you've seen most of the main points of interest, but you might have passed something you want to revisit. Today is the day to do it! Need inspiration?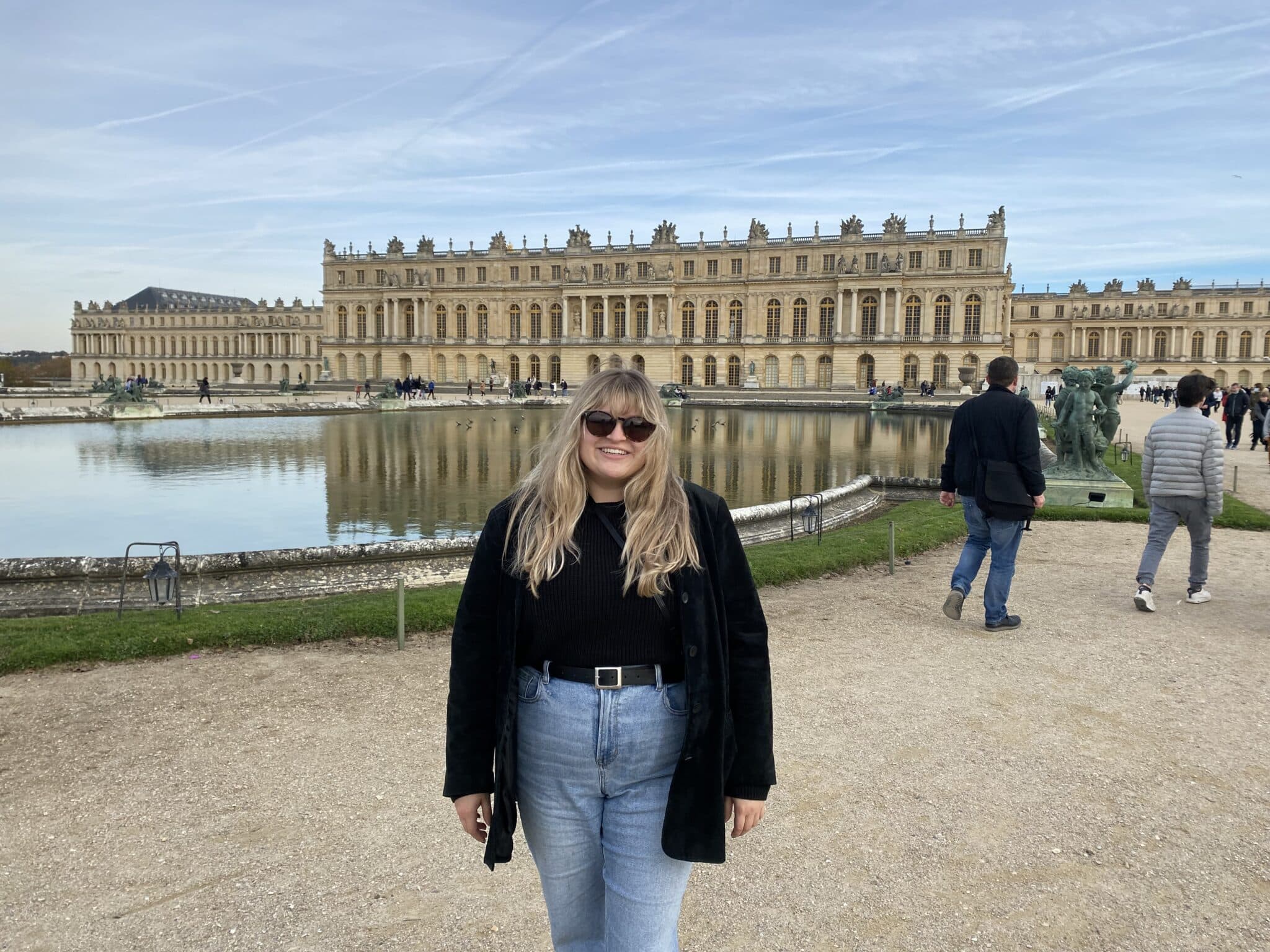 How to spend an extra day in Paris:
The final recommendation I have is visiting the Luxembourg Gardens before it gets dark with coffee or hot chocolate, pastries and a book. Do some people watching and relax before a long day of travel!
More Tips for Traveling to Paris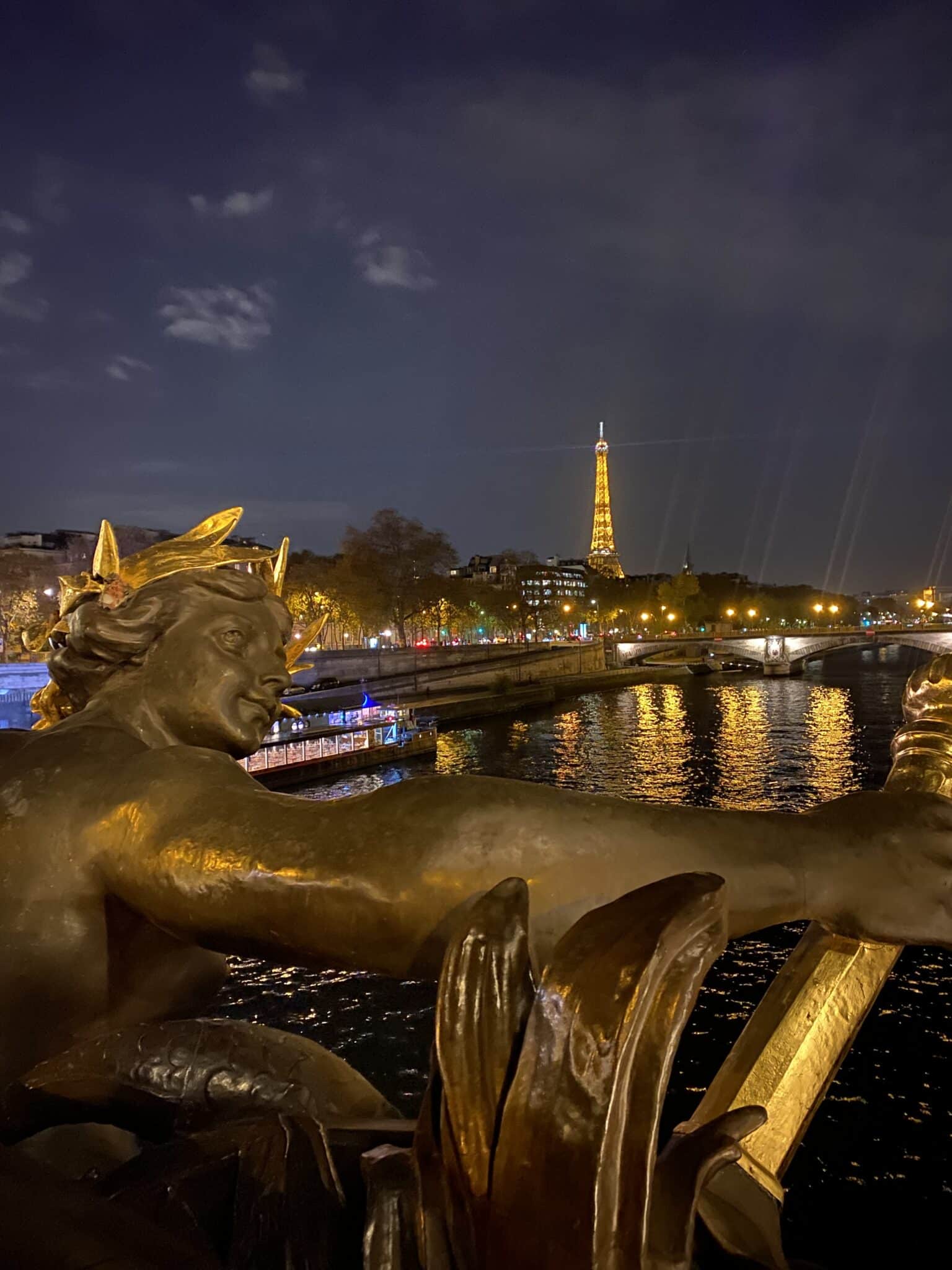 Are you taking a quick trip to Paris or visiting Paris first time? What travel tips would you add to the perfect Paris day itinerary? Drop any questions or tips in the comments!