If fairies lived in Oregon, their capital would be Wildspring Guest Habitat.
This serene hotel made of 5 cabins is tucked on acres of towering 100+ foot trees, huge ferns, small foot trails and lots and lots of fairy houses and circles (the later the owners installed.) Come take a peek inside this beautiful & unique hotel that should be on your Oregon bucket list!
Wildspring Guest Habitat Review: Inside This Magical Oregon Coast Hotel
>> Got a question about these cabins or Oregon that you need answered quickly? DM me on Instagram @thewhimsysoul and I'll be happy to help!
About Wildspring Guest Habitat in Port Orford, Oregon
Robin and I were on a road trip around Oregon a couple of winters ago. We started in Mount Hood and after getting my fill of snow, drove down to the South Coast for a few days of seafood, cheese-eating and beach biking.
We spent a night at the Wildspring Guest Habitat and holy moly – I had no idea what to expect but this place blew me away. It's now one of my favorite hotels in all of the United States (which says a lot since I run a travel blog after all!) and I recommend it to anyone traveling along the Oregon Coast.
There's little fairy circles and houses tucked around the property. You could feel the magic of the forest here.
As you can see from my photos, this hotel has a naturally beautiful environment. You can barely hear traffic here and the sound of birds chirping cover any sound a loud truck may have anyways. The cabins are spaced nicely out so you aren't too close to each other, though we had the accidentally luxury of being the only guests on the property the night of our stay.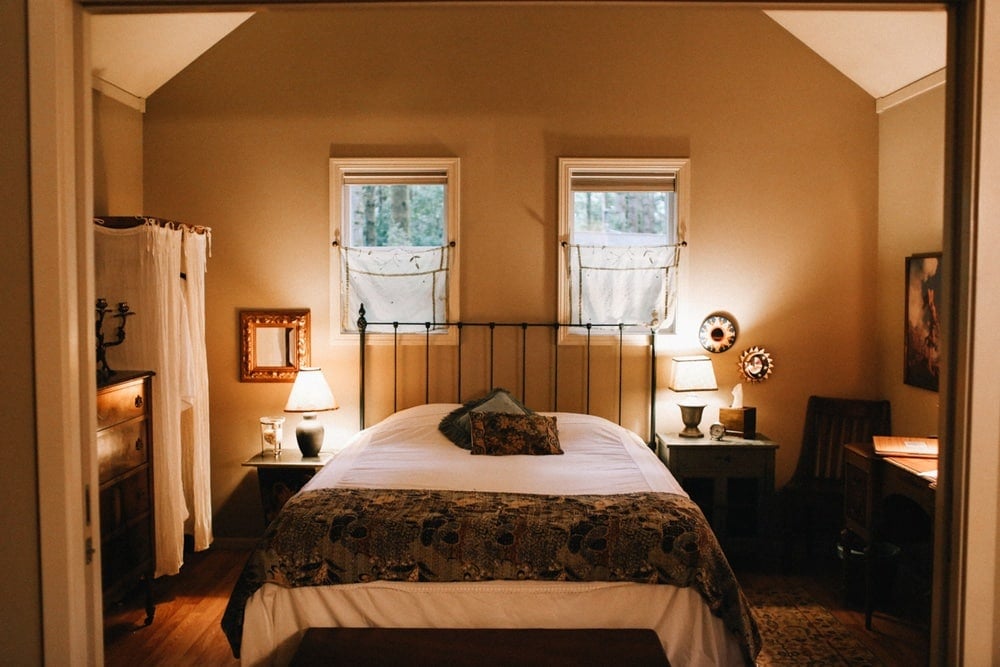 The cabins are large and cozy, with a sitting room, bed area and a nice modern bathroom equipped with cozy robes. Each room comes with a TV that has a DVD player which is handy since there's an onsite guest hall that's filled with over 600 DVDs. Robin and I picked out a couple to curl up and watch that evening after dinner.
There are a few small trails winding around the forest floor that lead up to the hot tub. One of my highlights was soaking in the hot tub while looking at the ocean views. If you are visiting in 2020 / pandemic times, reserve your timeslot for the tub ahead of time. I recommend an early morning soak to start the day or even a twilight one to stargaze.
I made one big mistake on our visit to the Wildspring: I didn't want to leave and wish I had packed us a picnic dinner so we could have enjoy dinner under those towering trees. Instead, we ventured out to Port Orford to a local diner. If you are coming here, I highly recommend you bring dinner along (there's a fridge in your room for perishables, or use the kitchen in the guest gall) because you will not want to leave!
There aren't many Port Orford hotels or vacation to begin with as it's a small seaside town. Up the coast, about 20 minutes is the town of Bandon, which is larger and has a lot more lodging options along with some fantastic things to do, but trust me I say the drive down to Wildspring Habitat is worth it.
Wildspring Guest Habitat Amenities
Private cabins with sitting rooms, bedroom, bath
Hot tub with ocean views
Guest hall with seating, games, DVDS & books
Complimentary breakfast
Complimentary juices & chocolate
Pet Friendly (dogs)
Free parking
Walking labyrinth
Robes
In-room fridge
TV with DVD player
Spa
Where to book:
you can book directly on the hotel website or
on Airbnb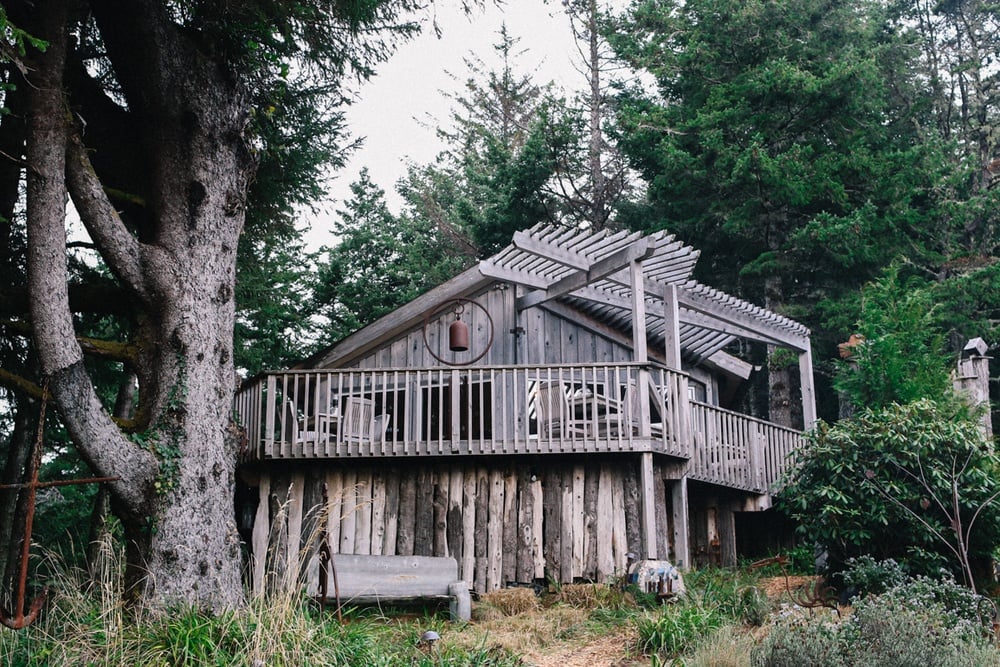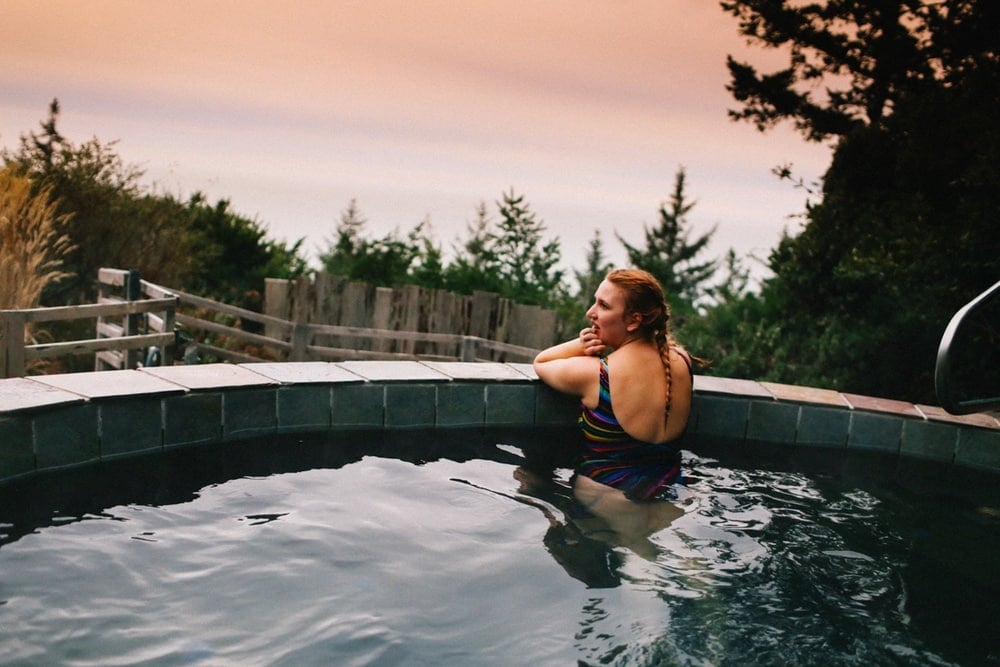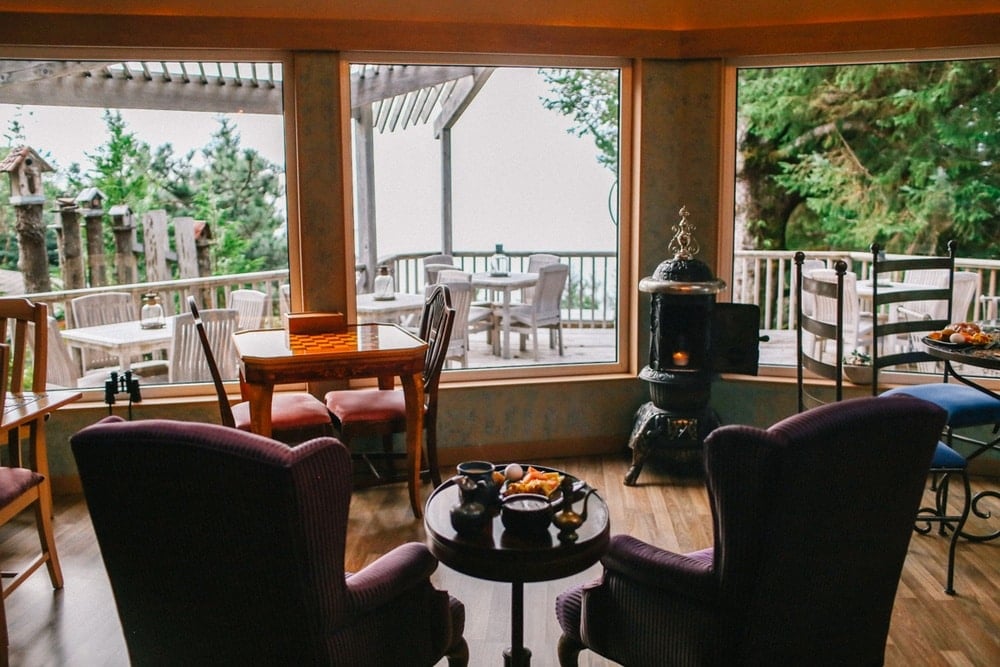 I hope this helps convince you that Wildspring Guest Habitat is the best (and most magical!) of the Oregon Coast resorts. This is absolutely a spot we want to come back to again in the future – this time I would book us a spa treatment for ultimate luxury, and of course, bring a picnic dinner.
Got your own reviews to add? Leave a comment below so everyone can see! Got questions about this beautiful hotel / Airbnb? Drop them below or DM me on Instagram @thewhimsysoul and I'll be happy to help!