Picnic season is upon us!! After living in San Francisco for almost a decade where picnics are a staple of the local culture, I'm a wee bit of a picnic expert. And I have a LOT of cute picnic outfit ideas to share (including a literal whole bin in my closet full of dresses, sweaters, blankets and baskets to wear myself)!
From whimsical cottagecore spreads in flower fields to chill sunny days with rosé in the park to bonfire hangs on the beach, here's exactly how to dress for picnics based on your personal style (or the theme your group has picked!)
Picnic Staples
Before you get to picking the perfect picnic outfits, finding picnic staples is super important. Some quick tips from a picnic date expert: select a durable picnic basket and find some super cute non breakable glasses.
And don't forget to find a cute picnic blanket- if you're working on a budget, thrifting is a great way to cut costs on these items. I also have some of my favorites picked out that you can check out here.
10 Picnic Outfit Ideas for All Style Types
Cottagecore
This romantic aesthetic embraces a more natural looking style with ties to nature and vintage vibes. A lot of this style includes floral dresses, sweetheart sweaters, and a pair of t-strap or mary jane shoes. Planning cute picnic outfits- especially if you're shopping picnic fashion for the spring or summer, cottagecore has many trends that parallel the sunny weather and blossoming parks.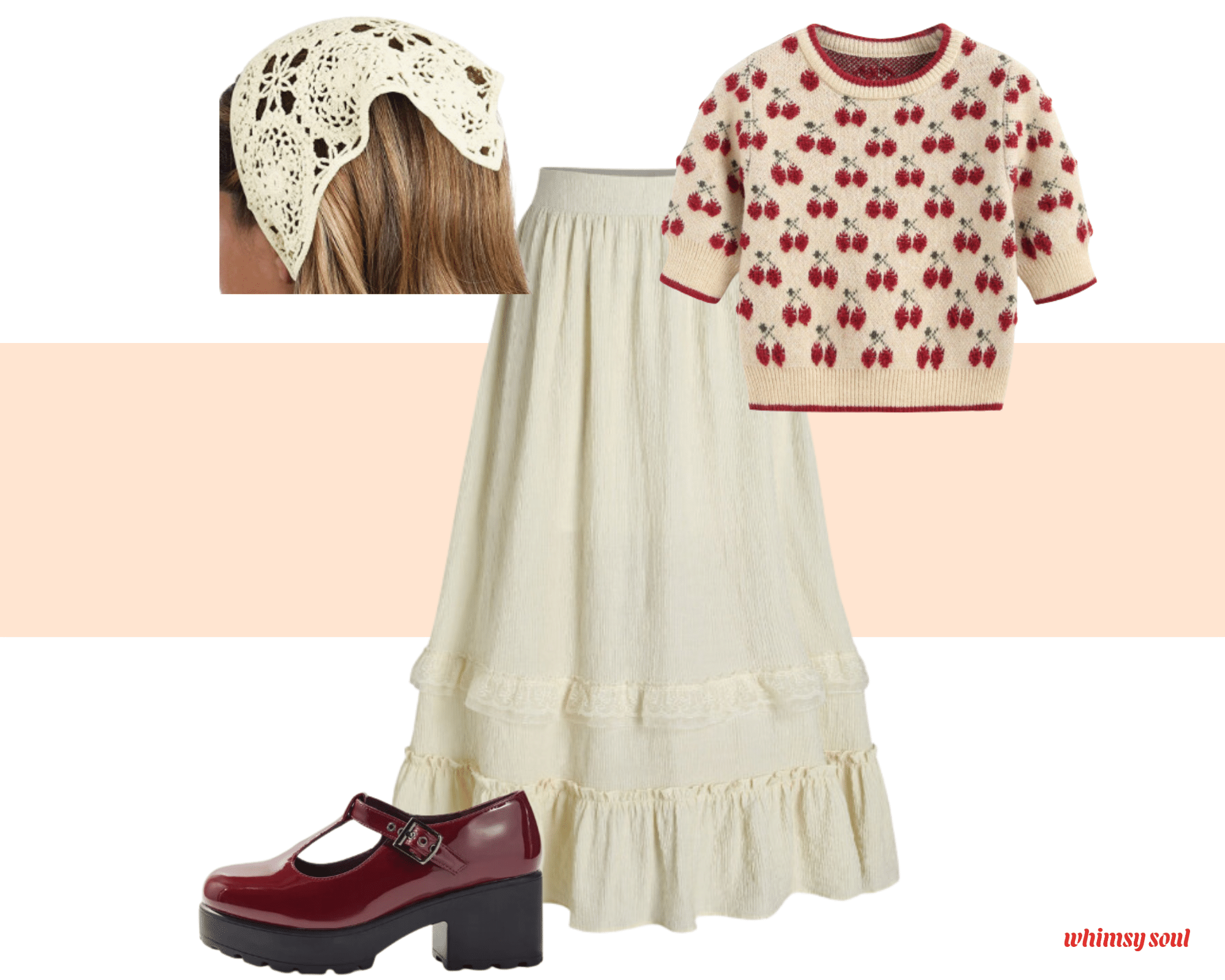 I love this cherry patterned sweater– its fruit knit pattern is cute without being cutesy. And its neutral base makes this a fun pair for everything in your closet.
When it comes to cottagecore you can't forget hair accessories- these knitted bandanas are a really cool twist on the silk hair scarves we've seen recently. They're such a quick and sweet accessory to every picnic attire.
To top off your cottagecore fit, a tiered maxi skirt is the best choice. Cider has a great collection, but I especially love this ruffled maxi skirt. It gives romantic vibes and who doesn't love a little ruffle in their skirt.
Or if you feel more comfortable in pants, I'm living for the floral pattern of these wide leg pants. They really balance the line of being a fun statement piece for your picnic date outfit and being a cool way to dress up a crop top or graphic tee.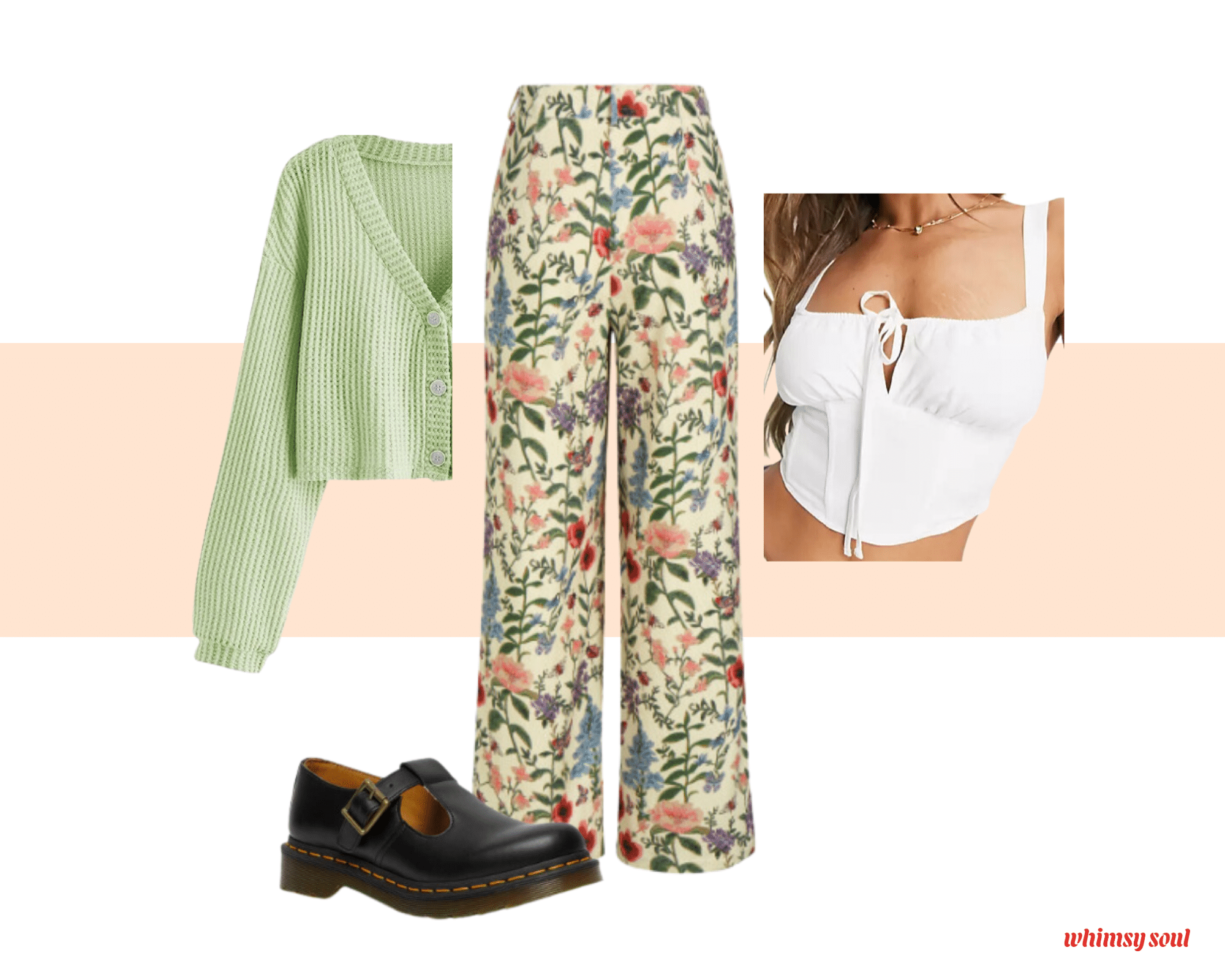 I also can't get over this cute cropped sweater– its knit pattern and pastel colors are everything this spring.
Classic
Searching for a more constant staple based style, classic fashion is always a great choice. It's a style that functions around closet basics that are easy to mix and match to make some great looks.
A huge part of classic style is finding well made individual pieces that'll stay with you and your closet for years. This means everything from a simple sneaker to a tailored blazer. The great thing about classic style is that it works around things that you already have in your closet.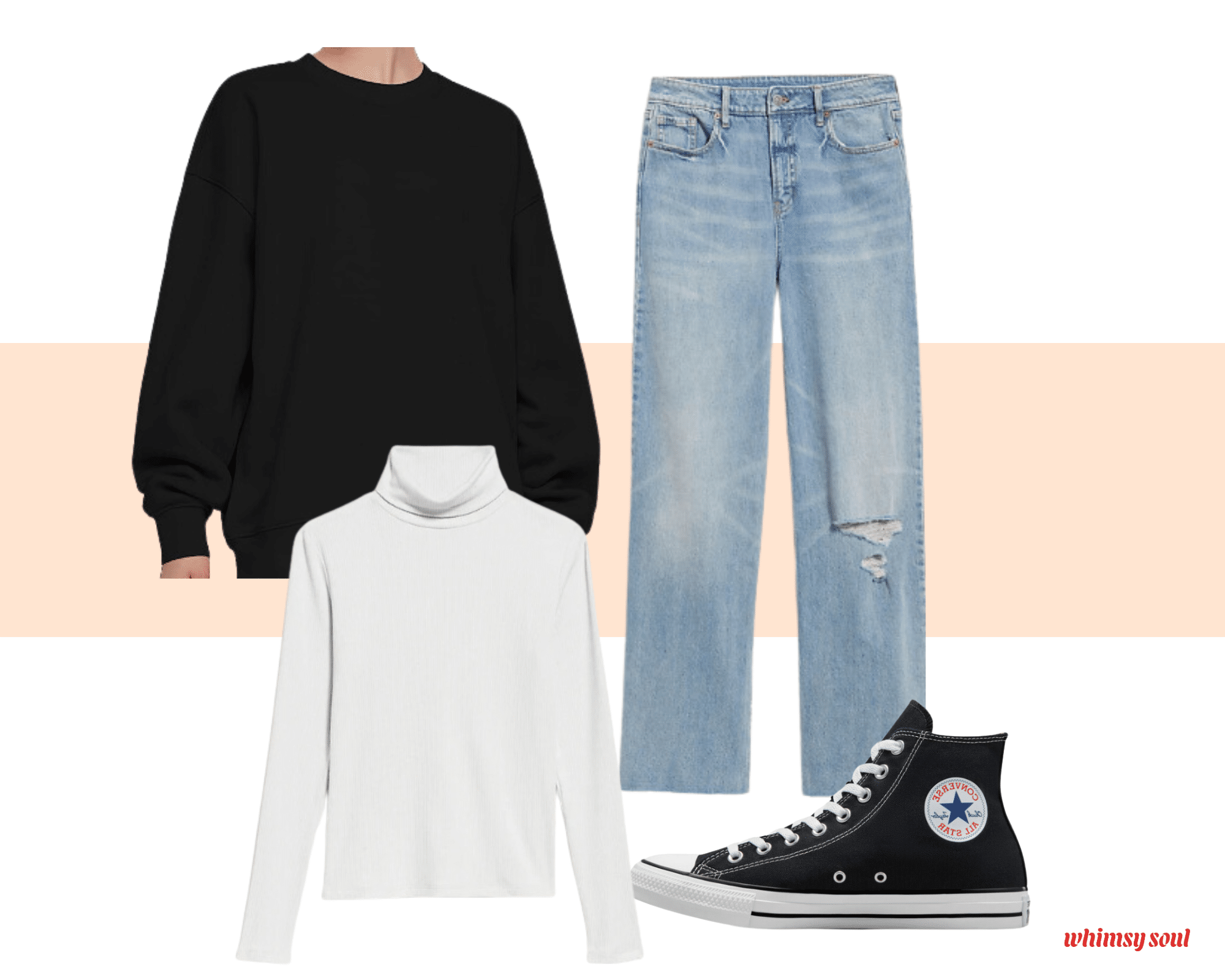 Some of my favorites are of course the classic converse– basic styled sneakers like this become fashion essentials because of how easily you can pair them with every look.
A pair of wide leg jeans are another staple. I love this pair from Old Navy- they're great quality and the wide leg cut allows for better movement and a taller look.
Another great example of classic fashion and prime piece for your picnic clothes is this ribbed turtleneck sweater. It's simple style makes it undeniably great to layer with, and super cozy in the cool spring air.
For anyone looking for more androgynous pieces of unisex options in this fashion style, shop this unisex oversized blazer. Its laxed cut makes it an incredibly versatile piece that makes it what to wear on a picnic date or- choosing to style it with a simple tee shirt- what to wear on a picnic with friends.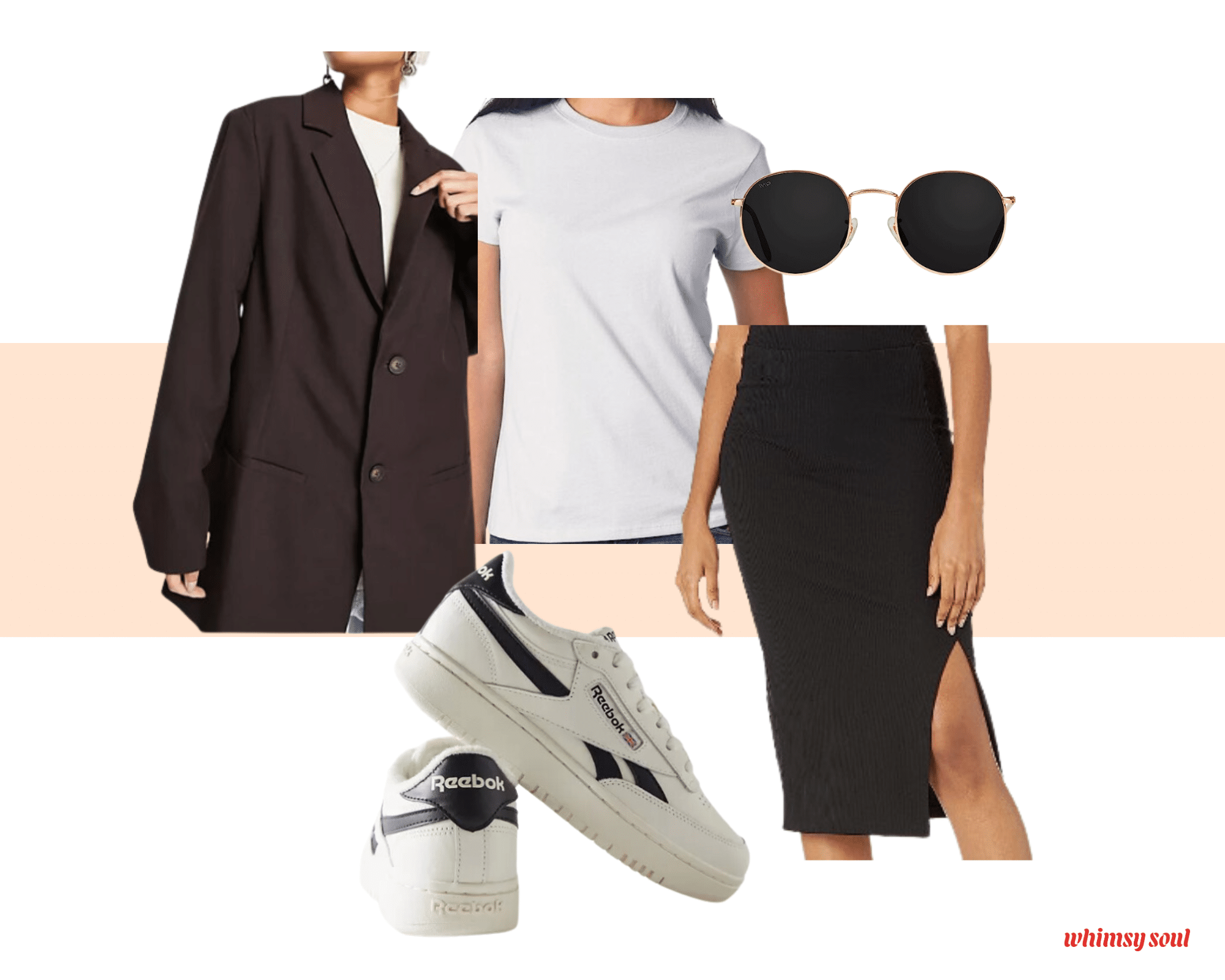 The Drop midi skirt is another staple of the classic style. It's a great piece that can be paired with anything. I especially love the little slit this high waisted skirt has, it makes this timeless piece a little more unique.
Coastal Grandma
A chic approach to the relaxed style that so many of us live for. Coastal grandma vibes are heavily saturated in the straight leg pant cut and masculine layered top. Think Diane Keaton in any film she's ever been in.
This style balances New England trends with beachy vibes- featuring lots of light material pieces (like linen shorts and button down shirts) with contrasting heavier clothing picks- mostly sweaters and quarter-zips.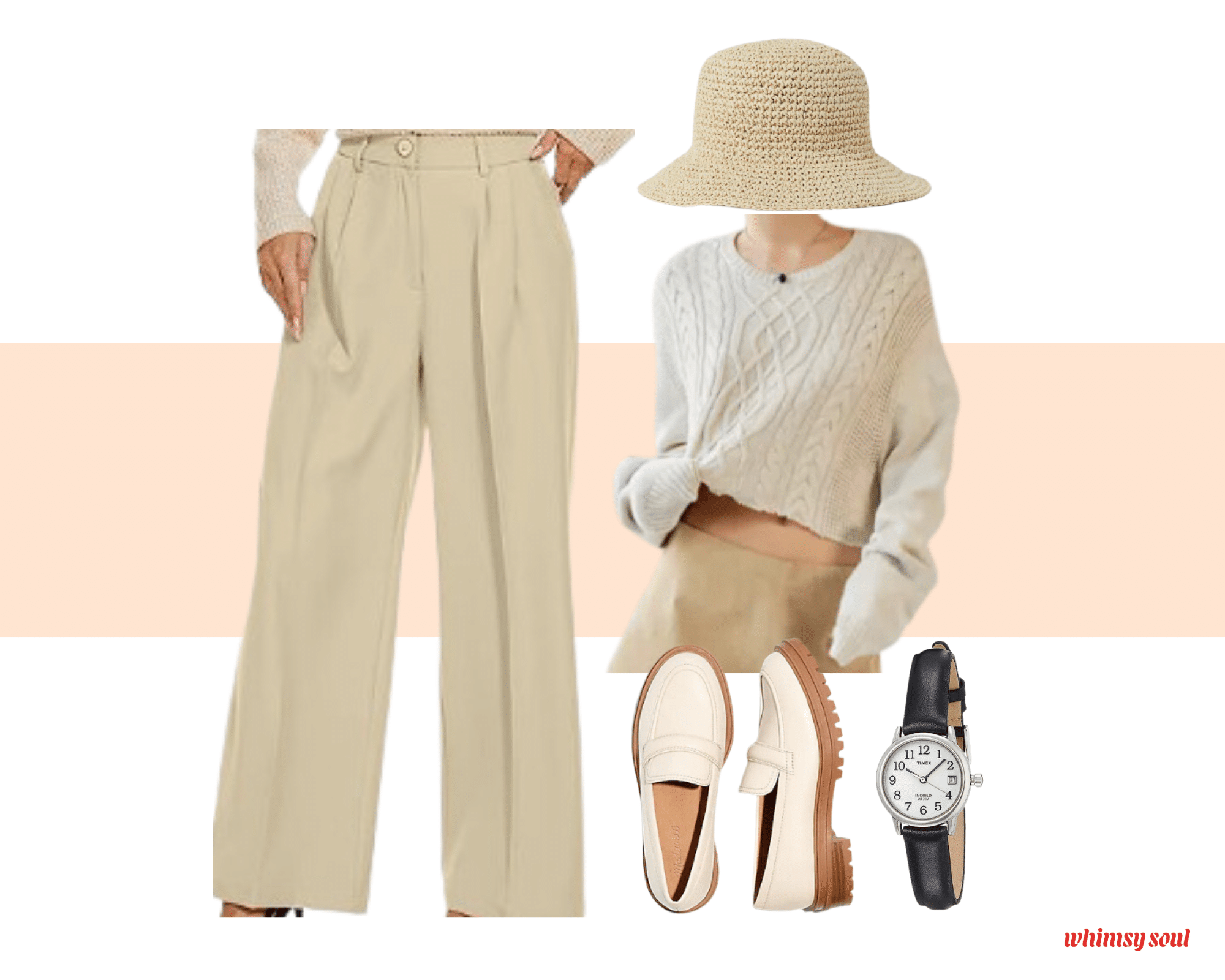 Coastal grandma fashion calls for some really fun accessories. This straw hat is one of my favorites for this style. I also think the style of this hat makes it really a cool accent piece since it's not just a typical straw hat, but more of a bucket hat made of straw.
Trousers are another big part of this style type- and a great piece for your closet when you're looking for something a little more sophisticated. The neutral cream color of these trousers from Amazon scream coastal grandma and are really great for outfits for a picnic because of their breezy movement and sleek look.
And of course I'm obsessed with all the sweater vibes that come with the coastal grandma style. A quarter-zip with a classic pattern captures everything this style strives for. Plus, it is an easy layer that elevates your look.
The Bradley Lugsole Loafers are equal parts vintage ties and modern trends. And I love the way the neutral colored sole really pops well with the white.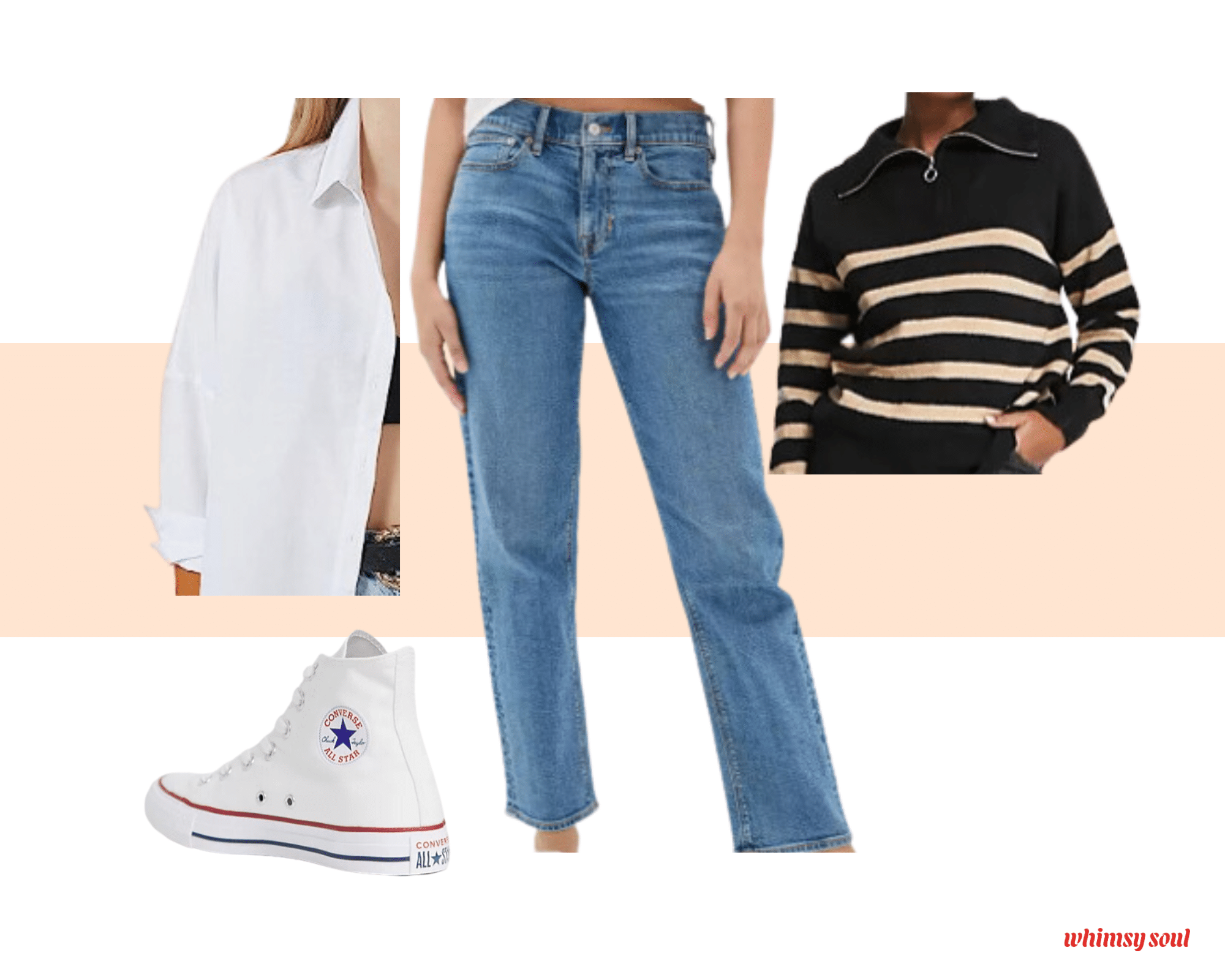 If you're looking to modernize your coastal grandma look a little bit- a cropped sweater is a great substitute. I love this knit sweater from Urban Outfitters- it's knit pattern gives old money vibes but its cropped cut keeps it a modern piece.
Parisian
A return to the simple and an embrace of the natural beauty that all of us have. This fashion style is reminiscent of the French girl fashion style- with a mix of casual chic and timeless pieces.
For picnic dress ideas that really compliment this style type- I love any mini or midi dress that can be paired with a chunky shoe (and some bike shorts underneath). This floral dress is a must have. The collared neckline and adjustable tie back are great details to this piece.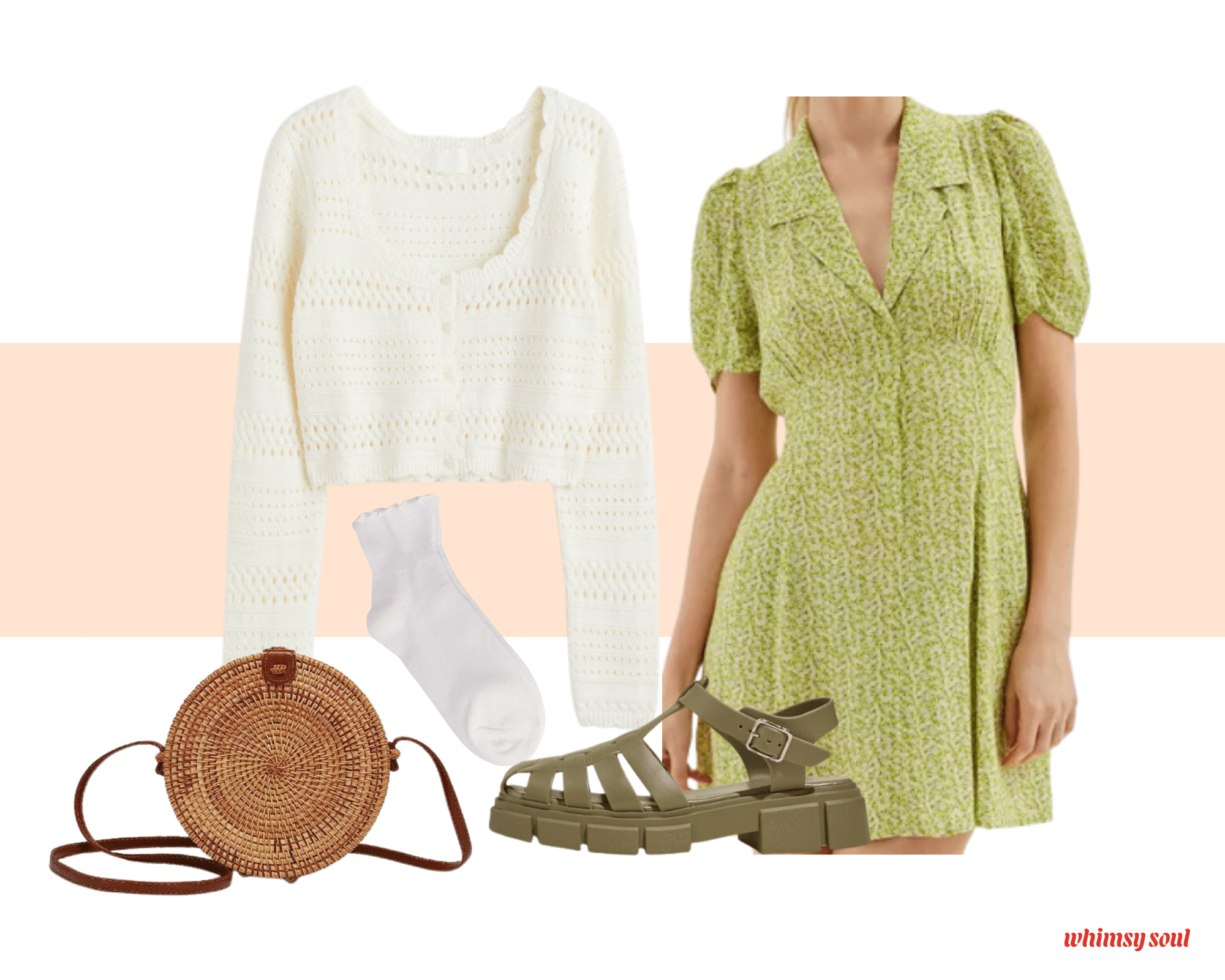 Cupshe has a lot of pieces that compliment this style. Their lace trimmed tank top is a fantastic piece. I'm absolutely obsessed with its v cut in the front and back, and of course we love adjustable straps.
Long flowy maxi dresses and skirts are another huge part of this style- and floral patterns are all the rage right now. Loving the tiers on this maxi skirt and the white helps to pair with practically anything in your closet.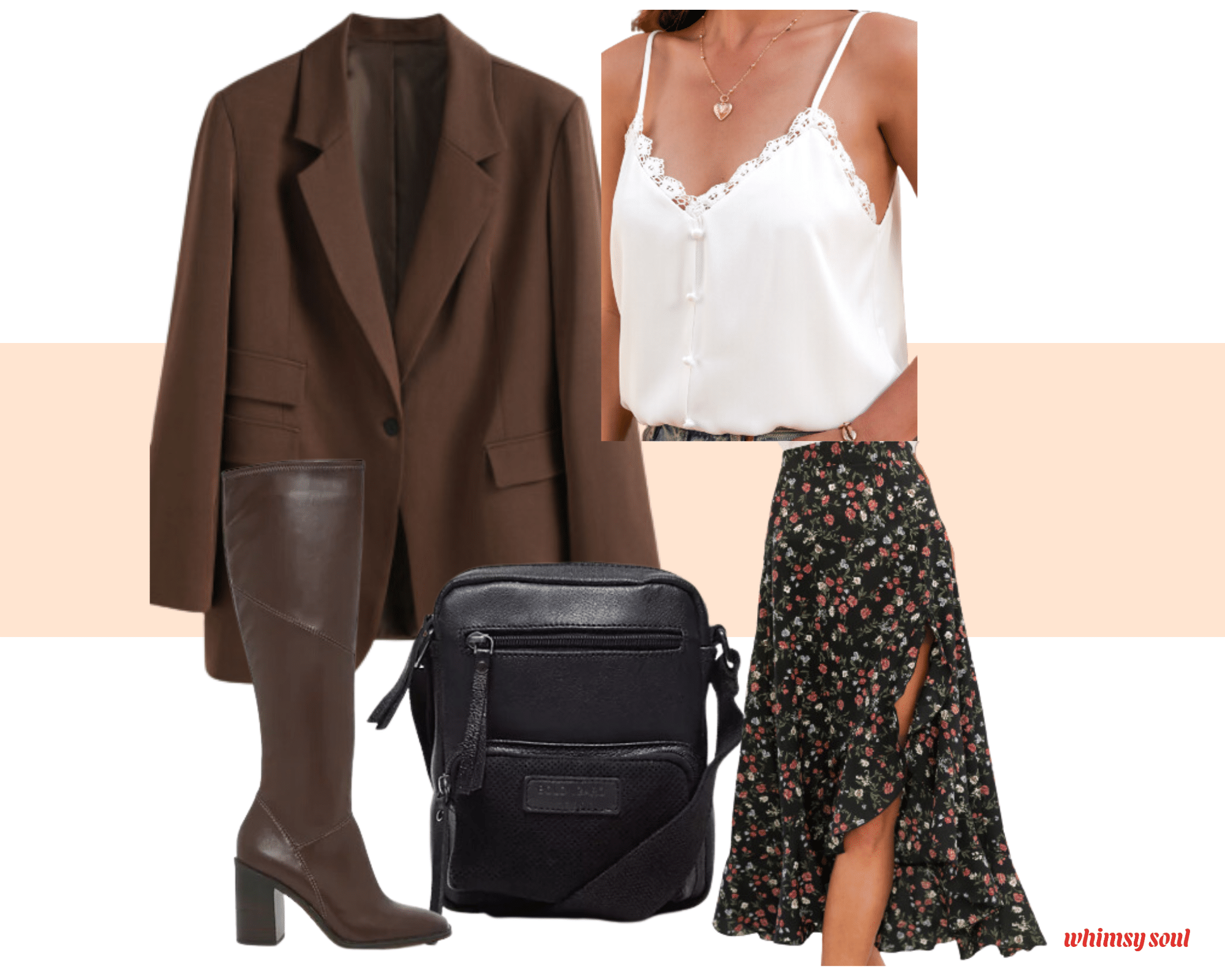 This style loves to pair maxi skirts with tall boots- the Franco Sarto Sonna boot is my top pick. Its thicker heel makes it easier to walk in and nicer on your feet. Plus its sleek design makes these shoes a perfect partner to all your outfits.
Light Academia
Ah- one of my favorites. Images of sweater vests and plaid come springing to mind. For those who don't know, light academia is a 'brighter' approach to the academia aesthetic. This style draws inspiration from professorial looks and old style collegiate vibes. This means plenty of maxi skirts, lots of layers, and cute collared shirts.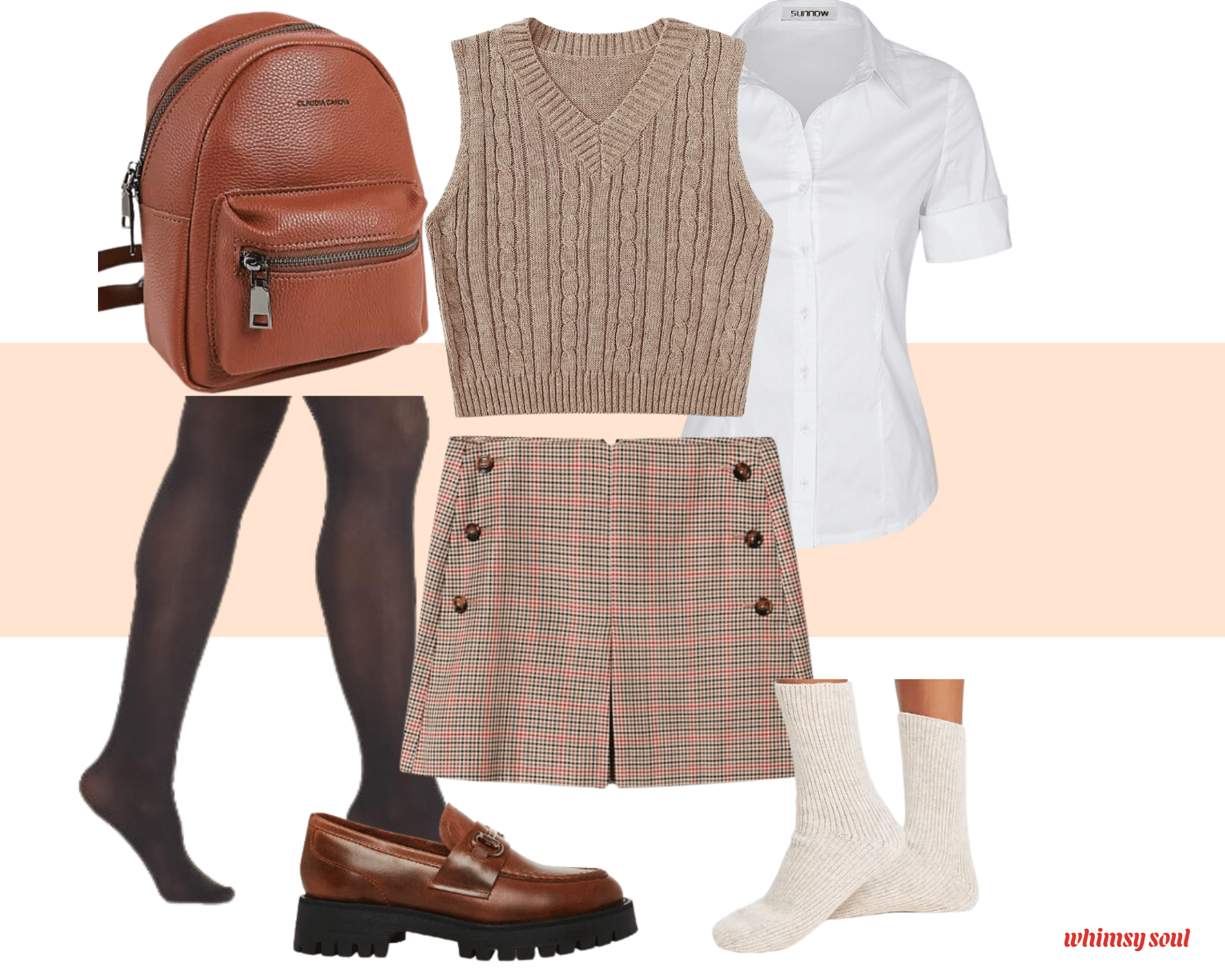 I'm obsessed with this houndstooth skirt from Simply Be. The meshed patterns of houndstooth and plaid look incredible and the subtle hint of pink is just enough of a pop of color for this style.
Light Academia also really loves the backpack bag- which is great when you've got a blanket under one arm and a picnic basket in the other. I love this one from ASOS. It's faux leather and designed to be small with lots of storage.
Trousers can be a great statement piece for how to dress for a picnic- this style allows for a lot of fun pant options. A great plaid trouser is always great when looking for what to wear to a picnic in a park. These dark plaid trousers look sophisticated, feel great, and are perfect for all the light academia baddies looking for a bold pant.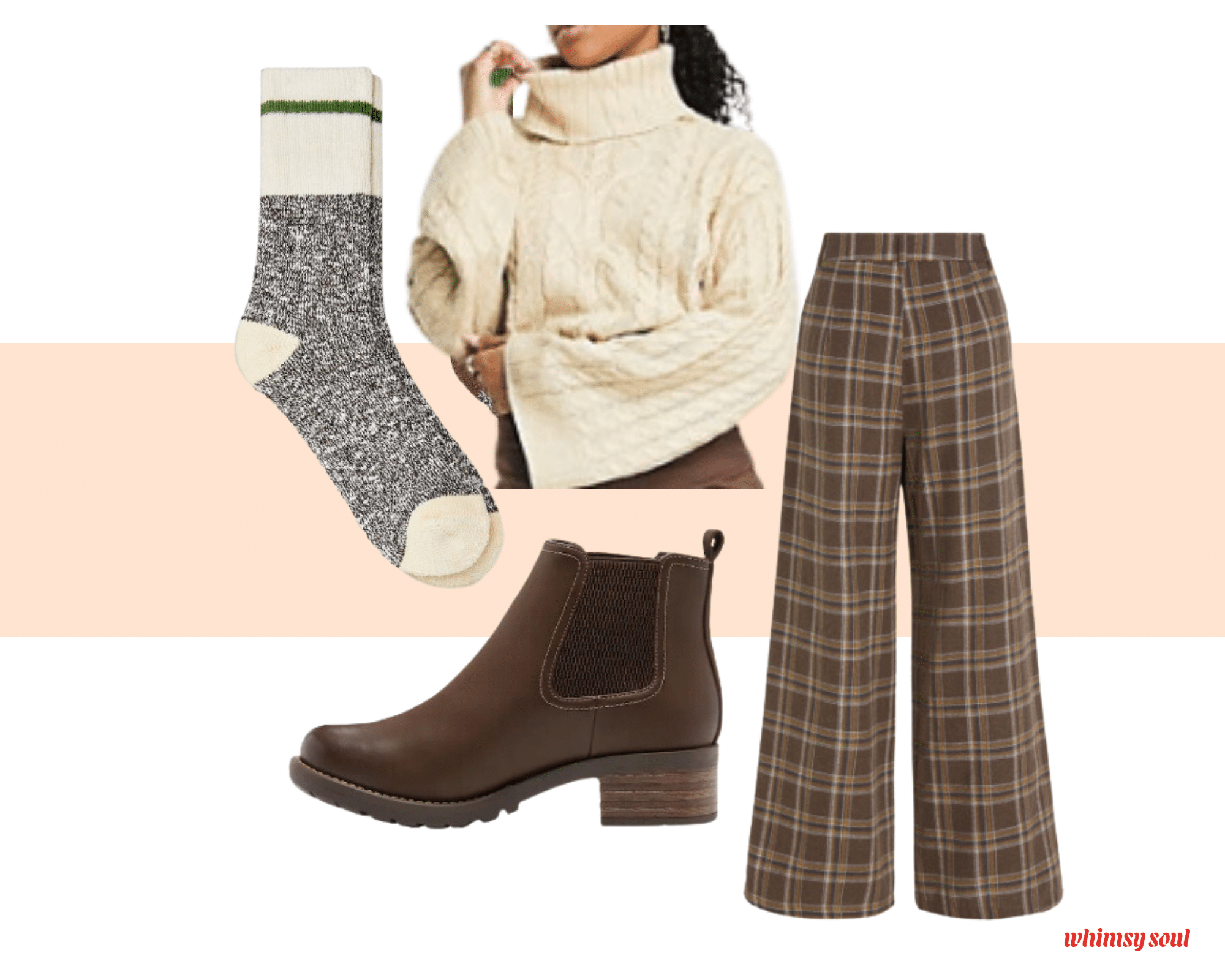 The best light academia piece has got to be a turtleneck sweater. This one from ASOS has all the great details of heavier knitted fabric made with lightweight material. So it can easily move from your winter closet to your summer picnic.
I hope this helps inspire you to take all the spring picnics, and I would love to hear your favorite styles in the comments!