Point Reyes National Seashore is located about an hour North of San Francisco on California's stunning coastal Highway 1. It's one of my favorite weekend trips from San Francisco, and I've been up to visit a few times.
Point Reyes is basically the United States' version of Ireland – it's known for breathtaking landscapes, blue skies, charming small towns, cheese and some of the best oysters on the West Coast. Here's everything to see on a Point Reyes day trip (and where to find the best cheese, because…CHEESE!)
I first visited this national seashore with some girlfriends a few years ago and we packed a LOT of thing into that Point Reyes day trip. We woke up at the crack of dawn and squeezed so many hikes, sights and food into that long day. When my husband's parents came to town, I immediately knew we had to take our family to shuck oysters at Hog Island Oyster Company and have a day exploring this stunning coastal region of California.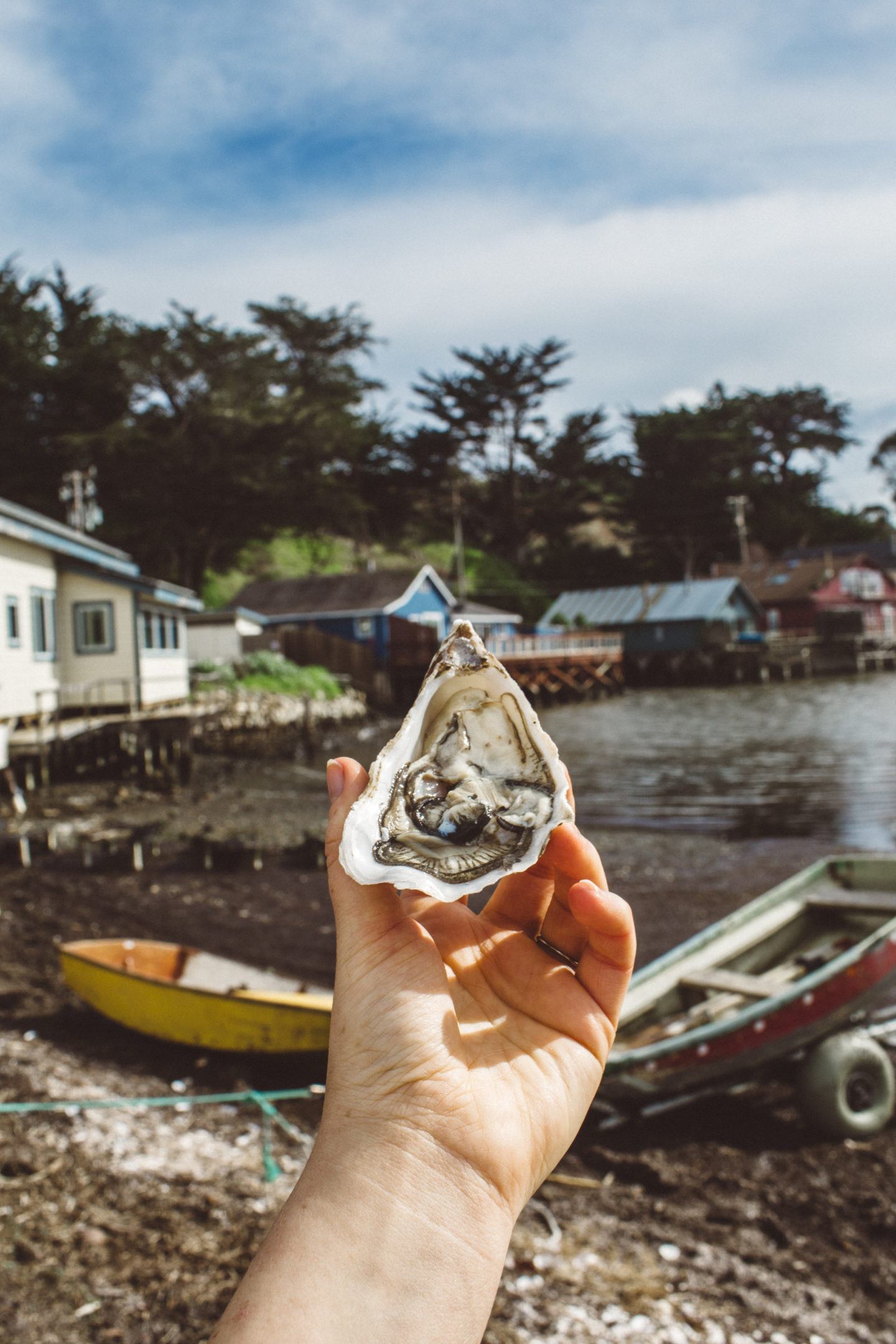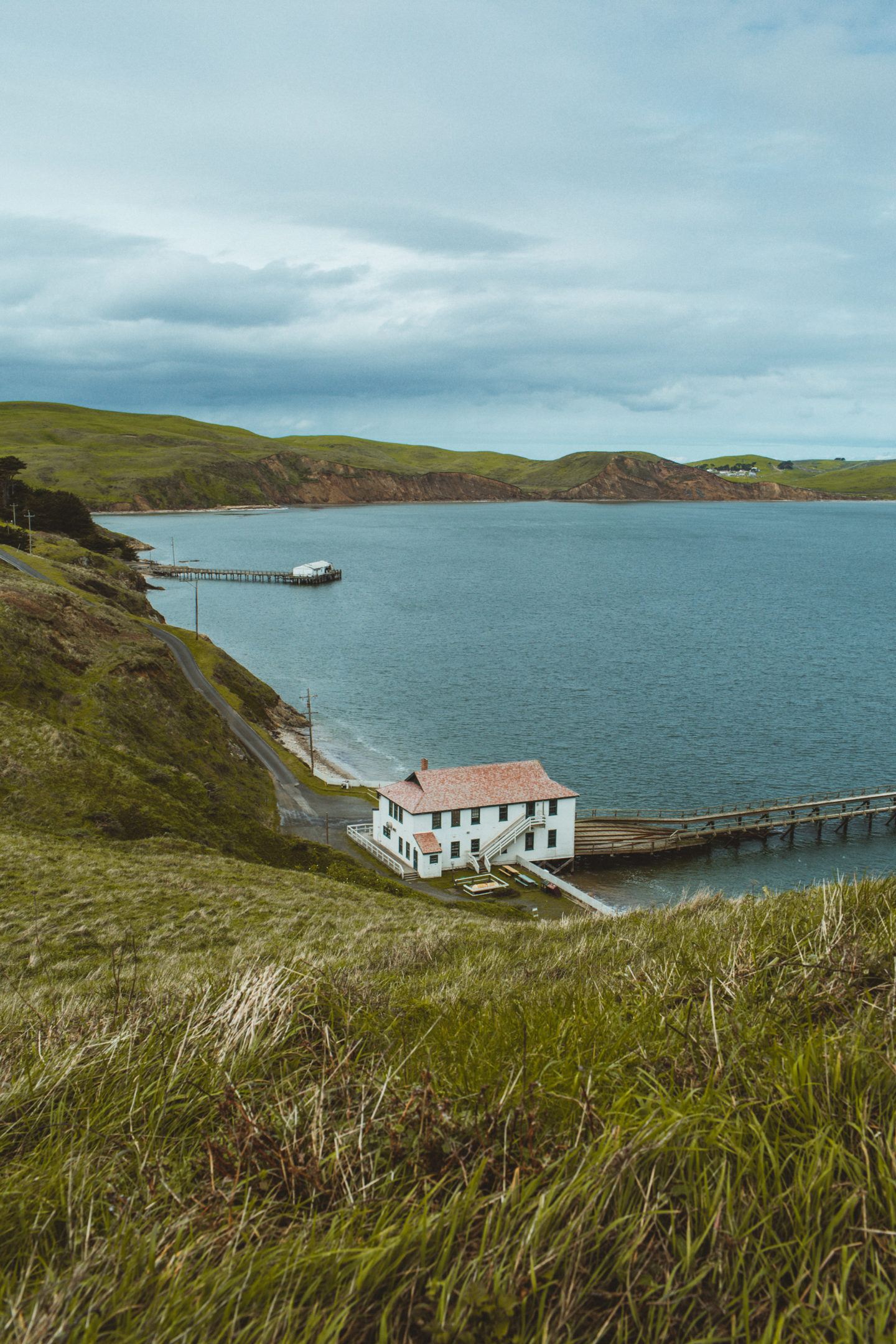 HOW TO GET FROM SAN FRANCISCO TO POINT REYES
It's pretty easy getting out of the city and off on a Point Reyes day trip. You don't have to leave at the crack of dawn as I did on that first trip, but I do suggest leaving no later than 9am to fully maximize on your California weekend getaway! Depending on how bad traffic is that day, it should take you between 1-1.5 hours to drive from San Francisco, across the Golden Gate Bridge and connect to Hwy 1 to the Point Reyes National Seashore.
This drive is going to be STUNNING, by the way! I love driving over the bridge, weaving through the small towns of Marin County, passing under tall trees, past Tomales Bay and eventually the headlands of Point Reyes National Seashore. The roads here are a bit worn – when we went, many parts were flooded and much the road was so full of potholes, we had to drive REALLY slowly. Just a heads-up!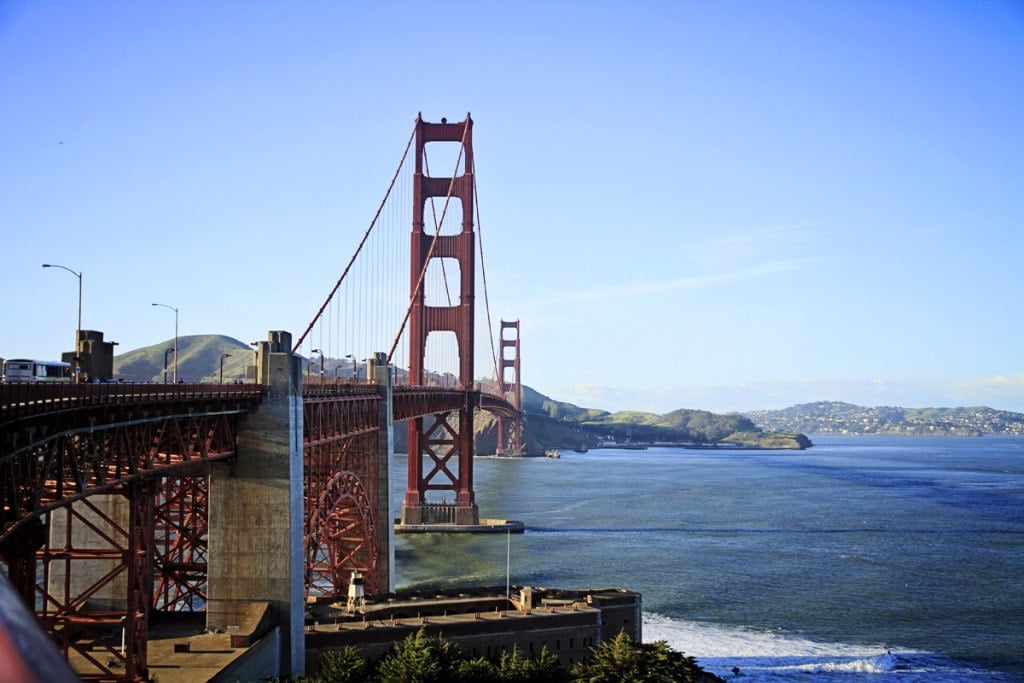 STOP ONE – POINT REYES SHIPWRECK
On your way from San Francisco to the Point Reyes National Seashore, you'll wrap around the South end of Tomales Bay and around the Western side up toward Inverness. Lock your GPS onto the "Point Reyes Shipwreck" and it'll take you to a small parking lot next to the famous shipwreck! (Also known as the Tomales Bay Shipwreck, the Inverness Shipwreck, or the S.S. Point Reyes.)
The history of this boat has an average tale – it wasn't pirates or an ill-fated storm that ruined this vessel. It simply needed repairs and the owner kept meaning to get to it… but like with most fixer-upper side projects, he kept pushing it off. In the meantime, local photographers started flocking to the boat and turned it into a famous landmark to the area.
The boat is a short walk from the parking lot. I don't recommend climbing the boat (it's old and probably really unsafe!) Just admire it from afar.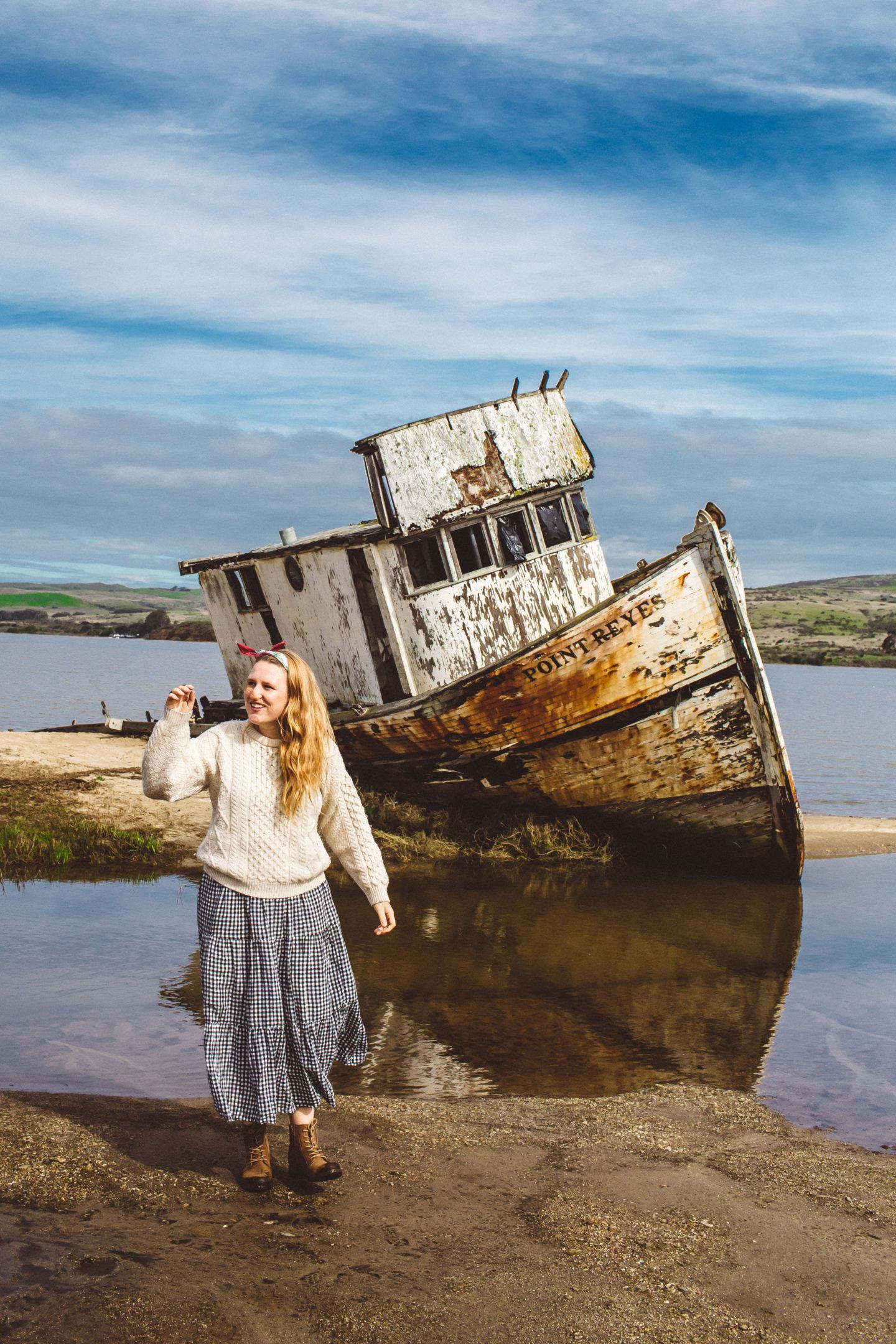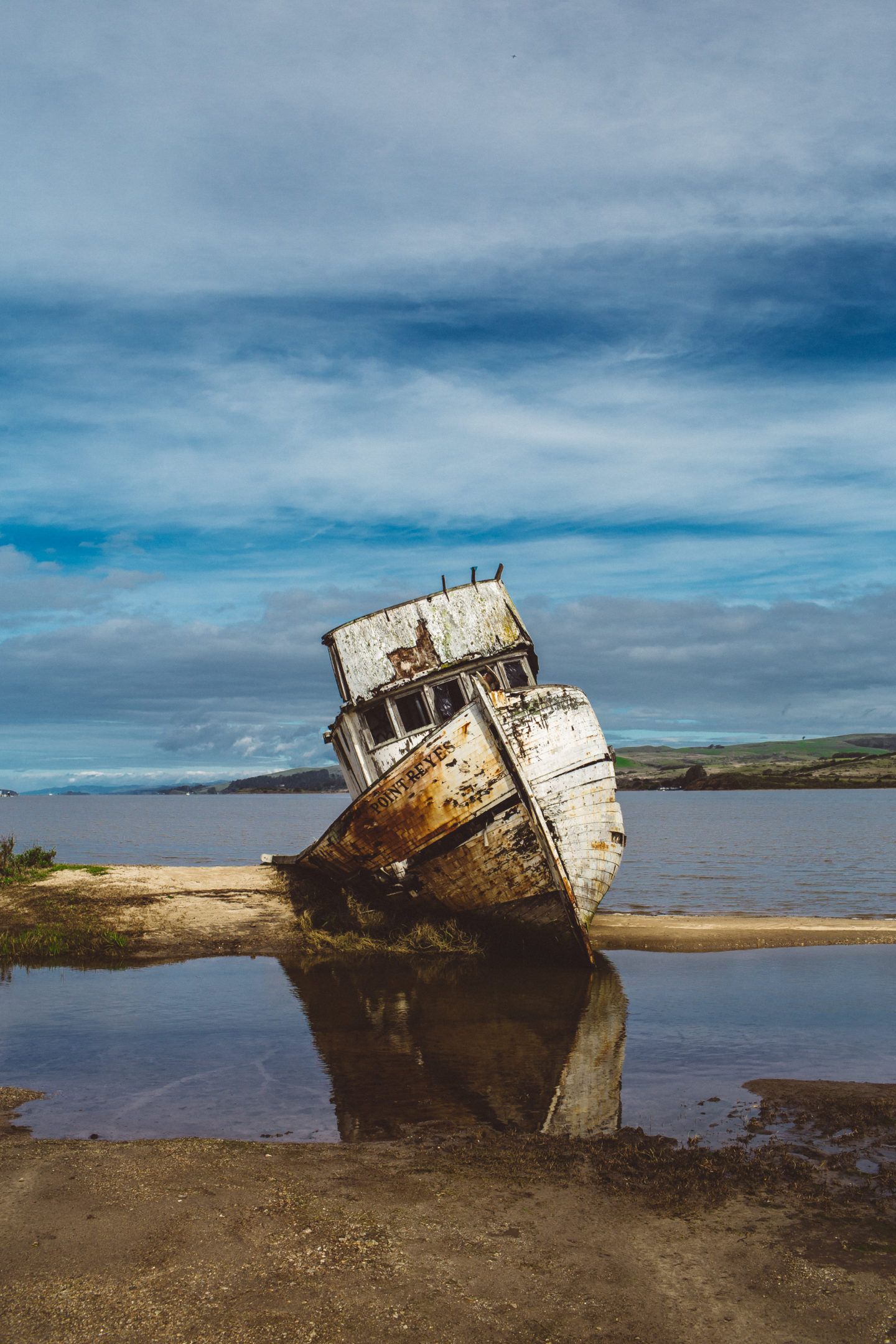 STOP TWO – CHIMNEY ROCK
There are so many stunning Point Reyes trails, you could spend more than just a weekend just hiking all the nooks and crannies of this national park! When I'm traveling with friends and family, we usually opt for easy to moderate hikes that everyone can partake in.
Chimney Rock is my favorite of the Point Reyes hikes as it's easy but absolutely stunning. The views are just breathtaking and it makes you feel like you stepped into Ireland, not California. Follow Sir Francis Drake Blvd to the small parking lot at the end of the road. There's a bathroom here that's usually fairly clean, woohoo! It's free to enter and in total, this trails takes 30-60 minutes to hike, depending on how fast you go.
Take the trail that goes behind the bathroom. It's mostly flat, with just a little bit of upward trail to wrangle yourself over. In the springtime, you can hear the elephant seals matting (it sounds like a human being murdered, FYI) From this lower point, you can see the old station buildings and docks, but the best part is when you reach the top of the bluff.
Chimney Rock trail jets out int the water and on either side of this lush green bluff is Drakes Bay. On a clear day, the skies are blue and you can see for miles and miles. At the end of the trail is a little overlook area with some benches to rest at before heading back. Look down at Drakes Beach and you'll probably see a large heap of seals sunbathing! If you're lucky, tons of wildflowers will be blooming on top of this bluff as well!
Point Reyes Hiking Essentials

(Another popular spot to hike is Bear Valley! There's the Bear Valley Visitor Center in the parking lot where you can pick up maps and get information about other trails, too!) Hiking Point Reyes is so much fun!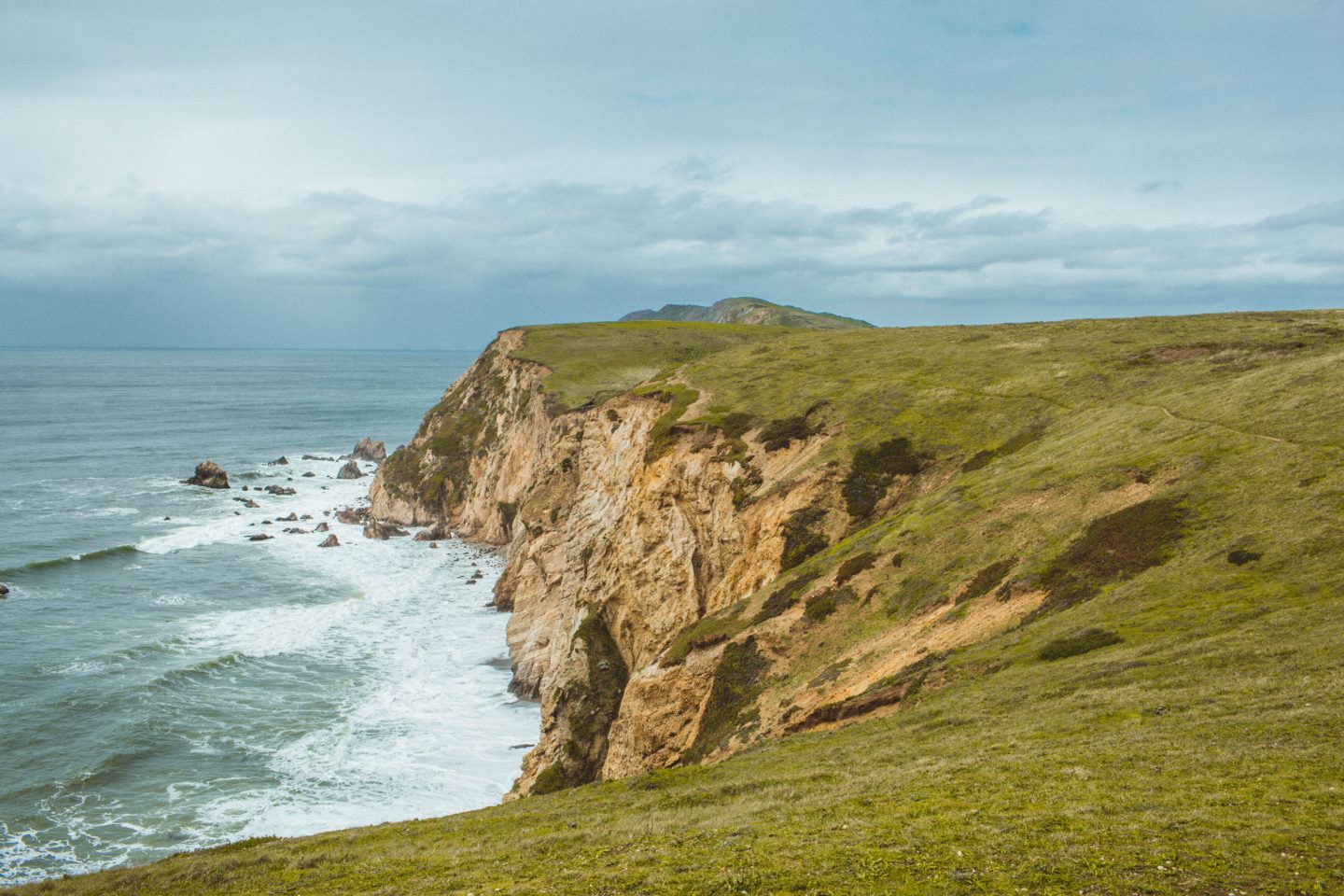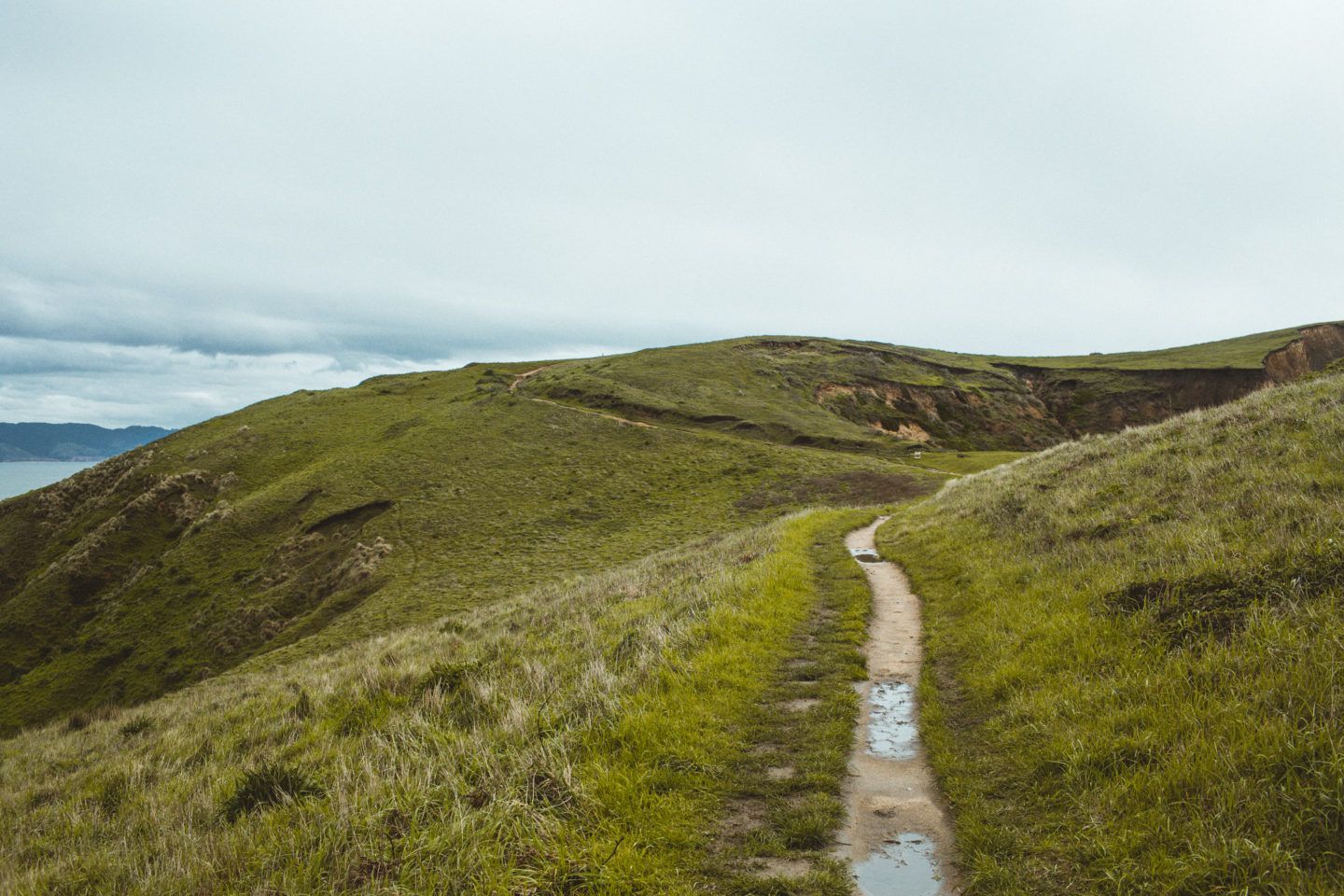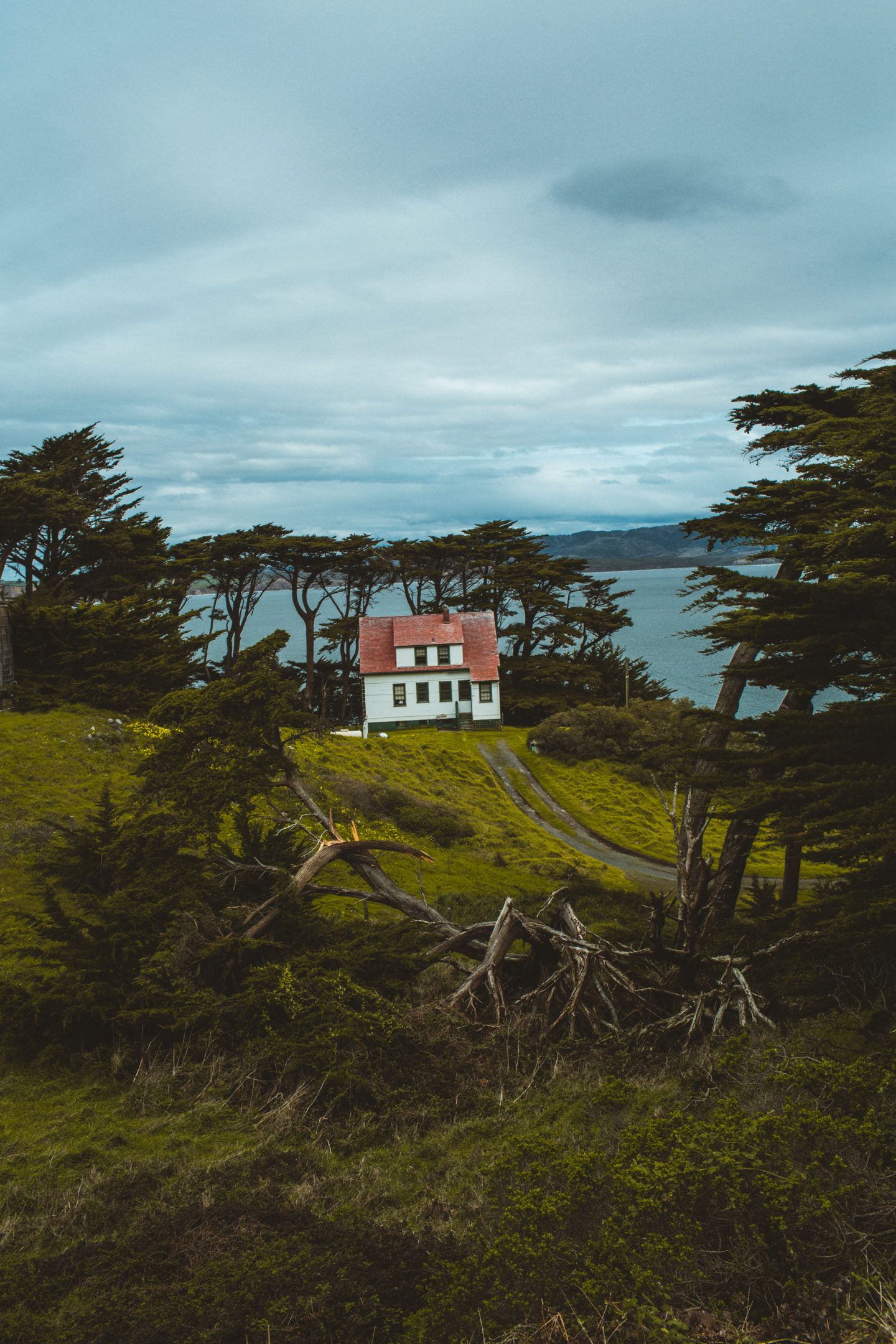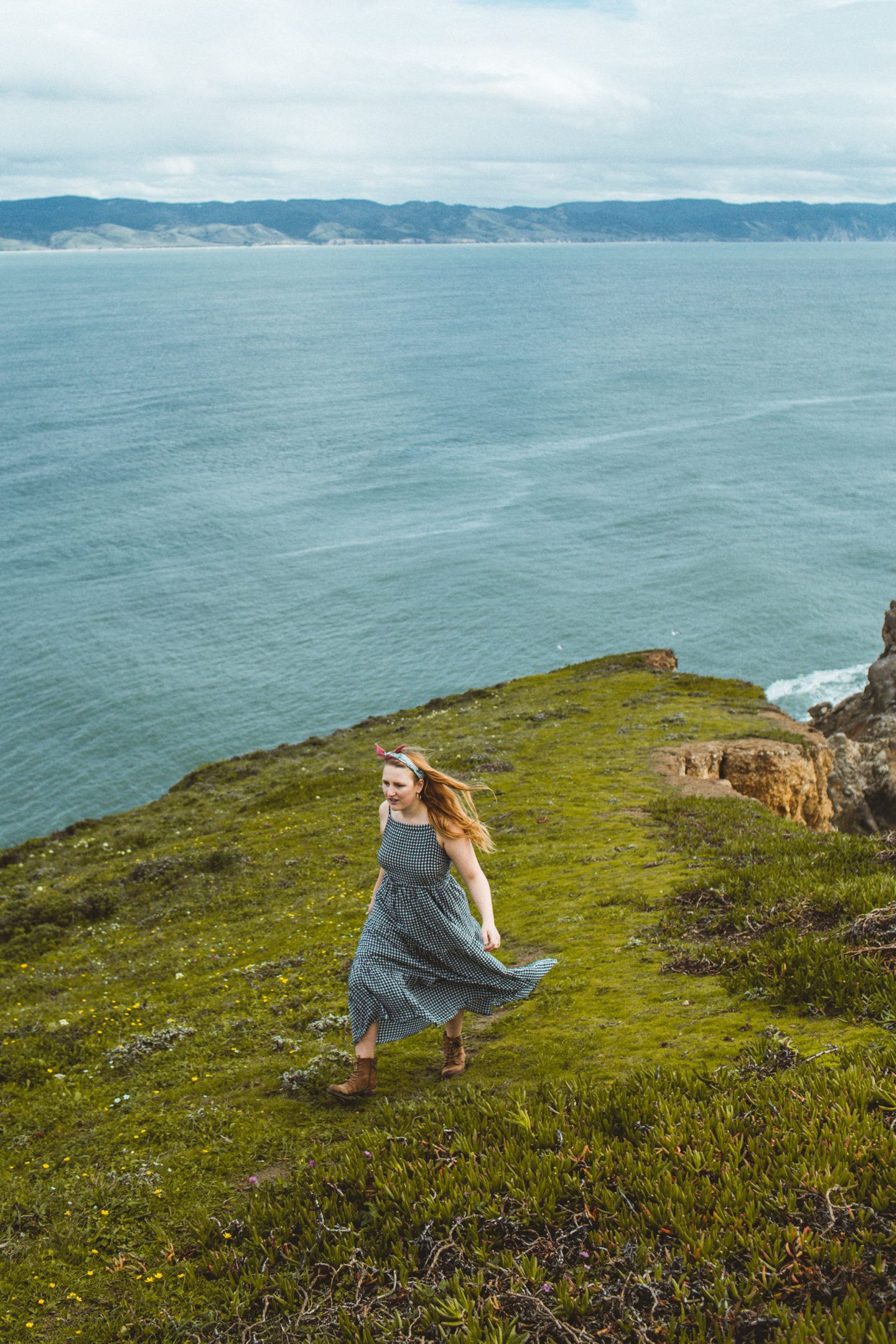 STOP THREE – POINT REYES LIGHTHOUSE
The Point Reyes Lighthouse is one of the most famous California lighthouses. And I sadly haven't visited yet! (You can see photos of it on Instagram here, though.)The first time I did a Point Reyes day trip with the girls, it was SO DANG foggy out. We parked at the lighthouse lot and starting walking up the road, but we could barely see 10 feet in front of us, so we turned back. What's the point of walking all the way to the lighthouse if all you'll see is a blanket of white fog?
I was hoping to visit again on my second trip up, but the lighthouse is currently undergoing restoration. I *think* it's due to end Spring 2019, but you can always check updates online here. I recommend that you check to make sure it's open before you go, and also keep an eye out on the weather. If it's foggy, don't waste time swinging by as you won't be able to see through the thick California coast fog!
STOP FOUR – POINT REYES CYPRESS TREE TUNNEL
The Point Reyes Cypress Tree Tunnel is a famous road that is flanked by beautiful, arching cypress trees. (At the end of the road is a radio station building, in case you visit and wondered what that white building at the end is!) Everyone likes to take photos here. Local nature photographers love coming at sunrise as the rays of light streams through the trees in a magical way. But it's beautiful to visit no matter the time of day!
It's free to visit but the gate will probably be closed. Park on Sir Francis Drake Blvd outside the gate. They used to keep the gate open, but people kept parking on top of the tree's roots and, well, as you can imagine that's not good for the trees! If you visit and the gate is open, please don't be a dick, Park on the main road, not the roots.
In total, this stop will take about 20 minutes unless you go crazy with photos.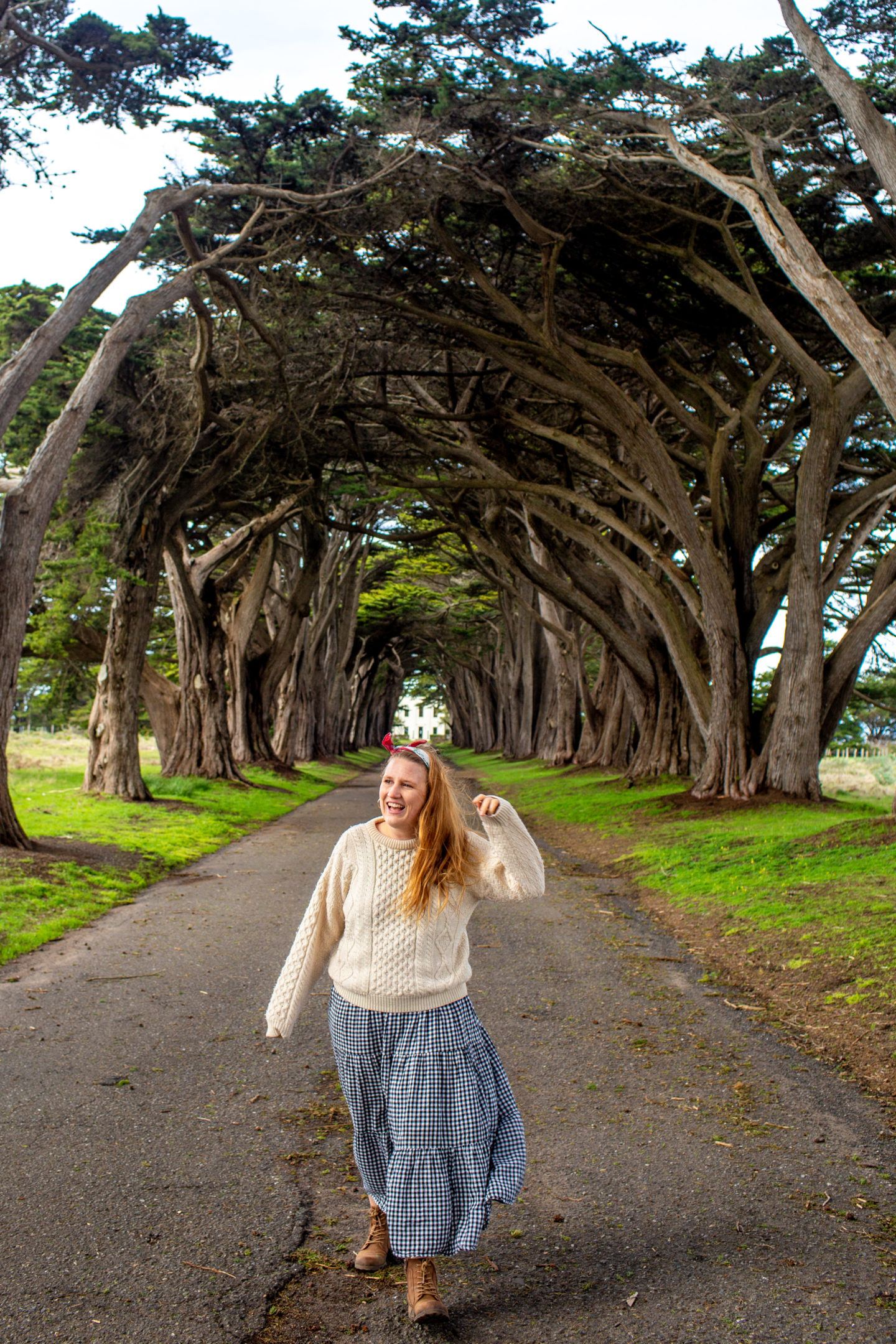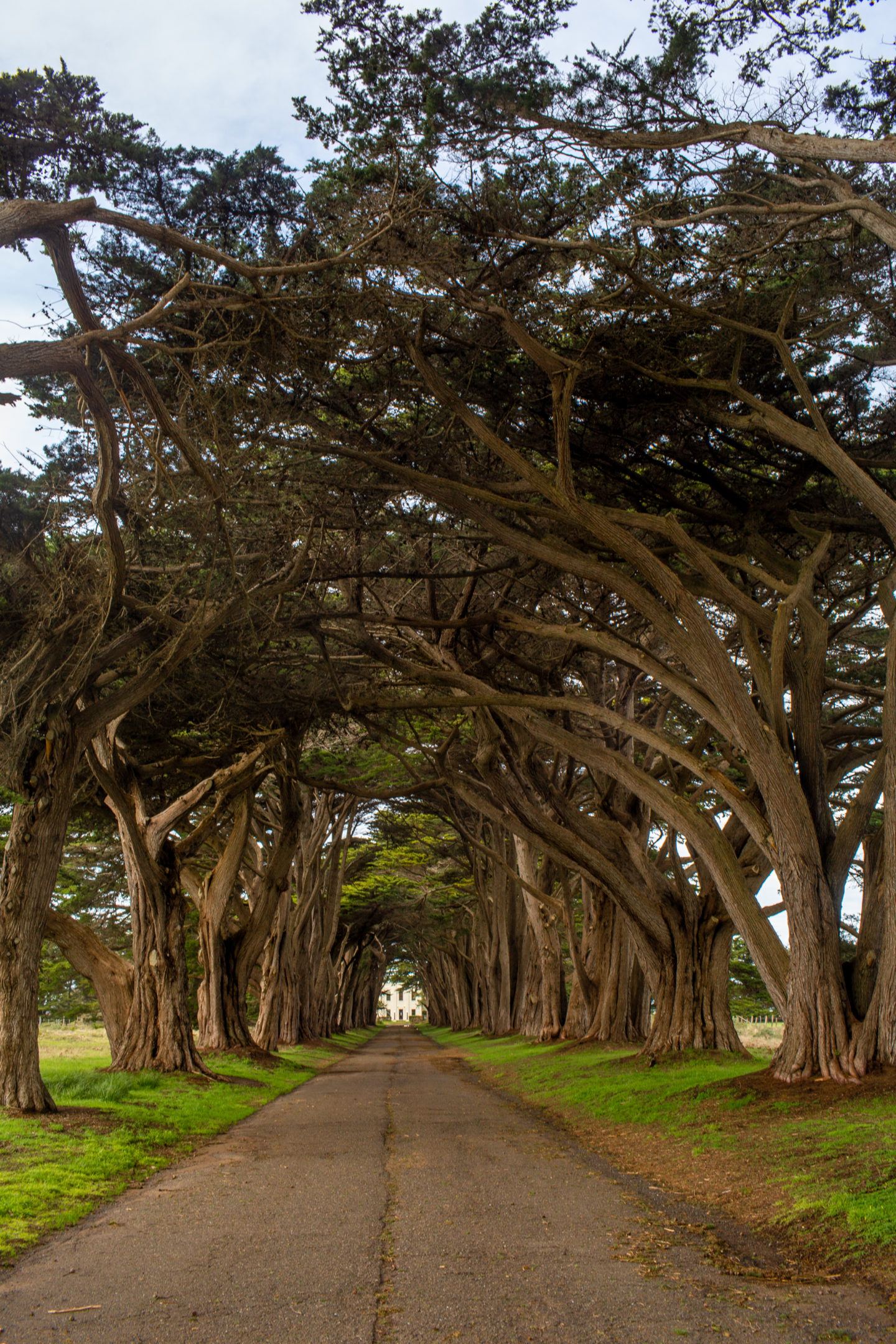 STOP FIVE – HOG ISLAND OYSTER COMPANY
Now for my favorite thing to do in the Point Reyes area – lunch at the Hog Island Oyster Company! This famous Tomales Bay oyster company is in Marshall and is a truly unique "California" place to visit. You can come for lunch, but I recommend booking a picnic table so you can shuck your own oysters and grill them!
Hog Island Oyster Company is a sprawling group of buildings, many which are used to harvest and process oysters. On working days you can watch them pull out nets full of oysters from the bay! Out back is a bar and outdoor seating next to the bay. Reservations for a picnic table fill up weeks, sometimes months, in advance. Because of this, I recommend planning your Point Reyes day trip around what day you can get a table. There are two time slots each day for a table – 11am and 2pm. To stick to this guide, grab the 2pm slot!
They'll provide a grill and things like lemons, sauces, etc, and you can purchase oysters at the bar. It's up to you to bring everything else! Coal, beer and wine are available to buy there if you forget.
Coal
Lighter
Plates + forks
Beer, wine, etc
Veggies to grill
Salt + pepper
Bread
Anything else!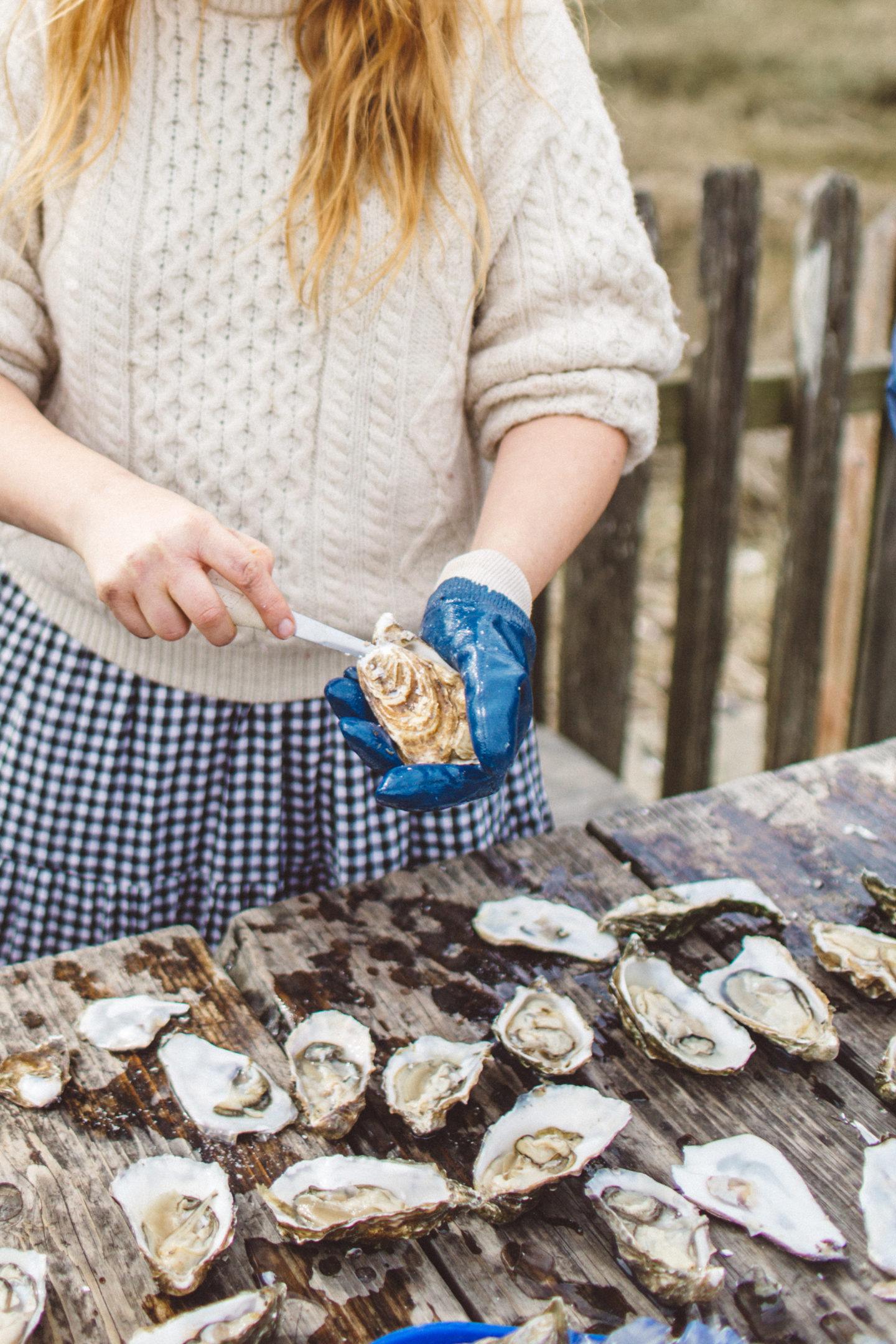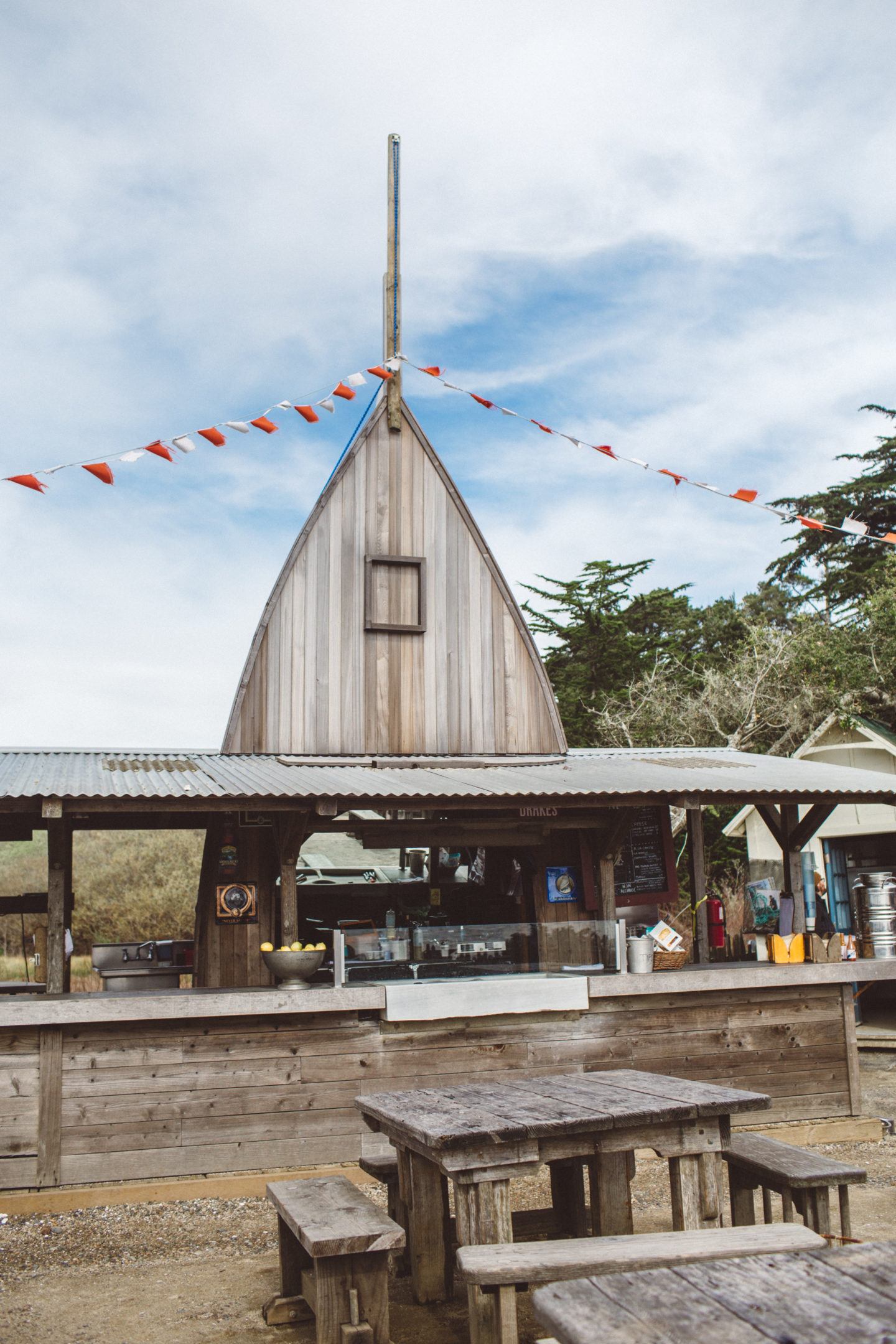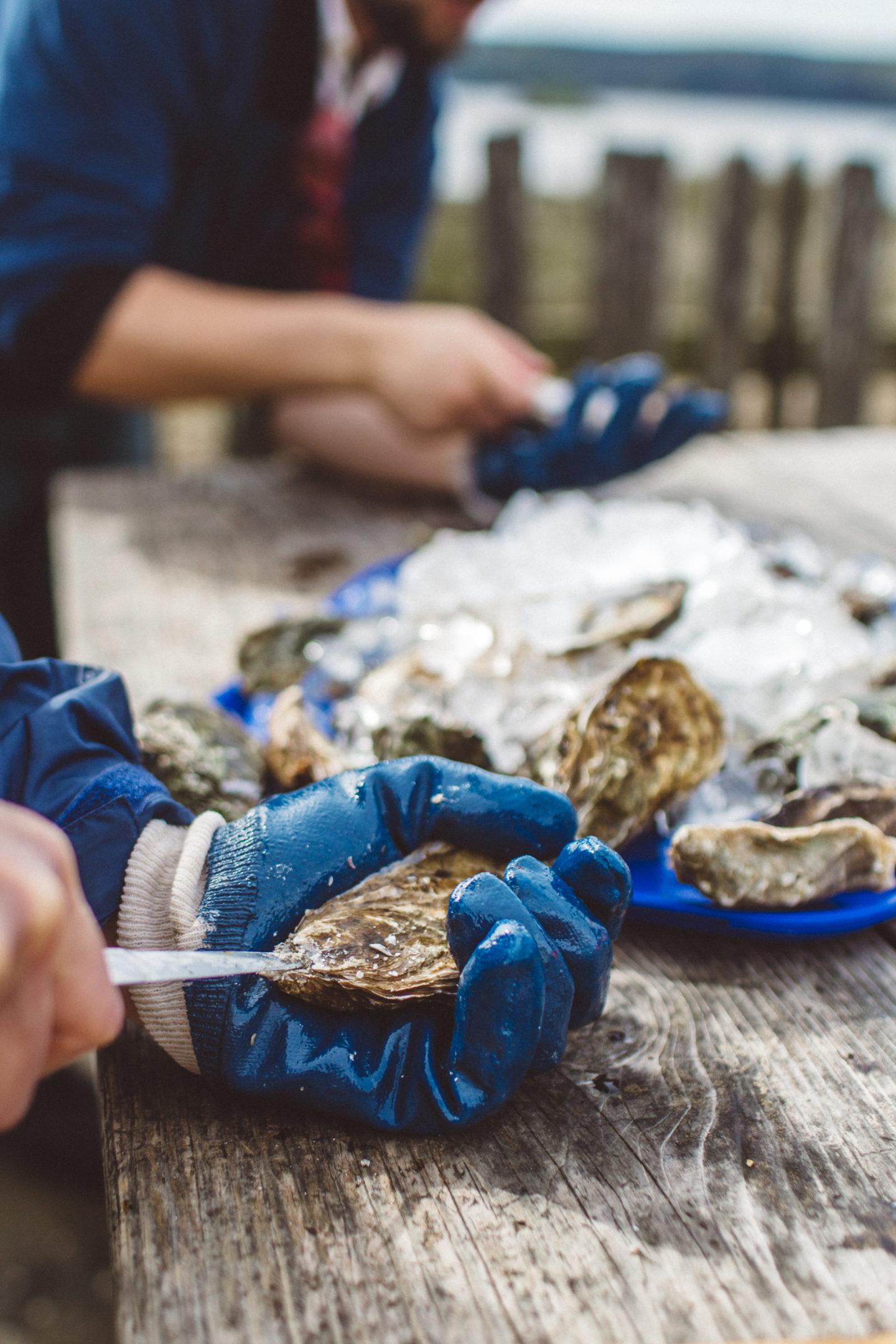 STOP SIX – BOLINAS
There's a small town called Point Reyes Station which is generally thought of as the "hub" of Point Reyes National Park area. It's a LOT of fun to explore and I'm sure it makes a great place to spend the night. That being said, I recommend driving a little further South to Bolinas. Bolinas, California is a hippie town that likes to stay "hidden" – I say "hidden" because everyone knows it there, but locals do things like rip down any signs that direct drivers to the village.
Bolinas is incredibly cute and charming. We spent the night at Smiley's Saloon, the best Bolinas hotel in my opinion. This saloon was built in 1851 and now is also a hotel behind the saloon house. You can book a night on Airbnb here. (Pst – use THIS link for $40 off your stay!)
Across the street from the saloon is the Coast Cafe, the best restaurant (and one of the only restaurants) in town. They serve local California cuisine. I recommend trying their crab enchiladas – pricey, but incredibly tasty and utterly unique! They have an impressive seafood menu but also offer vegetarian and vegan options. On Thursday and Sunday nights live music will be playing. In the morning, grab coffee and pastries here.
Bolinas is a cash-only city and when we visited, none of the atms were working. Bring your own cash!
My favorite thing to do in Bolinas was just to walk around and explore this eccentric town. It's all a big loop. When standing in front of the saloon it doesn't matter if you go right or left because you'll end up at the Bolinas Beach either way! This beach is stunning. You can see San Francisco from here! It's full of artsy things like a giant teepee made of sticks, strings of shells hanging from trees and stacked rocks. There are plenty of galleries to visit, too. Set aside an hour or two to explore Bolinas before dinnertime! In the evening, grab a pint at the saloon.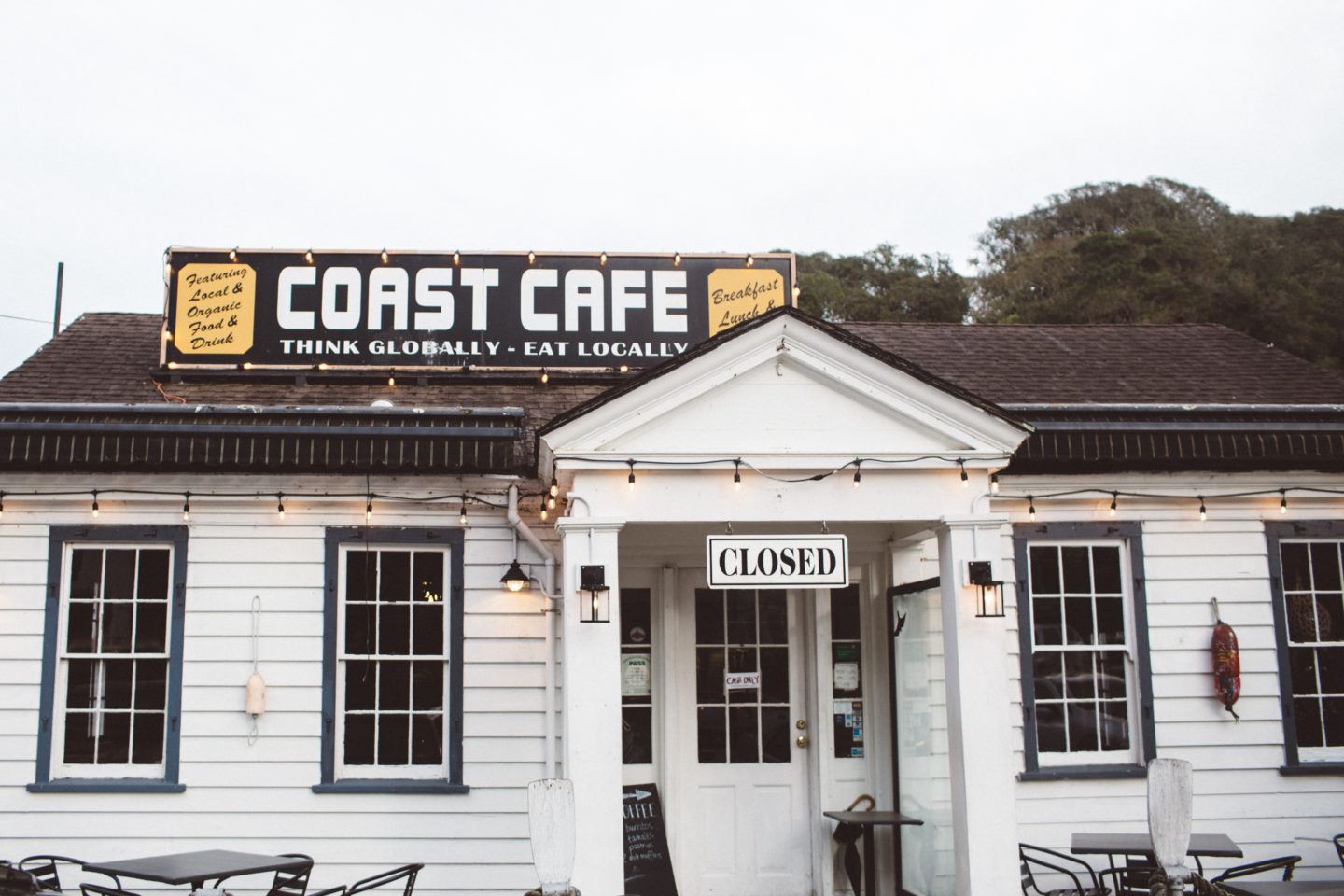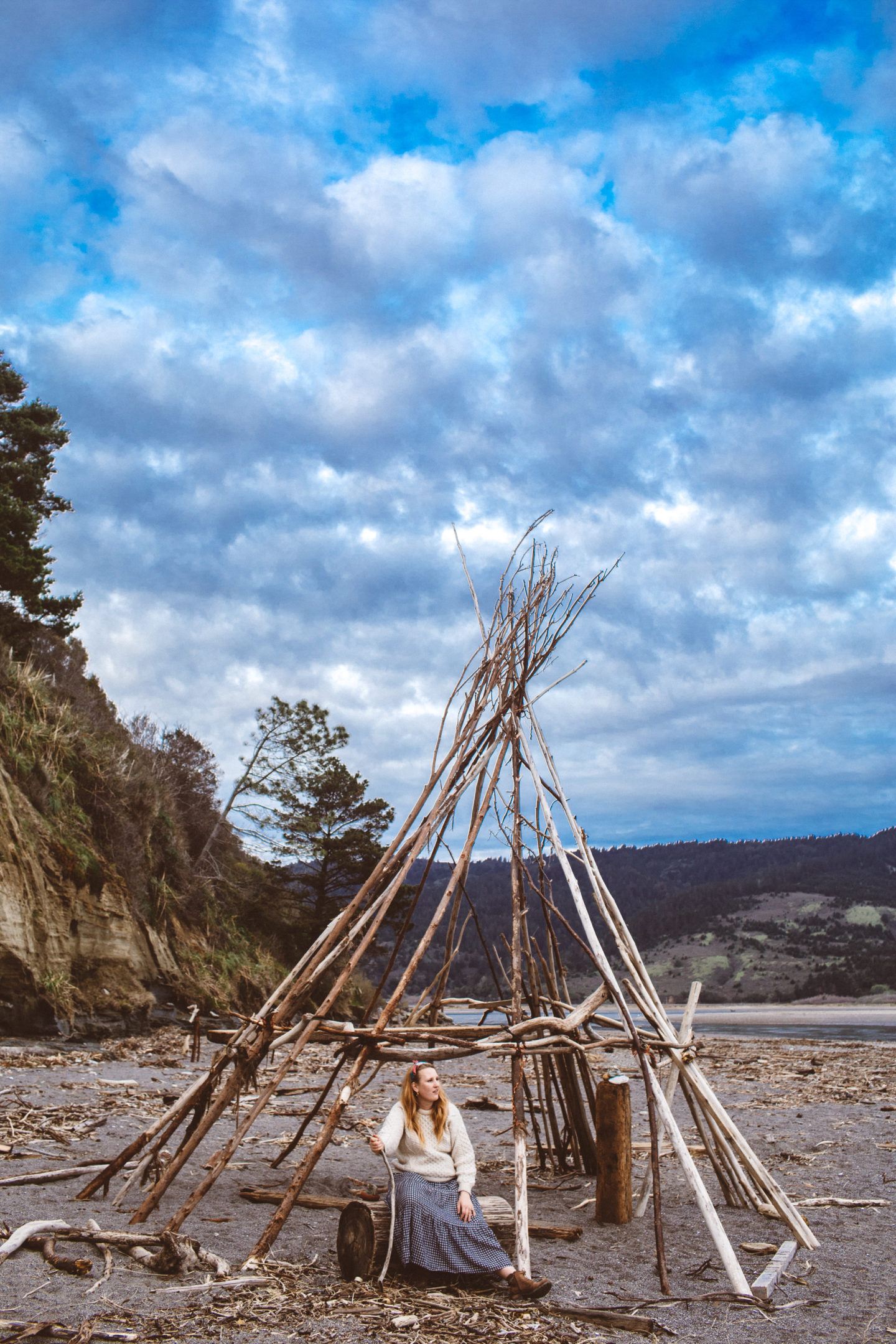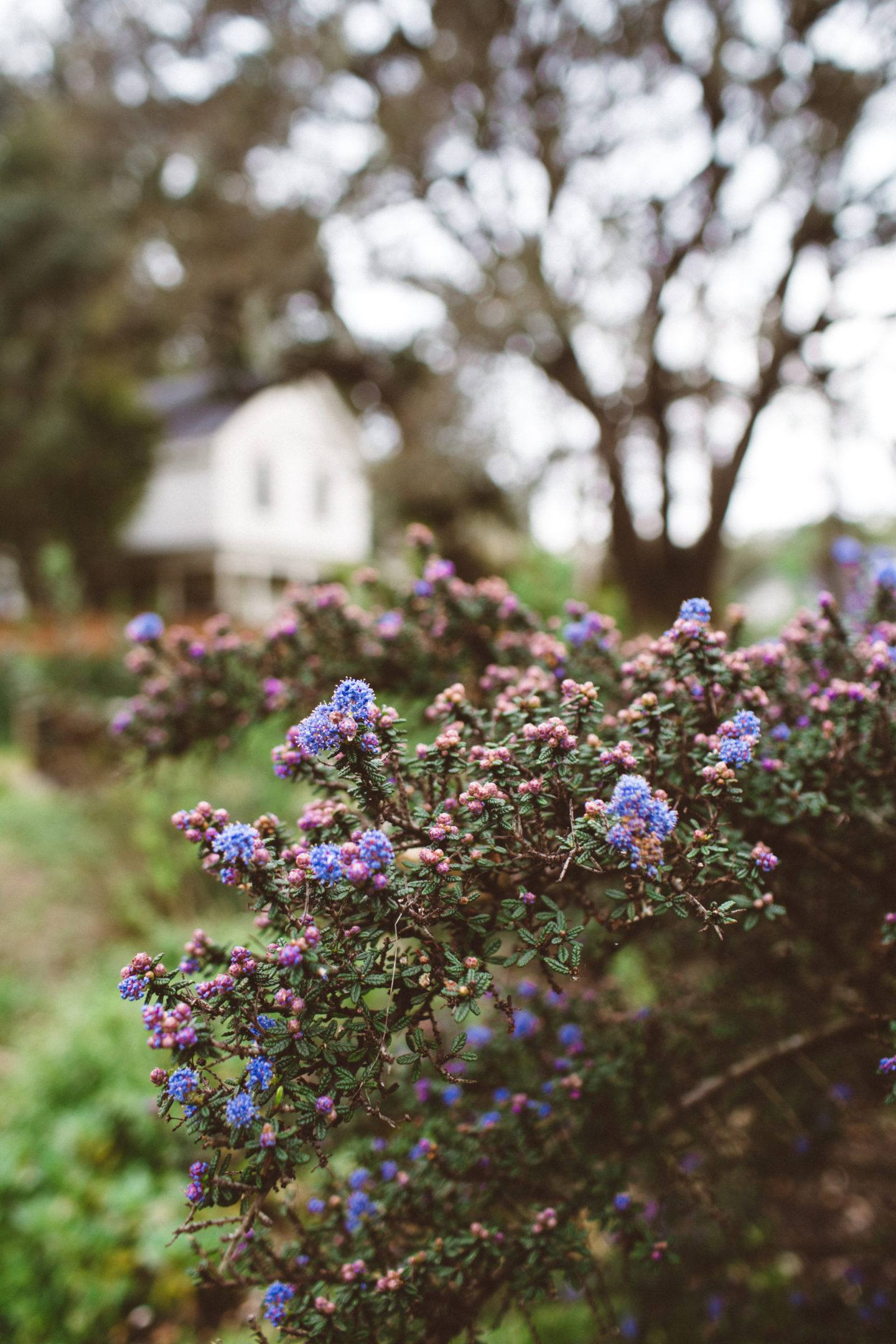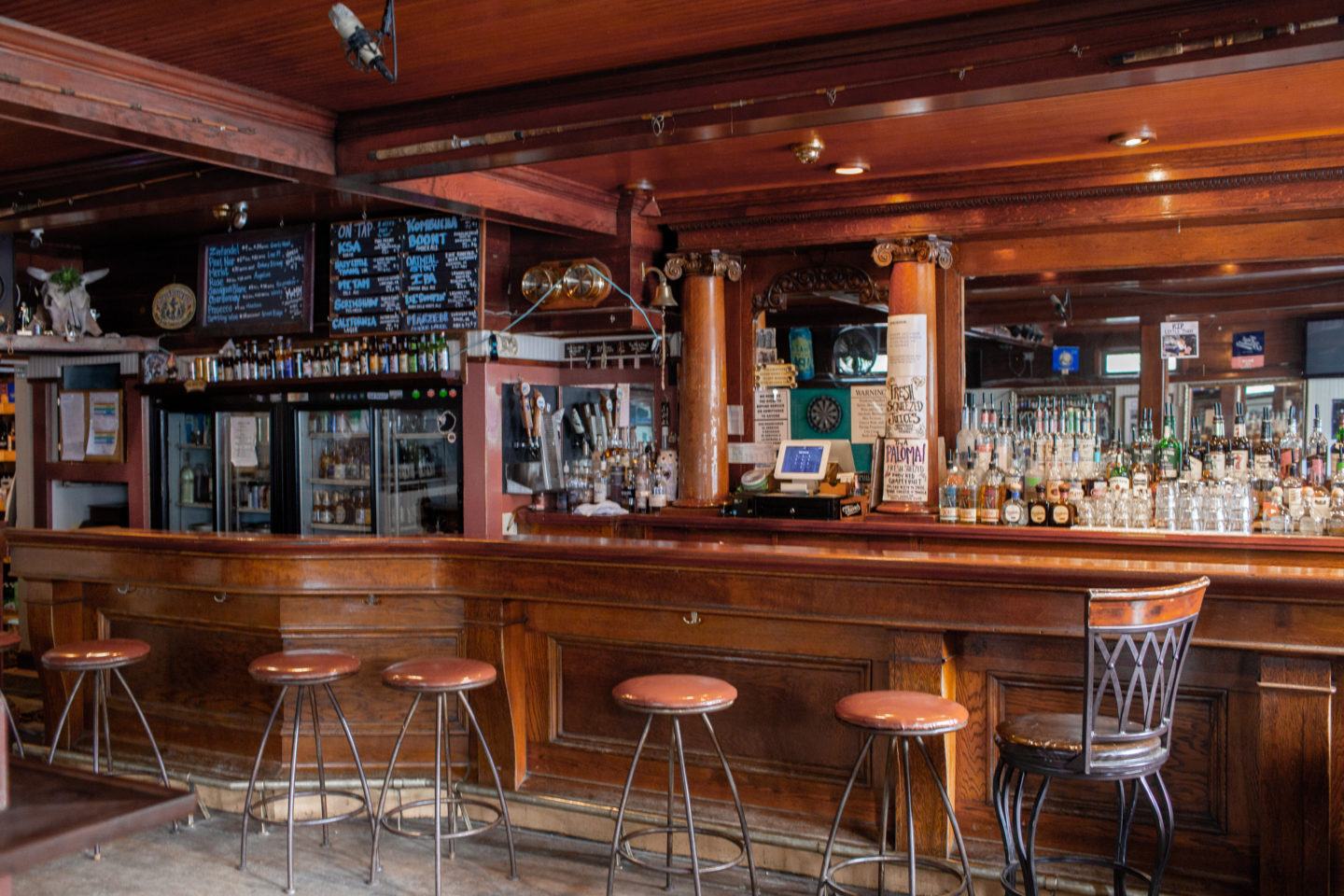 WHERE TO EAT + THINGS TO DO IN POINT REYES STATION
Depending on the time of year (winter vs. summer) you may have more daylight hours than we did. If you find yourself wanting to do more things, I suggest setting aside an hour or two to explore Point Reyes Station! On weekends there is a farmers market at Toby's Feed Barn, a fun shop that's worth a stop even if the market isn't happening. The town is full of artisan galleries and local boutiques where you can shop art, knits, plats and everything in between.
My favorite thing to do in Point Reyes Station is to stop by the Cowgirl Creamery! As a Wisconsin raised gal, I can't get enough of good cheese and they make some of the best cheese in the state here. Grab a grilled cheese or simply a few wedges of goat cheese from the store. If you want, try a cheese tasting for $5!
Another fun Point Reyes thing to do is visit the Heidrun Meadery! If you travel with big foodies, especially when it comes to wine and beer, don't pass up the chance to taste mead! It's hard to find places that still make it in the USA. If you are really great on time or are spending a weekend vs. one day, check out the Tule Elk reserve further up the park!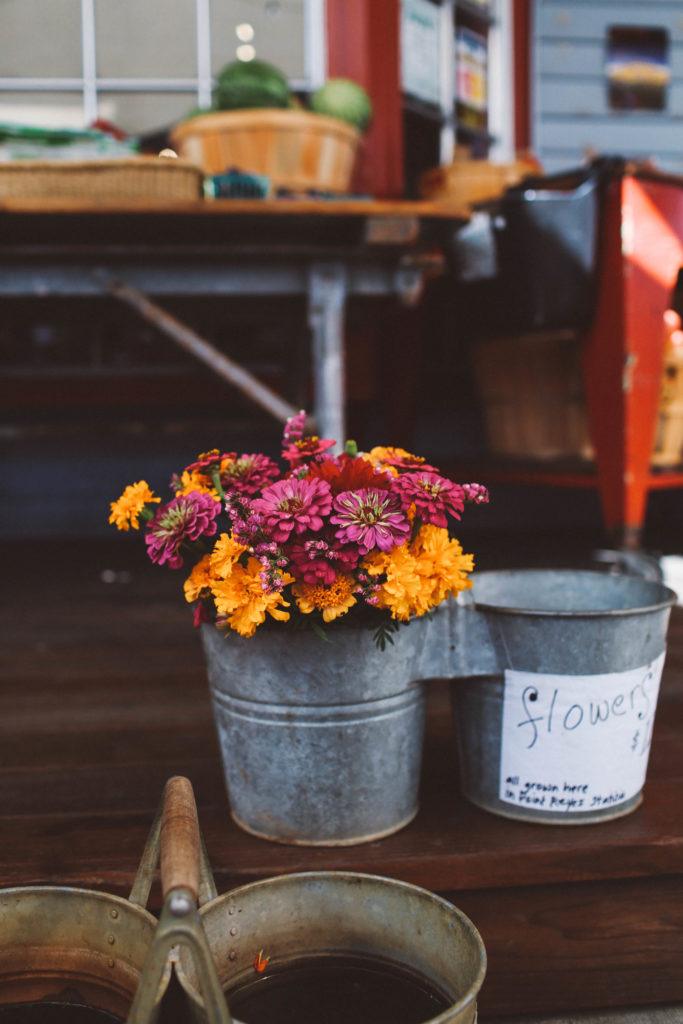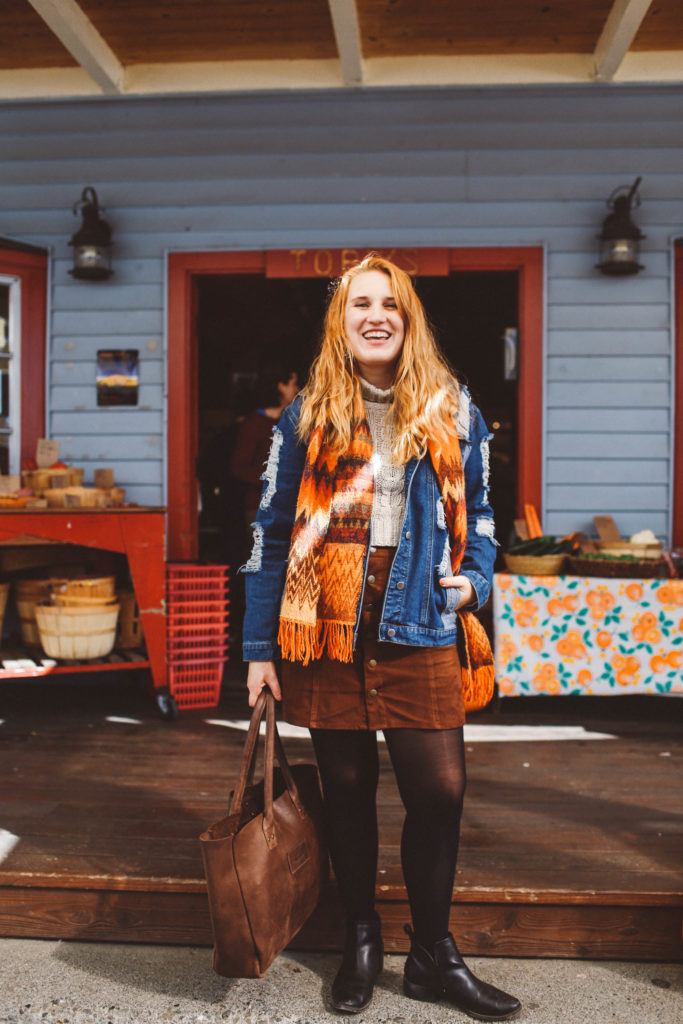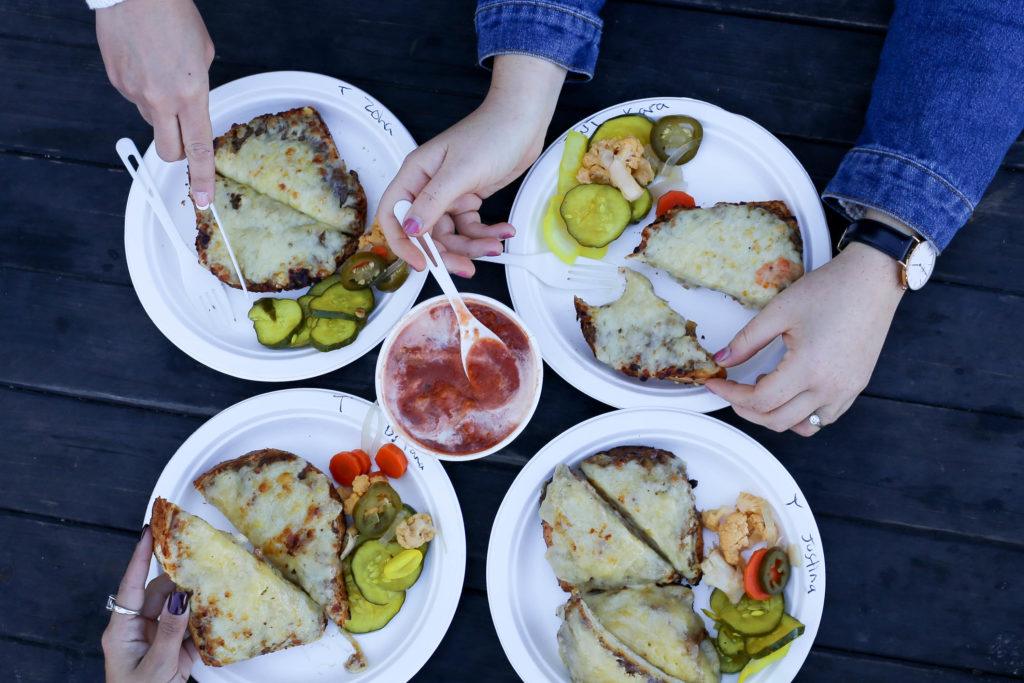 POINT REYES HOTELS
There are a lot of hotels and inn options in the Point Reyes area, but there are a few that really stand out to me at special places that are worth spending the night at.
Smiley's Saloon: A historic saloon inn in Bolinas. They have 6 rooms and every guest gets a Smiley's buck upon check-in that's good for a free drink at the bar! Live music happens every weekend, but don't fret – you can't hear it from the rooms. It's right in downtown Bolinas and makes a great base to explore the city from! Book on Airbnb here – use THIS link for $40 off!
Olema House: A luxury hotel between Bolinas and Point Reyes Station. If you're craving a relaxing country retreat, this is the place for you! They have a large lawn and are nestled against a creek. The hotel is decorated in eclectic decor that fits into the bohemian vibe of Point Reyes perfectly.
Nick's Cove: This hotel has been on my California hotel bucket list for ages and we still have to go visit. Nick's Cove is a cluster of seaside cottages right on Tomales Bay. Each room has fun features like wood-burning stoves or deep claw foot tubs and some even overlook the water. The onsite restaurant is also one of the best in the area!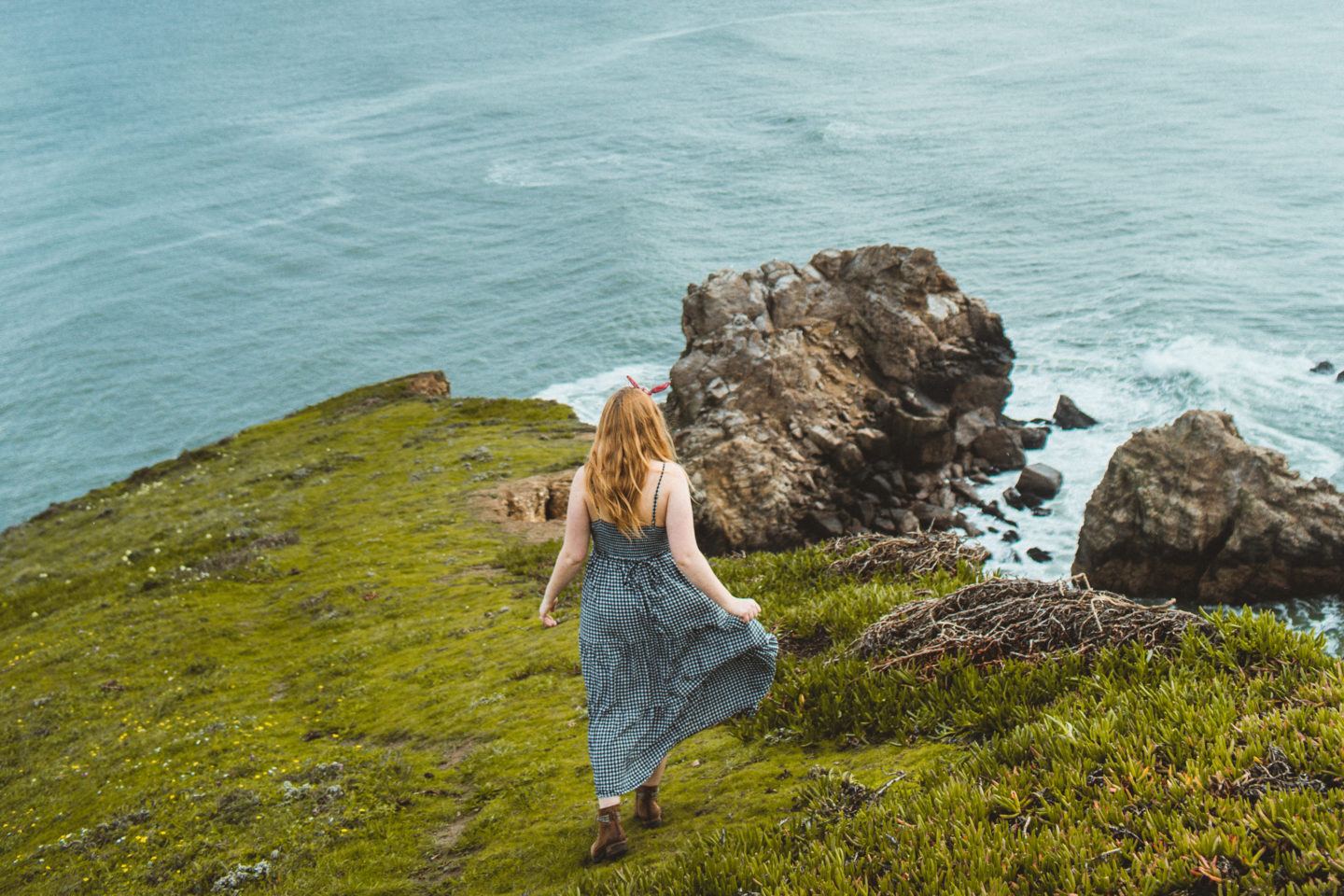 WHAT TO PACK FOR A POINT REYES DAY TRIP
Point Reyes weather is all over the place. Don't be fooled by California – this part of the state is rugged compared to the white sand beaches of LA. Dress in layers and expect anything from rain, wind, sunshine all in one day. While in Bolinas, within the span of 10 minutes I went from wearing a sundress and basking in the sunlight to dashing back to our hotel shivering in my heavy sweater because the skies opened up with tons of rain. Since you'll probably be hiking, make sure to wear sturdy hiking boots and sunscreen!



I hope this helps you plan your road trip around Point Reyes! It's a really fun weekend trip or even day trip from San Francisco. I love how, by simply driving a bit up the coast, you can be transported to a whole other world. Head up to Point Reyes this weekend for a wild adventure that will feed your body, mind and soul.