As a frequent traveler, I had followers on Instagram tell me for ages that I should try Rothy's shoes.
They were introduced to me as shoes made from plastic water bottles that are machine washable, aka the ideal pair for shoes for someone who is always traveling. (I could just toss those bad boys into the wash when unpacking & have shiny, pretty shoes!)
BUT, do they deliver on the hype? Are they *actually* machine washable? Are they comfortable? I wore my Rothy's for about a year to really put them to the test.
Keep reading for my 100% HONEST (and unsponsored) review on the shoes, along with must-know tips before you buy if you choose to do so.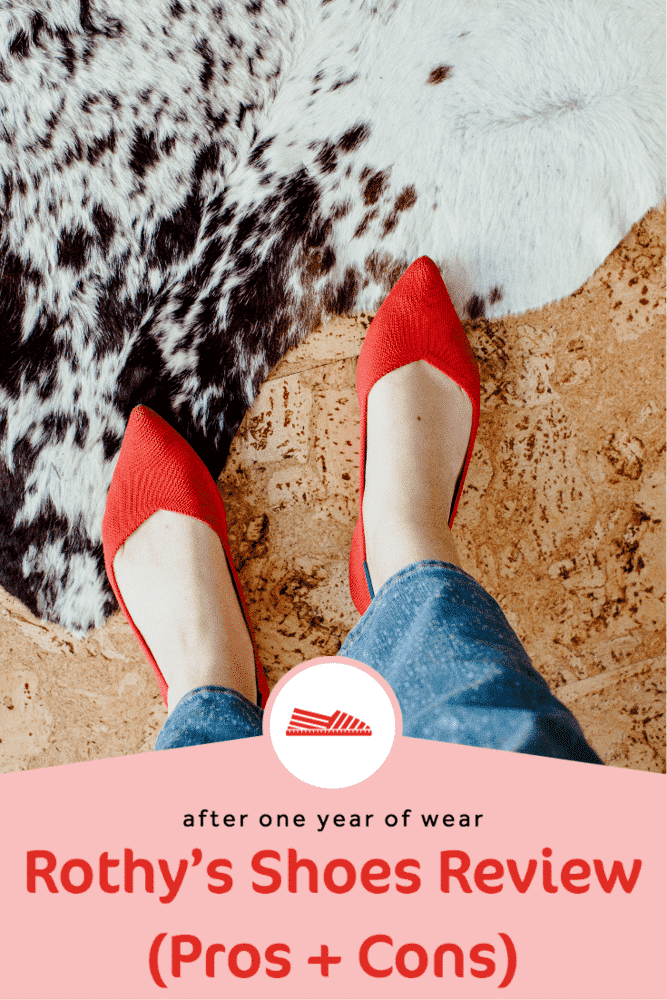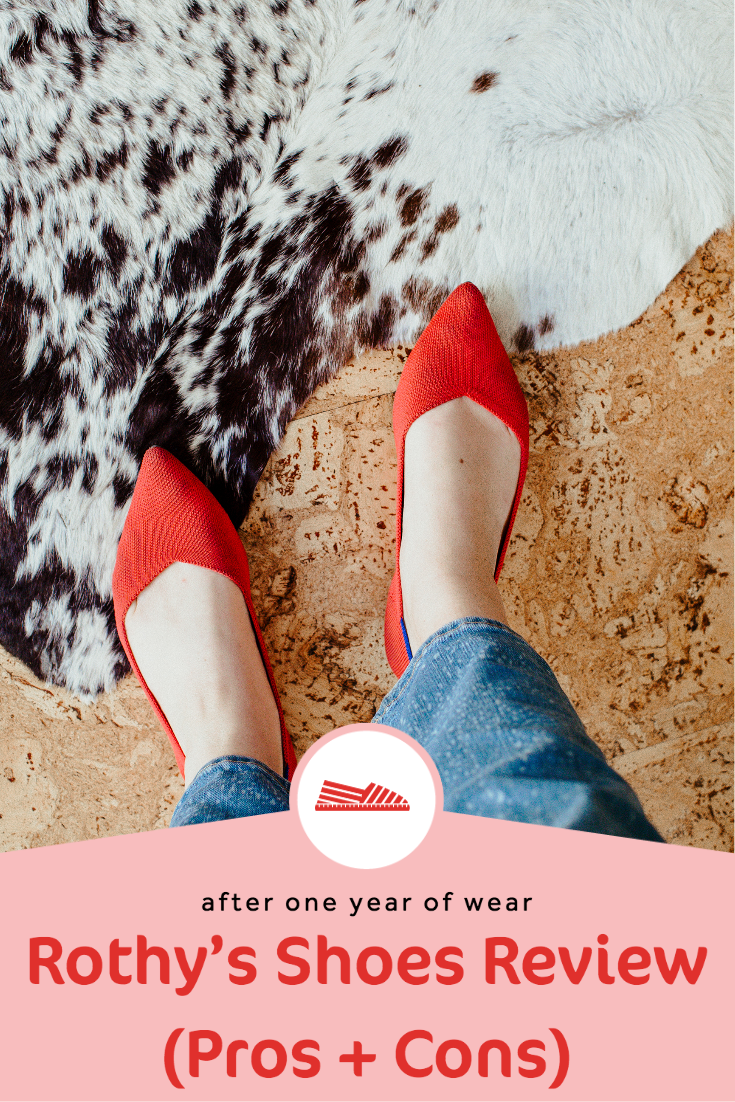 Rothy's Review After One Year Of Wear (Are They Worth The Price?)
As someone who values style and fashion, but also NEEDS to be comfy at the same time, packing for trips can be difficult. Especially when it comes time to picking out comfortable shoes that are versatile (and cute) enough to go with many of the outfits I packed.
I'm a firm believer that you don't have to comprise style when you travel. (I chat a lot about this here on Whimsy Soul.)
I think pointed ballet flats are chic and go with almost any kind of outfit, making the style the perfect shoe to toss into your suitcase. (Or if you're looking for a good flat that's office attire approved.)
Enter: Rothy's.
Rothy's Shoes Review – At A Glance
My Fave!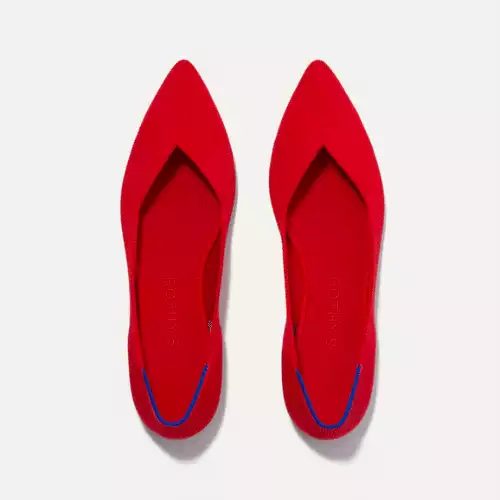 The Point Flat
I LOVE my Point Flats from Rothy's. I've worn them all over the world - from small islands to large cities and everything in between. They're packable, washable and so comfy.
Pros:
Many colors

sleek, timeless style

made with 11 plastic bottles

bendy & packable!
Cons:
lighter colors get dirty faster

not great for flat feat
Buy Now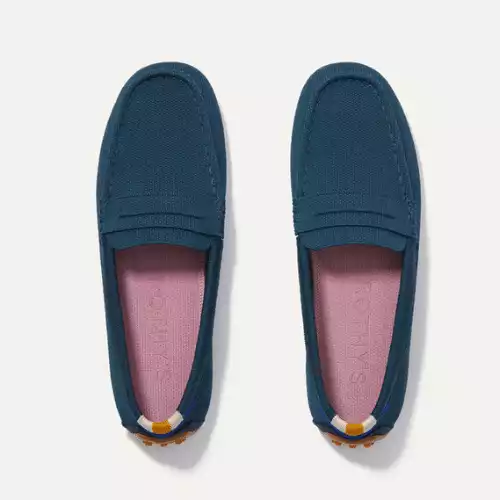 The Driver Loafer
Rothy's Driver loafers are perfect for long days exploring a city, or anywhere that requires a little extra grip on the sole. These slip-on loafers come with grippers and are super comfy.
Pros:
Grip heel for adventures

machine washable

many colors available
Cons:
Does not stretch - must get sizing correct
Buy Now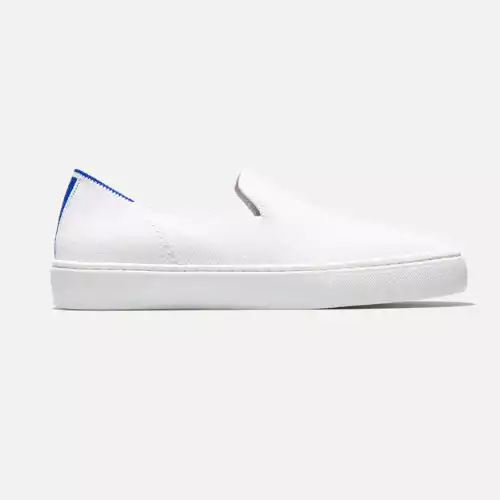 Slip-on Sneakers
If you LOVE sneakers you'll love the Rothy Sneakers but personally, I've found equally as good sneakers that look similar, feel similar but are half the price. It think Rothy flats are more special.
Pros:
machine washable

made from 13 plastic bottles
Cons:
can find cheaper sneakers at similar quality
Buy Now
This brand has totally taken over the internet with promises of being sustainable, washable, comfortable and trendy. BUT, does a pair actually live up to the hype?
As I mentioned, I got my Rothy's about a year ago and have been wearing them and testing them out so I can bring you the inside scope. I hate recommending higher-priced items like a $150 pair of shoes before really investigating it and testing out in person.
First, let's chat about that this shoe is really made out of.
What Are Rothy's Made Out Of?
Or, are Rothy's sustainable? Rothy's made a name for making shoes out of recycled plastic. According to their website, they say they have turned over 37 million plastic bottles into thread for their shoes.
That's a lot of plastic saved from the ocean, which is a win my book.
They also use Merino wool, which is the same type of high-grade wool that Allbirds uses for their shoes. And, depending on the type of shoe, the sole are either made from carbon-free rubber or vegan leather.
They also have sustainable packaging and claim to own their factories, which means they can have full control over waste and are moving towards being zero waste.
Of course, when it comes to anything made overseas, you have to factor in things like carbon emission from shipping, etc. But at the end of the day, Rothy's tries hard to be sustainable and are probably as close as you can get with a shoe company.
Are Rothy's ACTUALLY Machine Washable?
Yes and no.
The main allure of Rothy's is the concept that you can just toss your shoes into the wash and they'll be sparkling clean! Well, not so much.
I've never been able to get my flats clean, no matter how many times I wash. The inside slip is almost black at this point, which doesn't really matter since nobody can see the inside. But there are dark stains & scuffs on the outside of the shoes that just won't go away. Those bother me.
You also can't dry the shoes, which means you need to air dry them for a couple of days before wearing them. This could pose a problem if they are your only pair of shoes on a trip, or you need them quickly for work.
So, they are machine washable in the sense that they aren't destroyed in the wash, but that doesn't mean they'll be magically clean and look brand new after a wash.
The lighter colors seem to stain easily and stains don't wash out of the material very well.
What Are The Styles Of Rothy's Shoes
Rothy's has 6 different styles of shoes. And I'm going to be honest here: not everyone is cute or flattering in my opinion. I think Rothy's does The Point and Sneakers well, but lack a bit on the other styles.
Here's all the current styles, which range from $125-$165:
For my first pair, I ordered The Point in Flame. I loved the bright color and how sleek the point looks. I'm personally not a big fan of the rounded toe flats.
I got a chance to see them in person at a store here in San Francisco and I thought the round toe looks a little clunky in real life.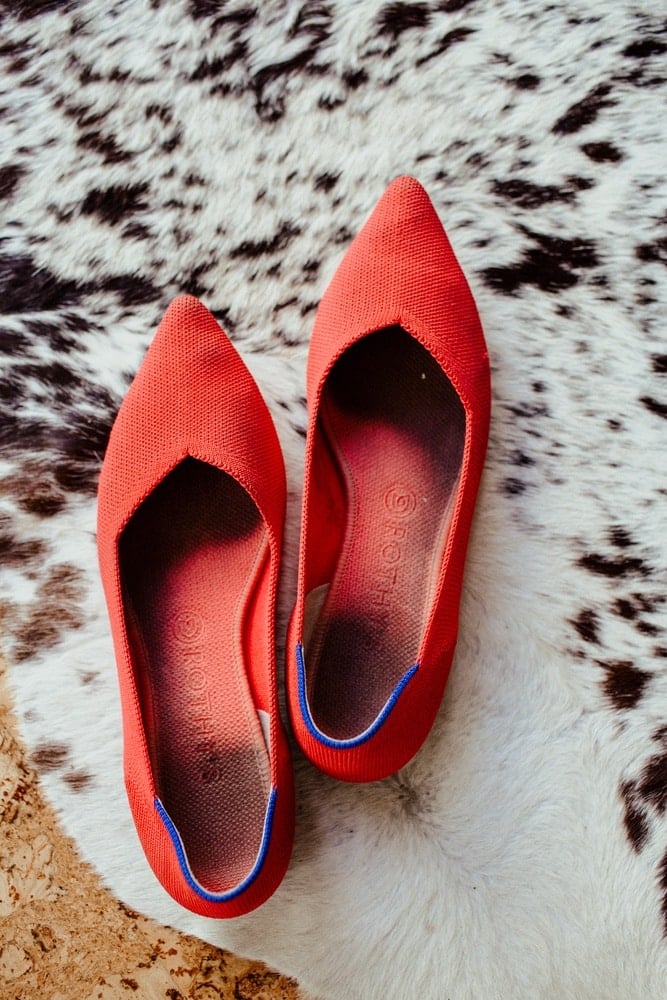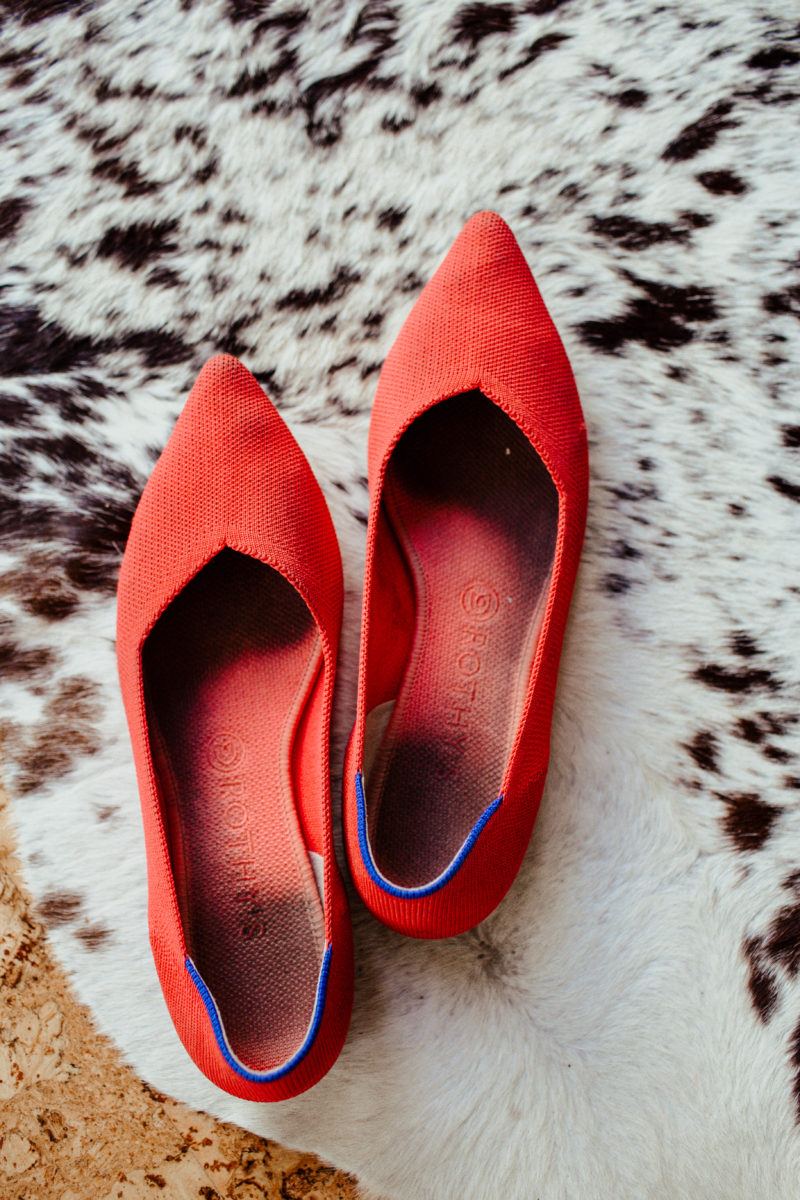 I also feel like the Chelsea Boot is on the chunky side, vs the slimmer, more sleek version of Chelsea Boot that most brands produce. That's just a personal style preference. But the pointed flat is beautiful, sleek and modern.
And it comes in some really fun colors, too! I'm not afraid of color, in fact, I think bright red flats are super fun for traveling when you don't have the suitcase room for tons of accessories. Your colorful shoes are the accessories! So for me, the Flame color was the perfect addition to my suitcase.
PS I wrote this post and then the next day Rothy's launched The Maryjane style which is the Point but with a bow. They are SO dang cute. I think they would be the perfect thing to pack for trip to Paris.
UPDATE: I treated myself to a new pair of
Mary Jane
bowtie shoes in black this past February. The bow kept falling loose when I walked, which was a huge issue for me. But then I figured out how to sew the bow tie together and it's been perfect ever since!
Over time, these are easier to keep clean since they are black and the soles are softer than other Rothy's flats, it's amazing. I could walk all day in these. I also have my eyes on the driving loafer.
Rothy's Sizing Tips
I was worried about what size to order but found Rothys sizing to be pretty spot on. I wear a size 9, and they have half sizes for inbetweeners if you need those.
If you're trying to figure out how to stretch Rothys just approach it like every other shoe: wear it. They'll stretch out a little bit and form to your feet after a few weeks of wear. I have wider feet and found the toe box (ala the area around the toes) wasn't an issue at all.
Now, about a year in, my Rothy's are basically a mold of my feet (in a good way!)
Here's some a photo of me wearing my pair of Rothy's in LA!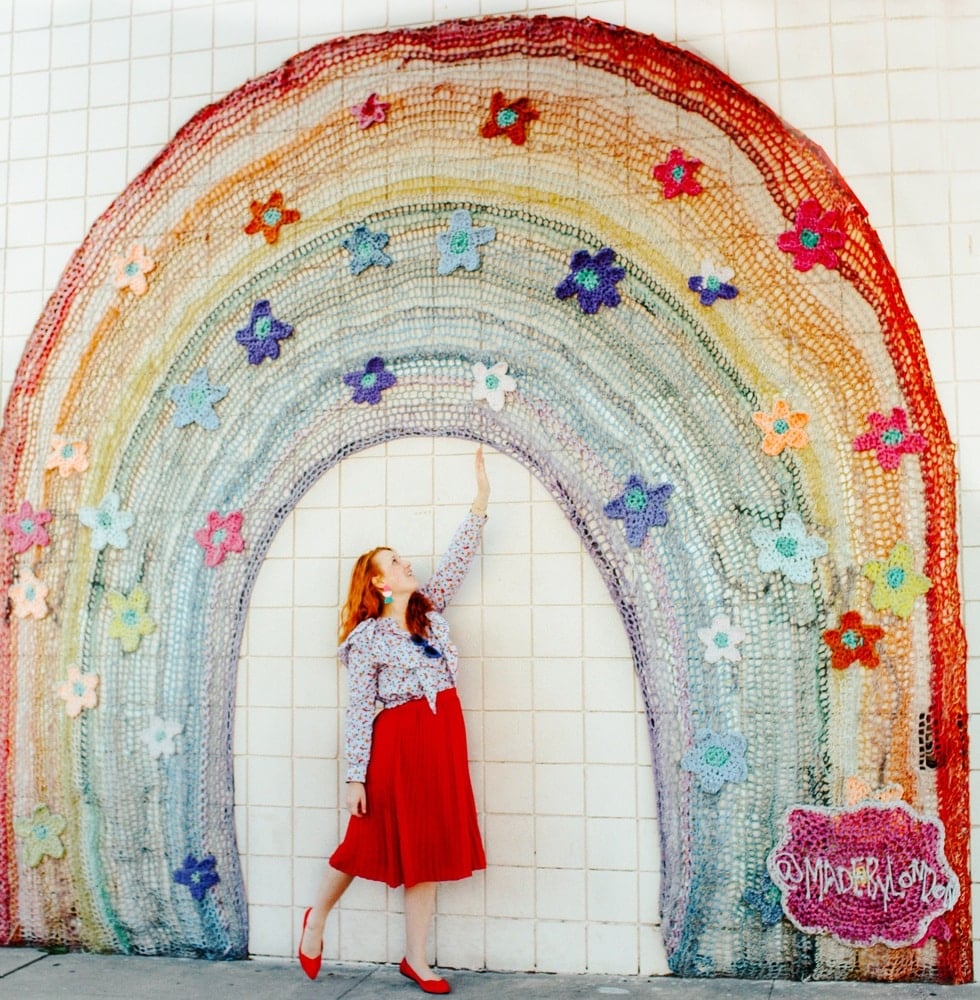 CONCLUSION: Are Rothys Shoes Worth The Money
Yes, but only for select styles. I love my Pointed Toe Flats. As I've mentioned, they've gone with me on most of my trips this past year and while I wish they would get cleaner in the washing machine, they are super comfy for long days of walking and I love that.
I was worried about the arch support but I've seriously walked over 10 miles in these shoes and my feet didn't hurt, which really impressed me. I also don't wear socks with them.
Depending on the trip, Robin and I clock a LOT of miles and my Rothy's are probably the most comfortable shoe I've ever taken with me.
I think I'll buy a black pair of pointed flats sometime this year to add to my travel shoe arsenal, but I'm not jumping to stock my whole shoe collection with Rothy's.
Overall, I recommend a pair or two of these comfortable flats or sneakers to frequent travelers or people who need to stand on their feet all day. Skip the Chelsea, The Flat and the Loafers.
Skip The Bright Colors & Opt For Dark Ones
If you are looking to buy a pair, avoid light colors and instead opt for black or darker colors, as I found the stains and dirt didn't really wash out well that first time, and has since stayed stained.
The inside of my flats are basically black at this point and the outside has black smudges that just won't wash out either. I imagine if I had a white or cream pair of flats, they would be too stained to wear at this point.
Though, to play devil's advocate, I have really put these flats through the wringer. I travel a LOT for work here at Whimsy Soul and have worn my flats everywhere from big cities to campsites. So it could just be a me issue and I wear them too hard!
Where To Buy Rothy's
You can buy Rothy's shoes online or in-store. They have a good return policy so you shouldn't be wary of ordering online.
Why Are Rothy's So Expensive?
Because they're a quality shoe! I've had mine for a couple years now and have walked all over the world in them and they're still holding up just fine.
Are Rothy's True To Size?
Yes! I found their sizing to be pretty spot on. If anything, you can size down and stretch the shoe out with wear. I find my rothy's flats always mold to my feet over the years of wear.
I hope my Rothy's shoes reviews help you decide if they are the flat shoe for you and your needs. I really do love my The Point flats, despite being permanently stained.
They have been a go-to for packing for months now and have really made trips easier when it came time to pack shoes.
I would LOVE to hear your thoughts on Rothy's, especially if you own a pair of boots or loafers (maybe I jumped to quickly to not recommend them?) If you've had a bad experience or a good experience, leave a comment below so everyone can see what everyone says!

Got questions? Leave a comment below or DM me on Instagram @thewhimsysoul and I'll be happy to help!
Other Blog Posts You May Like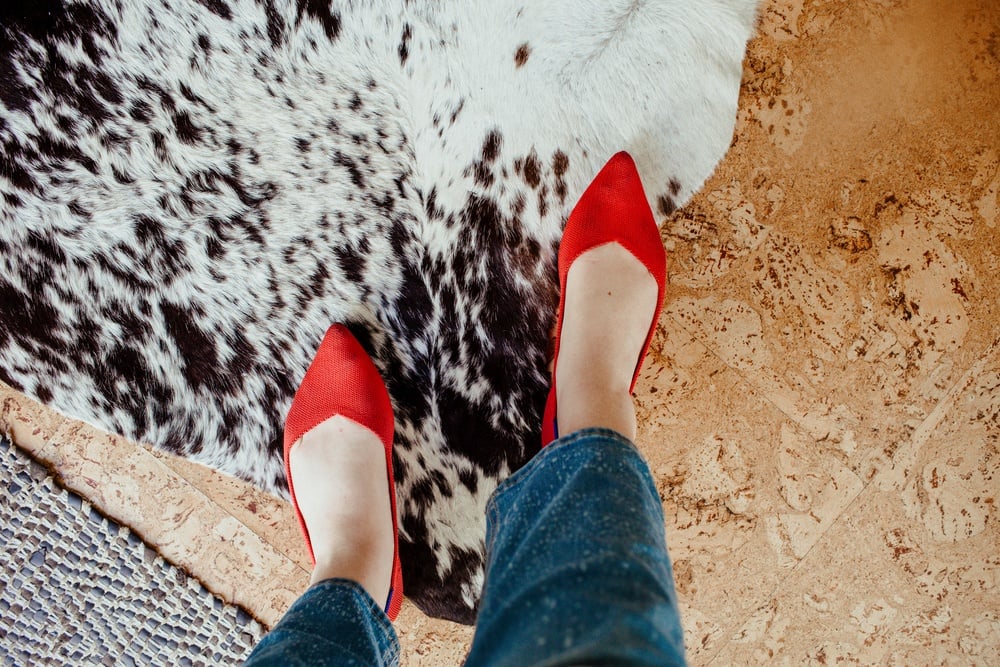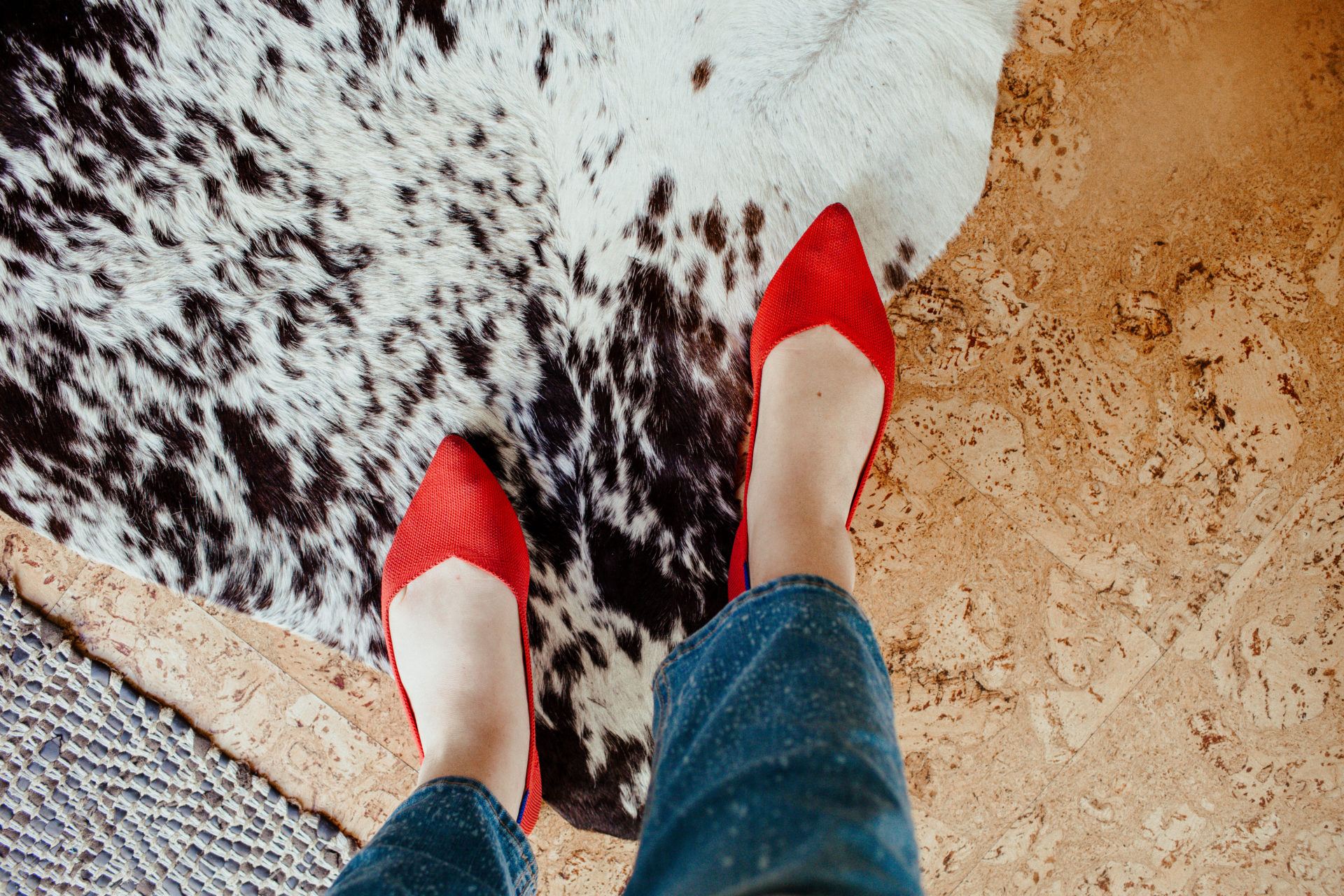 Video Transcript
(For my hard of hearing readers, I talk fast!)
Speaker 1: (00:00)
Hi, welcome to Whimsy Soul. Today we're going to be talking about rothys. These are going to be talking about the pros and the cons of Rothy shoes. I've been wearing them from over a year so I'm going to tell you all good stuff. I'm going to share all the bad stuff going to kind of guide you to which styles you might like better and I'm going to share with you if they're actually machine washable. They actually work like they're supposed to.
Speaker 1: (00:29)
We dive into that. Hi guys, my name is Kara. I'm the blogger behind whimsy soul people. Return visitor. Oh come back if you're new. Hi, it's great to have you here. Women's, this also lifestyle travel blog, so that means I do a lot of living and fashion content as well as travel content and I absolutely love when those two collide. Like here I was introduced to Rothys these as the great shoe for frequent travelers and that's because they can be tossed into the washing machine and washed and then all the dirt that you got on your trip can just come out of your shoes. I was just struggling to find shoes that could keep up with the amount that I walk that are also cute and go with a lot of outfit so I can save on suitcase space. And that our company, like I have pretty flat feet. Rothys worth it
Speaker 1: (01:11)
So it's important that I have something that can kind of support my feet as I'm exploring a new city all day. And that's where rallies came in. That's the main selling point. The other main selling point for Rothys is, is that they are made out of plastic water bottles. So sustainable, which is great. So on top of being machine washable, you know, you get it all dirty as you can see it as now you can put it into the washing machine and it comes out new, which is what the claim doesn't really work that way. I'll get into that, I'll get into that. Um, but they're pretty bendy so you can put them in your suitcase, they can get smashed, you can like fold them even and they're just fine. They'll just pop right back. Um, so that's why I got into them. So these are the point, as you can tell, they have nice little points.
Speaker 1: (01:50)
Um, and these are in the flame red color, which I really like. They're quite red. They're really fun and spunky. I love pairing these with a lot of outfits because when you're traveling, you really don't get to pack all the assessors that you might want to bring a, you can't really, you have that Metropolitian and you're limited to a suitcase. So I like that your shoes can kind of be that Pop of color in your outfit. So I love the color for that reason. I'm going to start off right away with challenging the idea that you can just throw these into the washing machine. You can't, well you can't. So you can, and that's true about that. You can put these into the washing machine. You have to wash them on a single load by themselves, which is annoying when you're a renter. So you have to pay like $3 every time you want to wash these. That's just renting problems here in the city. Um, but so you can't throw these into the wash. They are safe. They come out fine, but the only issue is it doesn't really get them clean. So these are freshly laundered rallies.
Speaker 1: (02:45)
As you can see, uh, the insoles not exactly clean, they're pretty dirty. Uh, you have this nice little imprint of my foot right here. Sorry guys. Um, so it is almost black as you can see here compared to the red. Uh, it has never come out. I've watched these so many times and it's just stained black and that's really not a big problem because who's looking at the in of like your shoes? That was fine. But what did bother me is I've gotten some dirt stains on the shoes, like on the, this part here, which have also not come out. Uh, and you can actually notice these when you're standing far away. So I'm farther away. Notice that they're not exactly the cleanest shoe they look like they need to get washed, which is disappointing because they just got washed Rothys. These are $150. That's kind of the average price.
Speaker 1: (03:37)
Some of them are 125. They go up to 165. Most of them after tax and stuff kind of sit around the $150 Mark, which is a lot for shoes. That's a lot for shoes that retain dirt like this versus like a leather loafer or something where you can clean off all the dirt. This absorbs stains and it doesn't really come out. So that is like a big con. That's the biggest issue I have. And that's why I decided to share this video now because I've been wearing these for a while and I haven't gotten lots of stains. And for $150 shoe, I feel like they should last for longer than a year before they get really, really dirty. Um, so that's the bad thing. Um, so my advice is if you're buying shoes from Rothi is like go dark colors, go with the blacks, the dark blues, those sort of colors that you can't tell stains are happening, then I think it will be perfectly fine.
Speaker 1: (04:28)
Um, but let's talk about the good things. As you can see that kind of like formed to the shape of my foot, which I think is awesome. So I was really worried that these were going to be really uncomfortable to walk around and all day ballet flats are just not comfy to walk around and all day these are so comfy you guys. Um, I have, as I said, I've walked over 10 miles in these shoes. I've gone camping. I've gone like low key hiking in these, I've taken them to the streets of big cities. They're very, very versatile. They're extremely comfortable, which I love. Board traveling shoe. I think the color is cute, minus the stains. I think that these points are very, very cute. They go with a lot of different types of outfits and through so comfy. So when I'm packing right now, I have my suitcase next to me.
Speaker 1: (05:11)
I have a pair of heels and I have these. So these are the only two shoes I'm bringing with me on a trip. So that's great. Brought these, has a lot of different styles. Uh, I would with the point I got to see them in person here in San Francisco and I personally thought that like the rounded toes, just not cute. I don't know like the field, like really funky, same with the loafers. They're almost the same style. Um, but I guess in a low first style and I thought that their Chelsea boots aren't necessarily the cutest either. They just feel like a little clunky. Not really my style. I like boots that are a little slimmer but I thought the points looked really nice and a lot of people from people's speeds so I like the point. That's cute. They also have cute stickers as well.
Speaker 1: (05:51)
So I would say the styles are kind of hit or miss, but I really like the points. They look super cute but I still worked in an office. I'd probably get these in a black out, just make those my work shoes. I'd probably wear them almost every single day because they're very, they're very sleek looking, which I like. They look very professional, especially the darker colors that don't have stains, but they comment a lot of different fabric styles. I've seen leopard print, pink, tan baby blue, weird patterns. I'm personally not a big fan of that weird patterns. I kind of like a shoe that is either like a leopard print or solid color, but there's all sorts of color options for you, which I think is really fun. So that's my thoughts on it. Before we head out, let's cover the sustainability aspect of [inaudible]. Other than being machine washable, that's kind of what they pivot the whole brand on is that they're sustainable.
Speaker 1: (06:36)
What does that mean? According to their website, they have turned over 37 million plastic bottles into thread that makes the issues. So they've saved over 37 million plastic bottles from ending up into our oceans, which is awesome. Some of the shoes use Merino wool, which is this really nice Australian and New Zealand type of wool. Um, I don't know much about that industry, so I can't say if that's super sustainable or not, but I do know from their website and some digging around that they own their factories that make the shoes and that so they can have really full control over the waste and they're moving towards a zero waste model, which is really great. Of course, you know, you have to factor in like these, I pretty sure it made overseas, not in America. So if you're buying them in America, they are being shipped and that is carbon emissions and things like that.
Speaker 1: (07:22)
But they seem to be pretty dang sustainable for a shoe company. I think they get it as close as you can get. All right, so that is the basic crash course on Rathee shoes. To wrap this up, do I think it is worth the $150 price tag? Yes, but there's a, but to this, I think the points are worth it. I think the design is really great and they're super comfy. My butt is good at dark color. You guys, I love this flame color so much. Maybe I'm just really dirty. Maybe I put these through the ringer too much, but um, I just don't think that the lighter colors are necessarily good for staying. So do yourself a favor. Get the black pair of the points. They're going to be fabulous. They're going to go with all of your outfits. Like black goes with everything. They're going to be a great travel shoe. There'll be a great work shoe. So get that. I also thought the sneakers are cute. My butt applies to the flats, which I don't think are as flattering and the boots. So yes, they're worth it, but only if you get the right styles in the right colors before you head out. You know, the drill, subscribe, follow on Instagram, yada, yada, yada. I hope to see you around the Whimsy Soul community!