Updated 2022.
Hello fashionistas! Today I'm doing an honest Chicwish review. I'm sure you've seen Chicwish clothing ads on Facebook or your favorite fashion blogger's Instagram. I personally have been swooning over all the feminine styles and beautiful tops.
In this mini-haul and review, I'll be sharing my thoughts on if Chicwish makes clothing that is good quality, as pictured, share sizing thoughts and order time.
This NOT a sponsored or gifted in any way, my Chicwish reviews are 100% honest! Let's go!
Chicwish Reviews 2023
I ordered a pretty, fluffy dress from Chicwish once last June, but other than that, my experience with them is pretty limited.
To be honest, I returned that first dress because it was too small on me, but I chopped that up to needing to size up (my error, not theirs!)
This time around, I picked out two tops and 3 skirts to review. Chicwish skirts always look so dang cute, and I'm low-key obsessed with midi skirts, so I had to try some out.
(I do wish I ordered a Chicwish dress to review as well – hindsight!)

I want to start out by saying I was a bit wary about ordering $250 worth of clothes because I remembered my dress last year taking WEEKS to arrive and Chicwish doesn't have the best return policy out there. (More on that below)
And it turns out… I was right to be wary.
My order arrived pretty quickly, which was surprising. I ordered the last weekend in July and it arrived August 5th. BUT, this was only 1/3 of my order, with 2 tops and 1 skirt.
It took WEEKS for the other two skirts to arrive. WEEKS. And the last one never even came so I can't include it.
Here's what I got:
I put on the bow top. It's clearly too big. I ordered a Large but I think I could have worn a small. It was really hard to tell if it was accurate to the photos online because it was so large on me.
I normally wear a size 12 / Large, so I wasn't expecting such a sizing issue there because Chicwish has a fucked up sizing chart. (They consider a Large a US 8 – more on this later.)
Next up, I got the ruffle crop top. It took me a hot second to figure out how to put this one on, but it fits well and looks really great with high-waisted skirts.
What I didn't like was the fabric, which is 100% polyester. It arrived wrinkled and I know from past experience with 100% polyester fabrics, it's hard to keep it from getting wrinkles throughout the day.
This is my fault for not reading the product info. Other than the fabric, it's really cute and fits well.
Last up was the skirt, which I was the most excited for, but ended up to be the most disappointing. There is something seriously wrong with the inner lining on my skirt.
I *hope* it's a one-time factory error as it's sewn incorrectly and hence makes the skirt look REALLY lumpy and awkward. See the photos below. I can't endorse this skirt.
I also felt like I bought clothes from Wish it was so bad.

Chichwish's Sizing Is Messed Up
At quick glance, Chicwish sizing goes up to a size XL which isn't size-inclusive at all, but is still (sadly) the standard among most US companies.
But when you click on the sizing chart details, a Chicwish Large is a US size 8. While sizing charts do vary from brand to brand, a large is NOT an 8. It's usually around a 12.
That makes their XL a size 10, so Chicwish is totally playing into diet culture and only catering to small bodies. Thank you, NEXT.
Chicwish Return Policy
This isn't like the Nordstrom Anniversary Sale where you can buy a bunch of stuff and easily return what you don't want.
Here are your options: Refund to original payment: Receive a refund back to your original payment method when you use our USPS return label or your own shipping method. Returns must be requested within 30 days (calculated from the date you receive your order) to be eligible for a refund.
If you choose to use our pre-paid label and return 1 or 2 items, the $7.9 price for the label will be deducted from the refund or credits issued for your return, and if you use our pre-paid label to return more than 2 items, the $12 price for the label will be deducted from the refund or credits issued for your return.
I returned the late additional skirt before it even arrived and was still charged $8 to return it on TOP of the additional $8 to return the rest of my order. So, not at all cool Chicwish to double charge a return.
You can only get free returns if you opt for store credit instead of a refund. Personally, I think this is a pretty scummy way to handle return shipping. So, think twice before you order as you may have to pay tons of cash to return things that don't fit or work.
Chicwish Promo Codes / Sales
You don't need to fork over your email to get flash deals, there will be a little bar at the top of the page letting you know about what discount codes/sales are happening!
Other Chicwish Reviews
The Chicwish reputation is good on Instagram and social media, so I was surprised to get a totally defective skirt, and a top with such a sizing gap.
In terms of Chicwish reviews BBB (Better Business Bureau), they have an F grade, which is NOT good. Most complaints are around poor clothing quality, late shipments and not issuing returns.
Conclusion
I'm not sure if it's a one-time thing or not, but based on my first time order, I would be really hesitant to order from them again. I'm just being brutally honest here.
My order was broken up in batches and late
I wasn't notified of this lateness until I reached out to Customer Service
One skirt was defective & unwearable
The general quality is poor with faulty stitching
I was charged twice for returns
You may have to deal with currency conversion fees
I'll keep you posted on how my return process goes, but I'm already mentally preparing to have to call my credit card company to get a refund if the BBB complaints are any indication.
UPDATE: I did get my refund but it took close to 2 months!!! Yikes
So, is Chicwish legit? You'll get clothes but they may not fit or be made well, and you'll have a hell of a time getting any refund.
Based on this order, surprisingly, a Chicwish vs Shein battle would make me pick Shein, which honestly is even surprising to me because I ripped Shein during my Shein review video.
Have you ordered from Chicwish? I would LOVE to hear your thoughts below! Did you have the same experience or do you love them and I should give them another chance?!
June 2021 Update – The "CEO" Emailed Me
I woke up to an email from someone with a chicwish.com email address claiming to be the CEO. I say claiming before the email address had one name, the Google auto-populated name was a different one, and then the email was signed by the "ceo" which was a 3rd entirely different name. So I'm not sure who actually sent this to me but I don't think it was the CEO.
Basically, they wanted to send me a bunch of new (good) things to change my post to be full of positive reviews. Aka fake positive reviews. Again, I write these brand reviews totally unsponsored without any outside influence so I can give you an idea of what you will experience as a customer. And no, I didn't reply to this email.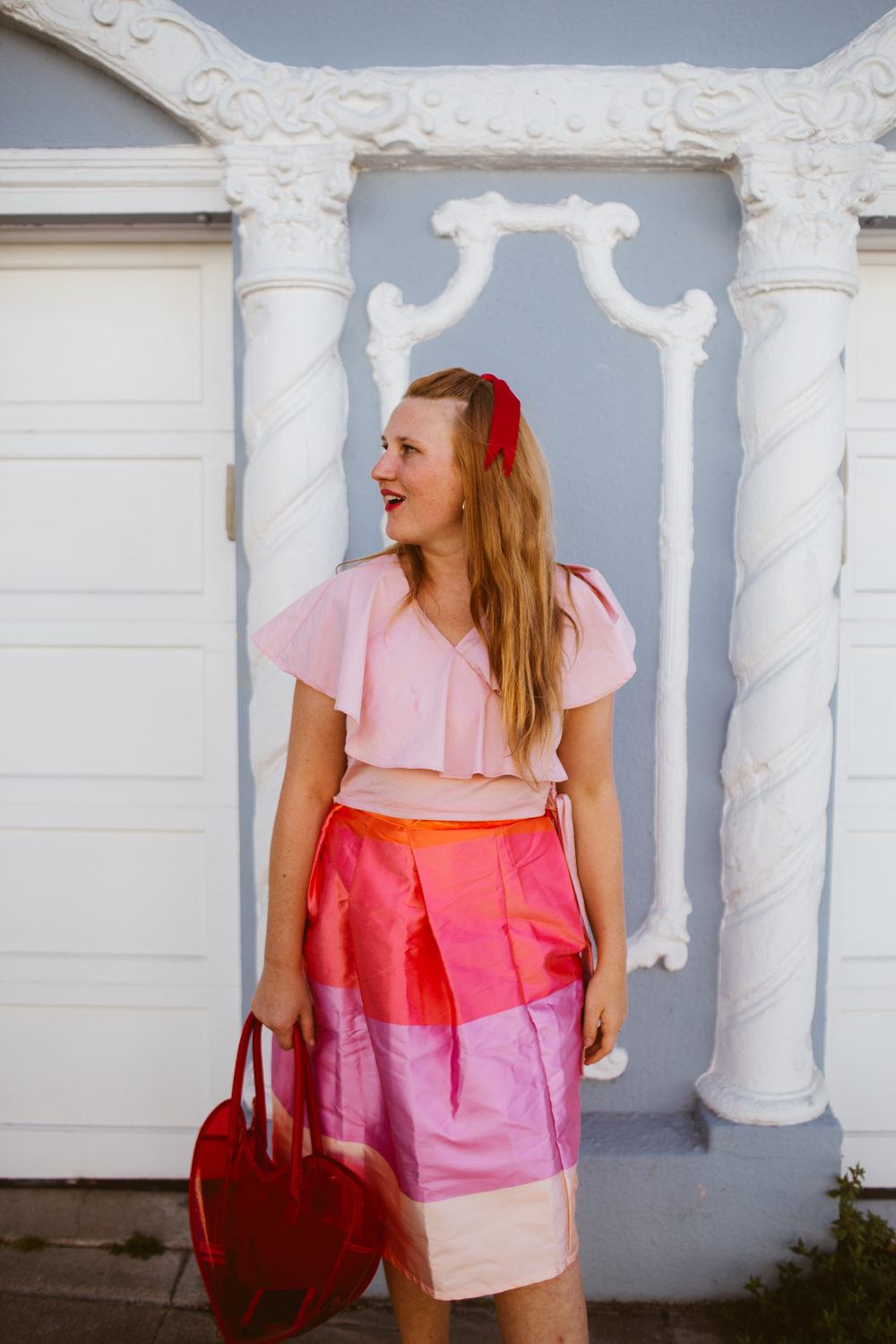 VIDEO TRANSCRIPT
(for my hard of hearing readers! Hope your ind this bit helpful)
Kara:
This right here is actually the piece that made me really be like, what the actual [inaudible 00:00:05]? Really Chicwish, you're really selling this to people? You're scam artists.
Kara:
Hi guys, welcome back to the Whimsy Soul channel. I'm really happy to have you here. Today I'm going to be doing a Chicwish haul and honest review. I'm sure you have seen this company on Instagram. You probably got served some Facebook ads. They do a lot of gifting with influencers, so I'm sure you've seen your favorite influencer rep something by Chicwish at some point in time. They're really known for these super whimsical and funky, yet trendy pieces, like this sweater and this dress. Very cute. So, I had to try them out or myself. Just going to let you know this isn't going to be a nice review. I had a lot of problems that I'm excited to share with you. Before we get started, you know the drill. Make sure to subscribe, click that little notification bell. Also follow me on Instagram, I put out IGTVs every Monday and Friday and I post there almost daily, so you can find me there as well.
Kara:
All right, let's start this review. All right, what did I get here? I got a bunch of items. I got a couple skirts. Boom. Sorry, they're all just right here. And a few tops. So, I'm going to walk through all the items with you and my general experience with Chicwish, which has not been nice, as I already told you. So, when I do these clothing hauls, I am giving the companies are rating based on customer service, shipment, speed of shipment, the actual quality of clothes and the trendiness. Start off with the good thing. The one good thing is that they do have cute trendy styles. That being said, the quality is quite hit or miss, so they don't quite deliver on that. But they do get a point for having trendy cute styles.
Kara:
Let's just get into story time real quick. I actually ordered three skirts, not two. And I apologize for the traffic noise out there. I live on a busy street. Old building problems. And I got my first order within a few days and I was super impressed about the speed. So, I originally was like, great, they get an A plus on speed. This is amazing. And then I realized that my order is actually split into, not one, not two, but three parts and I wasn't notified about this. So, I went and logged onto my Chicwish order account because I wanted to return a couple of the things and then I saw, oh, wait, I have two more skirts that I ordered that I haven't gotten. I wasn't provided a tracking number for these. They're split up into separate orders and I was never told that they're going to be coming at different times.
Kara:
The worst thing is though I didn't get an update about these things until they reached out to customer service. So, I had to be proactive and be like, [yo 00:00:02:46], where's the stuff that I ordered? I spent like $250 at Chicwish and I was really bummed out to find out that half my order just wasn't here. So, the second skirt, this blue one, it took a lot longer to arrive. It took at least a week afterwards and the third one still has not arrived. It's been about three weeks. So, I reached out to them and I was sent separate email chains for both of these skirt orders. So, great.
Kara:
But this one I kept asking, when is this one coming? When is this one coming? When is this coming coming? And the customer support agents kept just copying and pasting their script. Were like, "Oh, this skirt needs five to seven more days to be produced. And then I'd reach out a few days later and be like, can I have an update? And they're like, "Okay, well this skirt needs five to seven more days to be produced." So, after the third time I was just like, fuck it, my skirt's never coming. They clearly sold it to me even though it wasn't made yet. They have to make a new one and it's not coming at any point time soon.
Kara:
So, it's been a roller coaster ride trying to sort out returns. As I'll mention at the end of this, I'm returning every single thing that I got because it's all really crappy. Just like the short end if you want to stop watching right now. I do not like the quality of clothes. I do not like the customer service. I think they over charge for everything, so if you just stop watching right now, you got enough. If you're curious to learn more, keep on watching.
Kara:
But yeah, I'm trying to return it all but because things are split into different orders and stuff, and this one skirt never actually arrived, I'm getting double charged for return fees. That's the thing. Chicwish has a super odd return policy. You can get charged between $8 and $13 for turning things, which is not cheap at all. It's not fun. So, I'm getting charged an additional $8 because I never got this skirt, so they're charging me to ship it back even though it's not even made yet.
Kara:
Hey, Twila. Twila, please stop eating the bag. Twi. Not yours. She really likes eating plastic. So, yeah, that's been fun. I also, after I ordered from them, I hopped onto Better Business Bureau. They have an F rating for BBB. That's not good, you guys. Most of the complaints were about super delayed shipments, which I am victim of. And then a lot of them were that they never actually got their return. They returned the things but they never were credited for their return. So, I'm already mentally preparing to have a big battle with them and then probably getting my credit card company involved, actually get refunded for these items. Knowing that is a little easier, so I at least know to look out for that. If you do choose to order from Chicwish, just be super careful about that. And just know that you might run into really long shipping delays and you might have to get your credit card company involved, because they tend to have a track record of not refunding people. That's always fun.
Kara:
All right, let's look at some clothes people. Let's get the show on the road. So, this is one of their most popular items. If you look on their page, it's supposedly one that people really like. And I liked the bow, I thought it looked really cute. This is what it looks like on the model. It does not look that way on me. As you can see, it is way too large. I am a size 12, I usually wear a large or extra large. Usually for companies like this I need an extra large because they're made for really super tiny people and I am not that. But as you can see on me, it looks super lumpy. You can't really see that there's a bow at all. The bow is supposed to be this cute statement thing and instead it just looks like a lumpy marshmallow on me.
Kara:
The material is scuba material, which is fine, but in the summer get that gets really hot. But it is pretty comfy. But yeah, in general, this top just was a major miss for me. I honestly think that I would have to… Oh, wait, I just noticed I got sent an extra large and I definitely ordered a large. So, they're already sending me wrong items on top of this. Fun. Well I could've definitely then worn a medium probably and been just fine. So, sizing, not not good there. Which is a bummer because I thought that this would've looked really cute with a bunch of high waisted things, but not so much.
Kara:
All right. You know what were on the shirt kit. Okay, let's do the second one. So, this one is the second one I got and this is actually the piece that I thought was the best out of them. There are a lot of flaws with this though, but this one was the one I was the most tempted to keep, but at the end of the day I'm not. This one is a really… On the model looks super cute. Look at that, the ruffles and everything. I liked the color a lot. As you can tell, I like blush. But this is my fault, I totally missed the fact that this is 100% polyester. Which as you know is not a high quality fabric. As you can tell from right here, I don't even have to hold it up close, it gets really wrinkly, really quickly.
Kara:
This is the type of fabric that you can spend whole half hour steaming and ironing and then the second you put it on it's wrinkly again. So, for that reason I usually try to avoid clothes that are made out of that because I'm not going to iron that seven times a day. It's just impractical. The second thing that I didn't like was that the bow, I think you're supposed to wrap it around twice, but the cord is just too short to do that. So, you're kind of left with this huge ass bow and a long string on one side. And it just kind of drapes and pulls down and look awkward. So, someone miscalculated how long that strap is supposed to be. It's supposed to be a lot longer, but it's not.
Kara:
At the end of the day, I'm not keeping this because it's poor quality fabric. The design is weird, like it's miscalculated with the bow, and the fact that if it any sort of wind happens you get hit in the face with fabric. It's not practical to wear that. So, not keeping this one. Next up… You know what? We're going to do the worst one next. This one is so bad you guys. This one is actually… Let me grab it. This right here is actually the piece that made me really be like, what the actual fuck? Really Chicwish, you're really selling this to people? You're scam artists. It's because this one is totally defective. I don't know if I'll be able to show you well right here, but the inner lining is totally miss sewn, so it's totally unwearable. It just like a total defect right here.
Kara:
As you can see of me wearing it, when you put it on, the back end it's just this giant bubble because the fabric doesn't lie flat because the inner lining is miss sewn. It's like double sewn here, so it's a totally defective item. Total manufacturer error. It's just so terrible that they're actually selling that to people. There's no quality control. Obviously nobody cared that they miss sewed this and then they're selling it for like $70. And this is also made out of fabric that gets wrinkly really easily. It bumbs me out because look at how cute this color blocking is. And it would've gone really well with so many different types of skirts, it could be worn in the summer, it can be worn in holidays. But it was just totally made incorrectly. So, obviously not keeping this because I can't wear this.
Kara:
And then last up is this blue skirt, which is the one that came in my part two order. I got this because I really liked the color and I liked the ruffles. I'm also a big fan of midi skirts. If you follow me on Instagram at the Whimsy Soul, you know that I really like high waisted midi skirts, it fits my body type really well. So, I was excited for this because it's a feminine piece. This one is actually probably the best out of the ones we've gotten, even better than the shirt. That being said, the stitching is kind of all over the place. Like look at that. There's all… I don't know if the camera's going to be able to pick that up. But there's all these like loose threads everywhere. So, clearly it's not made… Like the entire thing it's just loose threads, loose threads, loose threads. So, it's not made very well. I figured that this would fall apart really quickly.
Kara:
The other thing I didn't like was this giant ass tag that is on here. It says, "Please do not remove unless you are satisfied with this product. Returns will not be accepted if this tag has been removed." So, I think this is just their way of ensuring people can't buy things, wear it out to dinner, and then return it. Which is fair. My issue with a giant tag like this though is when you put the skirt on, as you can see, it just drags the back down too far. So, I can't actually tell if this fits me properly or not. I think the top is too loose, but it's really hard to actually know because the tag is dragging it down. So, adding that tag actually just made it really hard for me to keep this piece because I can't tell if it actually fits me. Combined with the fact that the stitch work is really crappy and shoddy. This one is just a no for me too.
Kara:
And then of course I got third skirt, but hasn't arrived. They sold it to me clearly when it wasn't made yet. So, I just refuse to wait around weeks and weeks for this skirt to come, when based on all the other stuff I got, it's probably not going to be a good skirt anyways. So, linked in the description below is my blog post where I will keep you guys updated about the returns. Whenever that happens. I don't know what I'm going to post this and I don't know when the returns going to be settled. So, whenever that happens I will update you guys there. I've also linked all these pieces in case you're curious. In case. I don't recommend buying from them, but if you really want to like go check that out.
Kara:
I think what I really realized when I was doing this is so many influencers get contacted and get gifted items by Chicwish like their famous tulle skirt or maxi skirts, for free. They're not getting paid to do it. But they are getting free clothes and they feel like they have to say really nice things about this company. So, on Instagram it looks like every piece is flawless. Nobody has problems. Chicwish returns will be easy. I did a quick Google and like the top search vaults… Oh my God, I can't talk today. The top search results and so many reviews of Chicwish were some of the blog posts were by fashion bloggers who had nothing but glowing things to say about Chicwish. So, I guess I felt really compelled to make this video just to be like, "Look, I'm not getting paid by them. I paid for these clothes myself. And here's what I honestly think about them. From a fashion bloggers point of view, yes, but also a consumer."
Kara:
I hope that this helps you decide if you should actually buy from Chicwish. My opinion is no, don't do it. Stay clear. If you have ordered stuff from them and it was good quality, and fit and arrived well, didn't have any issues. I would love to hear your thoughts below. Maybe I just got a really bad order, but based on the BBC reviews… BBC. BBB. Oh my God, I probably said BBC earlier. When I talk really fast, I get really excited and forget how to say things. Based on the customer complaints, I'm not the only one who has issues. But if you have a good experience, I'd love to hear from you. Let's have an open discussion about it.