The perfume industry is saturated and confusing with beauty counters full of (mostly expensive) options. Not the mention the many corners of the internet… it's not like you can smell things online! Well, not yet, anyways.
So, who do you trust? What do you buy? Who do you turn to?
Take a deep breath. You're safe here. You can trust me.
Snif Perfume Review: I Tested The Top Selling Bundle Kit & Here's What I Think
Perfume is such a personal and unique touch to your beauty routine. One that people will literally remember you by for years to come. So choosing a scent is not an easy task.
Over the past few months, I've been experimenting with new scents from online companies to test the waters, and determine what I'm looking for in a brand. Some key things I was looking for: variety of scents, affordable/fair price point and somewhat clean ingredients. I was able to get ahold of some samples from a new(ish) brand, Snif, a pioneer in the online fragrance industry.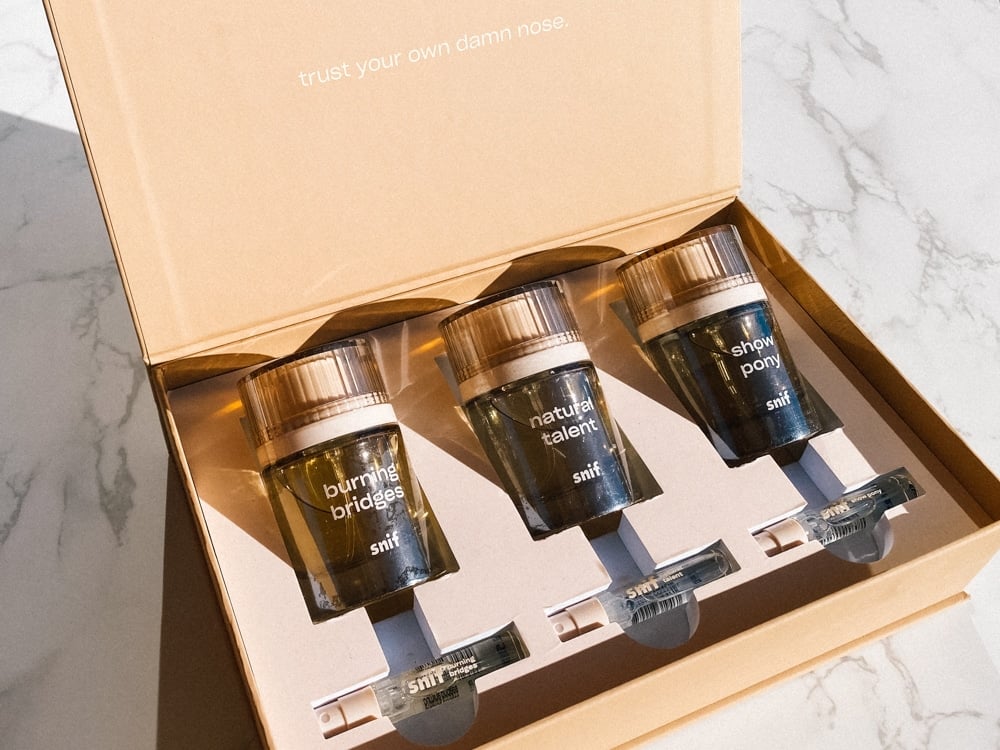 What is Snif?
I heard about Snif, as I always do, through social media.
It's an affordable, luxury perfume brand with clean standards (no preservatives, synthetic dyes, parabens, phthalates, or toxic chemicals). Founded by Bryan Edwards and Phil Riportella, who wanted to disrupt the fragrance business.
In what Forbes describes as "the new way to shop for a personal scent in the most Gen Z fashion." Snif operates as an online only business and has a 7 day trial for all their scents.
How does it work? The fragrance brand send you a collection of three perfumes or candles (full size) along with three samples. You get to test the samples for a week and decide which scents you'd like to keep and which ones you'd like to return. They'll charge you the full $150 for a set of three if you want all of them. Otherwise, you can send back one, two, or all three scents.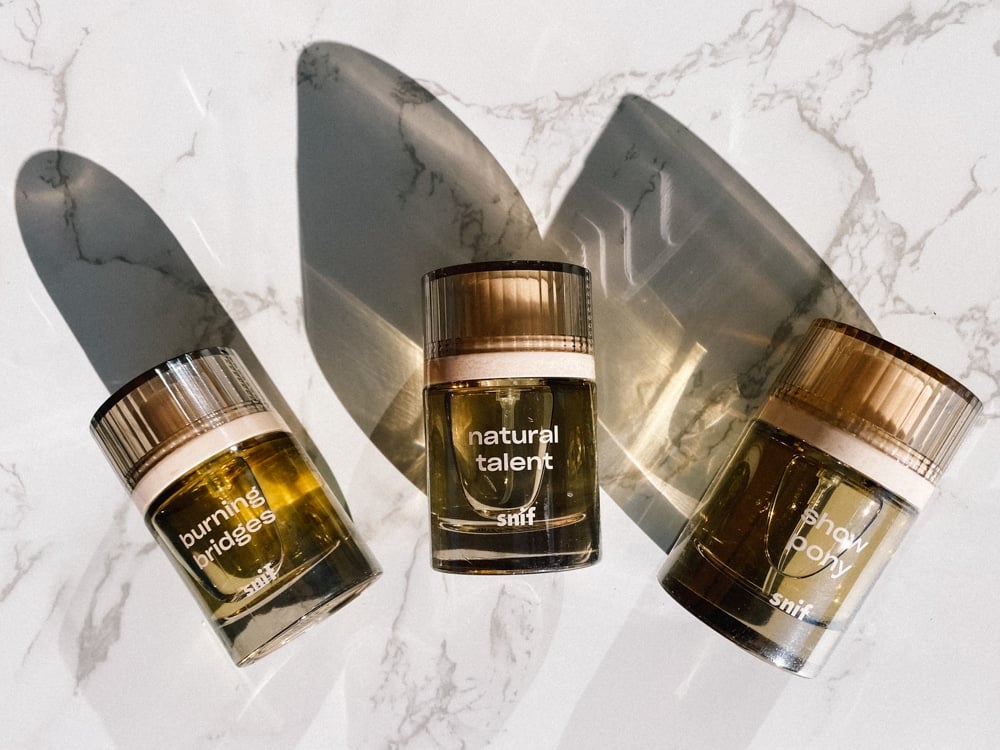 Usually, I don't like to buy perfume online, but the testers were free and I will always take free things in this capitalist nightmare we call America.
How Much Does Snif Cost?
Each perfume runs at $65.00 for the full-size perfume bottles, which hold 30ml of product, lasting a good few months with regular use. Candles are $44.00 for an 8.5 oz product that fits in the palm of your hand. I would say it would last a month or so with regular use.
You can buy both scents and candles in bundles of three with samplers to test. Depending on what scents you enjoy, you could spend anywhere from $44.00 to $150.00.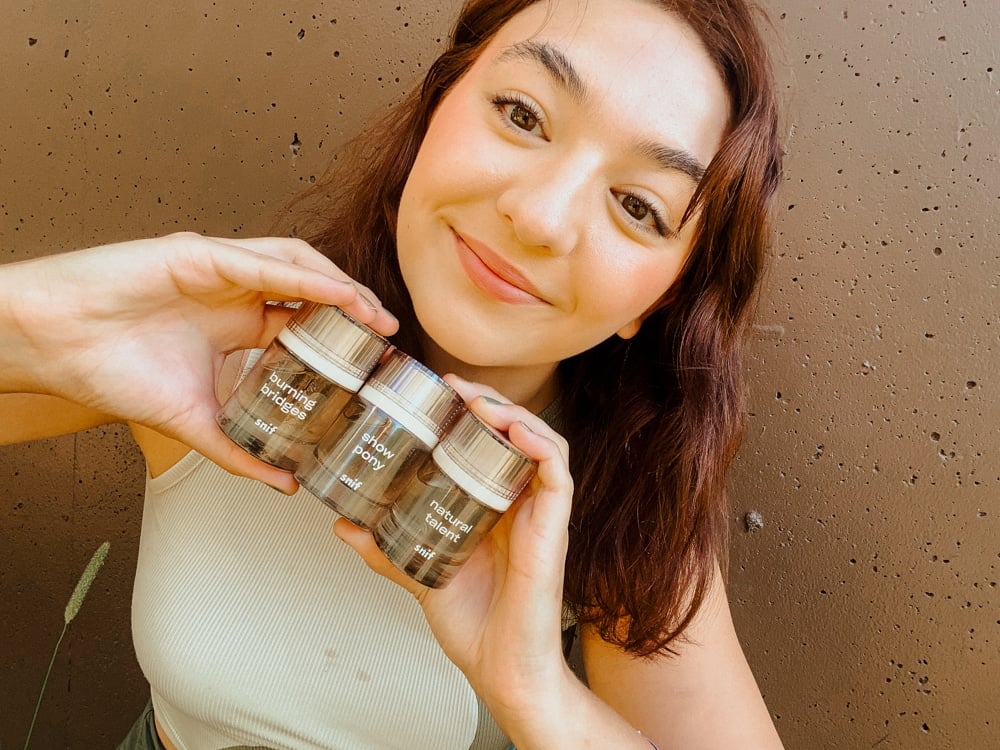 The good news is they won't charge your card until the trial period is up and you can return the products you don't like for free!
So, let's get into it. What did I think of the Snif Perfume brand? I tried three perfumes for about a week to decide if I liked any of the scents and if the fragrances would make it into my small collection of long-loved aromas.
Where Do I Buy Snif Perfumes?
Online! You can have that signature scent and do what I love to do, home shop. You don't even have to leave your bed. It's truly a dream.
All their information is on their website, along with pricing, new scents, and returns.
Snif Scents: What You Can Expect from Snif
I didn't get much from the brand, one because they were sold out of scents, and two, because I didn't want to make myself go mad with too many choices.
So I picked up three scents with the bundle kit: Burning Bridges, Natural Talent, and Show Pony.
Let's start with my favorite fragrance.
Snif Natural Talent Fragrance
It's giving sandal-wood, winter, and natural skin. I don't know quite how to describe it, but this perfume makes my skin smell more like me.
Natural Talent has an excellent saturation into my natural scent that reminds me of when I was younger and my mom would hug me after coming home from a party. She would spritz something on earlier in the evening before putting on her best gold earrings and the perfume would wear throughout the night on her wrists.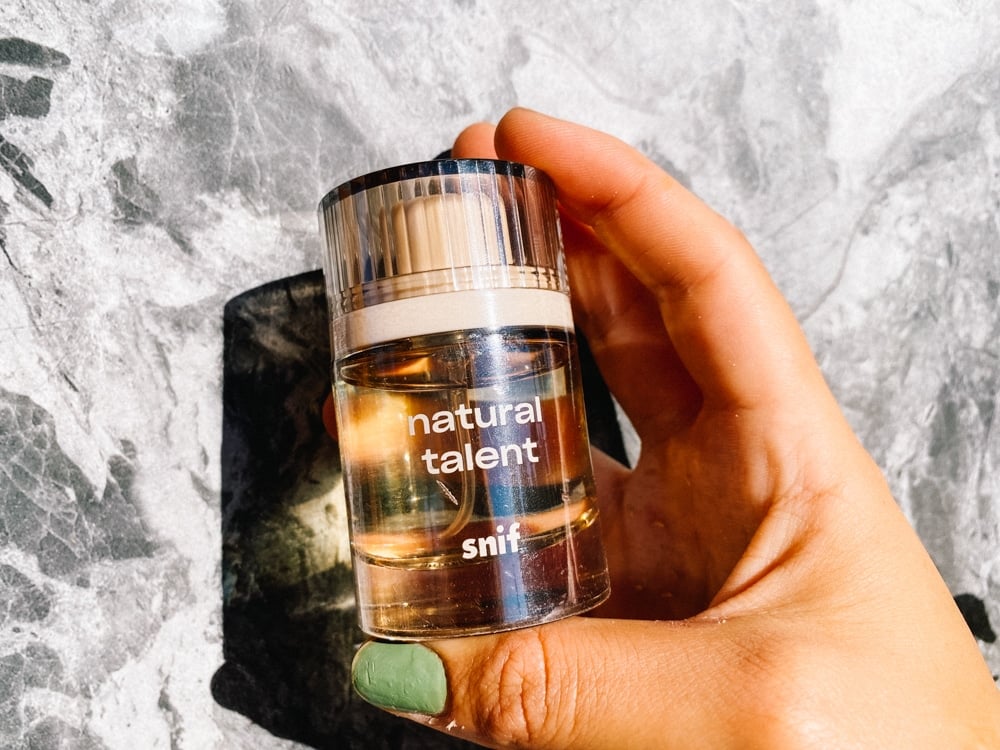 The best kinds of perfumes are the ones that pull you back into memories and this one has hit the nail on the head.
Man, am I crying over a perfume?
A little.
The notes of this perfume are:
Apricot
Clementine
Osmanthus flower (peachy floral goodness)
Jasmine
Sandalwood
Cistus amber (herby and warm)
Soft suede
The pieces that really stick out are jasmine, the warmth of cistus amber, and sandalwood.
This perfume has some incredible fragrances that emerge as it wears on your skin, but I didn't like the initial spritz. When I first put it on, it had a very floral, old lady finish. I think it was the osmanthus overpowering everything with a hint of clementine.
Luckily, It only stunk for about fifteen minutes, and then it settled down and morphed into something I could not stop smelling.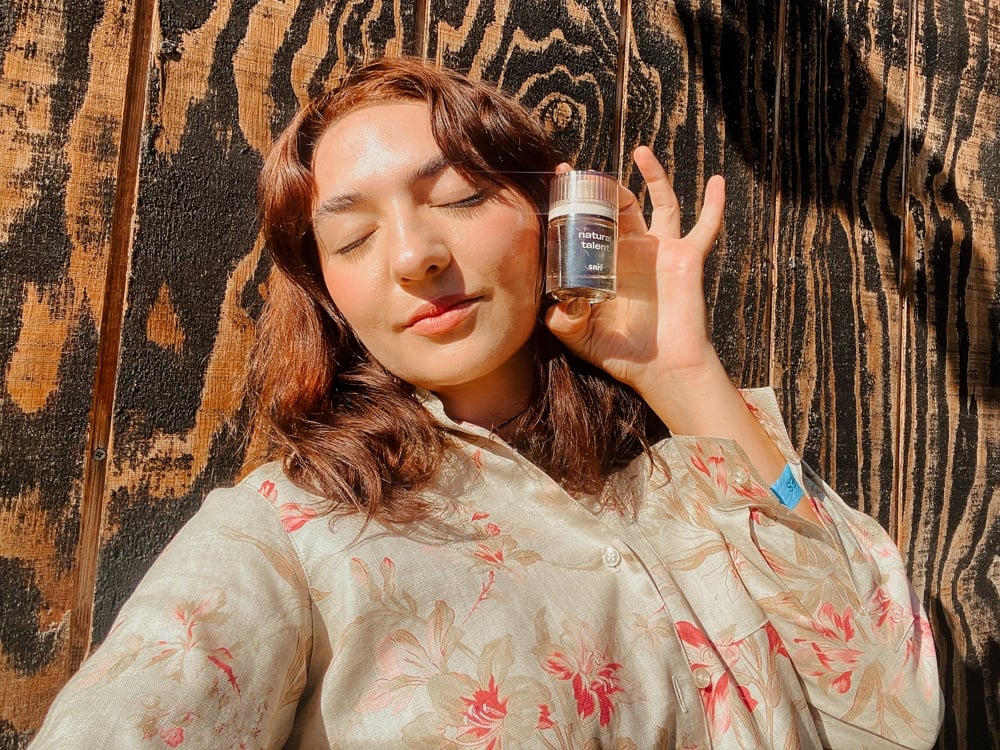 And it lasts. The longer I wear it, the better and more subtle it smells.
Natural Talent is for closer encounters. For people to smell when you go to give them a hug or kiss goodbye or to say hello to your child that's been waiting for you to get back from that party you went to. It's that last little mark you leave on them and I love it.
It reads as someone who is composed, soft, and naturally perfect.
If you're willing to wait out the initial smell of this perfume and let it soak into your skin, then Natural Talent will be your go-to every day.
Snif Show Pony
Show Pony is a deep perfume. It's one for dark rooms, late nights, and a very dirty martini.
It has main character energy meant for the beauty you spot at a bar. She's confident in a long, black dress scanning the room slowly. Small, gold earrings float on her ears and a gold necklace traces her collarbone just right.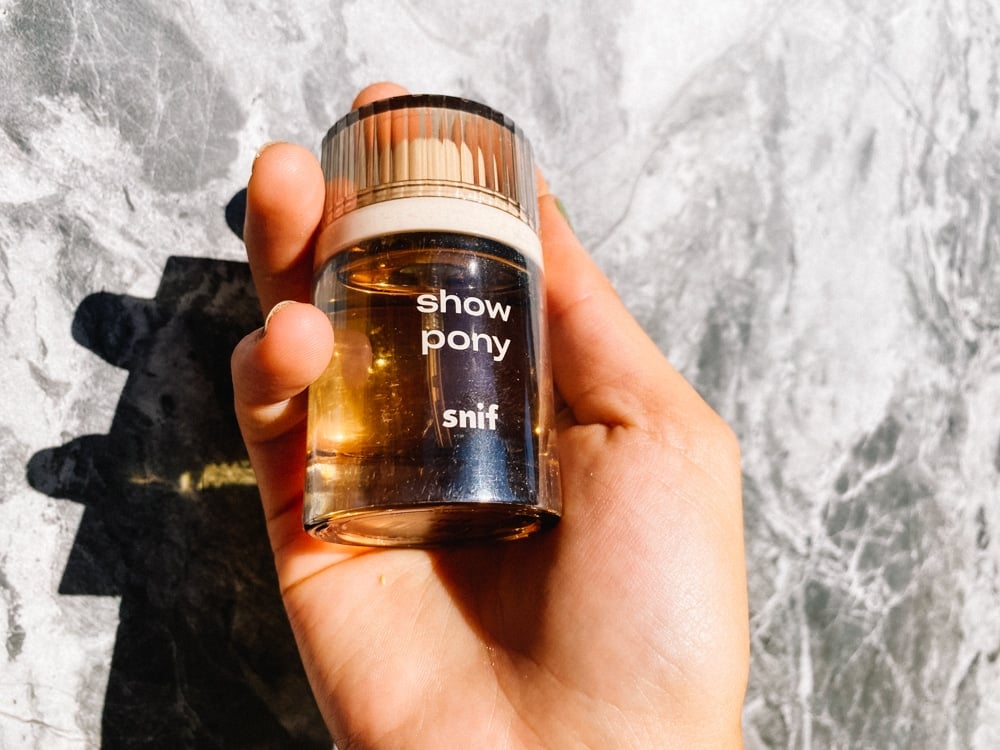 It's warm, woody, and full of sandalwood. The perfume has a nice, spicy kick to it that gives it a dark sexiness… but it's not my personal choice.
I go for lighter fragrances that sneak up on people, but Show Pony is the first thing others will notice about you. It's a fine perfume that boasts luxury and seduction.
The notes listed are:
Black tea
Bergamot
Black pepper
Golden plum
Cardamom
Saffron
Vetiver
Overdose of sandalwood
So, yes, it's very spicy. Again, this perfume is best with age. The longer you wear it the more you'll like it as it dries on the skin.
I put this on and wasn't too thrilled with how intense it made me smell. I was just running errands for the day and not getting ready for a black-tie dinner. However, throughout the day, it settled and the notes of black tea and golden plum came through.
It has a more masculine charm to it with all the sandalwood and you're sure to get stares of admiration in any room. It's a head-turner, for sure. Especially in a Costco.
I would pass on this perfume as Show Pony is a little too mature for me. I like to think of myself as a squishmellow covered in flowers, but for others with a booming libido and wanting that luxurious feel – Show Pony is it.
Snif Burning Bridges
It's warm, it's amber, it's a summer evening drinking red wine and eating flat-bread pizza.
Burning Bridges doesn't have a chocolate scent to it, but everything screams the feeling of rich, silky chocolate from this perfume.
The notes are:
Sustainable vanilla (from Madagascar)
Tobacco
Fresh spices
Freesia (sweet and fruity flower)
Iris
Rose
Oakmoss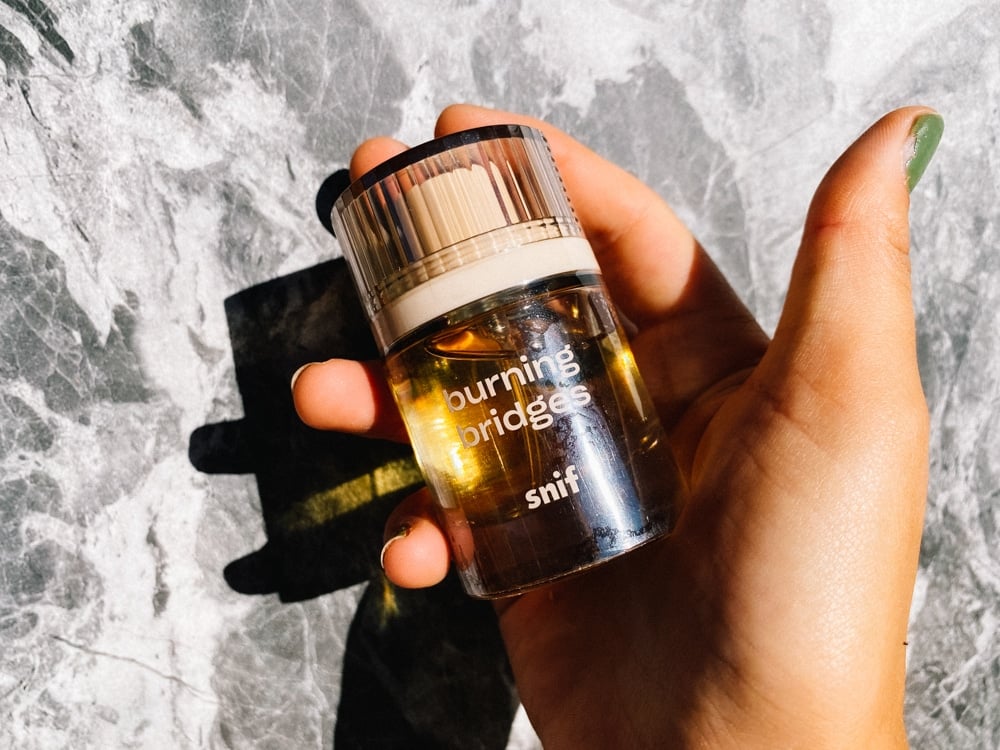 It has a slight bourbon tint to it as well. As it dries on the skin, it turns into an even milkier subtle sweetness and it might just be good enough for me to add the full bottle to the cart!
The experience of this fragrance is enveloping, all-consuming, and gives the feeling of being completely wrapped up in a hug. I actually liked this perfume right from the first mist to the end, unlike the other sample fragrances that needed a moment to settle.
The tobacco and vanilla notes really bring this scent together and give it that warm glow.
Burning Bridges takes no time to take my breath away and is definitely a favorite!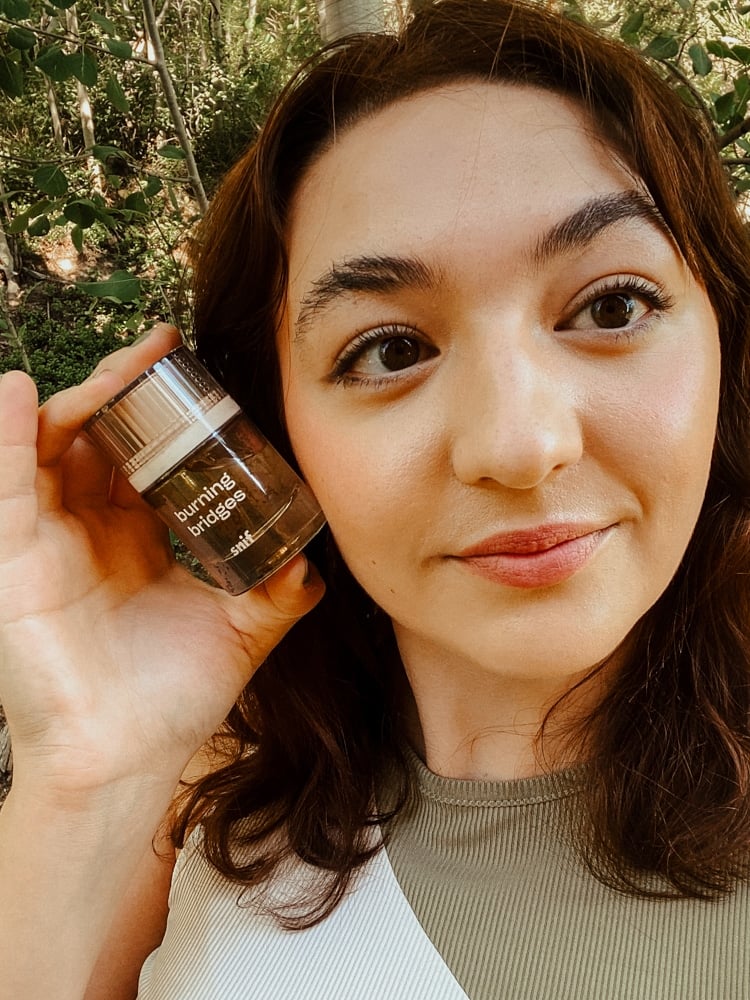 Snif Strawberry Moon, a Signature Scent
I tried to get a hold of this sample, but the shop had sold out completely! Which means it must be good. The Strawberry Moon Snif review I read said it was "green, warm, and slightly sweet."
These are literally the three words that describe what I'm looking for when trying to find a new fragrance for myself.
Strawberry Moon consists of:
Jasmine
Leather
Bergamot
Pink pepper
Iris
Saffron (warm, earthy spice)
Vetiver
Amber woods
It's unisex, which is something I really like. I usually go for perfumes with that cologne edge while keeping their softness.
Snif Salty Stares
It's a fresh scent for summer with some exciting tones in the smell.
It has notes of:
Bell pepper (Odd, but I'm into it.)
Bergamot
Lily of the valley (think fresh, spring flower)
Ginger
Oakmoss (marine and woody)
Salty Stares is a high-selling fragrance, so they're currently out of stock, but you can join the waitlist and have it delivered right to your door.
How Does Snif compare To Other Fragrance Brands?
Before Snif, I was an avid Jo Malone girl. I had their Blackberry & Bay cologne that ran for $10 more than Snif for the same amount of product.
If I had the money, I would purchase every scent Jo Malone made.
I don't have all the money in the world, unfortunately, and Snif is a great price for the quality of the product. Considering it lasts you almost four months with three to four sprays a day, I'd say that's a win.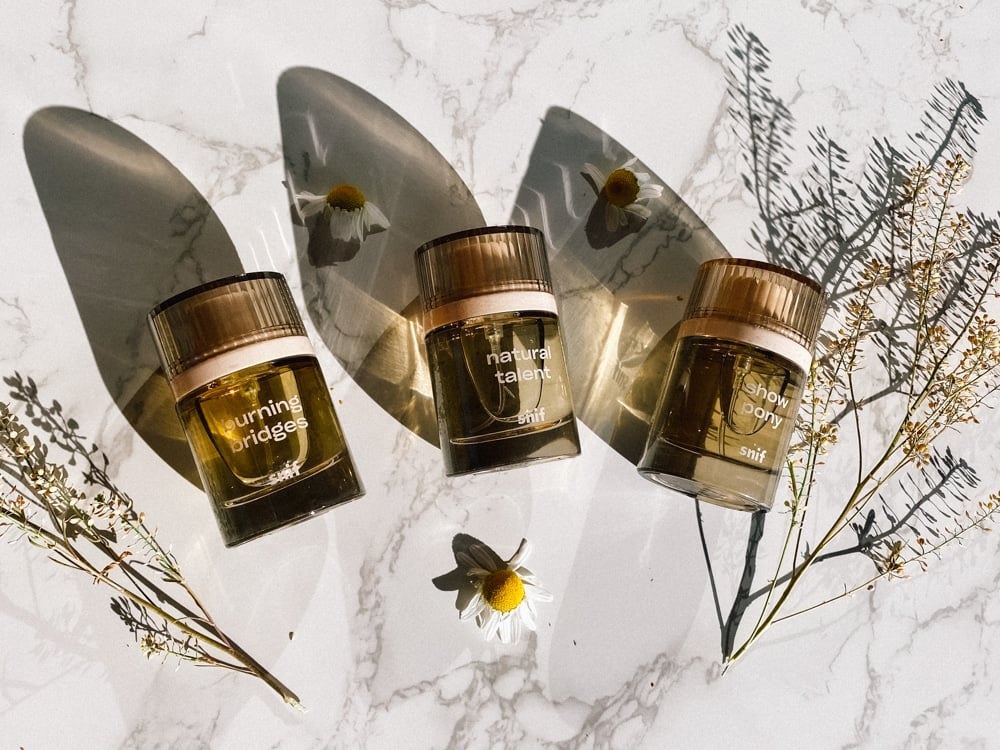 Snif is cheaper than other, luxury perfumes, but it's still not for the average joe on a minimal salary. I could see myself buying these perfumes as a treat once a year or so, but for something more consistent, you should consider subscription perfumes.
Kara dives into the world of subscription perfumes, like Scentbox and Scentbird, which are both reasonably priced with even more options to choose from.
Final Thoughts: Should You Buy Snif Fragrances?
If you've been looking for discount perfumes that still have that fine fragrance feel, Snif is the brand for you.
You can be ahead of the rest and get perfumes that people love, but don't have. I like Snif because it's not so well known that everyone and their mother is wearing it (although I'm sure Snif would love that), which makes the perfumes a little more unique.
Since it's online only…be sure to read reviews carefully before you buy, search for things like Snif Sweet Ash perfume reviews, a Snif Ex on the Beach review and Snif Way with Woods review to find an honest take. Or just take advantage of the 7 day trial!
Snif candles can also be a great addition to your home. What's interesting is their candles are different scents than their perfumes which I like because I don't need my room smelling like the rest of me.
If you're looking for gift guides for a friend or family to give them for graduation, birthday, or anniversary, look no further. I am your guide. The Candle Bundle Kit or the Collection 3 Fragrance Bundle Kit make perfect gifts to give lots of options to choose from!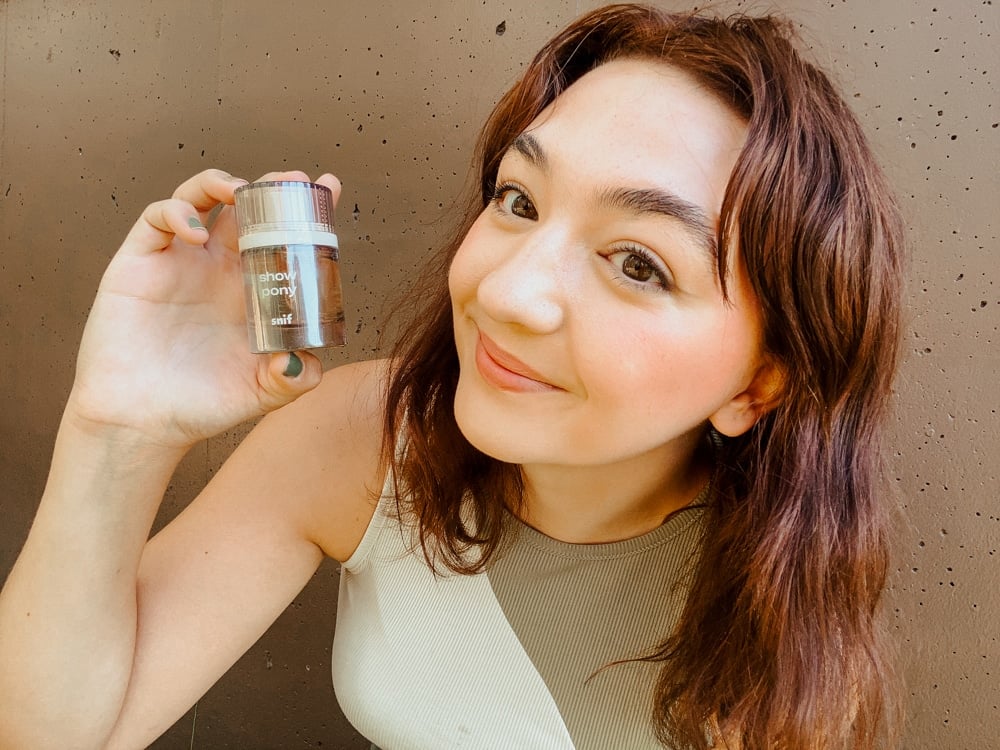 I recommend joining the community so you get first notice of new scents like their new Suganami scent that just came out (and already sold out)!
The great thing about Snif is they took the time to make their smells. It's not generic. It's not too much. It's something I would wear for a lifetime.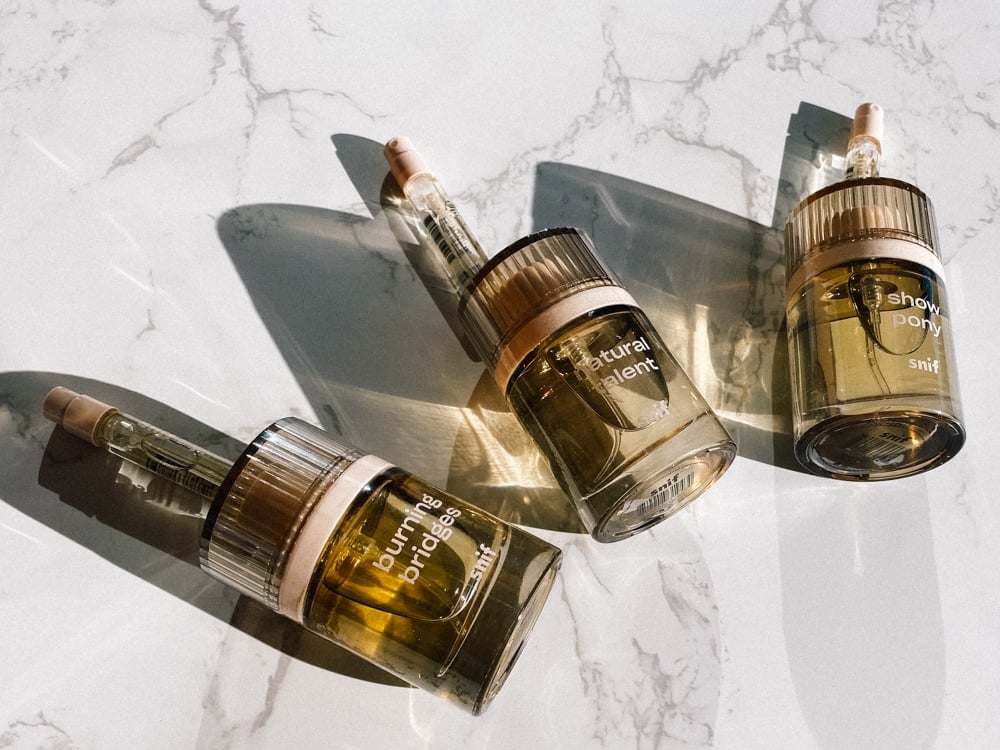 Have you tried Snif? What did you think? Leave your thoughts below and help me decide which perfume to try next!