I was absolutely not prepared for how magical Olympic National Park felt. I swear I could hear the heartbeat of the old growth forests while hiking. The fog hanging low between the evergreen trees was like a wave of calm, or maybe a big hug from Mother Nature. It's tranquil yet exciting, and a place every national park lover needs to visit.
It's also, like WAY up there in the corner of the United States and does require planning and insider tips to ensure you have the best trip possible. That's where I come in.
In case you are new to us at Whimsy Soul, we are not the kind of folks who go on 10+ mile hikes every day. When visiting national parks, we love to find the best approachable hikes and outdoor activities, followed by tasty local food spots, photo spots, other hidden gems and unique lodging experiences.
If that sounds like you, buckle in for the most comprehensive Olympic National Park must-see guide.
This Guide Covers National Park & Olympic Peninsula Things To Do
This travel guide covers what to do in Olympic National Park AND the Peninsula surrounding the park. I found Olympic National Park to be a bit different than other United States national parks. It's not like Yosemite where you drive into the park and then are completely in it.
Can You Drive Through Olympic National Park Directly?
No, you can't enter the park at one side and drive through the whole thing and out another entrance like you can with other parks like Mount Rainier. Olympic National Park spots are sort of scattered around Washington Olympic Peninsula, and you'll be going in and out of entrance stations a lot to get from one site to another.
Choosing not to cover travel tips that aren't in the park would leave visitors without a LOT of important information, fun attractions and cool small towns that shouldn't be missed on your road trip. I found this in and out format a little confusing to understand when I researching our trip so I wanted to highlight it for you.
I'll be sharing the best Olympic National Park hikes, waterfalls, other must-see spots, along with recommended area hotels and campgrounds, photo spots to make epic memories, the best Peninsula restaurants and other handy tips to know (like where to find the best fall foliage!)
Start At Port Angeles, Washington
Since we live in California, we flew into Seattle and drove about 2.5 hours to Port Angeles. I recommend you start your road trip off in Port Angeles, the cutest little Washington State city.
You can instead choose to tackle your Olympic Peninsula road trip "backward" at Olympia, but I personally think it's more fun to start it at Port Angeles as it's closer to many of the main sites so you can hit the ground running.
Also, if you are coming from the Victoria ferry over in Canada, it connects right to Port Angeles making it super easy to get started on your national park adventure!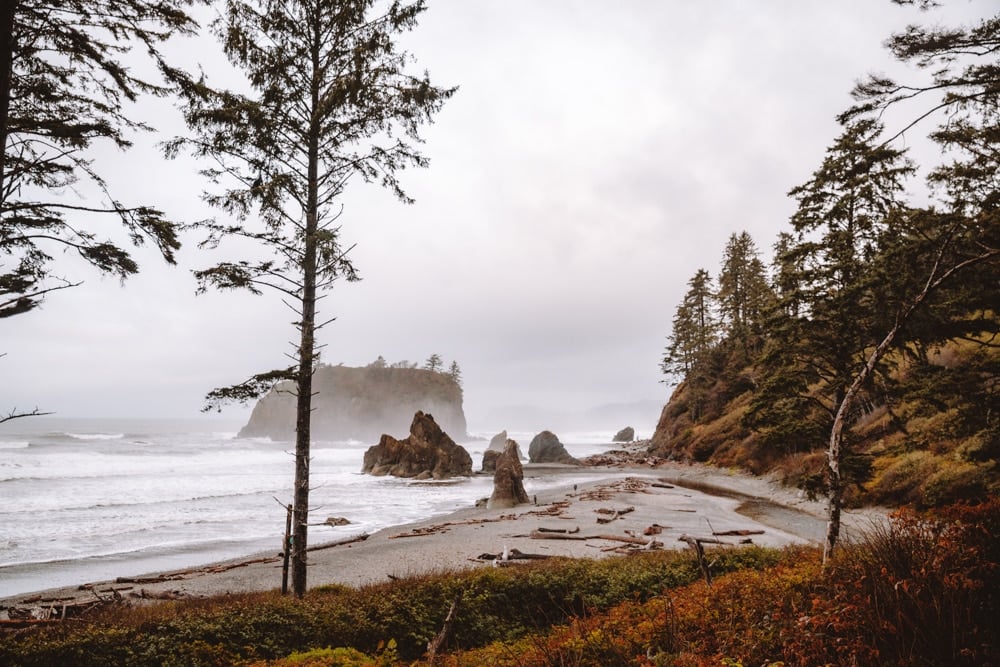 How Many Days Do I Need For An Olympic National Park Road Trip?
I think a 3 – 4 day Olympic Peninsula trip will be perfect (more time if you have it!) This gives you time to drive to all the sites, which are spread out, and also have a good chunk of time to really explore the area, the trails and the beaches. This park is so dang beautiful, it shouldn't be rushed in 1 day.
Olympic National Park Things To Do Map
Ok, now onto all my favorite sites you shouldn't miss on your first visit to the park (or second or third for fourth…) I already want to plan a summer visit to have more daylight to squeeze even more hikes in!
We planned our trip starting at Port Angeles and made our way West and then South (counter clockwise) and I suggest you do that same for a flawless Olympic National Park itinerary!
21 Olympic National Park Things To Do + Sightseeing Guide
NOTE: As with any park, it's best to check the National Park Service website to see if there is any important timely information to know before entering the area (flooded roads, weather changes, etc). Stay safe and informed!
1. Evening Exploring Port Angeles
As I mentioned above, I think Port Angeles is a smart choice to start your Olympic Peninsula Loop drive. You can kick it off in Port Townsend, but that's about an extra 45-minute drive from the nearest national park entrance so it's more practical to start at Port Angeles, plus there's so many fun things to do there.
I found this town to be so dang cute and I loved that on a clear day we could Vancouver Island from the shores of town!! We booked a cheap stay at the Port Angeles Inn that was right downtown so we could walk everyone and spent an evening exploring it before stopping for local craft beers and dinner.
We got up really early the next morning to head into the park so we didn't want to spend the whole night out. Port Angeles absolutely shuts down early like most small towns, so this was perfect.
Top things to do in Port Angeles
Welly's Ice Cream Truck: open seasonally, find it near the port.
Brewery Supplies: for local craft beer.
Bella Italia: If you are a Twilight fan, you need to have dinner here.
Feiro Marine Life Center: If you have kids, you'll want to take them here.
Dungeness Spit: Port Angeles is just past the Dungeness National Wildlife Refuge for nature time!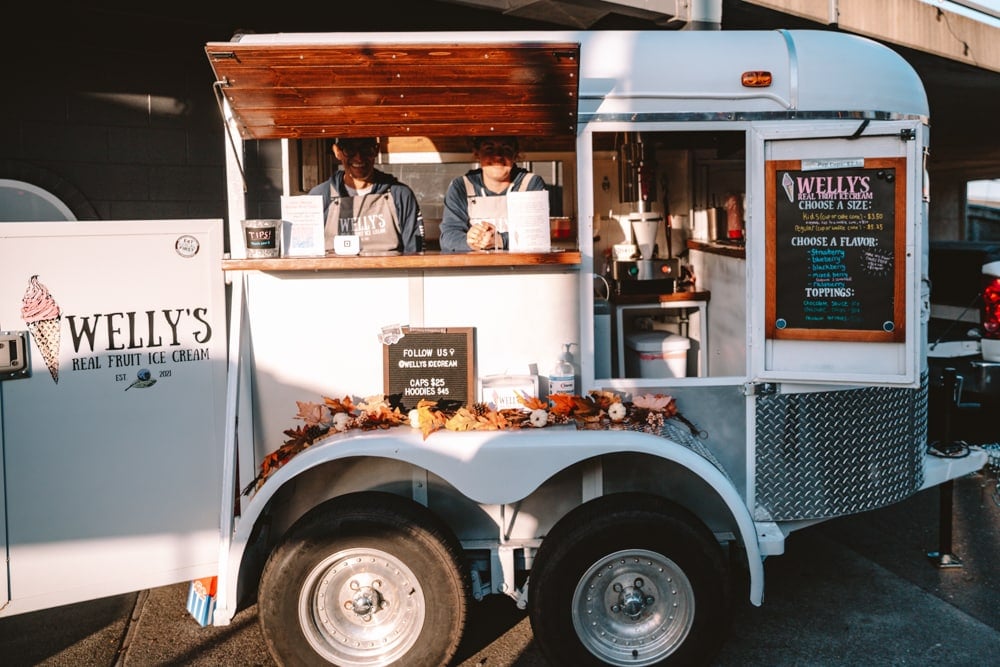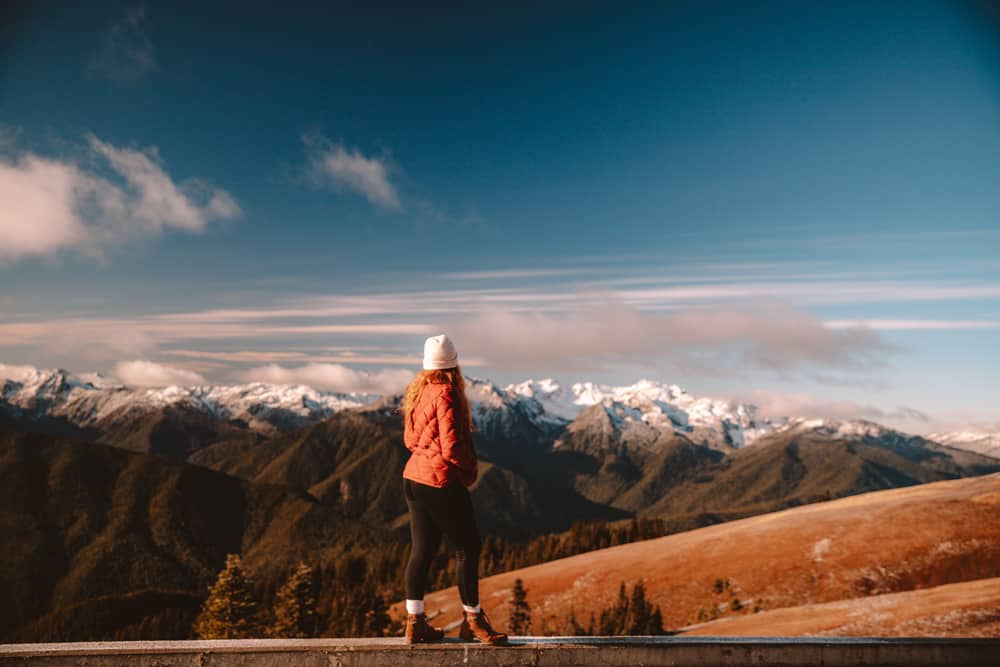 2. Hurricane Ridge
One of my favorite things to do on the Olympic Peninsula is take in the view up at Hurricane Ridge which is above 5,000 feet.
This means we had snow during our visit in October! You'll drive up Hurricane Ridge road and park at the visitor center at the top of the ridge. The views from up here are INSANE on a clear day!
Then, pick any number of trails to hike!! Mos trailheads branch off from the visitor center. We picked Hurricane Hill which is a well-marked and halfway paved trail with sweeping views of the mountains.
Another popular hike that is about 8 miles each way is hiking to Obstruction Point / Obstruction Peak. If you are visiting in the fall -spring, be aware some or all trails may be covered in snow, so check first and if possible bring snowshoes.
2023 Update: The Hurricane Ridge Visitor Center burned down this year, so there are probably limited to zero facilities up there right now until it's built again. Make sure to sure the bathroom before visiting Olympic National Park!
Pro tip
:
use this Hurricane Ridge Cam
to see the weather at the top of the mountain. It's common for a storm or cloud cover to roll in and hide the views.
3. Marymere Falls Trail Hike
My favorite of the waterfalls in Olympic National Park! This says a lot since there are a LOT of waterfalls up here! Marymere Falls makes the perfect morning hike since it's not terribly difficult and helps you warm up your body for the day.
It's about 1.7 miles round trip. Park at the Storm King Ranger Station and make your way along the trail past trees dripping in moss and mushrooms.
Eventually, you'll hit a staircase and take those up to the waterfall lookout!! We went at around 9am one morning and had the whole trail to ourselves minus a lady and her dog. It was perfect.
4. Lake Crescent
After your waterfall hike, explore Lake Crescent! You can opt to spend the night at the lodge like we did (more on that att the bottom in the Hotels section) but if you are camping, still plan some time here. In the summer you can rent kayaks to paddle the lake, or even go swimming in it if the weather is warm enough.
No matter what, take time to walk the Moments in Time Trail. It's all flat and covered in giant ferns that made me feel like we were walking in Jurrasic Park. (Or Fern Canyon down in California!) It shouldn't take more than 30-45 minutes.
And, make sure to stop by the Storm King Ranger Station! It's an iconic building that has wildflowers in the spring and of course, is the trailhead to the Marymere Falls hike.
History Time
: Crescent Lake has a super cool origin and history. The
true-crime nerd
in me loved learning about how the water in the lake is so cold it preserves bodies, and apparently, the lake is haunted by a woman who drowned here.
This article
has more info on the history if you want to check it out!
5. Mount Storm King Hike
If you're looking for badass day hikes Olympic National Park has to offer, then Mount Storm King will be your jam.It's about 5.3 miles round trip and rated as difficult.
We opted not to do it, especially since we visited in late October and weren't sure what the trail was like at the high elevation points. Hiking Mount Storm will be a future goal.
But, if you are up for the adventure, this hike has stunning views of the lake below and the mountain ranges of Olympic National Park. It may be smart to pack along some traction cleats for your hike, in case you encounter lingering snow at the top of the trail.
6. Elwha River & Madison Falls
The Elwha River access point and Madison Falls Trailhead are usually overlooked as there aren't big signs pointing to it. But they are so worth a stop, especially in the summer for a swim, or in the fall as you can find some good fall foliage here!
You can find it by taking Olympic Hot Springs road and following it to the end where there is a small parking area. You can access the river here or hike to the waterfall, which is really more of a stroll that's under .5 miles. Oh, and there's horses here to see!! HORSIES!
If you or anyone in your group can't hike, then this is the best spot to visit because the sites are easy to get to. Most of the other top Olympic National Park sights required able bodies.
7. Walk The Olympic Discovery Trail
The Olympic Discovery Trail is a multi-use trail that spans from Port Townsend all the way to La Push on the coast. It's most popular for bikers and walking, though I wouldn't recommend walking the whole thing since it's 135 miles.
About 40 miles of the trail is paved, so if it's been raining a lot lately during your visit and regular hiking trails are too muddy or washed out, this is a good alternative!
8. Chase Fall Colors
For some reason, the fall foliage isn't talked about much on the Olympic Penisula. And to be fair, the west coast can't compare to Vermont, BUT I do think the best things to see in Olympic National Park during autumn are all the changing leaves.
We love taking road trips each year to chase fall colors (usually fall in California) and I was so surprised at how almost all the roads up along the Olympic Peninsula are covered in orange and yellow leaves. More so towards Port Angeles, Lake Crescent and Forks and a little less so as you go south towards the Quinault Reservation.
As with all leaf-peeping, timing is everything and changes each year. We went in the middle of October and I think we hit peak foliage then so that's a good time to aim for if you also want to drive along a moody Pacific Northwest Highway full of orange and yellow.
9. Sol Duc Falls
Arguably one of the best hikes in Olympic National Park is to Sol Duc Falls, a beatuiful waterfall in the middle of the forest. The hike there is special in itself, we couldn't help but stop so many times for photos, especially with leaves that were bigger than my head!
Sol Duc Falls is one of the top Olympic National Park activities, so expect crowds no matter when you go. Best time is weekday mornings, or weekday evenings a couple hours before sunset in order to avoid people as much as possible.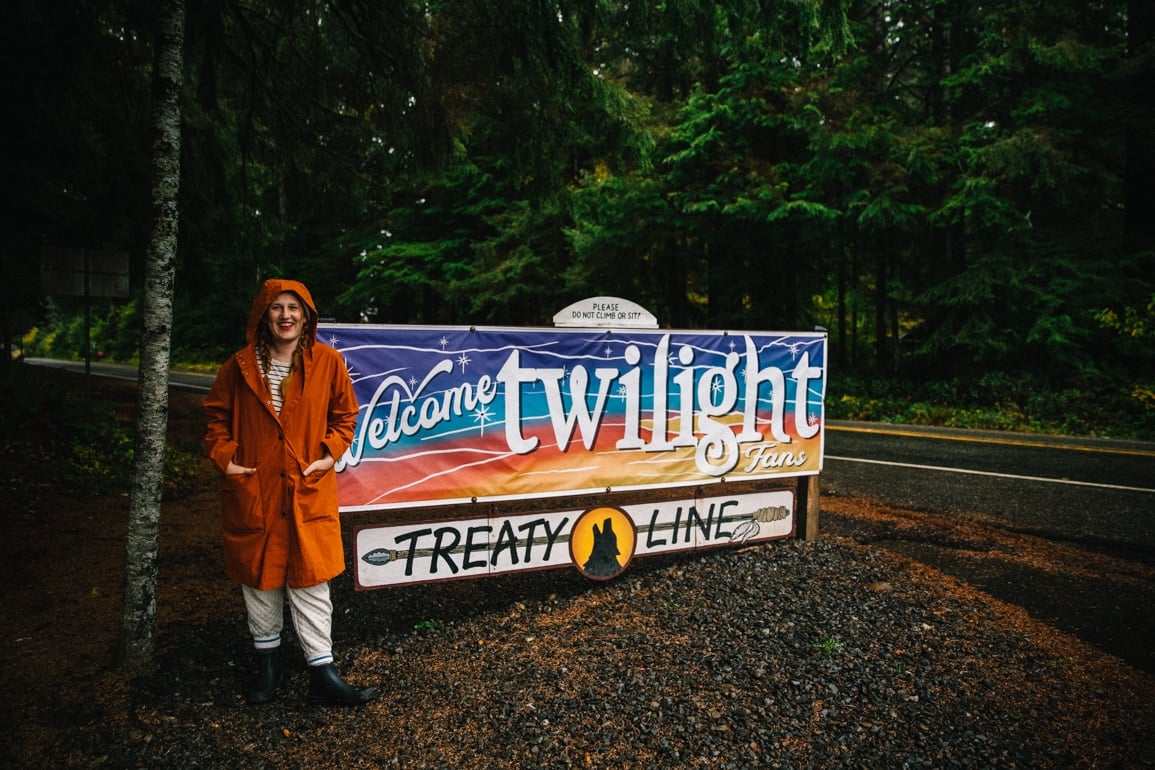 10. Forks Twilight Tour
Hey, you can't come to the Pacific Northwest and not think about vampires, right? Just me? Hey, I am a 90's kid after all. Visiting Forks has been on my Olympic Peninsula bucket list for years and thankfully my dear husband was up for running around Forks finding all the Twilight things with me.
From Bella's Trucks to La Push Beach, I had a blast being nerdy for a day during our visit through town. There's even a whole Twilight festival that happens once a year if you want to get ~extra~.
Even if you don't like Twilight, Forks is the major town on the West Side of the peninsula so you'll spend a night here at least, if not more. It's a great home base as you explore the beaches, Hoh Rainforest and La Push.
11. Shi Shi Beach & Point Of Arches
Shi Shi Beach and Point of Arches is a popular beach on the West Coast. It's about 8 miles round trip, mostly flat and features a fish hatchery and stunning sea stacks. Unfortunately it was closed during our visit in 2021 so we couldn't stop by to see it in person. Reviews online say it can get muddy a lot and I think it may be washed out right now, it's a little unclear why it has been closed. Check the park website for updates if you want to visit!
12. Cape Flattery
This is another spot that was closed during our visit but I hope to visit it in the future. Cape Flattery is the Northwest most point on the contiguous United States (how cool is that?!) It features dramatic cliff views of the rugged coastline and the Pacific Ocean.
It's outside the park on the Makah Reservation and when it's open, you will need a permit from the tribe to park at the lot.
You find easily permits at the Makah Marina, The Museum at the Makah Culture and Research Center, Washburn's General Store, Makah Mini Mart, Makah Tribal Center, and Hobuck Beach Resort.
13. Hoh National Rainforest
OMG! Really is all I can say. This is one of those unique things about Olympic National Park that make it so special. The Hoh Rainforest is one of the only temperate rainforests in the United States and gets above 14 feet of rain PER
YEAR! When Robin and I started hiking it, we passed a guy who told us "get ready for the ride of your life" and holy cow, what a wild ride this hike was.
The Hoh Rainforest and Spruce Nature Trail truly feels like you are walking in an alien planet, especially in the Hall Of Mosses trail. Everything is dripping in moss and leaves. We visited in the fall so we had the extra bonus of some fall foliage shows.
You can also do the Hoh River Trail. It's hands down, the best things to do in Olympic National Park are doing the Hoh National Rainforest hikes.
There are a few different trails here, all of which are mostly flat minus some stairs and slight inclines. Set aside at least 2 hours to explore.
There are lots of signs along the trails so you can read more about the plants and trees, and a visitor center for additional information or questions.
Note: The Hoh Rain Forest is open daily April – November. Weekends only December – March.
Looking for things to do near Hoh Rainforest? It's about a 45-minute drive from Forks so there aren't a ton of nearby trails or sites. It's worth the trek out there, though!
14. First, Second And Third Beaches At La Push
"It's La Push Baby, La Push!" (Sorry I can't help it, that line from the Twilight movie cracks me up every time.) Giggles aside, La Push is on Quileute Tribe land and while open to the public, it's important to give this land respect. Which hopefully you are doing no matter where you travel.
First, Second and Third Beach are all beaches in La Push that make for fantastic hikes. We did all three and if you have the time, I recommend you do the same. Here's the breakdown of them:
First Beach: This is the easiest beach to access as you can literally pull up and park in a lot right next to the beach. I love the sea stack rocks from this beach and it's really cool on eerie, rainy days like this one.
Second Beach: This is my favorite hike and beach. It's about 2 miles round trip and not too hard. The beach here is my favorite as it features a stunning haystack and is extra pretty at golden hours.
Third Beach: This one is the hardest to reach as the trail towards the end is steep and sometimes washed out. When we visited, there was a ton of driftwood blocking the trail that we had to climb over. But it's usually pretty empty if you are looking to have it all to yourself.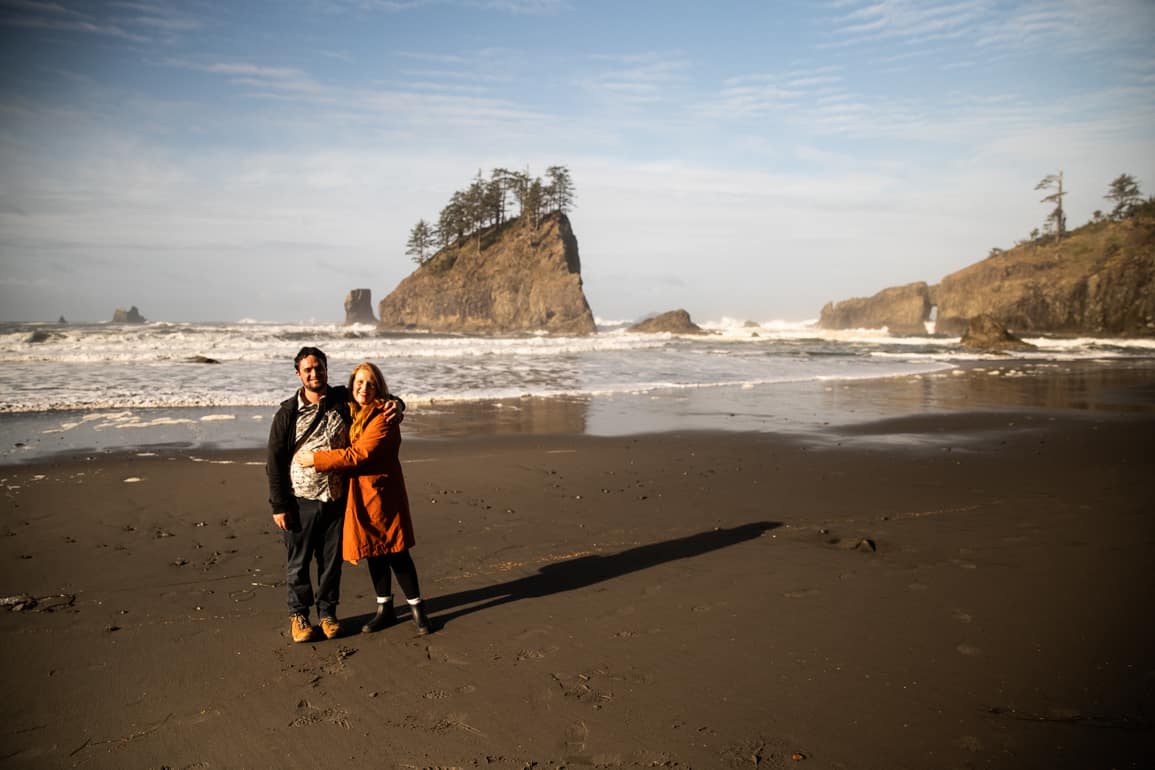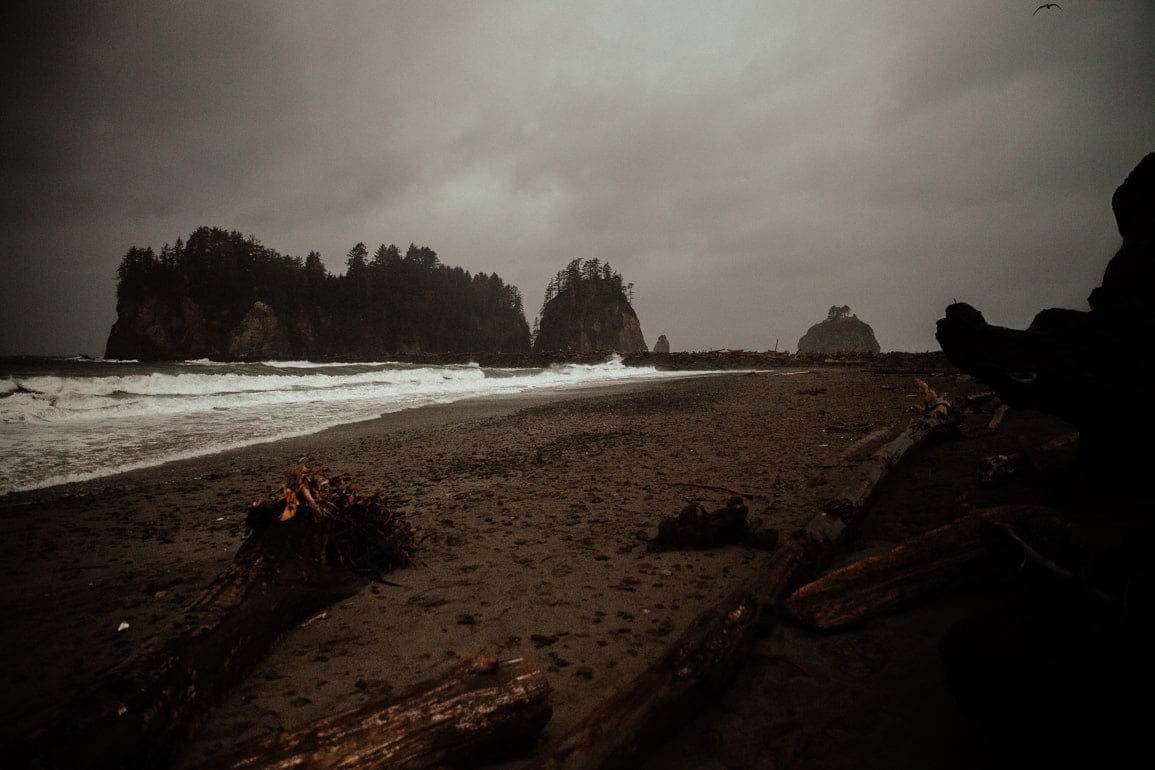 15. Rialto Beach & Hole In The Wall
Another famous beach is Rialto Beach, especially the famous Hole In The Wall which is this cool rock formation that has a large hole through it to peek through. Or stand in at low tide!
It is a bit of a pain to get to and a little confusing. We actually failed at our attempt to visit the Hole In The Wall.
As you drive to First, Second and Third Beach, you'll see signs for Rialto Beach. This requires an additional ~25-minute drive down a separate road to reach.
BUT, this part of the beach doesn't feature the famous Hole In The Wall. The hole requires a 3-mile walk/hike on the beach to reach. And part of that trail is only available during low tide.
AllTrails reports it takes an average of 2-3 hours round trip. We were visiting on a gloomy and very windy day and didn't check the tides, so we decided not to make the trek. I would like to try again, but only on a nice day when the beach isn't too soggy and the tide is low.
It's one of the most unique things to do in Olympic National Park area!
16. Ruby Beach
Ruby Beach on the other hand is super easy to access and also has a tiny hole in a rock which is a good alternative if Rialto Beach is out of the cards on your trip. Ruby Beach about 30 minutes South of Forks, so is a good stop to do as you're heading to Lake Quinault.
The beach is literally right there at the parking lot, a 2-minute stroll down at most. Depending on the time of year or tide, there may be a river of sorts cutting the beach in the middle.
There is still plenty of space to do a walk/hike even if you can't access the whole beach.
We visited for a morning walk only because it was raining for our whole visit (and for a brief moment, snow?? That threw me for a loop). I was originally planning on visiting Ruby Beach for sunset one day as the proximity to the parking lot and sea stacks make it extra beautiful. If it is clear during your visit, plan on a sunset picnic here one day!
17. Kalaloch Tree Of Life
A must-see in Olympic National Park is the Kalaloch Tree Of Life. It's a large 1000+-year-old Sitka Spruce that grew on a side of the cliff with a large pocket/cave under the roots. enough space for humans to walk under the tree itself and look up at the root system into the branches.
It's magical and spiritual. I haven't been able to find any local Native stories around the Tree, but I am sure there is more history to this, so if you know please do me a favor and drop a note in the comments.
The trail is super short. Just park at the Kalaoch Campground and walk down the steps, it'll be right there on the beach to your right. And again, as with anywhere you visit, leave it better than you found it. This especially applies to the Tree of Life.
The root systems are mighty but that doesn't mean it's ok to climb on the roots or carve your name into them. Don't be that person.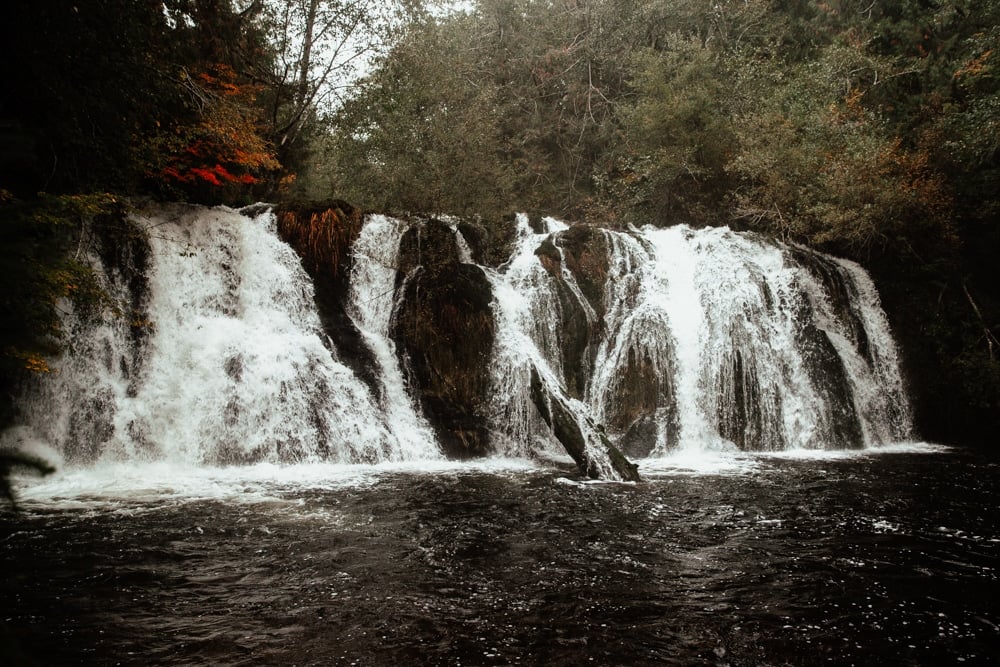 18. Beaver Falls
A secret waterfall near Forks! I haven't seen this in any guides or on Instagram before, and if you know me, you know I love waterfalls. Especailly in the summer when I can swim at the base. But it was too cold during October for that. Anyway, Beaver Falls is a pretty large waterfall that's right off a back highway tucked behind a couple rows of trees.
There's a small dirt lot on the side of the highway to park, but no sign. There is a small footpath trail that takes you down to the waterfall and dogs are allowed. It's super pretty and nobody else was there which made it extra special. I would love to come back in the warmer months to swim here after a hike!
19. Staircase
This is one of the places to visit in Olympic National Park we personally didn't make it to since it's super far away from the other stuff we were seeing, but it's in all the travel guides as a top hike to do. Staircase is located on the Southern Eastern end of the park about an hour North of Olympia and 2 hours South of Port Angeles.
This trail features large Douglas-Firs, Skokomish River and Lake Cushman along with some cool suspension bridges.
You can go hiking here but also kayaking on the water. The most popular trail is the Staircase Rapids Loop (about 2 miles long). This makes sense to visit if you are doing a full loop or are ending in Seattle. We headed off to Mount Rainier area so it was too out of the way for this visit.
20. Lake Quinault
The last major stop you'll hit on your West Coast drive is Lake Quinault, which is the other major lake mirroring Lake Crescent in terms of hikes, lodging and waterfalls. We didn't stay at the Lake Quinault lodge but I really want to check it out next time. Lake Quinault is known for great swimming in the summer, but also next door to the large Sitak Spruce in the world and another small temperate rainforest.
This lake is a bit of the way for other sites mentioned here so it's best to do all the activities on the same day before moving onwards.
21. Largest Sitka Spruce
The largest Sitka Spruce in the world is located right in Olympic National Park at Lake Quinault! The Quinault Giant Sitka Spruce has over 888 points and towers at over 191 feet tall. It's a quick stop along the lake, but worth it to soak up the beauty of this ole gal.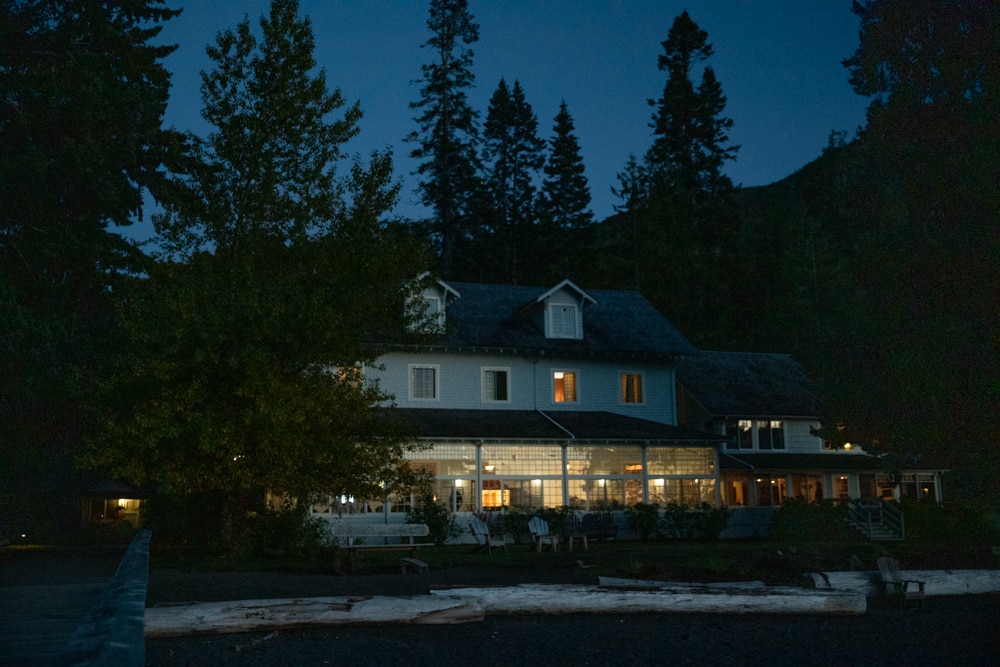 Best Olympic National Park Lodging
Ok, so now you know all the fun things to do, let's chat about where to stay as this will have a huge impact on your trip. We opted to bounce along different hotels so we could always anchor ourselves near the sites we had planned that day. As we chatted about before, the park sites are spread out and do take time to drive to.
Olympic Peninsula lodging ranges from camping to motels to historic resorts. These are my top picks for you:
Lake Quinault Lodge
Lake Quinault Lodge is a historic Victorian-style lodge on the lake and next-door to the world's largest Sitka Spruce and the Quinault Rain Forest. They have large rooms, gardens, a restaurant, an indoor pool and a sauna, along with being close to trailheads. It's thought to be the most upscale of the lodges in Olympic National Park and extra good for families.
Pacific Inn at Forks
Pacific Inn is the hotel Robin and I stayed at while in Forks and it was a great homebase. It's always pretty cheap, usually under $100 per night. Rooms are huge and just renovated, so modern. There's strong Wifi and a TV. But I loved how it was downtown so easy towalk to restaurants and stores.
AND, they have a Twilight-themed room here! Sadly they were all booked out during our stay so we couldn't sleep under a large Edward poster, but I'll be trying to book it on my next trip to the Olympic Peninsula for sure.
Lake Crescent Lodge Cabins
This is where we stayed for our time around Lake Crescent. The lodge is historical and super beautiful, featuring a large fireplace in the lobby and a glass sunroom. The restaurant on site is surprisingly very good for being in the middle of nowhere, and during the warm months you can easily rent kayaks or paddleboards from the front desk. It's also close to Hurricane Ridge, Marymere Falls and Sol Duc Falls.
That being said DO NOT BOOK A ROOM INSIDE THE LODGE. If you stay here, please only book yourself in the cabins. We booked a room inside the lodge and were basically catfished. The room we got looked nothing like the photos online, walls were so thin we could hear our neighbor snore. It was also not made clear that these rooms have a shared floor bathroom like a hostel which was extra gross to deal with in the middle of an ongoing pandemic.
I have confirmed with a friend who stayed in the cabins that the cabins are totally different. They're much nicer and you get your own bathroom. We had a really heartbreaking stay at the Lake Crescent lodge since it wasn't at all what we planned, so I want you to not make the same mistake. I do think the cabins are worth it.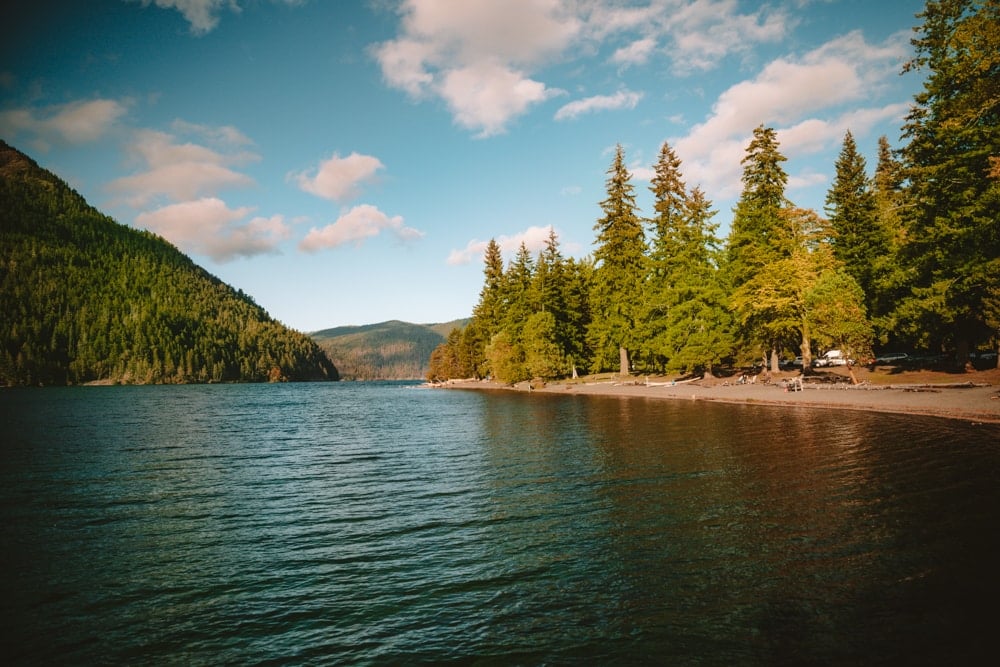 Olympic National Park Camping
And of course, there are SO many good campgrounds in and around the park! Over 38 to be exact. As you can imagine, Olympic National Park weather is all over the place. I would not recommend camping in the fall through early spring unless you are car camping or are prepared for getting wet. And being wet, like, all the time.
Summer is the best time to go camping at Olympic National Park. The perks of camping is you can get really close to trailheads so you maximize your time exploring. The Kalaloch, Mora and Hoh rainforests are the only ones who accept reservations, which are a bit competitive so book those asap if you want those guys. Everything else is first come, first serve. More info on Olympic National Park camping can be found here.
Where To Eat In And Around Olympic National Park
Time to chat about one of my favorite things: food! Like most national parks and small towns, dining is limited but we did track down some tasty gems for you. No matter what I recommend you bring in snacks (granola bars, jerky, etc) to keep in your car along with a gallon of water to stay hydrated!
Pro tip: Especially in off-season, updated opening times aren't always listed correctly on websites up here. When in doubt, give them a call or drive over, but be prepared with a plan B.
Top Port Angeles Area Restaurants
Lake Crescent Restaurants
Granny's Cafe: Located between Port Angeles and Lake Crescent is this classic diner stop with hearty breakfast plates and tasty burgers. We tried to go but found they had odd hours, at least in the fall, but really good reviews online. I think this would be a great stop for a huge breakfast before hitting the trails.
Lake Crescent Lodge Restaurant: We LOVED our lunch and dinner here. The dining room overlooks the lake and if it's nice out, you can take your meal to go and sit outside. Burgers, soups, salads — everything was really well made.
Top Forks Area Restaurants
Mocha Motion & A Shot In The Dark: Sister coffee huts that you drive up to order. They open early and have the BEST seasonal coffee drinks (omg, still drooling thinking about them!) They also have a robust breakfast menu so this was our daily morning stop for breakfast sandwiches and coffee.
FYABES Mexican Truck: Open daily, this permanent Mexican food truck hits all the spots after a long day. We loved our lunch here, especially the burritos. Order at the window and sit outside in their covered patio area.
D&K BBQ: Across the lot from the Mexican truck is this BBQ truck! They aren't open daily, so we couldn't visit, but the staff at the Mexican truck confirmed the food is legit.
Westend Taproom: A hip taproom serving rotating beer. You can bring food in from other restaurants to eat there as they don't serve any. Most popular is the pizza spot next door. Not open Tuesday & Wednesday.
Blakelees Bar & Grill: Super standard pub that has surprisingly great burgers.
Note: The Chinese place in town sometimes is the only place open for dinner mid-week. We ordered from there was it was *fine* but not the best meal in the world. Gets the job done if there's no other options but wouldn't be my first pick.
What is the best season to visit Olympic National Park?
Winter: very wet, cold and some park closures due to snow, especially at high altitudes like Hurrican Ridge
Spring: Can still be very wet
Summer: Highest chance of sunshine, warmer weather, all park things should be open. Most visitors come in the summertime.
Fall: Can be rainy, but you'll also get fall foliage & fewer visitors
Your ultimate Olympic Peninsula road trip itinerary depends on the type of visit you are after, but in general summer is thought to be the best season to visit Olympic National Park. It'll be the warmest, sunniest and less rainy.
The downside is this will see the most amount of fellow visitors so some spots, like the Hoh Rain Forest on a weekend can get crowded. But if you are aiming to go camping, summer is the best season.
We went in October and LOVED that vibe. Way fewer fellow hikers on the trails and driving along Highway 101 was so easy. We loved the fall foliage and the start of rain to make things have that classic PNW gloom. We also lucked out on our visit, as some parts of the roads got washed out a couple weeks after a came. So it is a bit of a risk.
What Ts The Olympic National Park Weather Like? What Should I Pack?
No matter the season, expect it to rain and be grateful if it doesn't. As we chatted about above, winter can get snow and summer will be warmer. Pack accordingly to your season but these are the must-haves you probably need no matter what time of year you visit:
Rain jacket with hood: A raincoat that's longer and has a hood will become your best friend, especially on the beaches.
Rain shell with hood: I also loved having this rain shell which was light and went over my bulky sweaters.
Compostable trash bags: to pack out trash (your own or others)
Rainboots for hiking: I think hiking rainboots that have a bit of warm lining are best, as your toes may get cold even in the summer since it's so wet up there.
Tall warm hiking socks: Plus an extra pair in your backpack or car in case you get too wet!
Brevite camera backpack with waterproof shell: I swear by this backpack for hiking with a camera. We use it all the time.
Warm sweater: It does get chilly up here, especially on the coastline!
Activewear: I love Girlfriend Collective as they are a sustainable clothing company with sizes up to 28.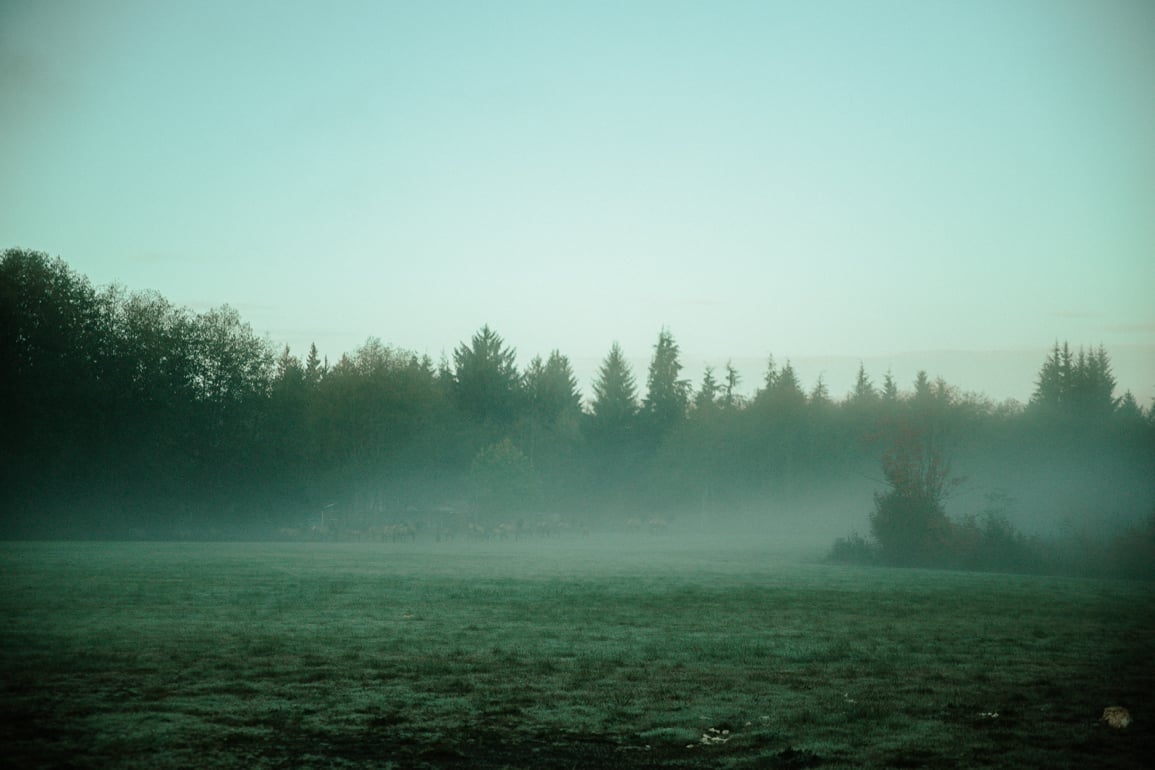 This trip made me fall in love with the PNW parks. There's North Cascades National Park and Mount Rainier National Park Washington has and each one is beautiful.
Well, I hope this helps you plan the perfect Olympic Peninsula vacation around Olympic National Park, the coastline and all the natural gems hidden up here!
If you made it this far in my 5,000 word novel to the park, then you are a rockstar. If for someone there is additional questions you have left, drop a comment below or DM me on Instagram @thewhimsysoul and I'll help ya out!
And of course, if you have more Olympic National Park travel tips to add, drop a comment so everyone can see. Happy adventures!