It's no secret that I'm obsessed with La Croix. (Hey, I used to have a La Croix pop socket on my phone for over a year.) But, this year in an effort to be a tad more sustainable, we decided it was finally time to address our sparkling water addiction.
And honestly, taking out bags on bags of cans to the recycling every week really wasn't feeling too great. So, we bought ourselves a SodaStream. In this post I'm sharing my hack for saving 20% on a SodaStream, plus which model we went with, tips for living the 'streamin lifestyle and how to make my FAVORITE homemade soda syrup recipe.
SodaStream Hack: How To Save 20% (+ A Tasty Soda Syrup Recipe!)
I spent probably too much time comparing all the SodaStream models (along with other competitor carbonated water machines) but ended up ordering the SodaStream Fizzi Sparkling Water Maker in the Aqua shade (which to my delight, matches our blue kitchen theme PERFECTLY.)
This model doesn't require batteries or power, which is ideal for us since we live in a small San Francisco apartment and our limited kitchen outlets are already taken. Plus, this means we can move it around easily when needed… which is a lot since we're constantly pulling the Instant Pot out to cook.
We still buy La Croix, I'm too in love to give that habitat up completely, but we've drastically cut down on the amount of single-use cans we consume. The only thing we have to regularly replace with a SodaStream is the C02 cylinder, but we can make that last easily 6 weeks and they are refillable, so I feel like we contributing a lot less to the landfills.
And, making our own soda syrups and flavors is so much fun, this SodaStream has added a whole new element of joy to our daily lives. We actually bought 2 extra carbonating bottles so we can always have a cold one and also keep a few different flavors on hand.
If you're on the fence about buying a SodaStream, I say DO IT!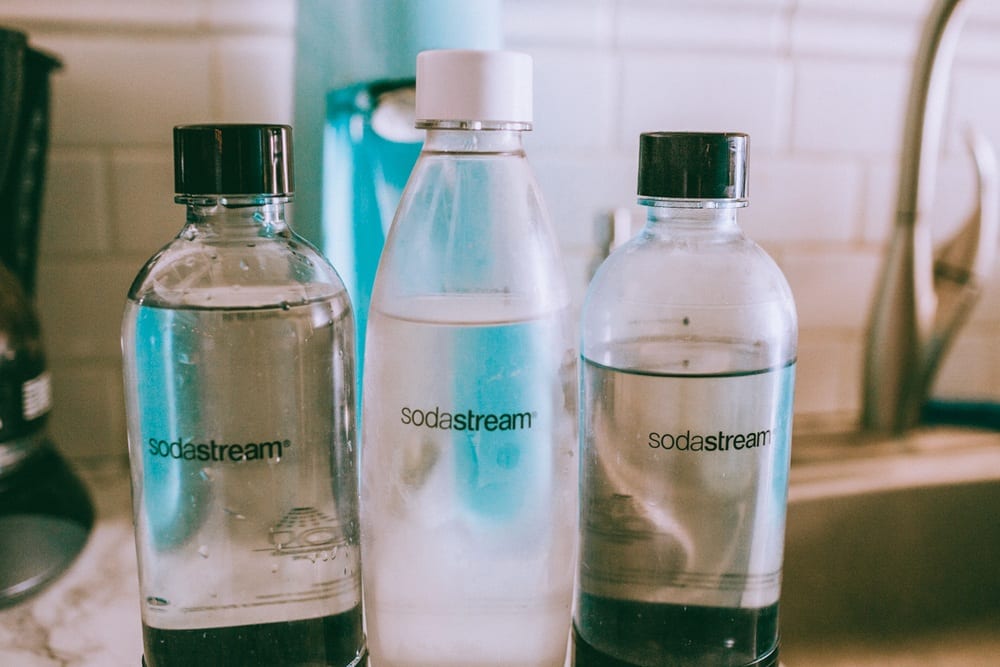 How To Save 20% On Your SodaStream
Ok, this money-saving isn't actually mine. Someone on Instagram tipped me off. What you'll want to do is buy your SodaStream from Bed Bath And Beyond. They have an email newsletter popup form that gives you 20% off your first purchase when you give them your email.
So, sign up for the newsletter with your junk email, get the 20% code and you'll end up getting the Fizzi SodaStream for about $70 instead of $90+. *MIC DROP*
Our SodaStream came really fast. It actually came broken – the back part that connects to the C02 cylinder wasn't working. I called SodaStream directly and they replaced the order within 10 minutes. So easy, can't beat that customer service.
OK, now it's time for my favorite homemade soda syrup recipe! You can make this two ways: one with sugar and one without. Normally I make it without, since I drink enough wine and cocktails as it is, I don't need to be adding more sugar to my diet. But, the sugary syrups do taste so much better. It's up to you!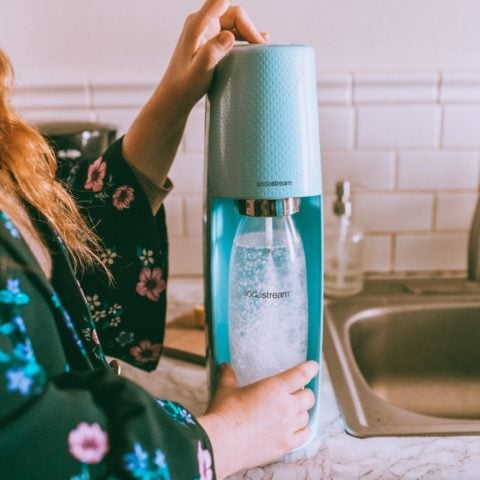 My Tasty Soda Syrup Recipe
A tasty lavender lemon soda syrup recipe for us in your sparkling waters from SodaStream or other soda water makers!
Ingredients
1 fresh lemon, squeezed
7-8 dashes Lavender Bitters
1 cup water
1 cup sugar
1 Tablespoon culinary lavender buds
Instructions
Sugar-Free "Syrup"
This is the method I normally use, since there's no sugar but still packs a tasty punch of flavor in my sparkling waters.
Carbonate your SodaStream bottle to your liking (usually 5-7 pumps)
Pour the fresh lemon juice into the sparkling water.
Add in 7-8 dashes of lavender bitters
Seal the lid on, and gently tip the sparkling water bottle over once to mix the flavors.
Serve and enjoy!

Classic Soda Syrup
This is recipe has a stronger, sweeter flavor. You can also use this soda syrup for cocktails.
Pour together and equal part sugar and water, in this case, 1 cup of each, into a pot.
Add 1 tablespoon culinary lavender buds.
Boil the mixture together until the sugar dissolves.
Let cool.
After it has cooled, add in the lemon juice.
Put in the fridge to chill, and then you can add it to your sparkling water bottles as needed.
I think the Fizzi is the best SodaStream, I couldn't imagine having to plug a soda water machine in, and it's super affordable. And, like, really really easy to make water with. I wish we bought one sooner!

Do you use a SodaStream or soda water maker? Tell me your favorite recipes or bought flavor additives that you use for your water in the comments below!