I'm constantly surprised I'm a Virgo, not a Pisces since I love swimming so dang much. On trips, I'm always seeking out the best beaches, waterfalls or swimming holes to swing by. So, when we were living in Copenhagen this summer I was thrilled to the moon over the local bathing culture.
See, the water quality in the Copenhagen canal is super clean, so it's safe to swim. You can't hop in just anywhere though, there are designated areas for people to take a dip and I made it my personal mission to visit as many as possible this summer. These are all my favorite places to go swimming in Copenhagen metro area + tips for a fun harbor bath!
Cold plunging is a ritual culture all over the world engage in, though Finland and Scandinavia really do it justice. You'll find a lot of fjord saunas up in Oslo, places to heat up and them jump into the cold water over and over. There are a couple of saunas in Copenhagen, but the Danes really embrace natural cold plunges and swimming. It's good for your health, plus it's just really fun and refreshing.
Yes, they do it in the winter, too! You won't find huge crowds lounging around the harbor baths in January, but in the summertime, everyone flocks to the water on sunny days. It's my favorite thing to do in Copenhagen in the summertime.
What You Need For Harbor Baths In Copenhagen
Change of clothes or cover-up
Towel
Water (cold plunges make you oddly very thirsty!)
Optional: snacks, beer, a book, reef-safe sunscreen to keep the water clean!
Important – Check Water Quality First & Look Out For Jellyfish
While the water quality is usually really clean and healthy, sometimes Copenhagen public baths trap too much algae in the swimming pool areas so you have to wait for them to be cleaned out first.
You can check online or at the bath in person to see if the bathing open sign is green or red. You'll find little nets at most of the bath spots to clean out pools if there's just a bit of algae floating.
Usually they aren't closed, but do pay attention before jumping in just to be safe! You also have to look out for jellyfish. I never saw too many while swimming but they do live in the canal.
14+ Best Copenhagen Harbour Baths For Swims & Quick Cold Plunges
The official guide to Denmark's harbour baths in the capital city!
1. Kalvebod Brygge Harbour Bath
It's hard to pick a favorite København harbour swim spot, but I think Kalvebod Brygge is my favorite. It's this neat, large wooden bridge with tons of curves and seating to lounge out with a front row access to the water.
They have a dedicated roped-off swim area but also ladders along the Bjarke Ingels Group-designed bridge so it's super easy to find a spot to jump in, cool off and haul yourself back up to tan and drink beer.
On any given sunny summer weekend day, this place is covered with Danish locals, students and visitors enjoying the water.
They'll also probably have a little DJ and bar area to grab drinks if you forgot any! I just really loved the vibe here and how easy it was to get to from central station.
2. Islands Brygge Harbour Bath
Across the canal from Kalvebod Brygge is Islands Brygge, which is probably the most popular spot to go swimming in Copenhagen. It's easy to spot with its iconic red and white lifeguard tower and huge wooden diving platform.
Unlike Kalvebod Brygge which opens up right to the water, Islands Brygge is closed off in more of a swimming pool formation which means the water is usually a bit warmer here and it has more of a classic pool vibe. There's even a children's section!
There's a large grassy area here to lounge on if you didn't claim a spot by the water, along with showers and a public bathroom. It's next door to GoBoats, one of my favorite activities in Denmark, and also Anderson Bakery for tasty post-swim treats.
Pro-tip: Head down along Islands Brygge park to find Havnevigen Harbour Bath, an area with a man-made beach and access to the water!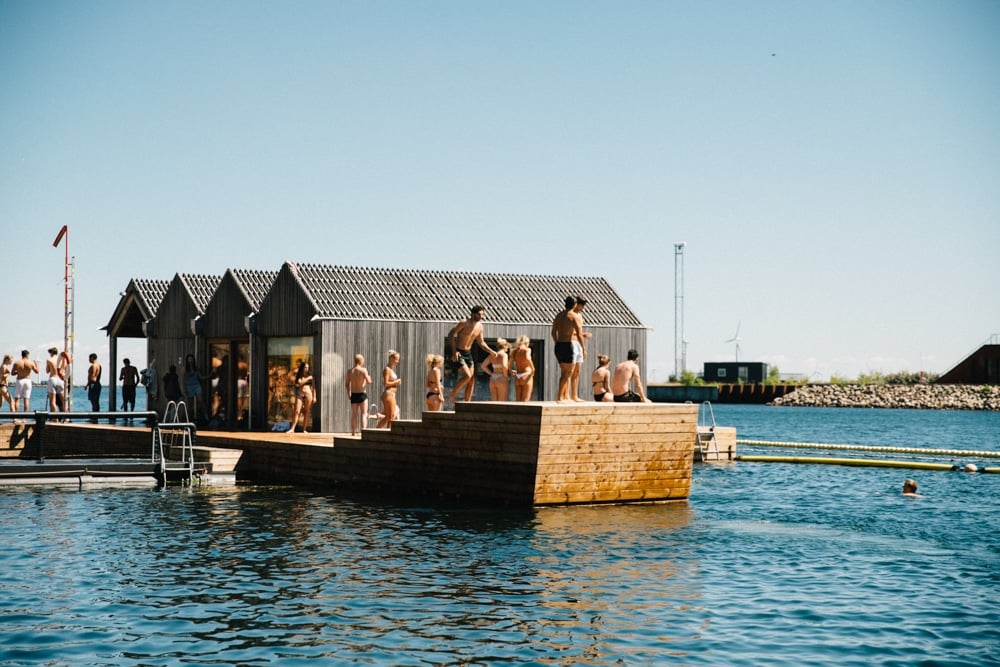 3. Nordhavn Sandkaj Harbour
Nordhavn is a newer part of the city and the Sandkaj harbor swim area is right in the center, so everyone in the neighborhood flocks there on nice days. The roped-off swim area is pretty large and has a few different sections/lanes.
There's a floating dock, diving platform and bathhouses for changing in. It's really close by tons of cafes and restaurants for snacks, but I did find it to be pretty crowded whenever I stopped by. So, get there a little early to claim a spot!

4. The Snail aka Kastrup Søbad on Amager Strand
If you're up for a day trip out of the city, you must head to Kastrup Sea Bath (Kastrup Søbad in Danish) which translates to The Snail in English! It's this beautiful huge wooden bath structure in the ocean that wraps around to look like a snail. And, it overlooks Sweden across the water!
That's right, you can go swimming in Denmark on one of the coolest pieces of architecture while having of view of Malmö, Sweden across the bay. There's also a beach here with proper sand, which is hard to find in the Copenhagen area.
It does get really popular on sunny days, especially on weekdays when school children groups will visit. But we easily found spaces on The Snail to spread out and go swimming. There are so many diving boards and places to jump off, it's a really cool spot.
Just take a short M3 train ride out of the city towards the airport but get off at the Kastrup stop. Then it's just a quick walk to one of the best Copenhagen beaches.
This was one of my favorite things we did in Copenhagen and worth the train ride!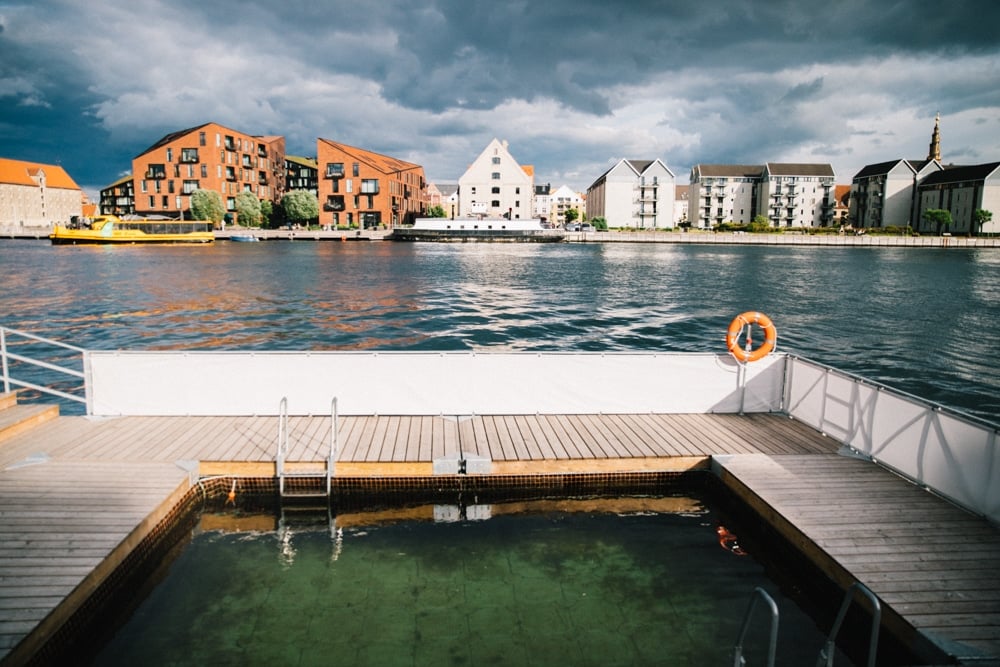 5. Nyhavn Havengade
You can't swim in the famous Nyhavn canal, but right around the corner is the Nyhavn Havengade harbor bath area! It's pretty new and not listed on many sites, I only discovered it after walking past. I came back the next day with my swimsuit to try it out.
It's small and not very deep but makes a really nice spot to do a quick dip. I think it'll be great on colder days since it's not too deep so you don't have to commit to dunking your head. It's right next door to the Tipsy Mermaid bar so we grabbed beer there before swimming.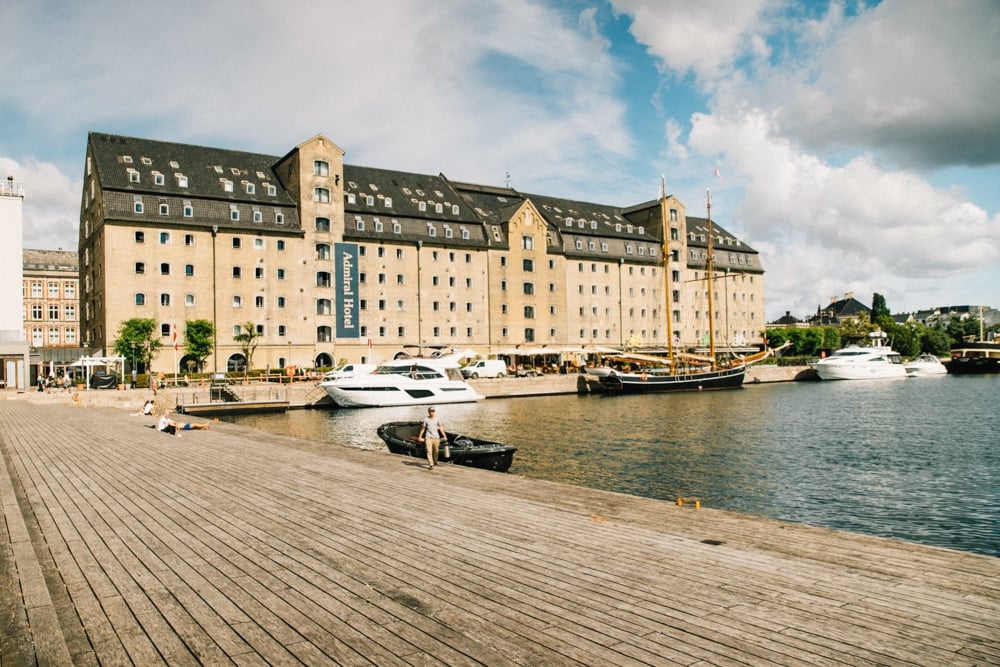 6. Ofelia Beach Copenhagen
Nearby Amelianborg is Ofelia Beach which is super easy to access if you're staying at one of the main hotel areas near Kongen Nytorv or Nyhavn (the Copenhagen Admiral Hotel is our favorite and it actually overlooks Ofelia Beach!)
This spot is known to a lot of jellyfish in the morning, but otherwise is such a great spot that's just a few blocks off major tourist sites. If you pack your swimsuit in your day bag, it's easy to stroll over and go for a swim in between sights.
ps: Ofelia Beach is often listed on best beaches in Copenhagen lists but there's no sand here. It's just a dock!
7. Badezone Søndre Refshalebassin
Refshaleøen is this cool neighborhood full of greenspace, warehouses, random restaurants and this cool outdoor food market called Reffen (the latter is one of my favorite places to spend an evening in Copenhagen!) Badezone Søndre is a dedicated swimming area with a grassy bank and a small dock and roped off area in the water.
8. La Banchina
La Banchina is also on Refshaleøen just next door to Badezone Søndre but it's a restaurant with a private dock for swimming and sunbathing! We had lunch here one day and I think their fennel salad was one of my favorite meals we had this summer.
This is such a cool vibe. You order food, bring it to the dock and in between bites you can jump in the water. Oh, and they have a sauna!! La Banchina is one of the few places in the city that have waterfront saunas you can book in advance online.
Pro-tip:
If La Banchina is all full, head to
Halvandet
(also on Refshaleøen) which is another harbor swim bar restaurant!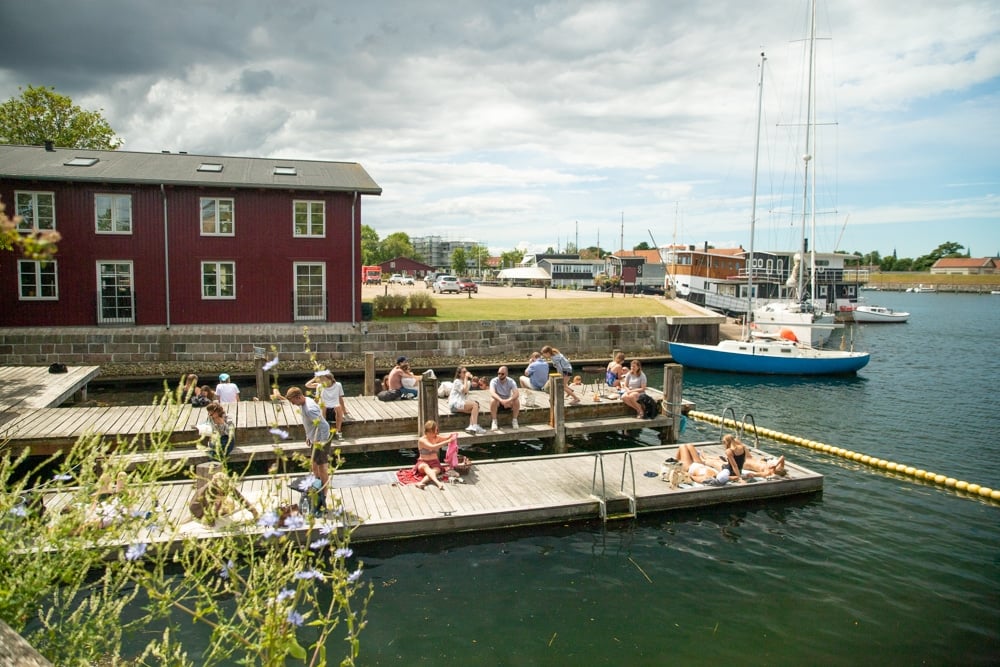 Other Harbour Bath Copenhagen Spots I Didn't Get A Chance To Visit
Sluseholmen Harbour Bath: Located in the Southern harbor, this area is a lot like Islands Brygges with a white and red lifeguard tower and dedicated swimming pool areas.
CopenHot:

These are private hot tubs overlooking the canal! Sadly they were in the middle of relocating when we visited so we couldn't go but I really want top book one of these next time I'm in Copenhagen. Especially in the winter when the water is cold, you can easily warm right back up in the CopenHot tub!

Floating Islands: There are apparently floating islands you can paddle to and swim off of. I tried to spot them in the harbor and dig around the internet for more info but couldn't find any information or see them in the water. Let me know if you figured out where they are!
Havnebadet Fisketorvet: Another small bathing area with a lifeguard tower near Vesterbro. It has adult pools, a children's swim area and diving boards.
Helgoland Badeanstalt: Cute baby blue bath houses on the Northern end of Amager Strand park (where Kastrup Sobad is). We didn't go in but these are proper vintage-style bathhouses!
Svanemølle Beach: A newer beach to Østerbro. There aren't many beaches in Copenhagen so this one can get packed on hot days.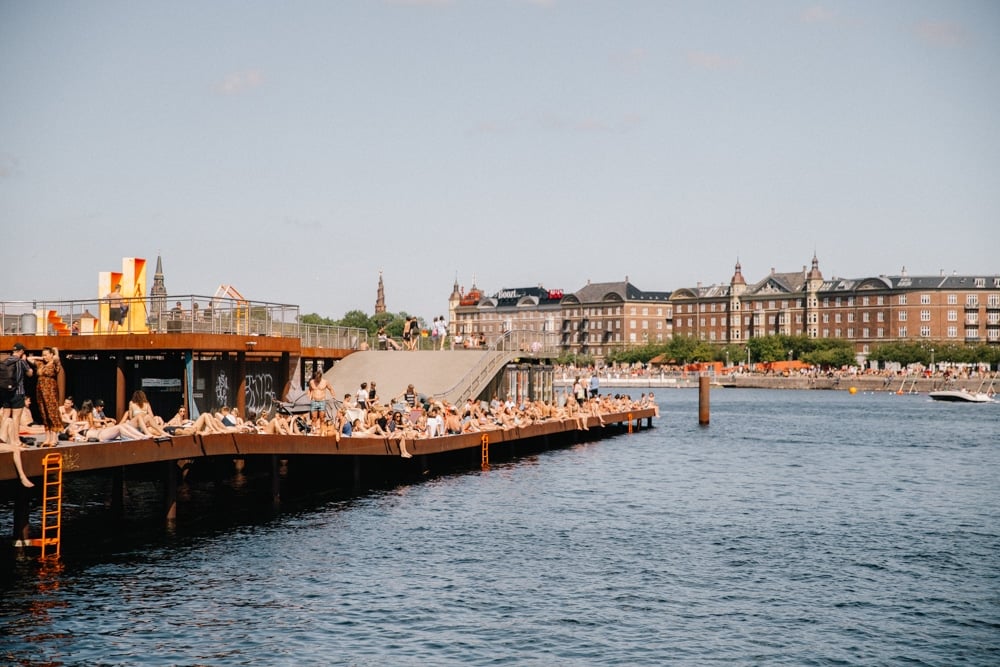 Do You Need To Pay To Go Swimming In Copenhagen?
Nope! Harbor baths are always free to swim.
Is It Safe To Swim In Copenhagen?
Yes! In the dedicated swim areas, the water is super clean and safe to swim in. There are sometimes lifeguards on duty for extra safety.
When Are Harbor Swims Open?
Every harbor bath has different operating seasons. Most are open 24/7 every day of the year, but do have suggested hours of use. Some, like Kastrup Sobad, are only open in the summer. Check online before you head out.
What Are The Facilities At Copenhagen Harbour Baths?
Not usually. Nudity is very normal at the harbor baths and it's common to just change there. I always came already dressed in my swimsuit and would just be wet on the train ride home. Some spots do have bathrooms nearby, like Islands Brygge.
I hope this helps you discover tons of fun baths and beaches in Copenhagen to swim in! Check the tourism board's website before your visit to see if any new ones are added or major changes happen (shutdown, etc).
And, if you know of a secret harbor swim to include, please drop a comment below so everyone can see!!
Now, I'm home in San Francisco where we sadly don't have ocean bathing areas but I wish we did. I loved my summer doing both quick and leisurely swims in the Copenhagen harbor… gosh I love Denmark.