I'm usually a checked-bag girlie but these days the airports are always chaos lately so a carry-on bag just makes more sense. Plus, I just went to New York City and I really really didn't feel like lugging around a big suitcase on the subway.
So, I researched a ton of backpack companies, tested a few brands out IRL, and came up with a list of the best travel backpacks that are stylish, practical and comfy. Here's my top picks!
PST – looking for all the best travel purses? Here's my list of stylish purses that don't make you look like a tourist.
What To Look For In A Travel Backpack
First, you have to decide if you are looking for a day travel pack or a large travel bag for your all your clothes, shoes, etc. In this post, I share both of these in case you aren't sure!
For either style, you should look for the following based on your needs:
A padded laptop sleeve
Fabric (is it waterproof? or stain-resistant?)
Ease of main compartment access
Anti-theft measures
Internal pockets for organization
Overall capacity
How comfy the shoulder straps and hip belt are
Water bottle pockets
Secret pockets for phone, wallet, etc
Weight of the empty bag
Size (does it fit maximum legal carry-on regulations?)
Overall style and design
Price
Best Travel Backpacks Rated For Style & Function
Whether you are looking for bags for a backpacking trip, or a day pack to fit all your camera gear on a long day out, these are my top-rated travel packs!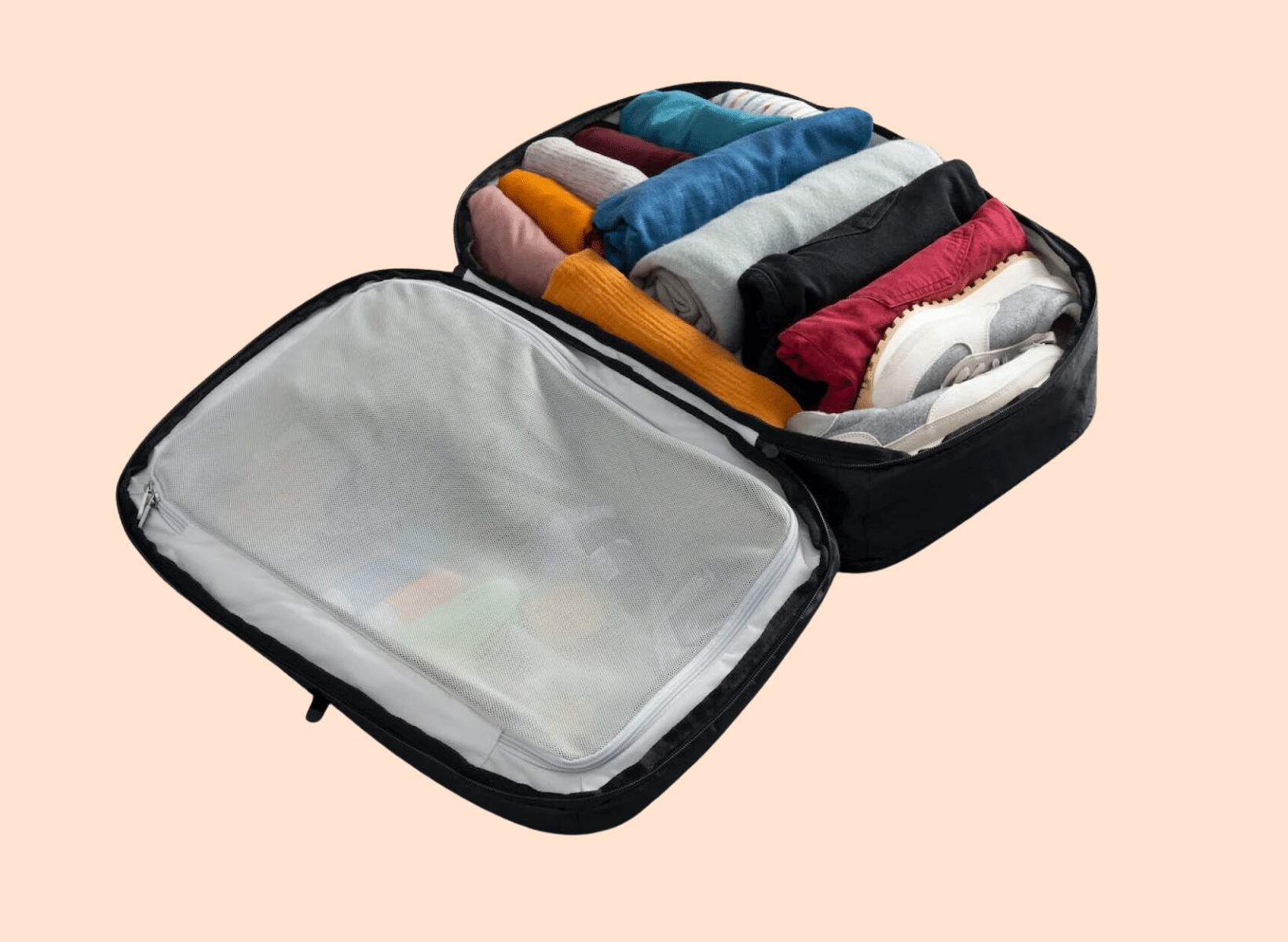 1. Tortuga Travel Backpack
The Tortuga backpacks are like the Zaddy of backpacking travel bags. It's basically a suitcase on your back, which I love since I pack a lot. I think it's the best travel backpack for women like myself who have a smaller frame but love to overpack.
I took this one with me to NYC as my main carry-on bag this summer and challenged myself to fit everything I needed for a concert, photoshoot and 6 days of travel.
This is a 40L travel backpack is approved for overhead bin storage and can pack a LOT in it. I was expecting to have to leave items behind but I actually had room left over! The main body has large mesh pocket and padded, fleece-lined sleeves for a laptop or tablet.
It has water bottle pockets and very comfy straps to distribute weight on your hips and shoulders. You can buy additional packing cubes but I opted to go packing-cube free for this test trip.
I loved the hip straps and padded shoulder straps to help keep my shoulders pain-free and would totally spend a month backpacking around Europe with this baby.
The Tortuga is the best carry-on backpack I tested out for overhead storage and trips a week or more.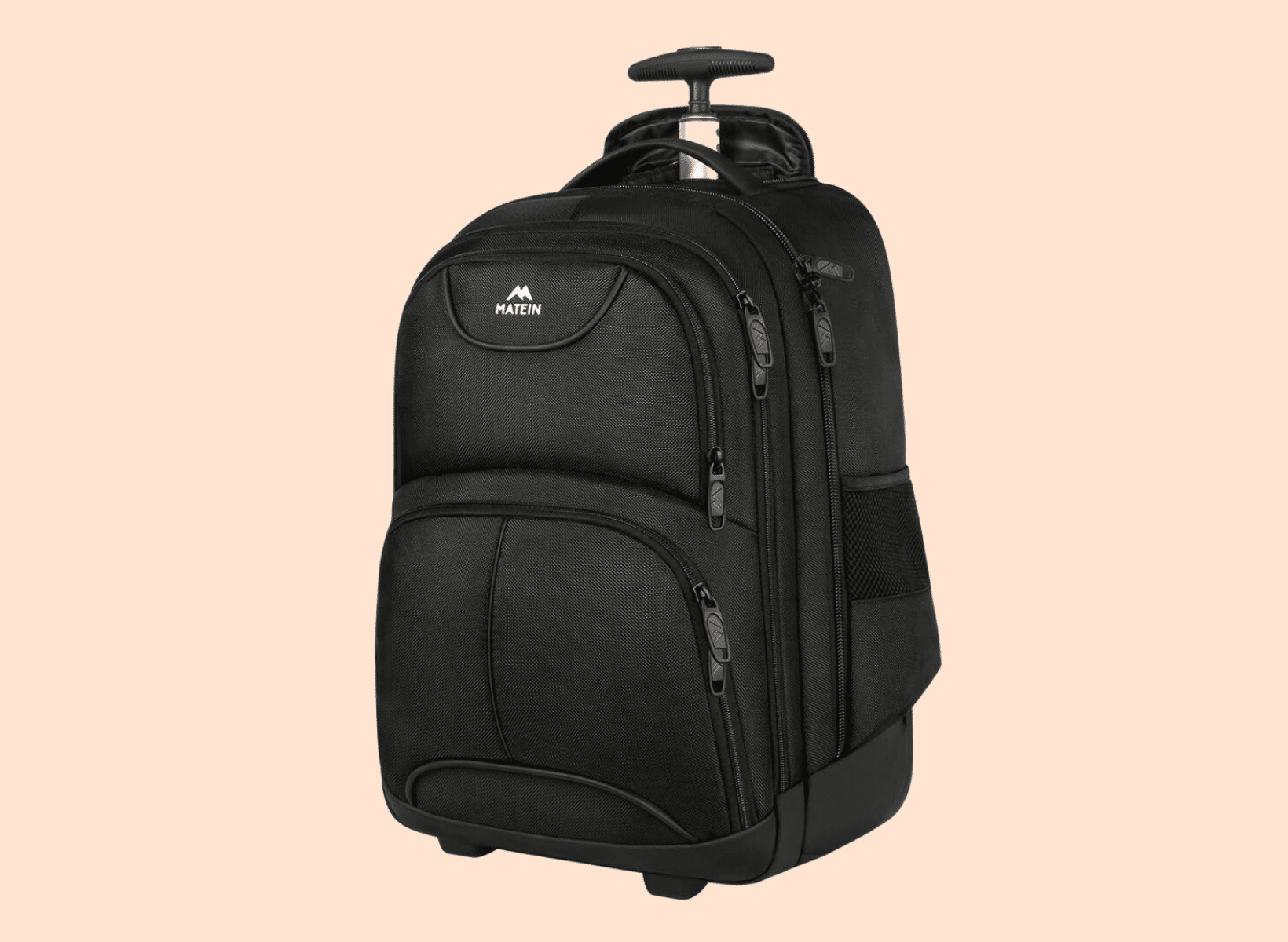 2. Matein Rolling Backpack
If you're looking for a budget travel backpack with wheels, and don't mind packing a little lighter, check out the Matein Rolling Backpack.
Sometimes, it's just really really nice to have wheels on your luggage to save your back (any other millennials out there who already have back problems?! Just me?) But there's many places around the world, like the cobblestone streets of Copenhagen where you really, really don't want to be rolling a suitcase around.
That's why this is the best backpack for travelling around internationally, for trips under 1 week. You can speed around train systems and narrow streets with this bag on your back, or easily transition to wheeling it behind you in the airport.
My friend, Amy, took this on our joint trip to NYC where I was testing out the Tortuga backpack. It's smaller (comes in 17 inches and 18 inch sizes) but I was absolutely jealous she had wheels to roll around SFO at 4am. She brought it with her last week on a trip to Oslo and Paris, and while she had to be strategic about what she packed as it is smaller, she loved it.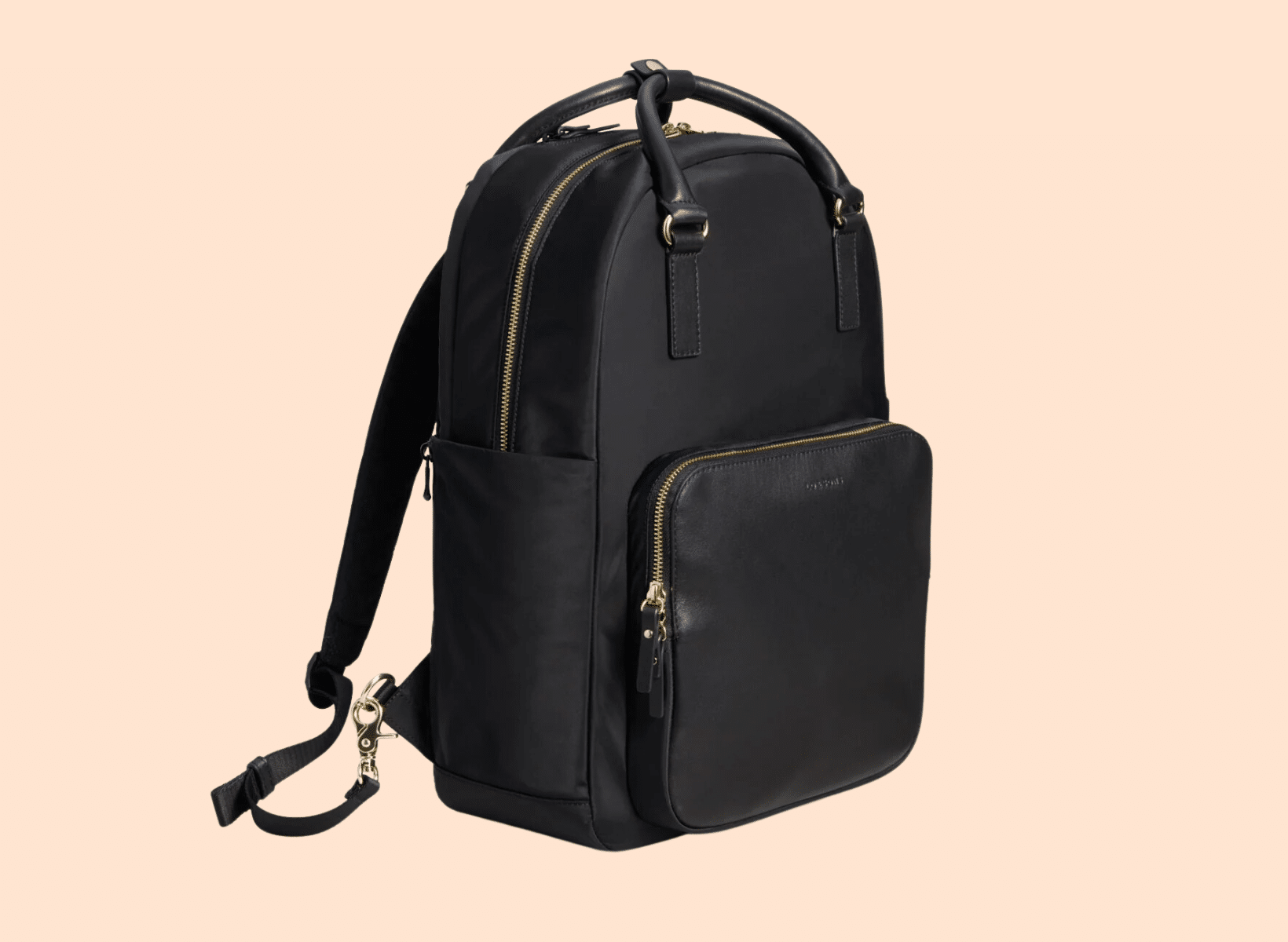 3. The Rowledge Lo & Sons Backpack
I'm obsessed with the brand Lo and Sons. I've had a couple of their travel bags for over a year now and always been impressed by the quality of their materials and sleek styles of their bags.
I always feel extra chic when traveling with one of them!
The Rowledge backpack is probably the best laptop backpack/day pack out there. I tested it out while in NYC and it could fit my laptop, large DSLR, a water bottle, a pair of shoes, wallet, sunglasses, and still had plenty of room left but it didn't look or feel too full.
(It's kind of like Hermonie Granger's purse in Deathly Hallows – it can fit a lot more than it looks! It's the best carry on backpack because of this.)
It sits well on my shoulders, another plus. The Rowledge is the best backpack for travel and work trips, which I'm always taking, so expect to see more wearing this a lot more in upcoming Instagram posts! I've been looking for years for the perfect day travel backpack and this is it.
PST – they're an AAPI-owned brand! If you're looking for the best overall travel backpack for day use, this is it. Read by full review of Lo and Sons here.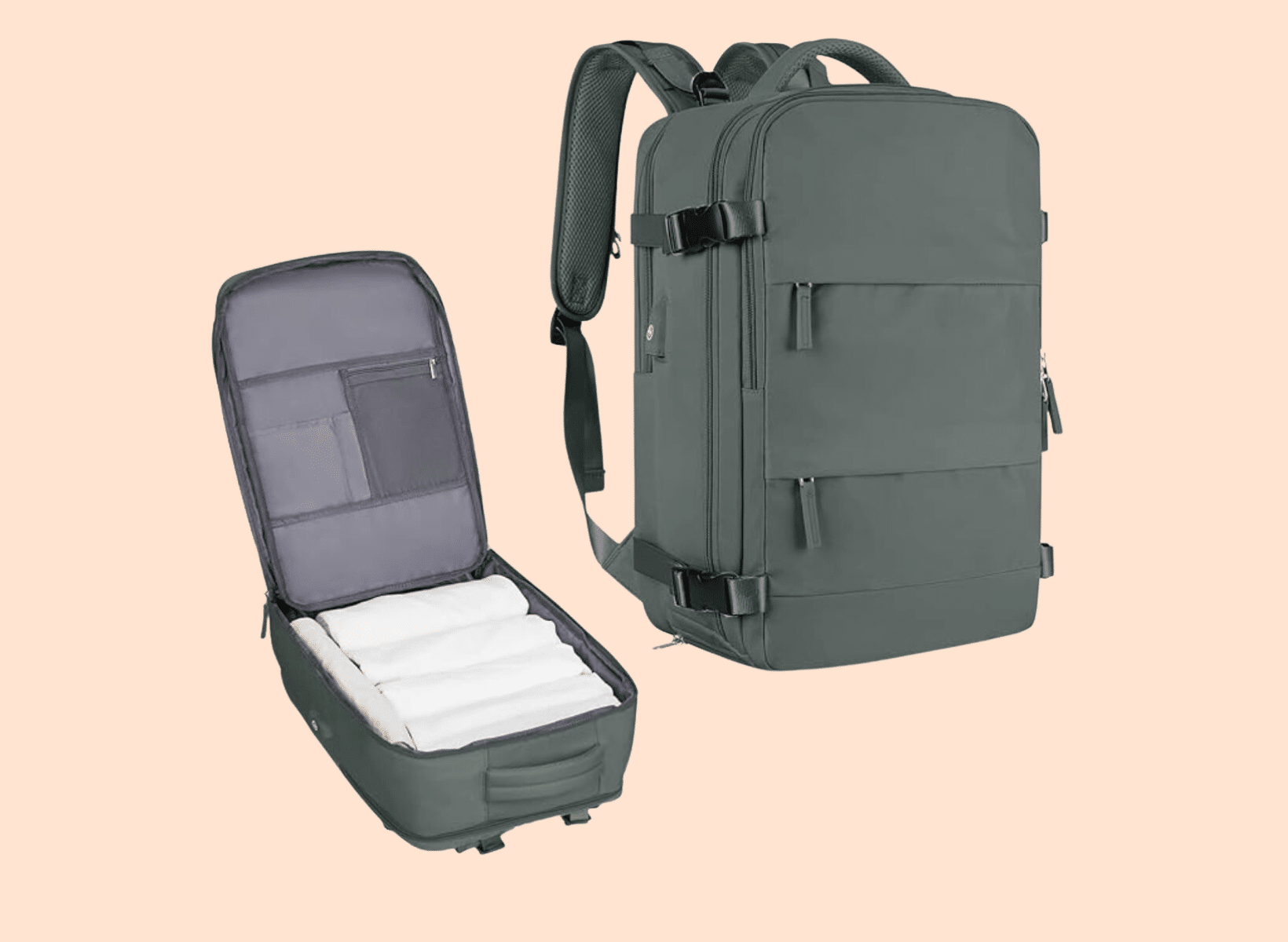 4. Coowoz Large Travel Backpack 30L
This is another good budget travel backpack option! The Coowoz Large Travel pack is under $50 and can fit 30L of items, which competes well with other spendy name brands.
It lacks a supportive internal frame and hip belts like other backpacks, but it has a ton of internal organization and external pockets to help you pack.
Our favorite feature is the anti-theft back pocket that faces your back so it's hard for pickpockets to steal your passport or wallet! It also comes with a shoe compartment and a wet bag made of high-density waterproof material to help you separate wet and dry items!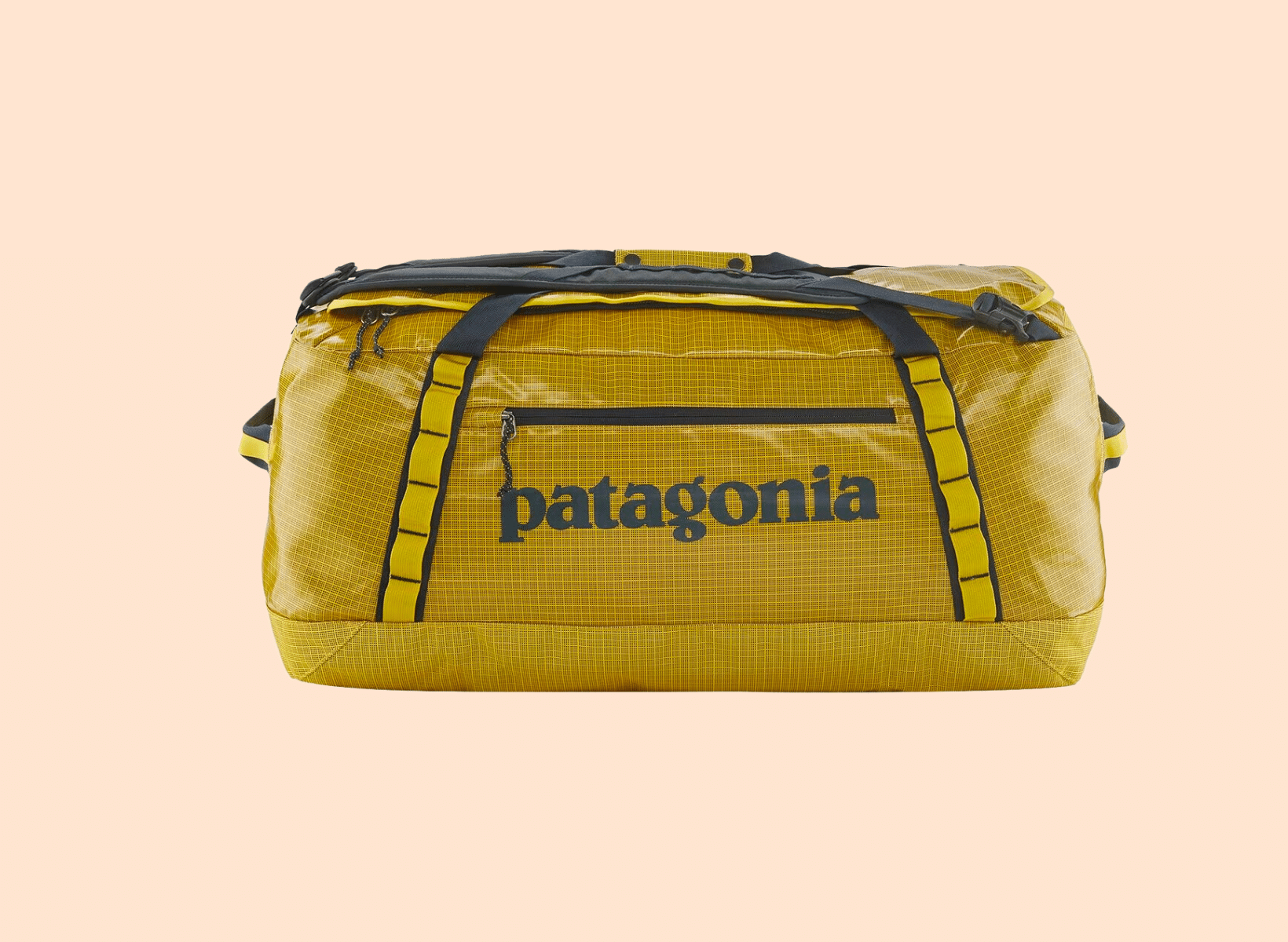 5. Patagonia Black Hole Duffle Bag
This notable aspect of this bag is that it bag features convertible stapes that be worn on your back, or handheld like a traditional duffle bag.
The Patagonia Black Hole backpack comes in sizes ranging from 25L all the way up to 100L, which is insanely huge for a backpack. (It's probably the best travel backpacks for men or folks who are larger than my 5'5″ frame since I would tip over if I put that on my back. But it's amazing that it comes in a size that large for folks who need it!)
The duffle features a Full-Access Main Compartment, 100% Recycled Fabric and a Zippered Side Pocket for on-the-go. The fabric is highly durable and weather-resistant, so it's a good choice if you'll be taking a lot of public transport or visiting rainy countries like Ireland or Scotland.
The downside is this travel backpack is, at the end of the day, a duffle bag first which means the internal organization is lacking compared to other bags.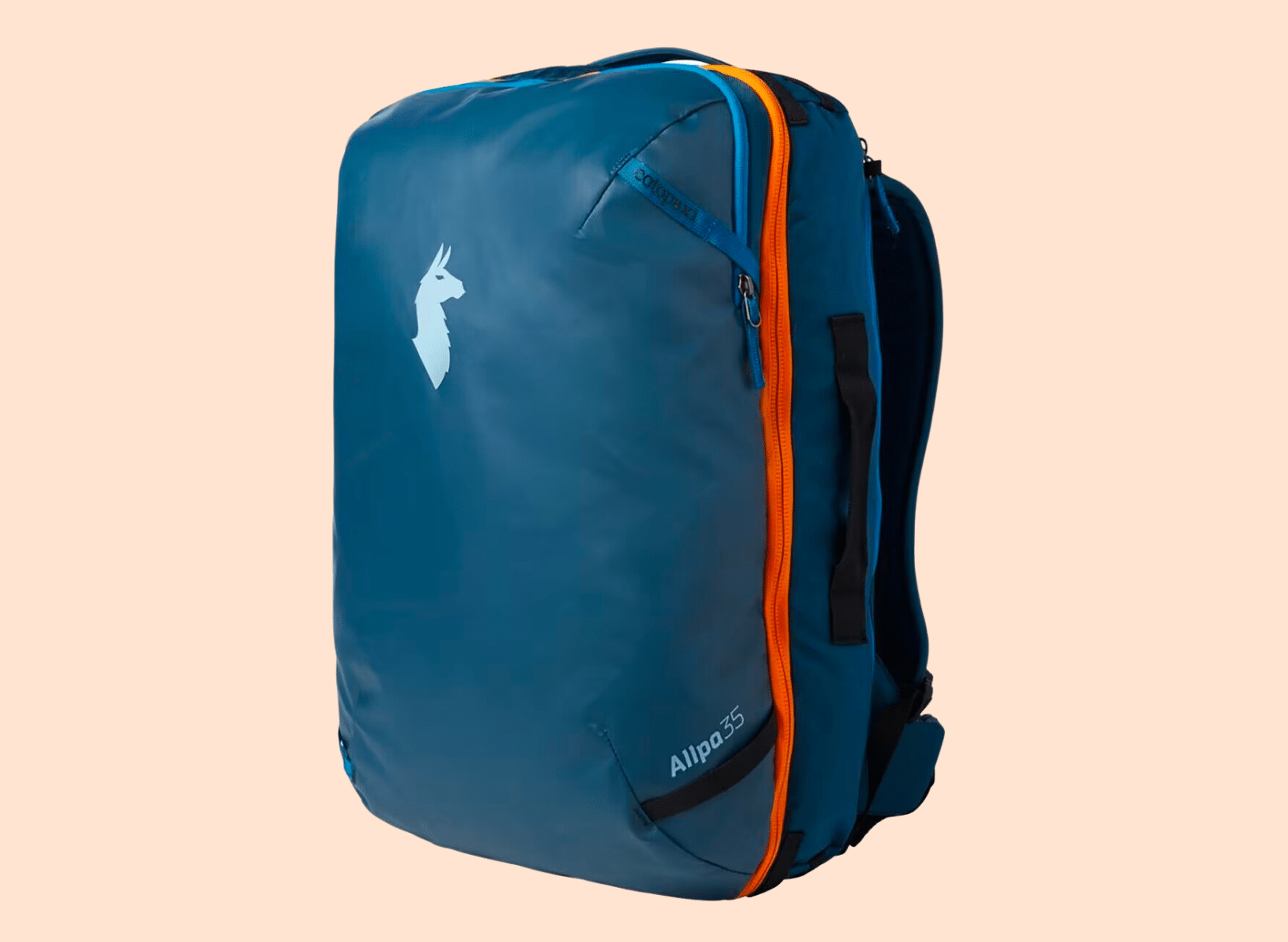 6. Cotopaxi Allpa 35L
The Cotopaxi backpack Allpa model is an elite travel backpack that's always very highly rated from travelers. It's 35L, which is pretty large and can fit up to a week's worth of clothing.
It has laptop sleeves, rain safeguard, two internal mesh compartments and is small enough to fit in the airplane overhead bins. It also has a side handle for easy carrying when you don't feel like using it on your back.
It also has a waist strap to offload some shoulder weight so it's known for being the one bag petite women usually give this a 5 star review. This is what makes it one of the best travel backpacks for women or other small-frame folks.
Best part? You can tuck the straps away so if you do have to check the backpack, there's no risk of airport luggage machines ripping things off the bag.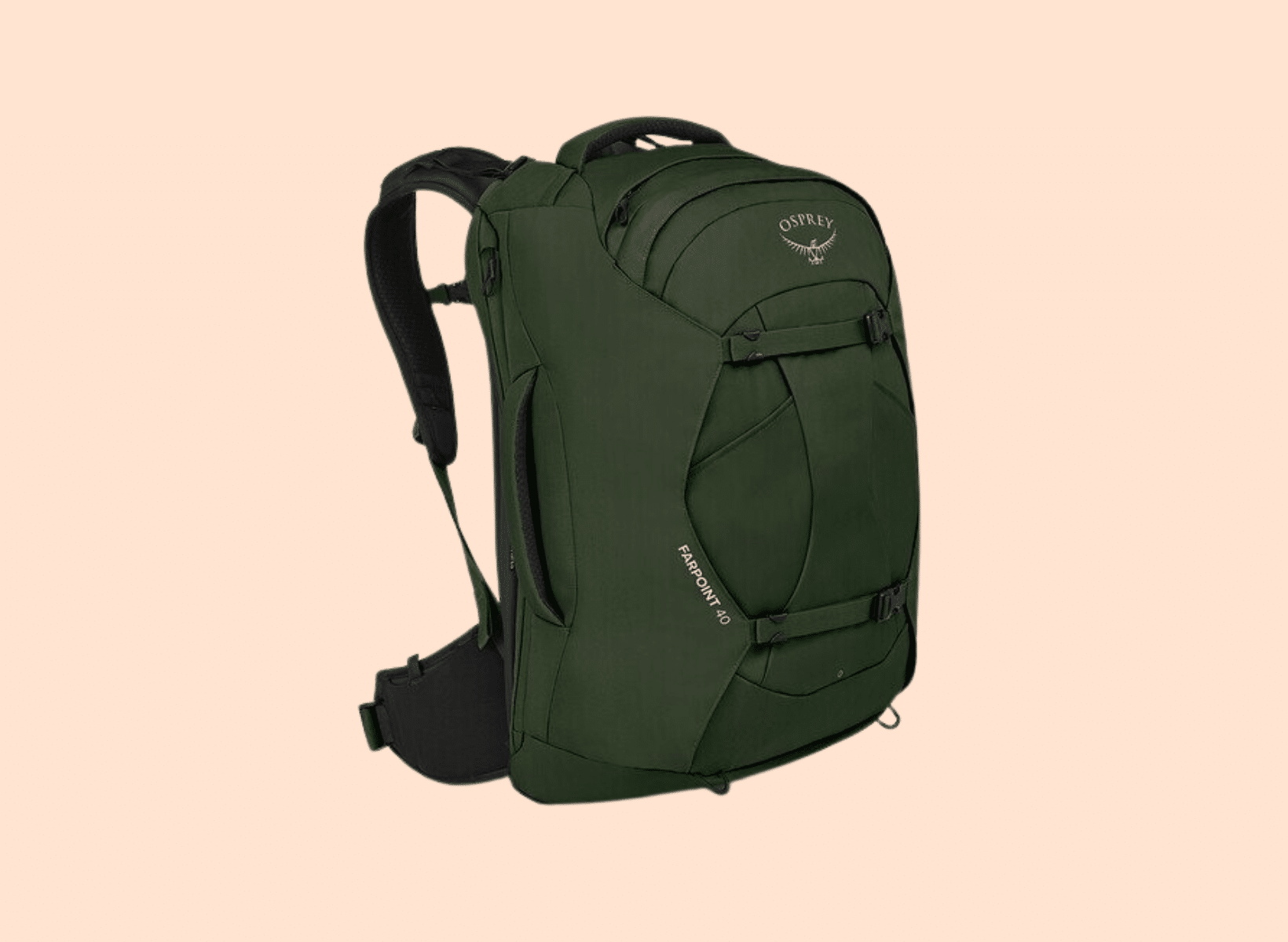 7. Osprey Farpoint
Osprey famously makes backpacks that "blurs the line between technical backpacks and travel luggage". The Farpoint 40L Travel Bag is designed to fit most, but not all, carry-on regulation sizes but it does comes with an external toiletry pocket helps you breeze through security lines so that's a major win.
You never know what the security at an airport is going to be like so I'll take any help I can get to stay organized!
The Farpoint also has a load-lifting frame to help you walk around with the pack and reviewers love the comfy harness system. The other downsides are there is no external waterbottle holder and it lacks internal storage.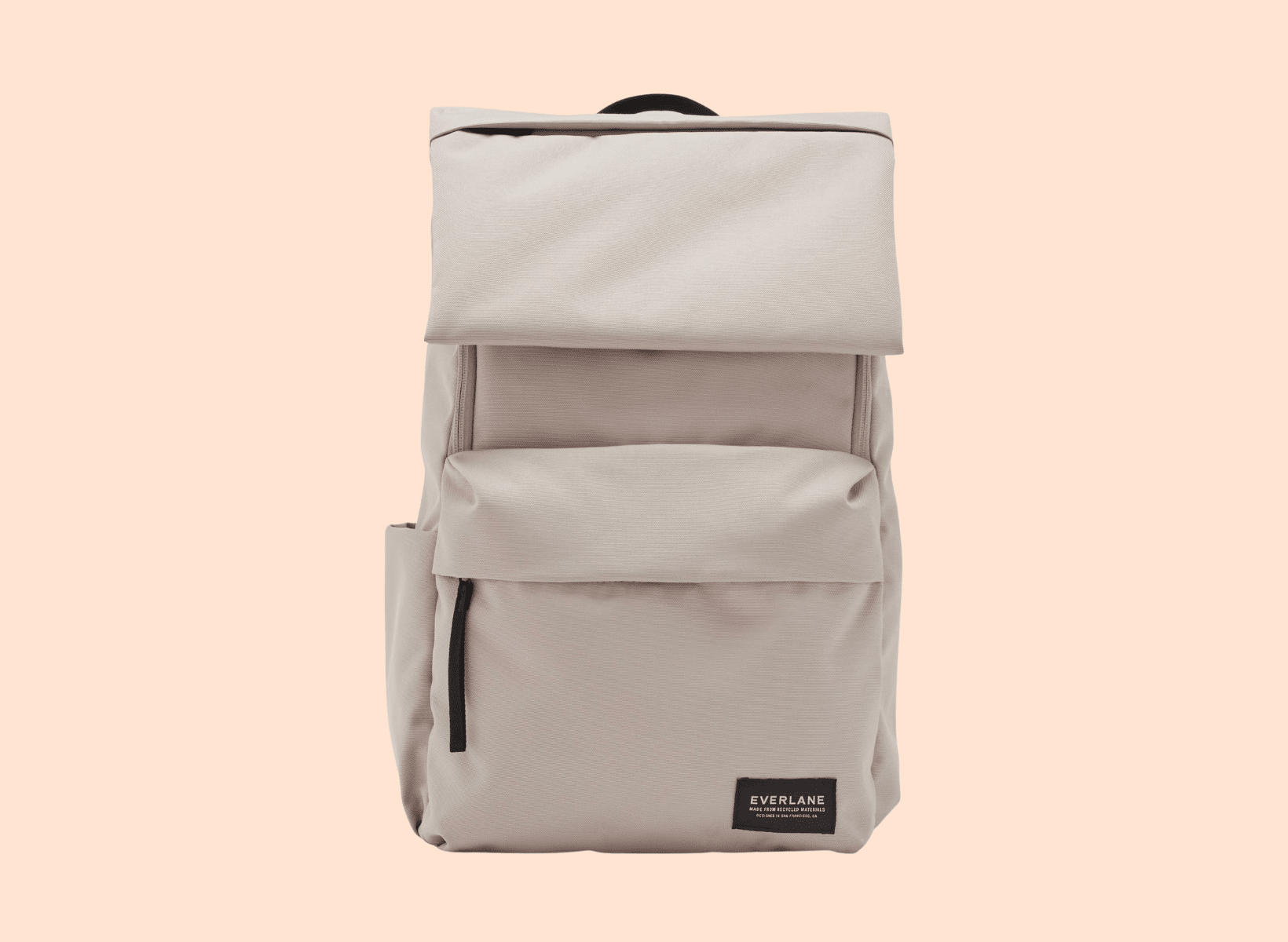 8. Everlane ReNew Transit Backpack
Here's another great carry-on backpack that doubles as a day pack! The Everlane ReNew Transit Backpack features an 15″ exterior laptop pocket for easy TSA access or reaching under your seat to work on the plane.
There's catch-all zip pockets for passports and tickets, interior slip pockets, two water bottle holders (we like to use the second holder for sunglasses while out exploring) a handy magnetic closure for on the go, and a pass-through strap that attaches to rolling luggage.
The ReNew is the best lightweight backpack for travel and carrying around all day (or just surviving airport chaos!) It also looks cute in photos so your tourist snapshots will still look fly.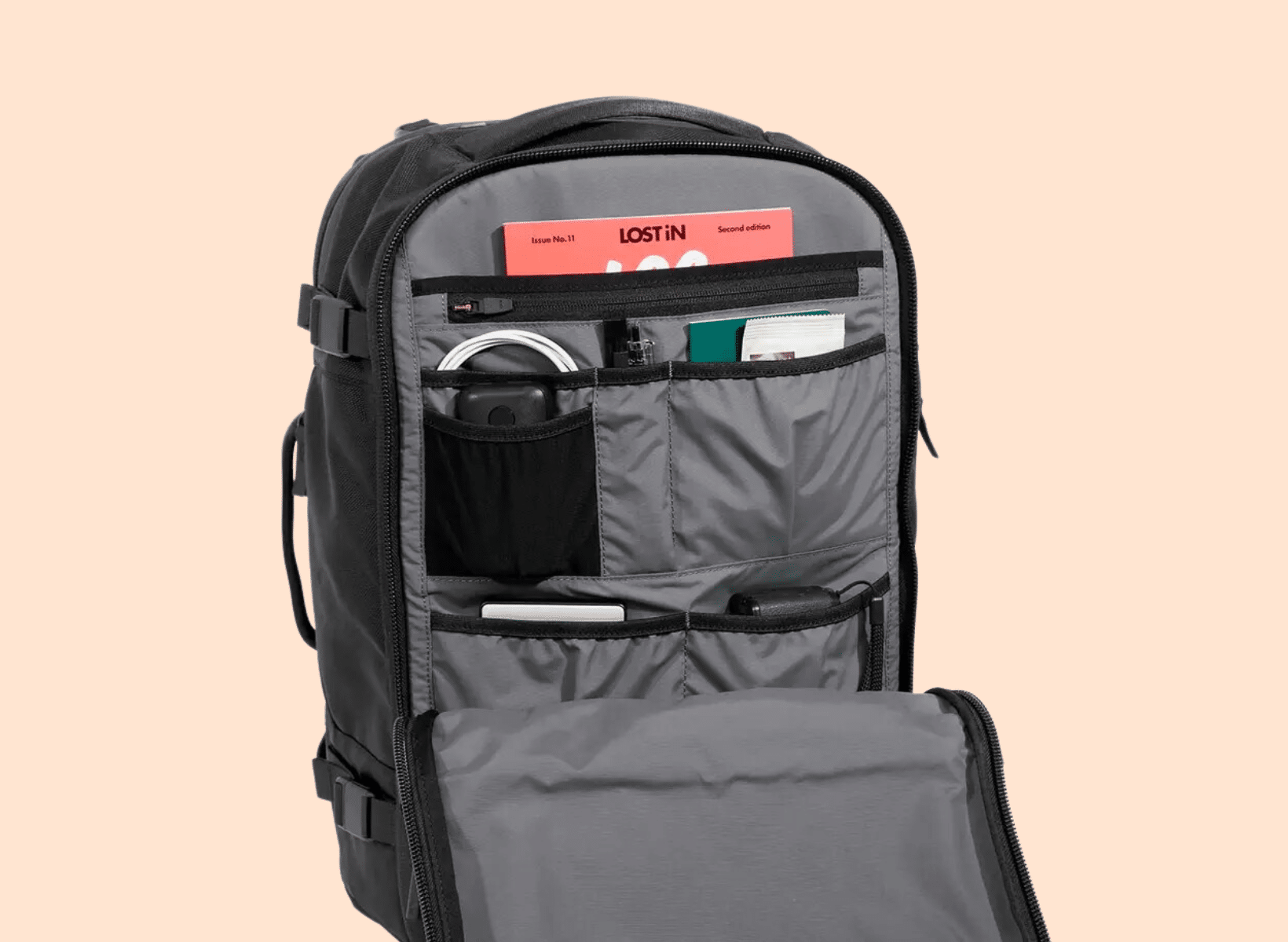 9. Aer Travel Pack 3
The Aer Travel Pack is great for folks who want or need an entire section of their pack to organize electronics and small items. There's no zippered mesh pockets but are a TON of pockets in an entirely different sleeve of the pack, so you can keep your laptop, phone chargers and other goodies tucked away from your clothes.
This makes pulling items out for airport security checks or working from cafes easier. The laptop sleeve can also fit up to 16 inches which is a huge improvement from many travel backpacks that can only do up to 15 (sometimes only 12!)
It has lockable zippers and handles on all sides for easy lifting. It also features an outside zipper pocket for on the go.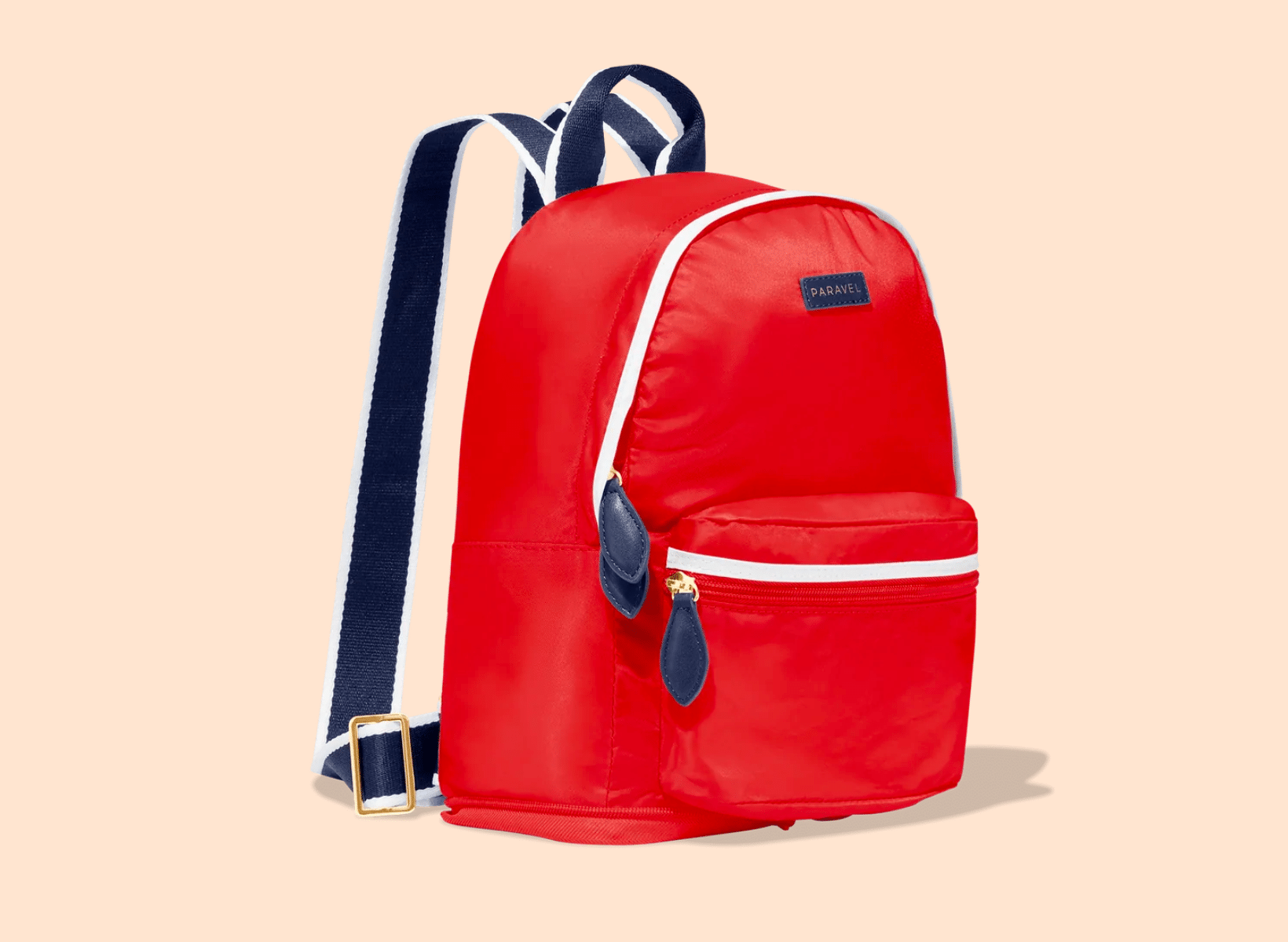 10. Paraval Foldable Mini Backpack
The most annoying thing about traveling with a carry-on backpack with all your clothes and gear, is you still need a bag for exploring cities. Our favorite anti-theft travel purse is always a great option, but if you want a day pack, the Paraval mini pack is a great choice.
It fits a change of clothes, your wallet, and a phone (or, your wallet, phone, waterbottle and some snacks for the day out!)
The Paraval Mini folds up and packs down so it takes up very little room in your main backpack! It's made out of water-resistant Negative Nylon so even if it rains on your trip your stuff will stay dry. It also comes in a ton of colors and you can customize your pack with initials.
It's one of the best travel backpacks for Europe day trips around new cities.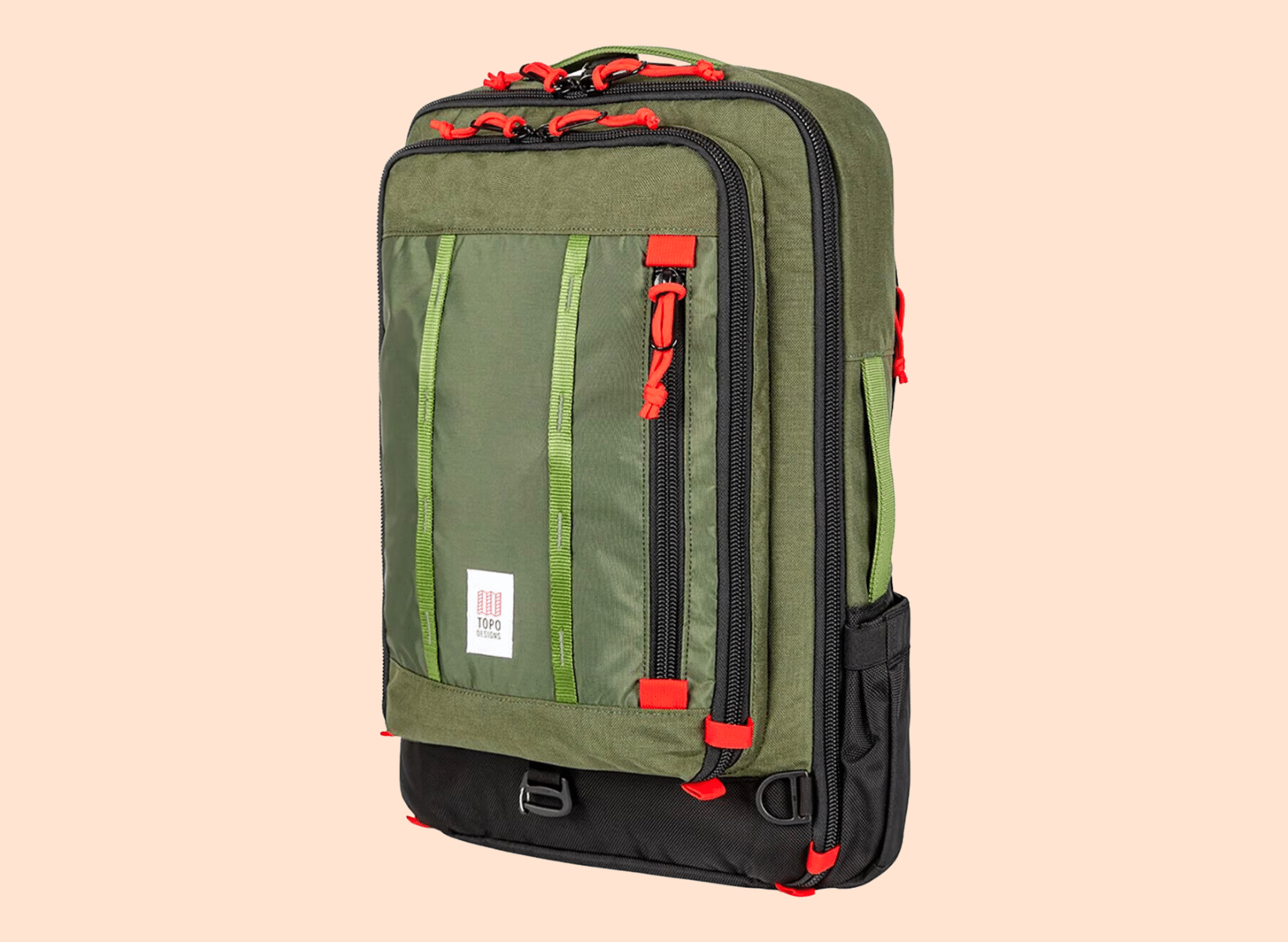 11. Topo Designs Global Travel Backpack
The Topo designs travel pack is another popular choice for folks who love the sporty / outdoor look with travel bags. It comes in a few different colors, too.
It's a 35L travel pack so it has a bit of room on the inside and does come with 2 zippered mesh pockets. The straps are removable which is another bonus if you need to check your bag for any reason.
This backpack also come with a Lifetime Manufacturer Warranty if anything breaks during your travels!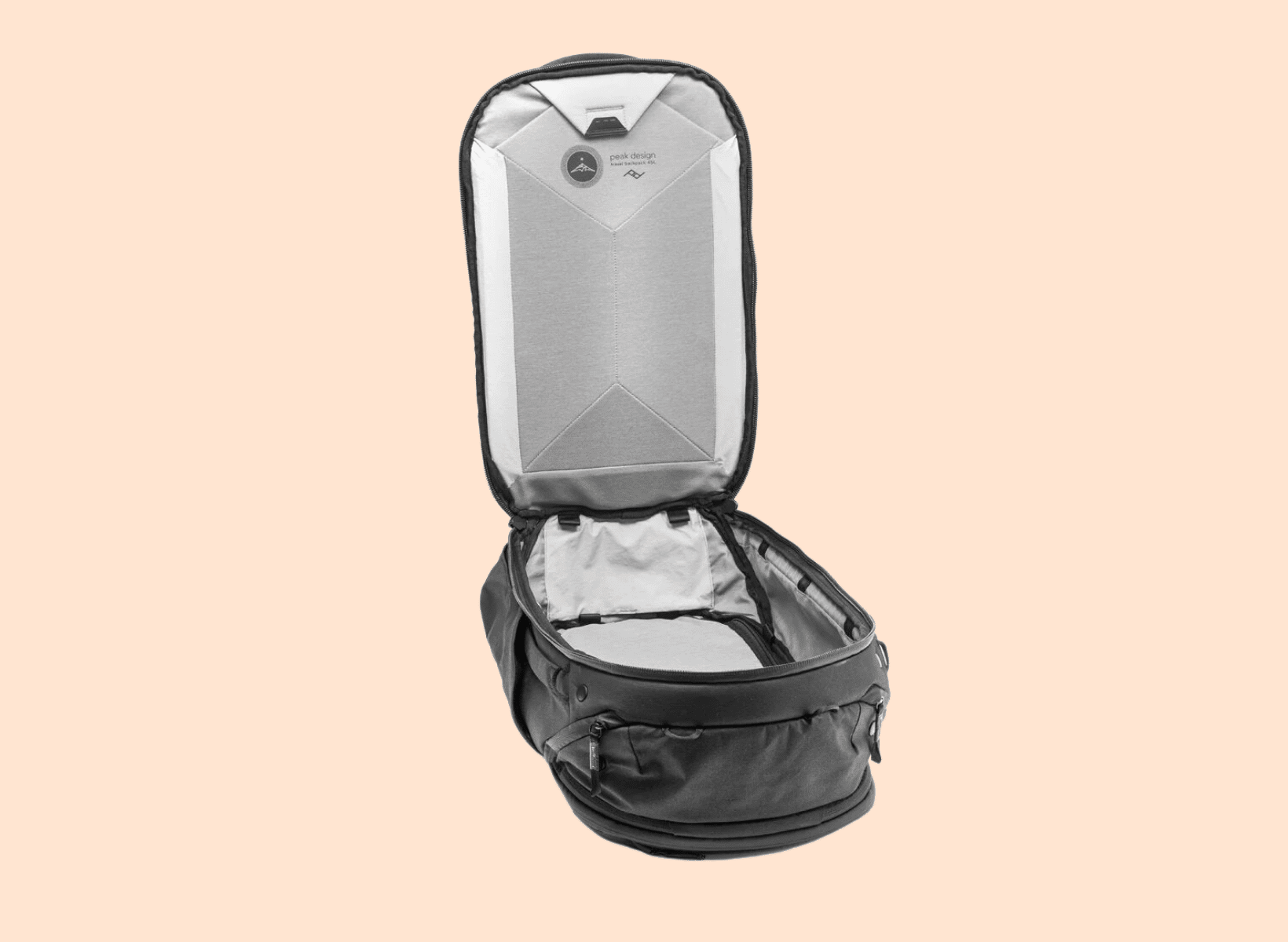 12. Peak Design Travel Backpack
The 45L Peak Design backpack is described as the best backpack for rugged travel, and they even have a photo of a guy putting their Peak travel bag on top of his car (probably a Subabru).
This is a 45L backpack, which means it fits a LOT and while it is internally approved for carry-ons which is why many think it's the best carry-on backpack for international travel since it is designed to fit most airlines.
But, we've seen tiny planes on trips that couldn't support this size of bag. Just something to keep in mind, depending on where you are traveling to.
It's similar to the Matador Globerider45 Travel bag but we like compression straps and the 2 hidden pockets for cash and valuables of the Peak backpack better.
One standout feature is Peak Design Camera Cube accessories so you can safely store your camera gear on the go. It's very hard to find a backpack that protects your DSLR and can also have room left over for clothing, so this is a major win.
My Top Picks For Travel Backpacks
My favorite large travel backpack is the Tortuga 40L. It's large, yet has extremely comfy straps to offset weight. It has a laptop sleeve and internal organization built in and can fit more than we expected by looking at it.
My favorite travel day pack for exploring cities, or using as a carry-on for the plane is the Lo and Sons Rowledge backpack. This baby can hold a lot, but has great organization to make things easy to grab on the go. The straps are comfy and it'll last for years.
Here's a quick glance with bullet point in depth gear reviews for all the backpacks side by side!
I hope this helps you pick the best backpack travel bag for you and your needs!! Whether you are looking for a huge back to backpack around Europe, or simply a small day pack for long days running around Vancouver, anything on this list will serve you well.
Did your favorite bag not make the list? We'd love to hear from you in the comments below.