The American River Confluence is my FAVORITE Northern California swimming hole. On a day summer day, there's nothing more magical and relaxing than this waterhole outside Auburn in a former gold rush country.
In this post I'll be sharing important travel tips to know before go swimming, along with photos of the area, advice on what to pack and some suggestions of fun things to do while you're in town!
American River Confluence: Travel Tips For Auburn's Magical Swimming Hole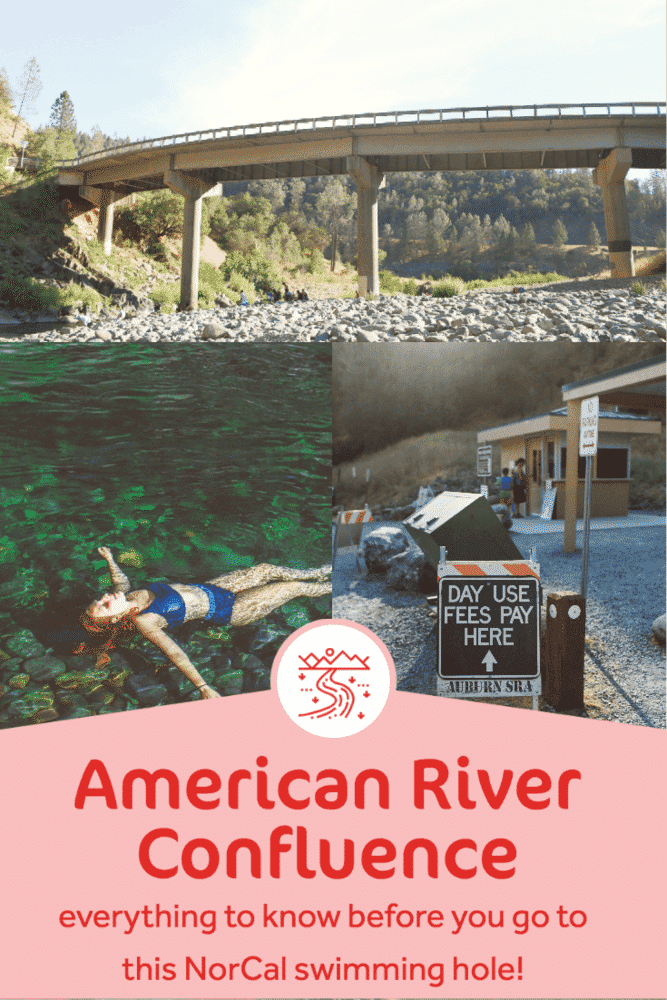 >> Got a question about this swimming hole that you need answered quickly? DM me on Instagram @thewhimsysoul and I'll be happy to help!
My friends and I first discovered this swimming spot during a heatwave a few summers ago. It got over 100 degrees in San Francisco which like NEVER happens! Like crazy people, we chose to visit our friend in Sacramento and ended up here in Auburn (about 45 minutes away) at this swimming hole to cool off.
Ok, so it's not really a swimming hole but rather a portion of the American River under the Hwy 49 bridge that has slower moving water so it's safe to swim in. The bridge also offers much-needed shade on hot days! There's plenty of space to spread out along the riverside or under the bridge, making it a super popular area to hang out in during the summer for Placer County locals and visitors alike!
The American River Confluence is also called:
The Auburn Confluence
Hwy 49 Crossing
The Foresthill Bridge Swimming Hole
The Auburn Swimming Hole
All those names mean the same place! I got confused when I first learned about this spot so I wanted to make it clear for you.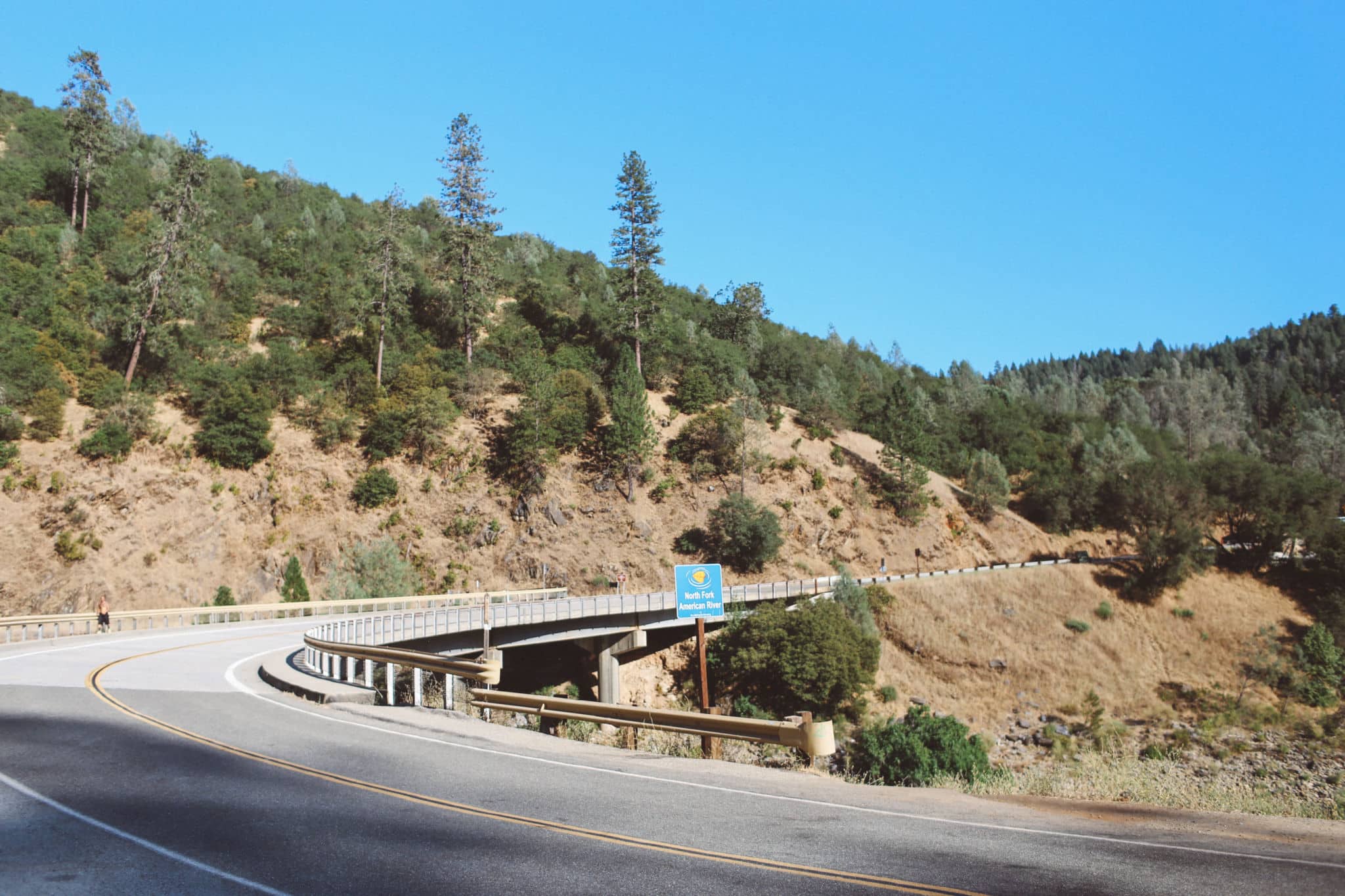 How To Find The American River Confluence Swimming Hole
To find this swimming hole, take Hwy 49 South out of Auburn towards to Foresthill Bridge (that big, tall, green bridge in the photo above!) About 10 minutes of winding down the hill, you'll come to this little bridge that the swimming area is under.
If you get really lost, look for gate #137!
There is a lot of parking space on either side of the road and will probably be a lot of cars! If one side the filled, cross the bridge and check the other side. It cost $10 per car as the swimming area is in the Auburn State Recreation Area.
There is a ranger station and if there is a ranger present, you can pay via a credit card. If not ranger is there, you must self-pay with cash and one of the stations. Bring $10 in cash just in case there isn't a ranger at the station, because a ranger will come drive by and check for passes on cars!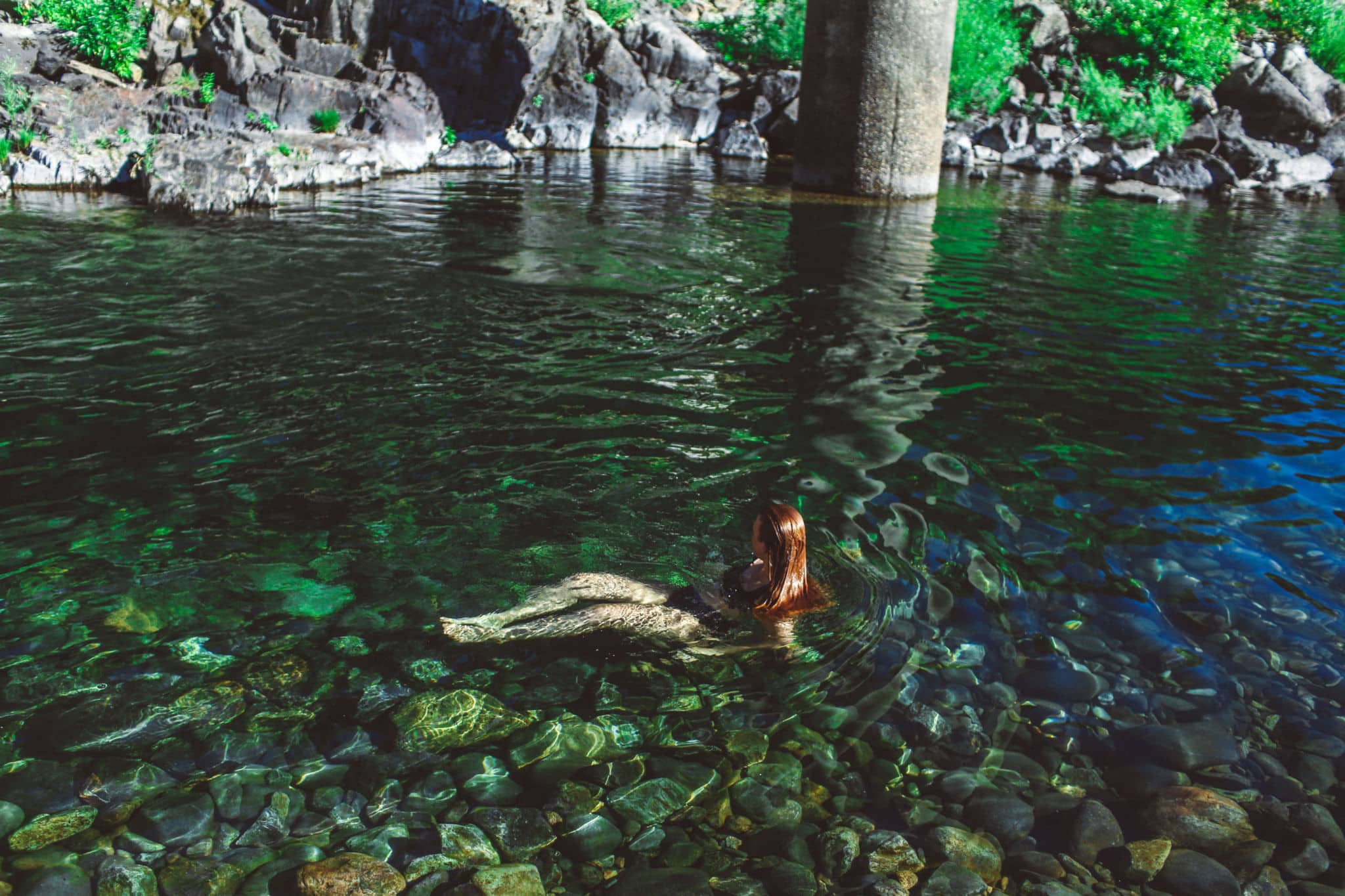 Head past the gate on the ranger station side to find a nice, easy-to-walk slope down to the water. There are a lot of rocks down here, so wear shoes and bring a blanket to sit on. A lot of locals bring coolers with drinks and snacks along with chairs and floaties. They tend to camp out here all day long with the family.
The water is pretty clear here, so if you have goggles, bring 'em!
My favorite area is directly under the bridge because it's shady and the water is slower, so it makes for a relaxing place to cool off in the river. Since this is the area where the North Fork American River meets the Middle Fork American River, there are some small rapids. Those are a little farther up the beach and are fun to ride down on a float!
PS: I'm PRETTY sure this is a dog-friendly area as every time I've gone, there's been dogs swimming.
What To Pack For A Day At The American River Confluence
Remember to pack out everything you bring in! Don't be a dick by leaving your bud light cans for Mother Nature (or a park ranger) to deal with! Here's what you should bring with you:
$10 cash for the fee
Sunscreen
Blanket to sit on (the rocks can be uncomfortable)
Water
Snacks
Goggles (the water is very clear!)
Floats
Towels
Hairbrush
Outfit to change into after swimming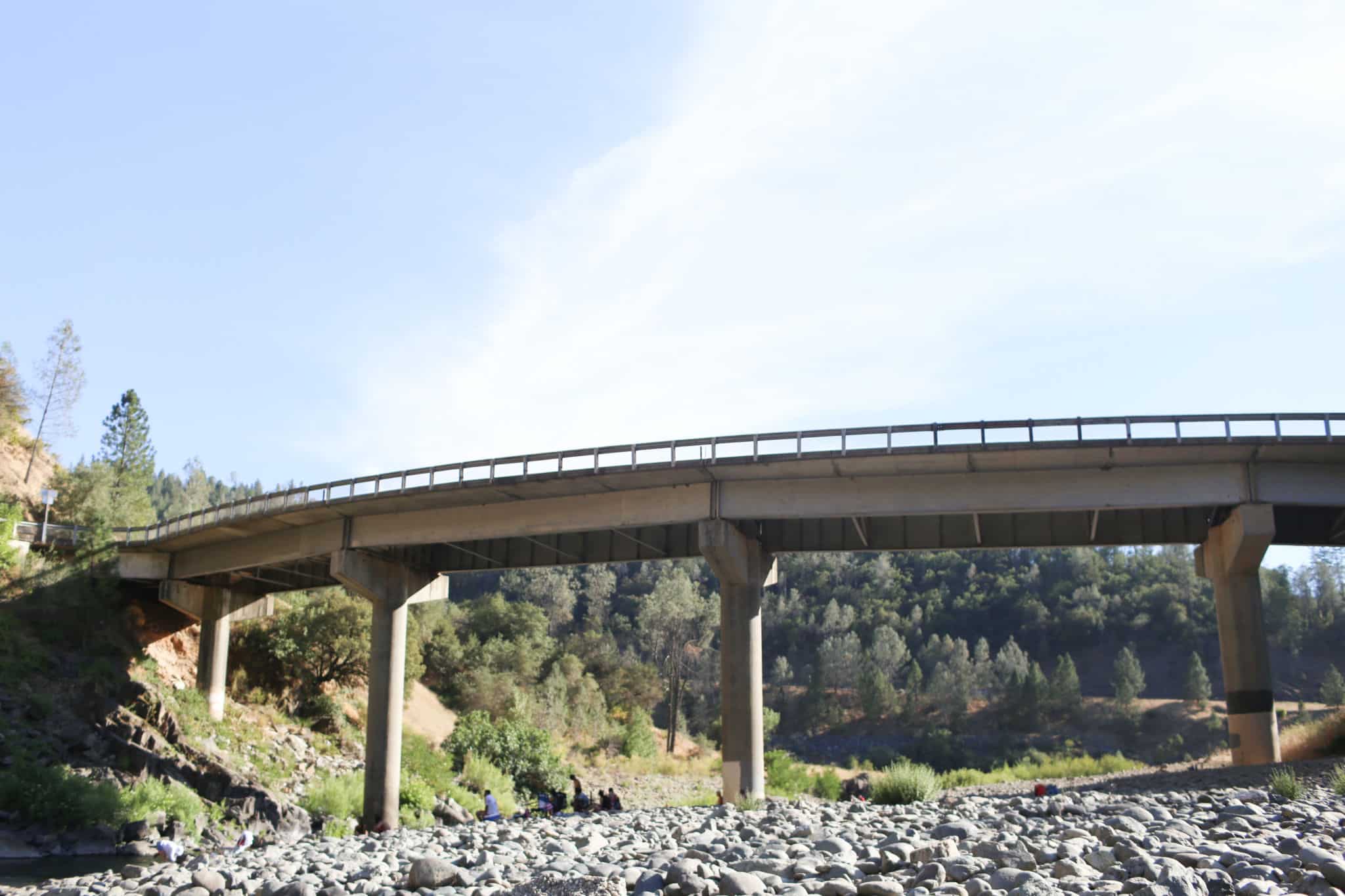 Since this is part of the Auburn State Recreation Area, there are tons of state trails you can hike in the area. We love using AllTrails to find info on states trails and state parks in the United States.
Lake Clementine Trail
Old Foresthill Road Trail
Confluence Trail
You can also try visiting the Yankee Jim's Swimming Hole further up the river. This spot is much harder to access and there's not a lot of parking so I wouldn't visit this on a weekday. BUT it is a fun, new spot to swim in!
I've been to the American River Confluence a few times and I have loved each visit! The river is in the bottom of the valley, so hills are towering over you and it's just such a unique, serene place to visit. While I call this "hidden" the locals actually come here all the time. That being said, I think It's a magical little hidden gem of a swimming hole that you should visit during a hot, summer day!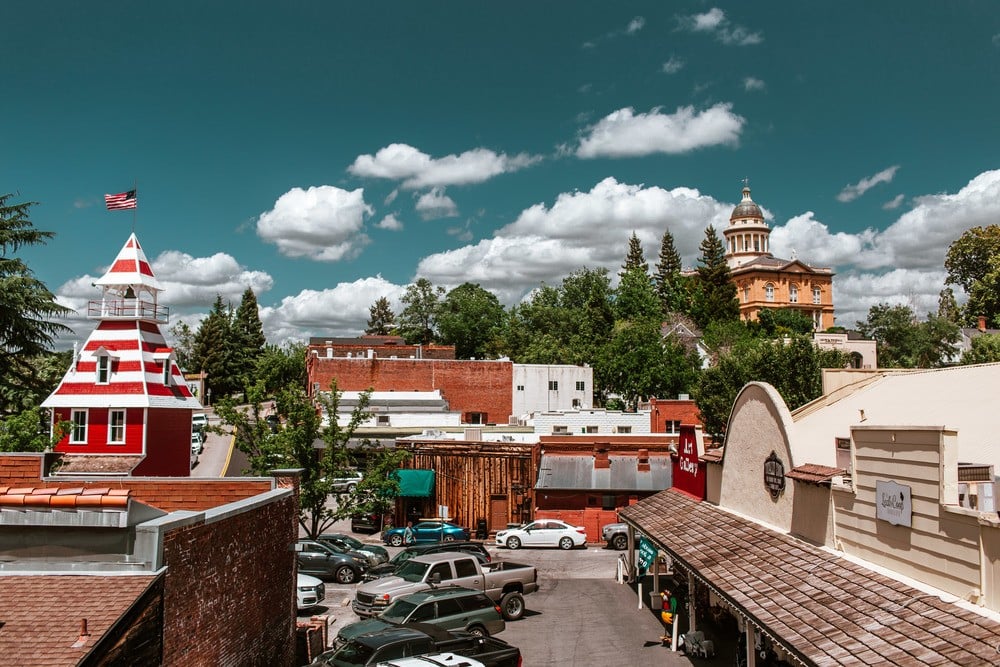 After a swim and hike, pop into the historic and cute AF town of Auburn (full city guide here.) Grab lunch at The Pour Choice or a cold craft beer at The Annex. Stick around town and spend a night at The Park Victorian hotel if you have the time.
I love the Gold Rush country of California. The Sierra Foothills are just so stunning and pack so much history that I didn't have growing up in Wisconsin. And swimming holes like the American River Confluence are a fun perk of this area!
If you have any tips to add, leave a comment below so everyone can see. Got questions? Leave a comment or DM me on Instagram @thewhimsysoul and I'll be happy to help!