During the month of December, our studio apartment transforms into what I call "Christmas Room."
More nights than not, you can find me on the couch with my husband twirling a glass of German riesling and laughing at the latest cheesy Christmas movie streaming on Netflix, Disney+, Hulu.. you name it!
It's like, a whole mood that I totally lean into each year.
With Thanksgiving late this year, that means there's less days to watch all the good movies! Plus, thanks to alllll of the streaming services, the amount of Christmas movies available to watch can be a bit overwhelming. But fear not fellow Christmas lover — I got you covered!!
Grab your wine: these are the best Christmas movies to stream this year!
Before we dive into my ultimate list of the best Christmas movies on Netflix, let's make sure you're all set up and prepared. Christmas tree up? String lights twinkling? Fir tree candle lit? Cozy sweater on? Cat playing with the tree ornaments? Bottle of German wine waiting to be savored?
You're good to go!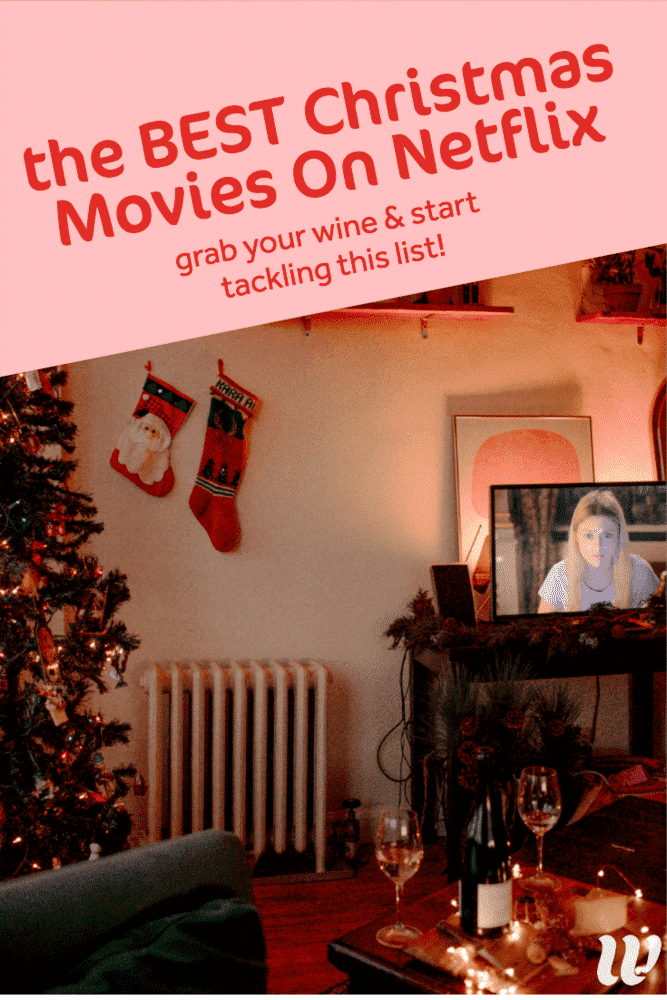 Seriously, though, we love Wines of Germany all times of the year but especially during the holidays. I think a lot of people automatically think only red wine should be drunk in December, but don't be afraid to pull out your favorite whites.
Plenty offer the perfect complexity and boldness for the season, exhibiting rich fruit and spice to warm up winter nights. Even lighter styles can be appropriate – that zesty acidity is a dream with cold-weather comfort food.
Germany makes some killer Rieslings in a range of styles – dry to sweet, still or sparkling – that make the whole Christmas Room vibe extra strong.
For a holiday party or comfy Christmas movie screening, I recommend looking for a Riesling Sekt (Germany's term for sparkling wine) to start off with, like the Dreissigacker Riesling Brut from the Rheinhessen region! You can also find delicious Sekt made from Germany's other hallmark grapes such as Pinot Noir – Look for Dr. Loosen's Pinot Noir Rosé Sekt Brut from the Mosel.
Ok, now onto the movie list, you fancy couch potato you.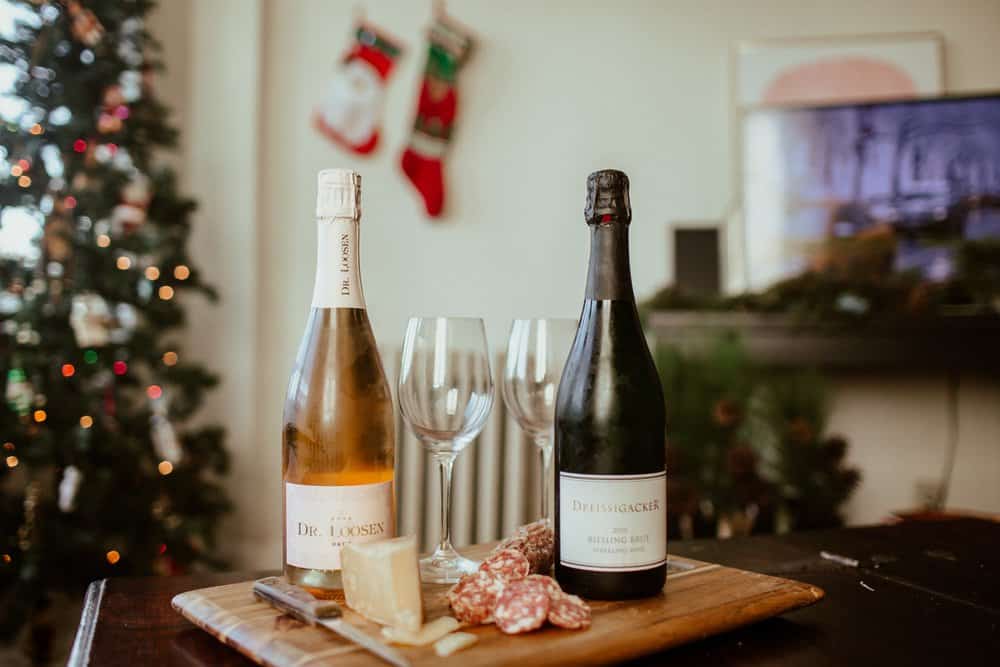 Christmas Movies on Netflix
The Christmas Prince Trilogy
The Christmas Prince is legit my favorite newer cheesy holiday movie series. (I'm a big Rose McIver fan after watching iZombie.) First, there was the Christmas Prince and a plot to foil the crowning of said Christmas Prince.
Then the Royal Wedding drama the year after and then, THE ROYAL BABY IS HERE!
The Princess Switch (Switched Again! and The Princess Switch 3)
A ridiculously fun tale of an American baker (Vanessa Hudgens) who travels to Belgravia (a fake European country) in a baking competition.
Turns out she looks EXACTLY like the Duchess of Belgravia (Vanessa Hudgens) so they swap places and all sorts of chaos ensues along with the standard love story all Christmas movies command.
This year, The Princess Switch is back with Switch Again! Turns out there's ANOTHER woman (also played by Vanessa Hudgens) who is thrown into the mix.
Klaus
A brand new animated Christmas movie all about a grumpy postman who is basically banished to a cold, wintery town. It's here he makes friends with a local toymaker who just happens to be the future Santa Claus. That's right – this is a Santa origin story!
Let It Snow
All I know is that Kiernan Shipka (Chilling Adventures of Sabrina) stars in this movie so I'm sold and that's all you need to know as well.
Sabrina Christmas Special
Speaking of the Chilling Adventures of Sabrina, I really loved their Christmas Special from last year. While not exactly a movie, it's the perfect thing to watch in between over the top holiday love stories with angles and princes and magic time-traveling knights.
The Holiday Calendar
You know those flimsy paper advent calendars your parents always had growing up with chocolates on the inside?
Imagine if a paper calendar is swapped for a doll-size one and it's magic and glows at night and crazy stuff happens. Along with a love story, of course, as we have clearly established that's totally mandatory for these kinds of movies.
Holiday In The Wild
It's Chris Traeger and Charlotte York-Goldenblatt falling in love in Africa! I haven't watched it yet but I can almost guarantee there will be some heartfelt moment of those two wistfully looking into each other's eyes while tending to an injured animal before they break away because once they make out, the whole movie is basically over. WE NEED THE TENSION FIRST!
Christmas Inheritance
I thought this was going to be utter trash but it's actually pretty cute. It centers around a rich girl who's father thinks she needs some humbling, so he sends her to a snowy town in the middle of nowhere with nothing but $100, which is basically a death sentence because LIFE IS TOO DANG EXPENSIVE how is a gal supposed to survive for multiple days on just $100?
Thankfully the innkeeper is super nice and lets her have a room for free. Of course, he's also cute and they fall in love during a blizzard.
Falling for Christmas
Lindsay Lohan is back on screen! She's not only starring alongside dreamy Chord Overstreet (from Glee!), but she covered "Jingle Bell Rock" for the movie's soundtrack.
You know? The song from the iconic talent show performance in Mean Girls?! In this movie, Lindsay plays an heiress who finds herself in a small town after a skiing accident where she meets a handsome cabin owner.
The Christmas Chronicles 1 + 2
What happens when a snarky Kurt Russell playing Santa Claus finds two children stowaways in his sleigh? An incredibly good holiday movie, that's what. I won't say more as I don't want to spoil it for you.
A Very Murray Christmas
When you need another break from angles and love stories, turn on A Very Murray Christmas special. It's only about 45 minutes long and it's packed with celebrity cameos (my favorite is Miley Cyrus' song towards the end!)
Dolly Parton's Christmas on the Square
A second chance Christmas for a "scrooge of a woman" who tries to sell her home town, but is surprised by an angel (Dolly Parton) to show her what her life will become if she continues on this path…
12 Dates Of Christmas
It's like Groundhogs Day but centers on a woman in the midst of the holiday rush who keeps reliving the same first date on Christmas Eve over and over and over again. It's predictable, yes, but also leaves you feeling warm and fuzzy inside.
The Knight Before Christmas
This is what we watched on the first night of our Christmas Room movie marathon. It's another film where Vannesa Hudgens stars (aka Netflix's golden child) but instead of a baker with multiple lookalikes running around, in this film she's a… well, I don't actually know what she does for a living.
All I know is a Knight gets sent forward in time by a witch and she instantly falls for him. The whole movie is a lot of her helping him learn modern things, like what Alexa is or that it's not ok to call women "wenches" anymore. It's funny and stupid and perfect to watch with a glass of German Rosé.
Holidate
Two strangers pretend to be dating to make it through the holidays. GASPS I think we can all see where this one is going but we're here for it.
Operation Christmas Drop
Due to her job, a woman has to decide if a military base that delivers Christmas presents to Pacific Islanders should be shut down or not. Obvi she falls in love with a sexy pilot and finds Christmas magic somewhere in the mix, and keeps the base open.
A Boy Called Christmas
If you love Polar Express, definitely add A Boy Called Christmas to your watch list this holiday season. It takes you back to the origin story of Father Christmas in which a boy goes on an adventure to discovered a fabled village of elves.
Christmas Wedding Planner
The Christmas Wedding Planner is one of those Christmas movies where you kind of cringe so much you love it. The main character, Kelsey, is trying to prove she's a capable wedding planner by planning her cousin's Christmas wedding.
When it looks like her cousin's ex is going to get in the way, she steps in… If you like this one, you should also check out A California Christmas. Both have enemy to lover trope we all love!
Single All The Way
This movie is adorable! After a breakup with Dr. Perfect, Peter decides he cannot face his family alone and begs his best friend, Nick to come home with him for the holidays.
Once there, his well-meaning Mom sets him up on a blind date with her cycle instructor whose surprises him and might just be the push he needs to move home!
White Christmas
Honestly, White Christmas is soooo long, but it's a classic so had to add it to the list!
Christmas Movies on Hulu
Happiest Season
A romantic comedy starring Kristen Stewart as Abby who is planning to propose to her girlfriend while visiting her family over the holidays. But when Abby gets there, she discovers her girlfriend hasn't come out, and she's just the "roommate."
The Holiday (with Hulu Live TV)
I hope you have watched The Holiday many times already because it's probably the most perfect Christmas romance movie out there. I mean, Jude Law wears a lot of knit sweaters in this film and looks dang steamy while doing so.
There's also Jack Black and Cameron Diaz for some comedy and tons of British charm that makes you wish it was actually responsible and safe to house swap with English strangers on the internet. You can also rent on Amazon Prime for $3.99 if you don't have Hulu Live TV!
No longer streaming on Netflix (boo!), but gotta give a call out to Love Actually here too! You can also rent on Amazon Prime for $3.99!
Arthur Christmas
The animated film features Arthur, Santa's youngest son and underdog, on a mission to deliver a present to a forgotten child before Christmas morning.
It's delightfully light hearted and perfect if you're looking for funny Christmas movies! Will Arthur save the day?
Girlfriends of Christmas Past
So I'll be honest, I haven't watched this one (yet)! But from what I gather, it's like the cheesy Christmas version of John Tucker Must Die, and I'm here for it.
The Family Stone (with Starz Add-On)
When you're ready to get in your feels, turn on The Family Stone.
You can't lose with this cast – Diane Keaton, Sarah Jessica Parker, Rachel McAdams, Dermot Mulroney and Luke Wilson, are you kidding? It shows the struggle of meeting the potential in-laws during the holidays and beautifully portrays complex family dynamics.
Christmas Movies on Disney+
The Santa Claus Trilogy
The Santa Claus is an absolute classic that I love to re-watch each year. I always like the first one best, but The Santa Claus 2 and The Santa Claus 3 are fun too!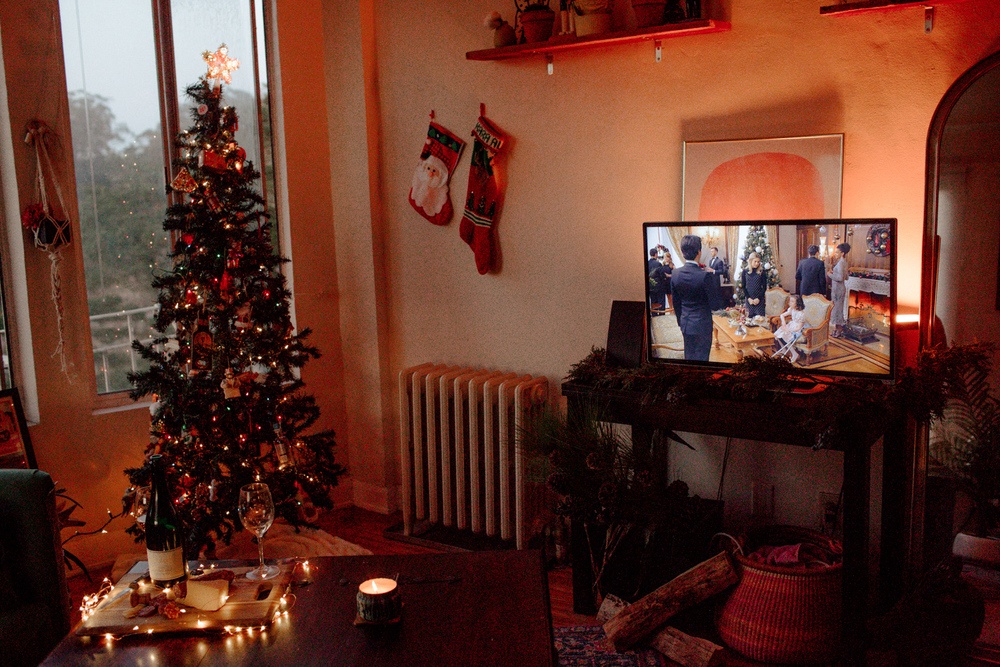 The Nutcracker And The Four Realms
The Nutcracker seems to be a lot like Star Wars or Spiderman: they just can't stop making more movies about it. This is the latest one. Oh, and it has Keira Knightley!
Miracle on 34th Street
This one is obviously a Christmas classic, but I love watching it around Thanksgiving! If you haven't seen it (how?!), it's about a Santa Claus who steps in as back up for the Macy's annual Thanksgiving Day parade, and claims he's the real Kris Kringle leading to a court case to determine his mental health!
Home Alone (and Home Alone 2)
No explanation needed! These are a must watch, every year!
Noelle
I feel like this just came out, but it was 2019?! Noelle Kringle, Santa's daughter, has to find her brother who's meant to take over the family business to save Christmas!
Disney's A Christmas Carol
Another Christmas classic starring Jim Carrey as the voice of Ebenezer Scrooge in a telling of Charles Dickens' story, A Christmas Carol.
Christmas Movies on HBO Max
Dr. Seuss' How the Grinch Stole Christmas (2000)
A classic! I'm team Jim Carrey vs animated.
Elf
"Bye Buddy, hope you find your dad!" We all know and love this one. Buddy makes his way from the North Pole to New York City to find his dad.
Four Christmases
Vince Vaughn and Reese Witherspoon spending Christmas day with crazy relatives. Funny Christmas movie perfection!
Jack Frost
This 1998 Christmas drama reminds me of childhood. In it, Jack Frost magically reunites with his son after a tragic car crash. The catch? He's a snowman. I feel like this Christmas tale is only something you can get from the 90s.
The Polar Express
Have you read the children's book, The Polar Express? It almost gives me Harry Potter vibes of a mysterious train where you don't expect it… taking you to a place you can't believe is real until you see it!
Note: I love binging the Harry Potter movies over Christmas! You can stream all of them on Peacock!
A Christmas Story (and A Christmas Story Christmas!)
Did you hear they're releasing a seqeal to A Christmas Story this year? It'll be streaming on HBO Max starting November 19, 39 years after its original release!
Fred Claus
A second chance Christmas story, but hilariously funny and mildly inappropriate at times. Fred, brother to Nick (aka Santa), has made some questionable decisions in his life. When his brother bails him out (literally), he must stay in the North Pole to repay his debt.
I hope my list of movies helps you have a holly jolly Christmas!! Don't forget to pick up a few bottles of German wine at your local wine store to really set the mood right. If you've already fallen in love with their world-class Riesling and want to mix it up, try a Sekt or Rosé wine (or of course, a red varietal like Pinot Noir!) from any one of Germany's 13 unique wine regions — you are sure to find a bottle you adore.
So, which movie on this list is your favorite? Did I leave any out that you think should be on this list? Leave a comment below so everyone can see!