During the month of December, our studio apartment transforms into what I call "Christmas Room." More nights than not, you can find me on the couch with my husband twirling a glass of German riesling and laughing at the latest cheesy Christmas movie on Netflix.
It's like, a whole mood that I totally lean into each year.
With Thanksgiving late this year, that means there's less days to watch all the good movies! Plus, thanks to streaming services, the amount of Christmas movies available to watch can be a bit overwhelming. But fear not fellow Christmas lover — I got you covered!!
Grab your wine: these are the best Christmas movies to stream this year!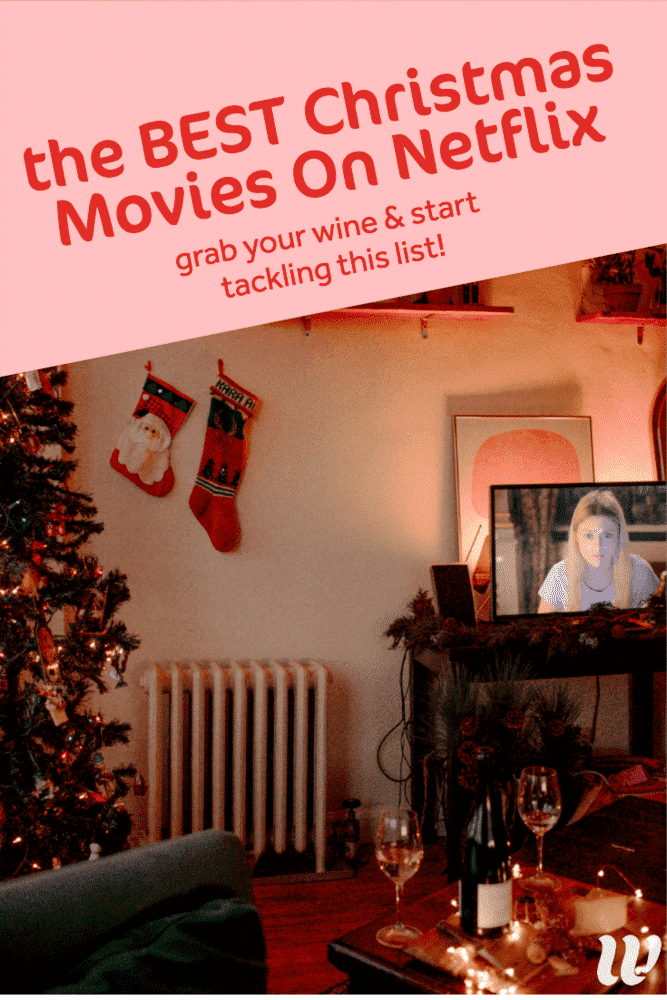 Before we dive into my ultimate list of the best Christmas movies on Netflix, let's make sure you're all set up and prepared. Christmas tree up? String lights twinkling? Fir tree candle lit? Cozy sweater on? Cat playing with the tree ornaments? Bottle of German wine waiting to be savored?
You're good to go!
Seriously, though, we love Wines of Germany all times of the year but especially during the holidays. I think a lot of people automatically think only red wine should be drunk in December, but don't be afraid to pull out your favorite whites. Plenty offer the perfect complexity and boldness for the season, exhibiting rich fruit and spice to warm up winter nights. Even lighter styles can be appropriate – that zesty acidity is a dream with cold-weather comfort food.
Germany makes some killer Rieslings in a range of styles – dry to sweet, still or sparkling – that make the whole Christmas Room vibe extra strong. For a holiday party or comfy Christmas movie screening, I recommend looking for a Riesling Sekt (Germany's term for sparkling wine) to start off with, like the Dreissigacker Riesling Brut from the Rheinhessen region! You can also find delicious Sekt made from Germany's other hallmark grapes such as Pinot Noir – Look for Dr. Loosen's Pinot Noir Rosé Sekt Brut from the Mosel.
Ok, now onto the movie list, you fancy couch potato you.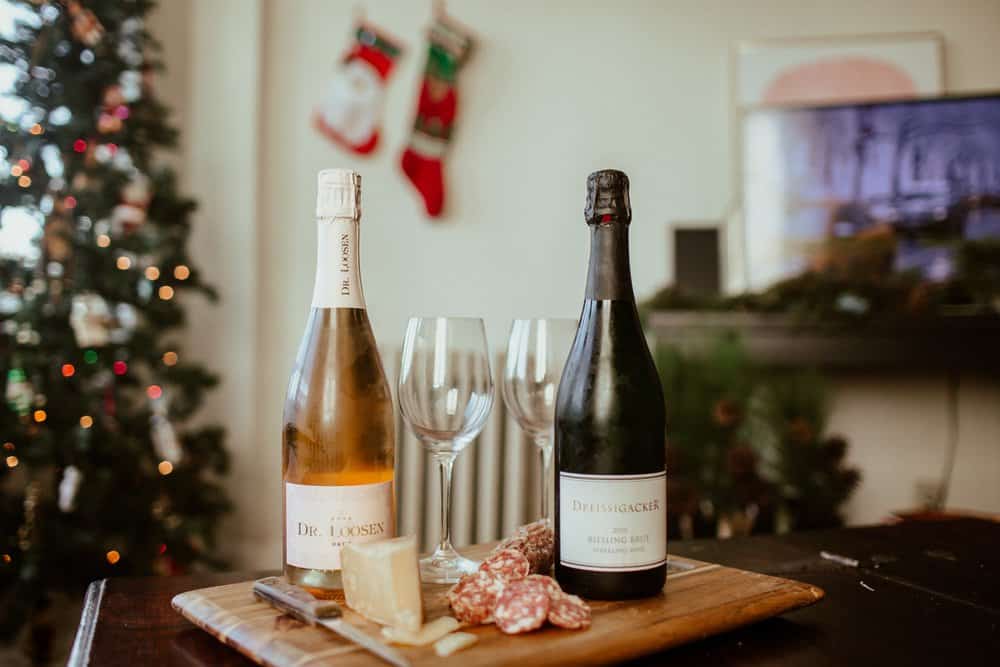 The Christmas Prince Trilogy
The Christmas Prince is legit my favorite newer cheesy holiday movie series. (I'm a big Rose McIver fan after watching iZombie.) First, there was the Christmas Prince and a plot to foil the crowning of said Christmas Prince. Then the Royal Wedding drama the year after and then, THE ROYAL BABY IS HERE!
The Princess Switch (And Switched Again!)
A ridiculously fun tale of an American baker (Vanessa Hudgens) who travels to Belgravia (a fake European country) in a baking competition. Turns out she looks EXACTLY like the Duchess of Belgravia (Vanessa Hudgens) so they swap places and all sorts of chaos ensues along with the standard love story all Christmas movies command.
This year, The Princess Switch is back with Switch Again! Turns out there's ANOTHER woman (also played by Vanessa Hudgens) who is thrown into the mix.
Klaus
A brand new animated Christmas movie all about a grumpy postman who is basically banished to a cold, wintery town. It's here he makes friends with a local toymaker who just happens to be the future Santa Claus. That's right – this is a Santa origin story!
Let It Snow
All I know is that Kiernan Shipka (Chilling Adventures of Sabrina) stars in this movie so I'm sold and that's all you need to know as well.
Sabrina Christmas Special
Speaking of the Chilling Adventures of Sabrina, I really loved their Christmas Special from last year. While not exactly a movie, it's the perfect thing to watch in between over the top holiday love stories with angles and princes and magic time-traveling knights.
The Holiday Calendar
You know those flimsy paper advent calendars your parents always had growing up with chocolates on the inside? Imagine if a paper calendar is swapped for a doll-size one and it's magic and glows at night and crazy stuff happens. Along with a love story, of course, as we have clearly established that's totally mandatory for these kinds of movies.
Holiday In The Wild
It's Chris Traeger and Charlotte York-Goldenblatt falling in love in Africa! I haven't watched it yet but I can almost guarantee there will be some heartfelt moment of those two wistfully looking into each other's eyes while tending to an injured animal before they break away because once they make out, the whole movie is basically over. WE NEED THE TENSION FIRST!
Christmas Inheritance
I thought this was going to be utter trash but it's actually pretty cute. It centers around a rich girl who's father thinks she needs some humbling, so he sends her to a snowy town in the middle of nowhere with nothing but $100, which is basically a death sentence because LIFE IS TOO DANG EXPENSIVE how is a gal supposed to survive for multiple days on just $100? Thankfully the innkeeper is super nice and lets her have a room for free. Of course, he's also cute and they fall in love during a blizzard.
How Sarah Got Her Wings
This movie, on the other hand, is actual trash but so bad it's kinda good, you know what I mean? It centers around Sarah, who gets hit by a car and turns into an angle and has to help a bunch of people in order to get her wings.
The Christmas Chronicles 1 + 2
What happens when a snarky Kurt Russell playing Santa Claus finds two children stowaways in his sleigh? An incredibly good holiday movie, that's what. I won't say more as I don't want to spoil it for you.
A Very Murray Christmas
When you need another break from angles and love stories, turn on A Very Murray Christmas special. It's only about 45 minutes long and it's packed with celebrity cameos (my favorite is Miley Cyrus' song towards the end!)
How The Grinch Stole Christmas
A classic! I'm team Jim Carrey vs animated.
The Santa Claus Trilogy
Another classic that I love to re-watch each year. I always like the first one best, but they're all fun.
12 Dates Of Christmas
It's like Groundhogs Day but centers on a woman who keeps reliving the same first date on Christmas Eve over and over and over again. It's predictable, yes, but also leaves you feeling warm and fuzzy inside.
The Knight Before Christmas
This is what we watched on the first night of our Christmas Room movie marathon. It's another Vannesa Hudgens film (aka Netflix's golden child) but instead of a baker with multiple lookalikes running around, in this film she's a… well, I don't actually know what she does for a living. All I know is a Knight gets sent forward in time by a witch and she instantly falls for him. The whole movie is a lot of her helping him learn modern things, like what Alexa is or that it's not ok to call women "wenches" anymore. It's funny and stupid and perfect to watch with a glass of German Rosé.
The Nutcracker And The Four Realms
The Nutcracker seems to be a lot like Star Wars or Spiderman: they just can't stop making more movies about it. This is the latest one. Oh, and it has Keira Knightley!
A Christmas Kiss
What happens when a wannabe interior designer works for a famous interior designer who also happens to be really a nasty person but has a really hot boyfriend who the wannabe interior designer accidentally makes out with while in an elevator? Chaos in very chic rooms, that's what. It's actually one of my favorite cheesy Netflix movies, so give it a watch.
The Holiday
Last but not least, The Holiday which I hope you have watched many times already because it's probably the most perfect Christmas romance movie out there. I mean, Jude Law wears a lot of knit sweaters in this film and looks dang steamy while doing so. There's also Jack Black and Cameron Diaz for some comedy and tons of British charm that makes you wish it was actually responsible and safe to house swap with English strangers on the internet.
Holidate
Two strangers pretend to be dating to make it through the holidays. GASPS I think we can all see where this one is going but we're here for it.
Operation Christmas Drop
Due to her job, a woman has to decide if a military base that delivers Christmas presents to Pacific Islanders should be shut down or not. Obvi she falls in love with a sexy pilot and finds Christmas magic somewhere in the mix, and keeps the base open.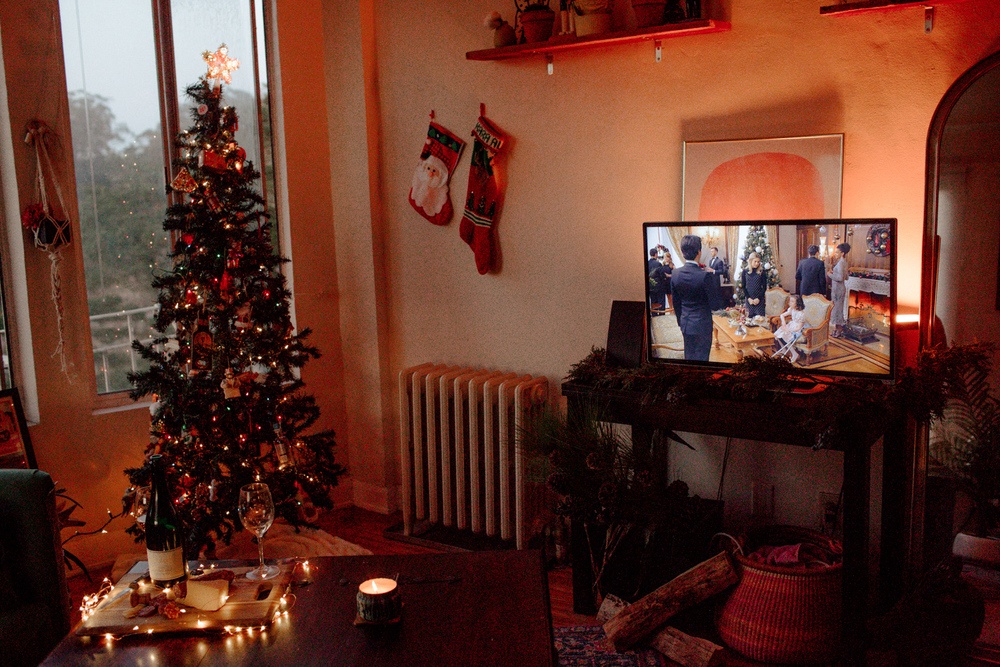 I hope my list of movies helps you have a holly jolly Christmas!! Don't forget to pick up a few bottles of German wine at your local wine store to really set the mood right. If you've already fallen in love with their world-class Riesling and want to mix it up, try a Sekt or Rosé wine (or of course, a red varietal like Pinot Noir!) from any one of Germany's 13 unique wine regions — you are sure to find a bottle you adore.
So, which movie on this list is your favorite? Did I leave any out that you think should be on this list? Leave a comment below so everyone can see!