Teddy bear coats (aka a faux shearling fur jacket) have been all the rage this past year so I finally broke down and bought one. The biggest reason I held off on buying a teddy coat is that I've only seen skinny women wear them. And, let's be honest, the entire teddy bear coat concept is around a BIG coat that's oversized on purpose. When you have curves for days, is adding more volume to your look something that you really need to do? Skinny women look great in them, but how about us midsize and plus size women? Well, I finally got one and I'm here to tell you that this $80 teddy bear coat is worth it.

Seriously. I honestly didn't want to like it. Trends come and go and I was sure this trend was anchored on fashion's standard of ideal body types (skinny!) But the second I put this teddy bear coat on, I was hooked. It's a beauty. And yes, I gave myself a really big hug in it (and so did Robin, because their name is accurate in the cuddliness of this coat style!)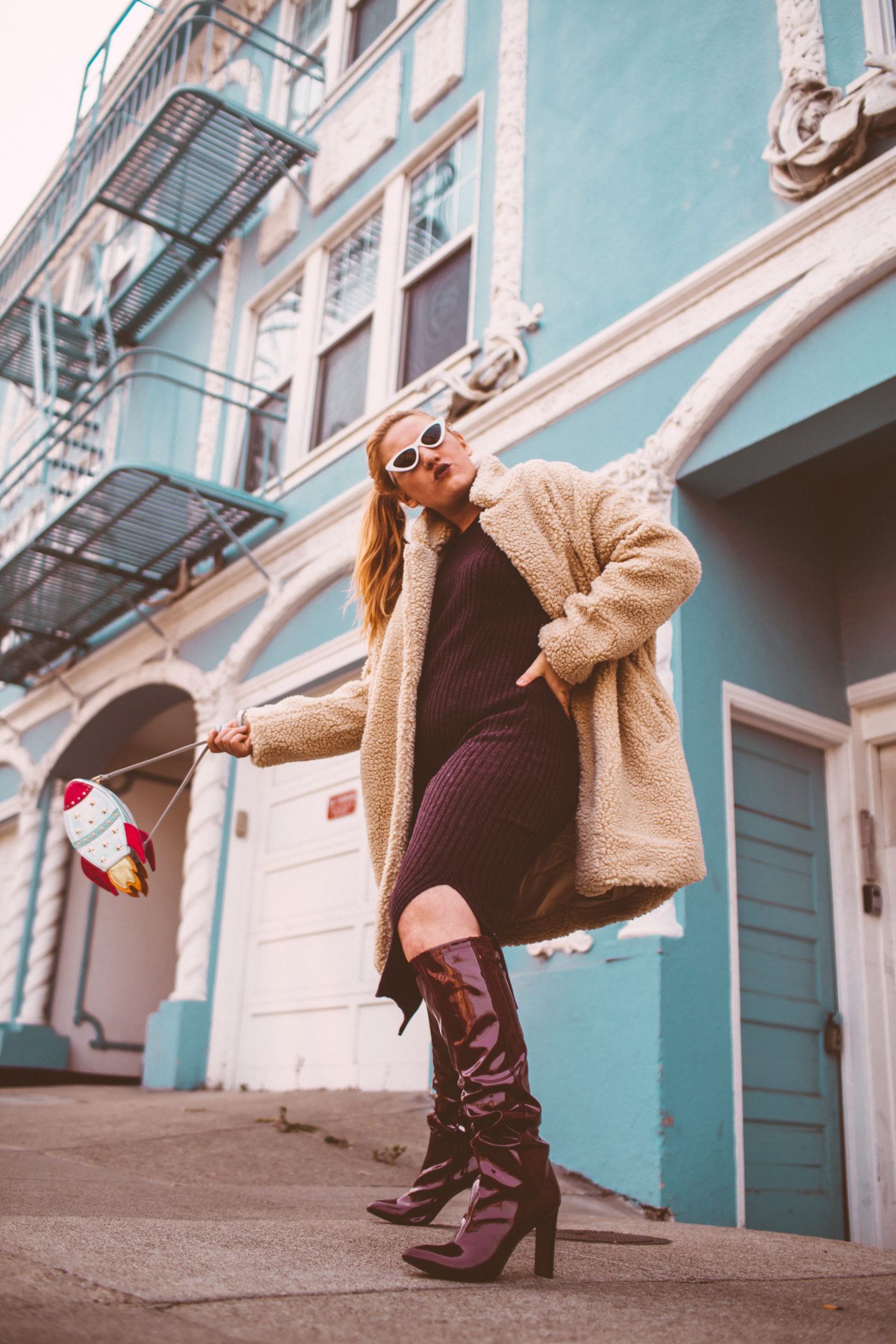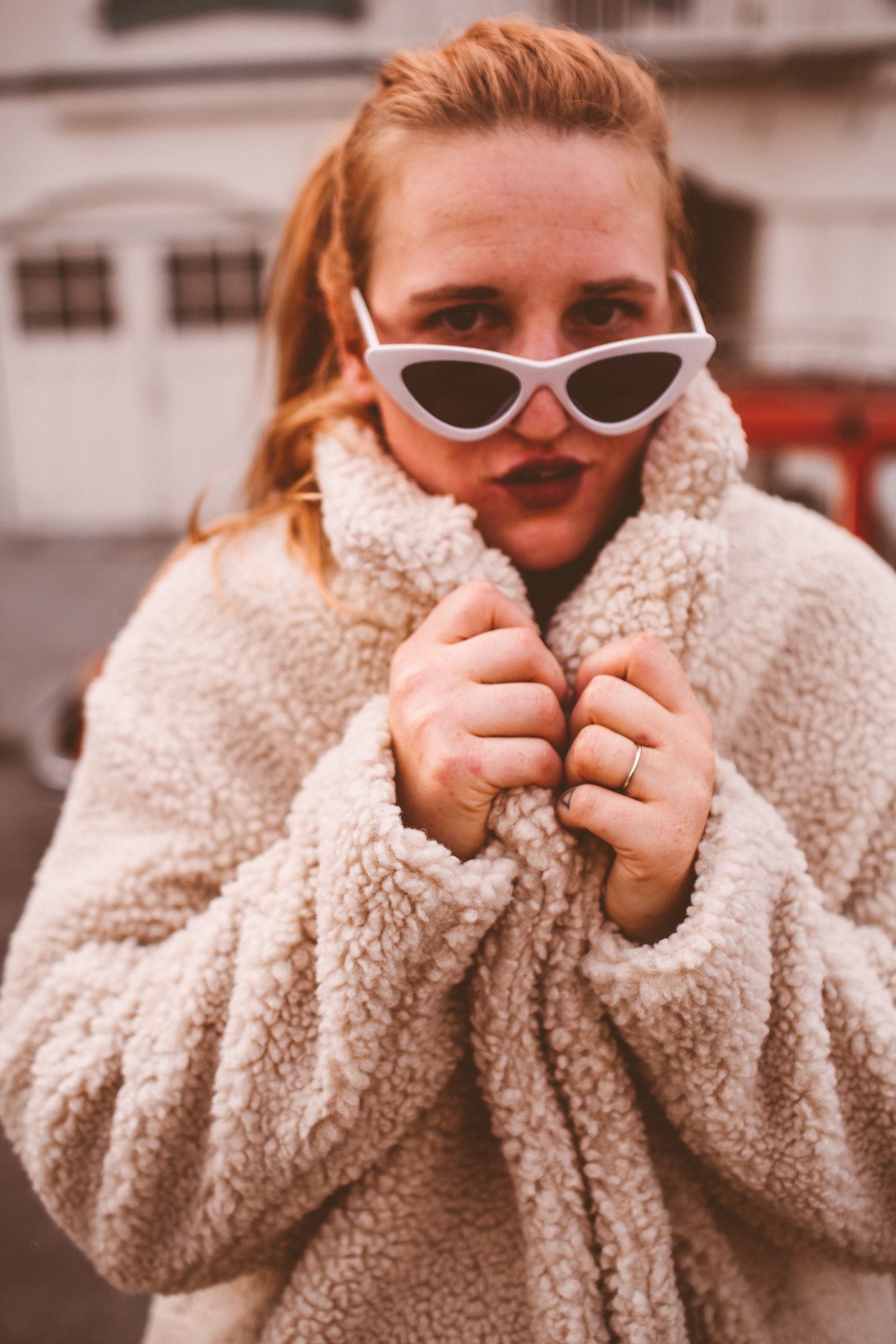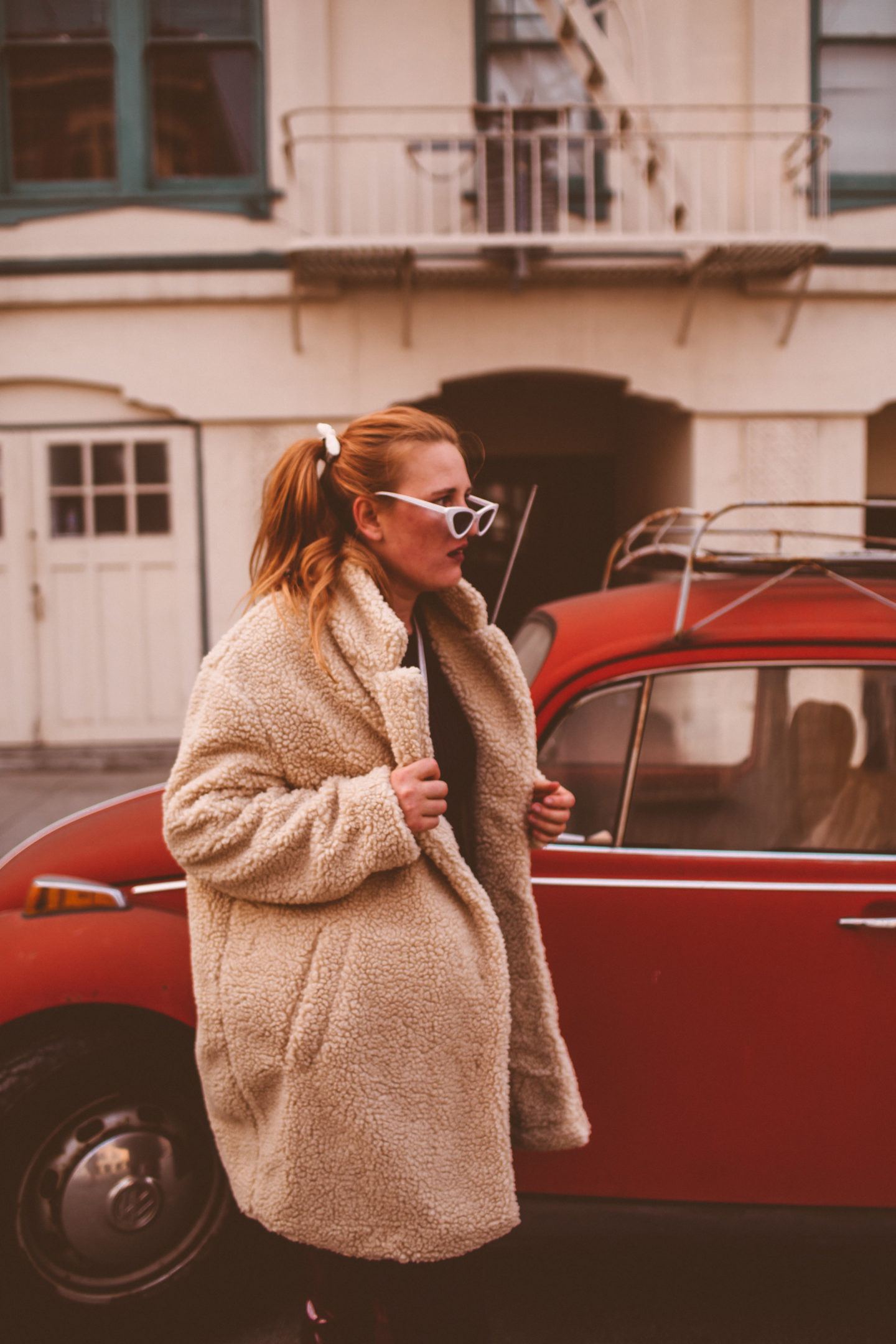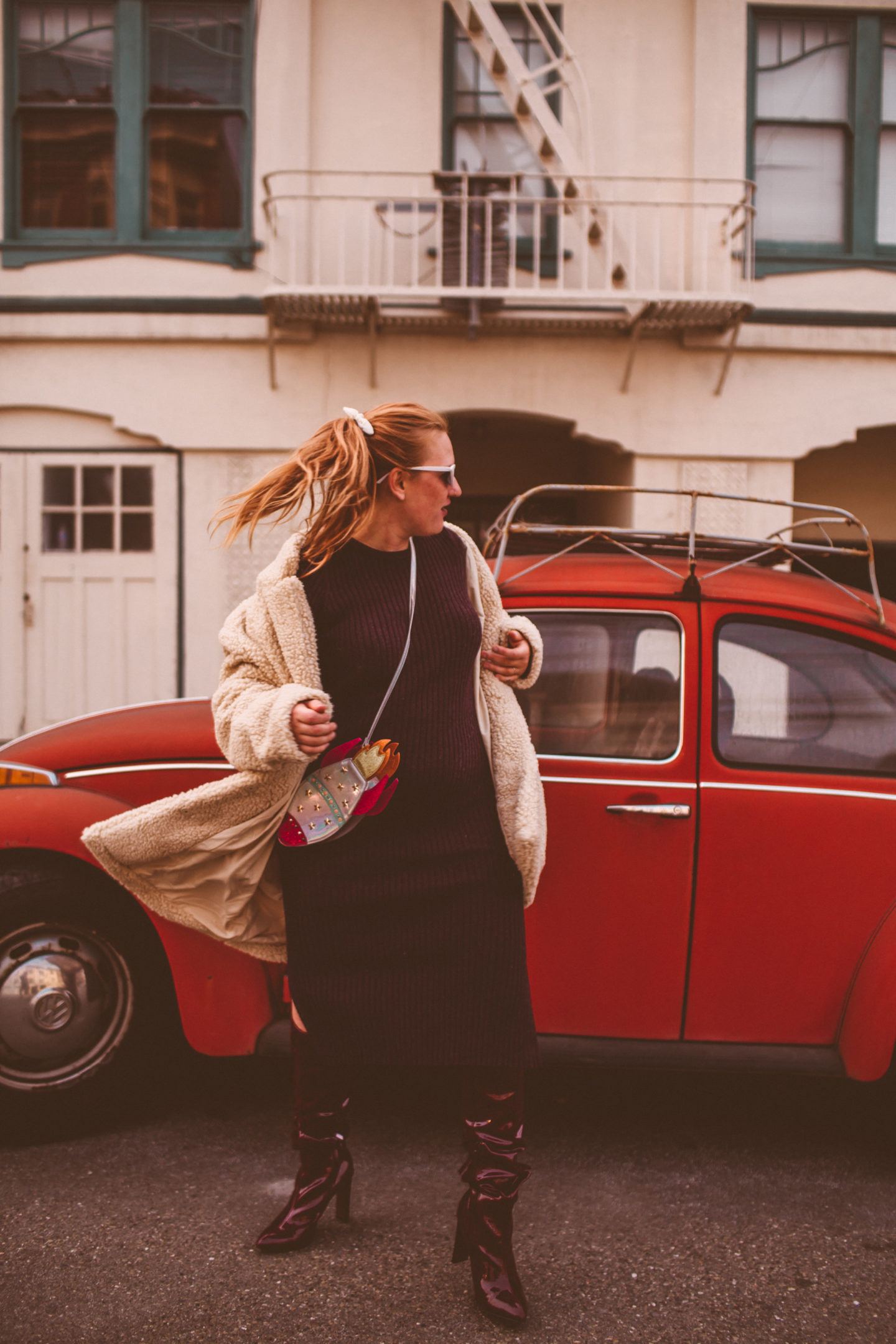 Fur coats and faux cur coats are always popular in the winter. Heck, I get it. I grew up in Wisconsin where I spent 9 months of my life bundling up in a jacket against the cold weather outside. I image of a frozen tundra of farm fields still sticks in my brain.. makes it sound like home was terrible.  It wasn't – just cold! Now that I live in San Francisco, our winters are much milder, but I do think this teddy bear coat would be the perfect thing to shop for any winter season. But, especially those living in cold weather states! For yourself, or as a gift.
In this outfit, I paired my faux fur teddy bear coat H&M with a purple sweater dress from Marine Layer. This sweater dress is honestly my new favorite piece of clothing. It's perfect for our mild San Francisco winters. 50 degrees and this dress = the perfect outfit! These shiny plastic boots are from Target and, with the rocket ship purse, add a big dose of FUN to this winter outfit.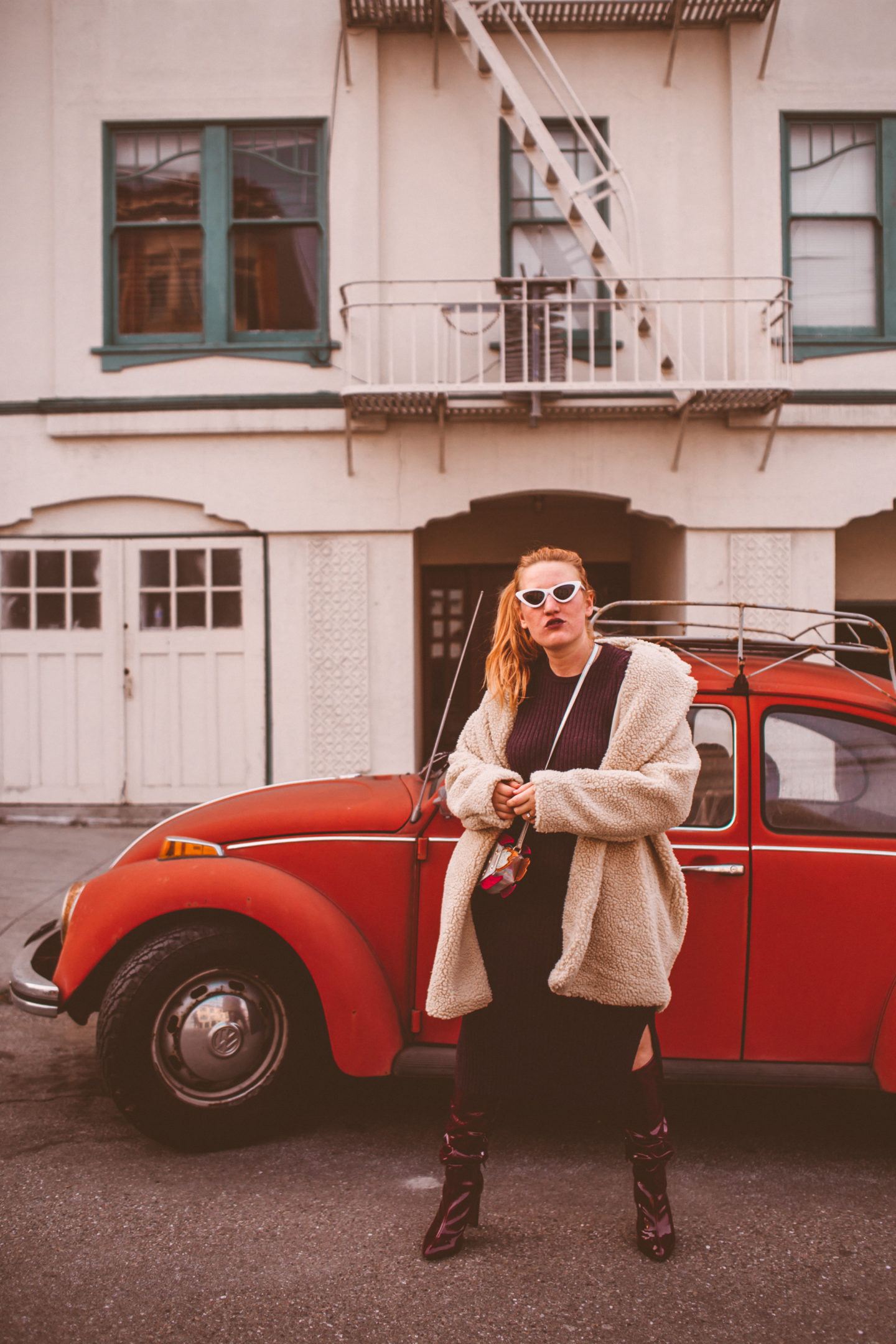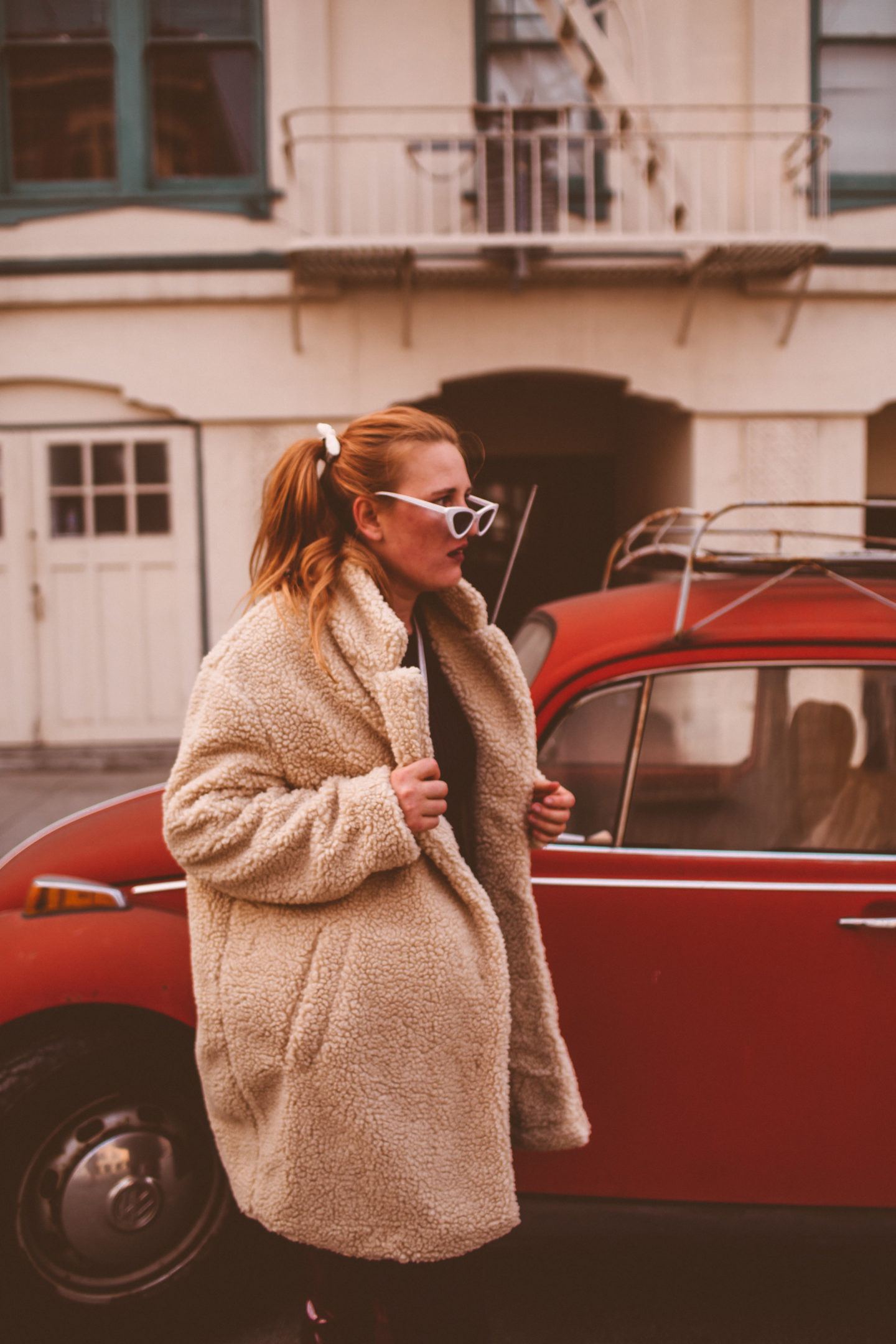 If you are looking for a teddy bear coast with hood, this one is a cute option (and from Amazon, hello Prime shipping!) But I still stand by my pile coats from H&M is better.
Top Teddy Bear Coats for 2018 + 2019 Winter Season

Which teddy bear coat is your favorite?