I love traveling and I love Robin, my fiance and I really love traveling with Robin. So, planning our honeymoon has felt like Christmas. We're treating ourselves to the longest, largest trip we've ever taken before (3 weeks and 4 countries!) and I've learned a lot of tips along the way to share with you. So, here they are. My 7 tips for planning the best honeymoon ever!
Don't feel limited to "traditional" honeymoons
Seriously. Just because it's traditional to go somewhere beachy like Hawaii or Bali, you don't have to if there is another destination that is calling your name. Robin and I love road trips and exploring a bunch of new places. So, we're doing a road trip across Europe… but first, we're stopping in Munich for a few days to attend Oktoberfest. A huge beer festival isn't what people usually think of for a honeymoon, but that's us.
Use Credit Card Points
If you don't have a credit card that offers huge travel rewards, go sign up right now! We have the Saphire Chase Reserve but I've heard the American Express travel card it also great. Whatever card you use, make sure to meet the signing points bonus and then use those points towards your honeymoon! Robin and I are taking 3 flights – so that's 6 flights with two of us. Our credit card reward points paid for the majority of those flights. Score!
Pro tip: if needed, you can also finance your dream vacation.
Book hotels through Hotels.com
(Or whichever hotel booking site you like best). We use hotels.com where you get a free night for every 10 you book and complete. Those add up quickly when you're taking a longer honeymoon! I also love how easy it is to manage all our bookings, see hotel contact info, directions at a glance. I also love how easy it is to cancel or modify a booking if we need to, which brings me to the next tip…
Book reservations you can cancel at the beginning
(So you can have more time to find really cute places!) Planning a honeymoon takes time, but it's always the worst feeling when you have your eye on a cute hotel, but you wait too long to book and there aren't any more rooms left. My tip is to, at the beginning of your planning, book your hotel(s) all at once at anywhere that looks decent and make sure you can cancel for free. This buys you time to do a lot of research and find the hotels you actually want to stay in without risking that everything semi-decent is booked in the city. Sneaky? Totally. Brilliant? You bet.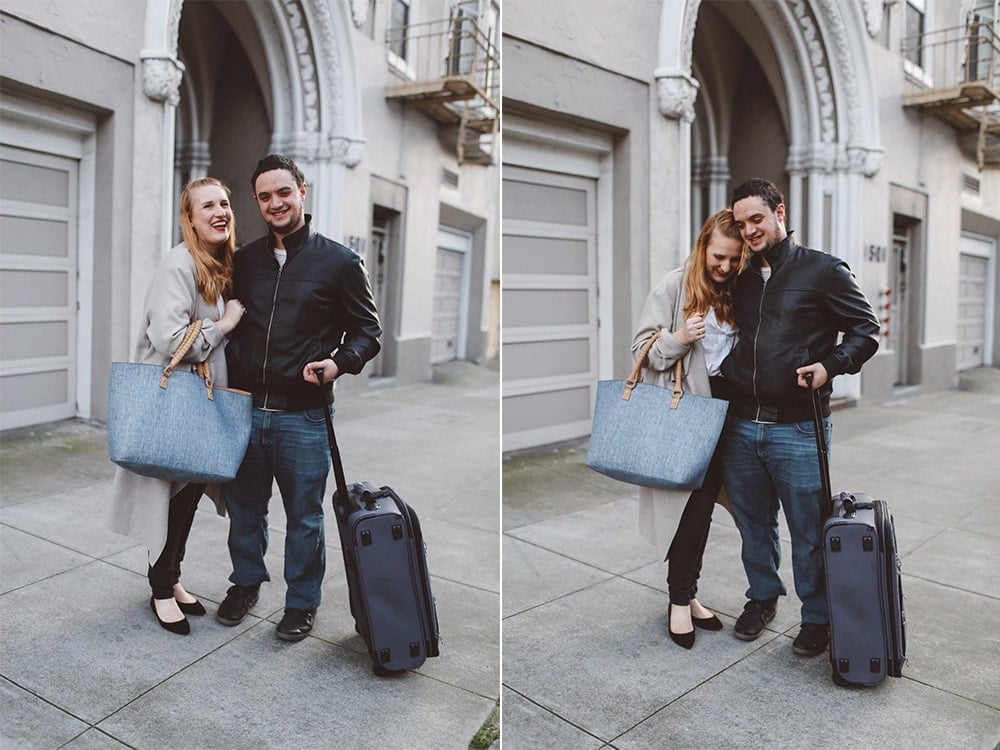 Use Instagram to find the hot spots
Pinterest and blogs are great, but Instagram is my favorite way to discover cool places to visit, hot brunch spots and neat hotels to stay in. I always pop in the name of the country or city I am traveling to and scroll scroll scroll – saving all the photos that catch my eye to a collection in Instagram. Then, I can go back and sort through all the ideas to pinpoint what I want to visit!
Don't forget about booking tours ahead of time!
We're visiting the Neuschwanstein Castle in Germany and that place books up fast! There are so many spots in the world that you need tickets to in advance. For instance, Machu Picchu in Peru doesn't sell tickets at the gate. When I visited, it made me sad to see so many people trek all the way there, only to realize they couldn't get in that day. Do your research and make sure to book tours and tickets in advance!
Before you leave – print out all your bookings
Keep them in a folder in your luggage! Don't rely just on email confirmations or screenshots on your phone. You don't know if you'll have service or if you phone will have battery power or even if you'll have your phone (they get snatched from tourists every day). When traveling internationally, I always print out the confirmation/ticket for every single flight, hotel, tour, train, car rental, etc. I organize them in a folder by date so it's quick and easy to check-in. I also usually go a step above and write directions from one place to the other in case our phones aren't working. Example: if we are leaving one city to travel to another, I'll write down the train to take or driving directions. It's a lot of work ahead of time but will make your honeymoon seamless!
I hope this helps you plan an awesome honeymoon! Where are you going? Leave a comment below!