If you follow me on Instagram @thewhimsysoul or TikTok @whimsysoul, you know that about a week ago Robin and I landed in Copenhagen. That's right – we're living abroad in Denmark for part of the summer and the number one question I have from you guys is: Why? And Why Denmark?
So, let's get you up to speed on why we're here in the Danish capital.
And yes, before you ask: our cat Twyla is at home with a lovely house sitter. If you want to learn more about how to travel and leave your cat at home, we have a whole guide for our readers!
10 Reasons Why We're Living In Copenhagen This Summer!
1. YOLO / Test Driving Living Abroad
As you guys know, Robin and I live in San Francisco, California and we work for ourselves running Whimsy Soul. Something I personally want to do is live abroad for a few years at some point in my life. But Robin is a little more wary of that idea (he's a homebody who loves to make sourdough and hang with our cat!)
So, instead of just springing a huge international move on him, I realized test driving living abroad for a short amount of time could be helpful in convincing Robin that moving to a new country is something we are totally capable of managing whenever we decide it's what we want to do. (It's only been a week here so far but I think my plan is already working! hehe).
And, since we both work for ourselves now and the panny is winding down, it felt like a good chance to just pull the trigger. In 2019 we were talking about possibly spending the Spring in Italy the next year (2020) but, well, you know what happened…
We won't be making a full-time international move any time soon, don't worry. We love California and showing you all the fun things to do in the United States… but prepare yourself. We may make that leap in a few years.
2. Cool Summer Weather
Remember how we were thinking of living in Rome for a while before 2020 happened? Well, when we were looking at the calendar and pinpointed the summer for our stint abroad instead of spring, I realized Italy was off the table. That's because Robin needs a cooler climate to be happy and it's one of the reasons we both love living in San Francisco so much. It's a naturally air-conditioned city!
Denmark is also a place that doesn't get stupid hot and sticky in the summers. Weather will stay between 60-70 degrees for most of the summer (15-20 in Celsius) and while it does get a bit humid, it's not overwhelming. I know from studying abroad in Rome that Italy gets crazy stupid humid and hot starting in May and going until end of September. Copenhagen though has been comfy and wonderful so far.
And, it's even gotten warm enough on a few days to go on a harbor swim (more on that later!)
3. Close To Norway & Sweden For Weekend Trips
Another reason we picked living in Copenhagen is that the Nordic countries of Norway and Sweden are right next door. Copenhagen is the capital of Denmark and thus has tons of trains, ferries and flights out to anywhere in Europe, but it's especially easy to explore other Scandinavian countries.
We already have trips to Oslo and Stockholm planned for our summer and we can't wait! If you're thinking about moving here for more than a season, you'll also have time to easily explore the rest of Northern Europe in short weekend trips.
4. It's Expensive (But Apartment Living Is Easier Than Hotels)
The cost of living in Copenhagen is high, as with any Nordic country, so you're probably wondering: if it's so expensive, why live here instead of visit for a weekend? Well, I crunched some numbers and realized that if we came to Denmark for a short, traditional trip (you know,4-7 days), after flights, trains, hotels, activities and eating out all 3 meals a day, we would spend almost as much money as if we moved here, rented an apartment with long term discounts, and cooked 70%+ of our meals.
Oddly enough, living in an expensive city is sometimes easier than visiting. Plus, it's a nice travel life balance to have a home base in a new country. We work from here in the mornings and explore the city in the afternoons and evenings.
And honestly, the Copenhagen living cost is super on par with cost of living in San Francisco so we're not having any sticker shock so far. I think if you are hailing from a major North America city (Bay Area, New York, Seattle, Vancouver, etc) or other major cities like London, you'll find the prices are similar here in Denmark.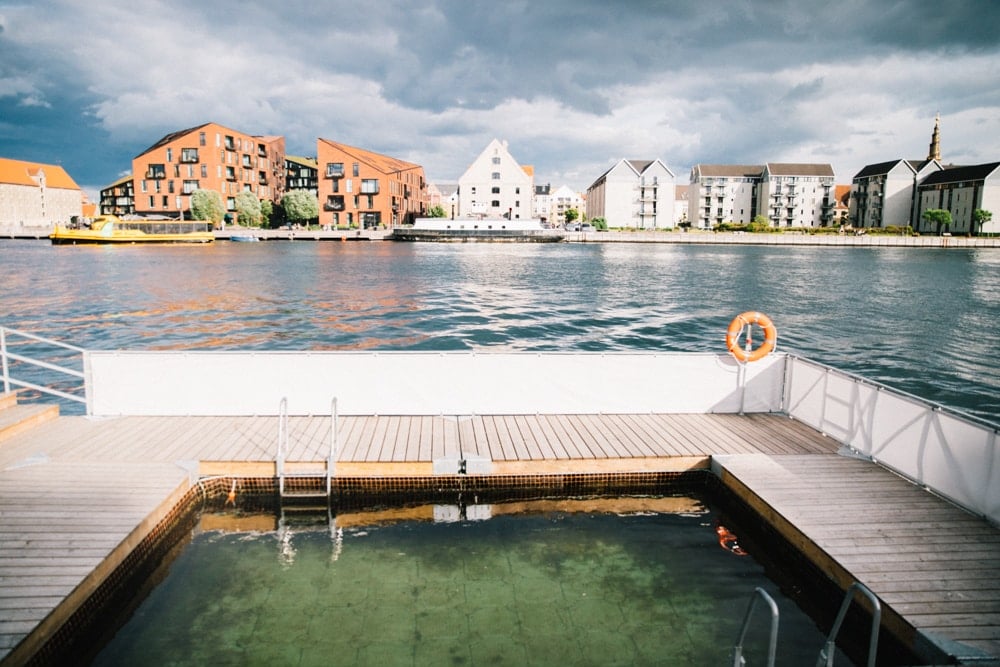 5. Fun Harbor Swims
You know I love running around to find swimming spots (I can't stay away from waterfalls and alpine lakes!!) So when I learned that in the summer, there is a huge culture of swimming in the Copenhagen canal, I was instantly sold. The city has multiple harbor swim areas with dedicated structures. Some are very architecturally designed in cool ways, others are more simple but they're all insanely fun.
On a nice day, grab your swimsuit, towel and beer and head to a harbor swim spot to join locals in jumping into the cold water and sunbathing to warm up after!
6. Vikings!
Vikings hail from Denmark, along with other Nordic countries like Norway, Greenland, etc. And, Robin is SUPER into all things Vikings and Norse mythology lately, so he's extra excited to be here and learn more firsthand. Copenhagen's National Museum has a great Vikings exhibit happening right now.
Of course, there is the official Viking ship museum (Vikingeskibmuseet) in Roskilde that features real historic Viking ships and even offers a chance for guests to sail on one. We partook in a sail and it was insanely fun to pretend to be a Viking for an hour.
7. Danes Speak English
I'm comfortable navigating in a country that doesn't speak English but Robin has less experience traveling abroad, so picking a place to live where English is taught in school systems was something we did prioritize. We're trying out best to use Duolingo to take Danish lessons and to learn as many words as we can, but the Danish people all speak English very well.
In fact, it seems like English is the default language here for many as the city does attract folks from all over the world and English is the common language among them. And they're really nice about it, too. When I was in France, I felt like the French HATED when I tried to speak French and also hated when they had to use English with me.
But the Danes don't seem to be bothered at all about having to use English with us which was a relief. If you're Brits living in Copenhagen or living in Copenhagen as an American, Aussie, etc, you'll do just fine here. But of course, try and learn some words if you visit (it's fun!)
8. I Have Danish Heritage
My great grandmother on my Mother's side was fully Danish and while the percentage of Danish in me is small, there is something really special about visiting countries your ancestors hail from. I instantly felt at home in Germany when we visited for Oktoberfest a few years ago and do think the fact that my Father's side all hail from Hanover has something to do with that.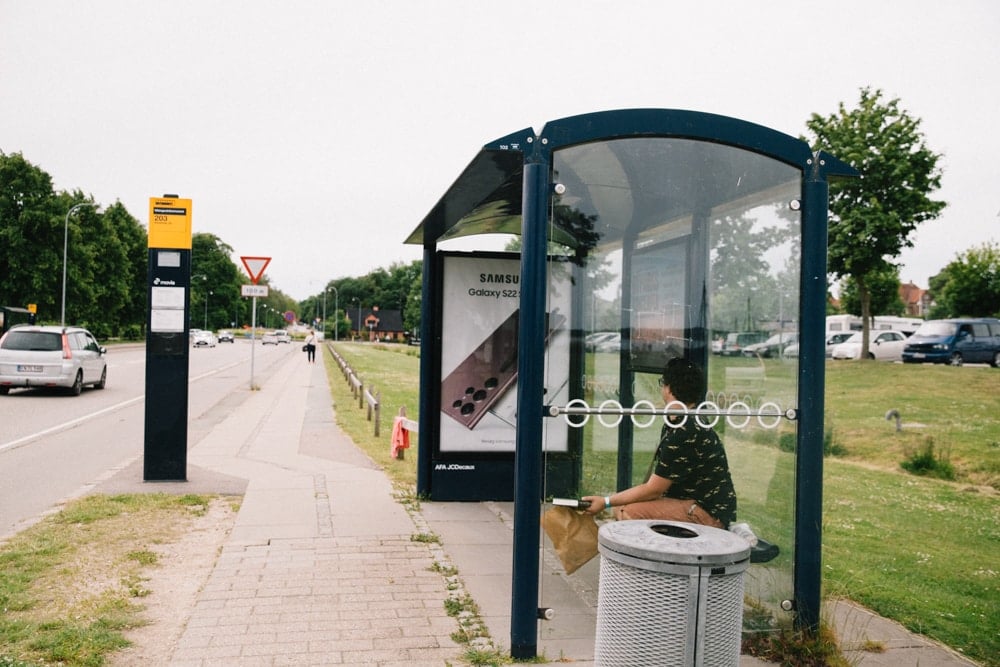 9. Great Public Transportation
Unlike America, Denmark has their public transportation on lockdown. The Copenhagen metro area spans further out than just the city itself and everything from trains to buses to ferries are all under the same transportation authority, DOT. This means it's insanely easy to get around without a car with a rejsekort pass.
It takes like, less than 15 minutes to get into the city center of Copenhagen from our apartment. When we visited the Viking ship museum in a small town outside of the city, we were able to take trains and busses the whole way there with no problem. Things actually come on time here!!
10. Something Out Of Our Comfort Zone
Really, at the end of the day, living abroad in Denmark is something I don't think either of us ever considered until we kind of randomly chose it. As I mentioned, we were originally looking at Italy, since I lived there for school once.
Life in Copenhagen is different than our life in California and that was one of the driving forces of choosing to move here for the summer. Pushing ourselves on our comfort zone is something we both think is important to do in life. Learning how to navigate a new language and cultural norms is a challenge, but a fun one. Like, they don't seem to wear color here so on day one when I wore a bright rainbow sweater I got a lot of stares on the train. HA!
We're not moving here forever, but we are loving our little Scandi adventure. I've only been here a week but I'm already in love with this corner of the world.
So, I could end this post right here since that's my update on why we picked Copenhagen of all places to move to. But, I have a feeling some of you reading this are also considering moving here for work, school or a long-term stint like we are. If that's you, I've laid out what I personally feel are the pros and cons of living in Copenhagen (as an American, so keep that in mind). I hope this can help you find an outsider's point of view on Copenhagen life and if it's for you or not!
Living In Copenhagen Pros And Cons
Pros Living In Copenhagen
Easy & efficient public transportation: Use the rejsekort pass to navigate anywhere in the city and outer limits.
You can bike everywhere: on top of being able to take the train most places, this city is incredibly bike friendly. It's sometimes referred to the bike capital of the world!
Locals speak English and they speak it well, so it's easy for English speakers to communicate.
The city has tons of amazing restaurants: We're loving all the ways Danes serve up fish here, and are especially obsessed with learning the art of smorgasbord
Copenhagen also has tons of craft roasters and cool coffee shops all around the city.
Cool summers that don't get too hot so you don't have to worry about overheating and melting as you do with other more Southern European cities. Though one thing I was not prepared for was the humidity which can make the inside of the apartment a little too warm for my liking, but that's just me.
Higher taxes means more services are included: if you are moving here permanently and pay taxes, you actually get benefits like healthcare, education, etc. (Unlike America, where our taxes don't really help us have a better life.)
Great work life balance: 37.5 hours is the max work week hours and everyone goes home at (or before) 5pm. Unlike America which it's common to find yourself working 60+ hours a week, the Danes prioritize living over working.
It's really safe and has a low crime rate. I read somewhere that 69% of Danes have trust in strangers and firearms aren't legal here.
Cons Of Living In Copenhagen
Daylight hours are different: In the summer, the sun rises at 4am and set at 10:30pm which on one hand is really fun but it does mess with your sleep cycle. But, during the winter, the sun rises at 10am and sets at like, 3pm so the darkness can be hard to work around.
Apartments don't come furnished: As with most apartments and houses in Europe, "unfurnished" listings means the unit won't be coming with things like a dishwasher, kitchen or stove. You'll have to add that in and build it yourself. That's why IKEA was created – to serve Europeans moving into unfurnished units. (This does not apply to short-term rentals – our Airbnb here of course has stuff in it!)
Cost of living is high: Again, if you already live in an expensive city the cost of living won't be a sticker shock, but for everyone else you will be feeling the strains of living costs here. They have higher taxes, higher rents and higher food prices.
Getting a visa is hard here in Denmark. We don't have to deal with this during our stay of under 90 days but if you are moving here you'll need a CPR number to function and you can only get that with a visa. So, plan ahead and apply early!
Making Friends With Locals Is Hard: According to my friend Olivia who is American and married to a Dane, so she lives part-time in Copenhagen — making friends with locals is hard. It's hard for ex-pats to break into local friend groups here, as people tend to grow up in smaller towns in Denmark and then all move to Copenhagen for or after college. So they've known each other for ages and it's hard to be an outsider coming in. There are a ton of ex-pat life facebook groups and ways to connect with ex-pats, though. If you are coming for study abroad at an international school I bet you can find housing in an international house to make friends. Living in Copenhagen as a student is much easier than a grown-up (making friends as an adult is hard! Especially in the remote work culture!)
ANYWAYS, to recap: Robin and I are pumped to be here and pumped to show you guys Scandi things to do that you probably won't see on other travel guides. And, if you're thinking about living here full-time, I hope this helps give you a quick look at what it's like being an expat and things you may encounter.
Stay tuned for more adventures…