I've been running Whimsy Soul for over 3 years now. Before jumping into blogging as my fulltime job, I worked in marketing and have run countless blogs for the companies I worked for. Creating a successful blog is so much more than making great content for it! If you're are looking to start your own blog, or for tips to improve your already-established blog, continue reading for my 14 essential things every blog needs to have!
Pin one of these to easily find this post later!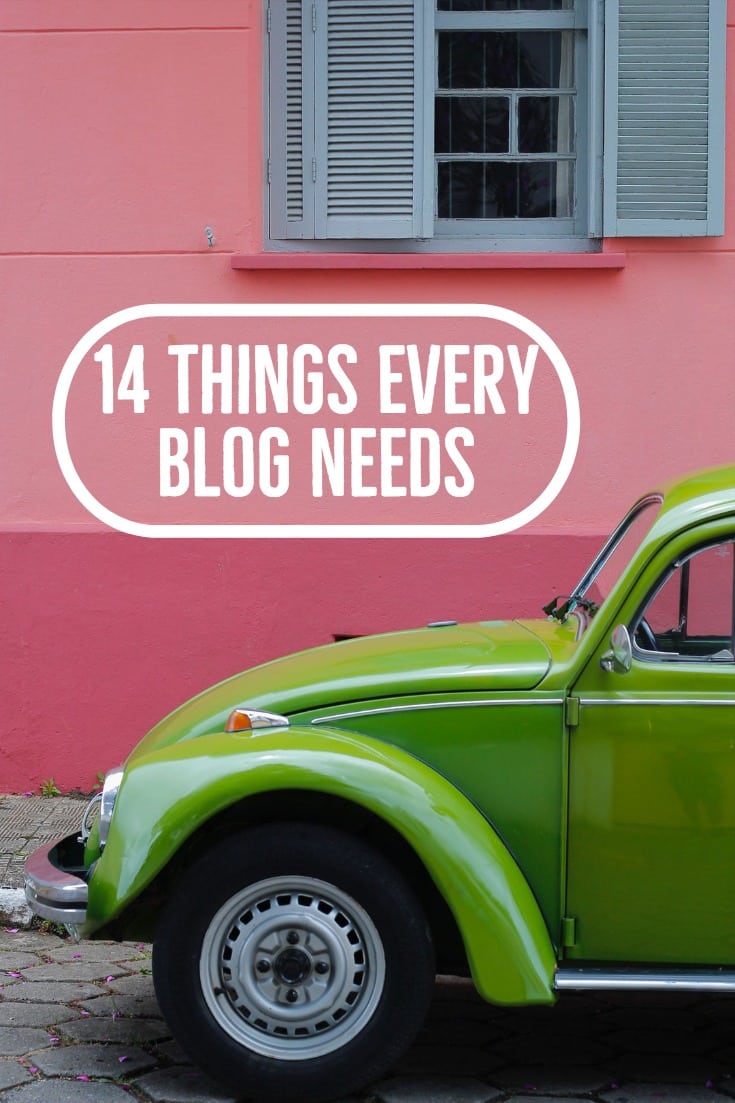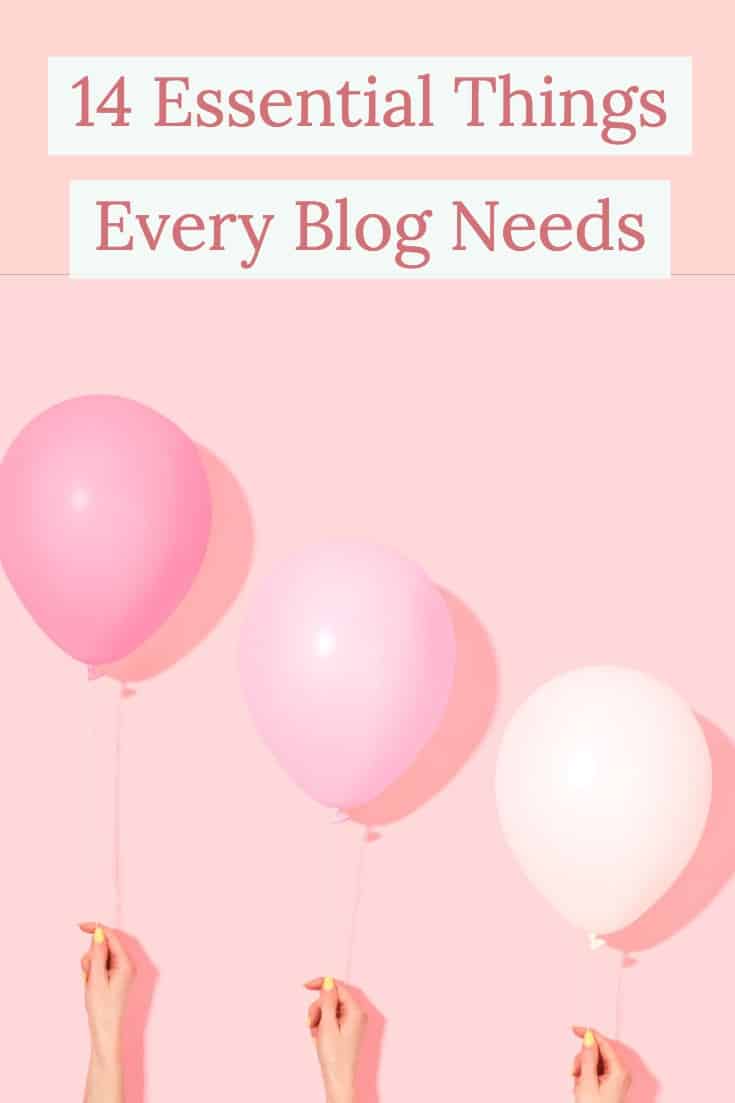 I used to host my blog on Squarespace (don't recommend this!) and switched to Wordpress about 6 months in. I went through a few different themes and finally landed on the one that I currently have, which has been the Whimsy Soul design for about 8 months now. I'm always making tweaks to the site to make it easier to read and use. I have so many lessons I've learned about how to structure a blog and wanted to share them all with you!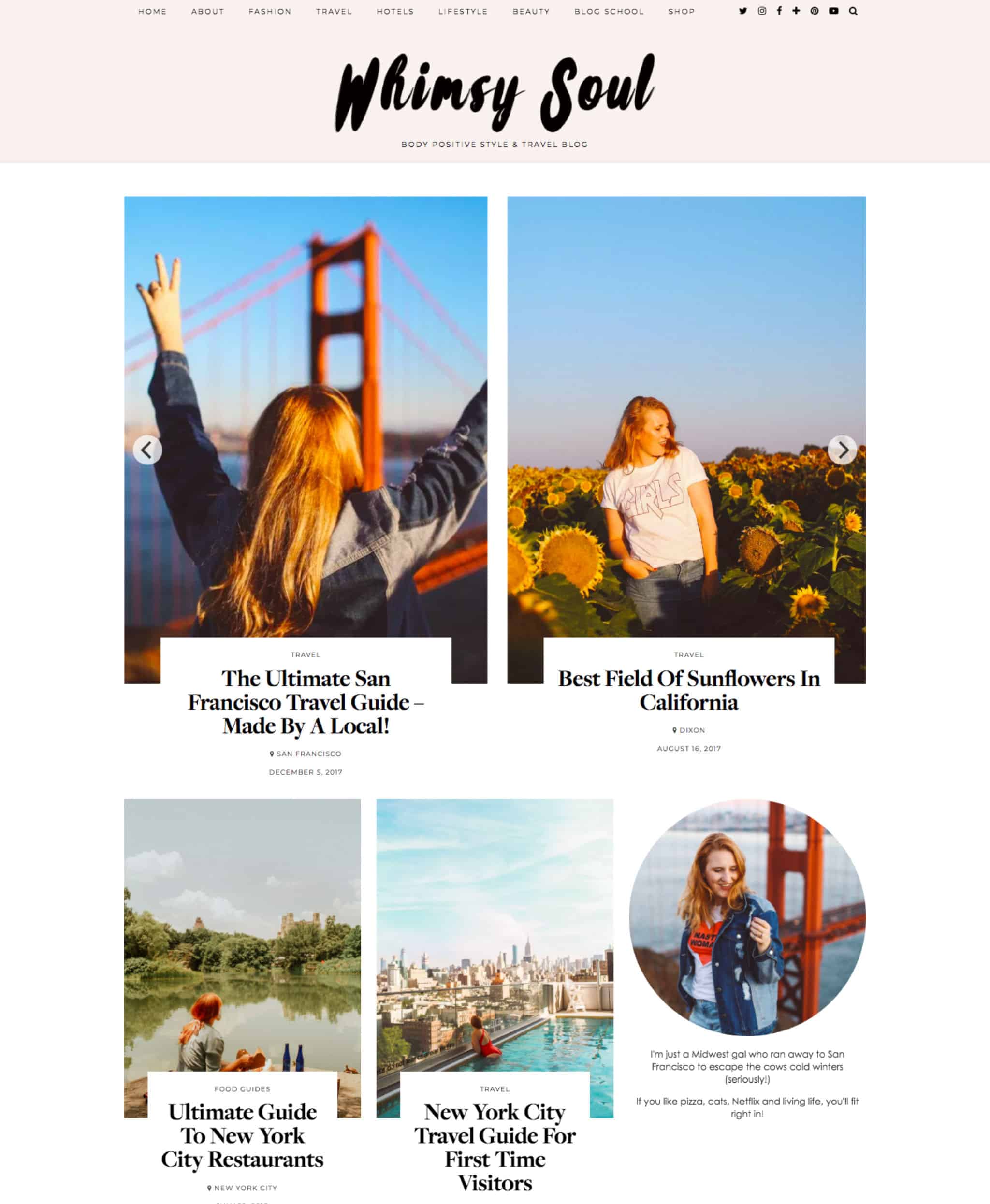 Branded URL (Aka Domain Name)
I'm going to be blunt here – whimsysoul.wordpress.com is NOT a nice looking url. It screams "amateur" and if you are at all serious about building up a respectable blog, you need to buy a branded domain name. I recommend heading to GoDaddy. They frequently have sales where you can buy a domain name for $1, but usually, it's just about $12 a year for url.
Quality Blog Theme
A theme is the design of your blog. The term was formed out of Wordpress (where I host my blog) because you can change the design by changing the "theme". It's now a household term in the blogging world.
A good blog theme is essential because looks do matter when it comes to blogs. You need to invest in a great blog theme in order to help tell your story. I recommend checking out Creative Market or Pipdig, though you can buy Wordpress blog themes from a ton of places online.
Self Hosting
In order to use Wordpress.org and thus have a branded url and unique theme, you'll need to self-host. That sounds hard and complicated, but it's not! It's pretty easy to set up. I recommend starting on Bluehost.com, as it's a go-to for Wordpress and they have great support to help you set up.
Orignal, Professional Logo
Again, looks matter. A logo (and a nice theme) will go miles for you when it comes to your blog. If you can't design a great logo yourself, don't worry! That's totally ok. Instead of hacking together something meh, there are a lot of options for you. Check out Creative Market for logo templates. You can also hire someone on Fiverr for a very cheap price (it's called Fiverr because a lot of the services offered only cost $5!)
Organized Menu Tabs
Navigation is key when it comes to a blog. Your readers need to quickly find the information they are looking for. Organized menu tabs (drops downs help!) are a must-have. Head to the "appearance" and "menu" dashboard in Wordpress!
Fast Load Time
If a reader can't load your blog, then they can't read it, and they'll leave. The biggest culprit of slow load times are large images. Make sure to download the "Smush" plugin, which helps you decrease image sizes without losing quality.
About Me Page
Every blogger needs a killer About Me section. Where I see most bloggers fail is when they have a very minimal about me section that doesn't actually they the reader anything. Readers want to know your "Why", your purpose behind blogging. In order to convert the reader into a repeat reader, they need to emotionally connect with you. Simply stating "I love fashion and travel and follow me on Instagram byeee" is not enough.
Contact Page
I once had a blogger friend complain to me that she doesn't get many brand emails at all. She was frustrated that brands weren't reaching out to her. I then logged onto her Instagram – she didn't have a business profile, so no email button. She didn't have her email in her bio, either. I clicked on her blog url and tried to find a "contact page" and she didn't have one. I clicked on her "About Me" thinking maybe her email was there. Nope! She wasn't getting emails from brands because she had made it really hard for a brand to find her email!
It's something that seems like a no-brainer, but you need to have a contact page with your email posted and easy to find. For the love of shoes, if you're going to have an email form, ALSO have your email listed. A lot of brands and pr agencies have running internal influencer lists and you can't be added to that list if they don't know your email.
A Branded Email Address
On the note of email, whimsysoul@gmail.com is not a professional email. I hate when I see non-branded email addresses for blogs and influencers. I pay $5 a month for hello@whimsysoul.com and it helps establish me as a serious business.
An Email Newsletter
Newsletters aren't dead, people! Our email newsletter is a direct line between us and our readers. Emails are very personal, it's almost like knocking on someone's (digital) door. A strong email strategy can drastically increase your blog pageviews and readership. We use Flodesk and I think they are the best email marketing tool for bloggers.
Social Channel Buttons
While I firmly believe that long-form content isn't going anywhere and a blog should always be the backbone of any blog business, ya need social channels to help support the blog. And, because fo that, you need social channel buttons on your blog. And – you need them to work! I cannot tell you the number of blogs I visit where one or more of the buttons don't actually link out to anything! Make sure your social channel buttons are working so people can follow you on Instagram, Pinterest, etc.
Search Function
People have to find things easily on your blog or they will leave! Every blog needs a search bar so readers can search for content. I prefer when a search bar is on the top near navigation menu tabs, but on the sidebar also works. Just have one!
Commenting Functions
Your blog should be a community, so make sure you have a comment function. I don't find that commenting on blog posts is all that popular of a thing to do anymore, but it is a nice thing to offer to readers. Sometimes they just leave comments like "Love your top!" but sometimes readers have valuable information to share that adds to the value of your blog post.
Meta Description
Ahhh, SEO scares a lot of people. While a whole post is needed to address SEO and Meta Tags properly, the first place you need to start when launching your blog is the Meta Description. When you google Whimsy Soul, the description under whimsysoul.com is "A San Francisco Based Body Positive Fashion and Travel Blog." This is the Meta Description and is basically the elevator pitch to your blog. Without it, people won't know what you blog about and won't want to click into your blog. You can write yours by going to the Customize area and adding in your description in the "General" setting. You should also download the Yoast plugin and walk through the steps to add some meta tags to your site.
I hope this helps you start your blog off on the right foot! Leave a comment below if you have any questions or DM on me Instagram @thewhimsysoul.