Yosemite National Park is the prettiest of all the national parks and I'll fight you on that. Maybe I'm biased since I live in San Francisco and make the 3.5 hour drive at least once a year to soak up the magic of Yosemite, but it's also almost impossible to take 10 steps without finding another stunning viewpoint.
There are so many good Yosemite photography spots it can actually get overwhelming when planning your trip. On my most recent visit with my blogger friend Justina, we were scouring Instagram at 8pm the night before our big trip into the valley desperately trying to track down specific photography locations we wanted to hit up, and to find new to us spots, and make a game plan.
I don't want you to have to go through that same anxiety, so I decided to share my photo guide to Yosemite with you, complete with examples, tips and a map!
What Are The Best Seasons To Take Yosemite Pictures?
The National Park is simply stunning year-round. I've taken a LOT of National Park photos at a lot of different parks and none of them ever really compare to Yosemite. That being said, it is a mountain park (vs a park like Joshua Tree which mostly looks the same year-round) so you do have all four seasons to pick from.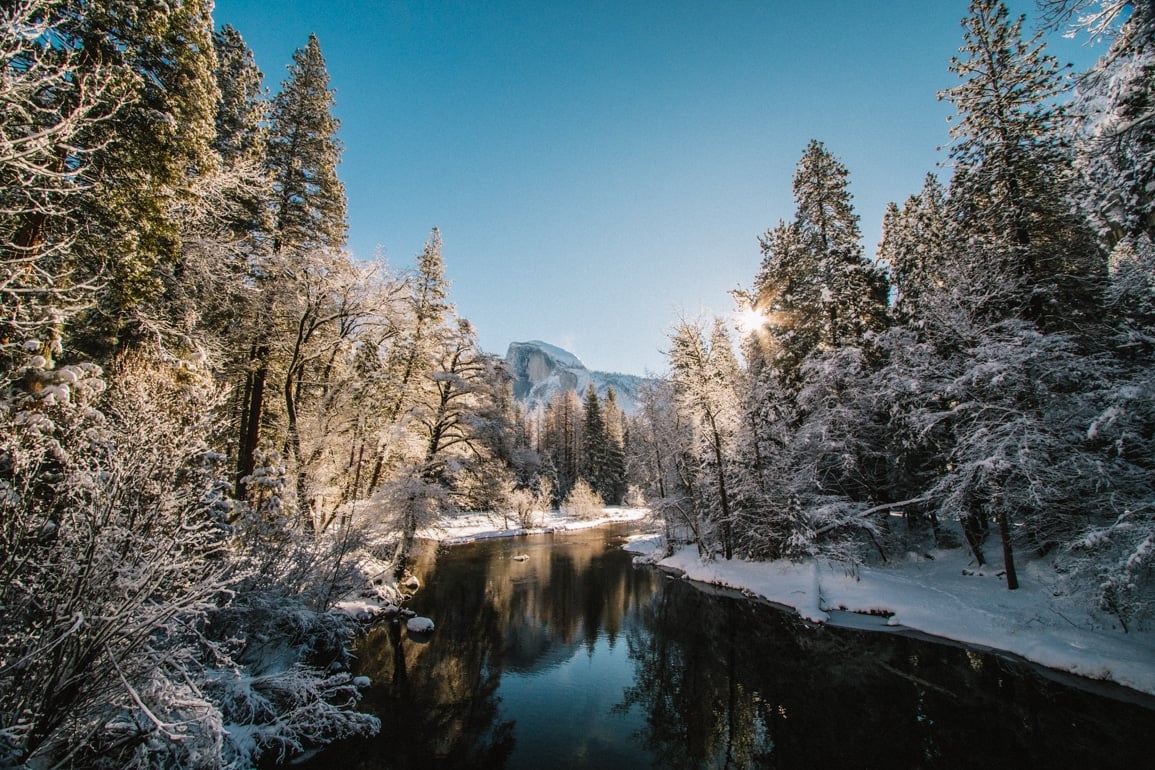 Winter in Yosemite
Yosemite will absolutely be covered in snow. It really turns into a winter wonderland. I've had the luck of arriving at the park once in December on the first snow of the year – magic really doesn't do it justice. And, in typical mountain fashion, by the afternoon the snow was melted and it was 60 degrees. But if you are coming in Jan-March, expect snow to stick on the ground.
Many hiking trails will also be closed including Tioga Pass which takes you up to Glacier Point. The waterfalls probably won't be running strong and if the Merced River is frozen over, it can be hard to get water reflections. That being said, you can luck out on capturing photos of El Captian and Half Dome surrounded by snow-covered trees. February is also when Firefall happens!
Spring In Yosemite
Spring is a transition season, which means there will probably still be snow until May, but it will start to be melting in spots. Expect colorful California wildflowers, mixed weather, and the roads to still be closed until all the snow melts. BUT waterfalls should be rushing more!!
Summer In Yosemite
Come summertime, everything is open in the park, including all the trails and the roads. This is the best time to shoot those Yosemite photography locations that you can't access in the off-seasons, like Glacier Point! The downside is summer is the high tourist season, meaning you'll have to work around other hikers and cars. If you are coming in the summer, plan to get the bulk of your photos done at sunrise before the masses arrive in the park.
If you are coming in the summer, I recommend staying at the
Ahwahnee Hotel
or
Half Dome Village
so you are in the park and can maximize your time at sunrises and sunsets (vs stuck in traffic).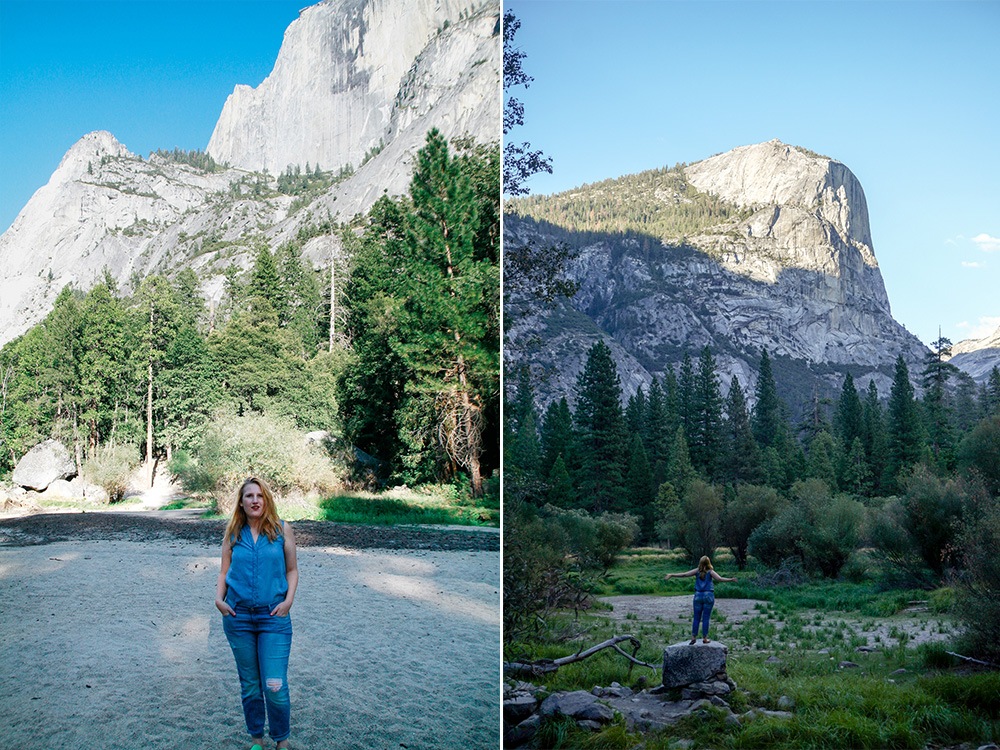 Fall In Yosemite
Autumn is my favorite time to take Yosemite photos because the whole park explodes with beautiful orange and yellow leaves! The fall foliage can be a bit tricky to nail, as the window changes every year and you are always at risk of an early snow storm destroying the leaves or closing the passes early.
But Yosemite in the fall leads to truly vibey autumn photos. Oh, and like nobody is ever there! The National Park is always really empty when I got in October and November, making it extra easy to capture all my Yosemite Instagram photos.
Do I Need A Yosemite Photography Permit?
Probably Not. Photography in Yosemite National Park is totally allowed by anyone at any time. But, if you are trying to film a full prudciton movie or something, then you need to contact the park service.
Why Photography Yosemite Can Be Tricky
Before we get into the spots, it's important to stress how key sunrise & sunset are here. Sunrise is actually probably the best time to take photos in Yosemite as it takes a while for the sun to rise and flood the valley with light. This hour or so gives you daylight, but everything from the valley floor to the mountain tops are all in the same light level.
It's tricky because you don't want sunlight on the top of the peaks but have everything below in shadow. So you have to work fast. But there are some photos for Yosemite you have to do in the afternoon or evening – like Valley View and Tunnel View when the Western sun sheds lights on everything. I'll walk you through all the spots and the best time to take photos, just be mentally prepared to plan your photography spots to a T when you go!
23 Best Yosemite Photo Spots + Map With Locations!
Pro tip: unsure about the conditions? Use the Yosemite Camera peep at live video feeds!
1. The Meadow Boardwalk
Location: Between Swinging Bridge and The Chapel
Best Time Of Day: Sunrise
Best Season: Spring-Fall when waterfall is gushing
Ekk – you can see Upper Yosemite Falls from this spot! How cool is this meadow?! It's my favorite of all the Yosemite Instagram spots. My friend and I were driving in the valley at sunrise and had plans to stop somewhere else first but we turned the corner and saw Yosemite Falls rushing down the mountain and all the fog hanging low in the valley. We had to stop and take photos ASAP.
There is no exact formal location here, but it's in between the Swinging Bridge and the Chapel along a stretch of road with tons of parking on the left side.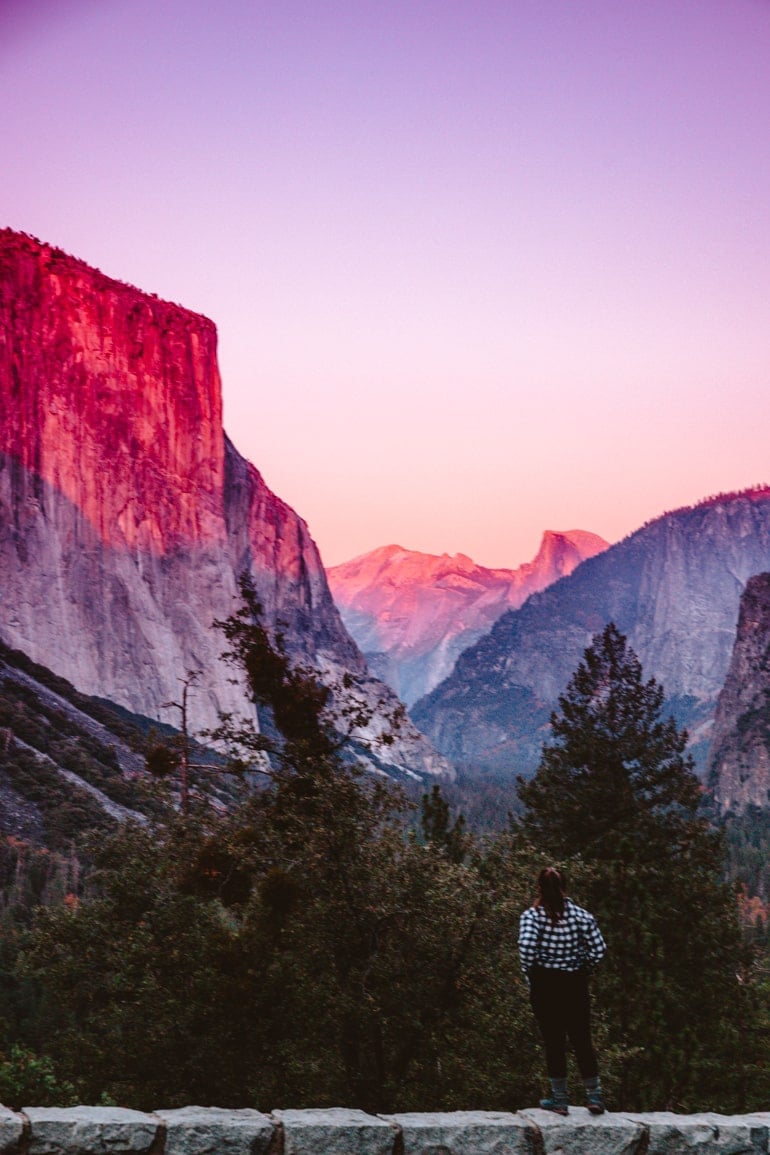 2. Tunnel View
Location: Tunnel View parking lot
Best Time Of Day: Sunset
Best Season: Year-round
This is where you find that classic view that overlooks all of Yosemite Valley. I prefer to come at sunset as the Half Dome and El Capitan will be lit with orange and red light, and sometimes you'll luck out with pink skies. Make sure to stay through dusk. Sunrise is also a good time to come BUT you have to time it right as if the sun gets too far up in the sky, you'll jus the backlit.
Tunnel View parking lot is probably the most popular of all the Yosemite National Park viewpoints. In the summer the lot will get full quickly, so I recommend camping out at the lot at least 1 hour before sunset. Fall, winter, and spring should be easier to find parking.
3. Artist's Point Trail
Location: Traileahd at Tunnel View lot
Best Time Of Day: Sunset
Best Season: Summer and fall (no snow)
The downside of Tunnel View is everyone goes there and it be quite a zoo. Soemtimes it's really hard to get the perfect Instagram photo with 50 other people shoulder to shoulder. Instead, there's a secret lookout spot called Artist's Point Trail that you can hike to instead for a totally private sunset!
The trailhead is in the Tunnel View parking lot (look for the staircase shown above!) It's 2.3 miles round trip and last time I went, the trail was janky condition with tons of fallen over trees. So wear sturdy boots and use hiking pole if you have them. But the lookout point isn't hard to find and we literally had it all to ourselves for photos.
4. Base Of Lower Yosemite Falls
Location: Lower Yosemite Falls loop
Best Time Of Day: Afternoon in full shadow, or high noon for rainbows
Best Season: Spring and summer
Lower Yosemite Falls loop is probably the most visited hiking trail as it's a fully paved trail that takes you right to the falls. If the water isn't too strong, you can even climb up on the rocks at the base of the falls, it's really cool! I always love climbing up there and having a lunch in the sunshine, but it also makes a cool vantage point for photos with the waterfall right behind you.
And, if the sun catches the water in the right spot, there'll be a rainbow in the falls! You can also hike the full Yosemite Falls Trails, which is about 7 miles round trip and take you to the very top for a cool view. of the valley. I prefer the Lower Yosemite Falls loop which is under 1 mile round trip mostly because I'm lazy and don't want to hike that straight up trail.
5. The Yosemite Valley Chapel
Location: Yosemite Valley Chapel
Best Time Of Day: Sunrise or late afternoon – sunset when the mountain behind the chapel is in full shadow
Best Season: Year-round
You've probably seen a lot of photos of the Chapel. Becuse it's one of the few buildings in the Natioanl Park, and it's super cute, it's gets photographed a lot. It's fun year-round, but I really love taking photos when it's covered in snow. Extra charming on cute!
You can also take photos from the side of the Chapel facing Yosemite Falls. To get this shot, come in the summer when the waterfall is at full force and do it at sunrise or sunset when the mountain will be in the same light as the chapel and the valley. In the photo above, we missed that window a bit so it's not the *best* photo because the Falls are too blown out.
6. El Captian View
Location: Shortly after Bridalveil Falls Trailhead
Best Time Of Day: Sunrise or sunset
Best Season: Year-round
I know everyone has a boner for Half Dome shots, but I love El Captian, and especially this angle from the road. It's one of the first Instagram spots on the drive into the valley and I love how El Captian is just RIGHT THERE, flooding your camera's lens. There's a large parking area to the side where you can easily park your car to take photos!
7. Three Sisters Viewpoint
Location: Near Cathedral Beach Picnic Area in a small parking lot
Best Time Of Day: Sunrise or early morning
Best Season: Year-round, esp fall
The Three Sisters are three peaks all bunched together. You can only catch them at certain angles, and the best is in this little meadow that's just past the El Captian viewpoint and around the Cathedral Beach Picnic Area. It's going to be on your left and you'll park in a small parking lot that overlooks a little meadow, the sisters and El Captian.
We came in the autumn and got awesome photos of the Three Sisters flanked by yellow trees. Stunning!
8. Sentinel Bridge
Location: Sentinel Bridge
Best Time Of Day: Sunrise or sunset
Best Season: Year-round, esp fall and winter
This is where you can get that sought-after photo of Half Dome's reflection in the water. It's hard to snap, as you have to step in Merced River to get it framed right. And even then if the water is too fast you can't get a perfect reflection.
Yes, I walked barefoot in the river in November to get this photo. Very cold but VERY worth it! Nearby is The Sentinel Beach Picnic Area which also has good views of the valley.
9. Swinging Bridge
Location: Swinging Bridge
Best Time Of Day: Sunrise – early morning, sunset
Best Season: Fall and winter
WOW is really all I can say about Swinging Bridge. This wasn't on our list, as we didn't see it in any other Yosemite photography tours lists, but we stopped by on a whim and it quickly became our favorite secret Yosemite Instagram spot! The view of Taft Point and Catherdral Rock in the background, frame by the river which is still enough for a reflection is *chef kiss* perfection.
I loved it in the fall with all the orange and yellow trees to contrast again the blue sky and water. But I can see this being super pretty covered in snow, too!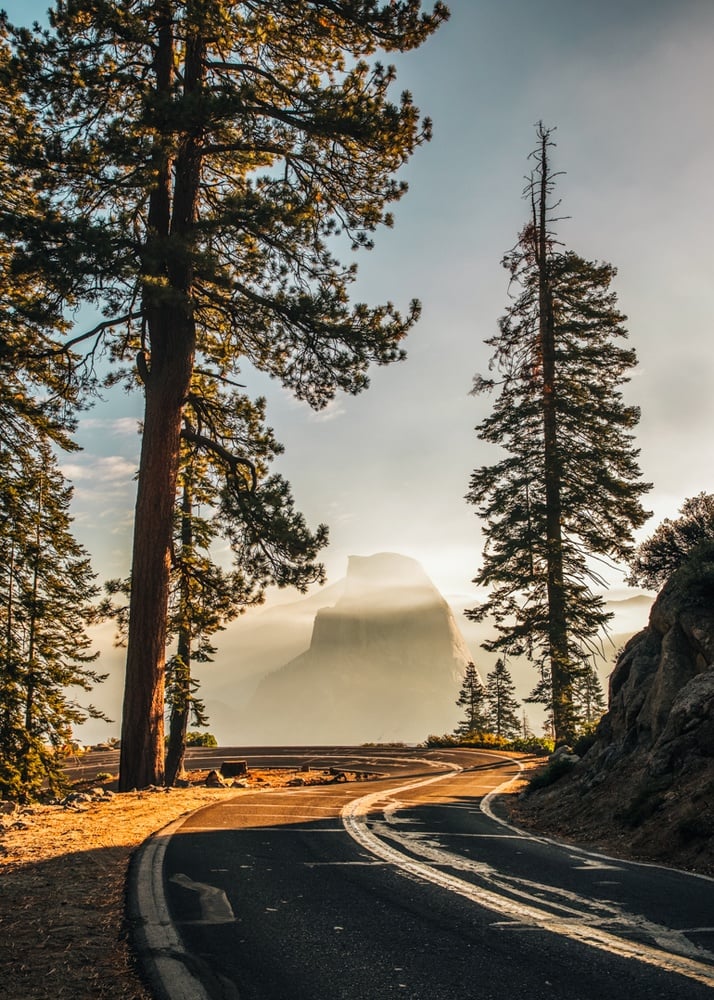 10. Glacier Point Road
Location: Glacier Point
Best Time Of Day: Sunrise or sunset
Best Season: Summer
You can only access this famous spot if Tioga Pass Road is open and that only happens in the summertime. Its a super popular spot to catch the sunrise or sunset as you can see Half Dome in the distance and all of the valley below. I've also seen some really cool night photography Yosemite shots taken up here. Since it's so high up, and you can drive there, it's easy to bring your tripod and catch some sick star trails.
11. El Capitan Shuttle – Stop E4 El Capitan (Catherdral Rock)
Location: E4 Shuttle Stop
Best Time Of Day: Sunrise
Best Season: Year-round
This is another of those secret Instagram spots I fell in love with. On the morning we visited, we were trying to find a spot of the Merced River that was still enough to take reflection photos. We didn't get lucky on that, but we did stumble upon this spot. Stand on the bridge and use a zoom lens to capture Catherdral Rock and the river. It's extra pretty in the fall with the colors or if fog is in the valley!
This spot also makes for a cute Yosemite Instagram photo of you walking on the road with the view behind you! It looks like an Adam Ansel gallery! (You know Ansel – he's the famous Yosemite photographer and landscape master).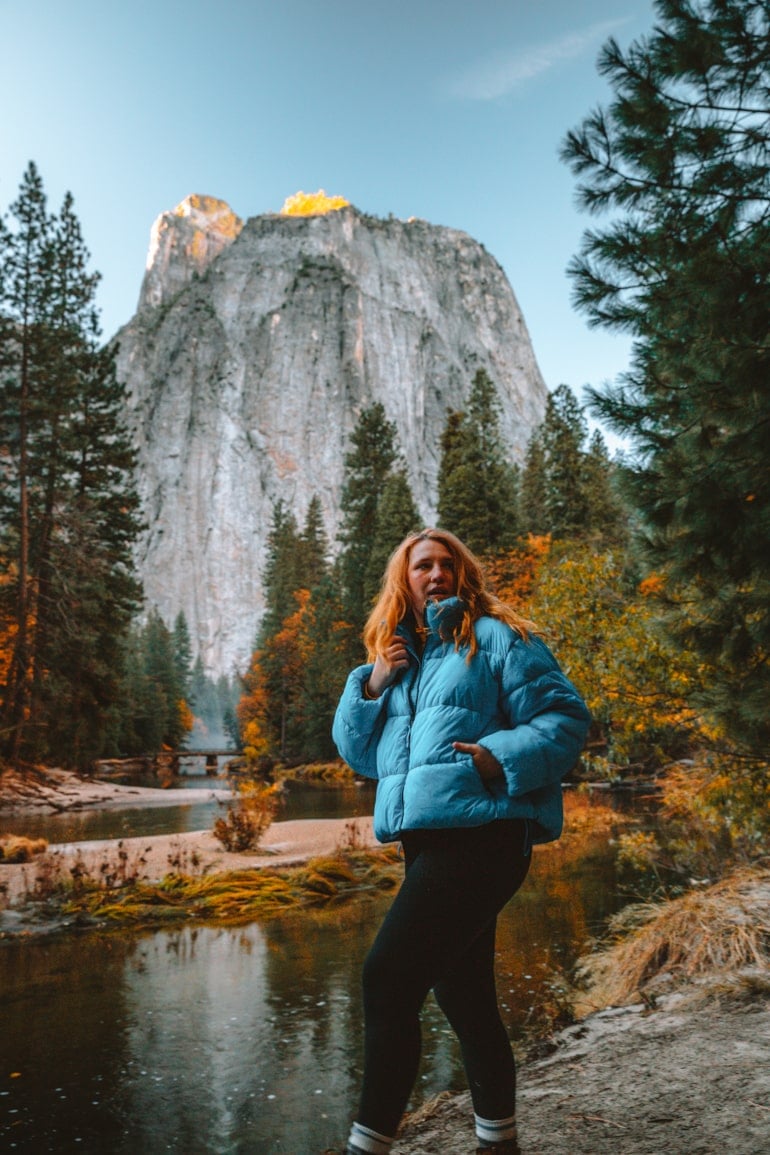 12. Devil's Elbow (Catherdral Rock)
Location: Devil's Elbow
Best Time Of Day: Sunrise or Sunset
Best Season: Year-round
One of the best photography spots in Yosemite to get a reflection if the water is still and the river is high. We didn't luck out on our most recent visit, the river was too low, but I'll come back next spring to try again. To get here, park across the road and hike down to the beach!
Photography tips: you have to time your visit right for when the light reflects the mountain on the water AND when the water is still. It's a bit tricky to nail down but can be down year round!
13. Mariposa Grove
Location: Mariposa Grove
Best Time Of Day: Any time
Best Season: Year-round
Yes – you can find Giant Sequoia trees in Yosemite! No need to go all the way to Sequoia National Park (though you should because it's beautiful, especially in the winter.) Mariposa Grove is right on the edge of the Southern Gate near Oakhurst, and because it's not in the valley many tourists don't end up visiting.
You can take the shuttle from the lot up to the grove, or hike the four mile trail round trip. The latter is super fun and allows for a more peaceful way of entering the grove. Make sure to swing by the Wawona Tunnel Tree for a photo! It's one of the spots Yosemite doesn't advertise too well but I like it.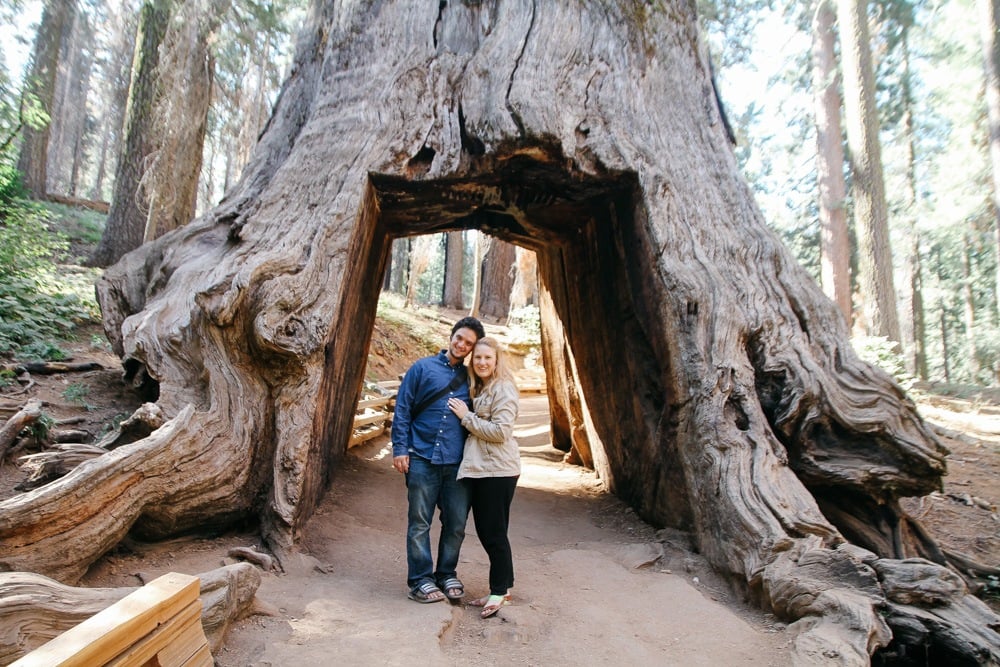 14. Tuolumne Tunnel Tree
Location: Tuolumne Grove Trail
Best Time Of Day: Any time
Best Season: Year-round
On the otherside of the park closer to the Groveland Enterance is the Tuolumne Grove Trail, which includes another Tunnel Tree! This trail starts at the top of the trail and goes downhill, so the hike back up is a little rough, but it's all paved so it's not hard to find.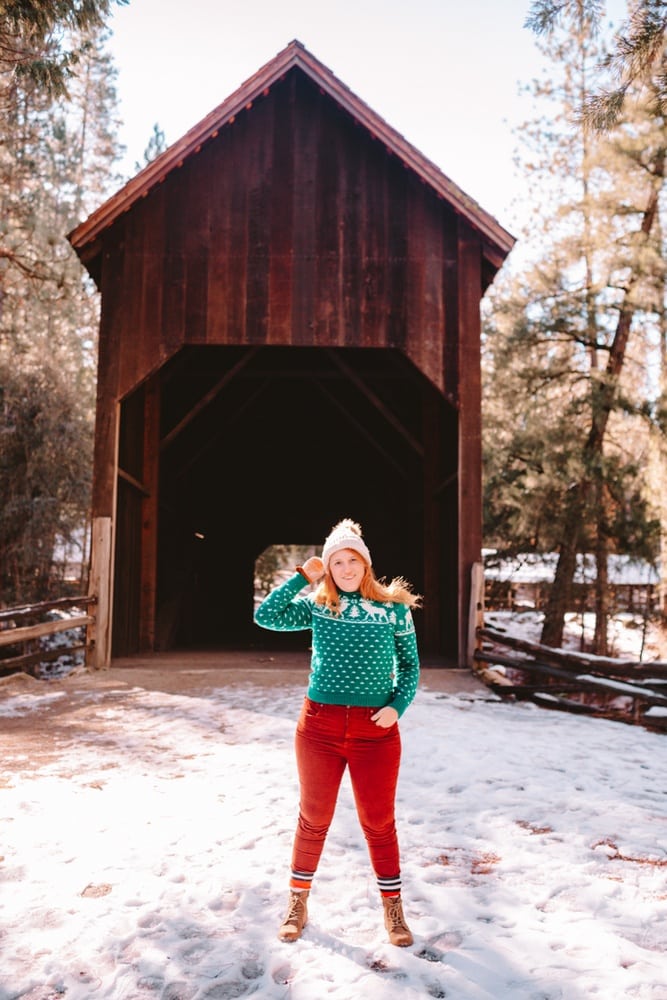 15. Wawona Covered Bridge
Location: Wawona
Best Time Of Day: Afternoon – Sunset
Best Season: Fall
So many don't even know this bridge is in the park! The Wawona Covered Bridge is one of the only covered bridges on the West Coast (they're big on the East Coast.) If you can time your visit to the bridge at fall foliage you can snap photos that look like you flew all the way to Vermont!
16. Tuolumne Meadows
Location: Tuolumne Meadows
Best Time Of Day: Sunrise, sunset
Best Season: Summer and fall
Most people on the hunt for Yosemite National Park photography never leave the valley. (It's estimated that about 90% of visitors only go to Yosemite Valley!) Tuolumne Meadows offers untouched meadows and rivers, and some really cool viewpoints of Half Dome and the valley that you don't see on Instagram. It's worth the drive up and is one of the best Yosemite sunset spots you don't see everywhere!
How To Pronouce Tuolumne: two-ah-luh-me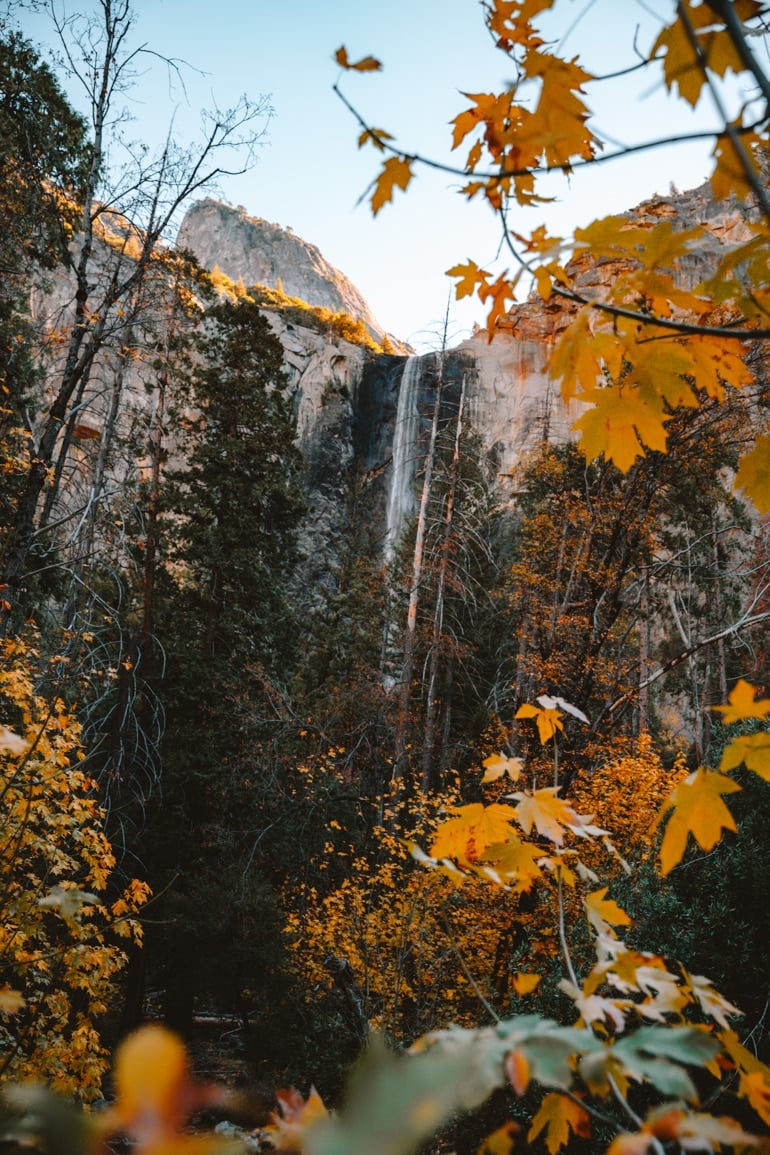 17. Bridalveil Falls
Location: Bridalveil Falls
Best Time Of Day: Sunrise – mid-afternoon
Best Season: Any
Bridalveil Falls is another popular waterfall in Yosemite Valley. This one isn't as strong at the base as Lower Yosemite Falls, bit it's more straight and can offer some really cool photos from afar. Here I framed the waterfalls around fall foliage but this could also be really cool in the winter if the falls are still going!
It's also maybe haunted? The Natives called this Po-Ho-No and it was considered an evil area that's always cold even on hot days. Po-Ho-No likes to lure women into the waters to steal their spirit. So, maybe don't visit on Halloween when the veil between the mortal realm and spirit world is thin.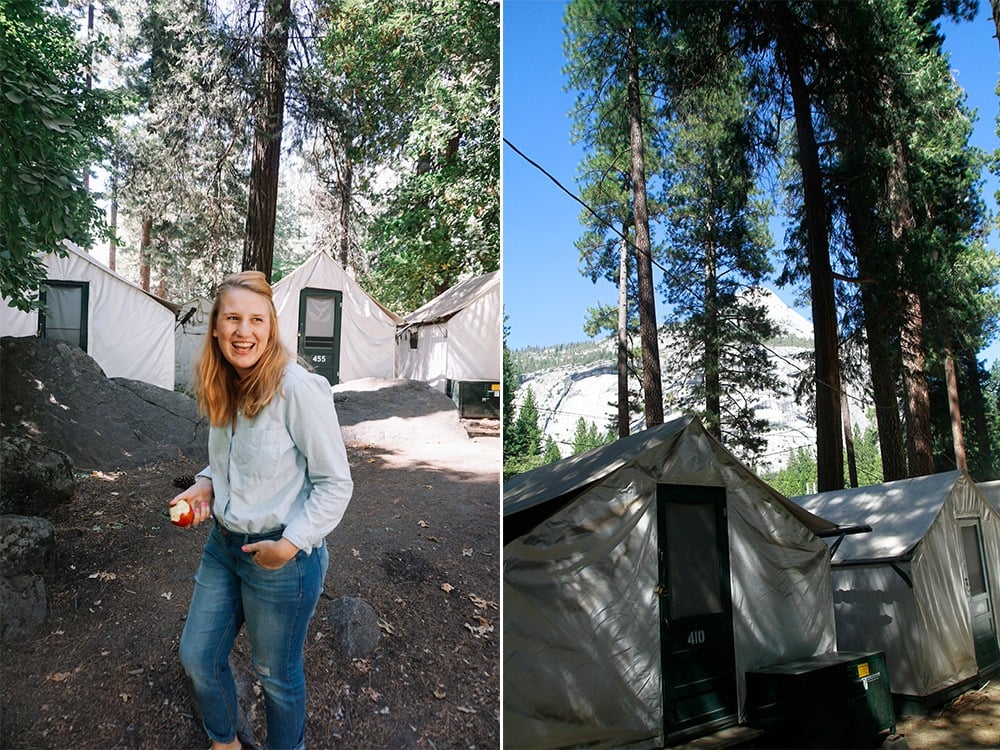 18. Half Dome Village / Curry Village Tents
Location: Curry Villge / Half Dome Village
Best Time Of Day: Mornings or afternoons
Best Season: Summer
Did you know there are glamping tents in Yosemite? Originally named Curry Village and now called Half Dome Village, these glamping tents are super cute! I personally love using them as a backdrop to show off my hiking outfit in the valley.
They're only open in the summer and early fall. They are tents, after all, and get too cold in the winter. If you'e up for glamping, these make the perfect home base for photographingYosemite since you're RIGHT THERE in the valley!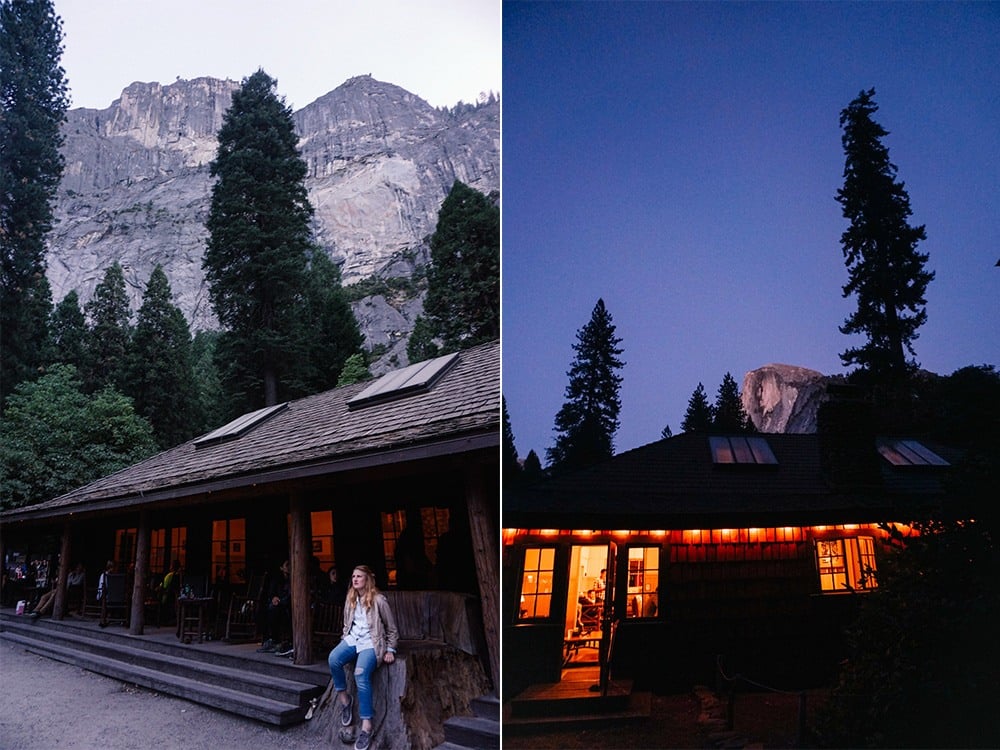 19. Curry Village Porch
Location: Curry Villge / Half Dome Village
Best Time Of Day: Evenings
Best Season: Summer
I've drank many beers and watched many Yosemite sunsets from this spot! In Curry Village, they have a rec room building with a porch that has rocking chairs. They overlooks Half Dome and are great spots to watch the sunset.
20. Mirror Lake
Location: Mirror Lake
Best Time Of Day: Any
Best Season: Spring – Summer
I love the Mirror Lake trail on mornings when I'm feeling lazy but I still want to hike. It's mostly flat and takes you a few miles in to Mirror Lake. The lake only has water in the spring and early summer, but quickly dries up. It's still a really cool spot as you can walk out on the sandy lake bed and get shots of the mountains from there!
21. Sentinel/Cook's Meadow Loop
Location: Sentinel/Cook's Meadow Loop
Best Time Of Day: Afternoon-evening
Best Season: Spring – fall
I love this meadow! It's a nice loop that takes you around the valley, but the start of the trailhead is in a meadow area that's pretty large. This offers space to capture Sentinel, Half Dome and other mountain peaks all in one shot.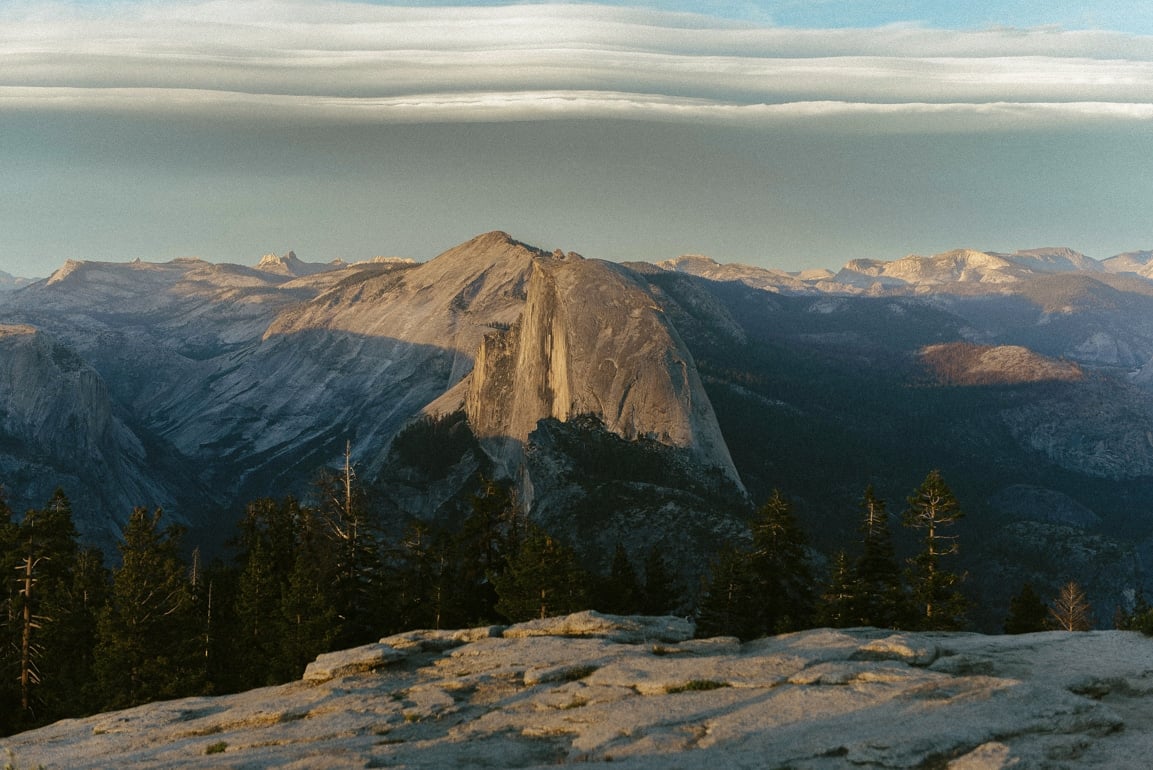 22. Sentinel Dome and Taft Point Loop
Location: Sentinel Dome & Taft Point Loop
Best Time Of Day: Sunrise or Sunset
Best Season: Summer
If you're up for a hike, this 5 mile round trip loop to Sentinel Dome is super rewarding with sweeping views of Half Dome from above. Next door is Taft Point, another share cliff that is popular to stand on and have a buddy take your photo from afar. One of the best photo spots in Yosemite is on top of Sentinel!
Both are accessed via Glacier Point Road and thus are usually only open in the summer and early fall months. The lots are small so it's worth it to get there earlier than you want to make sure you get a spot.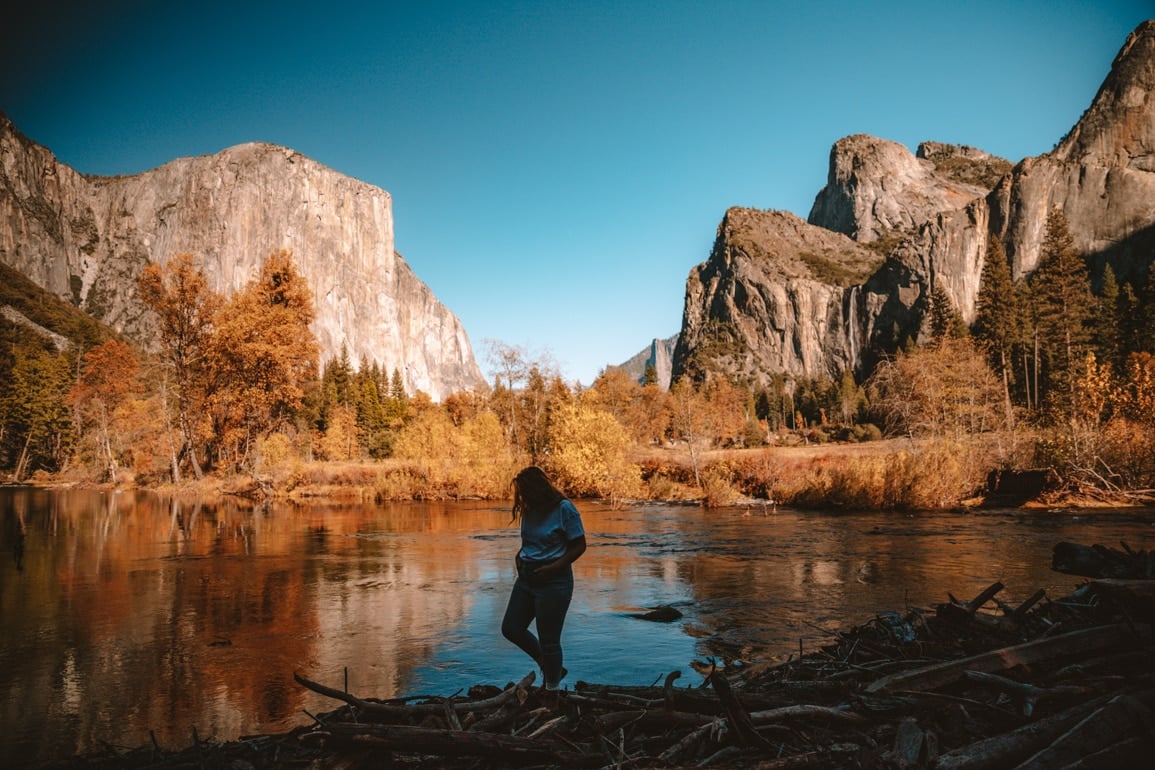 23. Valley View
Location: Valley View
Best Time Of Day: Afternoon – Sunset
Best Season: Any
Valley View is probably one of the best viewpoints in Yosemite as you can see the Merced River, El Captian, Bridalveil Falls and other peaks all in one go. I've actually driven by this spot many times and missed it as the lot is small.
The best time of day to photograph Yosemite Valley View is in the afternoon through sunset when the sun is behind you and illuminates the entire valley vs working with backlit mountains. I've even seen awesome photos of people swimming in the Merced River during the summer! Going to go for that shot next time.
24. Fall Foliage Road Spot
Location: Location: Bend in the road past Yosemite Falls
Best Time Of Day: Mid-Day
Best Season: Fall or Winter
We stumbled upon this bend in the road that's just past Yosemite Falls. We pulled over in a parking section and took tons of photos on the centerline of the road. I loved all the orange and yellow trees here! I think this could also be stunning in the wintertime when all the trees are covered in snow.
PHOTO GUIDE YOSEMITE MAP
Best Place To Photograph Half Dome
Everyone loves a good Half Dome photo! These are the spots I think are the best viewpoints of Half Dome for amazing photos (different sorts of angles and shots!)
Sentinel Dome
Sentinel Meadows
Tunnel View
Glacier Point
Curry Village
Where To Watch Sunrise In Yosemite
You only get one chance at sunrise and in my opinion, it's the best time to photograph the valley. Yosemite sunrise photo locations depend on your goal. If you want to knock a lot of photo spots out in one go, then stick to the valley If you want ONE epic photo of Yosemite at sunrise, you can pick one of the hikes or lookout points. You won't be able to do a lookout point AND the valley on the same morning.
Taft Point
Devil's Elbow
Meadow Boardwalk
Cathedral Rock Bridge / Shuttle Stop
Three Sisters
Tunnel View
Artist Point
Where To Watch Sunset At Yosemite
Sunset in Yosemite is like sunrise – you kinda got to pick your goal. You can stick around the valley and hit up a few spots you missed at sunrise, or you can head to a great lookout spot to catch the cotton candy skies.
Tunnel View
Glacier Point
Valley View
Curry Village center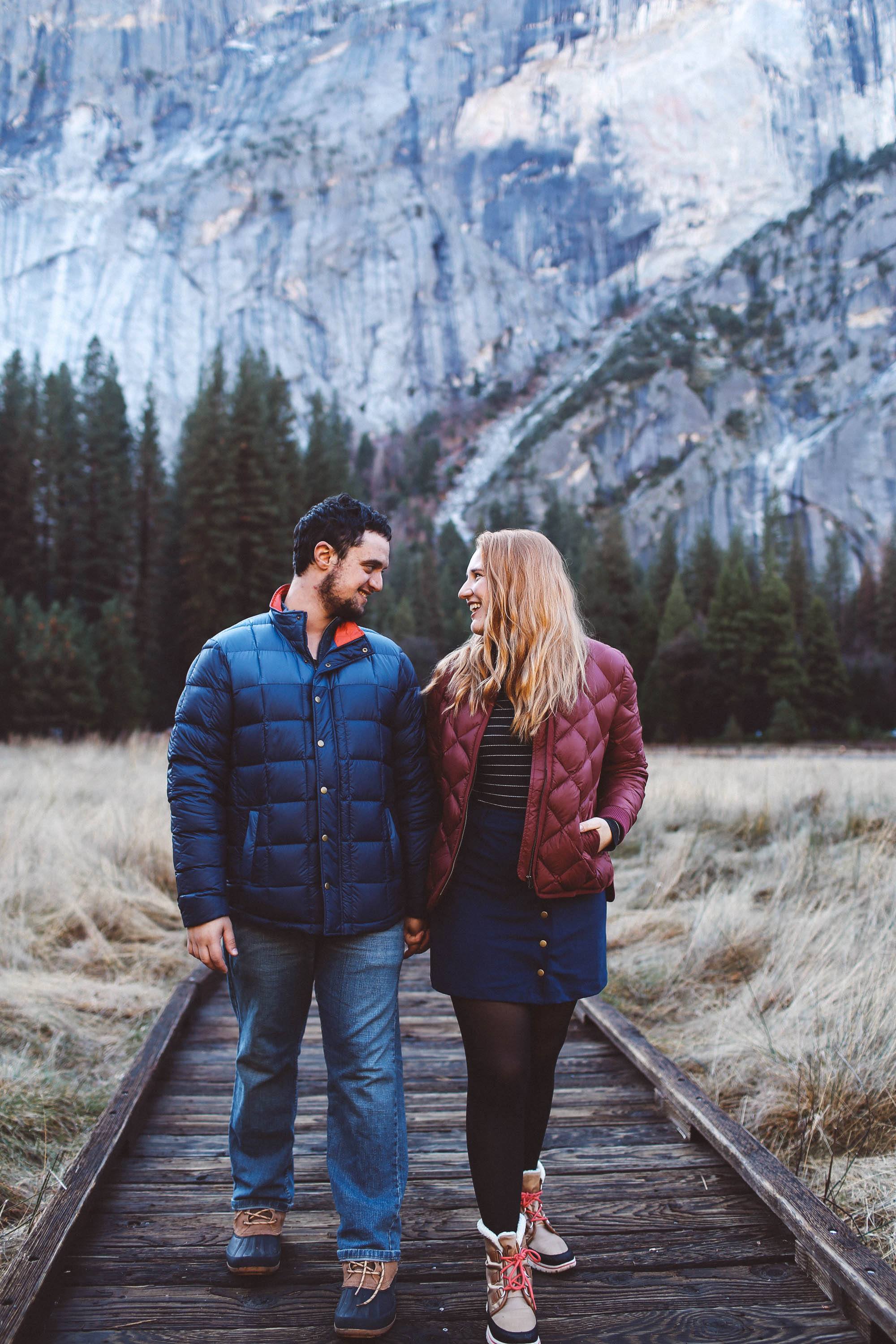 Best Engagement Photo Spots In Yosemite
The best places to visit in Yosemite park for engagement or wedding photos. I loved the photos I snapped here with my husband on our last visit together, and I always see brides in wedding dresses in the park! I bet their photos are awesome.
Glacier Point: get a half dome photo with the couple frame to the side
Taft Point: have them stan on the cliff while you take the photo from the side
Tunnel View: Tunnel view Yosemite sunrise is a popular one, but sunset is just as pretty and easier for the couple to rally for
Mariposa Grove Tunnel Tree: Have them stand in the center of the tree!
Best Spots In Yosemite National Park For Picnic Photos
Some of the best views in Yosemite National Park are in the fields when you can set multiple peaks and waterfalls in the background.
Sentinel Beach Picnic Area
Meadow Boardwalk
Artist Point
Taft Point
Lower Yosemite Falls (right at the base)
Vernal Falls
Mirror Lake (in the center of the dried lakebed)
Cool Instagram Spots Outside Yosemite Park
There are some dang beautiful Instagram spots around Yosemite outside the park that are worth a stop if you have extra time!
Rainbow Pools: a waterfall near the Groveland side that you can swim in!
Bass Lake: Rent a kayak and take it out to the middle of the lake!
Sierra Meadow Cabins: These cute AF tiny cabins make the coolest cabin life photos!
Tenaya Lodge: I love Tenaya Lodge at Christmas, especially their ice skating rink and tree in the lobby.
Evergreen Lodge: A rustic lodge that has tons of fall foliage in autumn!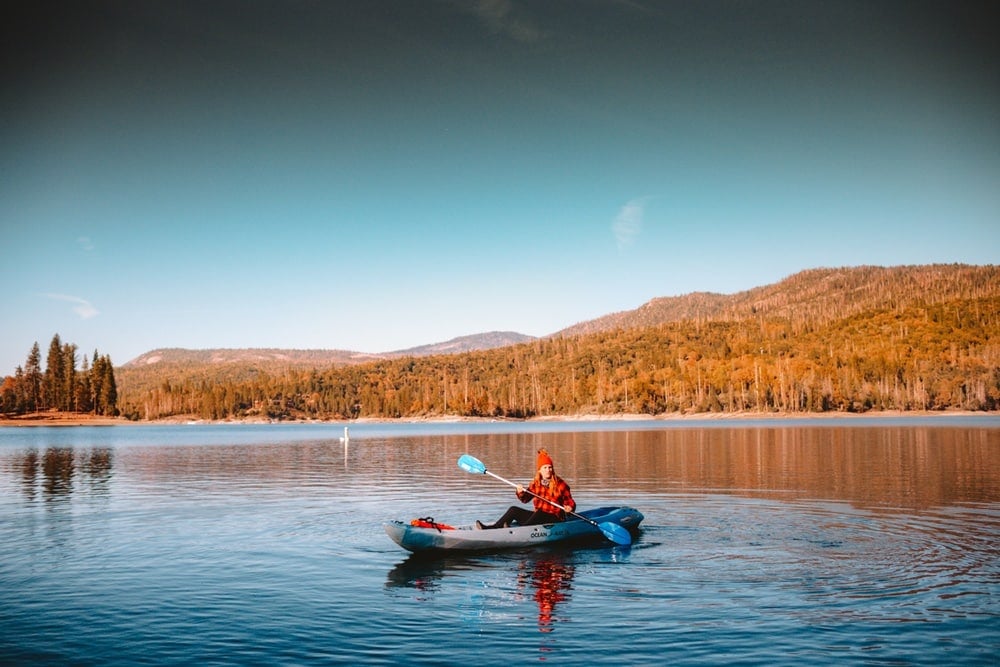 I hope this helps you plan the perfect photo trip to Yosemite National Park! If your favorite Instagram spot isn't on the list, drop a comment below so everyone can see. Got questions? Comment or DM me on Instagram @thewhimsysoul and I'll try and help ya out!
More North America Travel Posts Youll Love