Every travel addict has to do a long haul flight from time to time. Hours spent on a plane or in an airport isn't exactly the best for your face and skin. Whether you are jetting from Europe to South America, or simply stuck with multiple connecting flights, these are the top 14 long haul flight beauty products all women should pack. Whip out your packing list ladies – you don't have to sacrifice skincare when flying!
I live in San Francisco and travel about 3-5 times a month. Out of all my travel gear, my carry-on is the one I take the most care to pack. I don't do a strict skincare and beauty routine on a quick trip (say, SFO to LAX) but I ALWAYS turn into a beauty diva on long haul flights. I'm taking face masks, mists, lotions, you name it.
Psst – got any questions? Send me a DM on Instagram @thewhimsysoul and I'll be happy to help!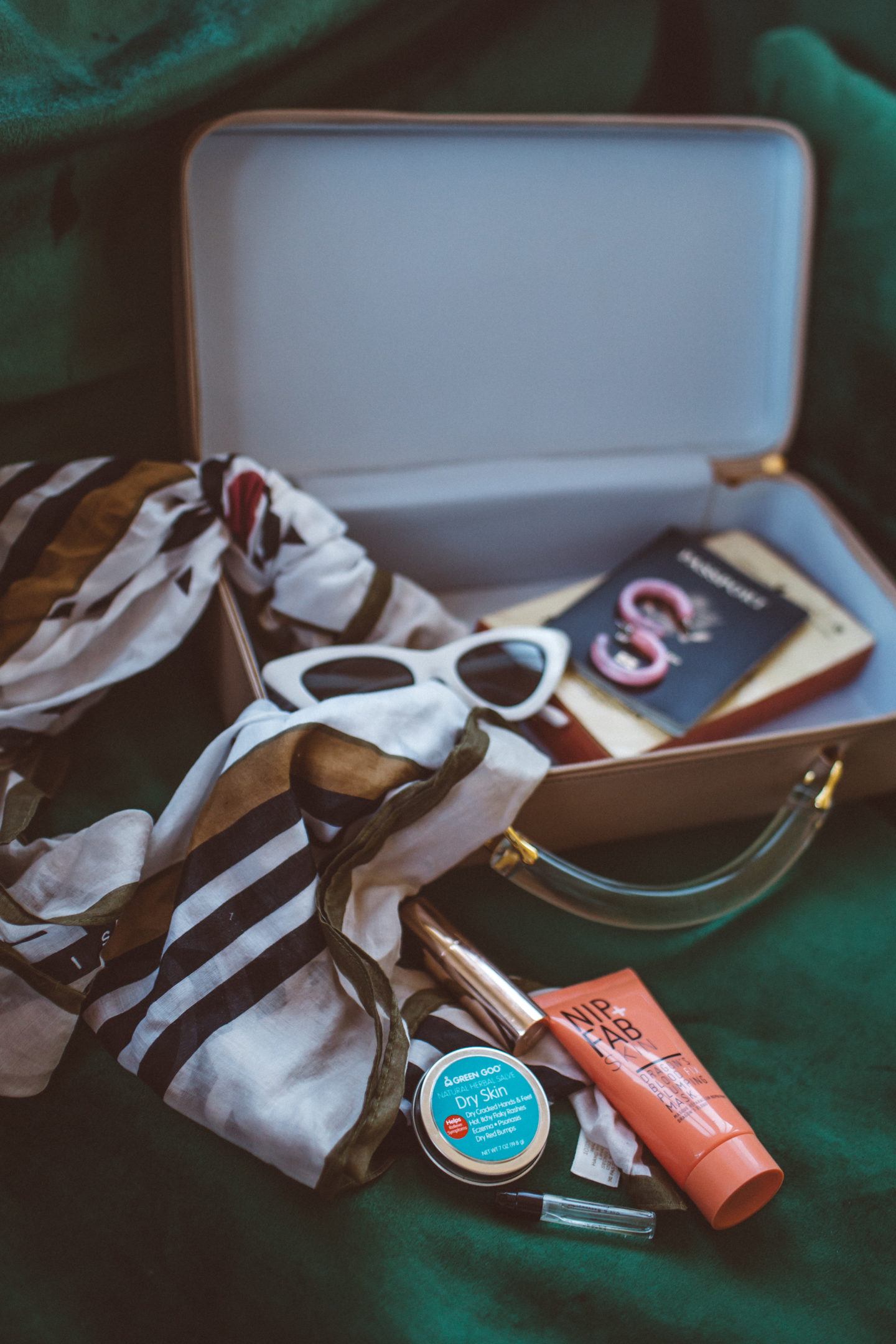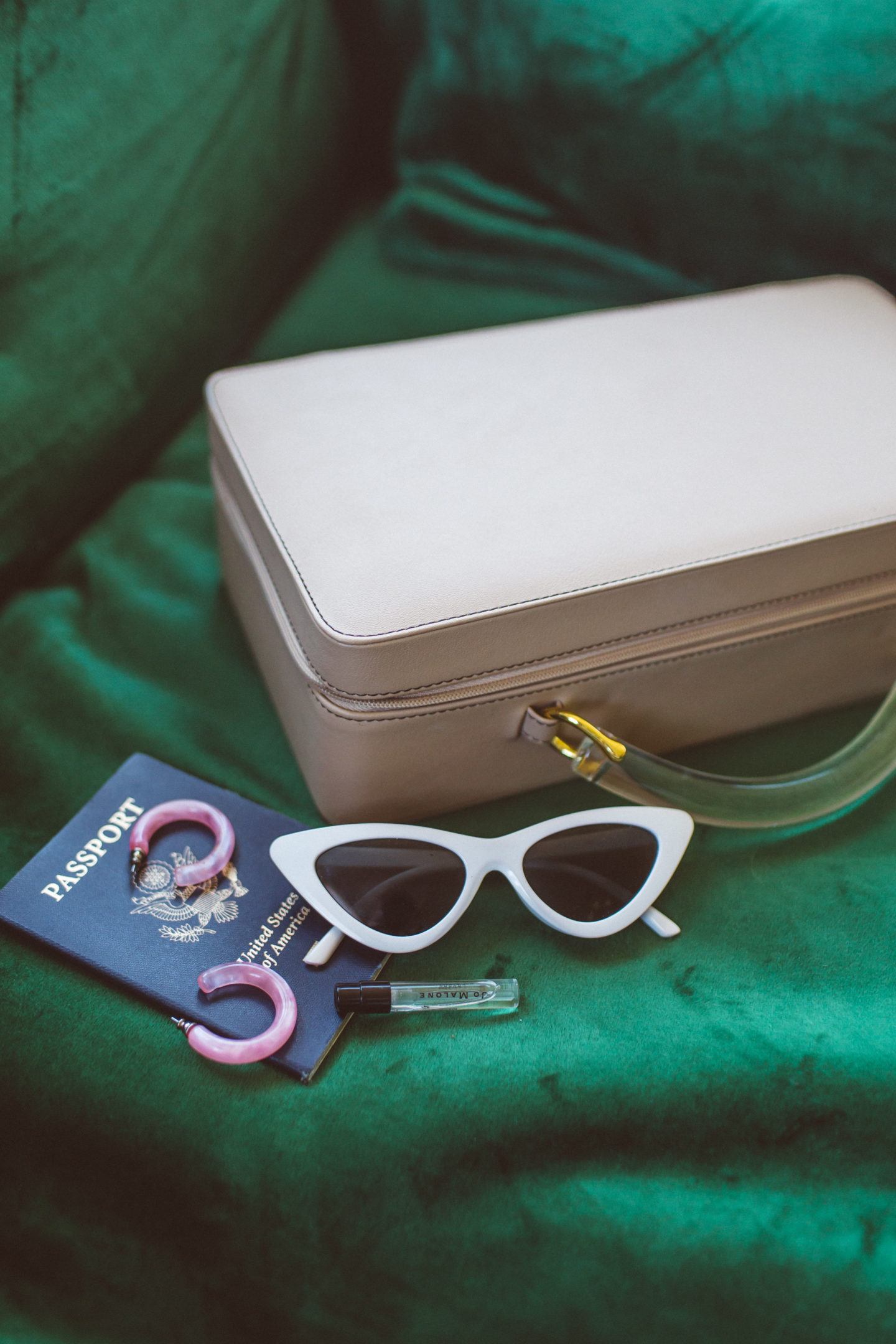 WHY YOU SHOULD DO AN IN-FLIGHT BEAUTY ROUTINE
Before sharing all my favorite beauty products to use on an airplane, first, let's quickly chat about why you should even care about your inflight beauty routine. Airplanes are DRY, my friends. It's also really cold or really hot (they can never seem to get it just right, can they?) This dry air dries out your skin. It's easy to stroll of the plane with dehydrated skin and that's never fun. The worst flight I ever had was when I forgot to pack lotion and I was so uncomfortable the entire time. My major long haul flight essentials now start at ways to hydrate and moisturize my skin.
Secondly, during an ultra long haul flight, there's a really good chance you woke up early to catch it and perhaps skipped your regular skincare routine. OR, you have to travel for half a day, a day or even more just skipped it on purpose. Throw in lack of sleep, and that's a recipe for blah skin. When it comes to beauty products what to take on long haul flight does vary a bit from skin type to skin type, but the basic packing list is the same. See my favorite must-have beauty products to pack on long haul travel!
14 Long Haul Flight Beauty Products All Women Should Pack
How to prepare for a long haul flight starts at packing the right beauty products. This list may be long, but I make it a priority to take care of my skin during a long flight length.
Rodial Dragon's Blood Hyaluronic Mask
This face mask is worth every penny. I've been using it for years, especially during the wintertime in hotels and on long haul flights. While you can keep it on for about 10 minutes and get a quick hydration boost, it's best when you apply it at the start of your flight time and wear it for the whole flight duration. You can wipe it off with one of those moist towelettes that comes with food towards the end of the flight. this stuff keeps your skin so soft!
I love this mist. I use it every day at home but this product always makes my packing tips posts. It does a great job at providing a quick drink of water for your skin. Apply as often as needed during your length of flight (I usually do it a few times, especially on our trip to New York!) Make sure to pack the small bottle as it's under  3oz.
A no-brainer, but an easy one to overlook! I always pack a good moisturizing lip balm as my lips are always the first to dry out on a long haul flight.
PLANES ARE SO FUCKING DIRTY ya'll. Germs, germs everywhere. Hand sanitizer is my saving grace while traveling on all types of trips, but especially flights. I use it religiously after using the bathroom. Those things only get grosser as the flight goes on.
After you kill off all those gross bathroom germs, your hands may be a bit dry. I mean, my hands ALWAYS get dry on flights, but extra now that I've taken steps to sanitize better. Use L'Occitane's shea butter cream to put that moisture back.
Got a cut? A sunburn? A rash on your hands? I've had odd skin things get worse by all that dry airplane air before. This balm is really good at treating.
Can't really brush your teeth on a plane, but boy do I always have bad breath after a long haul flight. Instead, I pack along travel sized mouthwash and do a quick rinse after they serve breakfast.
You'll probably get these if you booked First Class, but I never get to fly that well, so I always pack these babies to help me fall asleep (and stay asleep!) on flights. My routine is usually watching a few in flight entertainment things (that's how to enjoy a long haul flight!) and then napping after they serve dinner.
Everyone is stanky after a long haul flight. Try this roll on deodorant.
You may also get this on your flight, depending on your airline. I like to pack a few Yes To face wipes just in case. You can go to a bathroom and rinse your face on a plane (please, don't do that, that water is gross!) but a towelette helps wash off all the oils my face produced during travel. It also helps wake me up!
BB Creme (my favorite is Garnier, been using it for years!) is a moisturizer plus foundation plus spf all in one. It helps take my face from groggy traveler to "put together Kara" that doesn't look like she rolled out of bed at 3am and sat on a flight for 12 hours.
Make dem eyes pop girl. I'm been loving Armani's mascara lately. Doesn't smudge and stays all day.
Doesn't matter what your shade it, there is nothing that makes me feel more put together and ready to tackle a new destination than a bold lip. Read my top fave 3 shades here.
You know those little sample size perfumes you get from Sephora or in random beauty orders? Keep them for your travel beauty case! They travel so dang well and are perfect for situations like helping you spruce up after a long haul flight!
So, how this usually works is I'll apply the dragon's blood facemask, chapstick and top with a mist at the start of the flight. Eye mask and earplugs when it's time for some sleep (I always try to get ahead of jet lag, especially when I am traveling outside of North America.) I don't own compression socks, but I would put those on at this stage, too. Whip out a travel pillow to be an extra travel diva. (I love it girl!)
About an hour or so before the flight is due to land, I'll start my in-flight morning beauty routine. I'll wash my face with a facial towelette to remove all the oils. Then I sit in my seat and start applying some basic makeup. I moisturize with BB Cream which doubles as a foundation. Top with mascara and lipstick so I feel put together for the day. And, if I have then, a quick spray of perfume. The goal is to walk out of the airport looking like you just flew a short flight, not that you flew around the whole world.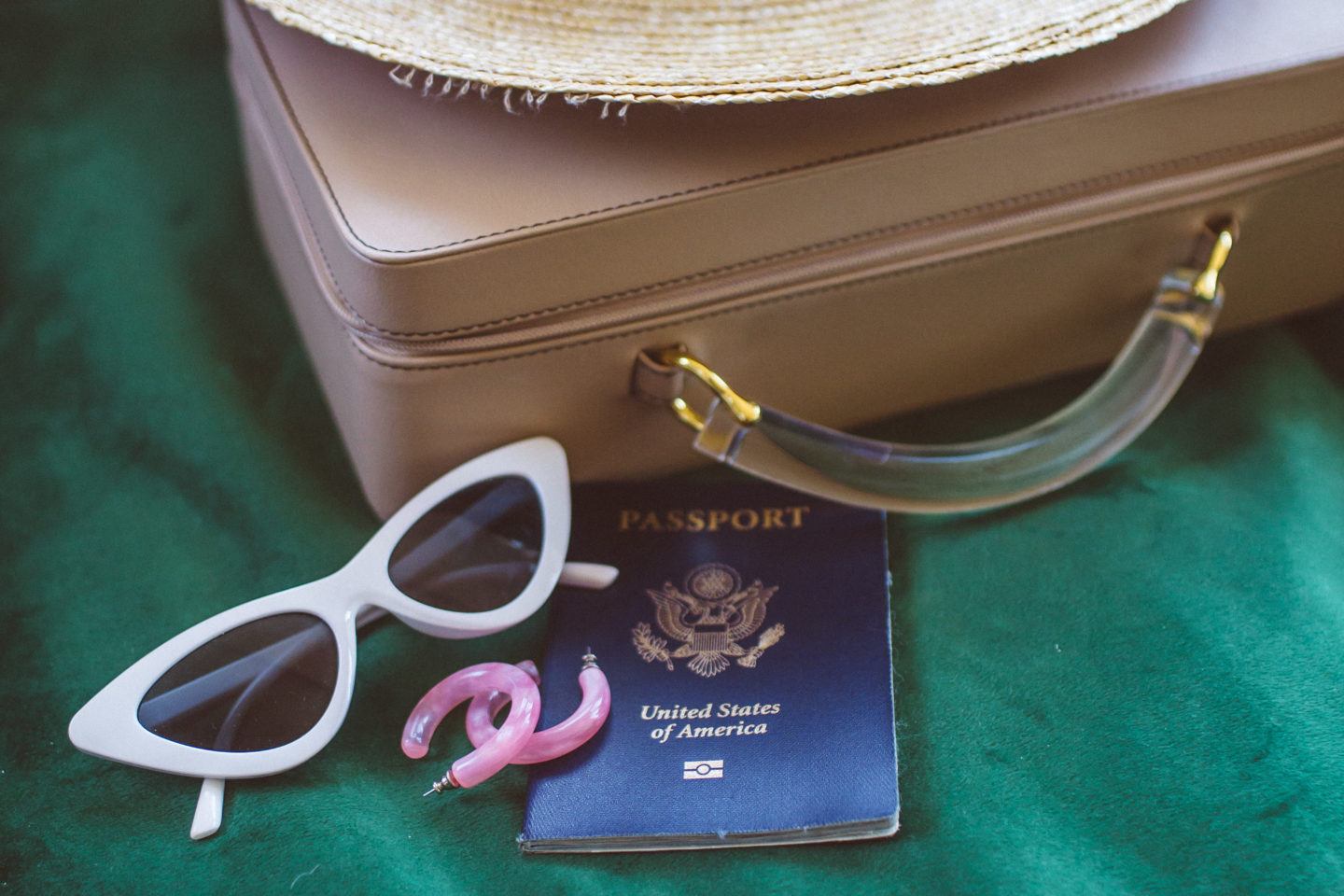 Travel travel travel – I love to do it, and I love to look good while doing it. I hope these 10 long haul flight beauty products tip helps you stay chic you little jet setter you. My other long haul flight tips are to pack a book, two types of headphones (one for your iphone and one for the seat) and bring socks to keep your toes warm!
Want more travel tips, like the best travel credit card, road trip hacks, luggage tips, travel insurance and more? Check out my Travel Series!