Are you ready for the best art treasure hunt of the year? Desert X 2021 started this past weekend and it's an event I've been waiting patiently for two years ever since visiting the Desert X 2019 show.
I headed down this weekend with some girlfriends on opening day. We visited all the art installations to take photos & bring you the ultimate Desert X 2021 guide including: my favorite installations, tips for planning your viewing day, how/when to get tickets and pretty much everything you need to know before viewing Desert X for yourself.
Desert X 2021: Best Locations, How To Visit & Massive Guide For This Palm Springs Art Event
>> Got a question about Desert X that you need answered quickly? DM me on Instagram @thewhimsysoul and I'll be happy to help!
What Is Desert X?
Desert X is a public and totally free art event that takes place in Coachella Valley (Palm Springs area) every other year. It's kinda like a treasure hunt of art — these installations are scattered around the desert and you have to drive around to find them.
And, depending on when you go, it may be a total mystery. They keep the art very hush-hush leading up to the launch of the event. We had NO idea what the pieces would look like this year since nobody on Instagram had posted anything yet and the app wasn't updated yet with new pieces.
Last year there were things like a giant rainbow and a ghost palm. In 2017 there was a glasshouse. Did we overpack outfit options? ABSOLUTELY. The app was dropped at Midnight on March 12th so we woke up that morning at sunrise, got in our car and were one of the first people to see the show. That made it extra fun.
Desert X 2021 Dates
March 12th 2021 – May 16th 2021. Once this show is over, these pieces won't be coming back in the future. They're fleeting so if you want to see them in person, you gotta run.
How To Find The Desert X 2021 Map
Head to the app store on your phone and download the Desert X App. You may have it already downloaded from previous years but you have to make sure you update it to the Desert x 2021 app version, otherwise you can't see this year's art locations. (If you don't want to use an app for some reason, you can stop by the Ace Hotel to pick up a physical map.)
Where Is Desert X 2021?
It's in Coachella Valley with most of the pieces around Palm Springs. Some this year extended to Desert Hot Springs. I remember in 2019 a couple of pieces went all the way over to the Salton Sea but don't worry – this year it's all much more compact so it's easier to fit everything into one day if you wanted.
IMPORTANT – RESPECT THE LAND
Desert X (and all of Coachella Valley) is on native land. The Agua Caliente Band of Cahuilla Indians has lived here for over 5,000 years. As with any place you travel to, always practice respect for the local people and the land. And in this case – also respect the art.
That means stay on any designated trails that may be around certain Desert X locations. I can speak from experience of accidentally stepping on a Cholla cactus ball in Joshua Tree – you don't want to be going off-trail in the desert anyways. That shit hurts!
When viewing the art, also be respectful. Act like you're in MOMA when attending Desert X. Just because it's outside, doesn't mean it's ok to climb or hang off pieces for that 'Gram shot.
All The Desert X 2021 Locations: Ranked From My Favorite To Least Favorite
OK! Now time to share photos of all the Desert X spots! I ranked these from my personal favorite to least favorites along with tips & the best time to visit each piece. (PS – remember that art is subjective – this is just a ranking of the ones that I connected with the most!)
1. ParaPivot (sempiternal clouds)
Artist: Alicja Kwade
Best time to visit: It closes at 5pm – the best time to visit is 4:3opm-5pm for golden hour.
Bathroom: Yes – portapotty
MAN, this art installation was a challenge for us to visit!! We originally stopped by on Friday evening, the opening day, but it wasn't complete yet. So we had to come back the next day but then we almost missed it again. This piece sits on top of a huge hill and the driveway gated and guard. The gate is only opened from 10am-5pm.
We arrived at 4:52 pm and didn't realize the gate was about to close until it was almost too late. So we SPRINTED up that hill, felt like my lungs were dying, and did end up making it in time. The guard was nice enough to let us look at the piece until 5:20pm.
But the hustle was all worth it! ParaPivot is minimal but stunning, especially on top of the hill with a sweeping view of the valley behind it. Up close, the cloud rocks sparkle in the sunlight. It's a great juxtaposition of earth and sky meeting. I loved it.
NOTE:
Desert X 2021 Tickets are now needed to visit this piece from Thursday-Sunday. They're free,
reserve here
. If you can't get a slot for the time you want to visit, I suggest showing up anyway in hopes of getting a walk-in slot.
2. The Passenger
Artist: Eduardo Sarabia
Best time to visit: First stop of the day in the morning (you also need tickets for this)
The Passenger was our very first stop on our Desert X treasure hunt and I loved how calm and peaceful it is in the morning light! This piece is a giant triangle-shaped maze made out of traditional rugs woven from palm fibers. The walls are tall and it sits on the sand, so it takes a bit of effort to walk through it.
At the middle is a big open space with staircases that you can climb to peer out to view the landscape. The Passenger pays tribute to all the people who lived in Coachella Valley before us – the struggle it took to navigate the land and it does a great job at forcing you to think about your own journey as you wander the maze.
3. Never Forget (Indian Land)
Artist: Nicholas Galanin
Best time to visit: Anytime (but sunrise would be best for photos)
Bathroom: Yes – visitor center with stalls
Like the Hollywood sign, this massive Indian Land sign can be seen from blocks away & is especially stunning to view at sunrise with the brilliant colors of the sky pained behind the sign.
It's a beautiful yet powerful reminder that we are all on native land, but is an especially powerful jab at Hollywood. The narrative that America is the land of the free was (and still is) heavily romanticized in the film industry, but largely only includes white stories and rarely acknowledges all the pain and blood behind our "free" land. The work is a call to action and a reminder of the LandBack movement.
4. Wishing Well
Artist: Serge Attukwei Clottey
Best time to visit: Anytime
Ohh, I loved this piece! Yellow is my favorite color and these cubes are placed in a spot so you can view the famous Palm Springs windmills in the distance behind them. ADORE!
The message behind the Wishing Well piece is also powerful. These little yellow pieces of plastic are made from water jugs that are used in Ghana to transport water. This piece refers to all the people across the globe who have to trek daily just to get water, on top of asking the viewer to reflect on our environmental crisis.
5. What Lies Behind The Wall
Artist: Zahrah Alghamdi
Best time to visit: Sunset
This installation looks a LOT more interesting up close. We swung by at sunset after seeing ParaPviot and I absolutely adored how the soft pink sky made all the little colors in this monolithic wall pop. The artist grew up in Saudi Arabia and was struck by all the similarities Palm Springs landscape has to her home. This piece merges the two lands.
I think the best time to visit is sunset, though it will probably be busy if you are visiting on a weekend. Come at sunrise to have it all to yourself and still get that same brilliant soft glow.
6. Women's Qualities
Artist: Ghada Amer
Best time to visit: Any
I really liked this installation but to be honest – it was really hard to take in and view. It's a garden art piece, with pots full of flowers spelling out words like "strong", "resilient" and "loving". It's hard to take in from the ground (I wish there was a lookout tower or something to view it from above.)
That being said, it's in a really cool garden that's worth a stop even when Desert X isn't happening. And it totally gave me inspiration for a my future garden (if I can ever afford a house – millennial problems.) I loved the concept of spelling out important words to merge humans and nature together.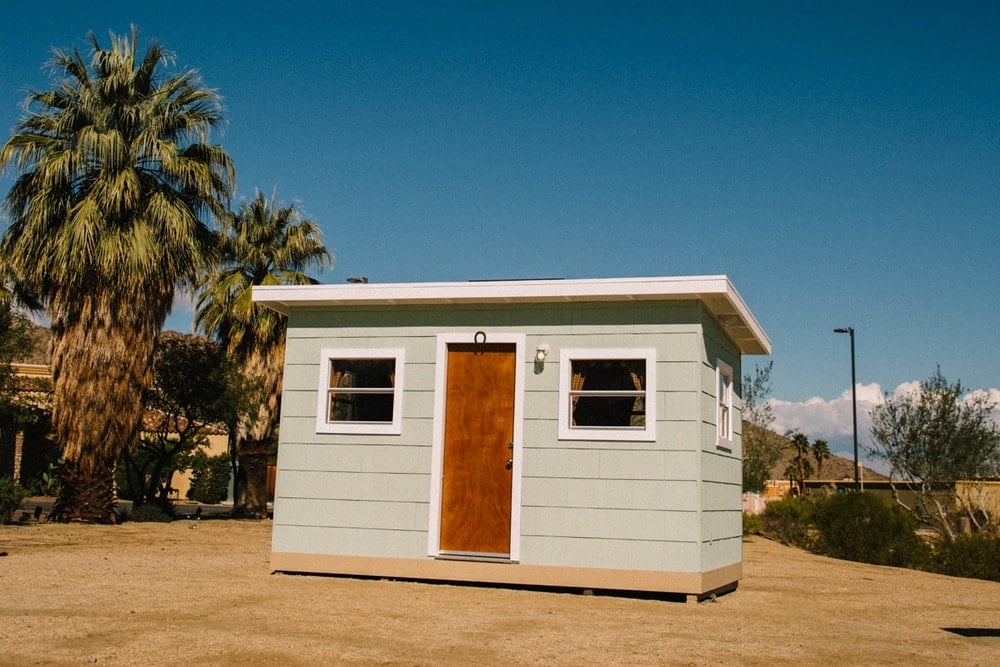 9. Jackrabbit Homestead
Artist: Kim Stringfellow
Best time to visit: Any
If you have spent time around Coachella Valley, especially Joshua Tree and Landers, you'll know that there are tons of tiny one-room houses everywhere. This installation explores how a public land policy gave a new demographic access to the area and how that has shaped the architectural vernacular of the desert. It comes with an auditory piece you can listen to.
8. Northface x Gucci Collab
Best time to visit: Dusk or night
Ok, so this isn't an art installation but it is part of the Desert X show. It's a large colorful branded sculpture that glows at night, which is pretty cool to see especially with the mountain and palm trees right behind it. If you're a fan of either brand, you should pop by.
It is a branded thing though – and I will be honest, it did strike me as an odd partnership. This year's Desert X pieces have a LOT of environmental social justice messages and here is a partnership with large worldwide companies that absolutely exploit people and the land.
9. Tamanrasset
Artist: Vivian Suter
Best time to visit: Morning
This artist makes beautiful large-scale colorful paintings that I LOVED! Unfortunately, they are placed in a building behind a window and pillars. The windows are highly reflective in the desert sun and paired with the large black pillars, I found it really hard to actually view these paintings.
This is a bummer since from the ones I could take in, I really loved them. As you know, I'm a sucker for abstract art and color! I think perhaps the morning when the sun is behind the building could be the best time to visit so you can actually see the paintings?? If you visit in the morning, comment below and let me know.
Remaining Installations
We straight up could not find an installation that was listed on the map. We drove by it 3 times. Now when I look at the map it's not there anymore, so TBD if it's coming. There was another piece we tried to see, and couldn't find, on;y to realized it's not on view until April. Lastly, there was a billboard installation we did not drive by. So this guide does not include 3 of the installations.
What To Pack For Desert X
As you know, the desert weather can be all over the place. When we visited it was in the 70's and sometimes got very cold and windy. But come May it'll probably be hot hot hot.
In your car, I suggest bringing extra water and snacks, along with sunscreen and of course, your mask! Toss in a jacket in case it gets cold. In terms of outfits for photos around the pieces, here's some of the pieces I chose to style while exploring the art show:
Shop My Outfits

Where To Stay – Aka My Favorite Hotels
Ahh I love this area so much! You can either say in Joshua Tree (about 45 minutes drive from Palm Springs/Desert X) or stay in Palm Springs. Both are fun but different. I usually opt for Joshua Tree since I'm a sucker for empty desert start skies at night, but the city has all the perks of nightlight and activities. Here's my favorite places to stay in the area:
Desert X 2021 – Criticism & Final Thoughts
Timed Tickets Are Confusing
It was disappointing to see that tickets were required to view some of the pieces. There weren't ticket requirements on the first two days of the event when we went, and it's like they suddenly decided to launch tickets on a whim with poor communication. It was announced via Instagram only (not an app push) and of course, they were all reserved within like, 30 minutes because only 15 people are allowed per half-hour slot. I saw so many confused and let down people in the comment sections since it wasn't communicated well.
I'm not sure why they have time slots for just two but not all the pieces. They claim it's for social distancing (which like, fair) but I personally feel like it doesn't make sense to limit on only two installations when all of them are outdoors and in my opinion, all easy to stay 6 feet apart when viewing. Timed slot tickets really defeat the joy of Desert X – taking in art slowly and at your own speed. With only 210 slots available per day per installation, that's also literally excluding almost all the Desert X visitors. Like – what a big FUCK YOU to the people who want to support the show.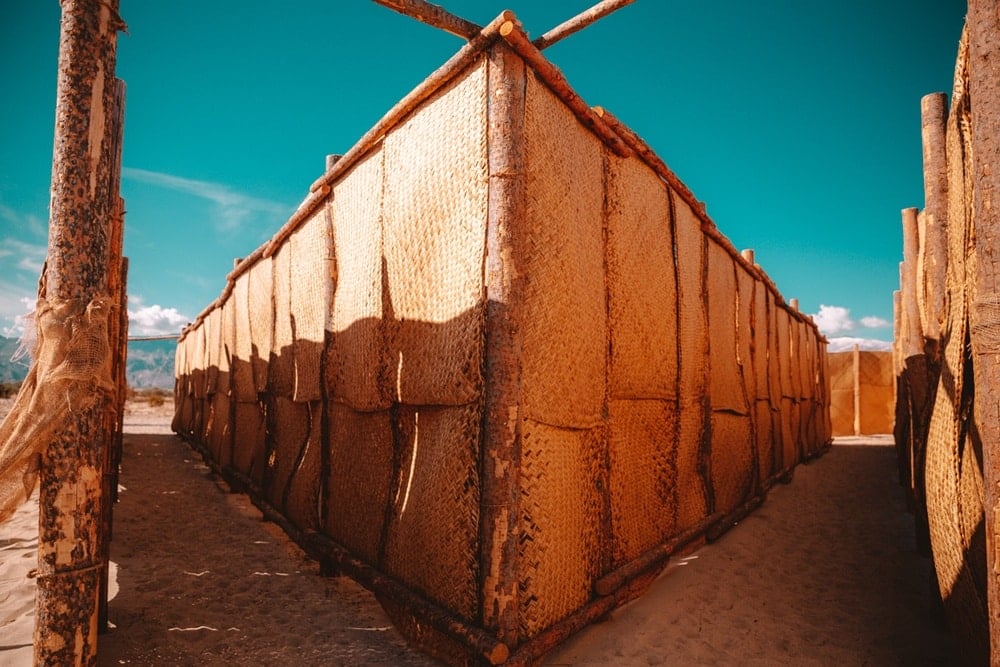 Not Handicap Accessible
To be fair – an art show scattered around a desert landscape vs a museum just can't be the same in terms of accessibility as a building. That being said, I felt like 2021 was MUCH LESS accessible than the pieces I visited in 2019. One of our friends has a damaged knee and had a hard time viewing many of the pieces. I couldn't help but think how hard it must be for the elderly and non-able-bodied people to visit the pieces this year. Just something to keep in mind if you are going!
Saudi Arabia Controversy
Desert X is held every other year in California. The years it's not on display here, it's held in Saudi Arabia. I'm not entirely sure what went down last year, but from what I can understand online, fallout happened around the 2020 show since the government of Saudi Arabia is a notorious human rights violator.
So, this year, Palm Springs decided not to sponsor Desert X so their funding was small (and it can be felt as you explore the pieces if I'm being honest.) I hope in the future that Desert X and Palm Springs can find a harmonious way to rekindle. As an art lover, I'm so grateful for a fun event that helps me explore different mediums and have meaningful conversations about the pieces.
And of course, it's fun. And I love the Coachella Valley area and happy to throw my tourism dollars to local restaurants shops and hotels when I visit for the show.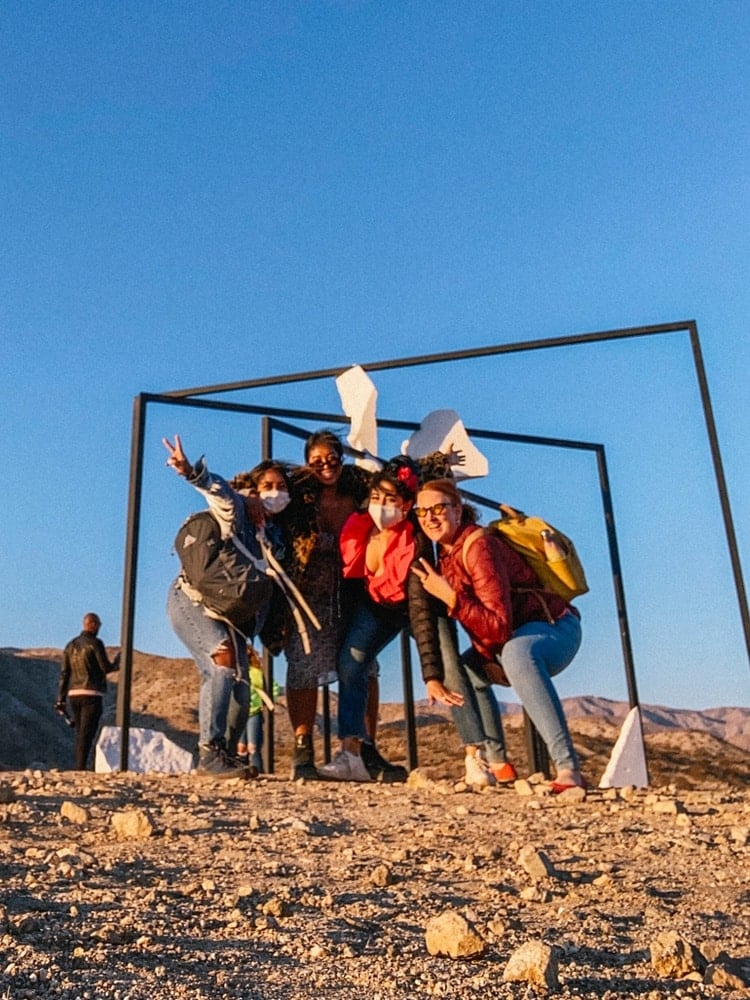 OK, so that's my massive Desert X 2021 guide!! I hope I helped you get a good grasp on the event, what pieces you want to see and the best time of day to soak up their beauty.
If you have any questions at all, please drop a comment below or DM me on Instagram @thewhimsysoul. If you have any tips to add, drop a comment below so everyone can see