Spring is in the air, the trees are blooming, and I'm reminiscing about my year in Japan (& some nigori cocktails 😋).
Keep reading to learn all about Japanese "hanami," and grab a cocktail glass for a seasonal Japanese sake cocktail recipe with cherry blossom.
What Is Hanami?
"Hanami" literally means "flower viewing" and is a popular pastime in Japan. Cherry, or "sakura," trees are the most sought-after for hanami, but plum trees will do in a pinch.
From late March through early May, cherry trees bloom from south to north across the islands of Japan. When the blossoms appear, many people join in the long-held tradition of gathering with friends and family beneath the flowering trees.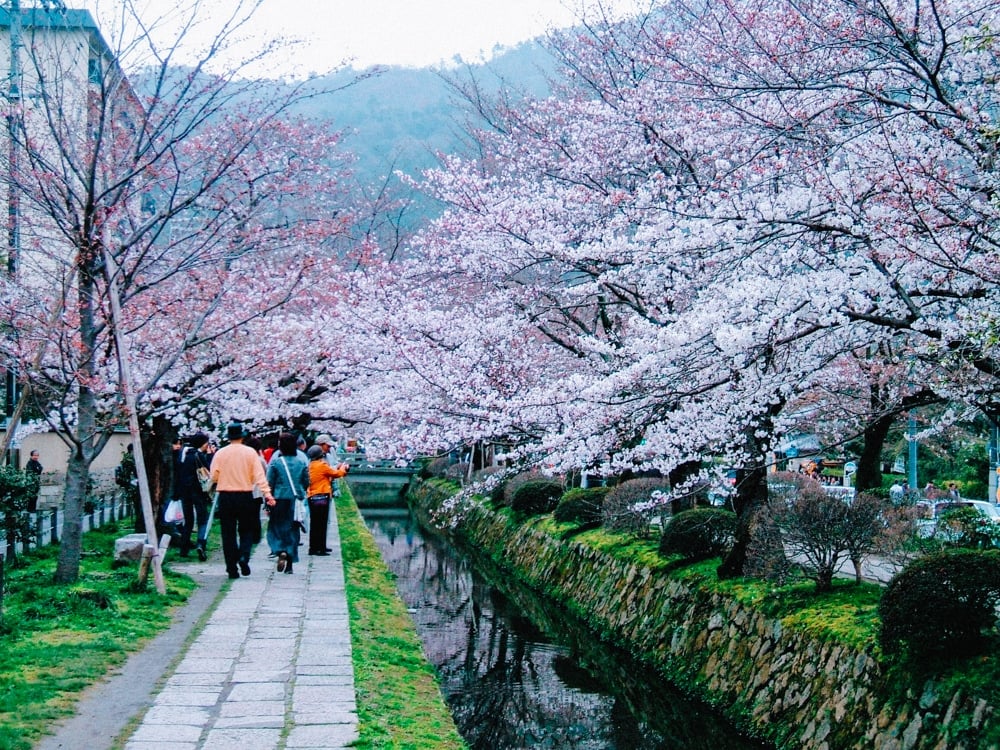 Hanami celebrations can be held during the day or into the night—Ueno Park in Tokyo is well known for its nighttime flower-viewing with lighted paper lanterns. There is often live music, food stalls, and games. Basically, hanami is one big outdoor party!
The beautiful but brief appearance of these delicate blossoms is also considered symbolic of the ephemeral nature of life itself. Sakura blossoms have been depicted throughout the rich history of Japanese art, from centuries-old woodblock prints and poetry to modern-day anime and manga.
My Hanami Experience
If you've met me, you know that I once lived and worked in rural Japan (you would know because I can't shut up about how awesome the experience was). That was 15 years ago *crumbles to dust* but I still vividly remember the hanami season.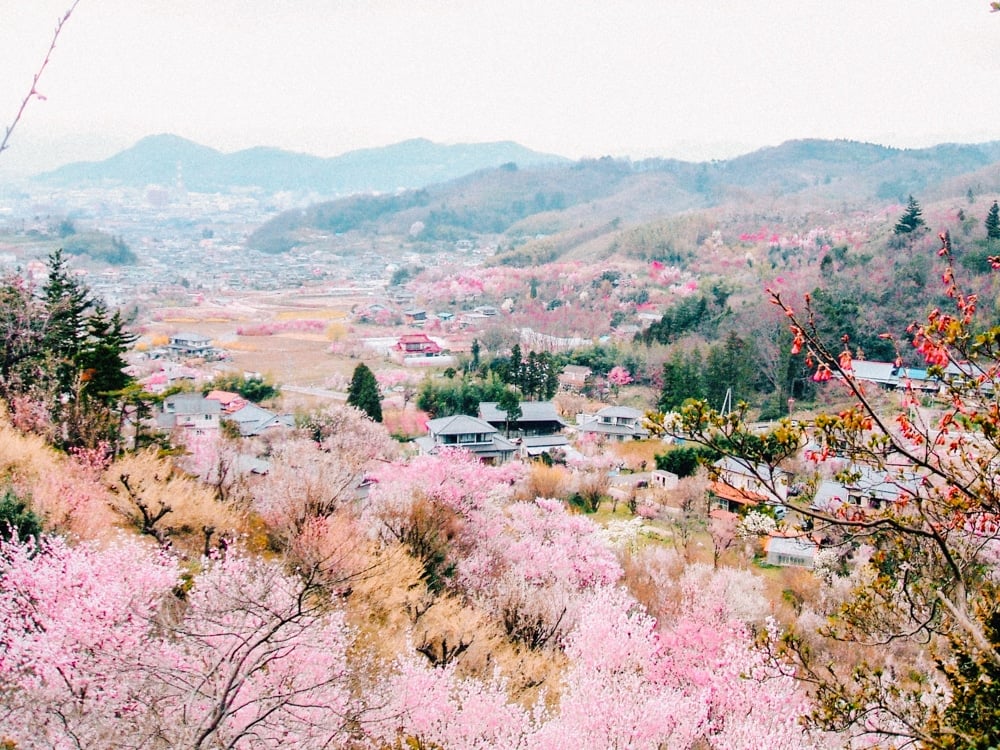 In March 2007, a couple of college friends and I traveled from Tokyo to Mount Fuji to Kyoto and finally back to where I lived near Sendai. All along the way, we took in hanami celebrations wherever there were blossoming sakura to be found.
Perhaps most impressive was Hanamiyama Park in Fukushima. There, the flowers ranged from snowy white to bright fuchsia to pastel pink and everything in between. I mean, "hanami" is right in the name, of course it was good!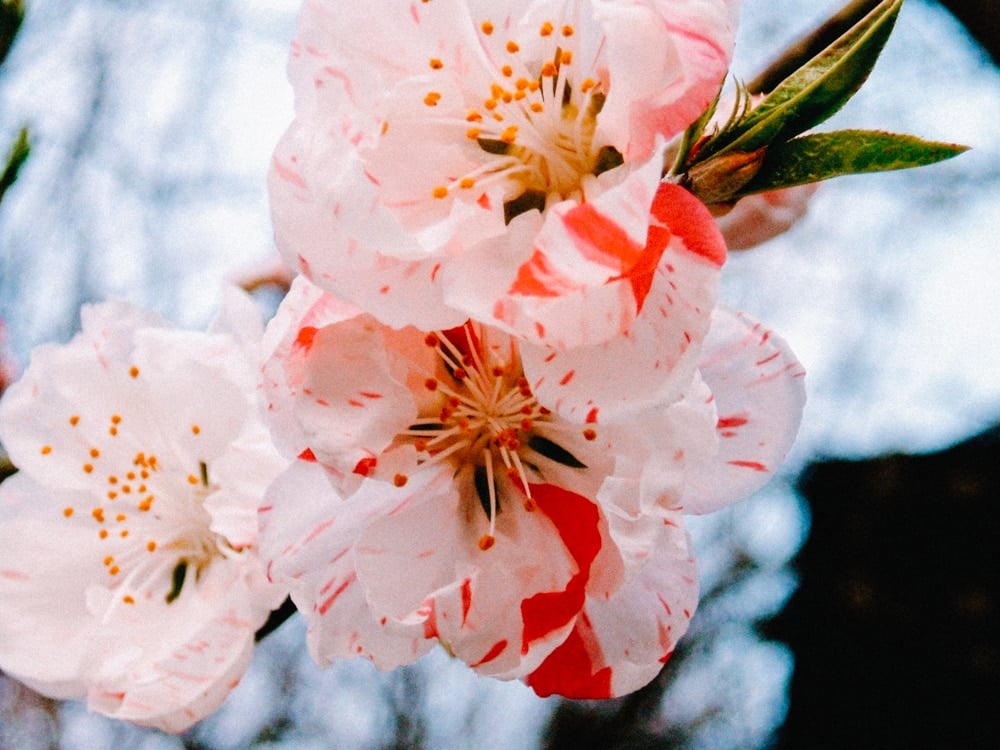 Where to Find Hanami and Flower Fields
You don't have to travel all the way to Japan to enjoy the hanami experience. Seattle, Portland, San Francisco, Dallas, Brooklyn, and Washington, DC, are just a few places where you can see cherry blossoms in the U.S. Sakura trees grow in most U.S. states, so be sure to scope out the parks and botanical gardens near you for hanami events.
Of course, cherry blossoms aren't the only flowers out there for viewing. Sunflowers, poppies, lupine, tulips, wisteria, lavender… Whimsy Soul has explored all kinds of flower fields, and you can too!
Create Your Own Hanami Cocktail Party
In Japan, special sakura drinks and foods are available for a short time during the hanami season. You might find sakura mochi (sweet rice cakes), ice cream, jellies, tea, and sake drinks. So of course I had to make cherry blossom cocktails in the tradition of hanami!
For this concoction, I recommend a nigori sake cocktail. Nigori sake is named for its cloudy appearance, which comes from rice sediment that is typically filtered out of other types of sake. Nigori sake is creamy, thick, and sweet. (Another great alternative is a sparkling sake for light carbonation.)
The best sake cocktails (or cocktails in general!) have a fun garnish, and the method we're using is cherry blossom ice cubes.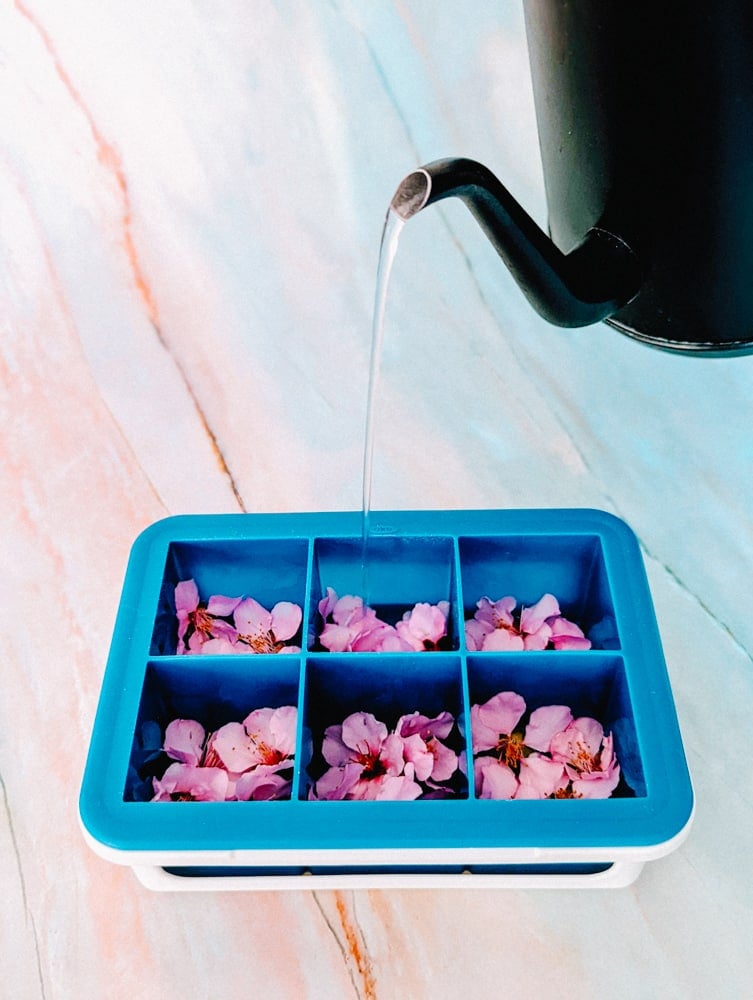 I know that sakura can be a difficult ingredient to find outside of Japan, so the salt-pickled cherry blossoms are optional in this recipe. But Maraschino liqueur is a must-have for that subtle flavor of cherries.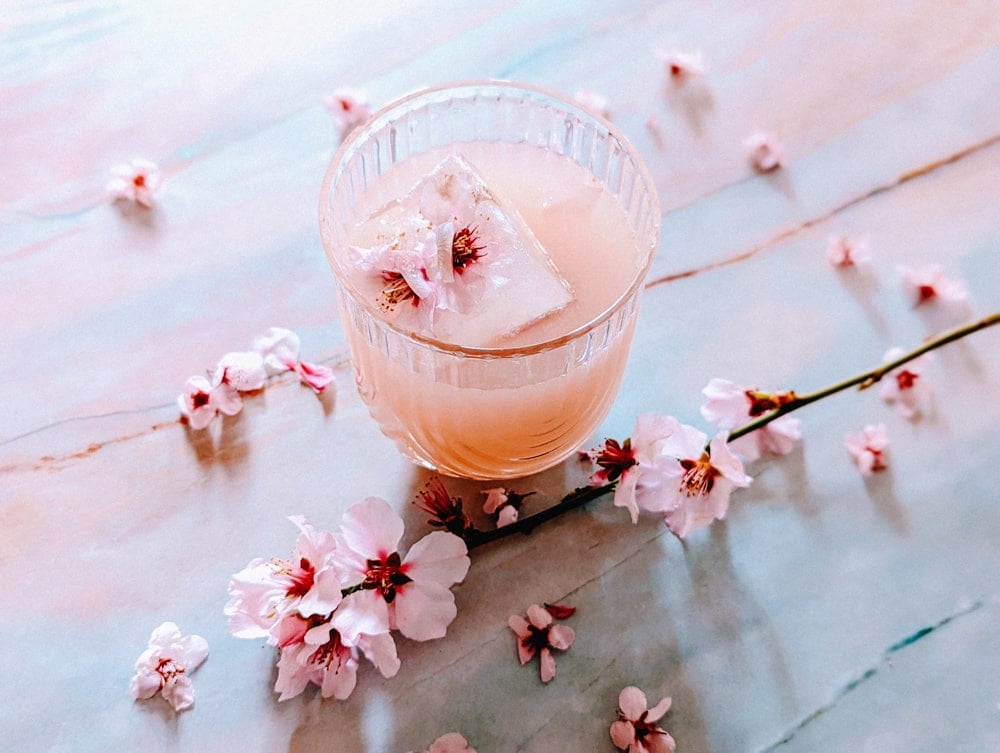 Pink Sakura: A Cherry Blossom Sake Cocktail
Petal pink and delicately perfumed, sparkling cherry blossom sake cocktails are the perfect springtime sip.
Ingredients
2 oz nigori sake, well-shaken
1/2 oz Maraschino cherry liqueur
1 1/2 oz pink grapefruit juice, freshly squeezed
1/4 oz simple syrup
Fever-Tree Sparkling Pink Grapefruit (to top)
Cherry blossoms
Salt-pickled cherry blossoms (optional)
Instructions
Make the cherry blossom ice cubes

If you've foraged the blossoms yourself, gently rinse them and pat them dry. [Tip: Cherry blossoms are edible but can cause stomach upset if ingested in large quantities, so I'd suggest not eating them. They're just here for the aesthetics!]
Place several fresh blossoms and one salt-pickled cherry blossom (optional) in the bottom of each large ice cube mold. At least 2" cubes are recommended - this makes about one cube per serving!
Gently fill each mold with water. It's okay if the flowers float to the top. [Tip: For clearer cubes, boil the water first and then let it cool fully before pouring it into the molds. Or if you're feeling super fancy and want crystal-clear ice, use double-boiled distilled water.]
Freeze. If you want the flowers to be suspended in the middle of the ice cube, you will have to freeze them in layers.

Make your cherry blossom cocktail

Fill a cocktail shaker with regular ice, then add nigori sake, Maraschino liqueur, pink grapefruit juice, and simple syrup.
Shake until well-chilled.
Place cherry blossom ice cube(s) in a glass, flower-side up.
Strain the contents of the cocktail shaker into the glass.
Top with Fever-Tree Sparkling Pink Grapefruit.
Serve right away!
Notes
I have to confess that I didn't use sakura blossoms for this cocktail! There were no cherry trees to be found near me, so I had to sub in plum and almond blossoms. Don't @ me, arborists!
If you can't find or don't want to spring for salt-pickled sakura blossoms, that's okay! But I do like the subtle saltiness they bring as the ice cubes melt, so consider adding a pinch of salt to the cocktail shaker.
This hanami-inspired cocktail has a nice balance of sour and bitter, dry yet subtly sweet, and I love its pastel strawberry-milk color.

I encourage you to throw your own hanami party and enjoy a sakura cocktail beneath the trees as pink petals softly flutter to the ground around you. Or pack a thermos of this fruity, fragrant drink for a springtime picnic wherever flowers are blooming.

Looking for more floral cocktail recipes? Check out our Elderflower Bridgerton Cocktail, Lavender Gin Fizz and Lavender Single Malt.

Note from Kara: Loving this sake based cocktail from Meg! If you're looking for more ways to spin up easy sake cocktails in the future, try adding citrus like lemon, lime or orange! Nigori sake cocktails are generally sweeter, making it perfect for sake mixed drinks.

Let us know in the comments if you want more nigori cocktail recipes, simple sake cocktails or just some inspo on what to mix with sake from the Whimsy Soul test kitchen!