In Oceanside, California, we found ourselves waking up each morning to blue skies, sun shining and palm trees lining the roads, but also to a vibe much more relaxed than the beach towns of the greater Los Angeles area. Just north of San Diego, Oceanside is that classic Southern California seaside town boasting typical beachy things like a great surf, local food scene and a fun pier, but also has hidden gems that you can't find in other San Diego County, like an incredibly fun ( and tasty!) weekly sunset market.
Oceanside is an artist beachside community filled with quirky gems at every turn.
We spent 3 days in Oceanside soaking up the sun, filling our bellies with food and finding mini adventures all across the city. These are my top 18 things to do in Oceanside California (aka Your Perfect 48 Hour City Guide!) Read on for my recommendations on hotels, top things to do in Oceanside, where to eat, what to pack for this unique beach climate and more!
Follow me on Instagram @thewhimsysoul!
Insider's Tip: The mornings are cooler due to the marine layer. Pack a sweater for your morning breakfast run, but don't worry, by the afternoon you'll be hot hot hot!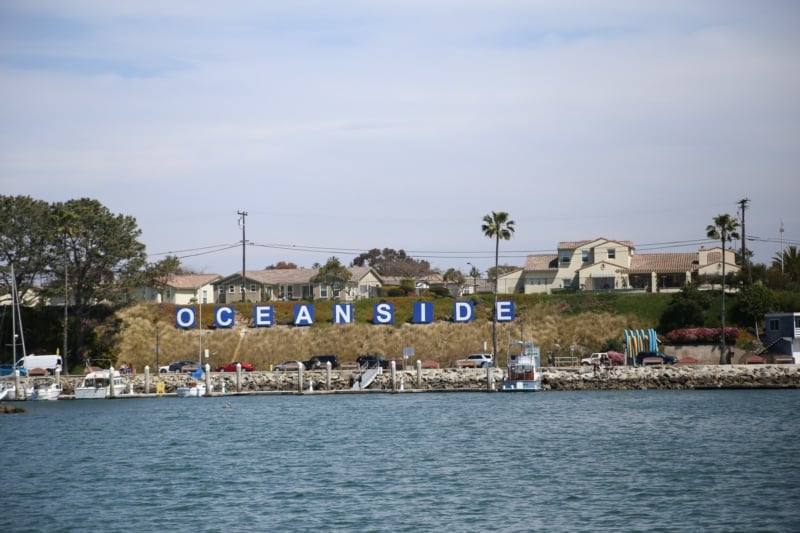 HOTELS IN OCEANSIDE CA
Type: Boutique, budget
Good for: singles, business, couples
IG Rating: 3/5
A newly remodeled boutique property on the Oceanside hotels rooster, Fin Hotel is a charming little hotel on the main strip that's in perfect walking distance to most of the things you'll want to do, especially things in downtown Oceanside. The lobby decor is chic and modern, along with the rooms, which are small but airy. This is the hotel we stayed at during our stay and we loved it! It offered such a great base to explore Oceanside in. Book Best Deal Here
Type: Airbnb
Good for: couples, families, groups
IG Rating: Varied
We LOVE using Airbnb when we are traveling and the San Diego North County area has some of the best Airbnbs in California (hello cute beach bungalows!!!) My favorite Oceanside Airbnb is this cute house and also this one.
Use THIS link for $40 off your Airbnb stay!
18 TOP THINGS TO DO IN OCEANSIDE CALIFORNIA
There are so many things to do in Oceanside, California! Here's my top 17 things to do in Oceanside!
Walk Oceanside Pier
I love walking this pier! The pier viewpoint is stunning as you get a great look at the shoreline with all the colorful beachside houses from the end of the pier. And of course, a view of that endless blue sea! The Oceanside Pier has some cute little shops you can rent poles and tackle form if you want to try your hand at fishing, or grab lunch at Rubies. We enjoyed finding a bench to watch people surf below from. If you're looking for free things to do in Oceanside, this is my favorite free thing!
Bike the Boardwalk
I loved biking the boardwalk street in Oceanside. While it's not a pedestrian-only boardwalk like you find in Venice, it did have that Venice beach feel but with a fraction of the people. You can rent bikes from Wheel Fun Rentals located directly under the Oceanside Pier for $25 an hour. You won't need more than an hour. Book now.
Peddle the Boardwalk
Or, if biking isn't your thing, grab a peddle surrey and hit the boardwalk! This is what my husband and I opted to do as we've ever ridden one of these before and it was one of my favorite things we did. They are surprisingly a bit difficult to peddle, but once you get the hang of it, it's really fun! It also makes for a great photo. Felt like a little kid again. You can rent from the same shop as the bikes for $25 an hour.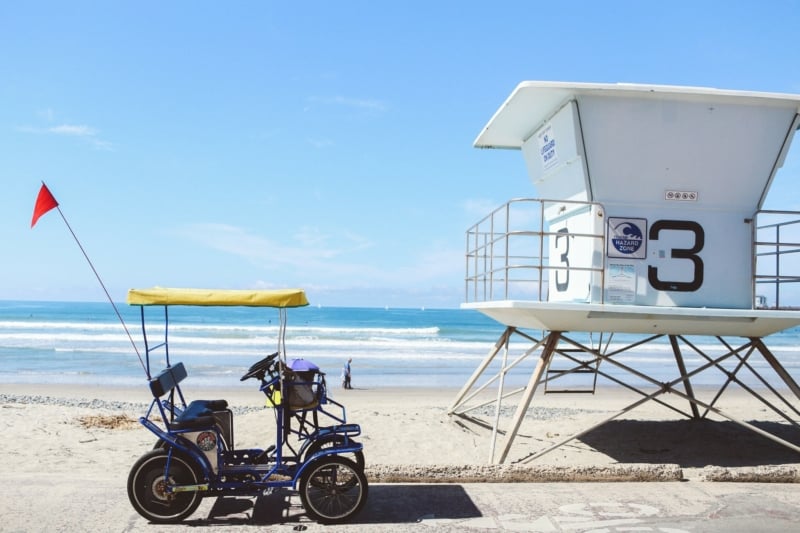 Whale Watching Cruise
Another trip highlight was our whale watching cruise with Oceanside Adventures! Whale migration season is each Spring, so if you are visiting during the migration season, you should book a cruise! We didn't end up seeing any whales on our trip, but it was still a beautiful boat ride around the coastline and open water.
The cruises are 2 hours each and only $39 a person. They dock at Oceanside Harbor (free parking at the far lot!) and there is plenty of covered and not covered seating to accommodate all types of travelers. Highly recommend this place. Oh, and if you don't end up seeing whales, they will give you a free sail that you can use any time in the future.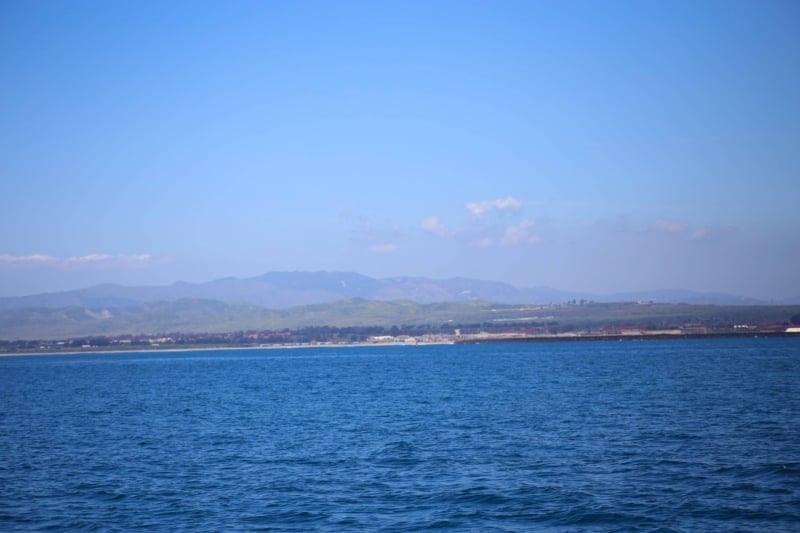 Dine at Oceanside Harbor
Oceanside Harbor is a cute little district with a cluster of restaurants and shops alongside the docks. There are lots of seafood restaurants to choose from, some with great happy hours (like Rockin Baja Lobster, which has a happy hour that times well with the end of the 2 pm Whale Watching cruise!) Grab a drink and watch the sailboats come in and out of the harbor. (Don't forget to check out the nearby Harbor Beach, too!)
Sunset Market
Address: Mission Street downtown
The top highlight of Oceanside is their unique Sunset Market. Each week – unless it's raining – hundred of vendors fill the streets. It's a local's favorite and a can't-miss activity. I have a whole section towards the bottom of his post detailing more information and vendors you can't miss on your visit! It's one of the best fun things to do in Oceanside!
Kayaking
If the weather is fare, head to Oceanside Harbor to rent a kayak or paddle boat! I love sea kayaking and always enjoy the workout meshed with a chance to see wildlife up close and personal (like sea lions or pelicans!)
Thrift Shops
Oceanside is home to a handful of cute thrift shops and the best one by far is Sea Hive. It's a unique business model as it houses little "booths" of local small businesses. One booth may have thrited vintage, the next one might have handmade jewelry and the next could have only leather goods. It looks small on the outside but it goes on FOREVER and EVER. Head here to find tons of gems that you can't find anywhere else!
Shop Local Boutiques
The cost of living is a bit cheaper in Oceanside compared to San Diego, making it a popular spot to live for artisan and small business owners. Because of that, there are a lot of cute little shops you can visit during your stay. I recommend heading to South O near Revolution Coffee to start!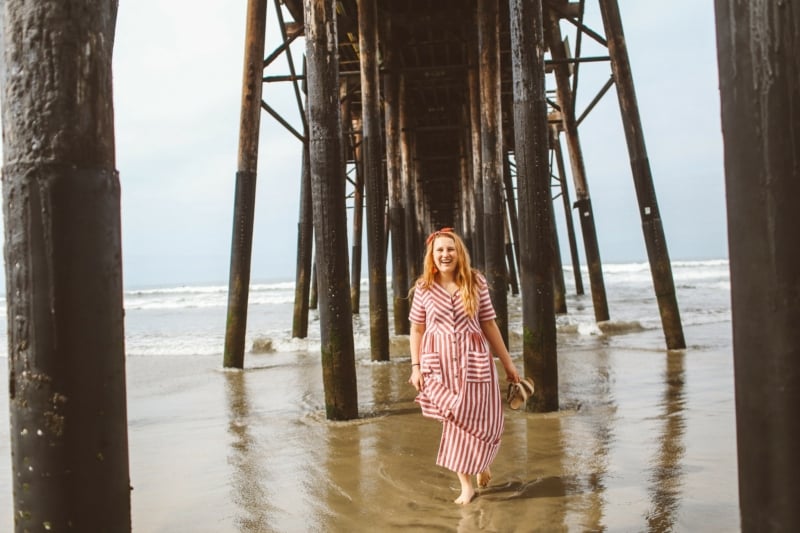 Craft Beer Tastings
All of San Diego area is known for their vibrant craft brewery scene and Oceanside is no different. There's plenty of breweries to choose from. Spend an afternoon brewery hoping and trying all the local brews! Our favorite spot was Stone (their tap room garden is magical!) and also Breakwater, which had a sunny patio.
Wine Tastings
You can also do some wine tasting if beer isn't your thing! The Beach House Winery is a popular spot to wine taste in Oceanside.
Surfing
Oceanside is a beach town, so of course there is a strong surfing culture here! If you have your own board, head to Oceanside Beach for gnarly waves bra (that's what the cool surfer kids say, right?) Or, you can easily rent equipment at Real Surf Shop.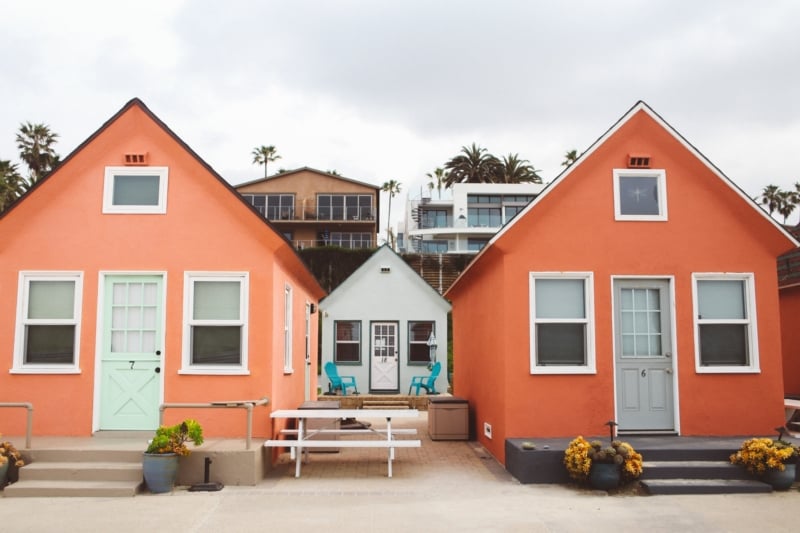 Surf Museum
Address: 312 Pier View Way
If surfing isn't your thing, you can also dip your toes in that scene by going to the famous Oceanside museum. The surf museum is jammed packed with cool exhibits about surfing and Oceanside. It's the only California Surf Museum on the coast!
Watch the Sunset
Southern California has some of the best sunsets in the world (trust me, I've been all over the world and I can't get enough of the neon sunsets of California!) During golden hour, head to the pier, Tyson Street Beach, or anywhere with a view of the ocean. Plop yourself down for a beautiful, colorful sunset!
Pro tip: Head Cassidy Street which has a small, hidden staircase to the beach. You may find a guitarist playing tunes or a local reading on the rocks. Hunker down here for an intimate sunset viewing! It's one of my favorite hidden beaches in the area.
Carlsbad Flower Fields
Address: 5704 Paseo Del Norte
Carlsbad is just nextdoor to Oceanside and is home to the famous Carlsbad Flower Fields which bloom each April-May. Learn more about visiting these fields in this post. (If you're looking for more things to do in Carlsbad CA, read this guide!)
Buena Vista Audubon Society Nature Center
Address: 2202 S. Coast Highway
Looking for more nature? Head to the Nature Center. They have fun monthly programs that would be great for a family activity!
Mission San Luis Rey
I love all the old missions in California. We didn't get a chance to visit the Mission San Luis Rey, but the photos look beautiful online! Tickets are $7 and you can do a self-guided tour or a behind the scenes tour!
WHERE TO EAT + DRINK IN OCEANSIDE
There are so many fun places to eat in Oceanside! Here's some notable places.
Breakwater Brewing
Head to Breakwater for happy hour to sip on their award winning beers! We sat on the outdoor patio and it was hard for us to leave! They also serve food if you are looking for dinner as well.
Wrench & Rodent Seabasstropub + Whet Noodle
OMG – this is a MUST stop restaurant duo! I don't frequently use "OMG" to describe food, but OMG, the couple behind Whet Noodle & Wrench and Rodent Seabasstropub have something special going on. On one side of the building is Seabasstropub, a restaurant that can best be described as a punk rock London bar meets California cool.
On the other side is Whet Noodle, an upscale ramen joint that serves ramen with a tasty housemade broth. This is where we ate! I recommend ordering some sashimi or steak tartar for starters with a June shine hard kombucha. For the main course, try the Pork Adobada or Duck on Duck ramen bowl. As someone who isn't always a fan of ramen, these guys DELIVER, and in more ways than food. The playlist here has songs like "I fought the law" and combine with the eclectic decor, you don't feel like you're dining in any ole ramen joint. Read more reviews here.
Revolution Roasters
A cute, airy coffee shop with tasty pastries and unique lattes. I personally loved all the outdoor seating here! A must stop for morning java.
Masters
I recommend trying the Masters & Mule cocktail here!
This is the other OMG restaurant in Oceanside. I honestly wish we lived closer to Oceanside so we could dine at Masters more often! You'll love everything about this place. From the large, airy floor plan filled with natural light, to the handcrafted cocktails and of course, the menu which boasts things like pork belly and short rib mac & cheese, Masters is special. They also have a great happy hour!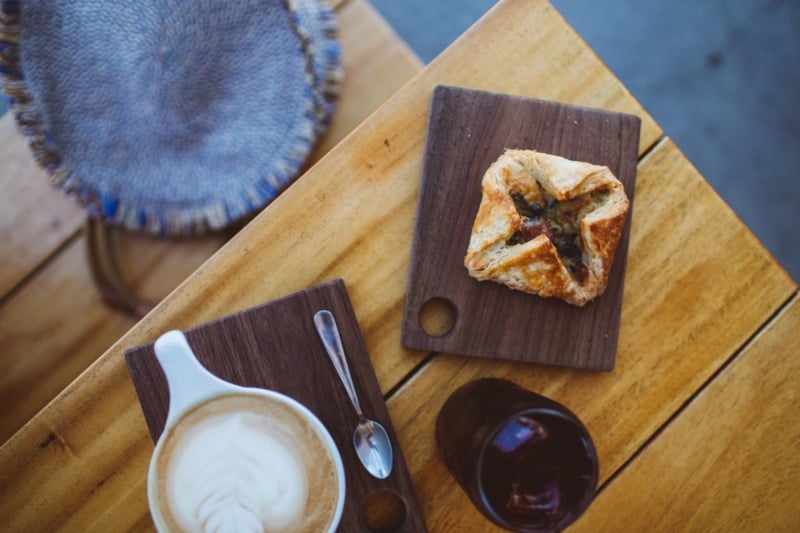 101 Bagels and Subs
In need of a quick breakfast before our whale watching tour, we stumbled upon the 101 Bagels and Subs and were pleasantly surprised by how good these deluxe bagels were! I recommend trying one of the hot bagels (they're basically like sandwiches!)
Stone Brewing
This is probably my favorite taproom I've ever visited. Ever. It's very unassuming on the outside, but inside you'll find a beautiful patio garden with string lights and fire pits. And, of course, tons of tasty Stone Brewing beers on tap! This is a must for after dinner drinks.
Chronic Tacos
I was CRAVING a fish taco while in Oceanside and swung by here. They have affordable tacos that you can take and grab back to the beach!
Don's Country Kitchen
We didn't have a chance to eat here, but we walked by this cute little diner in South O and I wish we had an extra day to stop by! It has great reviews online and are know for this bloody mary's (if that's your thing.)
OCEANSIDE SUNSET MARKET
We actually extended our stay by one day in Oceanside to make sure we could visit their sunset market! We heard it was one of the top Oceanside activities and didn't really know what to expect and BOY we were blown away! This isn't your average night market, ya'll.
The Oceanside Sunset Market is like one big weekly block party for the community & businesses to come together.
With over 200 vendors, each Thursday year-round (unless it's raining) downtown Oceanside is filled with booths, live music, food and shopping from 5pm-9pm. It's a can't miss event if you are visiting!! Plan on eating dinner here and come hungry, as there are so many amazing food booths. It's one of the best Oceanside things to do at night! My favorites and must-stop booths are:
Belly Beignets: for amazing beignets!
Cheese is Chez: for alllll the cheese.
Cheryl's Caramels: for tasty caramel candies!
Flamin Salmon: Salmon!! (He's a local favorite.)
Tamale Fiesta: best tamales in town!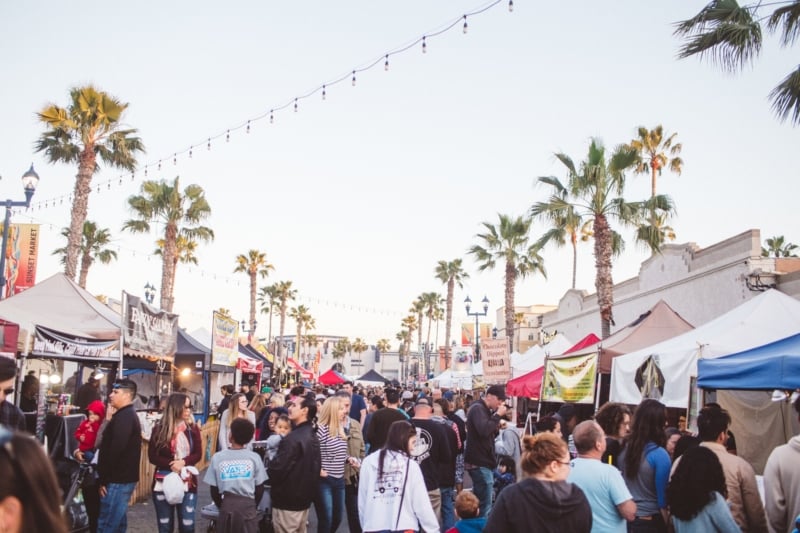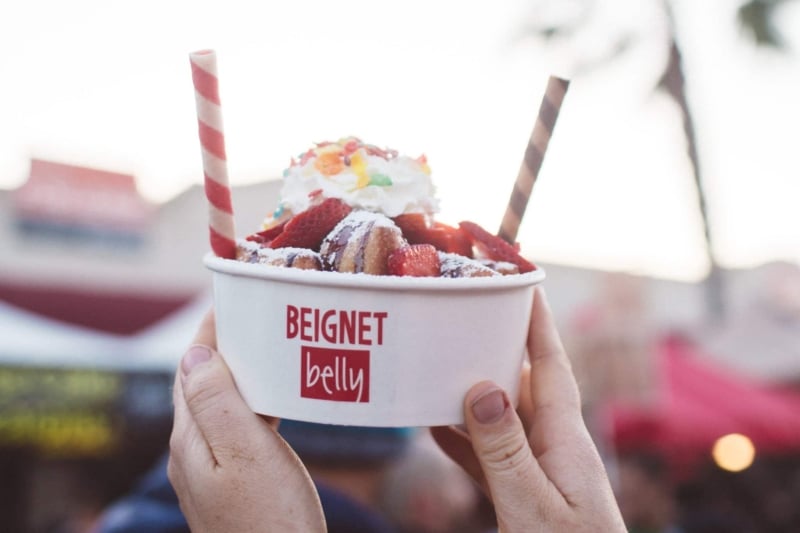 WHAT TO PACK FOR OCEANSIDE CALIFORNIA
I hope this guide of my favorite things to do in Oceanside California helps you plan an amazing beachside vacation! Whether you are in town attending a wedding at Heritage Park Village, visiting family at Camp Pendleton or simply in search of a chill weekend in a cute beach town, Oceanside is it!

If you have anything to add to this list or have questions, leave a comment below! Or, you can always DM me @thewhimsysoul or @whimsysoul with questions and I'll be happy to help answer them!
You can also check out the Visit Oceanside municipal website here for an updated list of events and special things to do this weekend in Oceanside!