After all the winter rain in California this year, flower fields across the state are popping up in beautiful super blooms. Instead of hiking around Lake Elsinore this spring hunting for poppies, head to Carlsbad! Each year, the Carlsbad Flower Fields are open to the public to view their millions of colorful Ranunculus flowers. It's a magical experience- acres of the flower fields stretching as far as your eye can see against a backdrop of the ocean and cute seaside town.
Carlsbad Flower Fields 2019 are open March 1-May 12th.
Keep on reading for me Flower Fields Carlsbad: This Is the Best Time To Visit + A Visitors Guide post with all the information you need to know before you go, along with some tips of things to do in Carlsbad after your flowers visit!
Got questions? Leave a comment below or DM us on Instagram @whimsysoul – we'll be happy to answer them!
Flower Fields Carlsbad address
5704 Paseo Del Norte Carlsbad, CA 92008

CARLSBAD FLOWER FIELDS BEST TIME TO VISIT
The Flower Fields site say their flowers are in full bloom Mid-April, but we visited at the end of March and found the flowers in Carlsbad to be blooming and stunning as ever. I would personally recommend visiting sometime between Mid-March and Mid-April. There is usually a rush towards to end of April right before they close for the season, which you'll want to avoid!
The best time to visit is Mid-March through Mid-April right away at 9am for beautiful morning light and less crowds!
The best time of day to visit is right away in the morning. They open at 9am and I suggest you are parked and waiting in line by 8:45am to avoid crazy crowds. We arrived right at 9am and by the time we finished buying tickets (which are $18 per adult), there were at least 20 people in line behind us!
Another reason you want to visit in the morning is because of the light. The Carlsbad flowers are in the middle of a huge field which means there is no shade. You'll be in harsh, direct light if you visit the flower fields in the middle of the day.
>> Looking for a vacation photographer for fun portraits in the flowers? Check these tips out!
Also, Carlsbad is just north of San Diego. The California coast is famous for it's almost daily marine layer, which acts a bit like a light fog. It usually burns off mid-morning each day, which means the morning hours are usually the best time of day to take photos other than golden hour. The soft, diffused light that the marine layer has equals beautiful photos of the field of flowers! When we entered, we ran to the back and had some rows all to ourselves for at least 20 minutes before other people showed up!
You can also try for a 5pm visit to catch some of the golden hour light, but it will still be harsher than in the morning.
THINGS TO KNOW BEFORE YOU VISIT THE FLOWER FIELDS CARLSBAD
These are some important things to know before you visit to help you have a good time and get great photos!
Insider's Tip:
Head to the back of the flower fields once you enter. Most people stop at the first big patch and never make it to the second patch!
Plan a 9am visit
Head to the back rows
Bring your camera!
Come mid-day
Enter the rows or sit in the flowers
Pick the flowers
There Will Be Crowds
The Carlsbad Flower Fields are popular San Diego flower fields to visit for locals and visitors alike. We chatted with other visitors and they said 2019 is a little less crowded because everyone is off in Lake Elisnore taking selfies with the poppies, but usually each and everyday of the Carlsbad Flower Fields season bring large crowds. Be prepared to take turns snapping photos and dealing with large crowds (another bonus of going right in the morning!)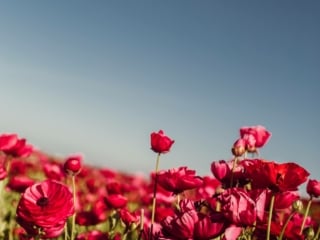 Don't Stray From The Path
Seriously, don't walk in roped off areas. When you arrive, you'll find little viewing areas in each block of flowers which will be marked by a green lining. DO NOT WALK INTO THE FIELDS. Not only is it very clear at every turn that you can't walk in the fields, staff members will also tell you not to walk in the rows. I know you are probably seeing tons of photos on Instagram of people sitting in the flower fields or running in the rows, but this is 100% not allowed and 100% not ok to do. We took our photos by getting really clever with angles vs. crossing those barriers.
Seriously. Don't do not cross the rope barriers. These aren't your flowers and by walking in the rows you risk damaging the flowers.
While we were visiting, a staff member rolled up next to us and some other visitors with children, reminding us all to not enter the flowers or to touch them. He walked away and the second he was out of sight, the mother of the children plopped her kid in the flowers beyond the approved area and started taking photos of him as the kid walked all over the flowers and pulled on the blossoms. I was really disgusted and never want to encourage my readers to act like this, so please don't.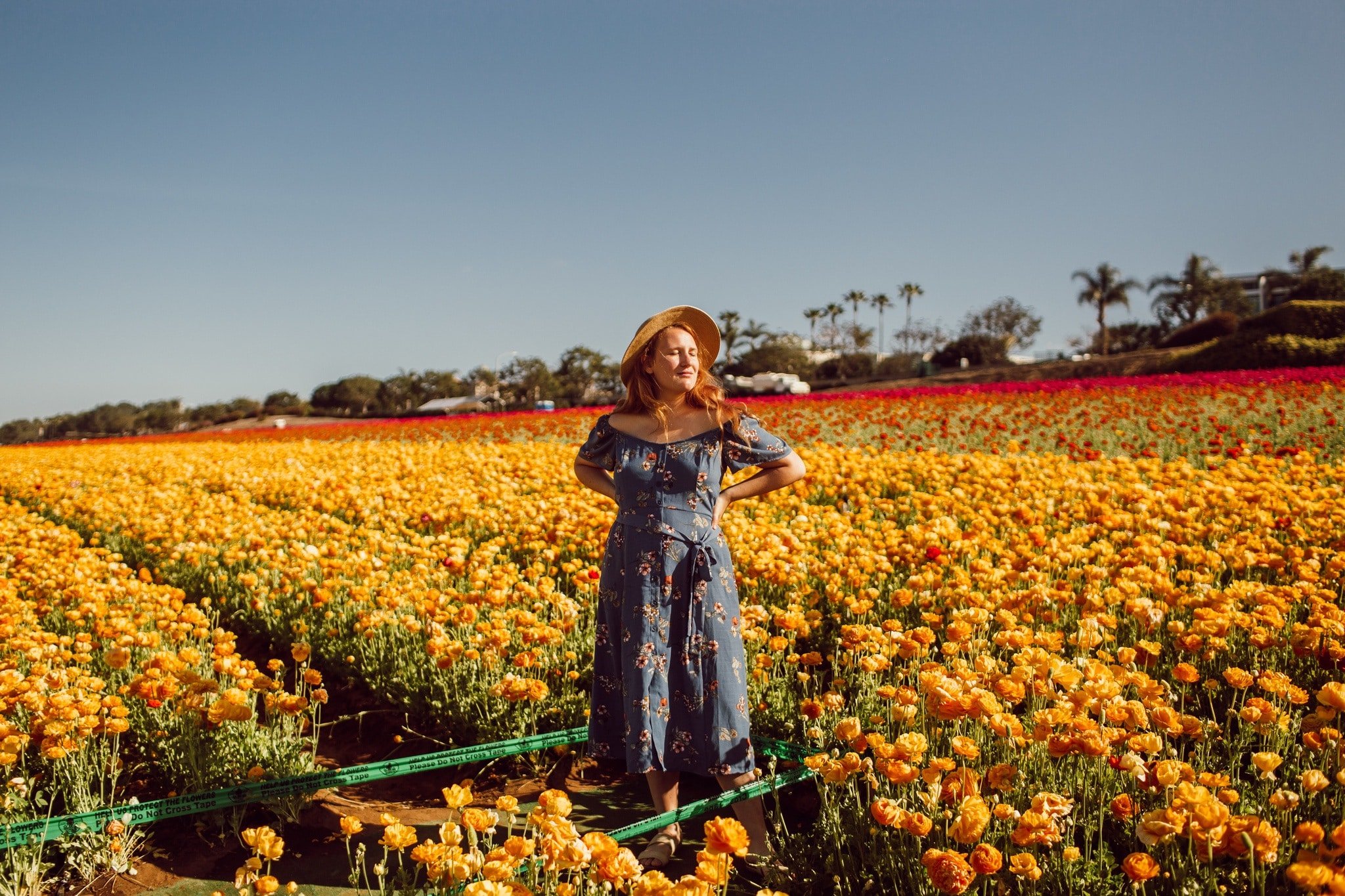 PREPARE FOR ALL WEATHER
The mornings are chilly with the marine layer overhead. By the afternoon, it could be HOT and sunny. I recommend bringing a light jacket, comfy shoes for walking the trail to the flowers and water. Don't forget to wear sunscreen as you'll be out in the middle of the fields! My husband was sweating like crazy after our visit, but we both started the day with sweaters on.
BUY TICKETS AHEAD TO SAVE TIME
You can buy tickets to the Flower Fields Carlsbad online here to save some time waiting in line during your visit. You can also buy tickets there, they take credit cards! Tickets are $18 per adult and $9 per child. If you live in the area or plan on visiting more than once, you can save money by buying the Flower Fields season pass!
WHAT TO WEAR TO THE CARLSBAD FLOWER FIELDS
As mentioned above, bring a light jacket o sweater in case the marine layer is holding on strong that day. But, I recommend dressing up in a pretty summer dress or skirt/top combo. Extra bonus points for a straw hat! These flower fields are just stunning – they are some of my favorite things to see in person during the Springtime in California. They impose a sense of feminine magic, so dress the part!
I highly recommend NOT wearing white. You're in the middle of a field! Your white dress is going to glow like the sun and be hard to get a good photo in.
These are some pretty things to wear to the flower fields of Carlsbad.

THINGS TO DO IN CARLSBAD
We had the pleasure of visiting Carlsbad last fall and created a whole guide of the top things to do in Carlsbad and where to stay. Read the full guide here, but below are my top favorite things to do along with the best restaurants in Carlsbad and great hotels.
Whale Watching Tour in Oceanside: Head to the neighboring town of Oceanside to go on a 2 hour whale watching tour! Whale migration season and the flower fields blooming season align really well. My husband and I went on this tour – we didn't even up seeing any whales, but it was a beautiful sunny sail around the coast that we won't soon forget.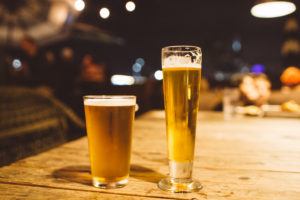 *Go on a bike ride: My personal highlight of our trip last fall was biking around the city on electric bikes. We rented bikes from Pedego Electric Bikes, a shop located right downtown in the old Victorian. I've never biked on an electric bike before but now I'm not so sure I can go back to regular bike rides! This was so handy in Carlsbad as the coastline goes up and down a fair amount. We both felt safe, as the city does a great job with clear, wide bike lanes. Pedego even offers bike tours if you don't want to go alone. Learn more here.
*Beer tasting: Carlsbad is home to a great beer scene. These Wisconsin-born folks were in heaven! Check out the Barrel Republic for a unique you-serve model, Karl Strauss for local beer and bites or check this list out for more local beer spots! Drink on!
*Kayaking the Lagoon: On top of the ocean, Carlsbad is home to a lagoon! We spent a morning kayaking the Carlsbad lagoon and loved the peaceful vibes of this area. I've tried sea kayaking a few times and I prefer paddling on lakes and lagoons WAY more, which is why I was happy Carlsbad offers both types of water for visitors. We kayaked with the Agua Hedionda discovery center. They also offer paddleboarding if that's your thing!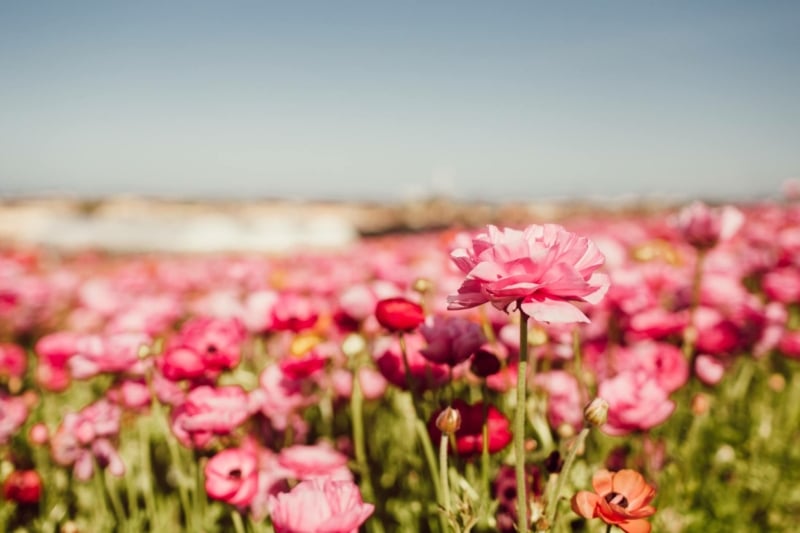 If you're wondering, what are other flower fields near me? I got you covered! Check out my blog post about the almond blossoms and sunflower fields in California!
If you have any questions, leave a comment below of DM me on Instagram @Thewhimsysoul or @whimsysoul and I'll be happy to answer your questions! Don't forget to use #whimsysoul in your flower photos for a chance to be featured!