Fall is my favorite season. I love everything about it: the crisp air, the colorful leaves, the pumpkin everything. The way the air always smells just a little bit like campfire smoke. And the fashion, boy do I love fall fashion!
Big cozy sweaters, statement scarves, chic jackets, boots and plaid everything. Yes, please!
There are so many fun things to do in the fall, and I've already started chipping away at my fall bucket list. I thought you guys would like ideas for fall activities to do, too! Before we know it, it'll be Thanksgiving and then Christmas, so time to start checking fall bucket list ideas off!
23 Things On My Fall Bucket List 2019
Visit a pumpkin patch (it's like a scavenger hunt to find the best pumpkins!)
And then do some pumpkin carving!
Drink hot apple cider
Go apple picking at an apple orchard
Make an apple pie with said apples
Find the perfect Halloween costume!
Watch Halloween movies with friends
Bundle up in fall sweaters
Crunch leaves under my boots
Photograph fall foliage
Drink as many pumpkin spice lattes as I can
Wrap myself in cozy, oversized scarves
Get lost in a corn maze
Go hiking (in the cooler temps!)
Visit Napa Valley during autumn harvest season
Make candy apples (I found good recipes on Pinterest!)
Play on hall bales
Take a hayride
Make leaf art
Jump in a pile of leaves (once falling leaves actually happen here in San Francisco!)
Attend an Oktoberfest festival
Go on a fall foliage hike to soak in the changing leaves
Attend a football game
What's not on my list? A haunted house! I don't do horror.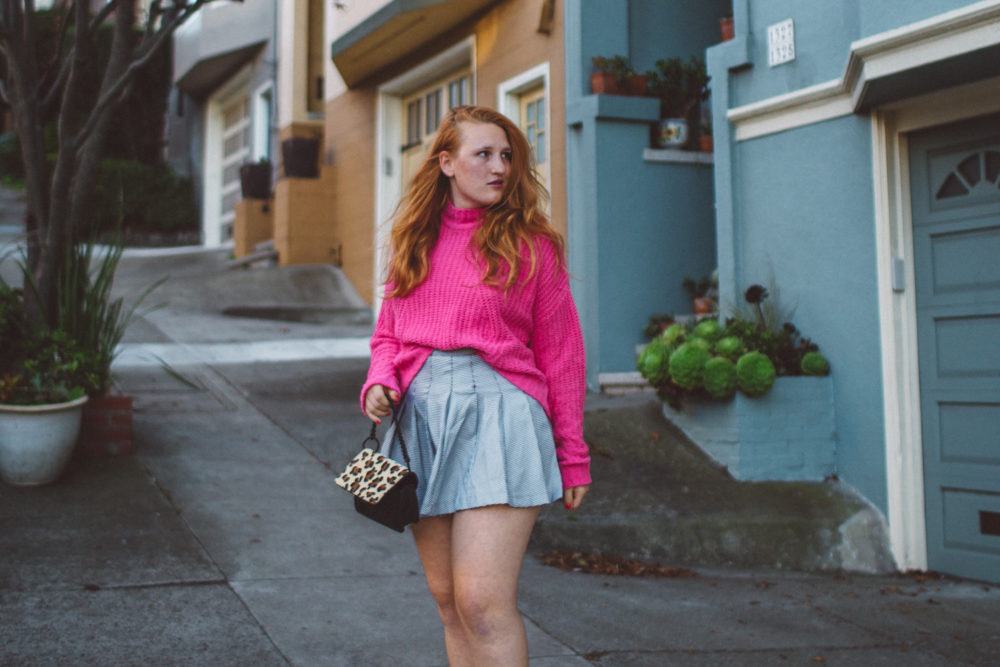 As I mentioned above, I love fall fashion. My go-to shop this year is Ardene, which is where I got my whole outfit in these photos! They have tons of cute fall pieces, everything from jackets to sweaters to boots and accessories.
I'm wearing what I think is the fuzziest pink sweater on the planet (my cat agrees, she loves sitting on it.) I paired it with this cute houndstooth skirt, black boots, a grey coat to match, and a leopard purse for a little pop of fall fun. Linked them all below!
If you're on the hunt for a cute fall outfit to wear while tackling my autumn bucket list, head to Ardene and use code WHIMSY20 for 20% off your order!! Woohoo, you fashionable thang you.
I think this is the ultimate fall bucket list! Most of these list ideas are good for the whole family / kids (and the young at heart like me!) I hope this helps you fin fun fall activities to do this year, and to look stylish while at it.
Got more great bucket list ideas to add to my list? Leave a comment below so everyone can see!