Right now I'm sitting on my couch slathering on aloe vera because SOMEBODY didn't reapply sunscreen fast enough after sailing in Cabo. (Hi, that somebody is me!)
You guys loved my All The Swimsuits I Wore in Maui post I did after our trip earlier this year, so I wanted to show off all the hot swimsuits I wore in Cabo! From bikinis to high waisted bottoms to colorful one-pieces, I wore a LOT of swimsuits during my girls trip to Mexico. A beach vacation always calls for rocking curves and getting tans, right??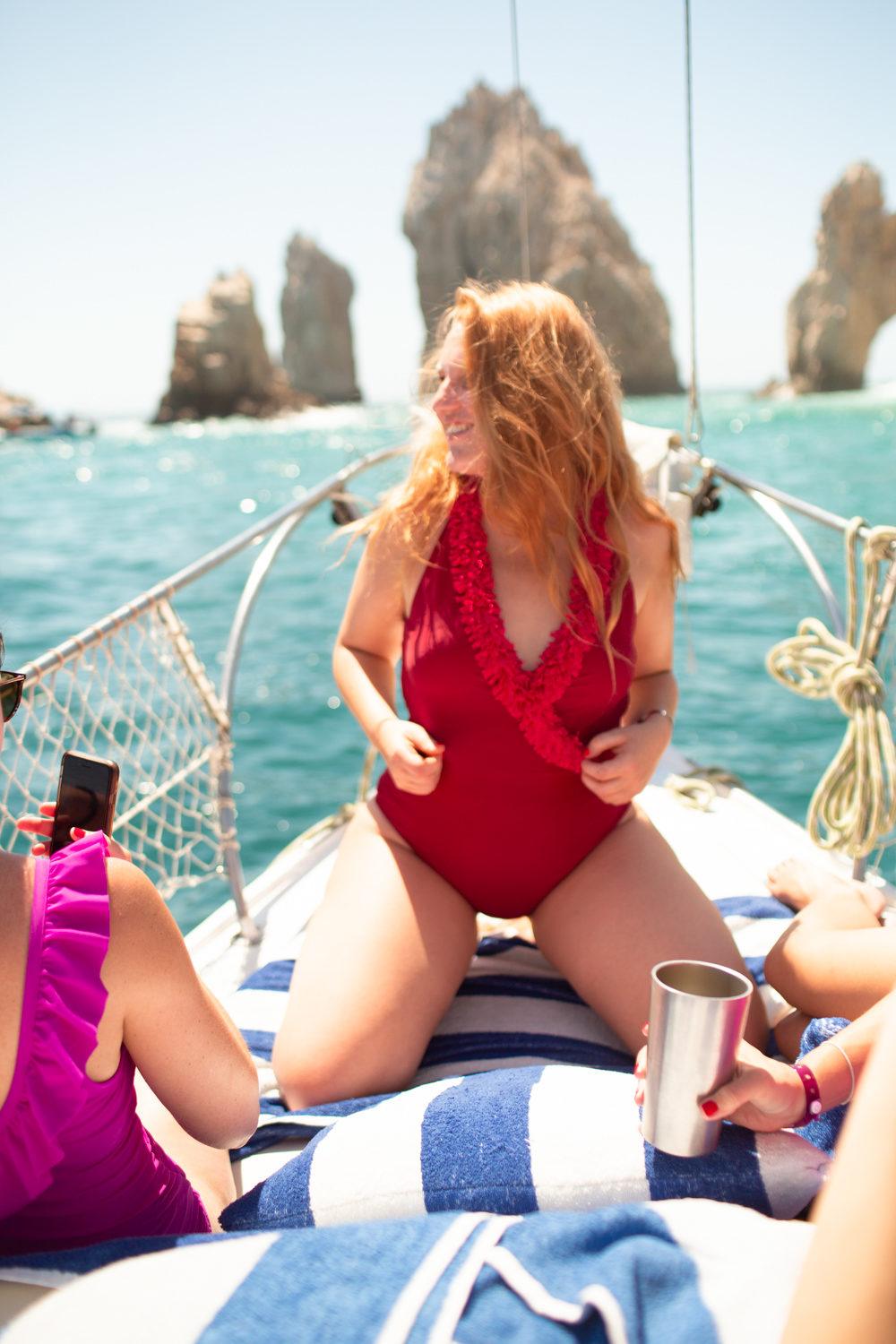 This is a swimsuit I've had for over a year but rarely wear out because I usually opt for strapless on boat days (for a better tan!) but I wanted to switch things up. Plus, I knew we'd be snorkeling and after showing basically the entire boat my boobs during my snorkel cruise in the Cook Islands, I went for something with more support this time!
One of the reasons I don't wear the previous swimsuit as much is because I ADORE this style, which is by the same company but is off the shoulder. I love that shoulder pop (for a more even tan but with all the same support!) Plus, this pink color is so dang cute.
As a curvy gal, I really only feel comfortable in bikinis with high waists. Either ones that totally cover my button or close. I love this plaid bikini because it's really high & feels secure, but the strapless top balances it all out. Plus the pattern is super fun and yellow justttt happens to be my favorite color!
I got this swimsuit for like, $4 from Wish and while the fabric is starting to take on too many dirt/sand stains, it's been serving its purpose pretty well. It's not a low-ride cut so it's good for curvy bodies, but leaves a lot of skin open for tanning! I wore this to the beach almost every single day.
These are the swimsuits + similar ones & the other suits I packed but didn't end up wearing: