It's been a hot second since I've shopped at Anthropologie, so I ordered $1000 worth of clothing to do an Anthropologie haul (2019 edition!)
Granted, $1000 doesn't get you *that* far at Anthropologie (this isn't Shein after all) but I found some very cute pieces, including a pair of pants that I wish were available in more colors because they are MAGIC and comfy AF on my size 12 curves.
BUT, not each one was a win, there were some misses in my order. Watch my YouTube video to see which pieces were YAY and which were NAY!
These are the pieces I featured in my order if you want to shop these styles!
Everything In My Anthropologie Haul Video

Overall I was pretty impressed with my order. I kept the green pants, which are $120 and I think they are worth every single penny. But not every piece was made well, there were a few that I think weren't worth the price tag.
Luckily, Anthropologie has really great customer service (they are owned by a parent company who also owns Urban Outfitters, by the way!) so you don't have to worry about hassle returning. I suggest ordering a bunch of different items and if you really love a piece, get it in a few sizes to see what fits best. Then return what doesn't work!
I hope this helps you decide if you want to grab some styles from Anthropologie or not. If you have any questions, leave a comment below or DM me on Instagram @thewhimsysoul and I'll be happy to help!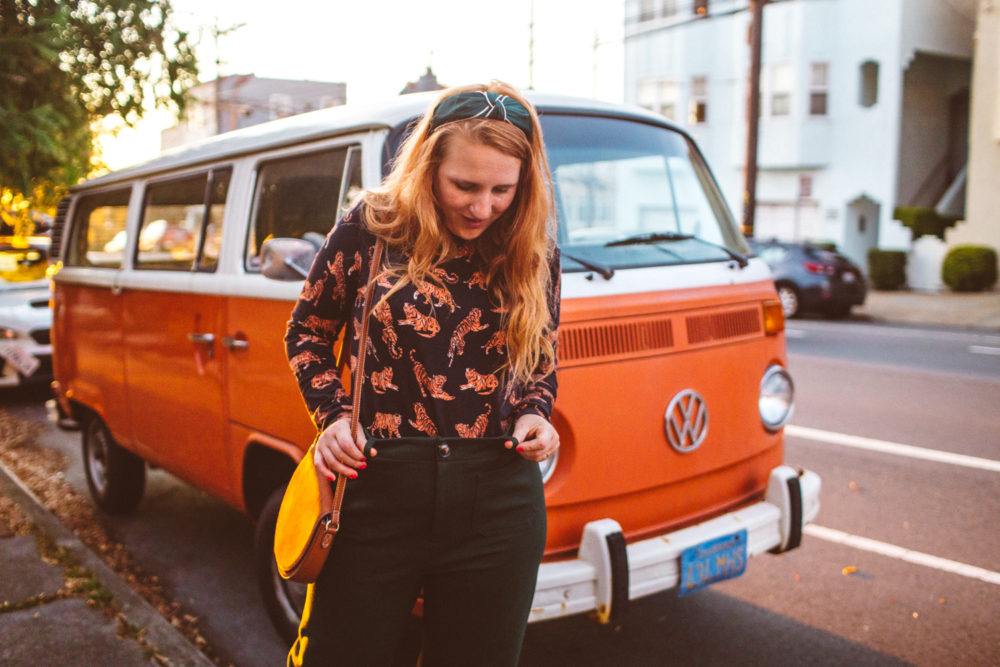 Video Transcript
(for my hard of hearing readers)
Speaker 1:
Oh, hello. Welcome back to my channel. I'm so happy to have you here. Hey. I'm going to be sharing with you this the giant box of Anthropologie things and giving you my very honest feedback and thoughts on all things Anthro.
Speaker 1:
Before we get started, make sure to subscribe to my channel and give me a follow on Instagram. If you are a regular watcher of this channel, you may have noticed that I'm not posting as much here on You Tube. That's because I've been challenging myself to put out more IGTVs, so almost every Monday and Friday over on Instagram, I am posting a new IGT video, so if you liked this video, if you want more videos, just more of me, go there. But really, I will just get into it. Let's get started. Let's start the show. Bonus points if you know that reference.
Speaker 1:
I really love the Anthro. If you asked me, I will probably say it's one of my favorite stores just because I really like the static and the style of clothing. I think they carry a lot of really unique things. And then I realized, I think it's been years since I've actually shopped there. I keep getting distracted by all the cute things at Target. I thought I would order a bunch of stuff and I would try it on and just re-familiarize myself with their sizing, and what they're offering, and the quality and stuff. This is a good review, you guys. There is some misses, but there is also some hits that I want to share with you.
Speaker 1:
I think before we really dive in, it's just let's get the elephant out of the room here, Anthropologie is not exactly the cheapest store. I got, ah man, three tops, a couple of bottoms. I don't know. My order was almost $1,000 basically. And if you've seen some of my other reviews like Shein or Romwe, if I can figure it out, I'll put those links up here.
I'll also link them below. I can order 20 things for $100, so only getting five or six for $1,000, I'm in a different wheelhouse right now. My main thing is really trying to figure out and let you know if their pieces are actually worth the price, and I think some of them are. Let's get started.
Speaker 1:
I'm going to start you off on a high note and share with you what I think our magic pants, these guys right here. You know, The Sisterhood of Traveling Pants where everyone could magically fit into the same pair of jeans? So false. But if there were a pair of pants like this, this would be that pair of pants. I'm not the only one who thinks so. I follow some bloggers on Instagram, specifically a wonderful girl named Rosie. Rosie really likes them as well and she's plus size, and I'm a size 12 and I can fit into them, so they flatter all sorts of people.
Speaker 1:
What makes these pants so magic you guys is that they're just so comfy. As you can see in this video, they look like work pants. They look like something that I could go to the office in and slay a meeting. But they feel, they feel like yoga pants, you guys. They're so soft. I think this is [mitzscuba 00:03:00] material, almost like higher quality. They're so soft. Yeah, that's why I like these guys. They come in all sorts of sizes.
Speaker 1:
I will say they are $120. That's probably the only annoying thing about this. I normally don't spend that much on pants because usually pants squeeze me in a way that's not comfortable. I can't sit down in them. I have, straight up, some pair of pants that I call standing pants because they're great if I'm going out and I know I'm going to be standing at a bar all night, but sitting down, they'll just start to squeeze.
I'll get bloated. They'll be uncomfortable. Jeans are just hard when you're curvy. So if you're curvy and plus size, you know, you know the struggle with pants, not these pants. They are $120, but they are worth every single penny. Go get yourself a pair of these pants.
Speaker 1:
On the flip side, we'll do a miss next, is this jumpsuit. I'm struggling over here. Right here, this is me wearing it. I don't know. I was just super disappointed in this one. It's just way too big. I got a large, but I feel like it would have been more properly fitted if I got a small, which is not what you want on sizing. Maybe the style isn't intentionally supposed to be really big on the sides, but I just felt like it was too much room. I felt like I was drowning in it, so maybe that was intentional. Maybe you're supposed to layer super big chunky cardigans under here. I don't know. It just felt like it didn't hit my boobs right. It just felt too big.
Speaker 1:
It also almost sort of feels like something I could maybe find at Forever 21. The stitching is pretty good. I don't know. The size thing really threw me off. My cat's playing with her toy over there, so I apologize. So if you do choose to get this size down, unless you want your boobs hanging out.
Speaker 1:
Next up is this sweater. I honestly thought when I ordered this that this is what I was going to keep, and because I'm spending $120 on pants, I will not be keeping this. This one is only about $60. It's super lightweight, but it's a turtleneck and it just, look it, it just screams Fall, you guys. I really liked the pattern. Look it, they're little tigers. As you can see on my wallpaper behind me, I really like big cats, I realized. I like that pattern. I'm just a crazy cat lady in all shapes and form. I'm very inclusive about my cat obsession.
Speaker 1:
Yeah, I thought this was really great for Fall because it's not too heavy, so you can wear it in those seasons where it's still kind of warm in the day, but chilly at night, but it's not too thin. It's just really great. I thought this was cute. It looks really great with jeans, skirts, pants, shorts. That's the only type of bottom you can have. Yeah, I highly recommend it.
Speaker 1:
Next up is something I definitely feel like I could find at Forever 21 for a fraction of the price and it's this skirt. I was mostly just disappointed in it because this zipper keeps getting stuck for me. I can't even zip it closed right now, so that's not great quality. That's not a great experience to have right out of the bat. It also wrinkles really easily. I don't even think you can steam this because it's a plasticy material, so it's going to be very wrinkly no matter what. I don't know.
Speaker 1:
This one is a little too big for me as well, but, well odd. It's big on the waist, the top part, but tight around my hips, so it just didn't fit very well. My butt is too big for it, I think. I got a 12. Yeah, I don't know. I was pretty disappointed in this. I was thinking though that this would be really cute with one of the sweaters I got and high-waisted boots and a little hat and just go take myself pumpkin picking in this. But this was a miss. Also, how much is this? This is $100, so I don't feel like this one was worth $100. Okay.
Speaker 1:
Next up is this really, really cute classic leopard sweater. How much is this one? Hold on. This is $125, so as much as those pants over there. I didn't love it as much as I loved the pants. But that being said, I think that the quality is pretty good and I think the fit is really nice. I got a large, double check on that. Yes, I got a large, and I felt like it fit me perfectly as you can see in this video. The pattern is really cute and green.
Speaker 1:
The animal print are super trendy this Fall, so you're going to be seeing that everywhere, green, animal prints of all kind, but especially leopard. I feel like the leopard and green go really well together. So I think that this is something that while it's super trendy right now, you're going to… This is something you can wear every single Fall for years and years to come.
So if you wanted like a good investment sweater, I think that this is going to be something that isn't going to go out of style anytime soon. I think leopard is just like black, it's here to stay in some shape and form. It's a good one. All right.
Speaker 1:
Next up are these shoes. Again, leopard, leopard is always in trend. I thought that this would go really well with jeans and sweaters and stuff like that for a little hint of pattern to just spruce up more basic outfits. What I really liked about these is, as you can see, they have this part right here that's high on one side, but not on the other. You see that?
Yeah, when you put it on your foot, it's high on the side facing the other foot, so outwardly you get to see the foot. It's like, ooh, not over here. It's just fun. It's just a fun, unique shape on a mule because usually they cut down like this. So yeah, it's just a basic leopard mule, pretty comfy.
Speaker 1:
Sizing was actually surprisingly well. I wear a 9 1/2 and normally when I buy shoes online, they never fit. Sometimes I'm 11. Sometimes I'm a 7. I'm just hitting everything with these. Sorry, locker. But yeah, I think that these are pretty true to size, so that's really great to know. That's a mark of a good store, if that makes sense.
Because if they can fit shoe sizing right, which I feel like shouldn't be that hard, but it's surprisingly difficult, that means that they're probably sizing well on other things too, so I was super, super happy to see that.
Speaker 1:
One more sweater for you, and it's this white sweater. As you can see, it has this beautiful, beautiful neck on it, which is really great if you live in a cold environment. When I used to live in Wisconsin, I would wear sweaters like this because it was like a built in scarf,
but then you could put your actual scarf over it and it kept you really nice and toasty when you're dealing with harsh weather. I think this is super cute.
Speaker 1:
It's not very thick. That's the only thing to keep in mind. It is a little sheer. You can't wear dark bras with this. I tried this on with a purple bra and you could see right through it.
But it's super soft and super cute. I think that this goes really well with high-waisted skirts and jeans and things like, and boots for Fall, so yeah. This is one of the Anthro's actual sweaters. It's by Anthropologie, so I'm guessing you can only get this at Anthropologie.
Speaker 1:
Ha ha, I felt like there was something I was missing. This is the headband that I got from them. It's $18 bucks. I think it's super cute, and super worth it. It doesn't pinch, which is really, really nice. So yeah, it's definitely great if you're into the headband thing.
Anthro has great headbands. You can't say anything bad about it, well priced too. So, boom. That is it. That is everything that I got. Three tops, a pair of pants, a dress and a pair of shoes for almost $1,000, so, oh, and a skirt, so yeah, that is it. That is everything I got in my Anthro haul.
Speaker 1:
I would say overall I was super impressed by everything that I got. I'm definitely keeping those pants for sure. I am never ever, ever getting rid of those pants. But yeah, overall I am pretty impressed by it. I think the quality is pretty good. There is some pieces that I think could have room on improvement, but not everything in your box is going to be a total hit.
Speaker 1:
Overall, I think the pricing is okay. There are some pieces that I think, like this last sweater that we saw, I don't know if I'm going to spend $100 on a sweater, I want it to not be see through, so I think that's the only thing that is maybe not quite a hit.
Also, with the skirt, it just felt a little cheap compared to other things that they stock. It's not all going to be a hit, but a lot of it is going to be exactly what you expect and want it to be, especially those pants.
Speaker 1:
What they are going to get an F on, because I'm a teacher now I guess and I'm grading people with letters, is the packaging waste. I ordered everything in one order, but it was shipped in three different shipments. I actually physically can't take my pinky down,
so when I do three it looks like this. Three different shipments and one of the things was just one sweater. I don't know, it just felt super wasteful for me.
Speaker 1:
I would rather have waited five extra days and have everything arrive in one box versus multiple one-off shipments. It hit me super odd because the World Climate Day protest just happened and I'm getting all these different plastic bags and shipments happening to me. Anthropologie are you, if you're listening, I would love that feature.
I know Target has that where you can click this little box that says send me everything at once. I know it might take longer, but send me everything at once. I really, really love that.
Speaker 1:
[inaudible 00:12:27] Target is even worse about that. If I ordered this from Target each one of these individual items would probably come in different bags, so Target if you're watching that, don't do that. But yeah, that's the only really bad thing I can note.
Other than that, it came pretty quickly. I'm assuming the return process is going to be pretty easy as well. They're a big legacy brand, so I don't think we have to deal with weird return issues.
So that's it!