What to wear to the airport you ask? First, can we all agree that sweatpants, flip-flops and hoodies at the airport make us all cringe? I get that flying isn't the most comfortable mode of travel, but that doesn't mean you have to dress like a bum to the airport.
As someone who travels 3-5 times a month, I've mastered the art of cute airport style that is fashionable and functional. Your girl loves looking just as put together at 6am while sipping my Starbucks coffee as I do that evening for dinner in a new city.
These are 4 stylish airport outfit ideas to look chic AF while traveling and they are all outfits I have worn to the airport before!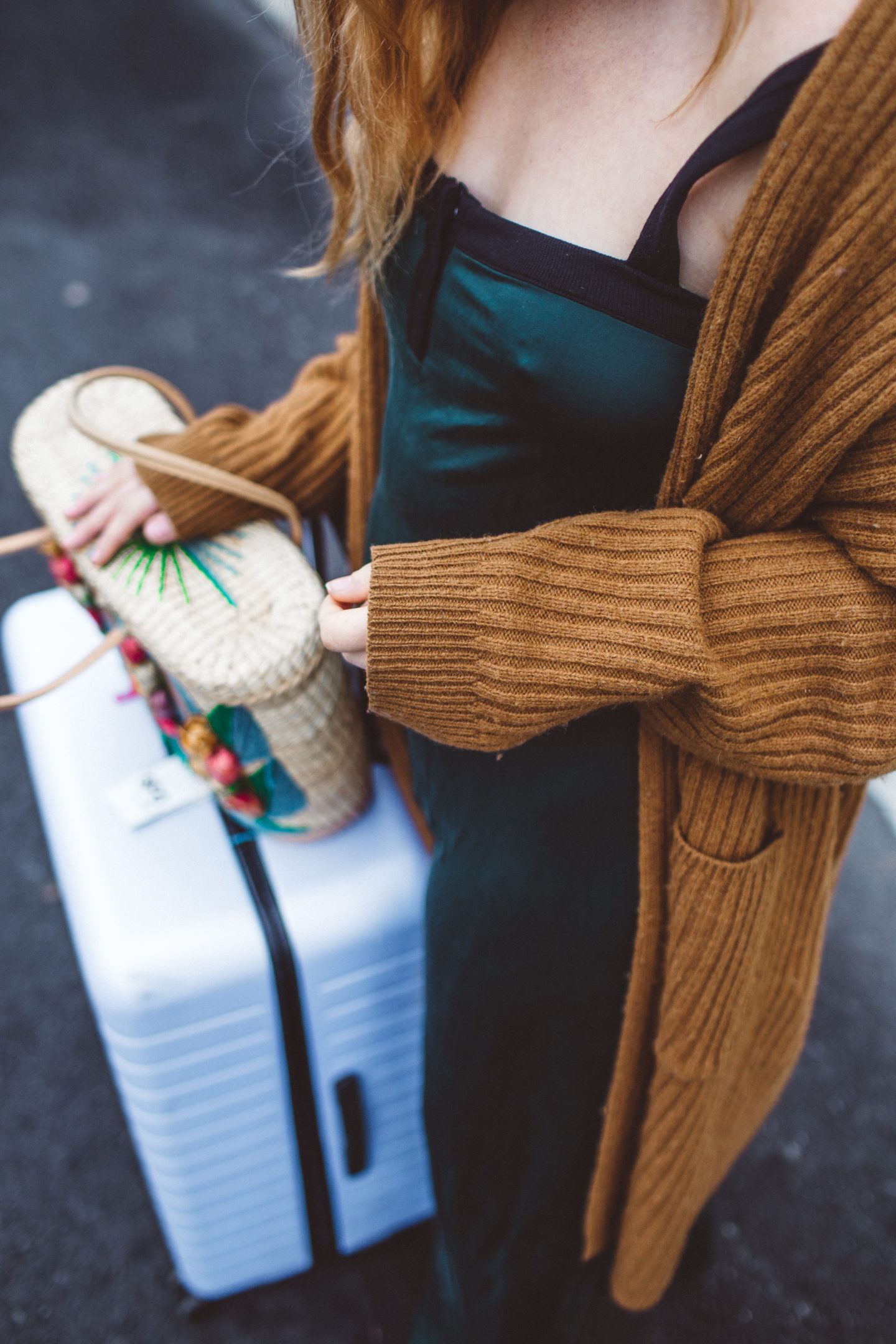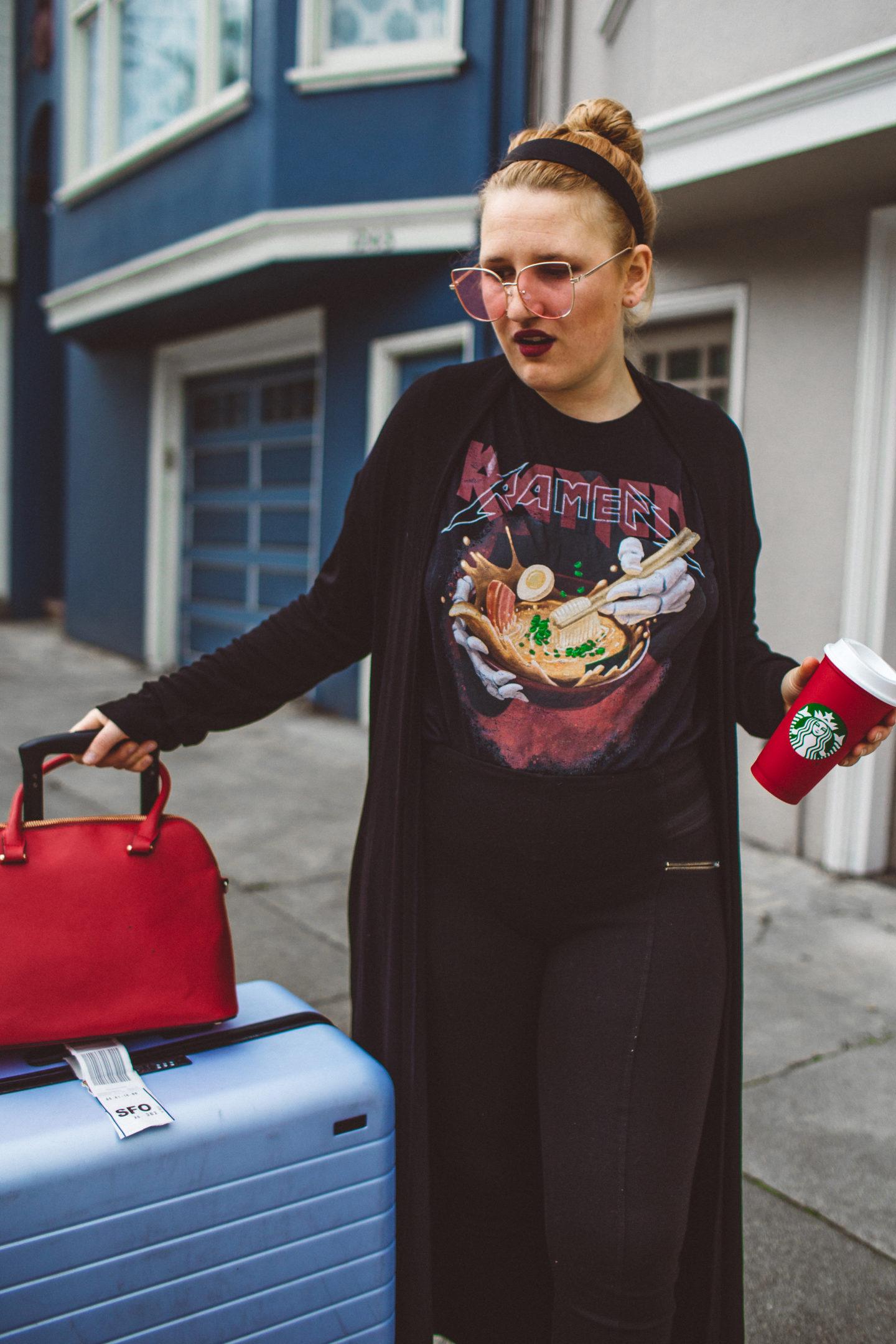 4 stylish airport outfit ideas to look chic AF while traveling
Before I jump into my airport outfit ideas for you, let's quickly review why it's so dang important to dress up for the airport. I mean, the obvious is that people at airports have eyes, too, and can still see you if you are dressed frumpy, even if they're all catching that same red-eye flight. Basically, TSA doesn't prohibit style, my friends.
But most importantly, you should always have cute airport attire because you never know what's going to happen at the airport. Your flight could be delayed or even canceled, then you'll have to spend a LOT of time in a frumpy outfit or even venture into the city to find a hotel.
But what's most scary? When the airline loses your luggage and you have to wander your new city in your airport outfit! That's the main reason I put on a cute outfit for the airport because you never know if you have to roll into a meeting or out to dinner in what you wore to the airport.
And if you chose to wear leggings and a wrinkled shirt, you're in trouble. Case in point – when traveling to Nicaragua a few years ago, the airline lost my friend's luggage. Luckily, she had packed an extra outfit in her carry-on bag and a couple of beauty items, but she still had to re-wear her airport outfit a few times before the airline returned her suitcase to her.
So, instead, when thinking of airport clothing ideas, I always wear one of the following outfit combos. Comfortable airport outfits can be fashionable and functional (and all of these outfits are ready to shop!)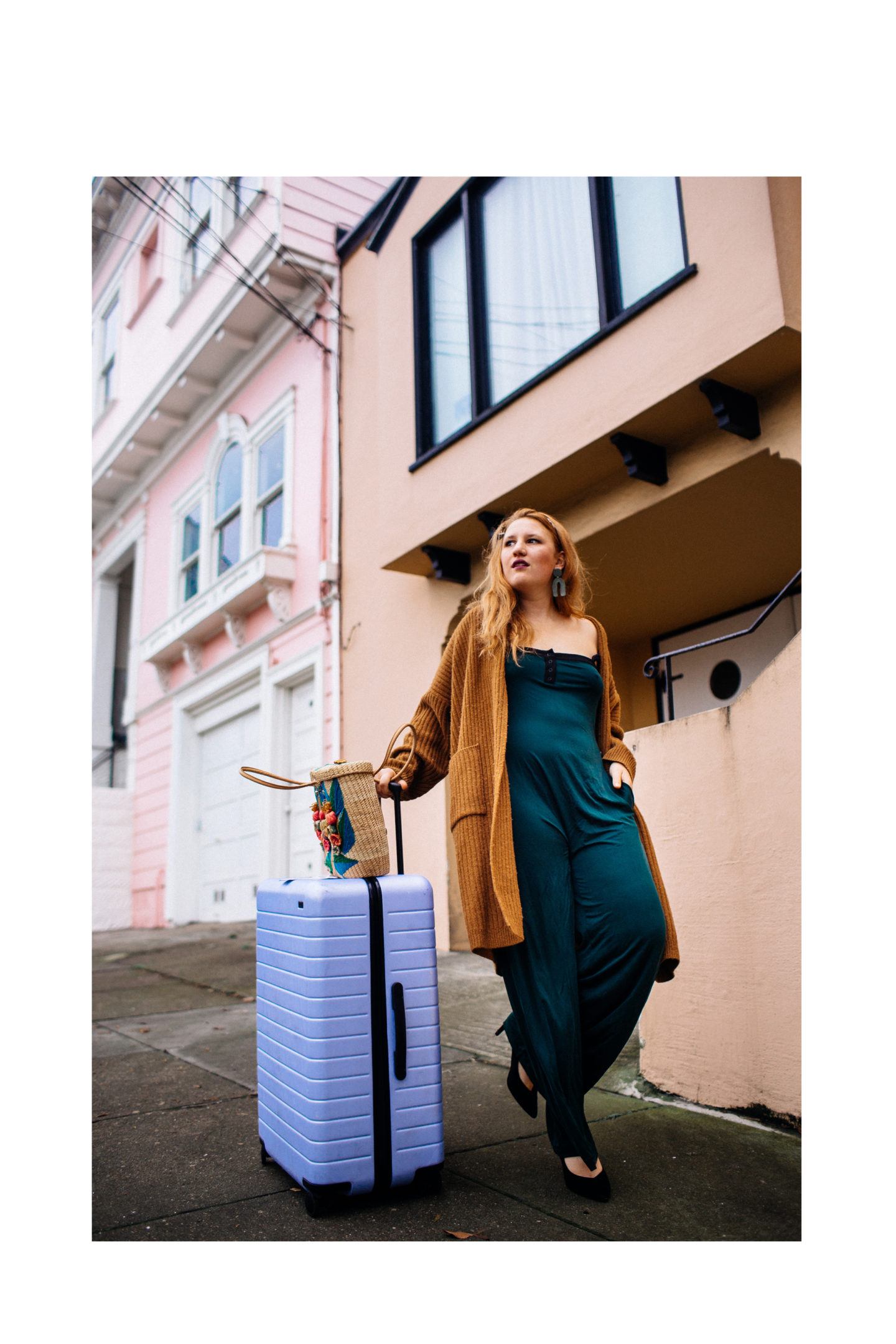 Jumpsuit with heels
Jumpsuits are always my go-to chic yet casual airport fashion. I love how it's simple (it's just one piece!) & they layer well under a jacket. The key is picking a jumpsuit that you can easily take on/off. (Struggling in a tiny airport bathroom is no fun, trust me!) This green Summersalt jumpsuit is my favorite. Pair with chunky slip-on heels, a headscarf, statement earrings and a cardigan to be airport ready!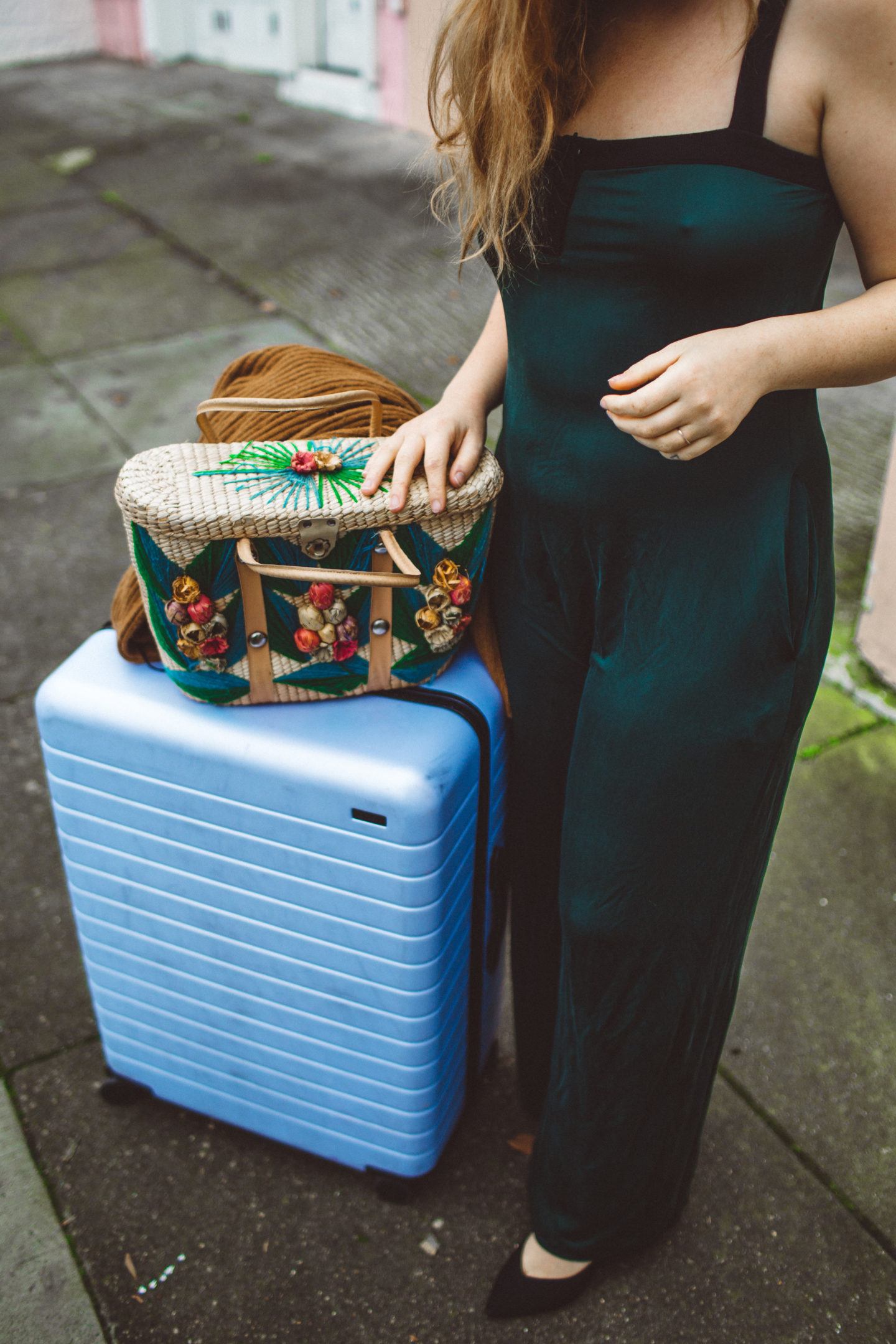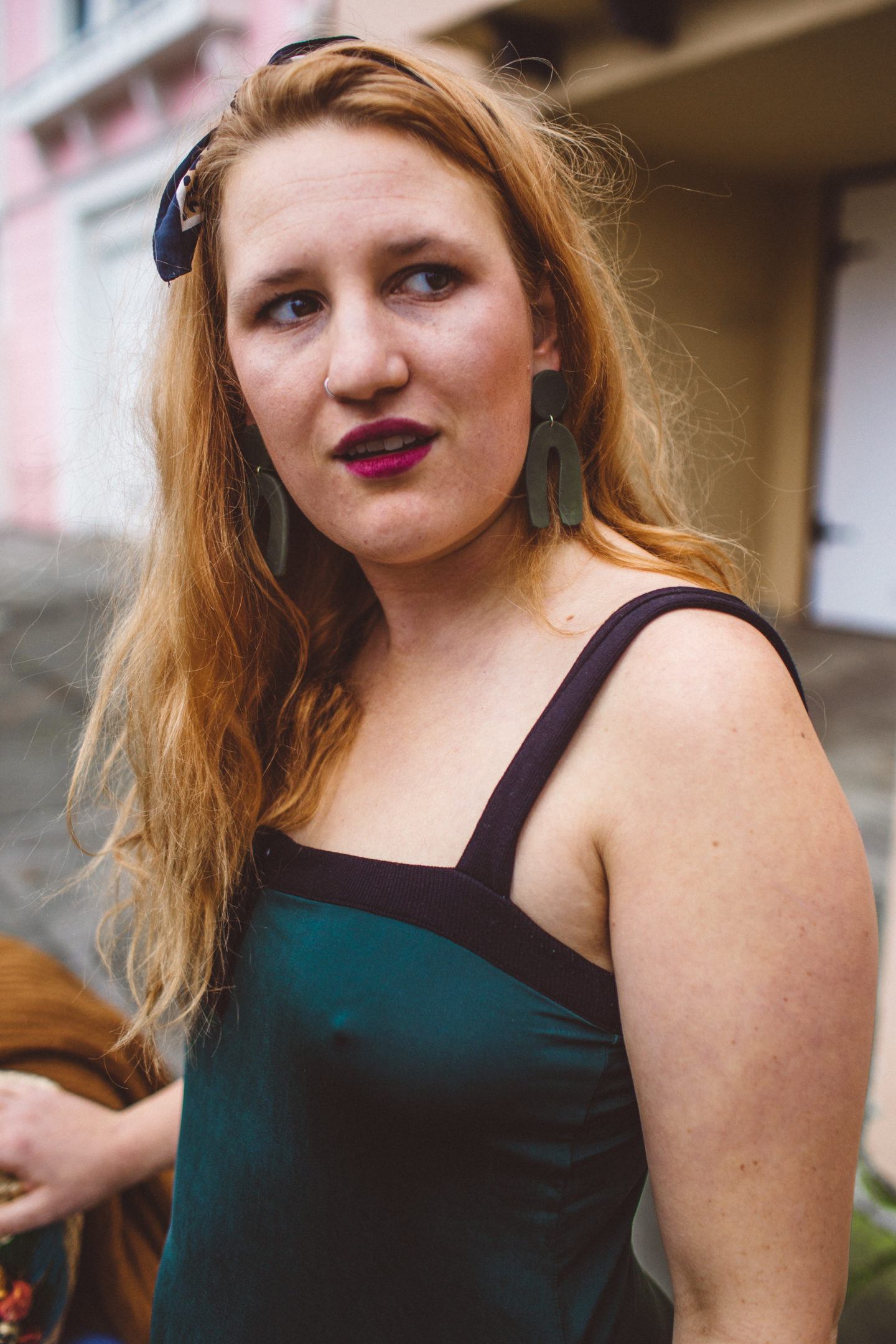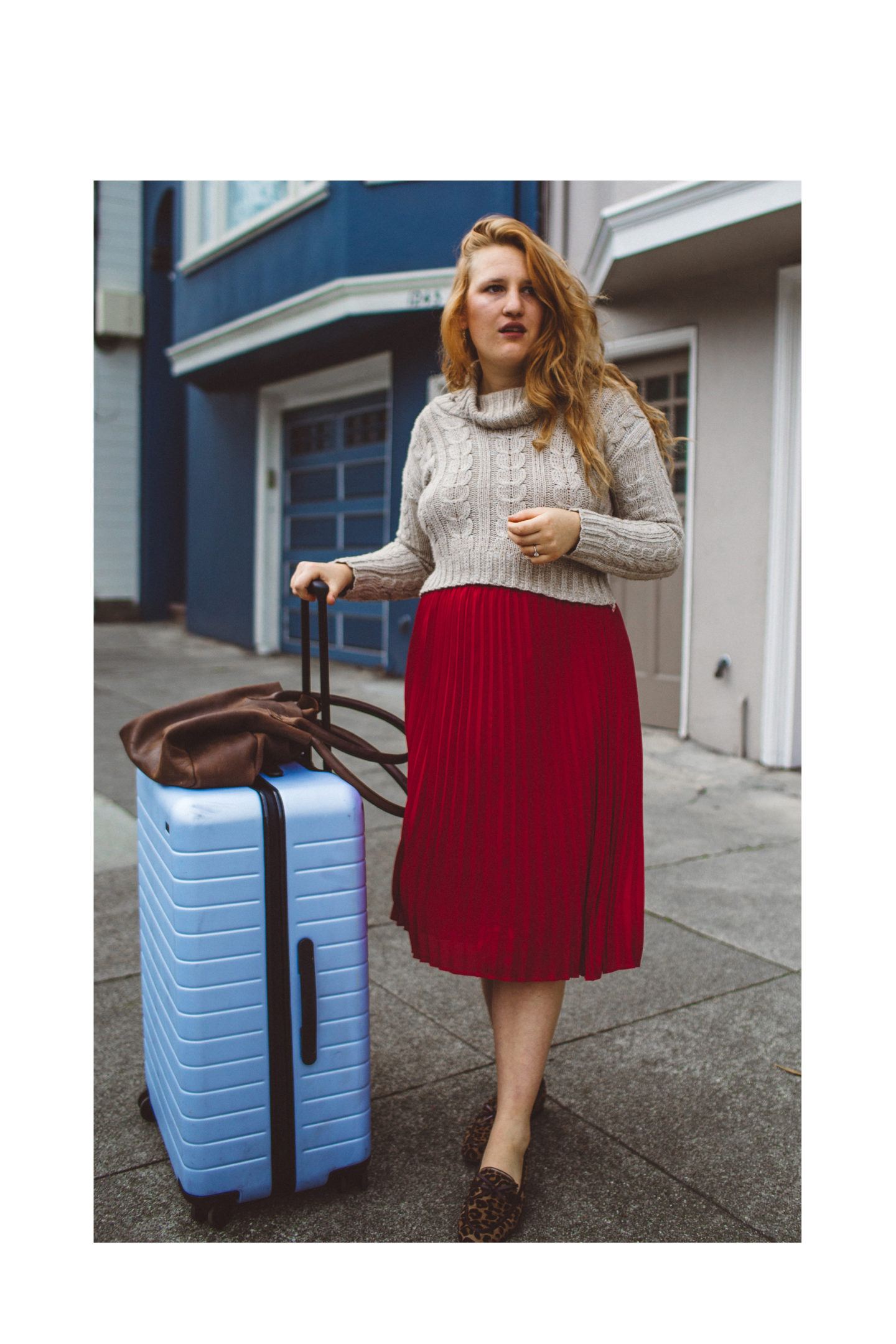 Sweater + Midi-Skirt
When I know I'm traveling to someplace with cold weather, so on a long flight, I like to reach for a sweater and midi-skirt combo with oxfords. I always wear a simple tank under (because, layers!) but skip a coat in lieu of a chunky sweater that'll keep me cozy all flight long. Top off with fun earrings and/or a headscarf and a bold red lip for a stylish airport outfit that's actually secretly kinda like wearing a blanket in public.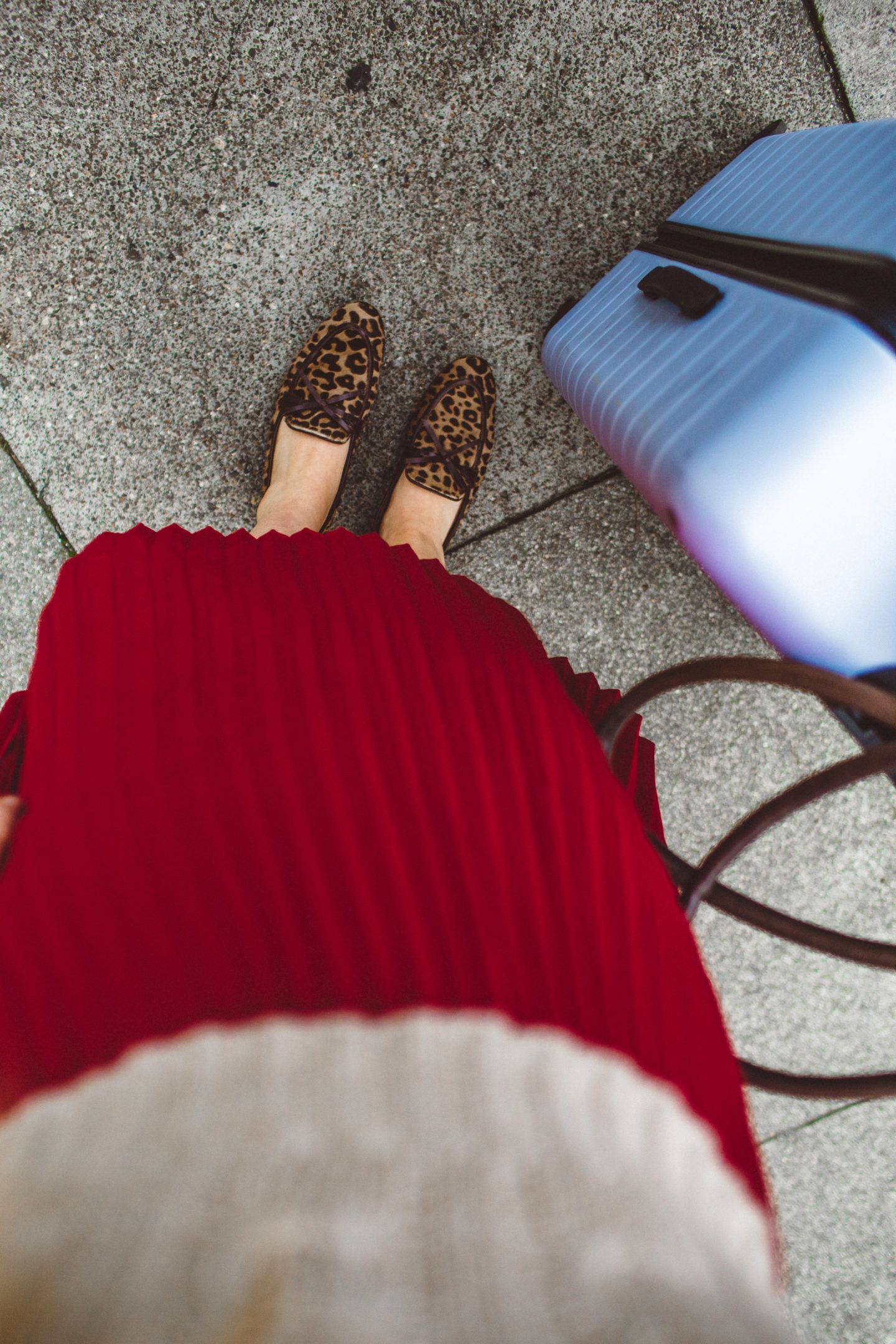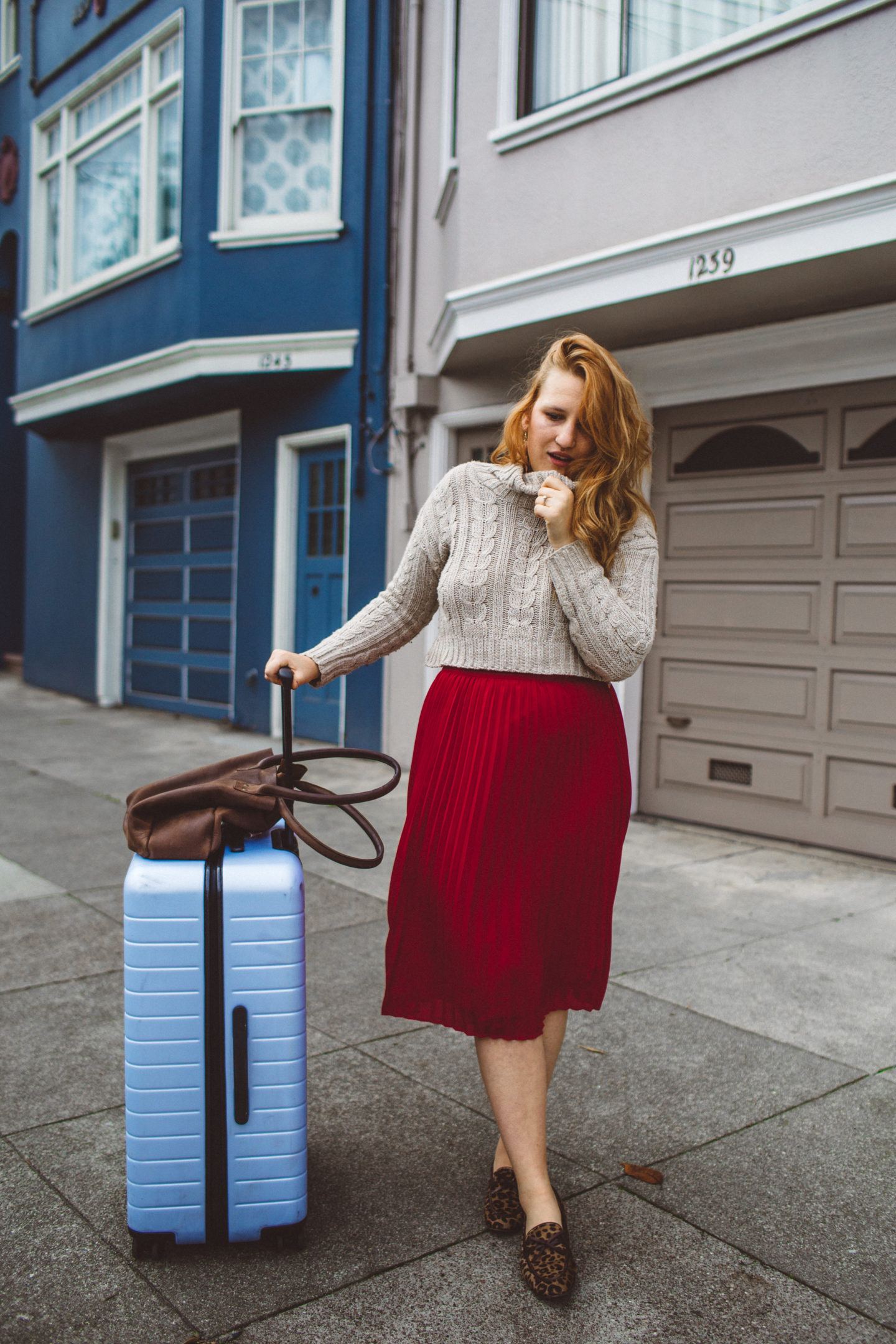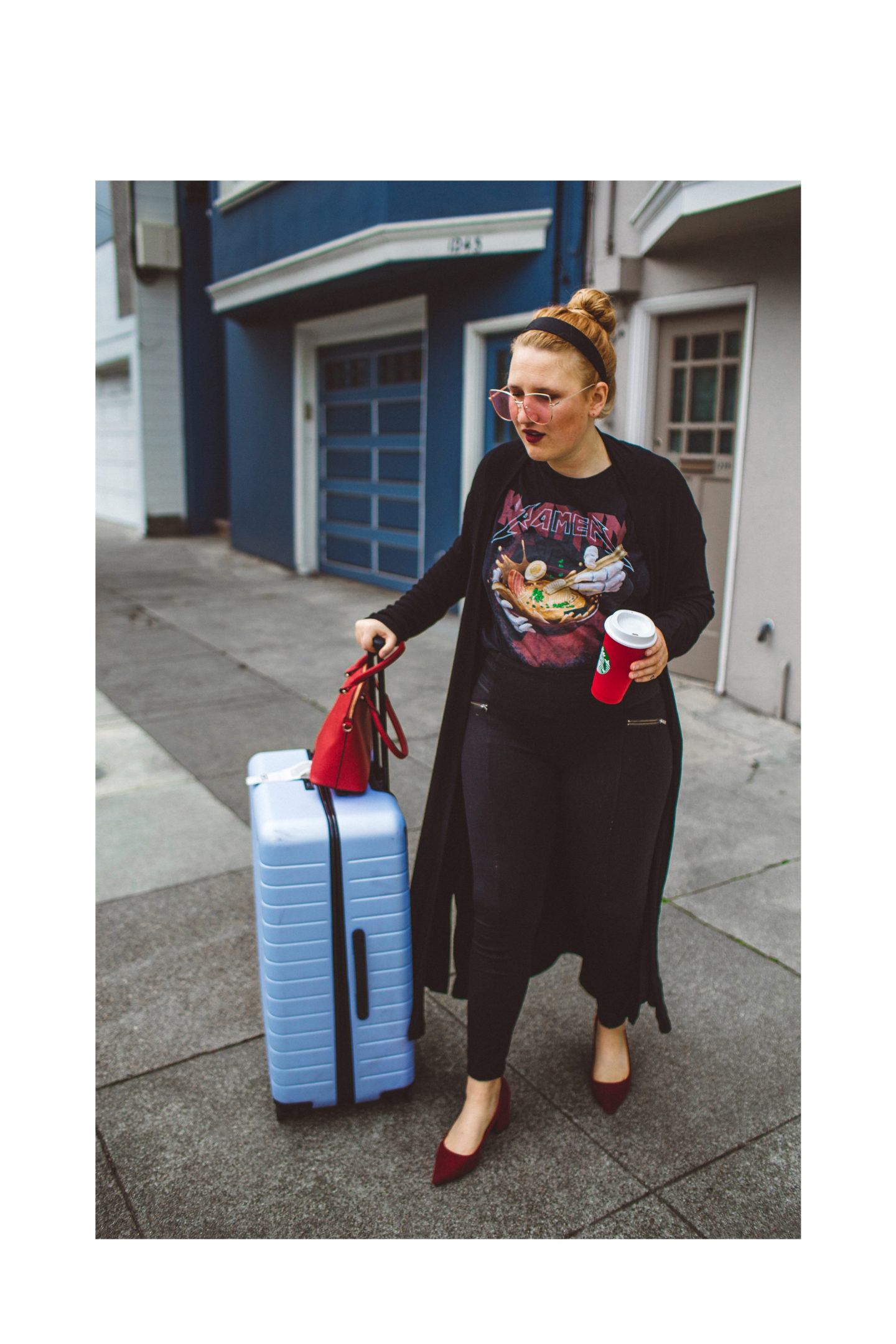 Chic Athleisure
Many of you are after that Kendall Jenner, Pinterest outfits style and this is my take on it. Skip the track pants! I like to pair a graphic tee (like this Ramen shirt from Well Done Wears) or my Nasty Woman shirt with black faux leather leggings (hello stretchy top!), short boots and a leather jacket. You can also swap the leather jacket for a denim jacket or a bomber jacket. Top with sunglasses and hair in a messy bun and BOOM, you've got that classic airport outfit down.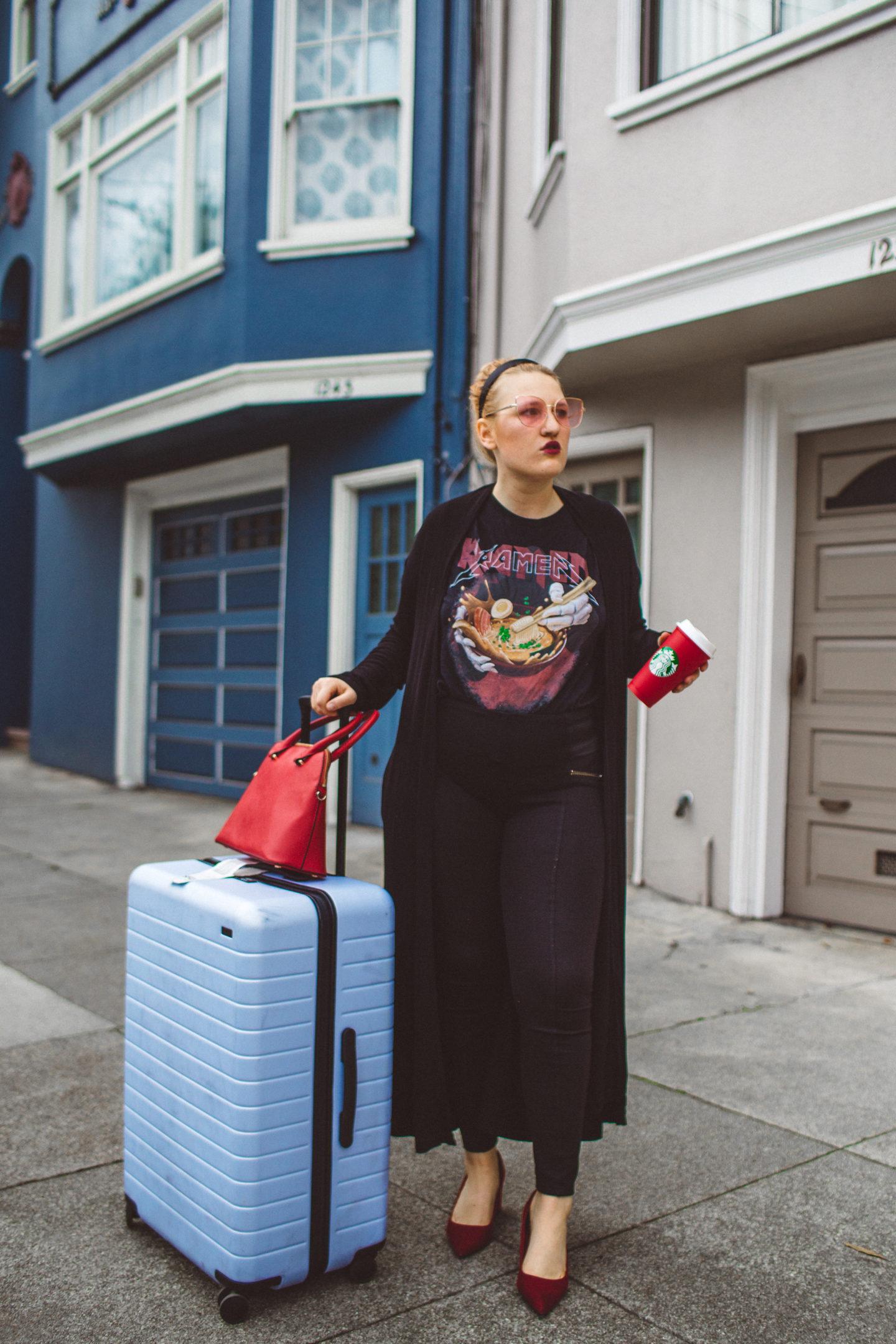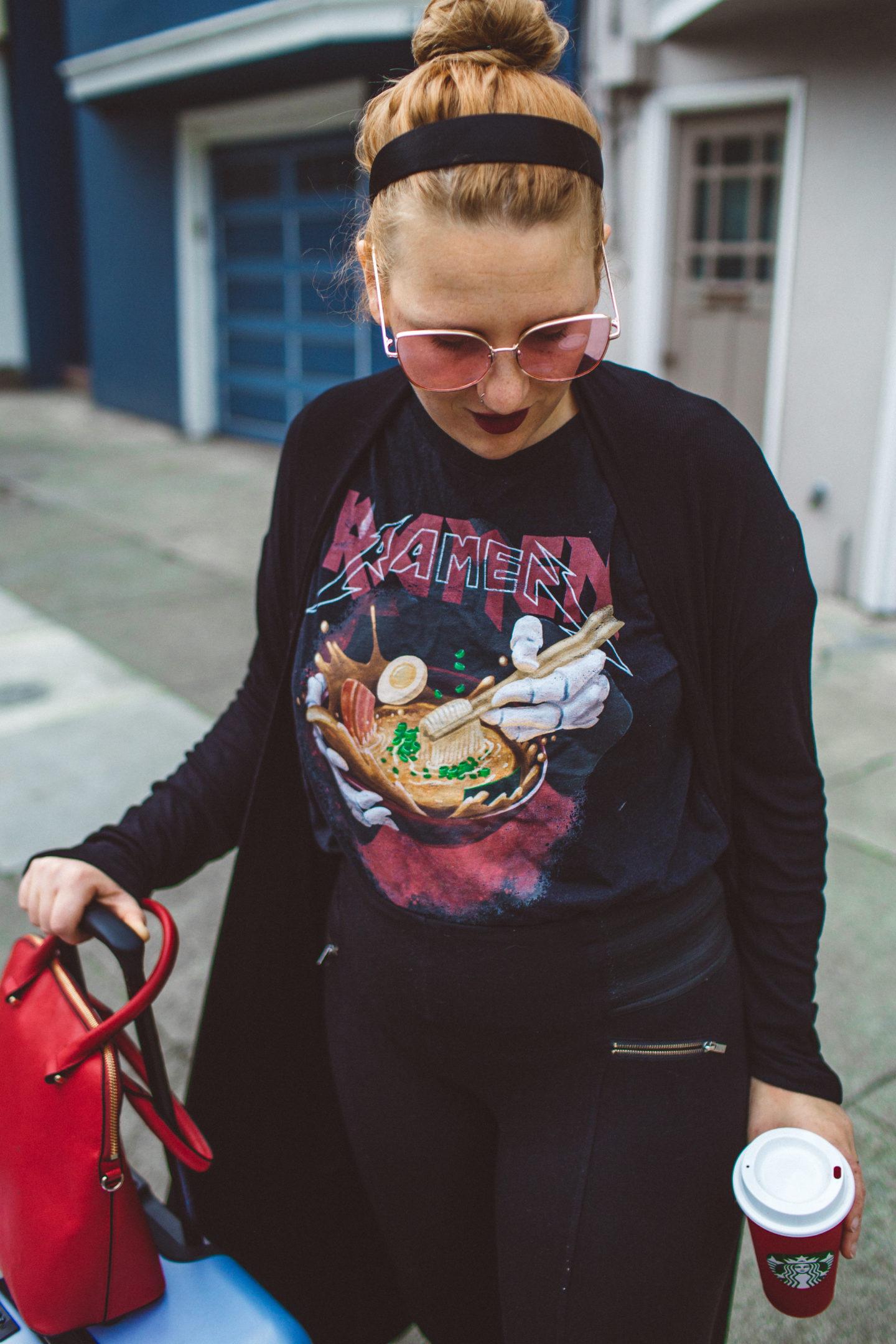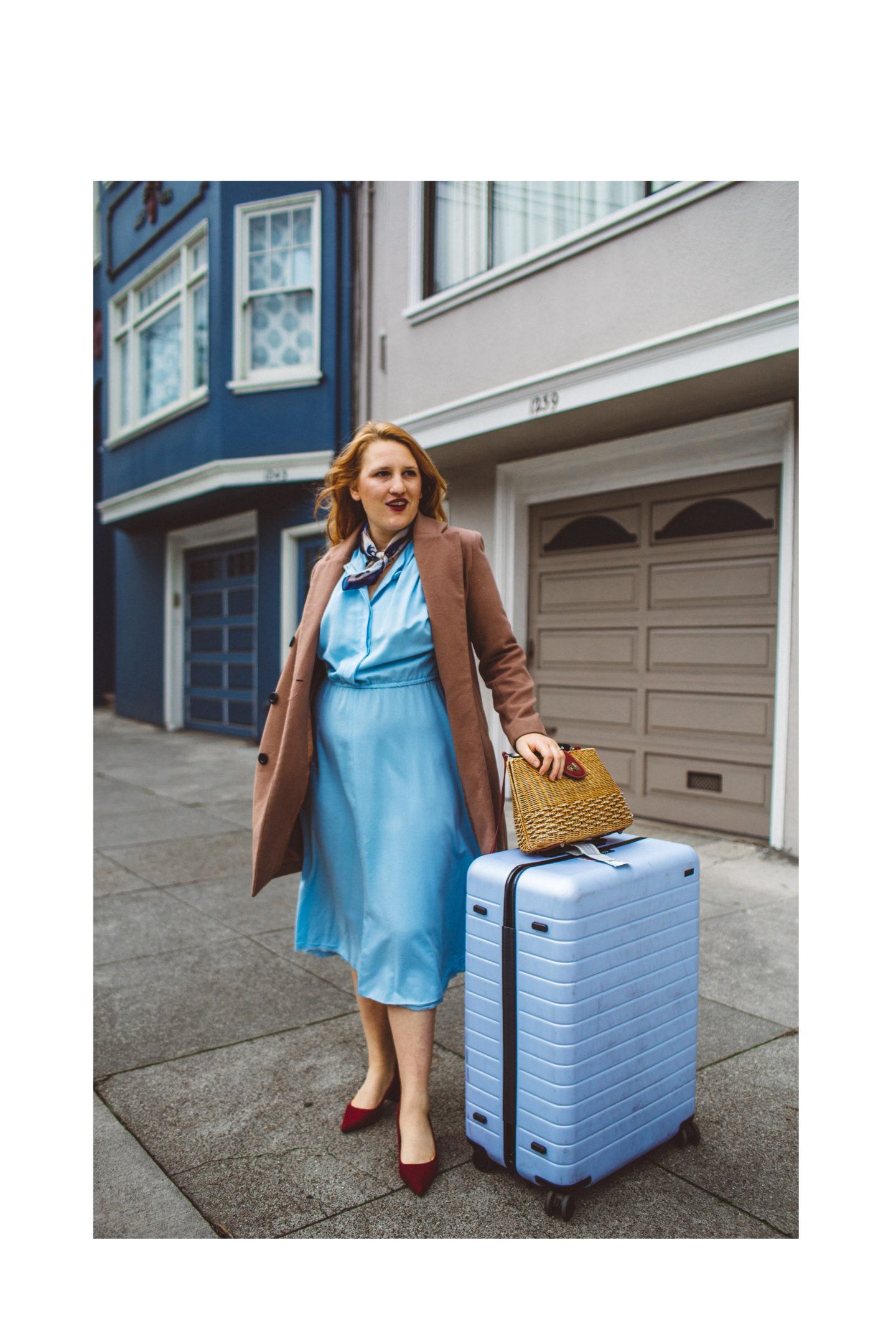 Classic Dress
You probably won't find this in your airport outfits Pinterest board, but I LOVE wearing dresses on flights? BECAUSE THEY ARE SO DANG COMFY, ya'll, especially for girls my size. A good midi-dress is daily my uniform. Paired with cute shoes like comfy heels and a camel coat in the winter, and this is a classy Airport outfit that's really easy to travel in. Top with accessories like a neck scarf to finish the outfit off.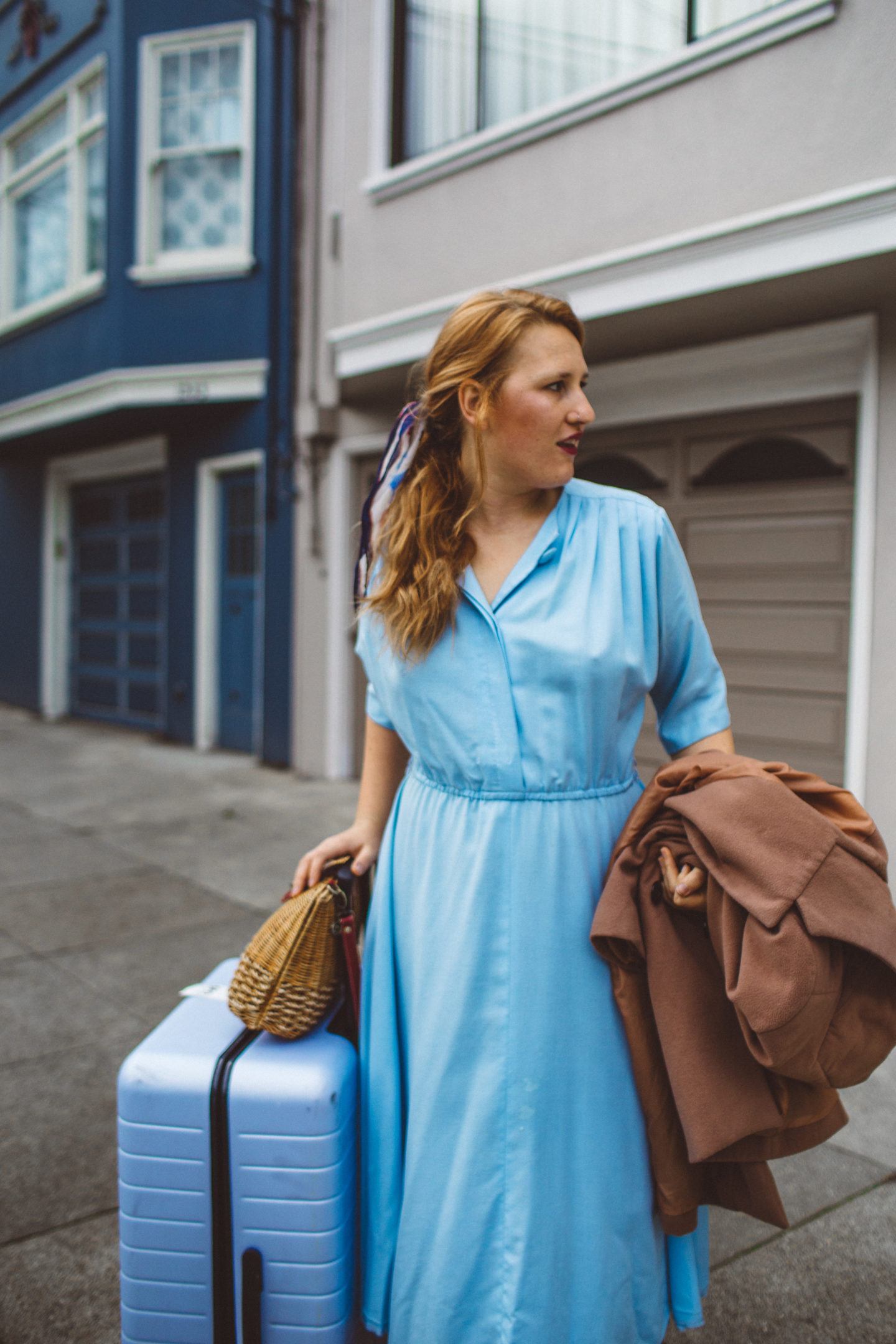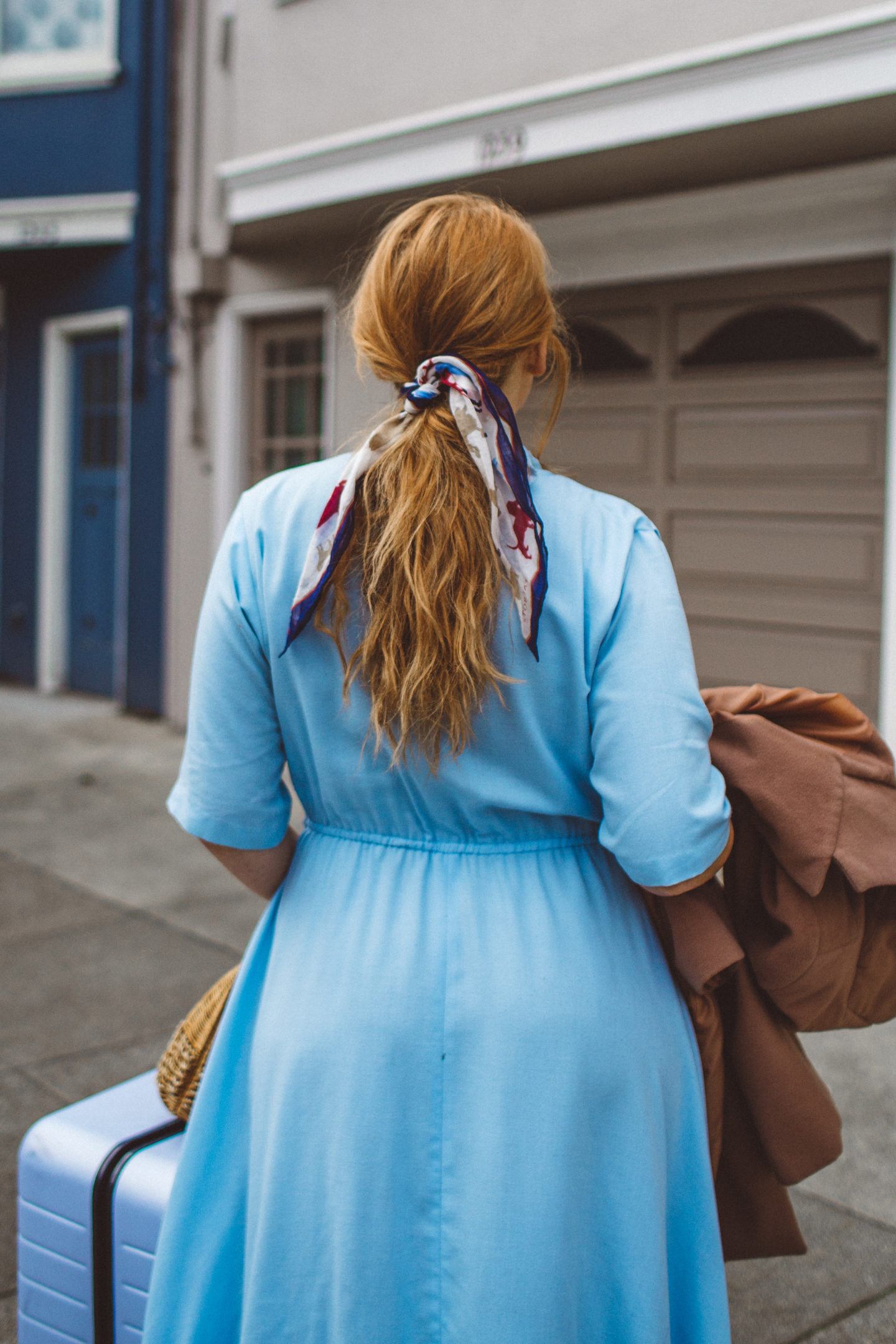 What not to wear to the airport
Notice one thing that's not on any of my comfy airport outfits ideas list? Skinny jeans… and jeans in general. As a curvy gal, jeans and tight pants are not my friend. They usually squeeze my waist and are uncomfortable to sit in long term. And that's exactly what you do when you are flying – sitting for hours on end in a tiny space! That's why I always opt for airport travel clothes that don't pinch and is roomy enough to wiggle around in as I try to get comfy in an airport seat.
Layers are also important, as airplanes can run really hot or really cold. I dress for the airport like I'm dressing for a day out in San Francisco – layers, layers, layers! And, I always tuck a pair of socks in my carry-on bag in case my feet get chilly during a long flight.
I hope these flight outfit ideas help you look fab and stylish while you are traveling during the holiday season! If you have any questions, leave a comment below or DM me on Instagram @Thewhimsysoul!