Sand dunes as far as the eye can see. Airstreams on the pier, sea caves, colorful flowers, epic sunsets and even more epic seafood — Pismo Beach is an underrated California beach town that you're going to LOVE for your next coastal getaway.
After spending the perfect weekend running around Pismo Beach, I'm bringing you the BEST travel guide itinerary packed with all the good posts to eat, favorite hotels and the top things to do in Pismo Beach this weekend. Leggo!
What To Do in Pismo Beach This Weekend: Dunes, Seafood, Beaches & More!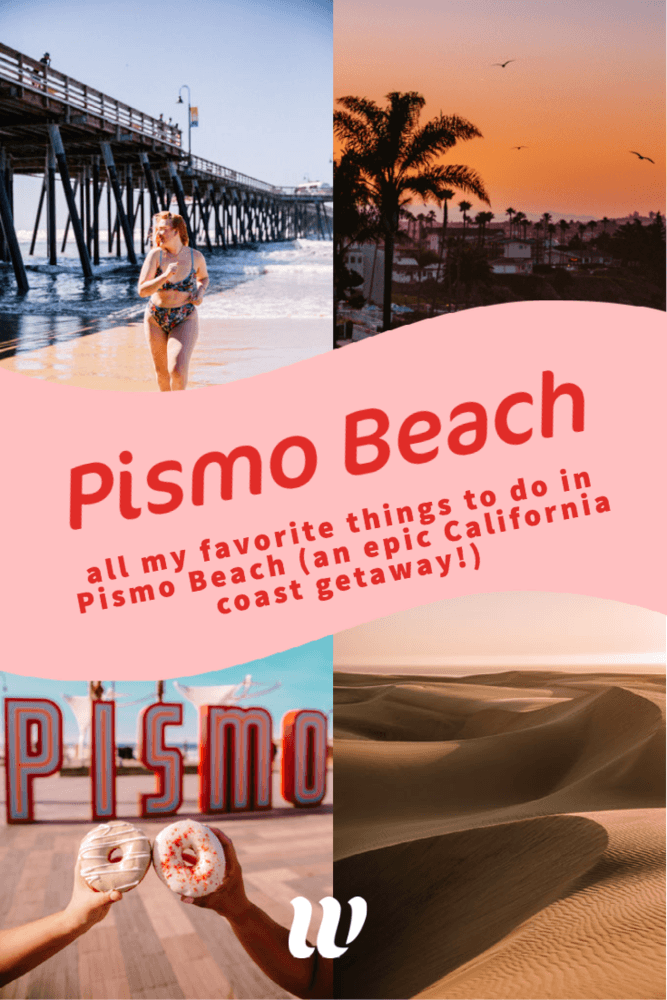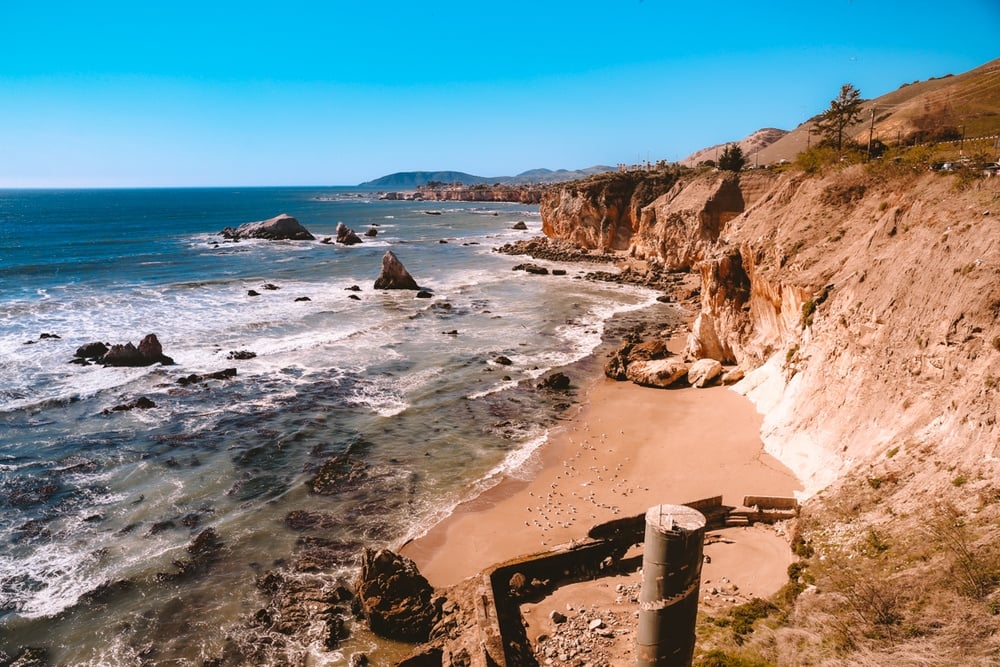 >> Got a question about the Silverado Trail that you need answered quickly? DM me on Instagram @thewhimsysoul and I'll be happy to help!
I've had Pismo on my bucket list for AGES after seeing a photo of the Oceano Sand Dunes on Instagram. And while we came specifically to see those Middle Eastern-feeling ocean-side dunes, I quickly fell in love with this laid-back beach town. It has such an array of dining options (I was honestly surprised by this) and tons of outdoor recreation, so I was in my happy place of running around all day and then stuffing myself with food at night.
We only spent a weekend here but I'm already in the midst of planning a return visit this summer! If you're looking for a unique weekend getaway in California, Pismo is it.
Where Is Pismo Beach, California?
Pismo Beach California is located in San Luis Obispo County on the Central Coast. It's pretty smack dab in the middle of the Bay Area and Los Angeles, making it the perfect beach getaway no matter where you live in the state.
From San Francisco: 244 miles / 3.45 hours
From Los Angeles: 180 miles / 3 hours
From Santa Barbara: 86 miles / 1.5 hours
If you're coming from the Bay Area and haven't ever driven the Pacific Coast Highway before, it can be fun to take Hwy 1 down. You'll wind through Half Moon Bay, Carmel, and through Big Sur before finally popping out and ending around Pismo. That being said it's SLOW AF and will take you hours if not a whole extra day to drive, depending on if you stop anywhere.
If you're trying to make it to Pismo on a weekend (vs a coastal highway road trip), just take the 101 down. It's just about 3.5 hours from San Francisco.
Top Pismo Beach Hotels – My Favorite Places To Stay
There are a lot of Pismo hotels but only a few really stick out to me as the *chef kiss* perfect place to stay. While Pismo reins Queen on dining options, I do think it lacks a bit on the same array of hotels but there are some good ones here.
Vespera: Literally right on the beach and steps away from the pier, Vespera is one of the top hotels in the Pismo. They have a KILLER outdoor space with chairs and firepits to lounge and watch the sunset. Rooms are upscale, some even have soaking tubs. Or, head to their ocean-view hot tub for an evening soak after a long day exploring.
Sandcastle Hotel: Sandcastle Hotel is also right on the beach, but the rates are usually cheaper than Vespera if your budget is smaller. They also outdoor seating with heat lamps and a rooftop restaurant and bar for sunset happy hours.
VRBO: A beachfront condo with a private rooftop and plenty of space to spread out? Yes, please! There are some pretty sweets beach houses in Pismo that are the same price as hotels, and many others that are even cheaper if you have large groups. (This cute house is only $41 per person!)
Love to camp?
Try
Pismo Beach camping
right on the sand dunes! Reservations can be a bit hard to snag, but if you're lucky you can get a campsite right on the Pismo Beach Sand Dunes.
What Should I Pack For My Weekend Trip To Pismo?
Pismo Beach weather tends to be mostly sunny, but it's not the hot California beach you may picture. In the winter it'll be chilly, around the low 60's. Sometimes it can get super windy down here in the wintertime which can make it feel colder. In the summer temps will rise to the low to mid 70's, making it the perfect beach town if you hate sweltering summers.
I recommend packing a mix of sundresses and warm weather outfits, along with layers to bundle up in the evening when it'll get chilly. My biggest regret was not packing a warm enough sweater for the nights since it was windy during our stay and we only sat outside for eating. Thankfully most places had heat lamps but I was still shivering!
Outfit Inspiration

What To Do In Pismo Beach – Top Attractions & Activities!
Now onto the good stuff – aka all my favorite Pismo Beach activities!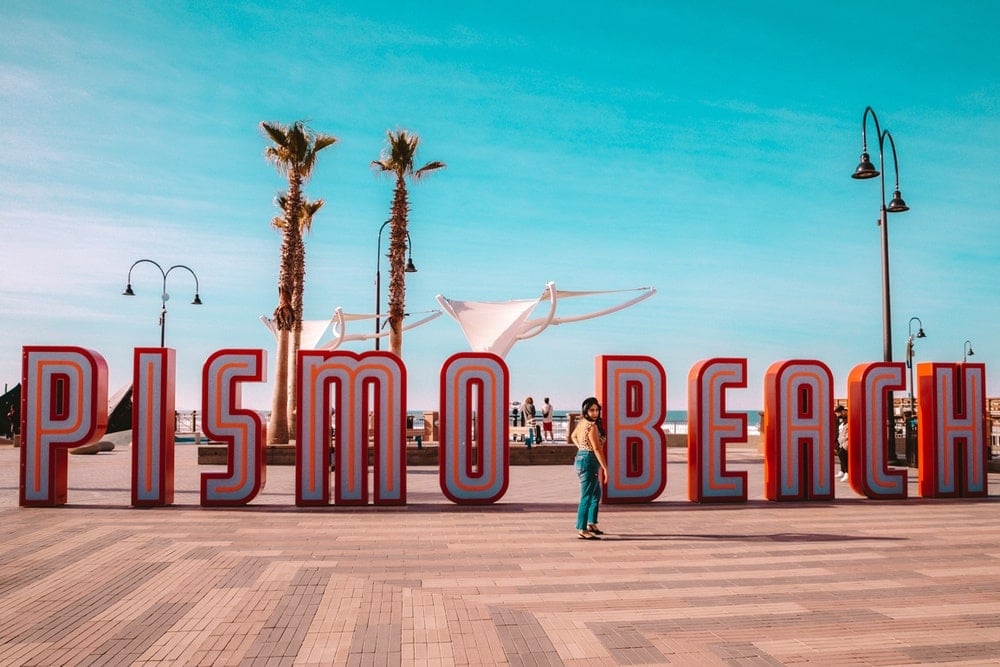 1. Explore Downtown Pismo Beach
Downtown Pismo Beach is small, but charming. It'll only take about an hour and half tops to wander the streets. It mostly has restaurants and cute cafes, but some boutiques and trinket stores (hey, it is a beach town after! You'll also be able to find a surf shop or a place to buy cheesy shirts.)
No matter what, you have to stop by the "Not LA, Not The Bay" sign outside Esteem Surf. It made me giggle since it's so literal, but it also looks really cool and totally worth a photo-op.
2. Pismo Beach Pier
The pier is the heart of the city. It's right off Downtown and is the main access point to the part of the beach that's popular for surfing and lounging. This pier is really cool, I won't lie. It's smaller than Santa Monica Pier, but it still packs charm — there's a bunch of airstreams on the pier that double as restaurants, shops or bars. I've never seen airstreams on a pier before, it's utterly unique to Pimso Beach.
After you stop by the airstream, walk the span of the pier. From the end, you can see across the span of the Pacific Ocean out front, and then up and down the coast when you turn to shore. All the colorful houses — ekk, I'm a sucker for California beach charm.
And of course, the Pier is where you'll find the famous Pismo Beach Sign. It's a classic! The best time of day to visit the sign for photos is the morning before crowds come, as it's quite large and hard to get a photo of the whole thing without anyone else in it.
The pier has bathrooms and changing rooms if you need them while exploring downtown or hanging out on the beach!
3. Have A Pismo Beach Day
If the weather's right, Pismo is the perfect place to camp out on the beach all day, swimming and relaxing under the sun. I recommend heading around the Pismo Beach Pier if you want close access to cafes, bathrooms, volleyball nets and a playground.
You can also instead up the shore to Avila Beach, which is much smaller but simply stunning. There's also Pismo State Beach which is next door to the Oceano Dunes. These parks are further away from the hustle and bustle and larger, so you can spread out with ease. But the state beach is a paid beach, so be prepared with cash.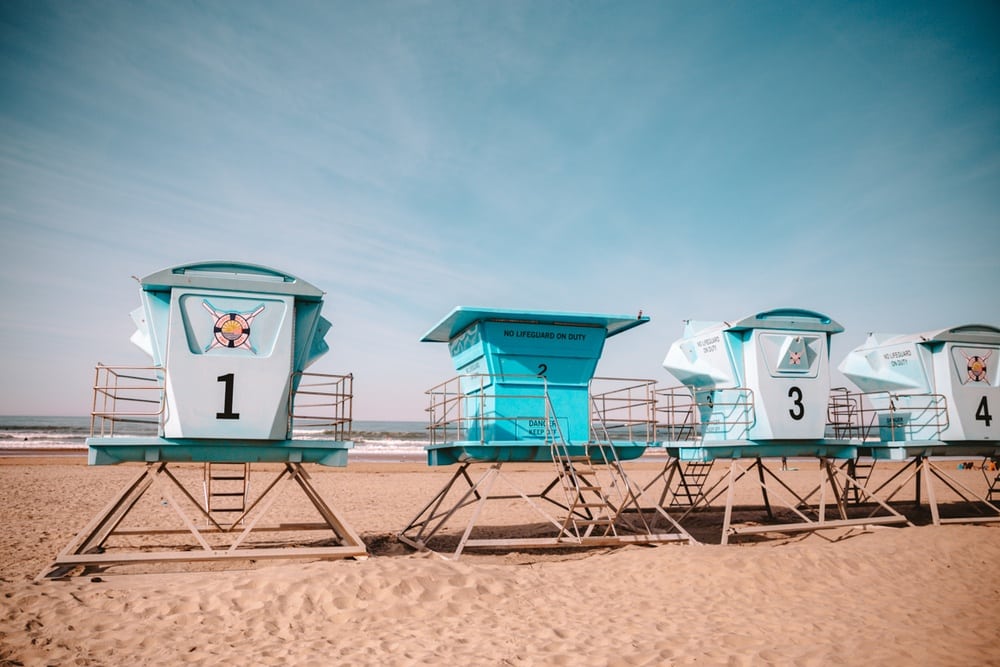 4. Pismo Beach Clam Festival
The Clam Festival is one of the biggest Pismo Beach Events of the year! It's been going on over 74 years. Did you know Pismo used to be a major clamming town? These days it's more of a tourist town, but they still have killer seafood here and you can find clams on almost any restaurant menu.
The Clam Festival features a parade, live music, wine and beer tasting, a kids zone, chowder contest and so much more. It's like a giant party. If you're in town for the festival, spot by with empty stomachs!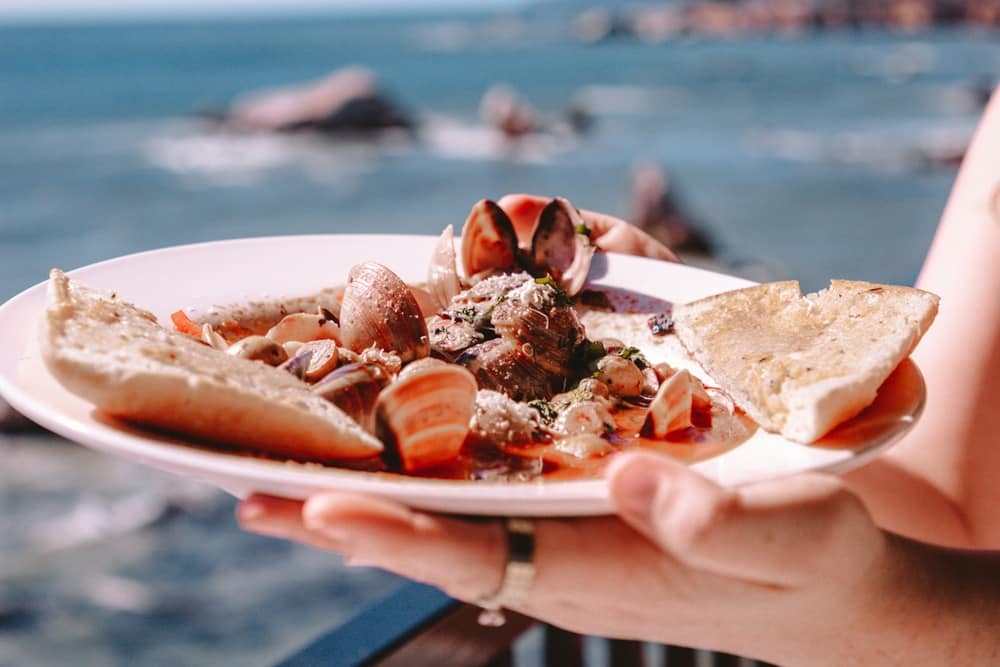 5. Go Hiking At Pismo Preserve
Hot dang, I love hiking on coastal bluffs. Usually no matter the time of year you'll find wildflowers dotting the trail. Combine with sweeping ocean views and wildlife (like whales if you're lucky), hiking around Pismo could possibly be the highlight of your weekend.
There are 8 great trails in the Pismo Preserve you can choose from. I would suggest the Spring to Spring Trail, but you can find more info on all the trailheads here in case something else jumps out at you. Another popular trail is the Price Historical Park over by the Pismo Beach Premium Outlets. This park has a bike trail if your group is into biking vs hiking!
Another great trail you may want to check out in the area is the
Cal Poly Architecture Graveyard
. It's in San Luis Obispo (about 45 minute drive north) but so dang unique, I've never seen anything like it!
6. Sunset at The Famous Pismo Dunes
The Pismo Beach Dunes are the highlight of this small town in my opinion. Also known as the Oceano Dunes SVRA, these dunes absolutely look like something you'd find in the Middle East, not next door to the beach in the United States. Of course, they're epic any time of day, but I recommend coming at Golden Hour to watch the sunset and catch the Green Flash from these top Pismo Beach attractions.
I have
a whole dunes guide with tips
on how to find my favorite secret access point to the dunes, along with more tips, that you totally should check out before heading over.
The Oceano Dunes State Vehicular Recreation Area is also popular to drive ATVs around the dunes. You can rent a dune buggy or ATVs from local companies, but only for a couple more years (the city has voted to ban off-road vehicles from the dunes – so if that's on your bucket list, run don't walk over to Pismo!)
7. Wine Tasting
There are about 30 wineries near Pismo in Edna Valley (though more up the coast in Paso Robles.) Edna Valley is cute and mixes farm town vibes with California chic. You can totally spend a whole weekend wine tasting but I recommend that you just go for 1-2 afternoon tastings one day in between hiking and dinner.
Start with Malene Wines, a French-style winery that as outdoor seating and a cute Airstream bar. They're really known for their rosé wines (my friends took home a few bottles!)
8. Go Sea Kayaking
I LOVE kayaking. I go kayaking over in Sausalito a few times a week but I adore kayaking while traveling and Pismo Beach has some really cool sea kayaking options. You can go on guides tours with a local company or rent on your own. Of course you can paddle around the shore and try and spot whales, but I recommend exploring sea caves.
You can access some seacaves by foot, but many in the area are only accessible via boat. There's nothing cooler than kayaking through dark caves and popping out to the sunshine. I went sea kayaking up in Mendocino once and it was a surreal experience.
On my most recent SLO trip, we went kayaking Avila Beach to the lighthouse and the secret swing. You can also rent from Central Coast Kayaks, they offer tours. But I really loved doing a self guided paddle to the lighthouse near Avila.
9. Exploring Pirates Cove at Avila Beach
If you aren't up for kayaking but still want to see caves, head to Pirates Cove at Avila Beach up the coast about 20 minutes from Pismo. The parking lot is dirt and small. You have to hike down the bluff to access the caves but here you can wander arches and caves. We tried to visit on a Sunday evening but the lot was SO full it backup at least half a mile, so we never made it.
With that in mind, I suggest NOT coming here on a weekend day unless you arrive at sunrise, in which case the lot will probably be empty and you'll have it all to yourself. Or, come on a weekday to avoid the heavy crowds. A sunset here is on my bucket list — I'll get there one day!
10. Stroll A Bluff Park
Pismo and SLO have a handful of stunning parks right on the edge of the ocean, or ones that lead to the water. These are the top parks to visit:
Dinosaur Caves Park is an 11 acre bluff overlooking the ocean and caves below. You can't actually climb through the caves here, but it is a beautiful spot for a morning stroll or sunset walk.
Bob Jones Trail is also known as the City to Sea Trail. It's a bike and walk path that starts in the mountains and ends near the water in Avila Beach.
Eldwayen Ocean Park is small but has stairs that lead to the water. Make sure to go at low-tide!
Margo Dodd Park is small as well, but famous for the gazebo for sunset watching. (If you're looking for things to do in Pismo Beach for couples, plan a romantic sunset picnic here!)
11. Sunrise at Morro Rock Beach at Morro Bay
Up the coast is a tiny fishing town called Morro Bay that's known for Morro Rock, a 800+ foot rock that is just so dang COOL. (It looks a lot like Haystack Rock in Cannon Beach up in Oregon.) It's a popular spot along the coast, so weekends can get crowded which is why I recommend you visit Morro Rock Beach at sunrise. You'll get first dibs on any sea shell collecting, a beach all to yourself and a pastel sunrise. It's worth the early wake up call!
12. Monarch Butterfly Grove
Did you know that Monarch butterflies can travel thousands of miles? Some Monarchs camp out in Canada in the summer but migrate down the coast in the winter. Migration season in Pismo is around November – February. You can head to the Monarch Butterfly Grove to view these beauties up close. It's absolutely one of those unique things to do in Pismo Beach you can't find anywhere else in Calfiornia.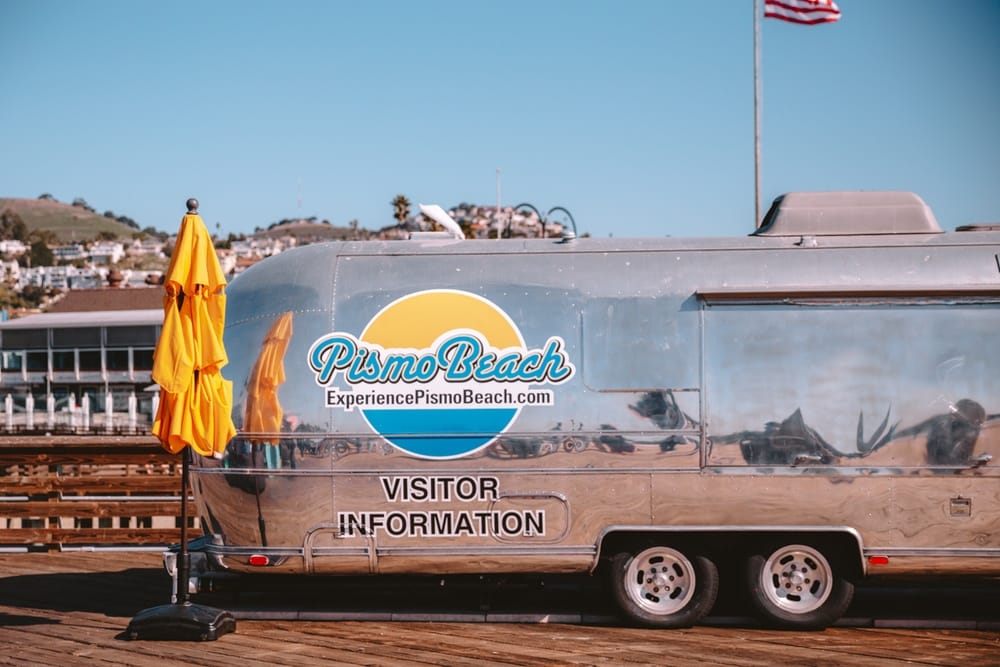 Where To Eat in Pismo Beach
There are a LOT of restaurants in Pismo Beach, I was really surprised to be honest. A lot of times in these small towns, there just isn't a great food scene. But we almost had too many good choices to pick from during our trip, it was hard to decide! Come to Pismo ready to eat, that's my best advice.
Up in Shell Beach is Cape Cod Eatery, which I immediately fell in love with. This seafood joint offers of outdoor seating around fire pits, string lights and a fun neon sign for those nighttime ~vibes~. They have one of those "pour your own beer" taps so you can try a bunch of different brews.
And best of all, their food is SO DANG GOOD. I recommend you get the chowder bread bolls or a lobster roll. But honestly, you can't go wrong here. It's all tasty and they give big servings. It can get a bit crowded around dinner time so be prepared to wait on a weekend, but it's worth it. There isn't exactly a lot of things to do in Pismo Beach at night, but this place always has a fun nightlife vibe.
This is THE donut joint in town. Expect to have to stand in alien at least 20 minutes and donuts WILL sell out by 11am, if not earlier. We tried to swing by one day around 10am only to find them closed since all the donuts had sold out! We came back the next day around 8am instead. I recommend grabbing a box of fun donut flavors (like matcha or bacon!) and taking them to the beach to eat for breakfast one morning.
Pierside Market
We loved the Pierside Market so much we ate here two mornings in a row. This cute breakfast spot meets market has outdoor seating, is just a couple blocks up from the beach and has the best dang build your own Acai bowls I've had in ages. They also serve up things like Avocado Toast, Breakfast Burritos and of course coffee. Make sure to start the day here at least once, trust me!
Do you like spicy drinks and being adventurous? Order the house Scoprian Coffee drink (iced or hot) for a real kick. It's unlike any other coffee drink I've ever had.
Dilly Dogs has pretty much any sausage you can imagine (chilly dog, tiki dog, cheddar – anything!) and the coolest backyard set up. Think: carnival meets hot dog stand meets beach town. I think this spot would be perfect for a lunch.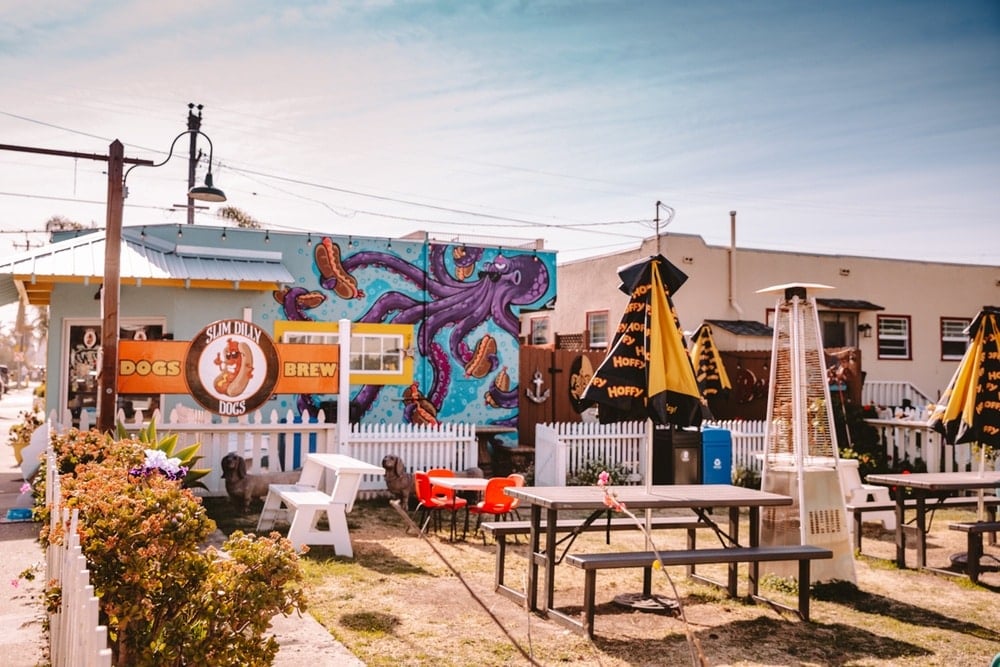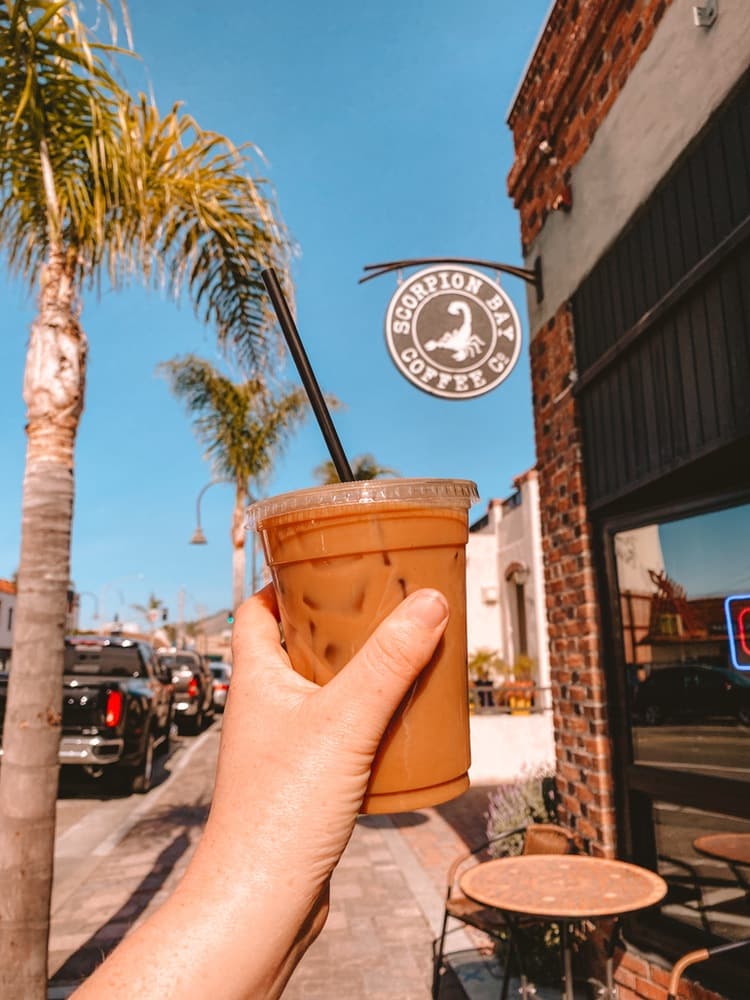 The girls and I stumbled upon this gorgeous patio by accident and now Ventana Grill is one of my favorite lunch spots on the Coast. This restaurant has a wrap-around porch patio the literally sits on the edge of a cliffside. Like, I could look down and see the ocean below. Scary and beautiful at the same time.
I'm sure sunset is epic here, but we loved our lunch. So much time in the sun to sip on tasty cocktails, nibble on clams and soak up fresh ocean air. I think we spent 2 hours here kicking back.
Old West is like, THE classic breakfast place in town. They've been in operation for over 40 years and have grown to be a beloved spot by locals and tourists alike. So many followers on Instagram raved about how tasty their cinnamon rolls are. Just like with the donuts, there's going to be a long line here but it's worth the wait.
Craving clam chowder? Splash Cafe is your spot. It's award-winning and they make it from scratch every day. Again – this join is one of those places you'll have to stand in line for. Pismo seems to have a lot of those, huh? I meant it when I said they have an epic food scene! And just like with the donuts and cinnamon rolls, it's worth the wait for clam chowder in a bread bowl.
I hope this helps you plan an epic trip to the Central Coast! There are so many fun things to do in Pismo Beach and it often gets overshadowed by nearby Paso Robles and Santa Barbara. (Which don't get me wrong – both are awesome places that you totally need to visit.)
I can't stress enough how cool Pismo Beach is, though. It mixes outdoor recreation with classic beach town vibes topped off with a foodies' paradise. There's something for everyone here.
Got more Pismo tips to add that didn't make it to my guide? Drop a comment below so everyone can see! Got questions? DM me on Instagram @thewhimsysoul and I'll be happy to help!