I live and breathe The Kardashians. I've seen all the episodes, watched each sister's journey through life, and know about all the businesses, from jeans to makeup to shapewear to vitamins and more.
They have a lot of businesses…
And not all businesses are created equal. Some of them really sucked (like Kylie's swim line), while others rocked (like Kim's shapewear line).They are equal in one matter, however. They cost a pretty penny.
It's tough to tell if celebrity products are good or if they're just trying to make a quick buck, but out of all the Kardashians, I personally have the most faith in Kim. I think she took her time creating SKIMS – her shapewear/clothing brand.
BUT, it's still out of my budget. So, I'll give you some SKIMS alternatives to add to your clothing collection for a reasonable price tag.
The Story of SKIMS: A Little Need To Know About The Start of Kim's Brand
First, a brief chit-chat about the Kardashian brand. SKIMS launched in 2019, and was initially named Kimono. That is, until Kim received a letter from the mayor of Kyoto, Japan telling her the name was a wrong choice and had cultural appropriation written all over it. (I'm paraphrasing, of course.)
If you've seen KUWK, their famous reality show, you probably saw this instance play out. It was messy and honestly ridiculous. Out of an entire business, not one person thought about the name potentially causing harm to a whole group of people? Odd.
But Kim took all the responsibility, which is why I respect her and her products. She doesn't just touch the surface and try to make a scandal disappear.
She addresses it, she fixes it, and she apologizes. These are the three key ingredients to gaining public trust and healthily sustaining your platform.
I do like Kim, but I also recognize that she is yet another billionaire hoarding wealth. She's likable, but she's also a part of the 1% causing so much disparity, stress, and financial insecurity in this country.
Not to get too political… but eat the rich. Alright, rant out of the way. Let's get into the best SKIMS dupes I found!
The Best SKIMS Shapewear Dupes You To Shop Today
Starting this list off with what Kim Kardashian originally made SKIMS for, shapewear!
Kim has made all kinds of shapewear for women (or anyone who chooses to wear it). From a mock neck bodysuit to low-back shorts, waist trainers, and more.
Lucky for you, I found a SKIMS dupe bodysuit you'll want to shop for immediately.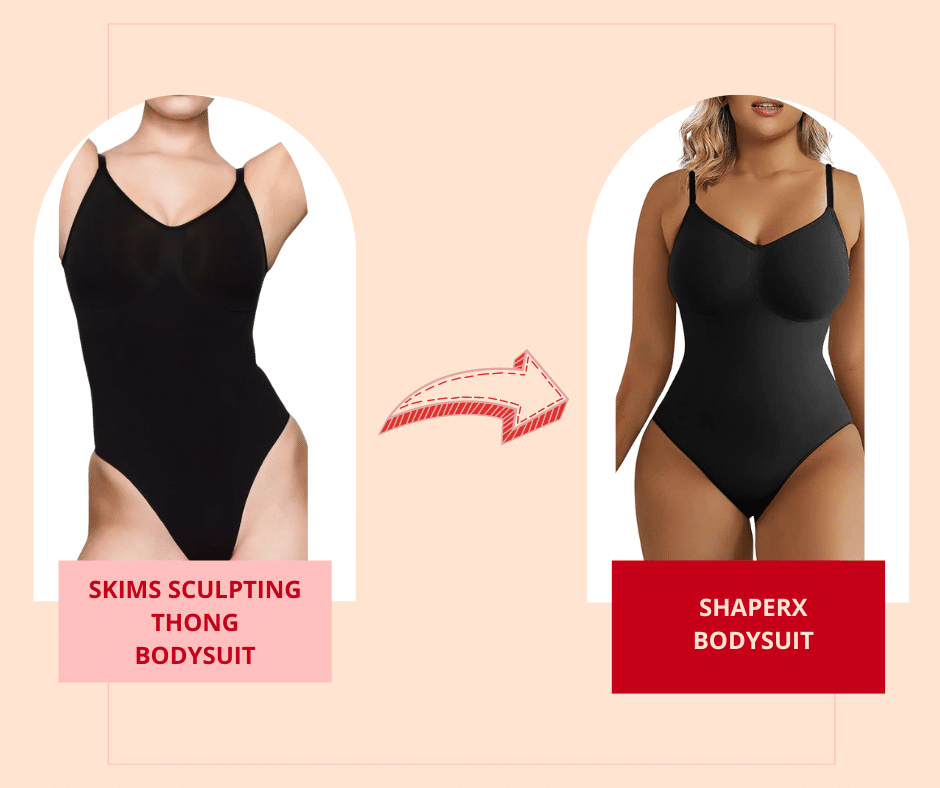 SHAPERX Bodysuit Dupe
Probably the most popular SKIMS dupe, this body suit is a dupe of Kim's Sculpting Thong Bodysuit. It's ALL over TikTok and probably one of the best SKIMSs dupes Amazon offers!
Plus, it retails on Amazon for $37, while the real thing is $62. (The most affordable and high-quality dupes are Amazon Bodysuits!)
It comes in three neutral colors and it's the perfect addition to your clothing basics. People wear it alone with jeans and a blazer or under dresses and always look snatched.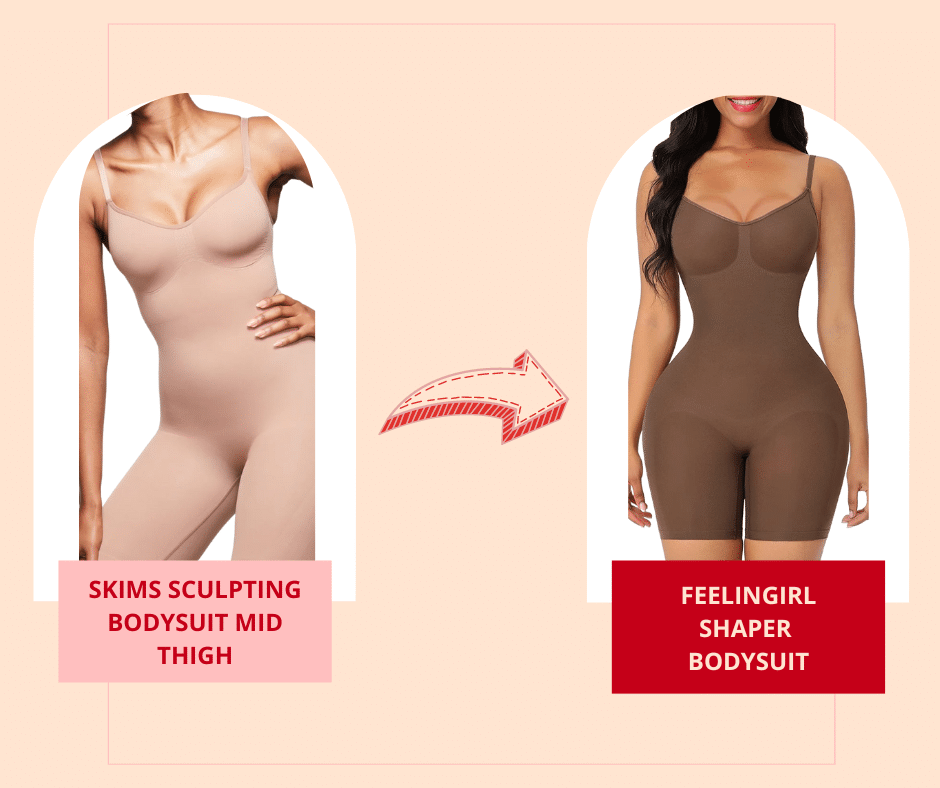 FeelinGirl Shaper Bodysuit
This halter neck bodysuit is a great alternative to SKIMS Sculpting Bodysuit Mid Thigh. It comes in at $40. It's butt-lifting, seamless, and breathable. It's a winner for a SKIMS bodysuit Dupe.
They have sizes XS-5X, and reviews say it's a little hard to get on, but once it's on, it's nice and comfortable! Definitely a good buy for people that like to feel snatched throughout the day without feeling suffocated.
Now onto, SKIMS Loungewear Dupes
SKIMS has done well in the Loungewear department. They made some incredibly comfy and snatched pieces, but unless it's Black Friday, I'm not spending all my money on her stuff. Here are the dupes.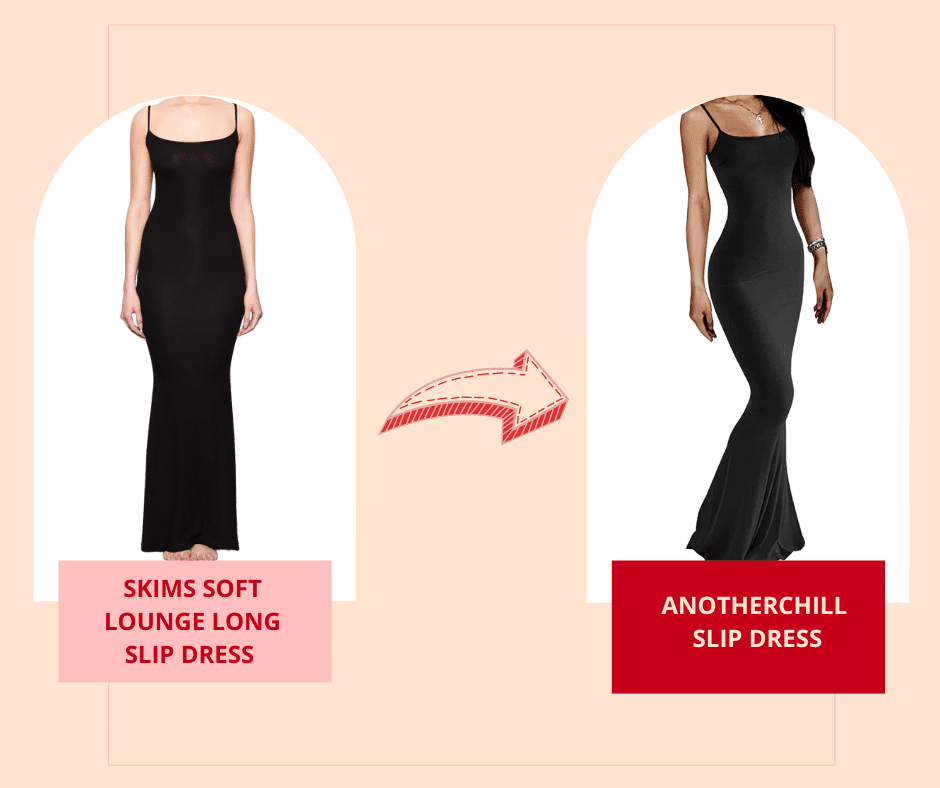 AnotherChill Slip Dress
Kim has created a dress that has blown up on TikTok. It's the Soft Lounge Long Slip Dress From the SKIMS soft lounge collection and it's a beauty.
The flare at the bottom of the dress is what gives it the iconic figure, but it's pricey and there are plenty of dupes out there, including this SKIMS dress dupe!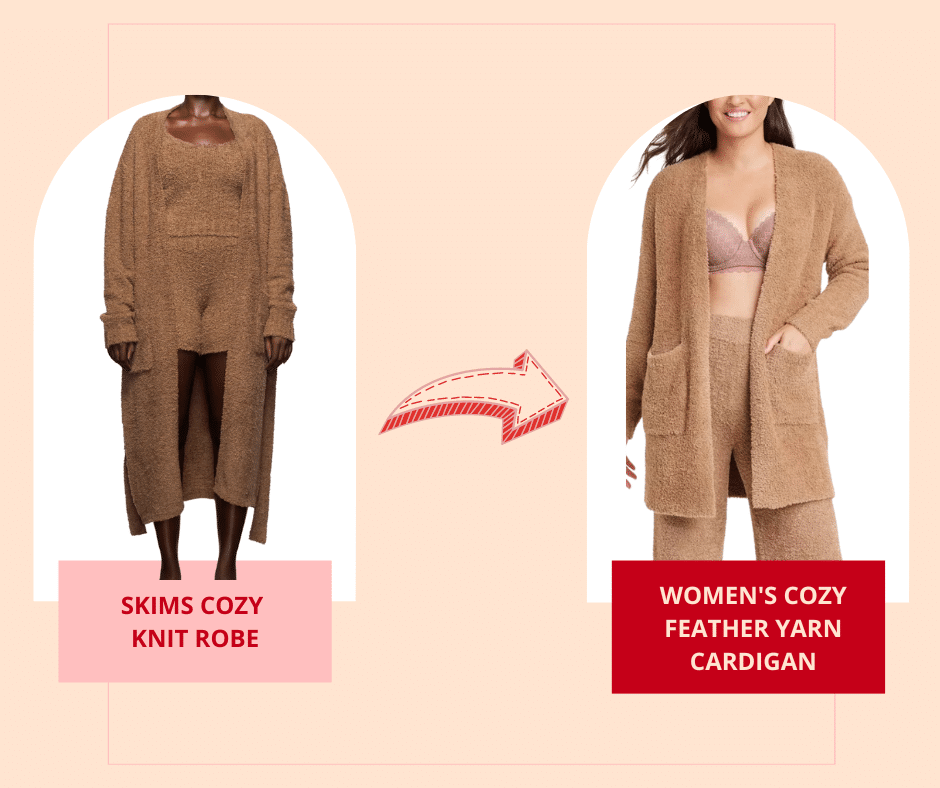 Women's Cozy Feather Yarn Cardigan
The brand SKIMS is well known for its Cozy collection, so many dupes are out there, including this Target yarn cardigan that replicates SKIMS Cozy Knit Robe. It's super soft and half the price as the original.
SKIMS cozy dupes are super easy to find because everyone is copying them! This cardigan is the perfect piece for relaxing at home or keeping cozy when you go out. You can dress it up or down for whatever occasion!
Must Have SKIMS Bralettes & Panty Dupes
SKIMS has all kinds of bras and panties, from scoop neck bras to wireless bras and cheeky briefs to cotton rib thongs. They have a collection called "Fits Everybody," but that doesn't mean "fits everybody's budget."
So I found some affordable dupes (of course).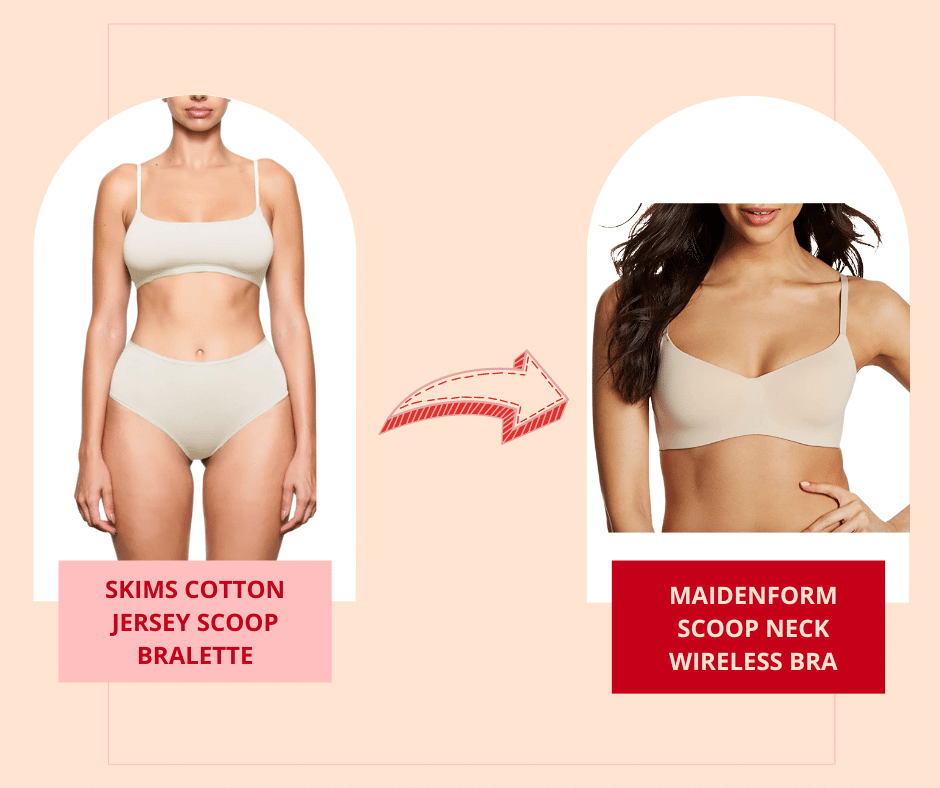 Maidenform Scoop Neck Wireless Bra
Many people have issues with the price of SKIMS bras, so I found this scoop neck bra that's a dupe of SKIMS Cotton Jersey Scoop Bralette.
It's made of Nylon and would look amazing under a sheer tank top in the summer! It screams LA style and would be perfect for someone who wants comfort with their fashion.

Maidenform Pure Comfort Bralette
This is a dupe of the Naked Scoop Tank Bra and comes in various colors and sizes. It's a great bralette for full support and fits nicely against the body!
I will say I prefer the original for one reason. I really like a square neck line and the dupe has more of a rounded one.

DEANGELMON Seamless Thongs
I would buy SKIMS underwear for one reason and one reason only: the logo. I freakin' LOVE that SKIMS logo they put on the underwear.
But otherwise, I'm not wasting my money. So I found these women's thongs that dupe the Naked Dipped Thong.
While we're talking about panties, I have to give an honorable mention to THINX Period Underwear which I reviewed back in May.
Spoiler alert, I'm still loving them, and if you're going to spend a pretty penny on panties, they have a great selection of underwear for menstruating!
SKIM Swim Dupes
SKIMS brand released its swim line last year and got mixed reviews. A lot of people said the designs were great, but the fabric was incredibly hard to maneuver.
I will say I've never seen a brand create swim like SKIMS has. They basically made swim "clothing" like a sleeve bodysuit, a swim crop top, a tank dress, and skirts.
They're also incredibly pricey, ranging upwards of $128 for a single piece. So, what did I do? I found you some dupes. Let's get into it.

Goldie Two-Piece Swimsuit
We love small brands and Southern Storm is no exception. This apparel brand made an affordable dupe of SKIMS Swim T-Shirt and Swim Mid-Waist Bottoms.
Except this entire set is only $18 (on sale at the time of publication) and it's high-quality! The round neck short sleeve top is to die for and the perfect swim set for heading to the beach.

Ribbed Cutout One Piece Swimsuit
This one piece is a dupe for SKIMS Swim Cut-Out Monokini. Is it an exact replica? No, but the dupe is a lot cuter and much more affordable.
If you're on the hunt for more affordable swimwear,
Cupshe (a fave of Kara's)
has a lot of fantastic options. Now is a great time to shop for swim suit, whether you're taking a winter dip at a hot spring, headed somewhere warm for spring break or just want to grab your fave styles before they sell out for the summer!
And those are all the SKIMS dupes I found! But first something I need to address…
Is SKIMS Size-Inclusive?
I want to wrap this up by talking about Kim's brand and its mission statement that SKIMS fits everybody.
They carry sizes XS-4X, plus their website is a testament to their diversity and size inclusivity efforts. The models are always different for each product sold, which I appreciate.
I had to go to TikTok to get honest reviews of the products people purchased. I found that sizing on plus-size, petite, and all bodies was pretty great (but not perfect).
Have you tried SKIMS? Let us know your honest thoughts in the comments, and if you have any other MUST HAVE SKIMS dupes we need to try!