On our first morning in Bend, Robin pulled back the curtains in our room. I remember sitting up in bed, putting on my glasses and looking out the window, jaw dropping at the view of the Cascade Mountains. Right from my bed.
The Campfire Hotel in Bend is trendy and well decorated, sure, but it also packs special moments like mountain views before you even had coffee. Of which there is plenty of in the lobby for free, but each room also comes with pour-over. (This is Bend, after all, you can never have too much coffee here!)
Not all the rooms have mountain views. We stayed in the Sunset King room which I really loved because it's up a floor and has a private balcony with chairs. The view overlooks the pool, music area and of course mountains. It makes a great people watching spot at night.
Speaking of which, the hotel had live music on a couple of the nights we were there. We loved sitting on our balcony to listen but were thankful to have a room away from the stage so we could sleep early (I'm a grandma, I swear sometimes I'm in bed by 8pm). If early nights are your thing, book the Sunset King or ask the front desk for a room in the second building away from the music.
Rooms Come With All The Good Stuff
Pour-over coffee, a bridge and microwave, TV with streaming channels like Netflix installed, hand lotion for dry high desert air and super comfy beds are included in every room. Our room also had a couch and coffee table to lounge in, along with cool decor like a guitar hanging on the wall.
These rooms are super cozy while being super cool at the same time. We love hotels like Camphire that make you feel special just hanging out in your room.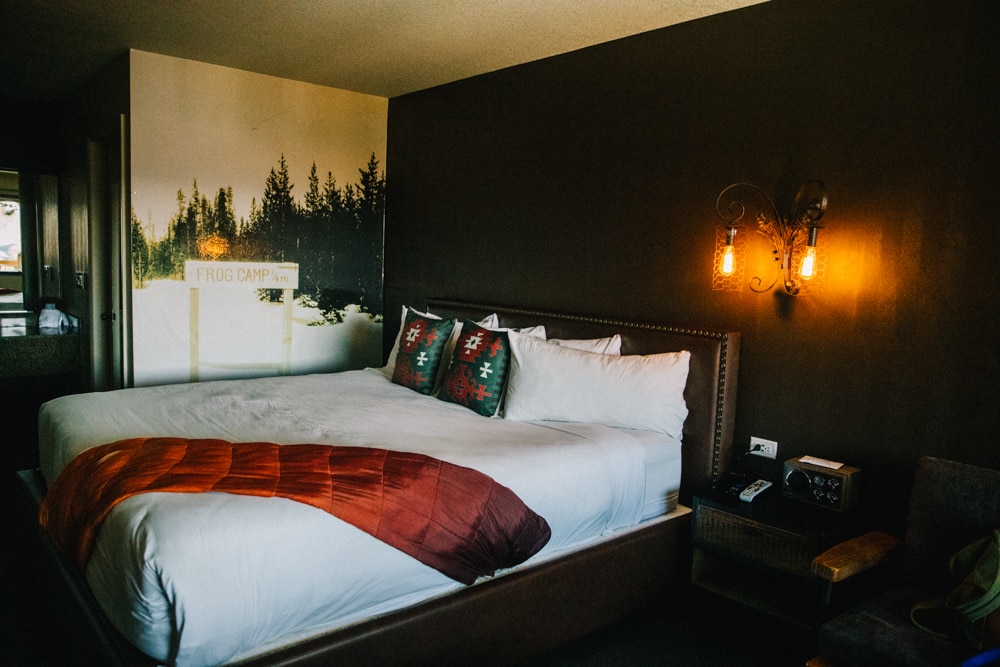 Campfire Is Walking Distance To Downtown Bend
We found ourselves driving most of the time, but I was thankful the hotel was in walking distance to downtown. Under a mile and almost a straight shot! One night we knew we were doing a lot of drinking downtown so we walked there and back. Otherwise, we drove and took advantage of Campfire's free parking.
Campfire Hotel Ammeneites
Heated seasonal pool
Hot tub
Fire pit
Rooms with mounted usable guitars
Free parking
Free wifi
TVs
Fridge in room
Microwave in room
Easy walking to downtown
Free coffee in lobby
Cantina bar on site
Live music
A/C and heat
24/7 front desk
(
We loved our stay and would 100% book again on our next trip to Bend. Can't find a better place than this!