I've been working from home fulltime for almost 2 years now, so I have tons of tips for staying productive at a home office (even if your office is your couch!)
Maybe you're spending some time working remotely due to the pandemic-that-shall-not-be-named, or maybe it's 2021 and you're just looking for ideas of comfortable work clothes to wear for your newly approved remote Fridays.
Either way, keep on reading for my favorite work from home outfits aka cute work outfit ideas that are couch approved yet super stylish.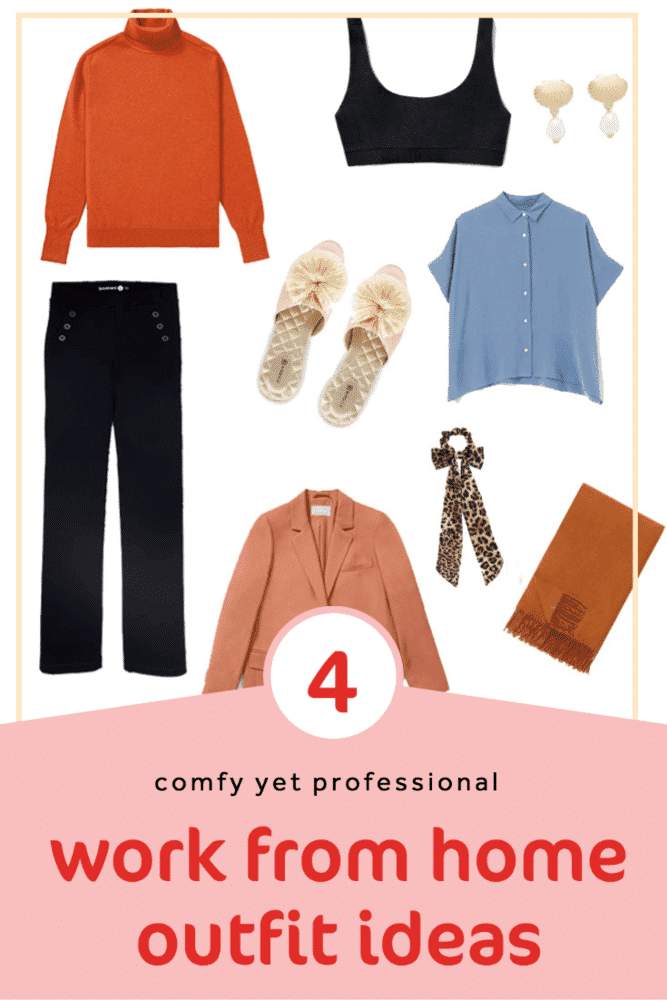 >> Got a question about working from home that you need answered quickly or want more tips? DM me on Instagram @thewhimsysoul and I'll be happy to help!
What To Wear At Home All Day
No matter what, the biggest tip I give newbies working from home is to make sure to change out of your PJs each morning and get ready like you are actually going to an office. I'm talking about putting on makeup and getting dressed in a "work from home uniform."
Personally, I have a drawer of comfy work from home clothes that I ONLY wear when I'm working. When I put these clothes on, this helps trick my brain into understanding it's time to be productive and work. At the end of my work day, I change out of work gear and into one of my other at home outfits (like PJs or house dresses, etc.)
You Have To Be Comfy So You Can Be Productive
So, what's actually the best work outfits for your remote days? I find most people (like myself) work from their couch or kitchen table. No matter where you work, I think it's important to be comfortable but also put together, for the reasons mentioned above.

That's why I LOVE Betabrand pants. I have a few of them because they're just so dang versatile. Wear them dressed up with a button-up shirt for business casual or with a casual top for Sunday errands (and everything in between!)

When it comes to work from home days, more often than not I'm wearing Betabrand pants. I like to sit cross legged on the couch while writing, but also love to just be able to slip on shoes and feel dressed up when I have to run to the grocery store.

SHOP MY FAVORITE WORK FROM HOME PANTS

[shop-page-wp id='21502,21505,21507′]

Now, on to some major fashion inspiration! Here's what I'm usually wearing when I work from home.
4 Work From Home Outfits: Comfy Yet Cute Work Outfits That I Wear On Repeat M-F
The Business Casual Outfit
I'm a huge believer in maintaining professional work outfits even when you work from home. These are especially smart to wear on days you're taking video chat calls or anything super important, like a new client pitch or presenting a delivered project.
For these days, I wear a comfy button-up shirt, sometimes a blazer and the Betabrand Classic Straight Leg Dress Pant Yoga Pants.
The Cozy Outfit
When fall & winter hits (or, June here in San Francisco because that's our cold season!) I love Betabrand yoga denim paired with a sweater for ~all the cozy vibes~. These pants look like jeans, they really do, but they don't have all the pinching that I hate with normal jeans.
As a curvy gal, jeans really aren't my friend. Especially when I'm sitting down for long periods of time. NO thank you. But I adore the look of denim with sweaters and scarves. Enter: these jeans.
This outfit combo is perfect when paired with a fir scented candle and instrumental holiday music playing in the background…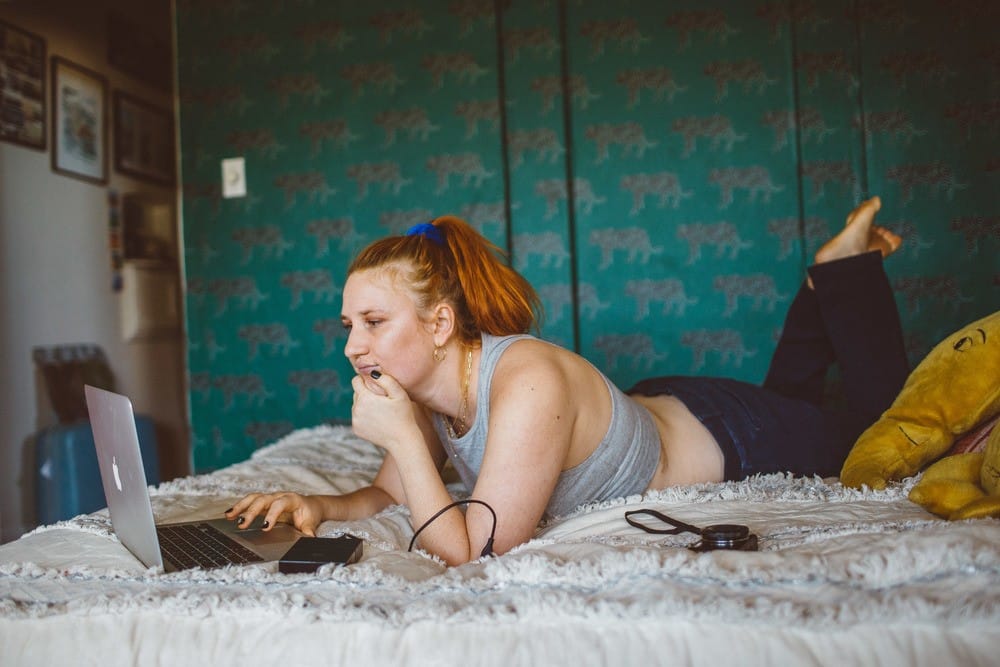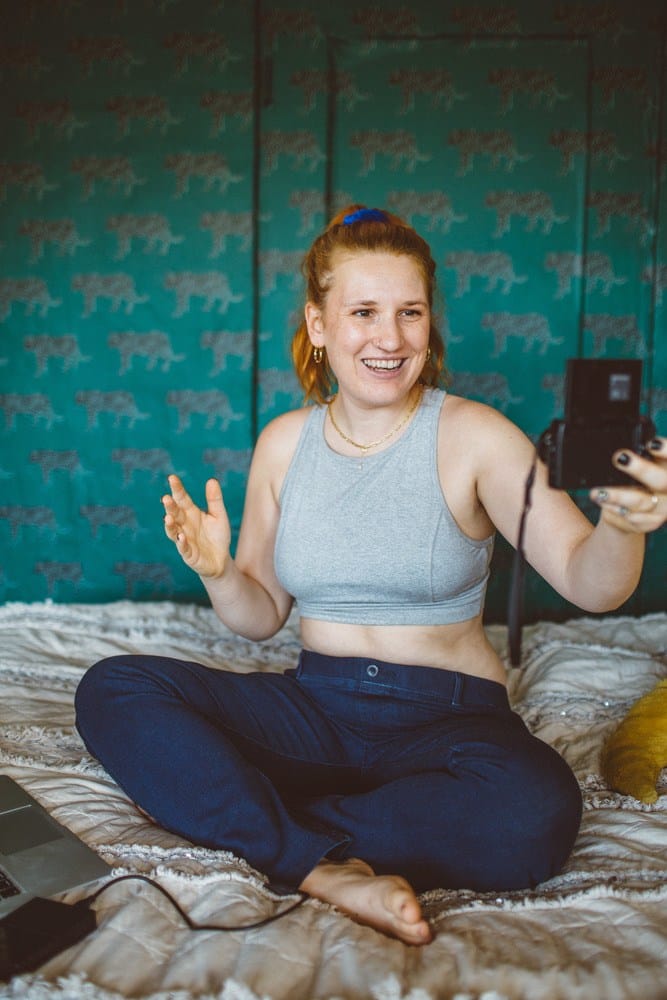 The Sporty Outfit
Hot girl summer but no AC in your apartment? Hi, that's us (most people in San Francisco don't have AC, including our studio!) That's when I pull out this outfit combo for workdays.
I still like to wear pants or leggings while working (my laptop gets hot on my bare legs!) but on warm days, I opt for a crop top sports bra like the one pictured here with yoga denim or the classic dress pant. I pair it with a fun hair scarf and earrings to dress the look up!
The "Is It Happy Hour Yet" Outfit
Sometimes my work from home outfits lean very street style when I'm eager to knock off work and grab drinks with my friends. (Or, a virtual hang as we're doing right now to support social distancing.)
I've been into sheer tops lately, which thankfully are all pretty comfy and breathable to wear. Pair those over a bralette and with the classic Betabrand dress pant in black and I feel sort of like a super hip yet polished museum curator who loves chatting art theory with her stylish friends over a bourbon-based cocktail on a rooftop bar.
When it comes time to put my computer away, I just toss on my black leather jacket as I'm heading out the door. BOOM.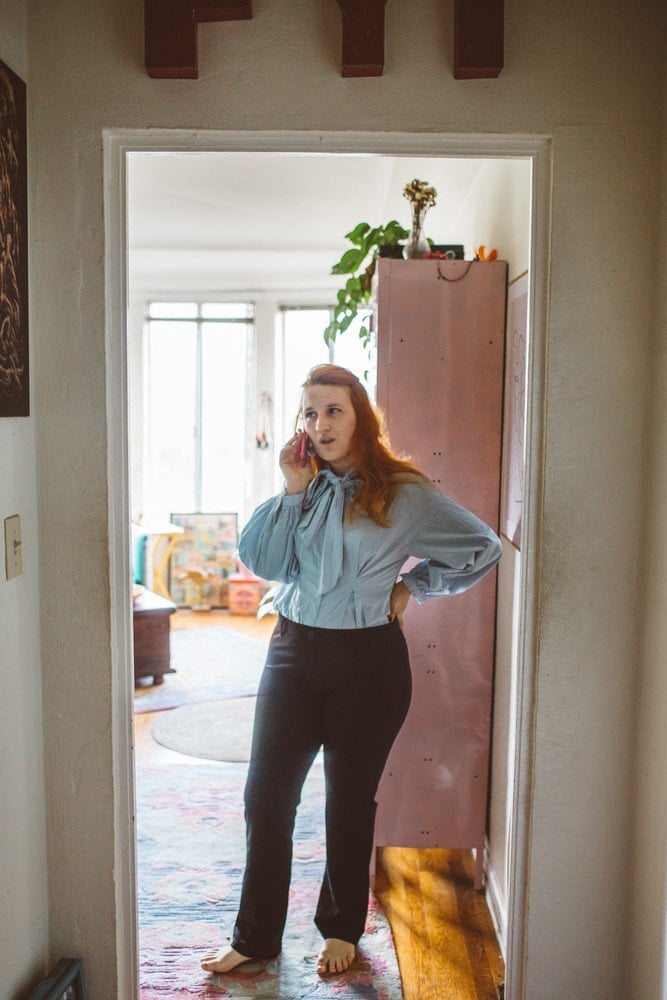 And of course, there are days when I opt for a matching loungewear set, midi skirt or dress instead, but Betabrand pants are always a smart staple to have in your wardrobe when you are working from home.
And honestly, as you can see, these pants are totally office-approved as well. Shop now for your social distancing workdays, but you can still wear them later this year once you're back in the office. BRILLIANT.
I hope this helps inspire you on how to be stylish while working from home! While I got you, here are some quick tips for staying productive while working on your couch:
As I mentioned, get dressed for the day!
Wake up at your normal time. No sleeping in!
Set your work hours (example: 8am-3pm) and stick to them. Once 3pm hits, hide your work laptop and shut Slack on your phone.
Bulk batch calls or video chats to stay focused on projects.
Get up and stretch a lot, at least once an hour.
Take daily walks, it's amazing how refreshed I feel after just walking around the block!
It's ok if you want to watch tv while working (I do!) but check with your partner or roommates first. Everyone likes to work differently. Use headphones if needed.
Got any more work from home style or productivity tips? Leave a comment below so everyone can see! If you have any questions, comment or DM me on Instagram @thewhimsysoul and I'll be happy to help!